Wonderfood Museum: How to Enjoy this Delightful Attraction
Seeing as Penang is a state known for its delicious local street food, it only makes sense that it has a museum dedicated to Malaysia's rich cuisine. The Wonderfood Museum is the most fun and engaging way to immerse yourself in the country's local delicacies.
With multiple galleries showcasing the beloved dishes from Malaysia and Asia, as a whole, it won't be long until your mouth starts watering. So to help prepare you for your tantalising journey, we've curated this ultimate guide for you!
From what to expect to where to eat, stay and more, here's everything you need before visiting this delightful museum:
Best Time to Go
The Penang Wonderfood Museum is open seven days a week from 9:00 AM to 6:00 PM, giving you more than enough to visit it throughout the day.
The best visiting hours we recommend, however, are around 2:00 to 4:00 PM, as this is when the museum sees the least tourists.
Furthermore, if you want to visit when there's the least amount of other people, we recommend visiting during weekdays.
Weather-wise, you can visit the museum all year long without worrying about rain since it's covered. This being said, we'd still recommend avoiding the months when there's heavy rainfall (May to October) as this can make it harder for you to get to the museum itself.
Things to Know
Currency: Malaysian Ringgit (Check the current exchange rate)
Language: Malay, English
Calling Code: +60
Address: 49, Lebuh Pantai, George Town, 10200 George Town, Pulau Pinang, Malaysia
Phone details: +60 4-251 9095
Opening hours: Opens daily from 9:00 AM to 6:00 PM
Entrance fee:
Locals: RM19.95
Foreigners: RM25
Parking: Unfortunately, there is no parking on the museum's premises and visitors are left to leave their cars along Jalan Lebuh Pantai Georgetown. There is, however, a multi-level car park not that far away from the museum called Beach Street MPP Complex.
It's approximately 100 metres away from the Wonderfood Museum and parking there costs RM1 per hour.
How to Get to Wonderfood Museum
Bus: Riding the bus is the cheapest way to get to the Wonderfood Museum. Several buses stop by bus stops that are minutes away from the museum, making commuting much more accessible.
Some of the nearest bus stops in the Wonderfood Museum include Love Lane and Little India.
Taxi: Since the Wonderfood Museum is located in the heart of Penang, you won't have trouble finding a cab to take you there once you're in the state. However, we do advise you to insist on using the fare metre as some taxi drivers will overcharge tourists.
Grab: This ride-hailing app is fully operational in Penang and it's a great alternative to cabs if you want a fixed rate before you actually book a ride. Also, it's a much more convenient way of getting around since you can get picked up from your current location.
Car service: If you want to provide yourself and your loved ones with the best privacy and comfort, we recommend renting a car instead. There are tons of reputable companies in Penang and its surrounding states so you won't have trouble finding the best one for you.
Check out our guide to rental cars in Malaysia here to help you find a reputable rental company.
Where to Stay near the Wonderfood Museum
JEN Penang Georgetown by Shangri-La
Address: Magazine Rd, George Town, 10300 George Town, Pulau Pinang, Malaysia
Phone: +60 4-262 2622
Pricing: $$$
Book Now
If you're looking for a luxurious stay in George Town, Penang, one of the best places to check out is JEN Penang Georgetown by Shangri-La. Shangri-La is one of the most famous names in the "hotel-sphere" and you'll immediately see why once you enter this establishment's doors.
Starting with the rooms, you can already expect that each one is huge, comfortable and fitted with world-class amenities. Aside from that, they also have outstanding facilities to make your stay even more memorable such as an outdoor swimming pool and a cafe!
Travelodge Georgetown
Address: 101, Jalan Macalister, 10400 George Town, Pulau Pinang, Malaysia
Phone: +60 4-226 0084
Pricing: $-$$
Book Now
Travelodge Georgetown is a great mid-range establishment if you're on a budget but don't want to settle for less. This 3-star hotel feels much more premium than the rates that they charge thanks to the quality of their rooms as well as their limited but fantastic facilities.
The rooms here are worth mentioning because they're quite big and feature some amenities that you'll often find in fancier establishments. Furthermore, the place also features an outdoor swimming pool where you can cool down and bask in the views of the city skyline.
The Prestige Hotel Penang
Address: 8, Gat Lebuh Gereja, George Town, 10300 George Town, Pulau Pinang, Malaysia
Phone: +60 4-217 5888
Pricing: $$$
Book Now
As you may have gleaned from its name, The Prestige Hotel Penang is one of the most prestigious lodging options on the island. This establishment features 5-star rooms, facilities and amenities, giving you the best value for your money if you're looking to stay lavishly in Penang.
The premium rooms are already given for a place of this calibre, but what you'll be surprised with is its exceptional facilities. These facilities include a rooftop infinity pool, a fitness centre and a wide selection of fantastic cafes and restaurants.
The Wembley – A St Giles Hotel, Penang
Address: 183, Jalan Magazine, George Town, 10300 George Town, Pulau Pinang, Malaysia
Phone: +60 4-259 8000
Pricing: $$
Book Now
The Wembley is another middle-range hotel we highly recommend because of its outstanding and beautiful rooms. Although they're relatively affordable compared to other hotels, the rooms found here are neat, comfortable and spacious.
It's also worth mentioning that each room comes with premium amenities as well such as flat-screen TVs, hot water, free Wi-Fi and more. The main highlight of your stay here, however, is the DSRT Sky Room, which is a bar + lounge that overlooks the beautiful Penang skyline.
Eastern & Oriental Hotel
Address: 10, Lebuh Farquhar, George Town, 10200 George Town, Pulau Pinang, Malaysia
Phone: +60 4-222 2000
Pricing: $$$
Book Now
Simply put, Eastern & Oriental Hotel is the premier lodging option on Penang Island and for several good reasons. For starters, the facade of this place looks like a White House and rightly so, as you'll be treated like royalty during your stay.
The rooms here are marvellous, boasting huge windows, comfortable beds and just about every premium amenity you can ask for. On top of that, the hotel also features a swimming pool that features a magnificent view of the sea.
Where to Eat near the Wonderfood Museum
Olive Kitchen + Bar Penang
Address: 3J, Jln Penang, George Town, 10000 George Town, Pulau Pinang, Malaysia
Phone: +60 11-2627 9517
Pricing: $$-$$$
Website
Olive Kitchen + Bar is a great option if you're craving Western and international dishes that are both delicious and filling. Here, you'll find all your favourites from steaks to burgers, pasta and even pizza!
Plus, since this is indeed a bar, you can also order a drink from their selection of beverages ranging from alcoholic and non-alcoholic beverages. If you want, you can also waste the night away here and enjoy a classy nightlife experience on the island.
Kebaya Dining Room
Address: 14A, Stewart Ln, Georgetown, 10200 George Town, Penang, Malaysia
Phone: +60 4-264 2333
Pricing: $$$
Website
If you're craving some Malaysian and Chinese dishes, the best place you can choose is Kebaya Dining Room. This beautiful restaurant will treat you to some of the cuisine's best dishes from roasted duck to tamarind glazed beef and more.
Aside from that, they also serve a plethora of delicious desserts to end your meal on a good note, with the best one being the creme brulee. Furthermore, the restaurant will also treat your eyes, as you're dining here as the marvellous oriental interior will capture your attention.
Jawi House Cafe Gallery
Address: 85, Lbh Armenian, George Town, 10200 George Town, Pulau Pinang, Malaysia
Phone: +60 4-261 3680
Pricing: $-$$
Website
Jawi House Cafe Gallery is a cosy spot that we recommend you visit during your time in Penang. This unseemingly-looking house serves delicious local and international dishes that will help you re-energize your body after a long day of travelling.
This is a great place to sit down and slow down time, as you'll get to bask in a serene ambience, as you eat your meals. Plus, since this is indeed a cafe, you can also sip on your favourite coffee and non-coffee beverages here as well.
TopView Restaurant & Lounge
Address: Komtar Level 68, No 1, Komtar, Jln Penang, 10000 George Town, Pulau Pinang, Malaysia
Phone: +60 4-375 9800
Pricing: $$-$$$
Website
If you're one to enjoy beautiful views as you munch on your favourite meals, then you should check out TopView Restaurant & Lounge! This place is the highest rooftop bar in Penang and it will treat you to the magnificent sights of Penang Island to make your experience extra special.
Views-aside, however, this restaurant is still a solid option because of the quality of its dishes. The food they serve here ranges from International to local, but regardless of which one you order, you can expect to have a delightful time.
Maple Palace Chinese Restaurant
Address: 47, Jalan Sultan Ahmad Shah, George Town, 10050 George Town, Pulau Pinang, Malaysia
Phone: +60 4-227 9690
Pricing: $$
Website
Maple Palace Chinese Restaurant is what you'll get when you combine fine dining with the best traditional dishes from China.
Here, you'll get to enjoy a premium gastronomic experience that revolves around delicious delicacies such as Peking duck, crispy chicken, pork belly and more.
Aside from the dishes themselves, a huge highlight of this restaurant is its classy ambience, as it features a lavish interior design. This interior makes for a perfect backdrop while eating some of the best versions of your favourite Chinese dishes.
What to Do in The Wonderfood Museum
Be in awe of gigantic versions of Malay dishes
One of the main highlights of Penang's Wonderfood Museum is its selection of gigantic dishes on display. From bowls of noodles to desserts and anything in between, these gargantuan replicas will make you stand in awe because of their sheer size and attention to detail.
You can admire these structures up close to see the intricate details put into each one of them and take photos just to put into perspective how big they are. Speaking of taking photos, they'll also provide you with props that will make it look like you're eating the giant dishes.
Read countless amounts of food quotes
As you walk through the museum, you'll be treated to various food-based quotes from famous figures such as Julia Child and George Bernard Shaw. These quotes are attractions in their own rights, as they provide guests with an insight into how important food is in our daily lives.
You can also take photos with these quotes that have been plastered on walls. To further show your love and commitment to your favourite dishes, you can also grab some props like the fried chicken plushie as you pose in front of these quotes.
Learn about the history of food in Penang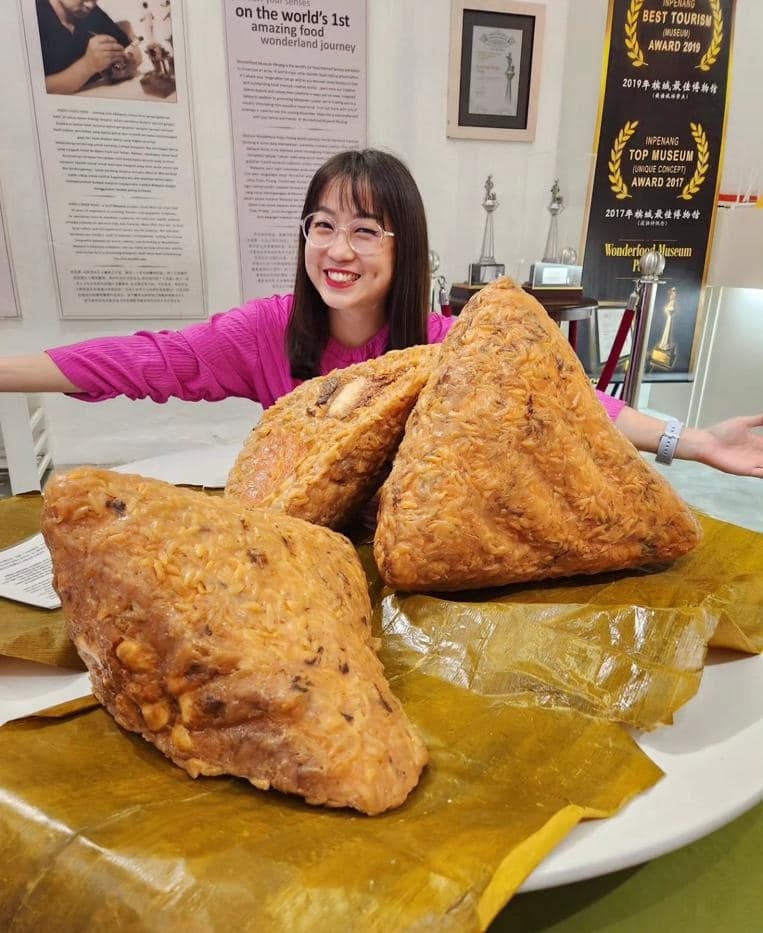 What's great about the Wonderfood Museum in Penang is that it's not just about fun and games, as it also teaches you important stuff. One of the best examples of this is the history timeline of Penang food.
After exploring this section and understanding how the iconic food scene on the island came about, you'll get to appreciate these dishes even more. Lastly, we also love how the museum keeps things interesting by making the educational zone interactive.
Discover the dark side of food
Another thing we love about the Wonderfood Museum is that it's informative and honest at the same time. One of the best sections that showcases this is the exhibits that show the harmful impact of excessive food harvesting, which is a total eye-opener.
The best example is the shark fin exhibit, which shows an unfiltered insight into the consequences of harvesting these body parts. Since fins are a huge part of their lives, some species of sharks are being endangered for the sake of eating a luxury delicacy.
Check out the world's most expensive dishes
If you ever wondered how much people are willing to pay for their food, check out the museum's section of the world's most expensive dishes! This place showcases some of the most ridiculously-priced dishes that have been served from around the world in their plastic forms.
Even if you see them up close, however, you can't tell that they're fake because of how accurate they are as replicas of the real thing. The food displayed here costs upwards of a thousand dollars, with one dish in particular costing $4200–a pizza dedicated to James Bond.
Take a photo by the walls of local dishes
Another huge highlight in the museum is the wall of local Malay dishes. You can think of this section as the hall of fame of Malay cuisine, as all the iconic dishes of the country are displayed in their full glory, from curry to nasi lemak and more.
Just be careful though, as it's a guarantee that your mouth will start watering as soon as you stop by this section.
Nearby Attractions to Visit
Pinang Peranakan Mansion
Address: 29, Church St, Georgetown, 10200 George Town, Penang, Malaysia
Phone: +60 4-264 2929
Website
The Pinang Peranakan Mansion is another museum that we recommend you stop by while you're on the island. This time, instead of delectable dishes, you'll get to admire beautiful artworks that depict Penang's rich Peranakan heritage.
From paintings to clothes, vases and more, the variety of artefacts found here will spoil your eyes with beautiful Peranakan designs. Also, what makes this museum unique is that its structure as a Peranakan house is retained from the facade down to the living room and kitchen.
Penang Little India
Address: Lebuh Pasar, George Town, 10450 George Town, Pulau Pinang, Malaysia
Located not too far away from the Wonderfood Museum is Penang Little India, a district where you can find India's finest. Whether it be crafts, dishes and anything in between, you'll find everything here that will bring you a piece of the country without leaving Malaysia.
Aside from stores and restaurants, you'll also find various notable attractions here including street art murals, which are always fun to take photos of. Furthermore, it's also here where you'll find the oldest Hindu temple on the island, the Sri Mahamariamman.
Chew Jetty
Address: Georgetown, 10300 George Town, Penang, Malaysia
Phone: +60 11-6246 2884
If you're in Penang, you can't leave without stopping by the clan jetties, the village on the island consisting of houses built on stilts. This water village was originally built to provide housing for the Chinese immigrants who made their way to Malaysia during the 19th century.
Today, you'll still find these houses on the jetties along with restaurants and stores. It's a great place to visit if you want to treat yourself to delicious dishes and be immersed in the rich history of the island at the same time.
Penang Botanic Gardens
Address: Kompleks Pentadbiran,Bangunan Pavilion, Jalan Kebun Bunga, 10350 George Town, Pulau Pinang, Malaysia
Phone: +60 4-226 4401
Website
The Penang Botanic Gardens is a great pit stop you can visit if you want to see what the island has to offer in terms of fauna and flora. Some of the highlights here are the rare species of plants which include the Cannonball tree, the Black Lily, and the Pinang Palm.
Aside from its impressive selection of natural species, its longevity is also worth highlighting, as it's the oldest standing botanical garden in Southeast Asia. It was established back in 1884 and its beauty is still preserved and visited to this day.
Apps to Download for a Trip to the Wonderfood Museum
Travel Malaysia: A pocket travel guide to Malaysia
iOs | Android
Maps.me: Offline map of the world
iOs | Android
XE Currency App: Real-time currency exchange rate app
iOs | Android
Grab: Ride-hailing app of Southeast Asia
iOs | Android
Google Translate: word translation with offline capabilities
iOs | Android
CatchThatBus: Bus ticket booking app
iOs