What do Malaysians eat for lunch?
If you are traveling to Malaysia, you will notice that it is known for its diverse heritage, enabling it to have a distinct and unique palate that is worth exploring! A great way to immerse into a culture is through the local food. 
In this country, lunch is considered the main meal where most Malaysians eat traditional dishes consisting of fish, chicken, or beef served with white rice.
Malaysians see food as a common ground in which, regardless of their age, language, or religion, they can share their passion and appreciation for food.
Its list of cuisines and dishes is limitless, from Nasi lemak dishes, Malay-style meals, and Indian food to Chinese and other fusion food. 
The Top 10 Dishes Malaysians Eat for Lunch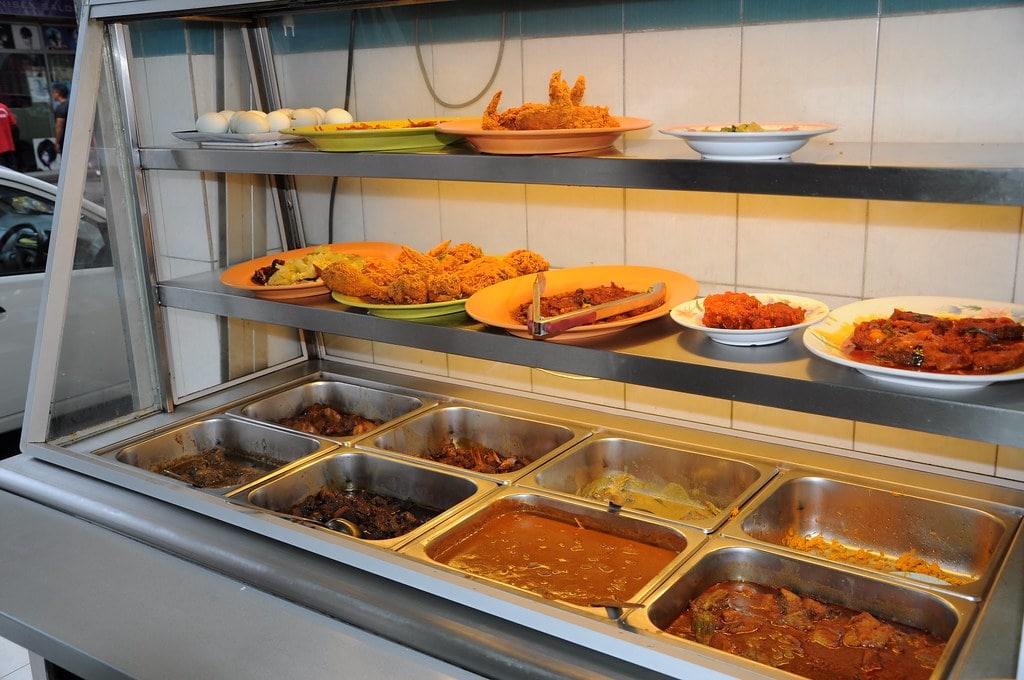 Malaysians typically eat anything from a mix of Nasi Lemak, Roti Canai, Hainanese Chicken Rice, Nasi Goreng, and other well-known local dishes for lunch.
Some notable canteens and establishments that serve most of the entries in this list can be found in Kuala Lumpur and neighboring cities. For example, Sambal Hijau Restaurant has captured the hearts of locals, serving anything from Mee Goreng Mamak to typical lauk dishes.
With a wide array of famous dishes, mostly lauk (fish, meat, chicken), Masak Lemak Runjang, Nasi Putih, and others, it's packed with locals and tourists seeking to try Malaysian cuisine.
To help you gain an authentic culinary experience in Malaysia, here is a list of the top dishes Malaysians like to eat, especially during lunch.
1. Nasi Lemak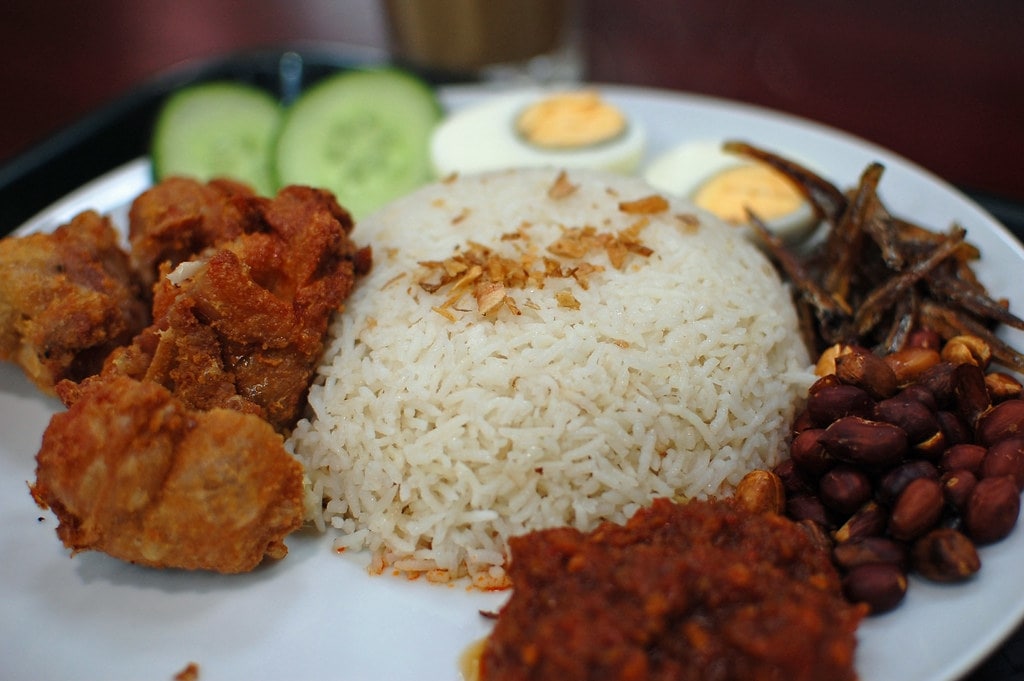 Nasi Lemak was previously a simple breakfast dish packaged in banana leaves and offered at a meager price, earning it the title of national cuisine. Most of the country's tourism brochures and promotional materials showcase Nasi Lemak as a national dish.
Nowadays, it comes with a side of rendang (beef curry), curry chicken, fried chicken, and other meat dishes. Interestingly, Nasi Lemak has inspired burgers and even ice cream!
For most locals, this is the ideal Malaysian lunch as it packs a lot of flavor and elements into a dish that is well-regulated by this business. It is also regarded as an essential meal for a traditional Malay breakfast.
A famous canteen known for selling Nasi lemak with fried chicken wings, Ikan Bilis, peanuts, Sambal Belacan, and many more can be located in Kuala Lumpur. Named Nasi Lemak Antarabangsa, this place specializes in these types of dishes and is famous all around the town.
2. Roti Canai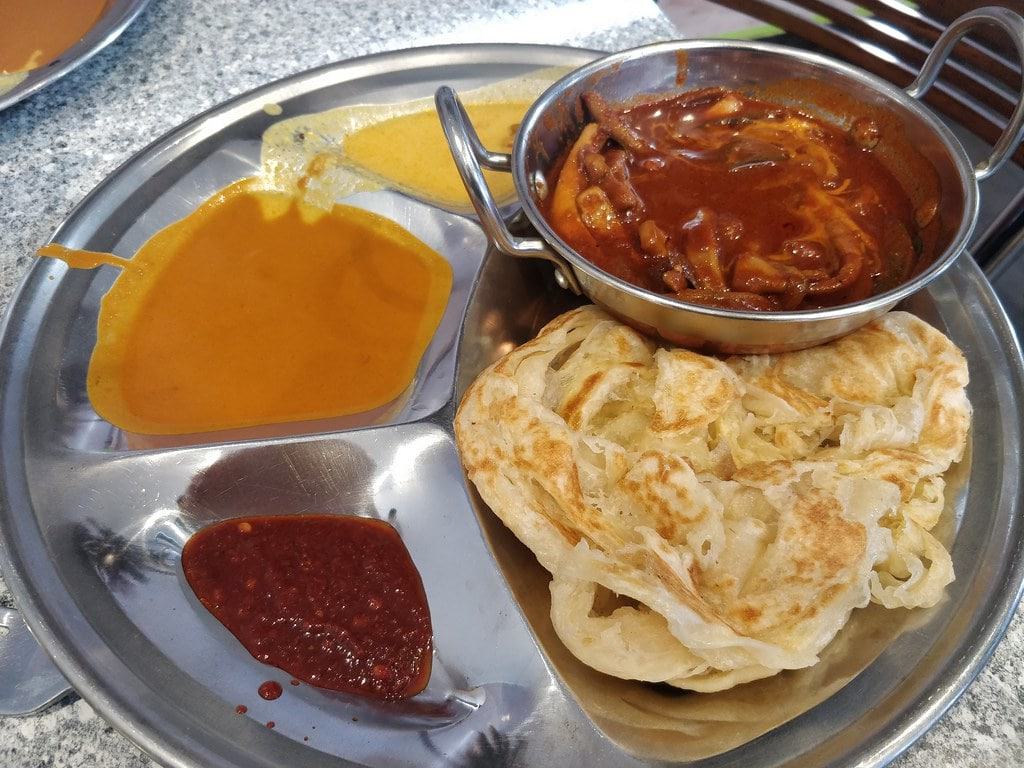 Roti canai is a pan-fried Malaysian flatbread prepared with wheat, water, eggs, and grease.
The dough for roti canai is folded repeatedly, resulting in a layered texture, a soft center, and a crispy outer layer. Ghee, the traditional Indian clarified butter, is the most often used fat in roti canai.
There's just something addicting to the taste of this pastry that the customers still crave and post about on their social media. A few notable restaurants that serve this dish as a specialty and are worth trying out are Valentine Roti, Roti Canai Jalil, and Lan Roti Canai.
Another thing that made this a local favorite for lunch is that it is very flexible in what sauces and sides come with it. Because of this, customers have long experimented with what they can use for this bread.
3. Hainanese Chicken Rice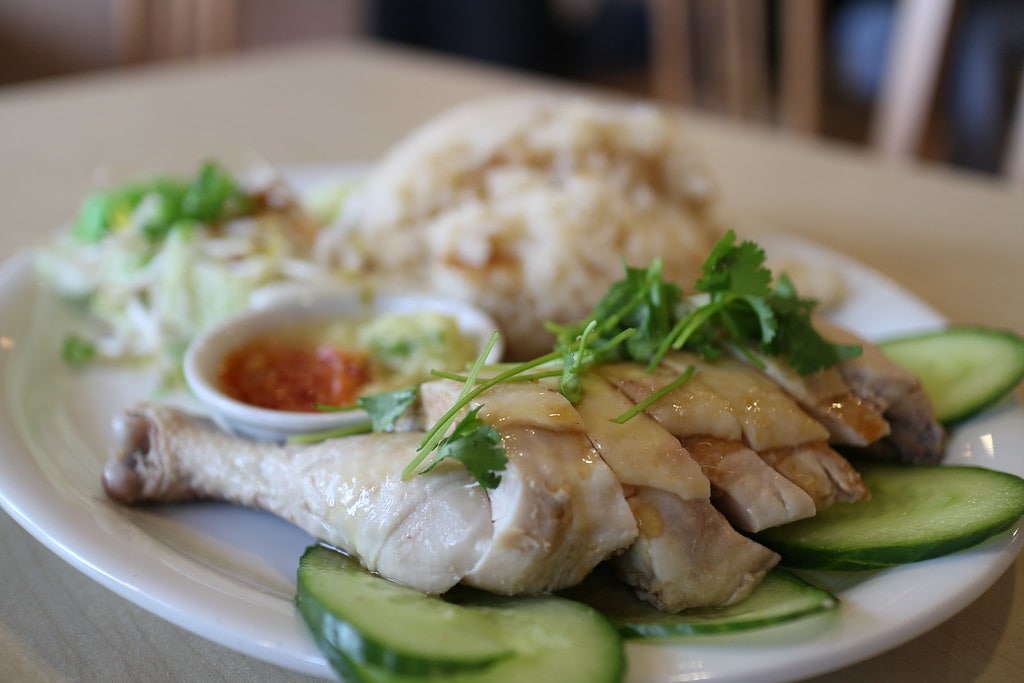 Hainanese Chicken has been a staple when it comes to Singaporean and Malaysian cuisine. Also, this is a special dish because it gives a new flavor that can't be tasted elsewhere.
The rice's flavor is due to the grains being pre-fried in chicken fat and then boiled in chicken broth. Finally, the chicken is poached until just done, with a bit of pink on the meat around the bones.
We looked for reasonably priced restaurants that provide and specialize in making Hainanese Chicken because it is a tricky dish to master. Some shops we found are Nam Heong Chicken Rice, Jalan Sultan, Nasi Ayam Hainan Chee Meng, Restoran Nasi Ayam Kam Kee.
The entire process could be simple. However, restaurants all over Malaysia have spent years trying to perfect this meal, which means the best quality ingredients are also used.
4. Nasi Goreng Kampung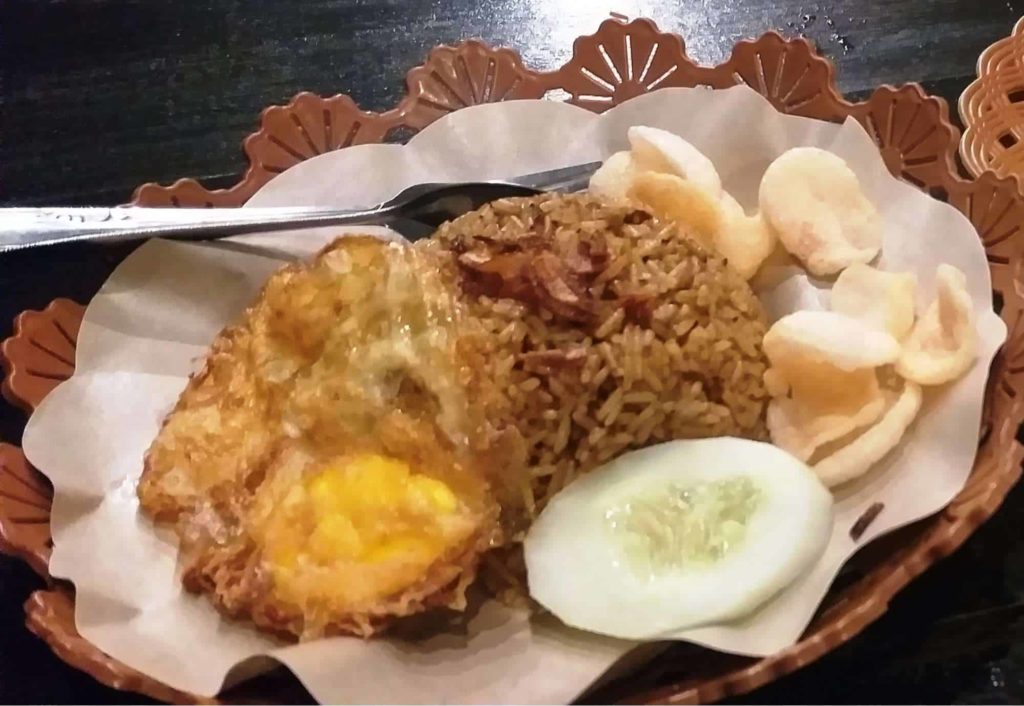 Nasi Goreng is pretty much the standard when it comes to Malaysian lunch choices and Malaysian cuisine in general.
Unlike other forms of Asian fried rice, Nasi Goreng has a distinct scent because of the considerable amount of caramelized sweet soy sauce and the inclusion of shrimp paste. As a result, it has a smokey flavor that is bolder and hotter than its relative, garlic-fried rice.
Where can it be found? All over Malaysia!
Nasi goreng is a typical Malaysian family meal. Since it is one of the most recognized Malaysian dishes, there are many competitors in the market, giving you more options from which you can choose!
Two restaurants are highly known for their Nasi Goreng, Nasi Lemak Goreng Chef Fauzey, and TG's Bistro, located in Selangor and Kuala Lumpur, respectively.
5. Banana Leaf Rice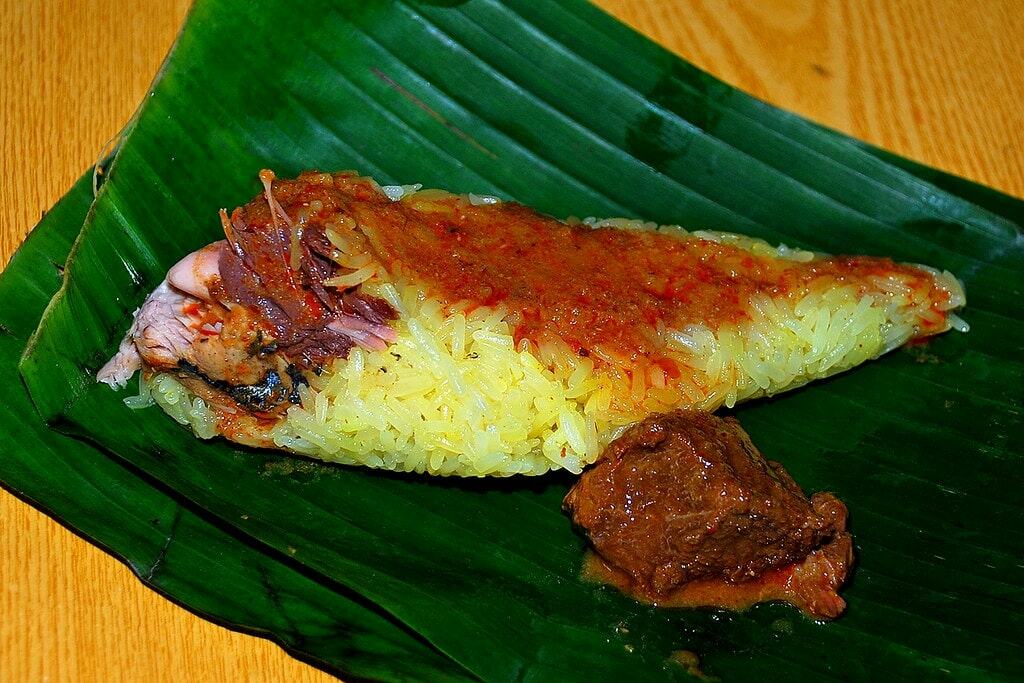 While this meal isn't really a local dish, it is well-known around the country and has been a favorite of many Malaysians.
As for its roots, the Banana Leaf Rice originated in South India. It consists of a mound of plain rice with three or four various vegetable dishes served on a banana leaf cut to suit the magnificent spread.
It is said that there is also a scientific reason as to why Malaysians have developed a liking for this food. Polyphenols, which are known to protect against a number of lifestyle ailments, are absorbed by food put on banana leaves.
They add flavor and scent to anything cooked in or served on them; steaming with banana leaves adds a mildly sweet flavor and aroma to the dish. The leaves are not eaten and are thrown once the contents have been swallowed.
Bala's Banana Leaf is highly recommended by most people because of the quality of its food and the services they provide to its customers. Moreover, clients have always noted that all items on its menu are worth trying, making it a better reason to visit the place.
6. Curry Laksa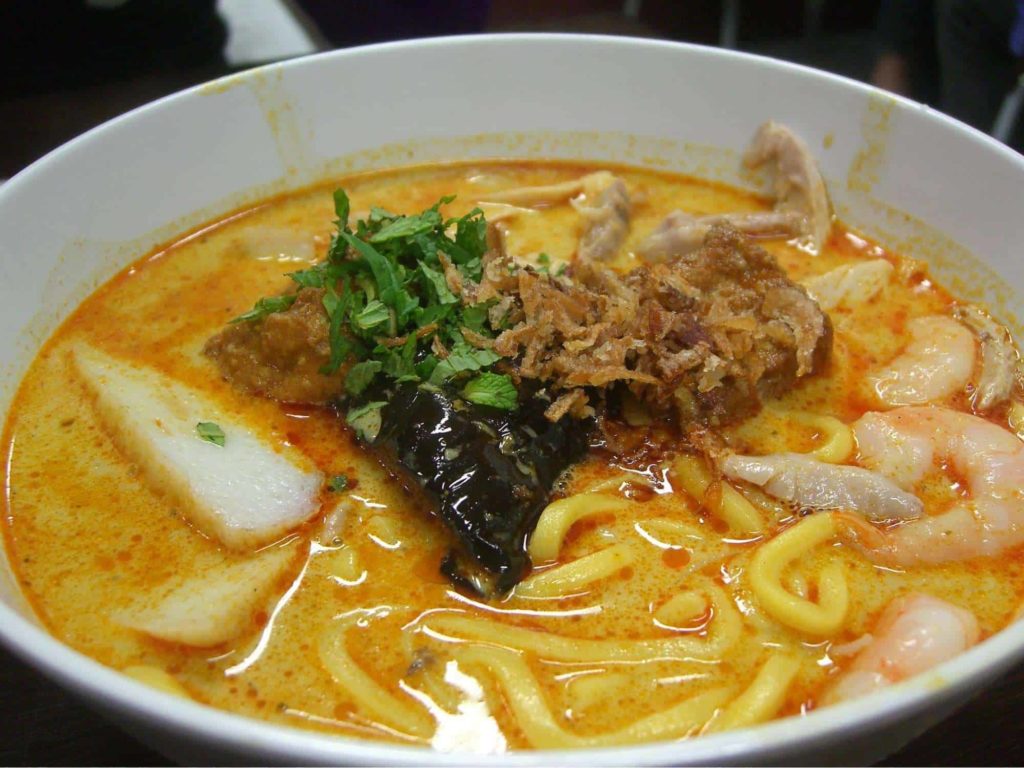 Curry Laksa is also known as Curry Mee, and it's prepared from a coconut milk and curry paste foundation. Many locals love its creamy, intense, and slightly spicy taste due to the lashings of chili on top.
What makes Curry Mee stand out from other Malaysian dishes is the recipe variation that exists, depending on how it was passed on by families or modified to personal tastes.
Although its main ingredients include red curry paste, curry powder, and coconut milk, Curry Mee presents plenty of flexibility in its toppings.
Shrimp, tofu, chicken, and bean sprout are added to the dish, and some restaurants serve it with fresh cockles.
It can also be served in egg noodles, rice noodles, or a mix of both, depending on the diner's preference.
If you're looking for a good experience in getting a Curry Laksa, try checking out OUG curry laksa, which is highly recommended by many Malaysians. Another option is the Restoran Chong Hwa Curry Laksa, which has a wide array of Laksa dishes.
7. Yong Tau Foo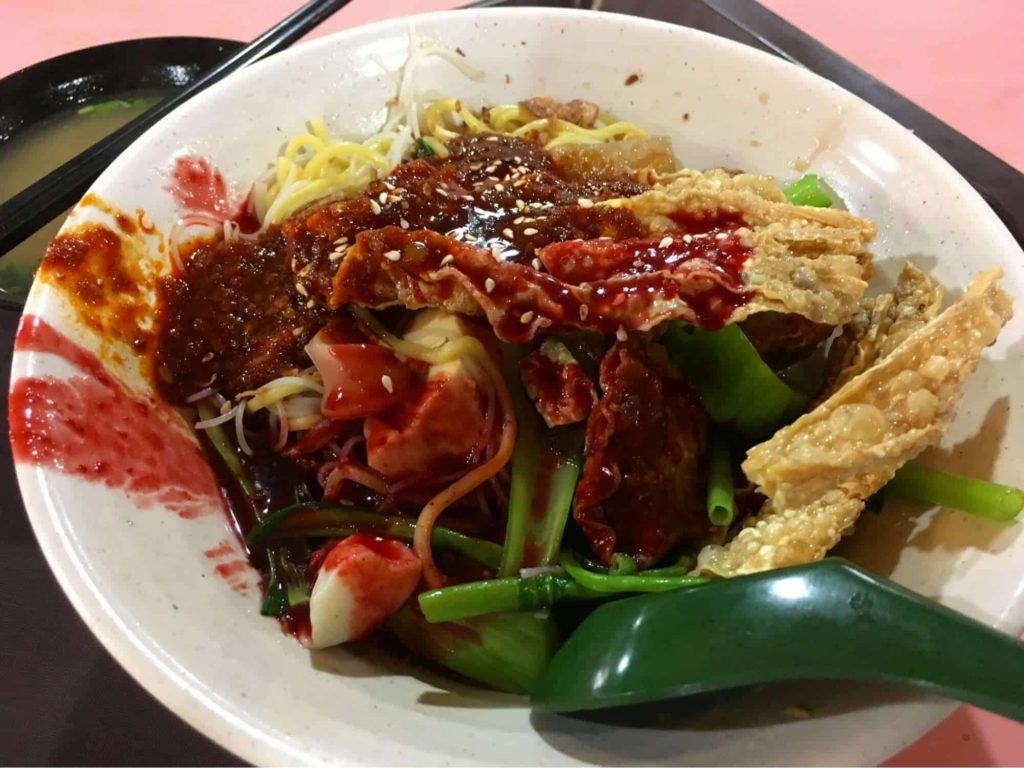 Yong Tau Foo is a famous Hakka Chinese meal created by filling tofu with meat and/or fish paste and vegetables such as bitter gourd, okra (lady's finger), crab sticks, cabbage, fish balls, peppers, eggplants, mushrooms, and so on.
Interestingly, the Yong Tau Foo in Malaysia came to be through the influences of Cantonese and Hokkien groups living in the country. This localized version can be eaten either in a bowl of soup or dry with sweet bean sauce and drizzled with curry.
Malaysian Yong Tau Foo is also perfect for picky and small eaters. Patrons are mainly free to choose how many pieces they want when ordering the dish.
Upon going to a Yong Tau Foo stall, one can easily get attracted by the colorful and mouthwatering display of ingredients lined up or stacked up in rows in front.
Although there are many Yong Tau Foo restaurants in Malaysia, the most popular ones are in Ampang. Some places even modified the recipe to be halal-compliant, such as the Yong Tau Fu Kg. Pandan, which has been around for two decades!
8. Beef Rendang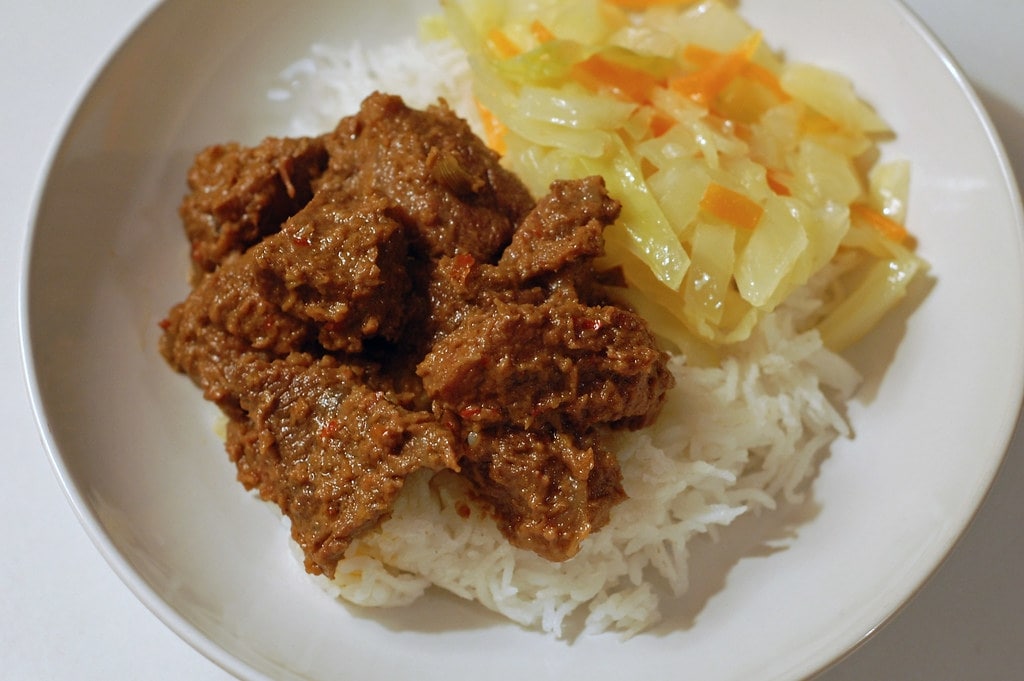 Beef Rendang is a famous curry dish said to have originated in Indonesia but is also considered an iconic Malaysian dish.
Although rendang has many forms and styles that reflect the unique flavor profiles of the different Malaysian provinces, it is usually red, hot, and spicy.
Restaurants specializing in rendang will say that it's a complicated dish to prepare due to the balance of flavors. Additionally, it takes hours to prepare as it's produced by slow simmering beef in coconut milk and seasoning it with lemongrass, cinnamon, chiles, and other ingredients.
While it is not a typical lunch option for the locals, it is definitely something worth trying. There are other variants, including chicken rendang and lamb rendang.
Many locals recommend trying Beef Rendang with Malaysian coconut milk rice.
Undoubtedly, the restaurant you should first get your beef Rendang is Nasi Lemak Wanjo Kg Baru. It's a cafeteria-style restaurant that offers plenty of dishes but has a specific following for its Beef Rendang and other rice dishes.
Other restaurants in Kuala Lumpur that produce a mean Beef Rendang dish include Madam Kwan's, Opium, Old China Cafe, and Aunty Aini's Garden Cafe.
9. Popiah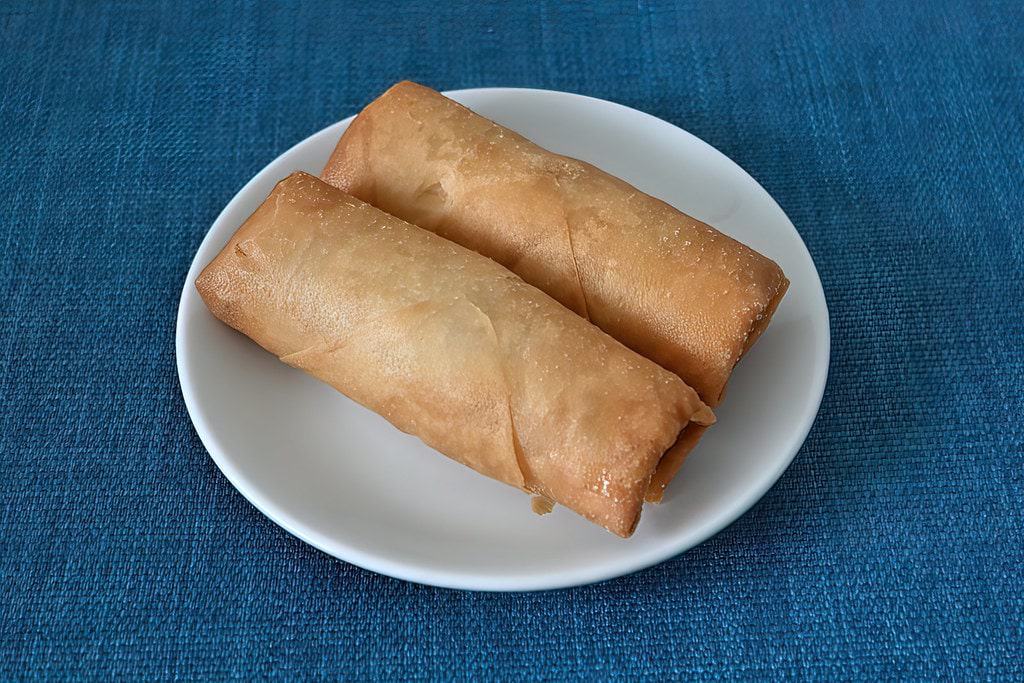 Popiah is a dish made from a thin crepe wrapper that looks like paper filled with a mixture of sautéed veggies and meats. It is widely known as Malaysian Spring Rolls and is easily found in street food stalls.
The backstory of this meal lasts for hours to tell. But, in brief, Popiah was supposed to be consumed throughout the spring during an abundance of veggies in Fujian Province, Southeastern China.
These savory rolls are usually enjoyed as an appetizer or side dish – perfect for those with a big appetite during lunchtime! However, locals also eat it by itself paired with steamed rice or rice noodles for a hearty meal.
These days, many have invented modern twists and variations of Popiah, including modifying the wrappers and fillings. Although this dish can be served fresh or deep fried, some even offer it with ice cream to give a contrast in taste and texture.
However, suppose you want a classic recipe that has been around for decades. In that case, Campbell Mini Popiah in Lot 10 Huton is a top option!
10. Ais Kacang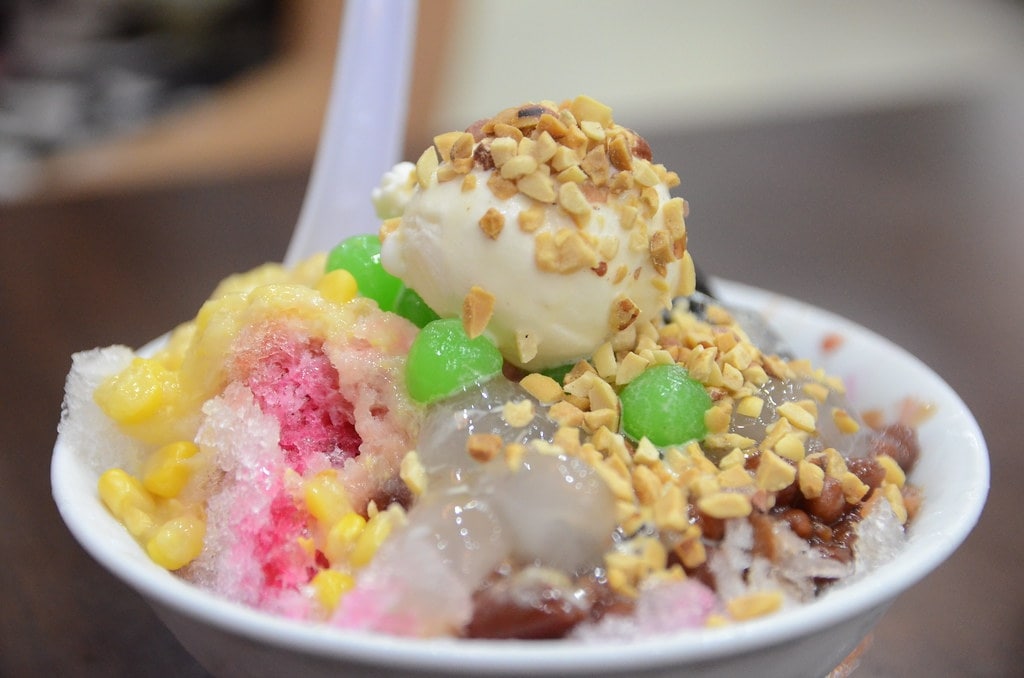 Ais Kacang is a common dessert in Malaysia where an ice shaving machine is used to create a shaved dessert with syrups, beans, and other jellies. It's highly known as a unique Malaysian dish that many locals adore.
This dessert has a lot of different variations, from having red beans, peanuts, agar agar in its ingredients, and many more. To top it up, it features a generous drizzle of coconut or condensed milk and syrup.
Locals fondly call this dessert "ABC," or Ais Batu Campur – the Malay term for "mixed shaved ice." Roadside stalls, hawker centers, kopitiam, restaurants, food courts, and even hotel buffets are some places to find this quintessential Malaysian dessert.
On hot days, nothing beats a cold treat to cool you down. Trying out Ais Kacang in different stores, such as Swee Kang Ais Kacang, Joo Yee, and Swatow Lane Ice Kacang, is a great way to beat the humidity!