Tourism Malaysia Statistics (2018 – 2020)
Key Insights
In 2018, the tourism sector's contribution to the GDP amounted to RM94.5 billion. By 2019, Malaysian tourism directly contributed RM102.22 billion to the country's gross domestic product.
The top five states with the most domestic tourists in Malaysia collectively contributed 50.6 % of Malaysia's total domestic tourism receipts in 2019. The most visited states in Malaysia (in 2020, pre-COVID) were Pahang and Perak with 5.2 million and 4.9 million domestic tourists respectively.
Around 3.46 million employees worked for the Malaysian tourism sector in 2020.
The Visit Malaysia 2020 tourism campaign aimed to attract 30 million visitors who can spend at least RM100 billion. But because of COVID-19, the country had to cancel its Visit Malaysia 2020 tourism campaign. Malaysia lost around RM41 billion from tourism industries in 2020.
In 2020, around 700 hotels considered shutting down either permanently or temporarily.
Prime Minister Muhyiddin Yassin virtually launched a ten-year tourism plan to help Malaysia's tourism industry bounce back from its COVID losses.
Tourism in Malaysia Before and During the Pandemic
Tourism plays a big part in Malaysia and is considered one of its biggest sectors for employment. It makes up almost a quarter of all employment in the country.
Within almost a decade (2011-2020), the tourism industries had contributed a steadily increasing gross value, with RM199.4 billion by the start of 2020. An average of 3.46 million employees were in the tourist sector of Malaysia by 2020.
In 2019, the number of tourists from ASEAN regions of residences that visited Malaysia was around 18.3 million. The top ten ASEAN visitors were from:
Brunei
Cambodia
Indonesia
Laos
Malaysia
Myanmar
Philippines
Singapore
Thailand
Vietnam
Meanwhile, the following countries provided the highest expenditure per capita in Malaysia in 2019:
Saudi Arabia RM11,376.90
United Kingdom RM5,241.5
Canada RM4,593.1
China RM4,546
United States RM4,537.90
As for the length of stay, these top five visitor countries stayed the longest in Malaysia in 2019:
Saudi Arabia (10.5 nights)
France (8.7 nights)
Germany (8.3 nights)
Netherlands (8.1 nights)
Canada (7.7 nights).
In a little under a decade, the number of hotels in Malaysia also increased almost two-fold. By the tail-end of 2019, there were a total of 4,880 hotels (including budget hotels) recognized by the Tourism, Culture, and the Arts Ministry.
By 2020, there were 4.33 million tourists recorded to have arrived in Malaysia. But because of COVID-19, around 700 of those hotels considered shutting down either temporarily or permanently.
Yap Lip Seng, the chief executive of the Malaysian Association of Hotels, revealed the results of a survey conducted by the association in April 2020. 50% of hotel survey respondents said they were thinking of ceasing operations altogether, while 35% said they might pause operations at least until the end of 2020.
International flights in 2019 brought around 26.48 million people to Malaysia. Due to COVID-19 restrictions, however, the country's tourism campaign had to be cancelled.
When the pandemic started in 2020, the gross value from tourism industries also decreased significantly. The country lost around RM41 billion that year.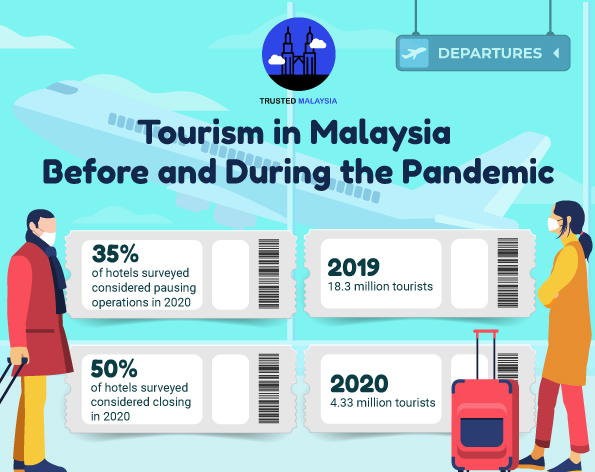 Malaysia Tourism Statistics By State
In 2018, a Domestic Tourism Survey By State was released by Malaysia's Department of Statistics. In that year, five states performed highest in the survey:
Selangor (30.2 million visitors)
WPKL (20.4 million visitors)
Sarawak (19.4 million visitors)
Sabah (19.2 million visitors)
Pahang (18.1 million visitors)
Notable tourist attractions from these states include:
Gunung Gading National Park in Sarawak where the world's largest flower, the Rafflesia blooms, can be found. It's known for its impressive three-diameter size and noxious scent.
Manukan Island is located in eastern Malaysia's Sabah state, where both the scuba diving and beaches are superior to others.
Batu Caves near Kuala Lumpur remain to be one of the most popular local destinations among Malaysian tourists for its giant statue of a Hindu god and the 272 steps required to reach the Cathedral cave.
Free guided walk tours in Selangor and other heritage activities aim to make Malaysian tourists aware and proud of both natural and man-made sights and structures in the area.
Kuantan in Pahang is considered one of the cleanest cities in Malaysia and has both man-made and natural attractions, including the Sungai Pandan waterfall and the Sultan Ahmad Shah State Mosque.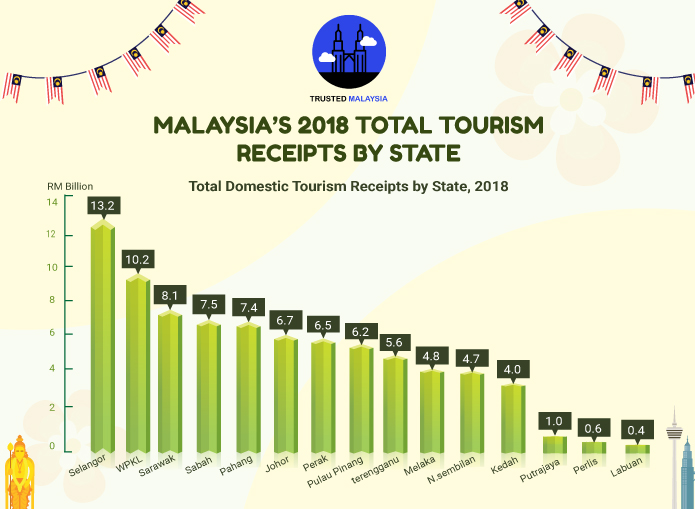 Selangor received a total of 30.2 million domestic visitors in 2018 with a tourism receipt amounting to RM13.2 billion. WP Kuala Lumpur came in second with RM10.2 billion, followed by Sarawak with RM8.1 billion, Sabah with RM7.5 billion, and Pahang with RM7.4 billion
In 2019, domestic tourism in Malaysia dramatically increased (an 8.1% difference) from the previous year. A total of 239.1 million visitors were recorded, with domestic visitors spending a total of RM103.2 billion (showing annual growth of 11.5%).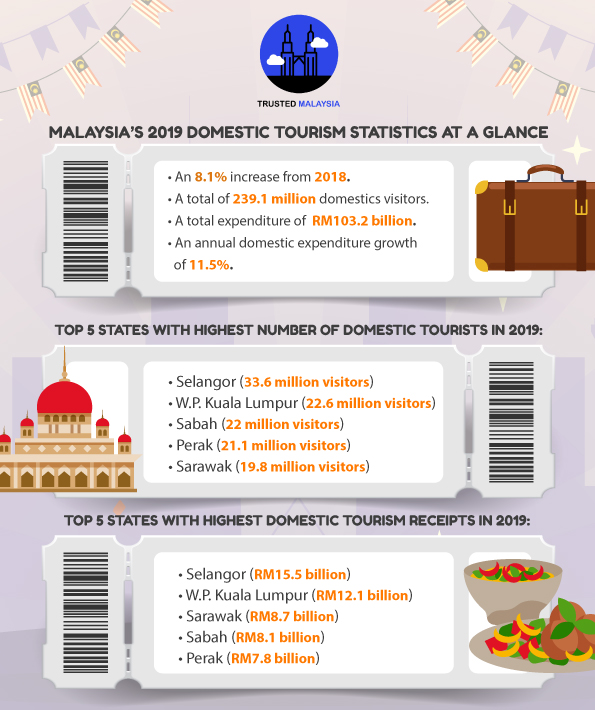 Selangor remained the highest recipient of domestic tourists with a total of 33.6 million visitors. WP Kuala remained in second place with 22.6 million visitors, Sabah with 22 million visitors, Perak with 21.1 million visitors, and Sarawak with 19.8 million visitors.
As for domestic tourism receipts by state, here's how the top five performed (they collectively contributed 50.6 % of Malaysia's total domestic tourism receipts):
1. Selangor (RM15.5 billion)
2. W.P. Kuala Lumpur (RM12.1 billion)
3. Sarawak (RM8.7 billion)
4. Sabah (RM8.1 billion)
5. Perak (RM7.8 billion)
But by 2020 — before the Movement Control Order (MCO) was imposed in Malaysia — the most visited states were Pahang and Perak. Pahang had 5.2 million and Perak had 4.9 million domestic tourists.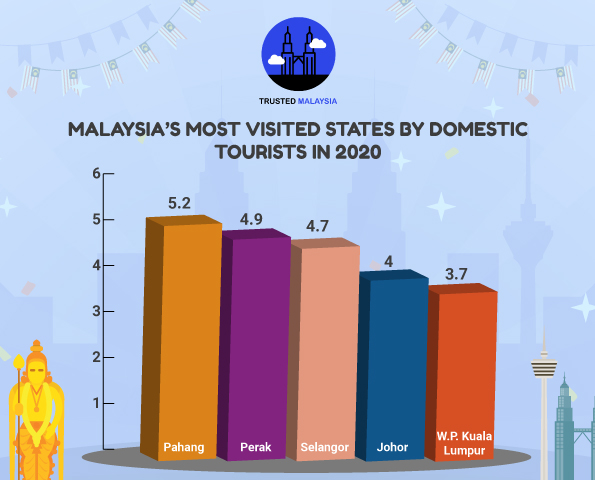 But because of the MCO, these figures declined drastically. The overall result of the MCO was a decrease of a whopping 100 million domestic tourists all over Malaysia.
Tourism arrival in Malaysia in 2020 experienced its most significant decline in a decade. Compared to the previous COVID-free year, tourist arrivals went down around 83.4%.
Malaysian Tourism's Recovery Plans Post-COVID
At the tail-end of 2020, Malaysia was ready to bounce back from the losses that its tourism sector had experienced.
A 2020 Reuters article mentions a ten-year tourism plan that was virtually launched. It features a national tourism policy focus between the years 2020-2030.
Prime Minister Muhyiddin Yassin described the policy's aim to strengthen competitiveness, encourage sustainable and inclusive tourism, and plan for future disasters.
The plan also includes putting Malaysia on the map as an eco-tourism destination that shows a commitment to developing and conserving both the country's heritage and natural resources.
As well, emphasis on travelling locally has become a growing trend among people with wanderlust in the country. In an April 2020 interview with Tourism Malaysia director-general Datuk Musa Yusof, an article from The Sun describes how local travel can help the country recover.
Datuk Musa Yusof said that, while they are proponents of travelling, the topmost priority is health and safety for the travel community at the moment.
But with economic recovery in mind, hashtags like #TravelLater, #WhenWeTravelAgain, and #TravelTomorrow can help travellers spend their tourism money to help rebuild the country's economy.
In the interview, he described the importance of spending on local businesses and local tourism industries:
"Stimulating the economy by spending within the country can have multiplied effects. Once we start spending on local businesses and stimulate their growth, businesses are able to expand and work on improving their services which will create more interest in the products, not only from Malaysians but also international travellers.
"With the increase in demand for businesses, the tourism industry will flourish and contribute more to Malaysia's gross domestic product (GDP) in the longer run."
And with previously impressive and steadily increasing Malaysian domestic tourism statistics by state, this move is both a logical and practical one that could help the country's tourism sector bounce back.