The 5 Best Android TV Boxes in Malaysia
More and more cool shows are being released on platforms other than Netflix. Hence, it can be a hassle to switch between apps or channels to find and enjoy them in the comfort of your home.
Thankfully, tech companies have invented a TV box. Now, in this article, we'll be featuring a list of the best Android TV boxes in Malaysia since they give excellent-quality video and audio.
Apart from that, we have added a buyer's guide and FAQ section after our options. These can help you find the right Android TV box to use and also get value for your money.
The Best Android TV Boxes in Malaysia
Without any more ado, we bring you our very best options for Android TV boxes in Malaysia!
1) NVIDIA SHIELD Android TV Pro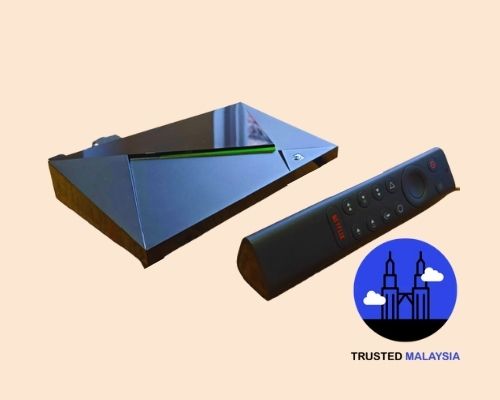 Price: RM1,399.00
Display resolution
4K
CPU/GPU
NVIDIA Tegra X1+ processor
NVIDIA Maxwell 256-core GPU
RAM/Storage
3GB/16GB
Operating system
Android 9.0 (Pie)
Connectivity
2 USB 3.0 ports
1 HDMI 2.0 port
1 Ethernet port
An upgraded version of the NVIDIA Shield TV, the Shield TV Pro features 2 USB 3.0 ports, more storage space, and a Plex media server for convenient access to all your media files from your PC.
This state-of-the-art NVIDIA Android box suits people with an Ultra HD (4K) TV, particularly sports fans, gamers, streamers, and media enthusiasts.
It has great computing power with the NVIDIA Tegra X1+ processor, along with Dolby Vision and Atmos for crisper and deeper colours, greatly enhancing your streaming experience.
With AI-enhanced upscaling, HD-quality videos can be converted into 4K to clearly show the picture's details pixel by pixel. The result is an extremely lifelike picture as though you were in that scene.
You also get access to hundreds of apps, including but not limited to Netflix, Amazon Prime Video, YouTube, Vudu, Google Play Store, Google Play Games, Plex Media Server, and much more.
Speaking of apps, the highlight of the Shield TV Pro is the GeForce Now. It's a cloud-based streaming platform with access to top games like Fortnite, Dauntless, Paladins, Warframe, to name some—all you need is to do is get a separate controller, connect it, and start gaming!
For the costlier price, all we can say is that it's worth it with the incredibly reliable features of this TV box and access to a multitude of channels, and not to mention its sleekness and performance.
4K display resolution
Dolby Vision and Atmos fusion
AI-enhanced upscaling
Built-in Chromecast 4K
Integrated voice control
Expensive
No HDR support for YouTube
No micro SD slot
Customer Reviews
Smooth and lag-free device
"The most powerful and awesome TV box I ever had. Smooth and no lagging at all. Morning order, then seller ship out in the afternoon. Very responsive. Jnt also very fast to send out the product. Recommended…" -one Shopee buyer
Totally worth the money
"Sorry for late rating.. My impression is this Shield is worth the money. You paid what you get, the performance of this box is way more enough for gaming, and watching tv. The picture is clear enough with ai upscaling." -another owner
2) Xiaomi Mi Box S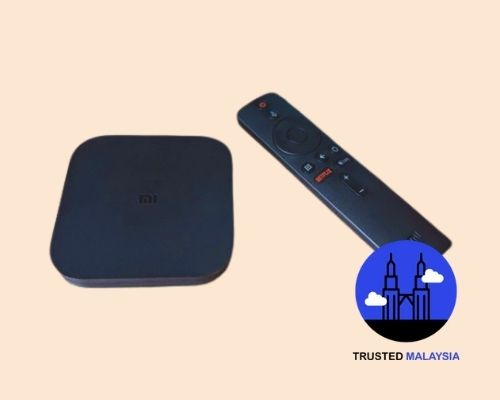 Price: RM208
Display resolution
4K
CPU/GPU
Cortex-A53 Quad-core 64bit
Mali-450
RAM/Storage
2GB DDR3 RAM
8GB eMMC
Operating system
Android 8.1
Connectivity
1 HDMI 2.0a port
1 USB 2.0 port
1 power interface port
1 audio output
The Xiaomi Mi Box S is a clever and compact Android TV box that's super-easy to use. All it takes is a quick plug-in to your TV and your streaming, gaming, and data transferring are set.
For just a fraction of the price of our previous product, you can get to enjoy tons of entertainment with the Mi Box S, reliable speed, and premium Ultra HD picture and audio.
Those are all thanks to its Quad-core Cortex A53 processor and Dolby and DTS sound. And while its Mali-450 graphic processor may not be the newest on the market, it still packs a punch.
One of our favourite features with this is its SmartCast support in which the smaller screen of your device—whether it be your phone, tablet, or laptop—is mirrored to your bigger TV screen letting you watch easily and immersively.
Also, rummaging through the massive stream library can be easier with its Google Assistant voice support by requesting a certain title you want, playing rock and roll, or asking about any movie facts.
Plus, you can link the TV box to your smart home system to dim the lights in your living room or raise the temperature of your room, for instance.
The RAM and storage capacities are moderate with this Android box. In other words, they provide ample memory to store extended film cuts, music, videos, and games.
Having only one HDMI and USB port is great for the whole family already. By the way, you can connect the TV box to the Internet wired or wireless, which adds to the convenience it already has.
Now, the downsides of this smart TV box are it doesn't have Malay subtitles for some movies and TV series, and unlike with other devices, you cannot use it without a WiFi connection.
Simple to set up
4K HDR colour display
Google-Assistant-enabled
Chromecast support
Great price
Not usable offline
Some films and series have no Malay subtitles
Customer Reviews
Simple interface and setup
"Thank you, my 1st experience with certified box. It was fantastic 😄, the interface are simple but useful. Plus the remote are easy to set, no receiver needed." -one Shopee user
Worth buying and compact design
"Highly recommend to person want to feel like smart TV. Fast delivery and worth to buy, plug and play, easy to install without read the instruction. Compact design and sleek." -another buyer
3) Tanix TX6 Android TV Box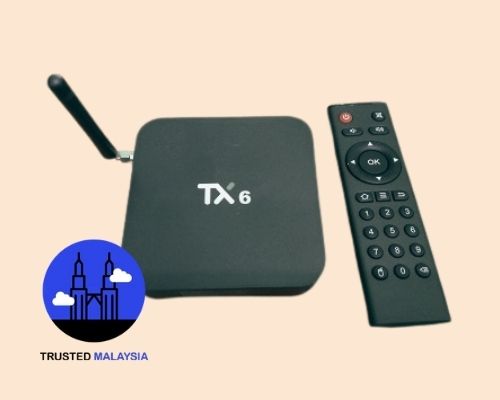 Price: RM179
Display resolution
4K and 6K
CPU/GPU
Allwinner H6 Quad-core ARM Cortex-A53
Mali-T720
RAM/Storage
4GB RAM/64GB
4GB RAM/32GB
2GB RAM/16GB
Operating system
Android 9.0
Connectivity
1 USB 3.0 port
2 USB 2.0 ports
1 HDMI 2.0 port
1 SPDIF digital audio port
1 Ethernet port
1 MicroSD card slot
Bluetooth 5.0
Dual-band (2.4GHz + 5GHz) WiFi
The Tanix TX6 is an Android TV box powerhouse with up to a 6K display, heaps of storage and connectivity features. It's not as affordable as the others, but this provides great value for money.
It is built to work and resemble a router with two antennae (the other one housed within) of 2.4GHz and 5GHz band frequencies. With them, your TV box's network speed can be optimised or adjusted automatically to suit your movie, game and data exchange activities.
One of its notable features is the Alice user interface, which is very easy to use and has plenty of features. Among them are the menu bar, App Express Manager, Favourite Apps, and weather forecast so you don't have to look at your phone for that.
Furthermore, its operating system of Android 9.0 makes users well ahead of the other Android boxes. This allows you to download from a vast array of apps, players, and games in-store. We also like the fact that the OS self-updates over the air, so you are always up to date.
It's equipped with a leading processor, the Allwinner H6 quad-core, and Mali-T720 graphics unit that can render a breathtaking 4K at 60 frames per second and 6K at 30 frames per second. Also helping with enhancing the video are its HDR10 and HLG Smart Colour display system.
There are a lot of options to choose from in terms of storage and RAM. Available online are 2GB RAM/16GB, 4GB RAM/32GB, and 4GB RAM/64GB, but you can considerably boost your memory with a MicroSD card.
This device is not made perfect, though, given its less-sleek design, remote-recognition issues, and infrequent Android updates. But besides that, this is indeed one of the most versatile and top Android TV boxes in Malaysia you can find!
Can stream 4K and 6K graphics
Smooth Alice UX interface
Lots of connectivity features
Dual Wi-Fi band frequencies
Expandable storage with a microSD card
6-month warranty
Traditional design
Can't be powered on by the remote at times
Not many Android updates
No screen lock
4) X96 MAX+ Android TV Box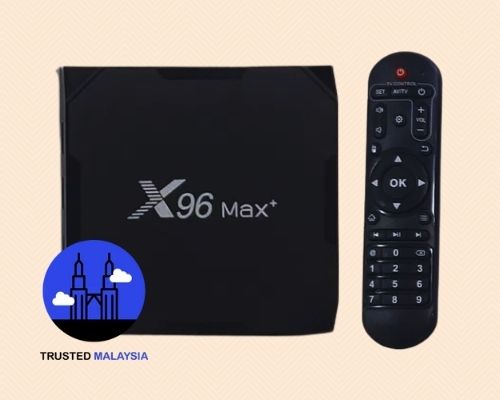 Price: RM265
Display resolution
8K
CPU/GPU
Amlogic S905X3 4-core 64-bit Arm Cortex A55
Mali G31
RAM/Storage
4GB RAM/64GB
Operating system
Android 9.0
Connectivity
1 USB 3.0
1 USB 2.0
1 memory card
Dual-band (2.4GHz + 5GHz) WiFi
Bluetooth 4.0
=
With no-frills hardware and a light price, the X96 Max Plus ranks among our best Android TV boxes in Malaysia picks!
This thing right here is customised already for the Malaysian user and comes pre-installed with 10,000 channels, movies, dramas, history shows, documentaries, and other inspiring and live events and playbacks.
All of these shows get updated every time as opposed to other smart TV boxes. It adds a degree of fun knowing that you would get new film releases that will give you more adventures to experience.
There won't be any struggle with setting it up since all it requires is for you to plug and play. Once started, it immediately links to your WiFi modem either with a 2.4GHz or 5GHz frequency.
Note, however, that a couple of buyers complained that it had no instruction manual and the WiFi didn't pair well with his device.
The graphic and processing power are on point thanks to its Amlogic Quad-core Arm Cortex A55 and Mali G31 processors as well as HDR technology. These give you a 4K cinematic experience and greater colour contrast.
The box is slim and flat and has various ports for you to use, namely, a USB 3.0, USB 2.0, memory card slot, and Bluetooth 4.0, great for connecting wirelessly to your speaker or headset.
Best of all, the X96 Max+ Android TV box includes a 12-month warranty in which the issue will be repaired by the manufacturer, plus you get lifetime technical support if you have any queries or problems in using it.
10K pre-installed channels and apps
LCD panel
Bright HDR+ images
Auto-content update
12-month warranty
Value for money
No voice support system
No instruction manual
Complaints about quality and ease of use
Customer Reviews
Great RAM and storage capacity
"product ship from China. received in good condition. pre installed apps ready. if you want to use Kodi u need to install add on repository by yourself. 4gb ram 64gb storage was very good. paired with air mouse remote." -Fadlulah S.
Fully working upon plug and play
"Android box arrived on time despite MCO and national lockdown. Items were packed well and fully functional upon plug and play." -Piriya R.
5) Smart TV Android Box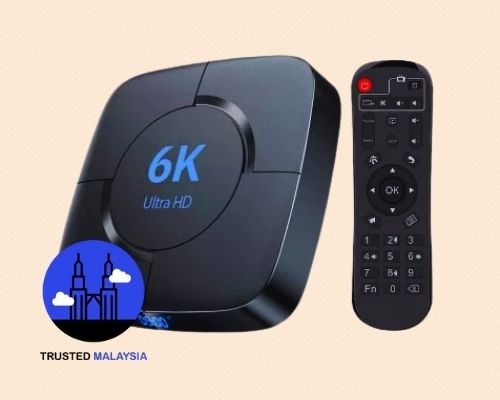 Price: RM141 – RM180
Display resolution
6K
CPU/GPU
Allwinner H616
Mali-G31
RAM/Storage
2GB RAM 16GB
4GB RAM 21GB
4GB RAM 64GB
Operating system
Android 10.0
Connectivity
1 TF card slot
1 USB 2.0 port
1 x AV port
1 x Ethernet
1x audio output
Dual-band (2.4GHz + 5GHz) WiFi
Bluetooth 4.0
The Smart TV Android Box is the most affordable Android television box on this list. Despite this, it's gained a large number of approvals and praises from a wide range of buyers on Lazada.
Amazingly, it can process the images into 6K or 6,144 x 3,160 pixels through its Allwinner H616 and Mali-G31 pairing, making it a great choice for gaming and movie enthusiasts.
This trendy Android box is pre-installed with many Malaysian TV shows and channels, so you can enjoy local entertainment now and then.
Its operating system is Android 10, which was released in December 2019, and so is fairly new. With that, you can keep up with the latest Android apps, music, and games and download them into your TV box.
You can also multiply the action of the game or film from your smartphone to your flat-screen TV and play it on a louder volume for realism and of course, some fun with your friends or family.
It has 2.4GHz and 5GHz internet bands for you to alternate between. Bluetooth 4.0 functionality is included, besides a USB 2.0, a TF card slot for larger storage, a classic AV port, an audio jack, and an Ethernet port to connect to LAN or use a wired network connection.
While this product seems all well and good, it has its downsides. In particular, it doesn't have a warranty nor customer service support to help you troubleshoot a glitch or issue or have a technician repair the box for you.
Also, you may have noticed in the product picture that it has an LCD panel. It displays the time and Internet connection, which is quite convenient as that can inform you when you've watched the movie a bit longer than you should or the Internet is slower today.
6K output resolution
Competitive rate
Android 10.0 version
Preinstalled with many local channels
Screen mirroring feature
Lots of connectivity options
No warranty
No customer service support
Customer Reviews
High quality video and easy app installation
"Really high quality video. No lagging. Able to install plex (for media server), airscreen (screen mirroring from iphone), zoom and disney hotstar.. enjoying it. I install webcam using the usb port so i can use it for zoom meeting. Maybe i'll get mouse and keyboard too. Easy to install app just like a normal android device. Only one drawback. It cannot connect to my wifi not sure what the issue. So I used cable connection. To good to give less star just because of wifi problem." -one Shopee user
Works smoothly and description-accurate
"It's identical to the description and works perfectly. Good quality is appreciated in plastics and so far, in testing, it has worked smoothly. Recommended. Everything works fine with the box!" -C. Chan
How to Buy an Android TV Box
Thinking of getting an Android TV Box? Here are the important things you need to consider:
1) Purpose
Before you even shop for a new TV box online, it helps to know what you want to get out of it. Here are some questions you can ask yourself that will point you in the right direction:
What apps do you want to use?
Do you plan to mostly stream, game, listen to music, or transfer files?
Do you want to access Malaysian or international channels more?
*While we're on the subject, here are some words of caution when getting an Android TV box:
You should ensure that your chosen Android TV box follows the Malaysian streaming regulations so that you can watch the channels without being blocked or restricted.
Also, steer clear of TV boxes with strange-sounding pre-installed apps as they might offer pirated films and services, which are illegal in the country.
Thus, it's safer to buy a product from a reputable brand, especially those that are Google or YouTube-certified. This allows you to watch 4K content on certain platforms without a problem.
Is your connection fast, slow, or in-between?
What is your budget range?
That should get you started on the right foot. If you know what you are looking for, it becomes easier to pick the right Android TV box based on your needs, wants, and budget.
2) Performance
The ideal Android TV box is the one with excellent-quality pictures and audio without slowing down as you are watching the film or video.
In addition, the device may support a variety of audio and video formats like Dolby Digital, Dolby Vision, DTX, Atmos, among others. These serve to enhance your streaming or home theatre experience.
Also, you should check if your TV supports them so that you can reap their benefits.
Herein lies the importance of looking at the product's specs. When buying a TV box, you will most definitely come across these terms: CPU, GPU, RAM, and storage.
Let's define each of the aforementioned terms below:
CPU – stands for Central Processing Unit. Simply put, this is the brain of computer devices including TV boxes, laptops, game consoles, iPads, and smartphones.
The more powerful and newer the processor is, the faster it can give commands and execute them. So the TV box will have no to minimal overloading, freezing, or buffering.
GPU – same as with the CPU but for the graphics. Put another way, the more advanced the GPU, the sharper and brighter the object details will appear on the screen.
This makes graphic-heavy movies or games smoother and faster on the screen. This is because it has the ability to process graphic data continuously.
RAM – the Random Access Memory is responsible for storing short-term data that the device needs to use. Rebooting your TV box will erase all of them and using any program will use up RAM again.
In PCs and laptops, this allows you to open multiple windows or programmes at the same time. It has a certain limit, though, which if exceeded, closes the programme immediately.
Storage – As the name suggests, this lets you save up to a certain amount of files on your TV box. Besides that, you consume storage when you download an app or game.
Don't worry if the storage of the TV box isn't enough for what you need. The reason is that you can get an SD card or external hard drive to expand it, but this can be bulky to have on your TV cabinet.
3) Connectivity
Connectivity refers to how your device can access the Internet, whether wired or wireless. In addition, this pertains to how many ports that your Android TV box supports.
This is handy, for instance, if you plan on using a flash drive or a game controller with a separate HDMI dongle at the same time. You won't have to take out either of them if you have two HDMI ports.
By the way, the HDMI version also matters because it will affect the playback picture and sound quality. The higher its version, the better it can play movies that have higher output resolution like 4K or 8K.
So, make sure to double-check the connectivity of the TV box if it can meet your entertainment or storage needs when shopping for one.
4) Features
Android TV boxes have many convenient features for your leisure and entertainment needs. Here are the most useful and common ones:
Gaming-ready
Content auto-update
AI-enhanced upscaling
YouTube-certified
Built-in voice control
SD card slot
5) Price
Android TV boxes in Malaysia can cost anywhere from RM130 to RM800 depending on the brand, model, and features. Other products have accessories, such as a stand or game controller, which will add up to the unit's price if you buy it.
You may opt to purchase extras along with the unit itself or do it the next time when you order online.
FAQs about the Top Android TV Boxes in Malaysia
---
And that finishes the top Android TV boxes in Malaysia! As you can see, they are very fast, reliable, and smooth to use for streaming movies and playing games!
Have you used one of these products before? We always love hearing from our readers so feel free to message us about your experience using it.
More Resources about Televisions