The Top 5 City Tour Packages in Malaysia
Tour packages are created by people who know the ins and outs of the country you're visiting which means you always get the most out of your trip.
However, there are tons of tour operators and travel agencies out there offering so many packages for Malaysia so how do you choose, right? Well, you've picked the perfect article!
Read on and, by the end, you'll know everything there is to know about the top city tour packages in Malaysia and which one is best for you.
The Top City Tour Packages in Malaysia
Read all about the top city tour packages in the most-visited Malaysian cities!
1. Kuala Lumpur Half Day City Tour by Kuala Lumpur City Tour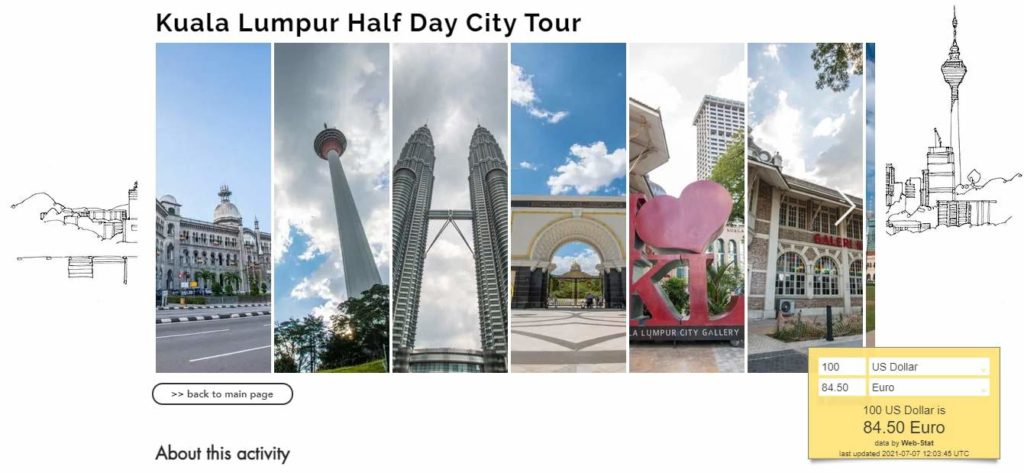 Of course, we're going to start with the capital of the country. Here we have Kuala Lumpur Tours presenting their Kuala Lumpur Half Day City Tour.
You'll get to drive through the old city of Kuala Lumpur, the botanical garden, and the Golden Triangle. You can also ask the tour guide to stop over at the Golden Triangle to buy a few Malaysian gifts and trinkets for your loved ones.
However, you might not need to since you'll also get to enjoy the Kuala Lumpur City Gallery which is the cultural hub for souvenirs, maps, and exhibits.
This city tour lasts for around 3 hours. The first tour is from 8:30 am – 11:30 am and the second one is from 12:30 – 3:30 pm.
This tour package also includes photo stops at King's Palace, National Mosque, Railway Station – Old Moorish Heritage, Independence Square – Colonial Buildings & Cricket Ground, River confluence, Jadi Batek & Beryl's Chocolate Kingdom (Optional), and the Petronas Twin-Towers.
You can also request entrance to the Petronas Tower as an add-on at RM 105 per person and RM 35 per person for the KL Tower. Just note that if you get these add-ons, the tour will end with them dropping you off at these locations.
Check this table out for the rates of this tour:
| | | | |
| --- | --- | --- | --- |
| 2 pax | 3-4 pax | 5-7 pax | 8+ pax |
| RM 80 | RM 70 | RM 60 | RM 50 |
For children 3 to 11 years old, the rate is only RM 40.
Wheelchair accessible
Guided by English speaking driver
Full refunds for cancellations made 72 hours before the tour
Lacks travel insurance
Additional surcharge for card payments
Customer Reviews
Read these reviews left by people who trusted Kuala Lumpur Tours with their vacation!
"Very informative tour. You learn everything about Kuala Lumpur and Malaysia. The tour guide was very nice. If you happen to be on a quick visit to Kuala Lumpur and need to have a quick but packed-of-information tour then this is it. I had no plan of going to KLCC but the tour guide dropped me off to it so I had my chance to get near and have a photo of the famous Petronas Twin Tower. I really recommend this tour." -Katherine
"We had a full day tour today with our guide Chandra. We saw so many sights and Chandra was very knowledgeable, he also did the tour at our pace and was helpful friendly and flexible" -Mohameed
2. 3D2N Johor City Tour by MS Star Travel Agency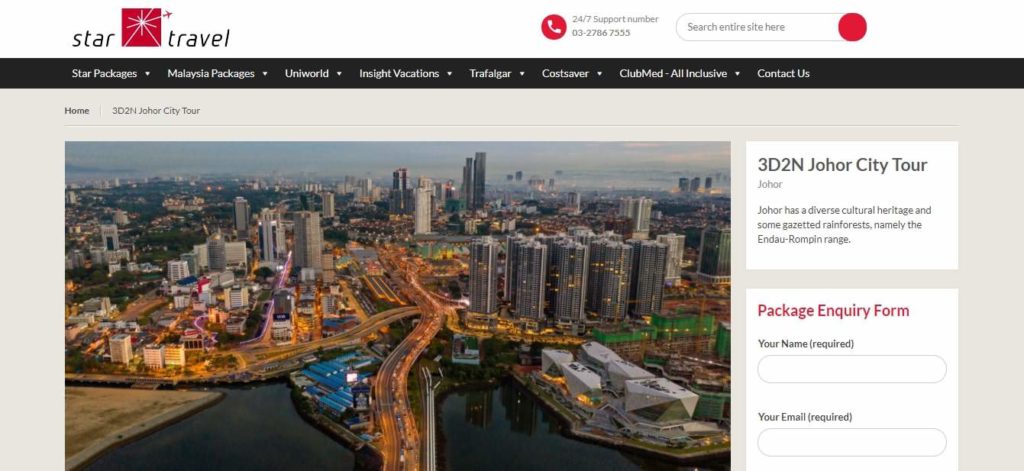 | | |
| --- | --- |
| WEBSITE | https://www.startravel.com.my/ |
| ADDRESS | Wisma Star Travel, No 44,, 42, Jalan Raja Abdullah, 50300 Kuala Lumpur, Wilayah Persekutuan Kuala Lumpur, Kuala Lumpur, Malaysia |
| CONTACT DETAILS | 03-2786 7555 |
| OPERATING HOURS | Mon-Fri 9:00 am – 6:00 pm |
MS Star Travel Agency is known for providing amazing tour packages to any continent in the world. But for Malaysia in particular, they offer tour packages for Johor.
After booking this package, all you need to do is show up for your flight to Johor on time. They take care of everything from your airport-hotel transfers to your selected accommodation, as well as the tour itself.
In this package, you get to see all the important and historical sights of Johor without feeling rushed. The first day consists of you and your group being picked up at the airport and driven to your chosen hotel so you can rest before the tour the next day.
On the second day, the package includes a complimentary breakfast at your hotel, followed by a hotel pickup. The tour takes you to places like 0' Miles the Kilometre Zero and Istana Bukit Serene for photo stops. You then get to fully enjoy historic places like Sultan Abu Bakar Mosque, Tan Hiok Nee Heritage Walk, JB Old Chinese Temple, and the Indian Glass Temple.
After all this, you're driven to the hotel for an overnight stay. You'll then be picked up the following day and driven to the airport.
The cost of your tour changes based on two things: the number of people and the chosen hotel. Here's what to expect:
| | | | |
| --- | --- | --- | --- |
| Hotel | 2 pax | 3 pax | 4 pax |
| Perth Hotel Senai (3 Star) | RM 458 | RM 305 | RM 268 |
| Impiana Hotel Senai (4 Star) | RM 442 | RM 348 | NIL |
They require a 50% downpayment upon booking and a 100% payment a month before the tour dates. You may also make changes to the travel dates as long as it's done 2 weeks in advance.
Choice of hotel
Airport-hotel transfer included
Lunch and dinner not included
Lack of travel insurance
Customer Reviews
Check out this review left by Kamala about her experience with MS Star Travel:
"First time with Star Travel and I find that their service is excellent and reliable. Especial thanks to Star Travel for making my holiday a memory." -Kamala
3. Historical Malacca City Full-Day Tour by Tour51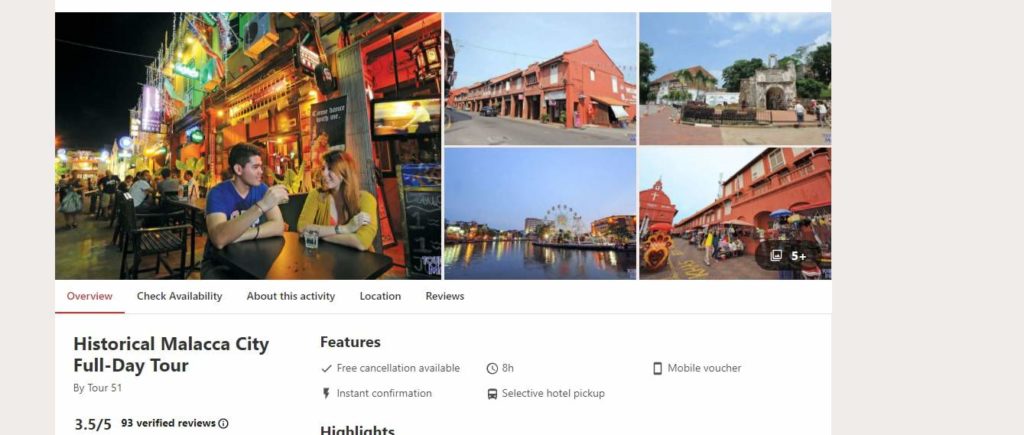 | | |
| --- | --- |
| WEBSITE | https://www.facebook.com/Tour51/ |
| ADDRESS | No.176, Lot 2.107, First Floor, Wisma Central, Jalan Ampang, 50450, Kuala Lumpur, Kuala Lumpur, Malaysia |
| CONTACT DETAILS | +60 3-2161 6964 |
The Historical Malacca City Full-Day Tour by Trip51 is an 8-hour long trip that takes you all around one of UNESCO's World Heritage sites.
This guided tour package takes you first to St. Paul Hill where you can see the whole city of Malacca. Then you get to enjoy visiting Porta de Santiago, St. Peter's Church, and Cheng Hoong Teng Temple.
The tour also shows you around Jonker Street's market where you can get authentic Baba-Nyonya cuisine for lunch.
It includes roundtrip transportation to and from Kuala Lumpur city center hotels as well as admission fees to all sites.
This tour is set RM 183 for adults, regardless of the number of people on the tour. But for children (years 2 and above), it's free!
Tour51 doesn't have its own website which may make them a bit more difficult to reach but we recommend using this link to book the Malacca tour. It's quick, easy, and they offer discounts for kids.
Free for children 2 and below
Live commentary in English
Lunch is included
Not wheelchair accessible
Requires at least 2 adults per booking
Customer Reviews
Check out these reviews left by Marnie and Sajdvaz about their tour with Tour51:
"This is a really great tour, our guide Ben sur was very informative and entertaining, the lunch provided was good quality and there was plenty to go around" -Sajdvaz
"This was a good tour – easy from start to finish. Each stop was interesting, lunch was tasty. Only issue was with the first toilet stop – it was so dirty! – but a great day out overall." -Marnie
4. Ipoh Private Day Tour from Kuala Lumpur by Hovando Holidays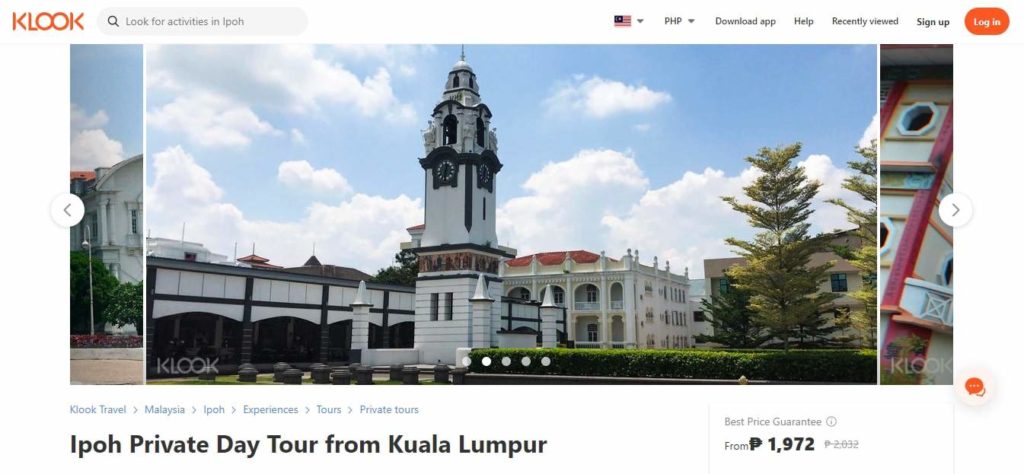 The Ipoh Private Day Tour by Hovando Holidays gives you a great opportunity to explore the city of Ipoh.
This colourful city is home to many sights. Here are some places you'll be visiting during this 10-hour tour: Ipoh Railway Station, Concubine Lane, Kek Lok Tong Cave Temple & Zen Garden, Qing Xin Ling Leisure & Cultural Village, and Kellie's Castle.
Tip: Be sure to ask your tour guide all about how Concubine Lane got its name for an interesting little story.
The package includes transportation to and from all these places as well as entry to them to Qing Xin Ling Leisure and Cultural Village. However, they don't include meals, and you may need to pay entrance fees for certain places.
The package offers traveler pickup, but this is based on pickup points. You may view the checkout page to see their pickup points.
Here is more or less what you should expect to pay per head for this tour depending on how many you are in your group:
1 pax- RM 766/head
2 pax- RM 385/head
3 pax- RM 258/head
4 pax- RM 195/head
5 pax- RM 153/head
6 pax- RM 131/head
7 pax- RM 112/head
8 pax- RM 99/head
9 pax- RM 90/head
10 pax- RM 81/head
Allows you to join in groups
Free cancellation 24 hours before the date of travel
Lunch isn't included
Limited pick-up points
Customer Reviews
Here are a couple of reviews from people who thoroughly enjoyed their trip with Hovando Holidays:
"This trip is a good quick trip to cover the highlights of Ipoh especially if you are short of time. It is a long day, almost 11 hours taking into consideration traffic. Ipoh is an undiscovered gem, a cool city, and our pleasant and flexible driver Mano made this a memorable trip." -Andy
"Very relaxing tour and worth the long drive from KL. Guide and driver Thiva was very professional. Safe driving and useful briefing, but wouldn't keep talking. places are a delight to see." -Tza
5. Half-Day George Town History Private Tour by MAM Holidays Malaysia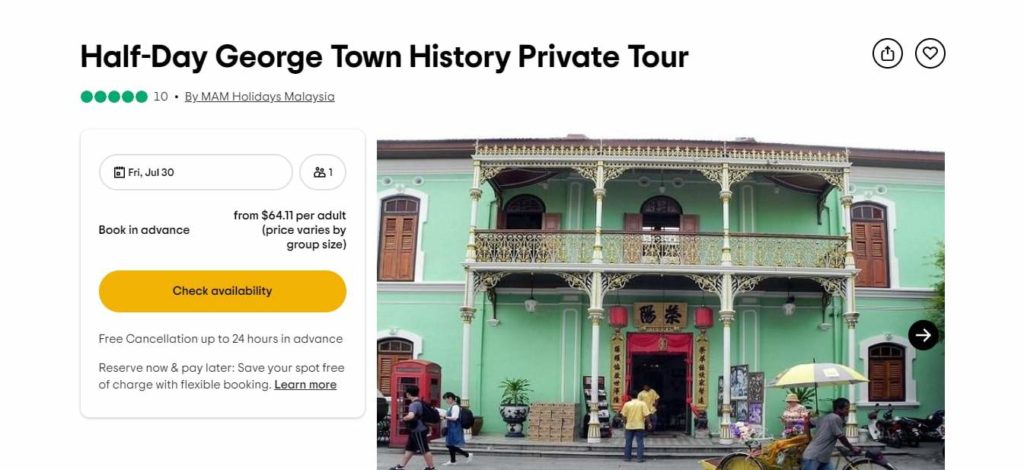 Booking MAM Holidays Malaysia's Half-Day George Town History Private Tour is one of the best ways to explore the capital city of Penang.
This 4-hour trip will be guided by an English-speaking driver and includes round trip transportation by a minivan. They also offer pick-ups and drop-offs at George Town hotels or cruise ship ports around the area.
The tour has two schedules per day with a maximum of 15 people per booking. The first trip is from 9:00 am – 1:00 pm, and the second trip is from 2:00 pm – 6:00 pm.
You'll be visiting sights such as the Reclining Buddha Wat Chaiyamangalaram, the Khoo Kongsi, and the Dharmikarama Burmese Temple, the oldest Malaysian temple in the state. You'll also get a chance to visit Chew Jetty and the Pinang Peranakan Mansion.
You may book with them here.
Below are the rates per person depending on the number of people in your group:
1 pax- RM 426/head
2 pax- RM 266/head
3 pax- RM 192/head
4 pax- RM 170/head
5 pax- RM 160/head
6-7 pax- RM 149/head
8-9 pax- RM 117/head
10-15 pax- RM 96/head
Free cancellation 24 hours before travel date
Allows up to 15 people per booking
Pricey for solo/small groups
Lunch isn't included
Customer Reviews
Here are reviews left by Eng and Alex who seemed to really enjoyed the trip with MAM Holidays:
"Great collections! It's a must see in Penang! Thanks to Ricky for a wonderful tour and history of the museum." -Eng
"We enjoyed our tour of George Town, including visits to Pinang Peranakan Mansion, Khoo Kongsi, Reclining Buddha Temple and Clan Jetties. Our guide picked us up from Holiday Inn Penang and was very friendly and knowledgeable.
Note however that the tour also included unexpected stops at local stores selling chocolate, amber and batik prints. To be honest the family enjoyed visiting the stores, but I wish it had been clearly stated beforehand in the trip description" -Alex
FAQs about Tour Packages in Malaysia
---
Going on vacation should be a relaxing and fun activity. Choosing the right tour operator with the right package is vital in making that happen so we hope we helped you with choosing the perfect city tour package for your trip to Malaysia!
Please don't hesitate to reach out and let us know if you have any tour package recommendations. We'd also love to hear all about your trip!
And, finally, be sure to check out our list of the best travel insurance in Malaysia. You're never going to know when you need it!