The Top 6 Stock Brokers in Malaysia
Wealthy people are known to have mastered the art of leverage using their money. They normally have more passive income sources than their active ones.
Buying and trading shares from a company are one of the best ways to build your finances today. In this article, you will find the top stock brokers in Malaysia which will help you buy and sell stocks without consuming all of your working time in a day.
To start, let's take a look at how much money it takes to start trading stocks in Malaysia.
How Much Do Stock Broker Services Cost in Malaysia?
Stock brokerage can be traditional or done online. Traditional brokerage is when you let a firm or investment bank do the trading for you but comes with a premium fee for their service.
Online brokerage platforms, on the other hand, lets you trade and invest on your own and may have cheaper charges. Nevertheless, fees are calculated based on the percentage of your investment and to give you an insight, here's their average cost:
| | |
| --- | --- |
| Service | Average Cost |
| Minimum Cash Upfront | RM7.00 – RM800 |
| Minimum Cash Collateral | RM7.00 – RM28.00 |
| Contract Stamp | RM1 for every RM1000 |
| Clearing Fees | Up to 0.03% |
| Service Tax | Up to 6% |
The Best Stock Brokers in Malaysia
There are a lot of reasons why people may suddenly find an interest in investing but we all have one clear goal: to make more money through trades!
With the help of the top stock brokers in Malaysia listed below, we don't doubt you'll achieve this goal with patience, perseverance, and a lot of research.
1.   HLe Broking (Hong Leong Investment Bank)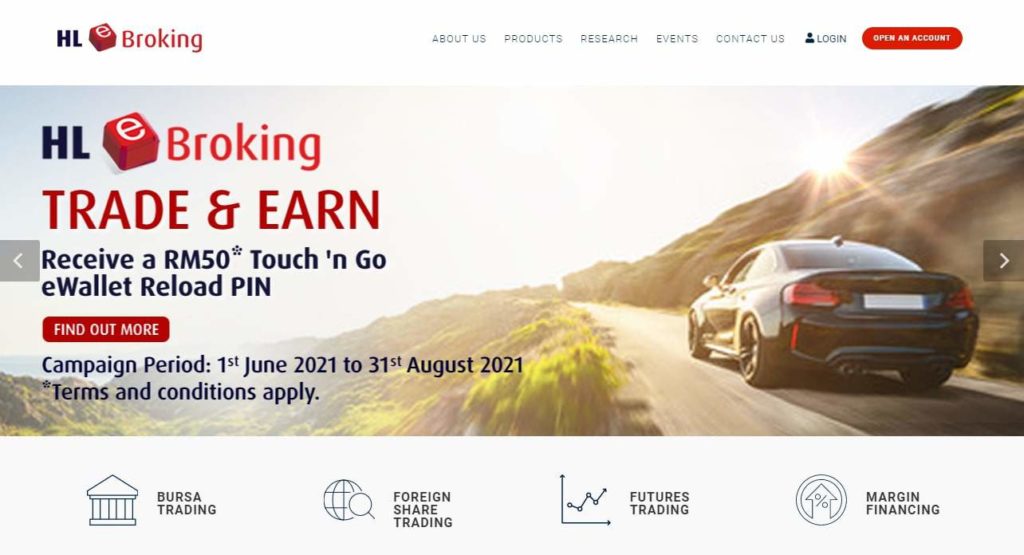 | | |
| --- | --- |
| SERVICES | Bursa trading, Foreign share trading, Futures trading, Margin financing |
| WEBSITE | https://www.hlebroking.com/v3/ |
| ADDRESS | Level 27 & 28, Menara Hong Leong No 6, Jalan Damanlela, Bukit Damansara 50490 Kuala Lumpur |
| CONTACT DETAILS | 03-7723 3030 |
| OPERATING HOURS | Mon-Fri 8:30 am – 5:30 pm |
First on our list is HLeBroking from Hong Leong Investment Bank which seeks to assist customers in making trading and investment strategies. Their brokerage fee starts at 0.0848% which is significantly lower than the average price in the market.
With them, you can trade stocks not only in Malaysia but also in countries like the US, UK, Hong Kong, Shanghai, Australia, and Thailand. What's great about HLeBorking is you can avail of their services without a monthly subscription and service fee.
Aside from stockbroking, they also have investment banking services that include equity funding, private debt securities (PDS) issuances, loans, IPO, and more. It's helpful for those who are just starting with their careers but also aim to build their wealth.
Their team of professional dealers are ready to assist you through their trading hub. However, if you prefer to trade on your own, you can open an online account that you can access even on smartphones.
Like you, we're particular when it comes to online security so we're glad to know HLeBroking offers 128-bit SSL encryption. This secures your data and the authenticity of the website you're on to protect your account information from possible theft.
Low brokerage fee
Complete online trading tools
Online account application available
Mobile app available on Android, iOS, and HarmonyOS
Different brokerage rate for phone orders and online orders
No biometrics login available for the app
2.   UTrade by UOB Kay Hian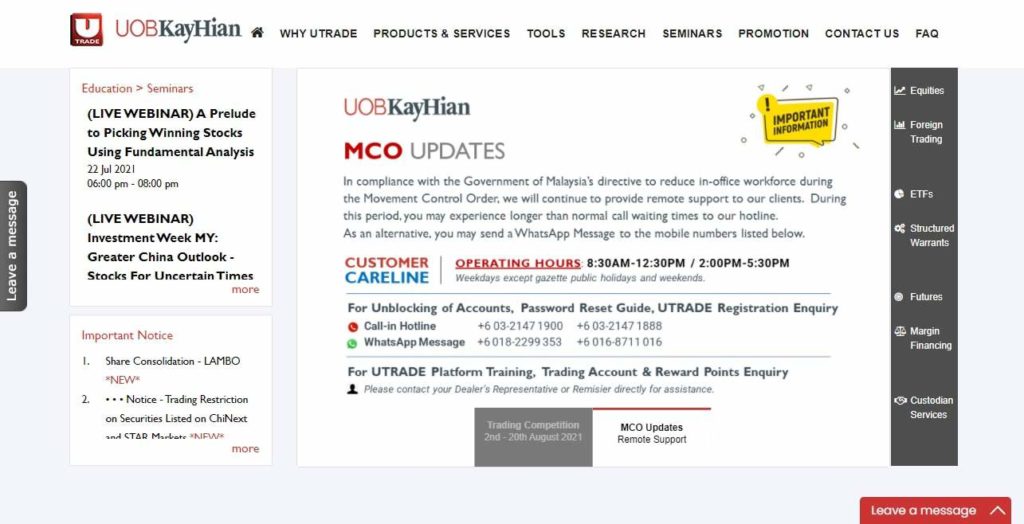 | | |
| --- | --- |
| SERVICES | Equities, Foreign trading, Exchange-traded funds (ETFs), Structured warrants, Futures, Margin financing, Custodian services |
| WEBSITE | https://www.utrade.com.my/ |
| ADDRESS | Ground Floor & 19th Floor Menara Keck Seng 203, Jalan Bukit Bintang 55100, Kuala Lumpur |
| CONTACT DETAILS | (603) 2147 1888 |
| OPERATING HOURS | Mon-Fri 8:30 am to 5:30 pm |
UTrade by UOB Kay Hian is one of Asia's largest brokerage firms. They're based in Singapore, the hub of Southeast Asian trade, which makes sense why they have over 80 branches all over the world.
When you're starting out as an investor, the greatest tool you'll ever have is information on the latest practices in the stock market. UOB Kay Hian's UTrade does not only have the platform that enables you to put your money in the right place, but they also conduct seminars and provide research tools for their clients.
Their trading products are equities, foreign trading, exchange-traded funds (ETFs), structured warrants, and custodian services. For their trading services, they offer corporate/finance advisory, acquisition finance, investor education, structured financing, wealth management, margin trading, as well as retail and institutional investors.
All of these trading products and services were devised and supported by their research team and award-winning analysts. This research is conducted to help clients understand the confusing world of trading as they avail of the company's trading products and services.
Offers trade seminars for clients
Comprehensive range of research tools
Wide range of trading options
Products and services are backed by award-winning analysts
Additional fees for value-added services
No app available in Malaysia
Limited to four stock markets only: SG, HK, MY, and US
3.   Affin Hwang Investment Bank Berhad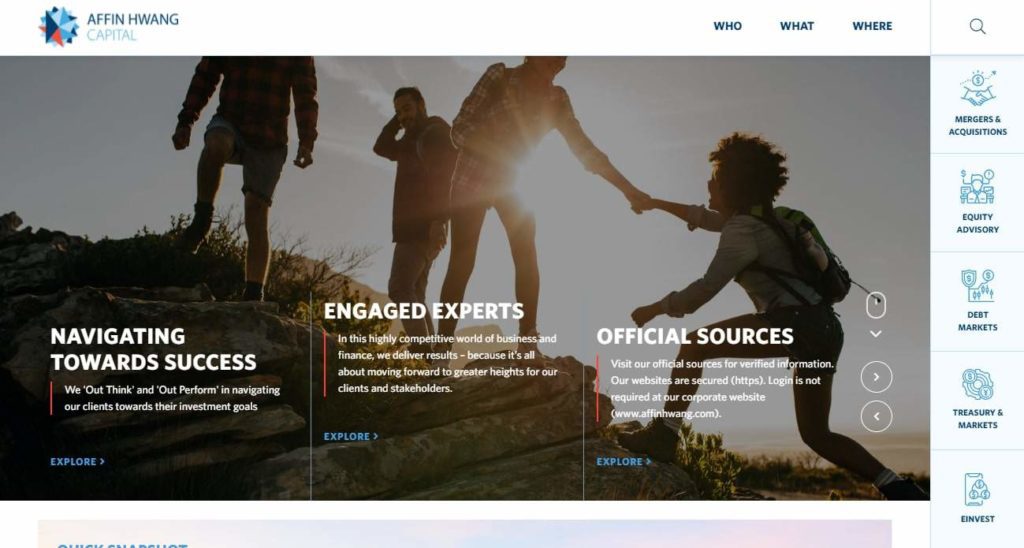 | | |
| --- | --- |
| SERVICES | Investment Banking, Securities, Asset Management, Trustee |
| WEBSITE | https://affinhwang.com/ |
| ADDRESS | 27th Floors, Menara Bousted, 69 Jalan Raja Chulan, 50200 Kuala Lumpur, Malaysia |
| CONTACT DETAILS | +603 2142 3700 |
| OPERATING HOURS | Mon-Fri 8:45 am – 5:30 pm |
Affin Hwang Investment Bank Berhad is a specialist Malaysian bank that focuses on providing opportunities for investments. Recently, they released eInvest Go which is an online account opening service that clients can use to view and manage their investments from any of their personal devices.
It's safe, secure, and easy to use especially for those who would rather avoid face-to-face transactions. It's facilitated by an e-KYC solution which makes account activations take just a day which is perfect for those who can't wait to get started.
Now, this platform gives you everything you need to get kickstarted in your investment journey. They offer educational materials, information on the latest news, and extensive research on the market structure.
For the actual trading processes, it couldn't be easier with the full range of live trading functions and price quotes displayed as well as premium stocker screeners, and the personalised products and services.
A bonus for those who use eInvest Go is they get to enjoy a brokerage from a minimum of RM 5 per trade.
eInvest Go app available on Android and iOS
Online account opening service
Complete range of financial advisory services
Multi-awarded investment firm
Funds are only offered to those in Malaysia
Must be a client of Affin Hwang Bank Berhad to open account
4.   Mercury Securities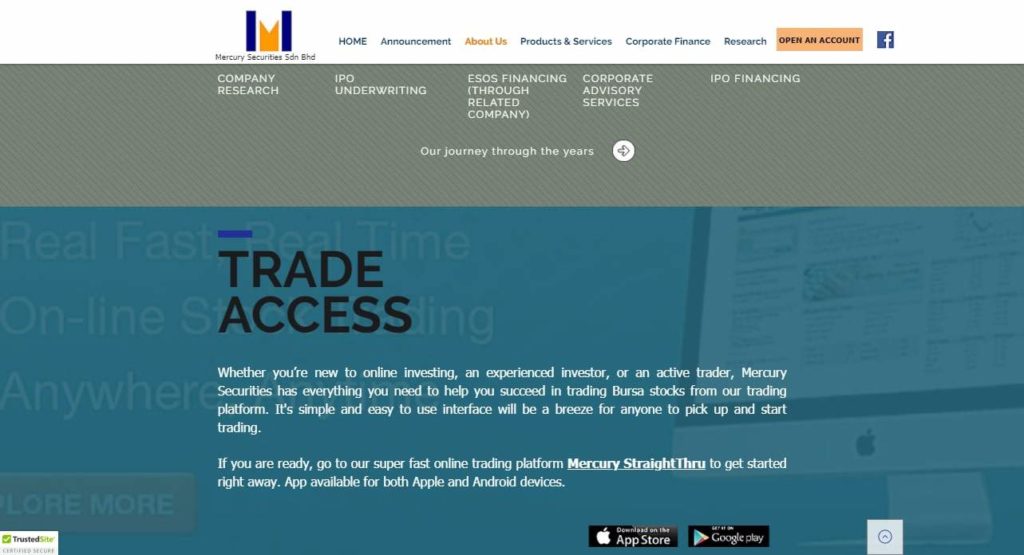 | | |
| --- | --- |
| SERVICES | Stock-broking, Mercury Straightthru app, Nominees & custodian services, Corporate finance |
| WEBSITE | https://www.mercurysecurities.com.my/ |
| ADDRESS | Ground, 1st, 2nd & 3rd Floor Wisma UMNO, Lorong Bagan Luar Dua 12000 Butterworth, Seberang Perai |
| CONTACT DETAILS | 604-3322 123 |
| OPERATING HOURS | Mon-Fri 9:00 am – 5:00 pm |
Mercury Securities' is a Malaysian stockbroking firm that's been in the financial business since 1992.
Mercury Securities' goal is to make trading Bursa Stocks easy for everyone regardless of their knowledge and experience with trading stocks. To achieve this, they developed an easy-to-use application that's available on both Android and iOS devices: Mercury StraightThru.
On their accurate and efficient app, you can fully manage your trading account in real-time with the promise of anonymity. Their app gives you the ability to place your trades at any time of the day but the trades are executed during trading hours.
As long as your orders/trades are still unmatched, you're free to delete or amend them. You can also create a portfolio for all your favorite stocks so you can keep a watchful eye on them.
With their help, you'll be able to receive stock recommendations for all risk levels as well as equity strategy. You'll also develop a clearer outlook on both the economy and market which is vital in understanding how trading works yourself.
Their team consists of highly dedicated individuals whose only job is to research and analyze companies, industry fundamentals, and the economy in order to help their clients make the best investment decisions.
Their trading markets are limited to Bursa Malaysia, New York Stock Exchange, London Stock Exchange, and Hong Kong Hang Seng.
App available on Android and iOS
Online application for trading account
Economic and market research is available on their website
Limited to 4 stock exchange markets
Does not allow trades outside of business hours
5.   PM Securities Sdn Bhd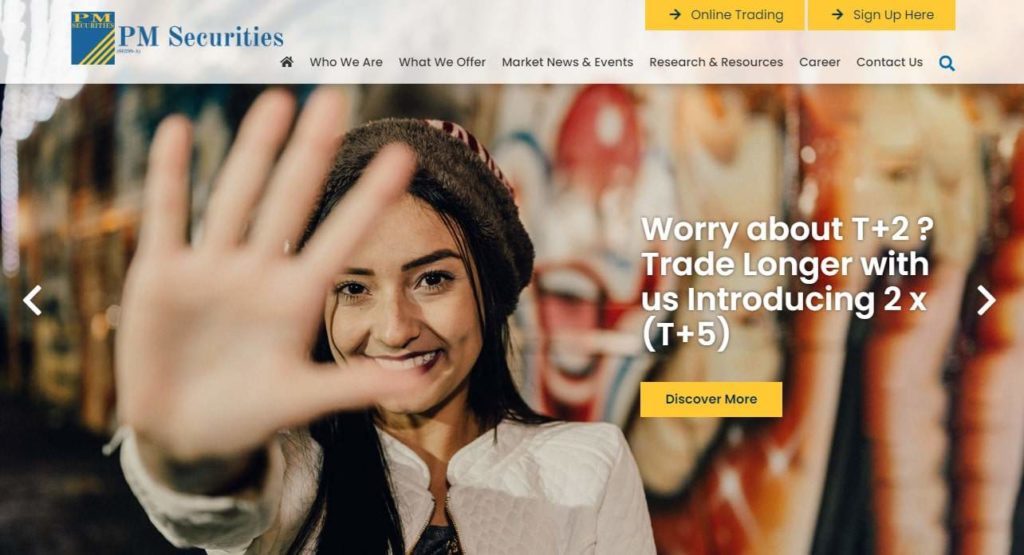 | | |
| --- | --- |
| SERVICES | Retail share trading, Institutional share trading, Share margin financing, Custodial and Nominees Services, Foreign share trading, LEAP Market |
| WEBSITE | https://www.pmsecurities.com.my/ |
| ADDRESS | Bukit Ceylon, 50200 Kuala Lumpur, Federal Territory of Kuala Lumpur, Malaysia |
| CONTACT DETAILS | 03-2054 8000 |
| OPERATING HOURS | Mon-Fri 9:00 am – 5:00 pm |
Ever since they established their company in 1972, PM Securities has serviced hundreds of individuals and companies with their financial matters. While they offer multiple different kinds of services, we'll be focusing on their retail share trading, institutional share trading, and foreign share trading.
Their retail share trading is for individuals and they offer two types of methods: the traditional method and the online method. The traditional method hooks you up with a representative who will talk you through the trades and answer your questions, while the online method is for those who would prefer executing their trades independently.
Those who choose the latter get much better brokerage rates but they don't get the same assistance as those who choose the traditional method so there are pros and cons to each method.
It's also good to note that those who choose the online trading method can place their trades outside of business hours while those who go through the traditional method are limited to place trades during business hours.
Now, their institutional share trading is for corporate clients who require specific, comprehensive and timely support in terms of their trading and this is done by creating a good workflow and straightforward processing of trades. With their foreign trade sharing, you get access to over 15 equity trade markets all around the world making your trade and stock portfolio extremely diverse.
Application available on Android and iOS
Posts up-to-date research and news regarding the economic markets
Provides comprehensive trading guide on website
Has over 15 equity trade markets
Requires a Central Depository Account
Only one trading account per person is permitted
FAQs about Stock Brokers in Malaysia
---
Stocks, investments, and finances are something everyone should learn but for some reason, we just don't. That's why we're glad that you made it at the end of this article and have increased your knowledge of the best stock brokers in Malaysia!
There's still a lot of brokerage companies across Malaysia so if you know one that's on this list, don't hesitate to let us know! We're always excited to hear back from you. That's why we'll make sure to go through your suggestions one by one!
Before you go, we have an article on the best digital banks in Malaysia that you might find yourself in need of one day!