5 Best Cafes for Dinner in Penang
It's no secret that Penang is one of the major attractions (Why Malaysia is a tourist attraction) in Malaysia, and its streets are filled with tourists. No wonder why there are plenty of cafes (cool cafe in penang) here that close late to accommodate people looking for a place to eat dinner.
We scoured through a number of places to find the best cafes for dinner in Penang to help you decide where you should dine after strolling through its famous (What is Malaysia famous for?) tourist destinations. Read on to discover the top cafes in the state!
How much does dinner cost in a cafe?
There are plenty of options on the menus in cafes in Penang. We estimated the prices per category to give you an idea of how much you would spend for dinner (what do malaysians eat for dinner).
| Dish | Estimated Costs |
| --- | --- |
| Pasta | RM 20 - RM 40 |
| Burger | RM 28 - RM 44 |
| Main course | RM 25 - RM 80 |
| Dessert | RM 13 - RM 20 |
| Salad | RM 18 - RM 30 |
| Soup | RM 15 - RM 18 |
| Coffee | RM 8 - RM 17 |
| Other drinks | RM 10 - RM 17 |
Top 5 Dinner Cafes in Penang
In coming up with this list of cafes in Penang you can eat dinner, we created the following criteria to make sure we could give you only the best options:
1. Wheeler's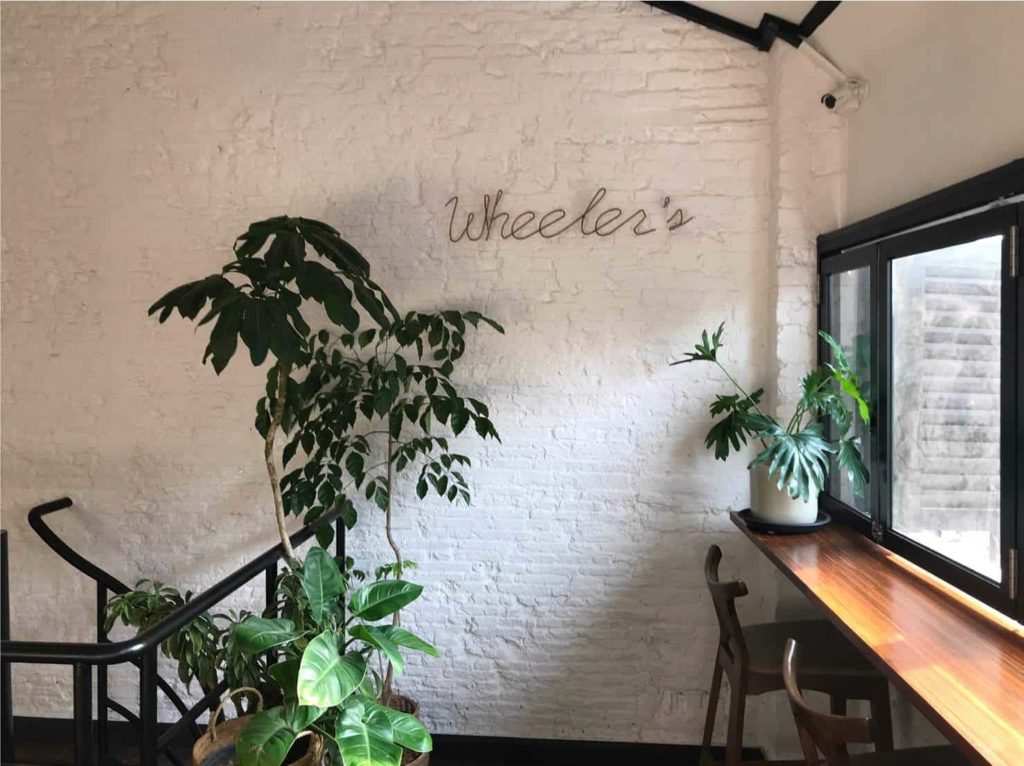 Test
Info
SERVICES
Dine-in

Outdoor seating

Delivery

Takeout

WEBSITE
https://www.wheelers.com.my/
ADDRESS
67, Lorong Love, George Town, 10200 George Town, Pulau Penang, Malaysia
CONTACT DETAILS
+60195247703
OPERATING HOURS
8?AM - 12 AM
| | |
| --- | --- |
| Criteria | Ratings |
| Variety of menu | ★★★★★ (5/5) |
| Affordability | ★★★★☆ (4/5) |
| Cafe layout and design | ★★★★☆ (4/5) |
| Amenities | ★★★★★ (5/5) |
| Customer satisfaction | ★★★★★ (5/5) |
Wheeler's has been a crowd favorite since it opened in 2014 and it's no surprise why.
One of the things we love about this cafe is its cozy and casual ambiance because of its white and brown color palette that sets the mood. The space is quite small, but it doesn't mean that it lacks amenities like a restroom and bar.
However, it's not very accessible. While it provides a wheelchair-accessible entrance and seating, it doesn't have a wheelchair-accessible restroom and parking space.
It's also our top choice because the food (is malaysian food spicy) here is superb because they serve well-cooked and perfectly blended dishes.
They mainly serve Western and Asian cuisines, but there are way too many options to choose from. You would have to take your time to pick which dishes and drinks you should try when you see their menu.
We also noticed that there are only a few seats, so customers might have to wait for some time during dinner rush hour when it's packed. If you're planning to go during peak hours, it's best to call in advance to get a reservation.
Nevertheless, this cafe is open until 12 AM. So, if you're looking for a place where you can get food even if it's late at night, you're assured there's someplace you could go to.
Accepts reservation
Family-friendly
Not much accessible
Waiting time
Located in a loud neighborhood
Customer Reviews
Highly-recommended dinner cafe
"Had dinner here. Good service. Good ambience. Good price. Great range of food variety. The taste is super good! Highly recommended!" —Jay Simon, Google Reviews
Cozy dinner cafe
"Superb experience at Wheeler's :') Food was great, drinks were special and the ambience topped it all off. Perfect place was a cosy and intimate dinner with your loved ones!" —Althea Yeo, Google Reviews
2. China House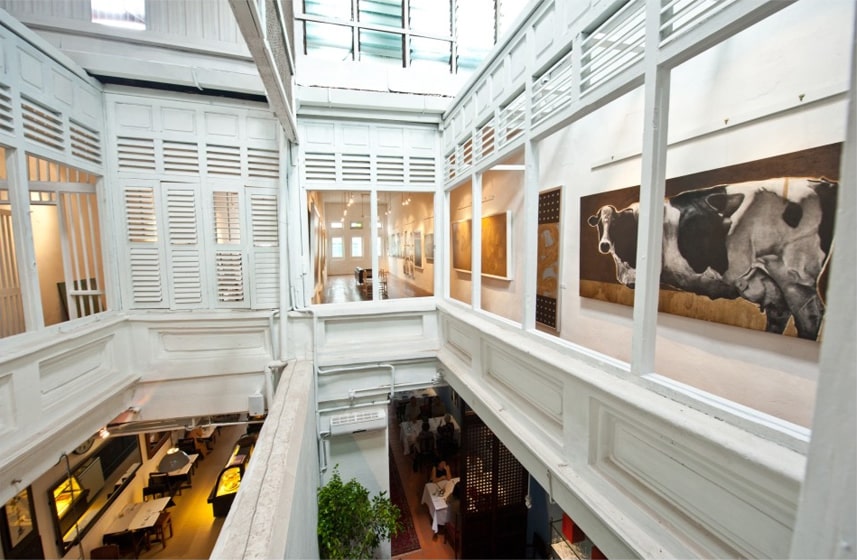 Test
Info
SERVICES
Dine-in

Outdoor seating

Delivery

Takeout

WEBSITE
https://www.chinahouse.com.my/index-new.html
ADDRESS
153, Beach St, Georgetown, 10300 George Town, Penang, Malaysia
CONTACT DETAILS
+6042637299
OPERATING HOURS
9:30 AM - 1 AM
| | |
| --- | --- |
| Criteria | Ratings |
| Variety of menu | ★★★☆☆ (3/5) |
| Affordability | ★★★★☆ (4/5) |
| Store layout and design | ★★★★☆ (4/5) |
| Amenities | ★★★★☆ (4/5) |
| Customer satisfaction | ★★★★☆ (4/5) |
China House is a household name in Penang, so much so that it's one of the cafes that would quickly come to mind when talking about cafes in this state.
As one of the oldest and pioneer cafes in Penang, China House now has an antique vibe, especially at night. It's the perfect place to have your dinner and relax after spending the day strolling around Penang.
It's the perfect place to just want to chill and relax after having your dinner and after
We like the fusion of its own dinner menu, but it's quite limited and there are only a few choices. However, we love that they have a Sharing Meat Platter option which you could share when you're having dinner with your family or friends.
We also love China House's bakery because it has approximately 50 cake options which are cheap and served in large portions. It's also popular for having the best Tiramisu in town!
Music enthusiasts will also enjoy dinner because of the live bands and live performances at night. Meanwhile, artists will feel inspired to create when they dine here because of the galleries and decorations they will find.
Since it's popular among tourists and locals, it's usually crowded during peak hours like dinner. However, waiting time would usually take just 10 minutes.
Live music and theater
Kid-friendly cafe
Group-friendly options
Not accessible
Quite expensive food
Customer Reviews
Kitchen is open even if it's late
"Good ambience. Decided to visit after dinner.. Good point is they open till late.. Easily find parking and the kitchen is still open before 11pm.. Recommended try out their new world wine. And rum raisin carrot cake." —Regina Tzyyjen, Google Reviews
Expensive but incredible cafe
"Incredible cafe! We had a wonderful avocado salad, plus their signature tiramisu (from one of the best cake selections I've ever seen!) Certainly on the expensive side, but both were lovely and the amazing building made it a real experience! Take time to explore after your meal!" —Jonathan Tinnacher, Google Reviews
3. Macallum Connoisseurs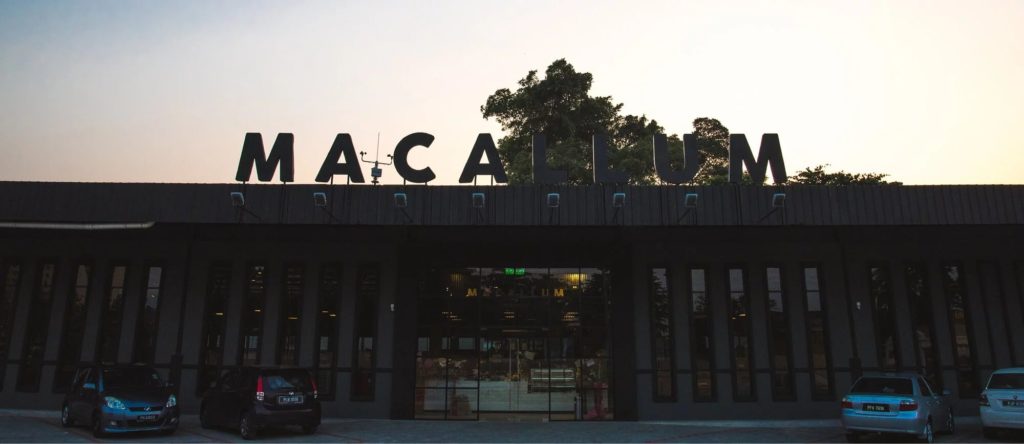 Test
Info
SERVICES
Dine-in

Takeout

Delivery

WEBSITE
http://www.macallumcoffee.com/
ADDRESS
1, Gat Lebuh Macallum, 10300 George Town, Pulau Penang, Malaysia
CONTACT DETAILS
+6042613597
OPERATING HOURS
9 AM - 9 PM
| | |
| --- | --- |
| Criteria | Ratings |
| Variety of menu | ★★★★☆ (4/5) |
| Affordability | ★★★★☆ (4/5) |
| Cafe layout and design | ★★★★★ (5/5) |
| Amenities | ★★★★★ (5/5) |
| Customer satisfaction | ★★★★★ (5/5) |
Macallum Connoisseurs is famous for its coffee, but it's also one of the best cafes in Penang where you can have dinner.
Don't be surprised if the food in this cafe is good but affordable. Anyone who comes here will be enticed to have a hearty meal because of its signature dishes.
Its menu has a variety of burgers, as well as meat and seafood options, but it lacks vegetarian options. Additionally, it's especially famous for its top-notch pasta recipes like Aglio Olio.
Another thing that we love about this cafe is there's no scarcity of seats because it spans 8,000 square meters.
This means that it can accommodate more customers than other cafes, which is why people who come here are usually in large groups. Many patrons also book this place for private events or large gatherings.
Since it has so much space, it also houses a restaurant, roastery, and a coffee academy that offers barista and brewing courses.
Before the location was turned into a cafe, it used to be a warehouse, which is why it's so spacious, and it has a cozy industrial design.
It's usually open until 9 PM only, so it's best to go early if you're planning to have dinner here.
Wheelchair-accessible parking lot
Has a great variety of pasta
Not vegetarian- and vegan-friendly
Closes early
Customer Reviews
Great for a nice and cozy dinner
"Awesome place to have nice cozy dinner and also lunch..there is although some room for improvement like choice of drinks can be added more and parking is a not so convenient yet not so bad …just that if the place is crowded then you will have a tough time to find parking…but overall the struggle is worthy as the pork burger was awesome" —Tirrukantha Alaganathan, Google Reviews
Famous for its pasta
"Good place to hang out with friends. Pasta is famous here. Salted egg pasta a must try. However, seems to have a lot of mosquitoes at night time. Never got bitten but flying around would be annoying." —Yong Chung, Google Reviews
4. Kafka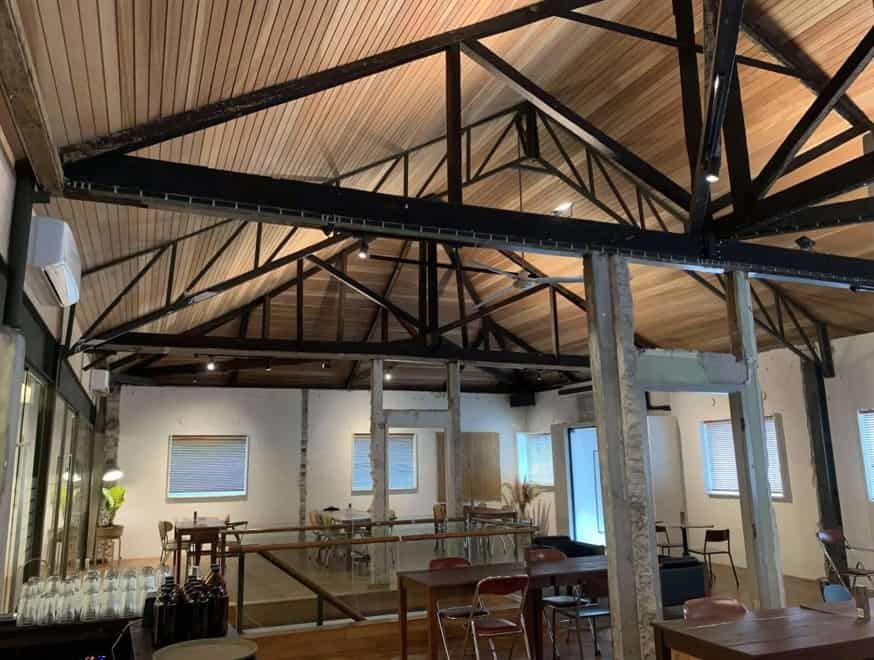 Test
Info
SERVICES
Dine-in

Takeout

Delivery

WEBSITE
http://kafkacoffee.com/
ADDRESS
15, Jalan Kelawai, George Town, 10250 George Town, Pulau Penang, Malaysia
CONTACT DETAILS
+6042189726
OPERATING HOURS
Sunday to Monday, Wednesday to Saturday: 8 AM - 10:30 PM

Tuesday: 8 AM - 6 PM
| | |
| --- | --- |
| Criteria | Ratings |
| Variety of menu | ★★★★★ (5/5) |
| Affordability | ★★★★☆ (4/5) |
| Cafe layout and design | ★★★★☆ (4/5) |
| Amenities | ★★★★☆ (4/5) |
| Customer satisfaction | ★★★★★ (5/5) |
Kafka is a newer establishment, but it easily captivated tons of patrons because of its reasonable prices and carefully-curated menu. It's a hidden cafe with an urban ambiance and good food.
It has different menus for breakfast, lunch, and dinner. We noticed that each of their menus offers quite a diverse selection.
This means that there are plenty of new things you could try for dinner. They have a great variety of main courses, pasta, burgers, and even salads.
They also have several beverage options, including coffee or non-coffee, tea, juice, milkshake, and even natural soda. It also serves mocktails and limited alcoholic drinks.
However, don't fret, as the prices of their food and drink are affordable.
This cafe is a tranquil place perfect for solo travelers or couples. One thing that concerns us is that large groups often have a hard time finding a seat here.
Kafka is the only cafe in Penang to have been built inside a bungalow. We love how comfortable this cafe is, particularly because of the plants scattered around the place.
It's a good place to chill and a great spot to take Instagram-worthy photos. It has a minimalistic but rustic interior design that helps its customers feel at ease.
Great interior design
Good customer service
Doesn't accommodate large groups
Waiting time
Customer Reviews
Helpful staff
"Had dinner at Kafka and the caesar salad was good. Sea bass was fresh as well. However, the main focus was the coffee! Toffee nut latte and flat white was fragrant and not too acidic.
Wanted to praise the male staff (tall and small built) – sorry did not get your name! He helped us with our coffee order as our coffee order came after our mains, and kept checking to ensure that we get our coffee promptly. Thank you!" —John Tng, Google Reviews
Tasty food and friendly staff
"What a nice place for brunch and dinner. I love the design inside the house. The staffs were very friendly and nice to us. The food is also very tasty. The latte art was also a great thing to praise. Will visit here next time." —Mark Teng, Google Reviews
5. The Mugshot Cafe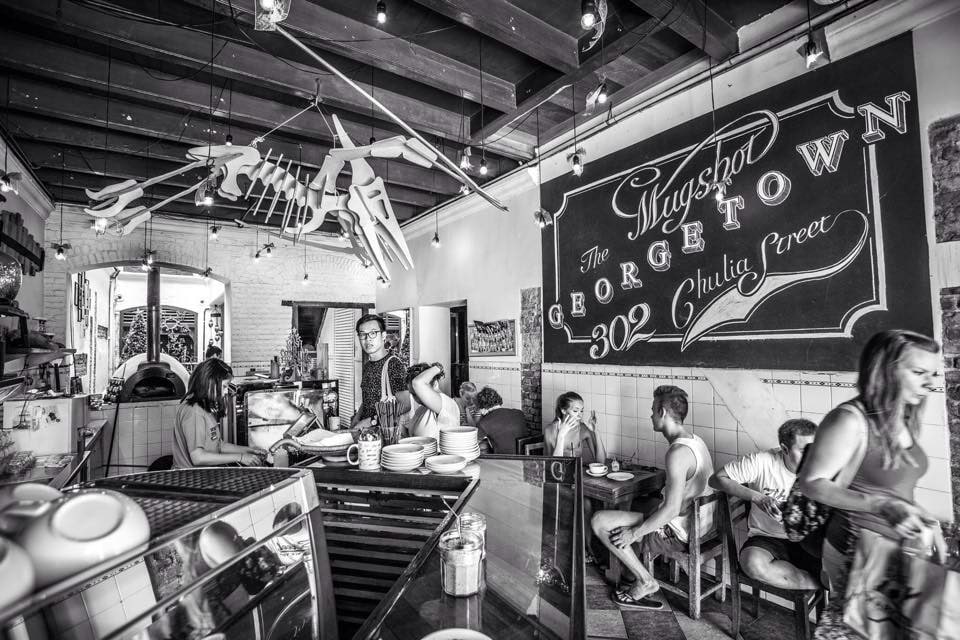 Test
Info
SERVICES
Dine-in

Takeout

Outdoor seating

ADDRESS
302, Chulia St, Georgetown, 10200 George Town, Penang, Malaysia
CONTACT DETAILS
+601126447007
OPERATING HOURS
8  AM - 10  PM
| | |
| --- | --- |
| Criteria | Ratings |
| Variety of menu | ★★★☆☆ (3/5) |
| Affordability | ★★★☆☆ (3/5) |
| Cafe layout and design | ★★★★☆ (4/5) |
| Amenities | ★★★☆☆ (3/5) |
| Customer satisfaction | ★★★★☆ (4/5) |
As another one of the pioneer cafes in Penang, The Mugshot Cafe has gained a loyal fanbase since it first opened because of its delectable homemade yogurt and fresh bagels.
Nowadays, it's well-known for having its own bakery. We like that they offer a wide array of pastries and different kinds of bagel fillings.
It has a simple menu that's limited to yogurt, bagel, smoothie, tea, and other hot and cold drinks. Nevertheless, these will surely fill up your empty stomach during dinner.
While it may seem like a breakfast cafe, it's actually open until 10 PM. You can also have a light meal here, especially when you're out at night, and you find yourself craving baked goods.
However, we also noticed that the prices of their food are quite expensive but we deem them reasonable because of their quality and taste.
Up to date, this remains a busy cafe, so you might experience sharing tables with strangers. It's still a favorite among locals, so people also flock here during peak hours.
Another thing we like about The Mugshot Cafe is its rustic but cozy ambiance that takes us back in time since it's one of the older cafes in Penang. It's also a good place to relax despite being located in a busy environment.
Furthermore, we found that this is the least accessible of all the cafes on this list, and it may be a concern for some customers. Take note that it doesn't have wheelchair-accessible parking, entrance, seating, and restroom.
Has vegan options
Has many pastry options
No delivery option
Not accessible
A bit expensive
Customer Reviews
A rustic cafe in a busy street
"A great rustic cafe situated in a busy street. The cafe itself is well known for its brick oven pizzas and I do love a good Sicilian style pizza with a cup of coffee.
However I was a little too late for the pizza as we were there around 8 to 9 in the night however the lady at the bar was friendly enough to alleviate my disappointment. I did get to try their coffee though and it did eventually help save my night.
Overall a good 8/10 experience as the service and coffee did enough to keep my night going. Hope to be back to try their pizzas." —Kel Vin Wong, Google Reviews
FAQs about Cafes for Dinner in Penang