The 5 Best Cafes to Celebrate a Birthday in Penang
Organising a birthday party or get-together in Penang? We've narrowed down the best cafes to celebrate a birthday in Penang in this list. Check out our picks! 
The Price Range for Cafes in Penang
With an array of options on the island, there are actually many cafes to celebrate a birthday in Penang. There are no standard prices for all cafes, but we've narrowed down some birthday cafe favourites and their price ranges in the table below.
| Dish | Estimated Costs |
| --- | --- |
| Cake (per slice) | RM12 and up |
| Pasta | RM20 to RM40 |
| Chicken Satay (per piece) | RM5 - RM7 |
| Mango Sago Pudding | RM9 to RM 12 |
| Nasi Lemak | RM12 and up |
The Top Cafes for Celebrating Your Birthday in Penang
We went through the following criteria to determine our favourite picks for cafes to spend your birthday in Penang: 
1. Jawi House Cafe Gallery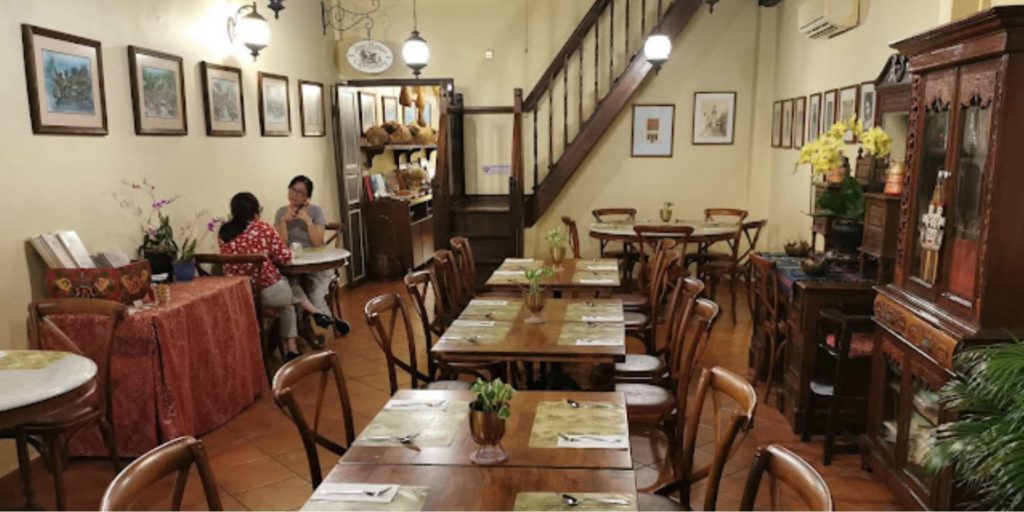 | Test | Info |
| --- | --- |
| WEBSITE | https://www.jawihouse.com/ |
| ADDRESS | 85, Lebuh Armenian, George Town, 10200 George Town, Pulau Pinang |
| CONTACT DETAILS | +60 4-261 3680 |
| OPERATING HOURS | Open every day except Tuesdays: 11:00 AM - 9:30 PM |
| Criteria | Ratings |
| --- | --- |
| Menu | ★★★★★ (5/5) |
| Customer Service | ★★★★☆ (4/5) |
| Ambience | ★★★★☆ (4/5) |
| Price | ★★★☆☆ (3/5) |
For a home-away-from-home kind of party, Jawi House Cafe Gallery is the perfect place for a more comfortable and bright ambience. 
We immediately noticed that the cafe was built with a Jawi Peranakan home vibe – something expected, given their name. Even their staircase made us feel a bit nostalgic.
Generous portions for their dishes are something we couldn't help but love. Eating for two would be a bargain, but even more so for a large group.
Something both we and locals in the cafe really appreciated was the authentic Jawi Peranakan cuisine. We recommend the Lamb Biryani–it's all halal, too!
We also liked that their establishment was kept very clean, and this also includes their public restroom. Dishes were bussed very efficiently, and tables were wiped right away.
What we didn't enjoy was the inconsistent service speeds. Some dishes would arrive in 10-15 minutes while others took up to 30 minutes.
A classic pet peeve of ours was the limited parking spaces. We were happy to discover that there were other places around the area with parking spaces–although it's a bit of a walk.
Altogether, Jawi House Cafe & Gallery is a beautiful place to celebrate a birthday with Muslim cuisine, and an inviting and pleasant atmosphere.
Cosy and nostalgic ambience
Generous portions
Authentic Jawi Peranakan cuisine
Spacious and clean 
Inconsistent service speeds
Limited parking
Customer Reviews
Clean place that includes a prayer area for Muslim customers
"I booked on phone and ordered Asam Laksa Lemak, Nasi Briyani Ayam, Kerabu Mangga, Air Pandan. I love Laksa Lemak and Nasi Briyani and Air Pandan. The restaurant is very clean. I went to upstairs for washroom. There is praying area surau for muslim, and rest area. Service is good and polite. Highly recommend to come and try. This is first time I know Jawi Peranakan." – Seng Yee Tan
Tourist friendly with good food and staff
"They served one of the best Briyani in Penang Island. A hidden gem near Armenian street. Search the place through google map and still miss the place twice. Had to walk through the street along Armenian road to find the Cafe. The quality of food is good and staff is helpful and friendly. Place is decorated with nostalgic photos. Many foreigners and tourist frequent the place. Highly recommended place to drop by for lunch or dinner if you are visiting Penang Island." – William Ong
2. The Safe Room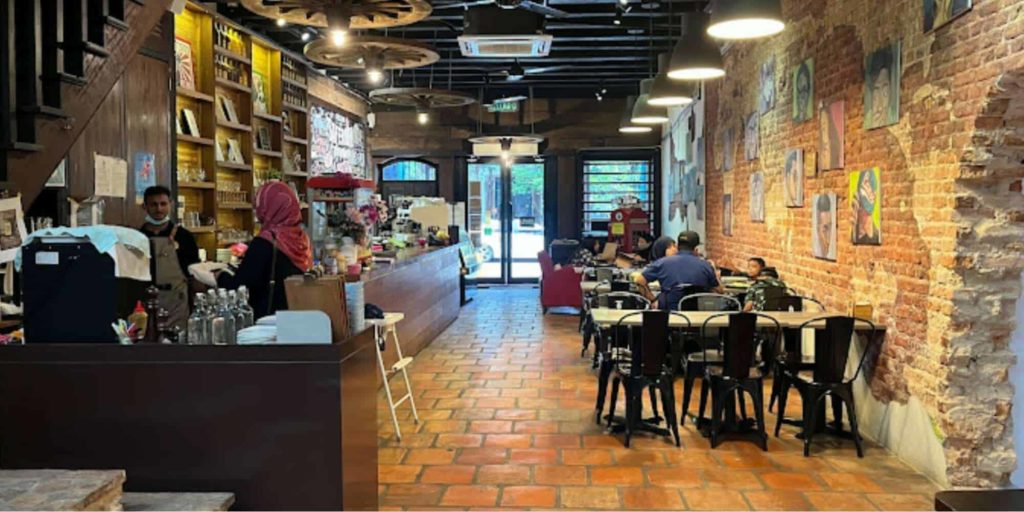 Test
Info
WEBSITE
https://www.facebook.com/thesaferoompenang/
ADDRESS
183, Victoria St, Georgetown, 10300 George Town, Penang
CONTACT DETAILS
+60 10-941 5868
OPERATING HOURS
Sunday to Thursday: 12:00 PM to 11:00 PM

Friday to Saturday: 12:00 PM to 12:00 AM
| Criteria | Ratings |
| --- | --- |
| Menu | ★★★★★ (5/5) |
| Customer Service | ★★★★☆ (4/5) |
| Ambience | ★★★★★ (5/5) |
| Price | ★★★★☆ (4/5) |
We found a great birthday venue for mystery and detective buffs in The Safe Room. Family-friendly and spacious, it has become a favourite in Penang.
The first thing we enjoyed was the very rustic and detective/mystery design of the cafe. We think it's also great that they also offer quirky birthday decorations for your celebrant's table.
We also loved both the taste of their food and its grand presentation. The portions were big and picture-perfect!
Being able to book a table for 10 or more people was also a plus, as the venue was quite spacious. However, this depends on availability, so we recommend calling ahead to check.
Another thing that got us excited was that they offer liquid nitrogen desserts. We recommend the Durian King Liquid Nitrogen ice cream—it's a classic!
Given that the cafe is quite popular, we were a little frustrated about the limited parking spaces. Thankfully, a private parking establishment was a short walk away.
The cafe was also a little heavier on the wallet, to our slight despair. Expect prices up to RM60 for more premium bites and a minimum of RM20 for other menu choices.
All in all, The Safe Room is perfect for a chill and fun birthday celebration. Don't forget to come in your best outfits for a fun photo session too!
Rustic and mystery-themed ambience
Great food quality and presentation
Venue can accommodate large groups
Offers liquid nitrogen desserts
Limited parking
On the pricier side 
Customer Reviews
Ample area for a big group
"Booked for party more than 10 which they able to accommodate to it, ample area for big group.
Awesome recommendations from the staff on food of choice, we like almost everything she recommended especially Black Angus Ribeye, salmon grill and mushroom soup.
Parking little bit hassle but there is private parking nearby with less than 3 minutes walking distant.
Will definitely come back again for their coconut ice cream." – Deen Shamshuri
Marvelous food and superb environment
"The food is marvelous and tasty! The staffs are friendly and helpful! The environment are superb. Vanilla latte is magnificent. The scent of the vanilla just hit differently. Tomahawk steak black angus is so so nice. You will remember the steak forever!" – Aphinone Sanlee
3. Wheeler's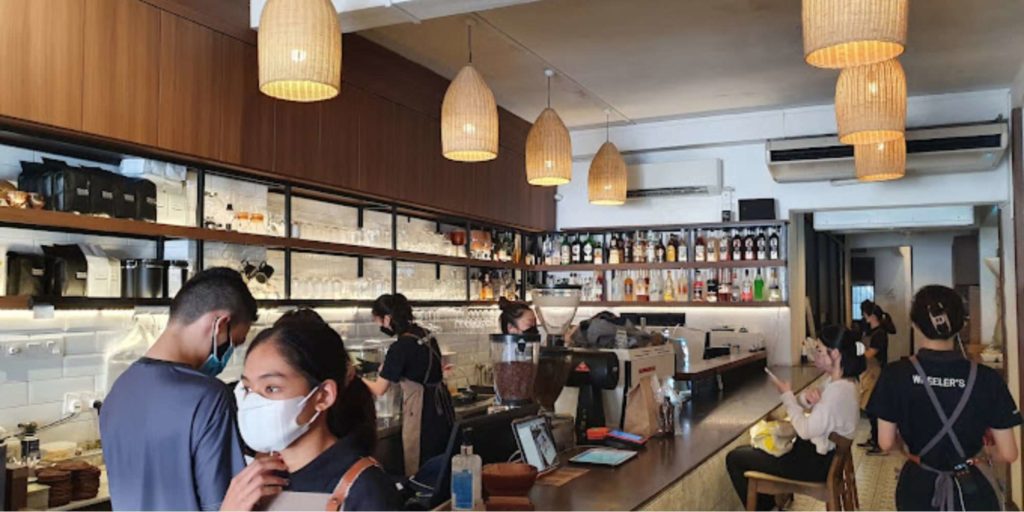 | Test | Info |
| --- | --- |
| WEBSITE | http://www.wheelers.com.my/ |
| ADDRESS | 67, Lorong Love, George Town, 10200 George Town, Pulau Pinang |
| CONTACT DETAILS | +60 19-524 7703 |
| OPERATING HOURS | Open every day except Sundays: 8:00 AM to 12:00 AM |
| Criteria | Ratings |
| --- | --- |
| Menu | ★★★★☆ (4/5) |
| Customer Service | ★★★★☆ (4/5) |
| Ambience | ★★★☆☆ (3/5) |
| Price | ★★★★☆ (4/5) |
Wheeler's is another place loved by both locals and tourists, and great for a casual birthday celebration.
The first thing we noticed aside from the sleek ambience was the orderly queue in the restaurant despite peak hours. The staff were also very accommodating – a plus for customer service!
We liked that the high quality of their food was matched with reasonable pricing, with RM40 being a cosy enough budget for drinks and a meal per person.
Another thing we liked was that the second floor offers a nice view of the streets. Seats are limited by the windows, so a smaller group would be ideal for this experience.
We thought it was pretty cool that they offered a monthly membership for RM12 that included discounts, freebies, and a sweet dessert on your birthday!
Speaking of a birthday dessert, we did find it a bit of a bummer that their dessert menu was limited to only two kinds of cakes.
Although the busy hours had great service, there wasn't much controlling the noisier customers at nearby tables. The staff were receptive to complaints, though.
Overall, for a modern and urban vibe for a birthday celebration, complete with great food, Wheeler's is another lovely classic in Penang.
Efficient service and friendly staff 
Good value for price
Nice window views from their second floor 
Offers monthly freebies with a membership
Limited dessert options
Can get quite noisy at peak hours
Customer Reviews
Well-trained staff and efficient service
"We went there for Mothers Day. Staff well trained to maintain good SOP. Even though it got quite crowded during lunch hour, our food arrived quite fast. Personally recommend the espresso chicken. The pizza was a little too thin but taste is good. We got one of our order wrongly but the staff never ask us to return the wrong order instead asked if they could send the correct order now. We agreed and the dining experience was made smooth because of the service rendered. We were not charged for the wrong order as well. Waiting to go back again!" – Janse94
Great for a small group gathering
"Good portion with yummy taste. Plus side, their price is reasonable. Expected queue during peak hours. Environment is great for a small group gathering. Cafe is quite packed so please make reservation.
The food here is simply amazing! Delicious and well presented. And not to mention it's a very Instagramable place too!
The drinks here are seriously underrated. The smoothies, the coffee and the tea are delicious!
Parking: Friendly reminder, there is a car park not far away and with pay." – SeasonBean
4. Lagenda House & Cafe
| Test | Info |
| --- | --- |
| WEBSITE | https://www.facebook.com/cafelagenda/timeline/ |
| ADDRESS | 2, Lebuh Carnarvon, George Town, 10100 George Town, Pulau Pinang |
| CONTACT DETAILS | +60 4-263 7299 |
| OPERATING HOURS | Open every day except Wednesdays: 12:00 PM to 10:00 PM |
| Criteria | Ratings |
| --- | --- |
| Menu | ★★★★★ (5/5) |
| Customer Service | ★★★☆☆ (3/5) |
| Ambience | ★★★★☆ (4/5) |
| Price | ★★★★☆ (4/5) |
What's in a name? Lagenda House & Cafe is another good option for celebrants who want to dine in an homage to local music legend P. Ramlee.
We thought this cafe would be great for nostalgia lovers, as they played tunes from the 50s-60s, and designed the venue with lots of old-time P. Ramlee memorabilia.
Another thing we enjoyed was the fusion of local and Western cuisine that their menu offered. We found the Western twist on favourites like Nasi Lemak wonderful.
We couldn't help but appreciate the staff's patience in explaining the menu, and their initiative to share more about Malay vintage music for tourists who ask.

The affordable prices were definitely another sweet deal for us given the quality of their food. Both the taste and presentation of their dishes were top-notch.
A pet peeve we had was the inconsistency of their wait times for certain dishes. It was awkward
Reserving by phone is always a go-to but we discovered that the establishment only accepts reservations for bigger groups. Tables for two are asked to queue in person.
To sum it up, Lagenda House & Cafe is a prime cafe for older birthday celebrants or old souls among the youth who also want to appreciate a local legend's work.
Nostalgic vibe
Authentic local cuisine with some Western fusion
Friendly and helpful staff
Affordable pricing
Inconsistent service speed
Doesn't usually accept reservations for smaller groups (4 pax and below)
Customer Reviews
Pays homage to P. Ramlee and Malay culture
"Enjoyed the food and atmosphere so much that we had to dine here twice during our Penang trip. Loved that their theme and food pays homage to the late legend P. Ramlee and the Malay culture.
Depending on your mood you may choose between classic or fusion dishes. Either way you won't be disappointed.
Vegetarian options: There's a vegetarian option available but don't expect to have a wide variety.
Kid-friendliness: A very nice place for family dining." – Khidhir A
Generous portions and good value for price
"Very much enjoyed every aspect of the cafe. The food portion is quite big for me personally, so worth the price. Recommended for good food and good vibes. However, I suggest calling up the cafe and booking a table beforehand. Do come early as the road is used for night market from 3pm onwards, so parking could be a problem" – Muhammad Huzaifah
5. China House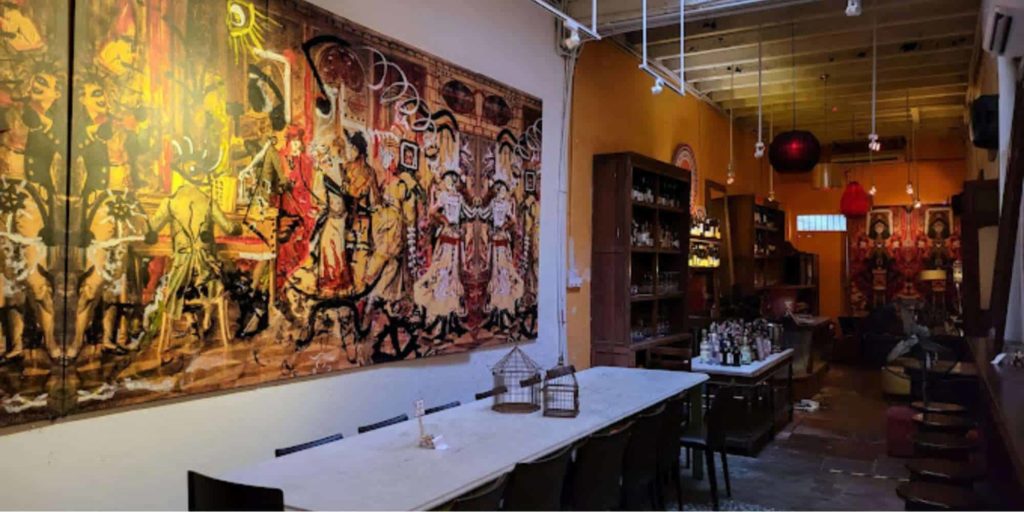 | Criteria | Ratings |
| --- | --- |
| Menu | ★★★★★ (5/5) |
| Customer Service | ★★★☆☆ (3/5) |
| Ambience | ★★★★☆ (4/5) |
| Price | ★★★★☆ (4/5) |
Another classy way to spend a birthday in a Penang cafe would be at China House. Given its popularity on the island, we decided to give it a try to check why it's another must-see monument.
We were impressed with how the cafe is set up like a vintage tea house with a modern twist. Some decorations included old signage and antique pieces.
Birthday celebrants rejoice! This cafe is also known for the many quality cakes on their menu–from Tiramisu or Earl Grey chiffon to more savoury "cakes," like Chicken Pie.
We adored the artsy and creative space that the cafe offered. Along with the vintage decoration were some unique and modern art pieces giving life to the space.
For large groups, the layout of this large cafe can make for more private spaces to enjoy dining and lovely conversation with guests.
Amidst the glamour of the cafe, we were a bit disappointed with the customer service. Some staff were a bit rude, especially during busy hours.
We think the wide space might've invited some unwanted pests at times. But we're g;ad we didn't have flies and little critters as guests at our tables.
As a whole, China House offers ample space, good food, and a creative atmosphere for a fun-filled birthday celebration.
Themed like an old tea house
Cake variety offered on their menu
Artsy and creative vibe
Layout of rooms provide some privacy for celebrations
Some rude staff
Upkeep below ideal
Customer Reviews
Artsy cafe with a wide variety of cake options
"The longest cafe in Penang. Artsy ambience with great interior design. An ideal place for friends/ family gathering. You will find up to 30 varities of scrumptious cakes here. Their signature cake is tiramisu ( with/ without alcohol). The cake portion quite big. You can create your own masterpiece while enjoying the ambience. Mahjong paper and crayons provided. Instagram worthy spots. One of the tourist/ local's favourite cafe. Mostly crowded." – Niva Tanggarachai
Kid-friendly and suitable to small to large groups
"Love the ambience of this place♡
Suitable for small/big groups, even family with young children (the drawing supplies should keep the kids busy for a while😆)
Food wise, alcoholic tiramisu and chocolate cake is fantastic! I ordered mint and lime juice to tone down sweetness of the cake, will go back next time to try out other desserts 😊" – Zejun Lim
FAQs about Cafes for Birthday Celebrations in Penang
---
That was our list of the best cafes for birthday celebrants. Hopefully, we've narrowed down your search! If you're considering a birthday celebration at home or in a venue of choice, check out our list of the 5 Best Cake Delivery Services in Penang!