The Top 5 Motorcycle Insurance Companies in Malaysia
Getting insurance is always one of the most important things to cover when getting any sort of vehicle. When it comes to motorcycles, it may be even the most important thing to cover.
Getting motorcycle insurance protects you, your vehicle, and any possible bystanders in the event of an accident. With this in mind, read on to find out all about the top motorcycle insurance providers in Malaysia.
Factors That Affect Motorcycle Insurance Costs in Malaysia
Here's a list of factors that affect your insurance policy amount, which we will be referring to as premium:
Age
Studies have shown that those aged 16-25 are at much higher risk for accidents than those older. Generally speaking this is because more experienced drivers (which they judge by age) tend to be less prone to accidents.
So, if you apply for an insurance plan and you're 16-25 years old, the premium will most likely be higher than if you were 26 or older.
Vehicle type
Expensive motorcycles and those that are high performance cost much higher. This is because, in case of vehicle damage, it's much more costly to have them fixed due to the possible scarcity of the parts.
Location
Your premium is greatly affected by your location. This is because urban areas tend to have higher crime rates than rural areas.
Since most insurance providers cover motorcycle theft and motorcycle theft is one of the highest petty crimes in Malaysia, if you're in the city you're bound to be charged a higher premium.
The Top Motorcycle Insurance Providers in Malaysia
Now, let's move onto the list of the top motorcycle insurance providers in Malaysia themselves!
1. Allianz Malaysia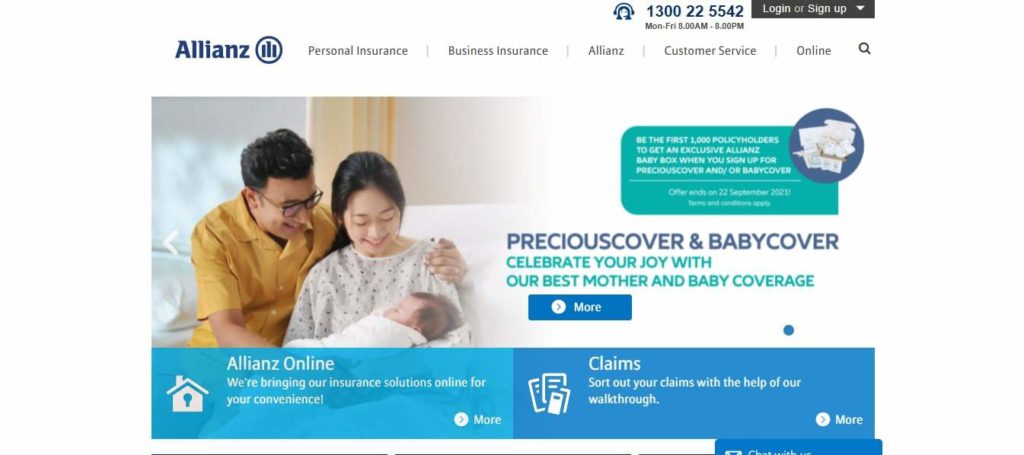 | | |
| --- | --- |
| COVERAGE | Third-party liability, Damages to third-party property, Damage to your motorcycle, Theft to your motorcycle |
| WEBSITE | https://www.allianz.com.my/ |
| ADDRESS | 33, Jalan Gereja, Kuala Lumpur, 50100 Kuala Lumpur, Wilayah Persekutuan Kuala Lumpur, Malaysia |
| CONTACT DETAILS | +60 3-2050 1188 |
| OPERATING HOURS | Mon-Fri 8:45 am – 5:45 pm |
You've probably heard of Allianz Malaysia seeing as Allianz is one of the top international financial services providers. Two of those financial services are their motorcycle insurance plans: Allianz Motorcycle and Allianz Motorcycle Plus.
Both these plans provide coverage for your motorcycle against liabilities to third parties in the event of injuries or even death, damages to third-party property, and damage or theft to your motorcycle.
However, the difference is that with Allianz Motorcycle Plus, you may also get coverage for passenger liability, windscreen damage, damage due to natural disasters (windstorm, flood, landslide, or other special perils), damage due to civil commotion (strikes, riots), as well as compensation for assessed repair time.
This plan also offers you RM 10,000 in the event of permanent disability or death, a hospital income of RM 100/day for up to 60 days, and the full amount insured for extra damages.
As a nice addition, Allianz also offers free Allianz Road Rangers Roadside Assistance to all its insurance clients!
You may also cancel your insurance policy with them easily by sending them a written notice. There are also special circumstances when refunds for your premium are made so be sure to inquire about that if ever you do cancel with them.
Multiple benefits with no additional premium
Free roadside assistance
Cancellations are accepted
Allianz Motorcycle Plus is only for motorcycles 250cc and below
Parking is difficult in building
Customer Reviews
If you want to know how a few past clients of Allianz Malaysia felt about their experience working with the company, check this out:
"On this platform, I would like to praise Cik Sharifah from Allianz General Insurance KL, a simple and easy thing that could not be completed within four days at Allianz General Insurance Ipoh branch, she helped me to follow up and solve it. I shall give her a credit for having a code of ethics and appreciated her for doing job perfectly and raised her company goodwill." -Chooi
"Small outlet but convenient" -Chin
2. Etiqa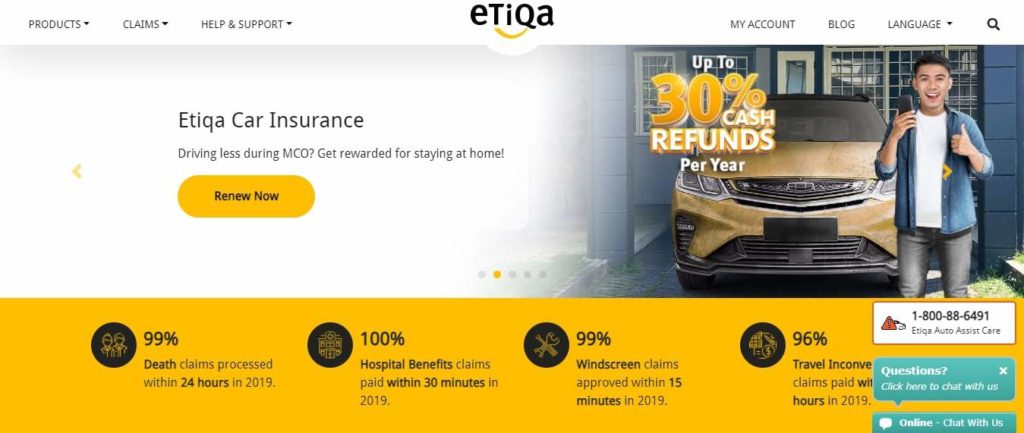 | | |
| --- | --- |
| COVERAGE | Third-party loss or damage, Third-party injury or death, Loss or damage to your motorcycle due to theft, accidents, or fire |
| WEBSITE | https://www.etiqa.com.my/v2/homepage |
| ADDRESS | Dataran Maybank, No 1, Jalan Maarof, Bangsar, 59000 Kuala Lumpur, Wilayah Persekutuan Kuala Lumpur, Malaysia |
| CONTACT DETAILS | +60 1-300-13-8888 |
| OPERATING HOURS | 8:30 am – 4:30 pm |
Etiqa Malaysia, which is under Maybank, is known as ASEAN's leading Takaful and insurance provider.
The best thing about Etiqa is it offers Motorcycle Takaful and Motorcycle Insurance. If you don't know what Takaful is, it's a type of Islamic insurance wherein members of the community all "donate" into a pool of funds for fellow Muslims to be able to use.
Both the insurance and takaful provide coverage for the following: third-party loss or damage, third-party injury or death, loss or damage to your motorcycle due to theft, accidents, or fire.
If you wish to provide coverage for your passengers and damages due to flood and landslide, you can avail of that but you have to pay an additional premium.
Another great thing about this insurance is that, if you apply online, you get 10% off! The same goes for when you renew your insurance as long as you have a No-Claim Discount.
Offers Takaful (Shariah-compliant)
Video appointments available for inquiries
Online application available
10% off for online applications/renewals
Lengthy insurance claim times based on reviews
Difficult to cancel policy
Customer Reviews
Here are a few reviews by Jung and Manoharan who are loyal clients of Etiqa:
"Very very good! Phone calls were answered immediately by their staff. Not like a few other insurance companies or telcos or banks where you waste so much time having to listen and answer to their machine. On top of that they put u on hold for so long and u have to listen to their jinggles before they finally attend to your calls! Kudos to Etiqa Takaful. They assisted me professionally. My issues were solved efficiently. Thank you!" -Jung
"Geat place to purchase insurance products." -Manoharan
3. Berjaya Sompo Insurance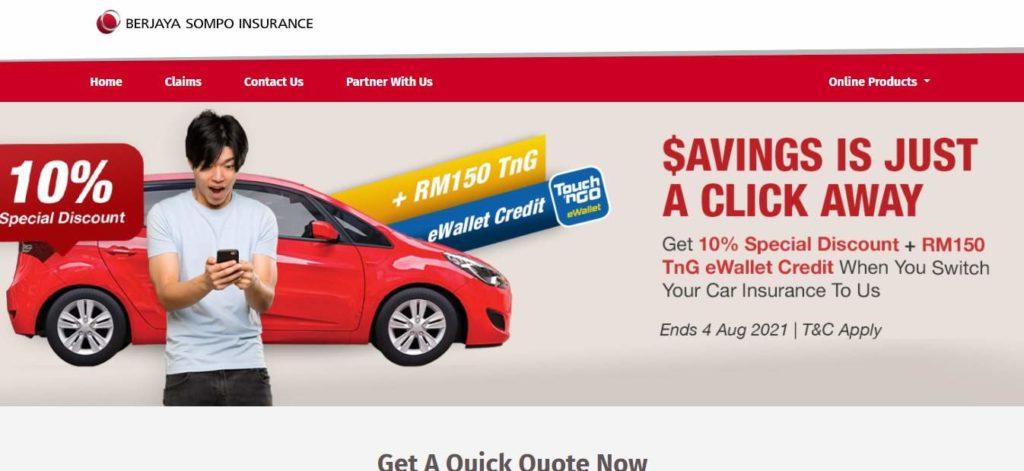 | | |
| --- | --- |
| COVERAGE | Comprehensive and third-party coverage against loss or damage due to fire, theft, or accident, All riders coverage |
| WEBSITE | https://online.berjayasompo.com.my/ |
| ADDRESS | Level 36, Menara Bangkok Bank, 105, Jalan Ampang, 50450 Kuala Lumpur |
| CONTACT DETAILS | 03-2170 7300 |
| OPERATING HOURS | Mon-Fri 8:30 am – 5:00 pm |
Berjaya Sompo Insurance is a collaboration between Berjaya Group and Sompo Group. It's a company that provides insurance solutions for clients all over the world.
One of their insurance solutions is their motorcycle insurance which they call SOMPO Motorcycle Insurance. This insurance policy offers comprehensive and third-party coverage against loss or damage due to fire, theft, or accident.
They also offer complete coverage for your motorcycle in terms of damages incurred as long as it's used by any of the approved riders on your agreement. This means you have to make sure that only people approved by the insurance company can use your motorcycle or it won't be covered in case of an accident.
Anyway, when you purchase any of their products online, they give you a 25% discount. This is on top of their already affordable premium rates.
They also offer free online quotes on their website that you get in just around a minute after entering all your details.
Free online quote
Affordable premium rates
10% off for online renewals with NCD
Limited insurance coverage
Claim approval takes a long time
Customer Reviews
Check out these reviews left by Senah and Siti regarding their experience with Berjaya Sompo:
"Great coverage for your insurance needs. Highly recommended!" -Senah
""I can say this is one of the best Insurance. Thumbs up for their service, fast action and very recommended for their insurance." -Siti
4. Liberty Insurance Berhad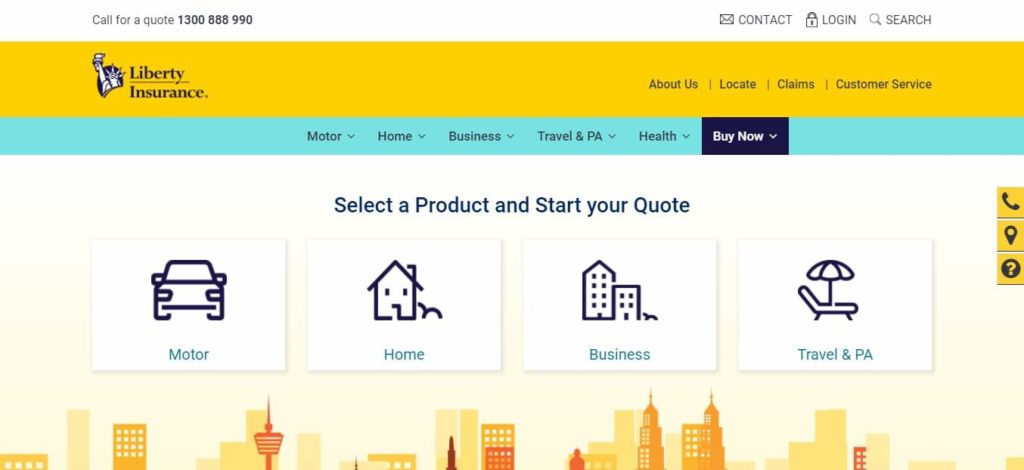 | | |
| --- | --- |
| COVERAGE | Comprehensive coverage, Third-party coverage |
| WEBSITE | https://www.libertyinsurance.com.my/ |
| ADDRESS | Lot 33, Ground and 1st Floor, Jalan Tiara 2B, Town Park, Bandar Baru Klang, 41150 Klang, Selangor, Malaysia |
| CONTACT DETAILS | +60 3-3342 8587 |
| OPERATING HOURS | Mon-Fri 8:30 am – 4:30 pm |
With 24 branches nationwide, Liberty Insurance Berhad aims to provide all of its clients with the best insurance plan for them.
For them, this goes beyond the coverage of your insurance plan— which we'll go into later— it's also about providing a hassle-free experience with reliable customer service.
Life Insurance's policy covers the following: loss or damage to your vehicle in the care of theft, fire, or accidents, third party property loss or damage, and third party bodily injury or death. If you want to cover passenger liability as well, you can purchase it for an additional premium.
They offer 24/7 emergency roadside assistance for all their clients at 1-800-88-5005.
You can request for a cancellation of your policy at any time; all you have to do is send a written notice to their company. You're entitled to a refund as well but the amount you'll be refunded depends on the timeframe of your policy's start and your request for cancellation.
Another thing you can request from them is a free quote on their website.
Free quote on website
Online application available
Multiple branches nationwide
Passenger liability requires extra premium
No discounts offered
5. MSIG Malaysia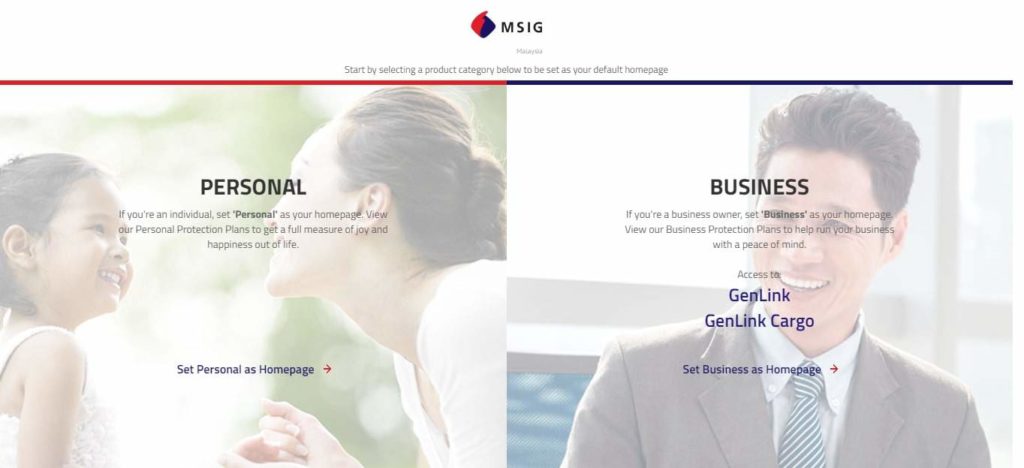 | | |
| --- | --- |
| COVERAGES | Comprehensive cover, Third-party, fire, and theft cover |
| WEBSITE | https://www.msig.com.my/ |
| ADDRESS | 1st Floor, Block 18, Lot 1 & 2, Bandar Indah, Mile 4, North Road, 90000, 90000 Sandakan, Sabah, Malaysia |
| CONTACT DETAILS | +60 89-217 388 |
| OPERATING HOURS | Mon-Fri 8:30 am 5:30 pm |
MSIG Malaysia is known to be one of the largest general insurers in the country. It has 20 branches nationwide and has strong partnerships with financial institutions, brokers, agents, and motor franchises.
One of their products is their motorcycle insurance plan. This is a basic plan that protects you against third-party claims and covers the losses or damages you may have incurred to your motorcycle due to accident, fire, or theft.
For additional protection, you can also purchase their optional coverage for when someone else uses your motorcycle. You should also consider getting a Personal Accident Plan that would benefit both you or your authorized users in the event of an accident.
According to client testimonials, they process your claims pretty fast, which is great since not a lot of insurance companies get this praise. Anyway, if you have any questions about their insurance plan, you can send them an inquiry on their website or give them a call on the number provided in the table above.
Fast claims processing
Online application available
One of the largest general insurers in Malaysia
No discounts available
No online quotes
Customer Reviews
Read these review left by Calvin and Elmi about their experience with MSIG Malaysia:
"The main is MSIG is providing a great insurans plan for me . they provide the most faster service for me to solve my problem . MSIG is a good plan to buy it. provide customer service good." -Calvin
"Reliable Fast & easy for claim" -Elmi
FAQs about Motorcycle Insurance in Malaysia
---
That concludes our list of the top motorcycle insurance providers in Malaysia! We hope we helped you find the insurance policy that fits your needs.
Don't forget to leave us a message about your experience with your chosen motorcycle insurance provider. We'd absolutely love to hear from you!
Also, if you own a car, be sure to check out our article on the best car insurance providers in Malaysia. We've listed the best car insurance plans you can get from these providers so you can drive on the road without much worry.