The Best Digital Banks in Malaysia
The internet has already made a lot of services convenient for us. Banking, for example, doesn't mean traveling and long queues anymore because it can now be done in the comfort of our homes.
Over time, banks have been working to increase their services online, especially now that going outside is such a risk. If you're now ready to do the switch, this article will help you find the best digital banks in Malaysia.
Before that, let's first check how much digital banking services cost.
How Much Do Digital Bank Services Cost in Malaysia?
Digital banks have made it easier for us to open an account, pay bills, apply for loans, and more. Let's take a look at how much this costs and if there's any difference in charges between digital and traditional banking. Let's take a look at this table:
| | |
| --- | --- |
| Service | Average Cost |
| Savings Account Minimum Deposit | RM1.00 – RM250.00 |
| Online Payment Charges | Free |
| Remittance Service Charge (Local Fund) | RM5.00 |
| Remittance Service Charge (International Fund) | RM10.00 – RM30.00 |
This general information will help you decide which services are best done with digital banking but of course, directly consulting your financial advisor or bank tellers is still the best thing to do.
The Best Digital Banks in Malaysia
Now let's take a look at the best digital banks in Malaysia!
1. CIMB Bank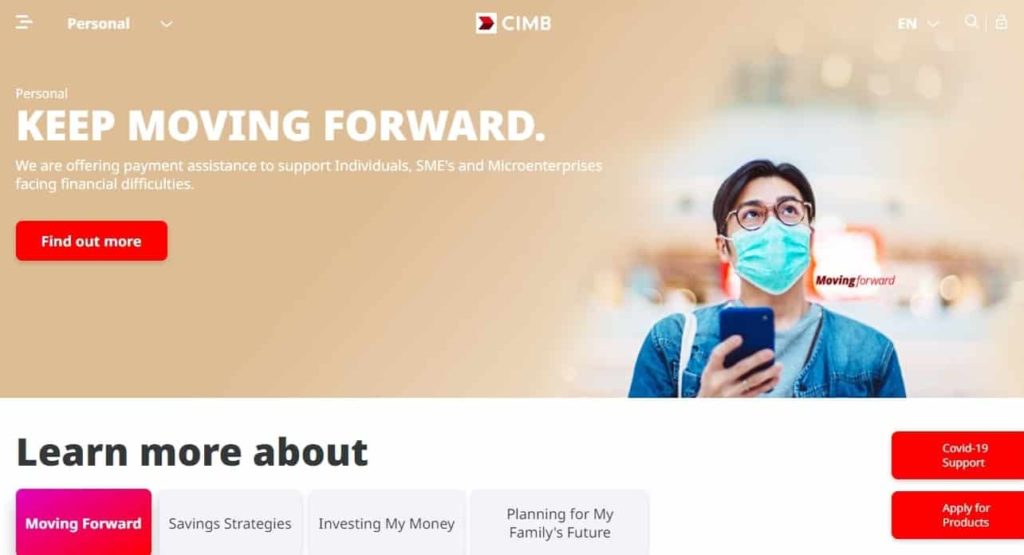 DIGITAL SERVICES
Account applications, Partner Pay, DuitNow QR,Bills/cards/loans payments, Investments, Money transfer, Check account balance
WEBSITE
https://www.cimb.com.my/en/personal/home.html
ADDRESS
For Mails
CIMB Bank Berhad / CIMB Islamic Bank Berhad
Customer Resolution Unit (CRU)
P.O. Box 10338
GPO Kuala Lumpur
CONTACT DETAILS
Consumer Call Centre
+603 6204 7788

Preferred Call Centre
1300 885 300 (Local)
+603 2295 6888

Premiere Credit Card Centre
+603 6204 7799

Business Call Centre (For Companies)
+1300 888 828 (Local)
+603 2297 3000

Emails:


[email protected]

(for individuals)


[email protected]

(for companies)
OPERATING HOURS
Consumer & Premier Credit Card Call Centres
Available 24 hours

Business Call Centres
Mon-Fri 8:00 am- 7:00 pm
Sat 8:00 am – 5:00 pm (excluding public holidays)

Physical Branches
Mon-Fri 9:00 am – 5:00 pm
CIMB Malaysia now offers digital banking services through their CIMB Clicks Mobile App (formerly CIMB EVA) for their current cardholders. This app is their portal that lets you check your account balance, view transaction history, transfer money, purchase online, and pay bills and loans.
Their app also lets you top up your credit and start investing through their e-IPO, ASNB, Travel Currency, and more. This ensures that your investment platform is safe and secured from malware or hacking.
CIMB Clicks Mobile App has FaceID & TouchID feature that lets you log in without typing your username or password which is pretty convenient when you're paying using QR. Because this digital app is new, they feature a "Revamped' home screen that is more user-friendly than the previous app.
In case you don't have a CIMB account yet, you can just visit their website and apply for an account online. Also, if you are a Samsung user, CIMB has a Partner Pay Solution with them that purchases from numerous retail stores in Malaysia.
Single home screen for easier access to key banking functions
15+ investment companies partners
Partnerships with retailers for easy purchase
Daily transaction limit for bills payment, remittance, and third party fund transfer
Additional fees and charges for all savings accounts
Complaints about buggy app
Customer Reviews
So far, here's what users say about the CIMB Clicks Mobile App:
"So far so good , during top up of mobile or others , I prefer to have Company's logo at the side of the Company's name , so that elderly person will be more confident of their purchases." -Jimi O.
"It's the app I've been waiting for with the convenience of checking balance on iPhone. I hope that the next update shall include the ability to pay bills and transfer funds." -Bryan Khoo
2. HSBC Malaysia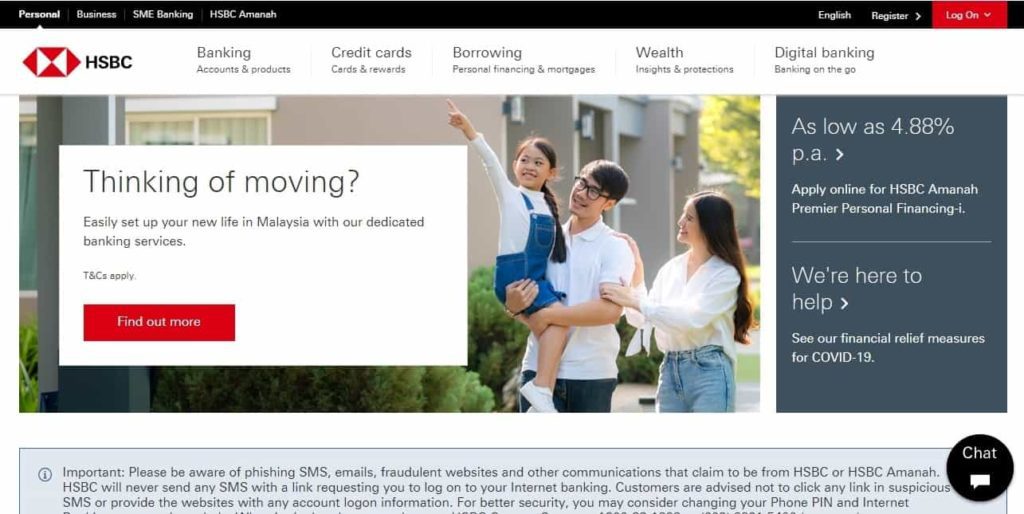 SERVICES
JomPAY, DuitNow, FPX, EZInvest
WEBSITE
https://www.hsbc.com.my/
ADDRESS
No. 2 Leboh Ampang, 50100 Kuala Lumpur, Malaysia
CONTACT DETAILS
Main
Telephone: +603-2075 3000
Facsimile: +603-2701146

HSBC Bank Malaysia (Banking & Cards)
1300 88 1388 (Local)
+603 8321 5400 (International)

HSBC Premier & Amanah Premiere
1300 88 9393 (Local)
+603 8321 5208 (International)
+603 8321 5222 (International Call Collect)

Visa Emergency Assistance
Singapore: 800 4481 250
Australia: 1800 450 346
UK: 1866 169 5189
USA: 1866 765 9644
Malaysia: 1800 80 2997

Mastercard Global Services
1800 50 4594 (Malaysia)
1636 722 7111 (Overseas)
OPERATING HOURS
Call Centres
Available 24 hours

Physical Branches
Mon-Thurs 9:30 am – 4:30 pm
Fri 9:30 am – 4:00 pm
HSBC Malaysia segregated its digital services to mobile banking, online banking, and online account application. You can download the HSBC Malaysia Mobile Banking App from the App Store and Google Play with just a few clicks.
There are three payment channels you can use with their digital banking services like JomPAY and FPX. You can also register to DuitNow using your HSBC account for your payments and money transfer needs, and this is widely used across Malaysia so you are sure that every merchant has this payment option.
For investments and trading services, HSBC features their EZInvest that lets you start investing at a minimum of RM500 to any of their unit trust funds. They also give you global access to help you explore your investment options not only here but also abroad.
The app has a voice ID feature which is something new to us because we're more familiar with face and touch ID. This helps HSBC verify your identity through your voice when you check in their call centres to easily direct you to the handler of your account type.
There's a Remote Engagement Service that's used for customers to interact with the bank through video conferences. Even when you need to talk to your branch manager or tellers, you can still absolutely stay safe at your home.
Telebanking services extended to video conferencing
Global investment access
Voice ID feature for more convenient log-in
Complex security system for safety
App updates are not compatible with lower iOS versions
Complaints about bugs and login issues
Extra transaction charges
Customer Reviews
Take a look at their user experience with these reviews:
"Very secure platform. Still find it a hassle to make payments to new payees as we are required to use the web version if you decide not have Duitnow details" -S Kumaravel Murthy Suppiah
"Pretty straightforward, easy to understand. I would like to suggest to enable code generation AFTER one logs into the app. Anyone who is able to bypass the phone's login is able to open the app and generate a code. An example is someone who snatches your phone before it autolocks. Then the only thing which stands in their way is a laptop & your banking login ID." -Jerome Tan
3. Maybank2u Malaysia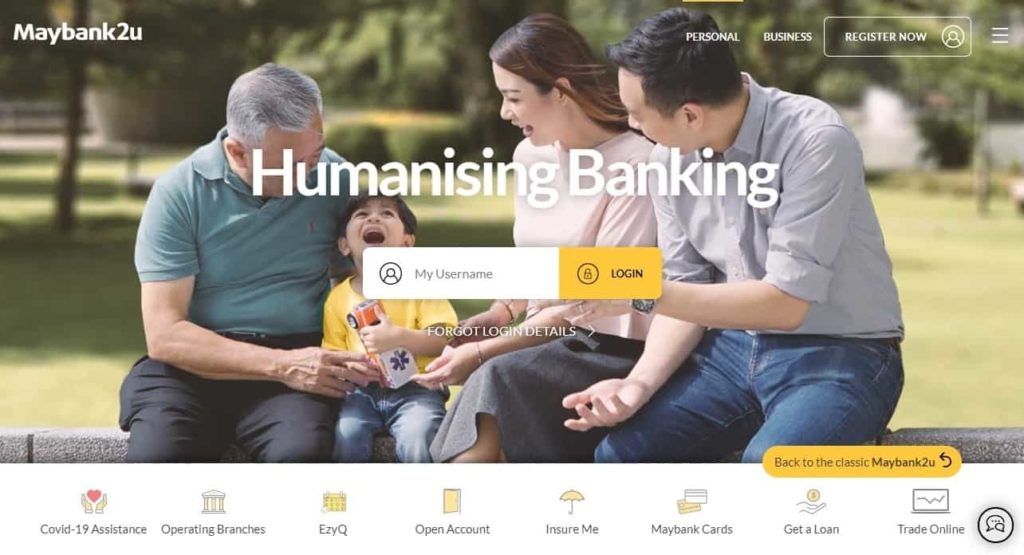 SERVICES
Bill and tax payments, Fund transfer, Mobile prepaid top-up, Account application, Investments
WEBSITE
https://www.maybank2u.com.my/home/m2u/common/login.do
ADDRESS
Head Office Malayan Banking Berhad Menara Maybank, 100, Jalan Tun Perak, 50050 Kuala Lumpur Malaysia
CONTACT DETAILS
Main
+603 2070 8833

Customer Care
1-300 88 6688 (Malaysia)
+603-7844 3696 (Overseas)


[email protected]



Fraud Hotline
+603 5891 4744
OPERATING HOURS
Hotlines
Available 24 hours, including holidays

Physical Branches
Mon-Fri 9:00 am – 4:30 pm
Maybank2u's digital services allows you to open any account type, apply for loans and insurance plans, and perform daily banking transactions such as online payments. There are 8 accounts you can open at the comforts of your home like switching to an Islamic Account and Islamic investments.
The minimum deposit for each account is also clearly stated when you visit their site, plus you have an 'Add to Compare' feature that shows different benefits. It's no different from when you visit a branch and ask the managers to explain details of the product you're interested in.
Maybank2u App provides access to all their products and services including credit cards, viewing your ASNB Accounts, and fixed deposit placements. Loan application processes can also be done in the app and all you have to do is prepare necessary documents at home.
Using the app on your phone, cashless withdrawal is accepted from their wide network of ATMs in Malaysia. For gamers and enthusiasts, there is a reload game credit feature including Playstation, SteamWallet, and Garena Shells.
On top of all of that, they have the Maybank Payband and Samsung Pay on Gear, devices you can use for contactless payments in just a tap.
We think Maybank2u is how every digital banking should look because all their products and services, including the complex ones, can be accessed wherever you are.
Numerous banking products and services offered
One tap payments using their devices
Customer service centres are available on holidays
The app always require your password for every transaction
Long activation process for new accounts
User interface does not fit some devices
Customer Reviews
Here's what a customer says about digital banking with Maybank2u:
"This the first time im using n app this notifications at google app store than i must try it and i hope this comunications can make me easy to use it n can get in your app at anytime n anywere and than in the same time you also on time than faster n good in your serviceses..That great and for the next time i make sure i will always follow n get your service." -Norhayati Yatti Tatypjsarawak
4. Alliance Bank Malaysia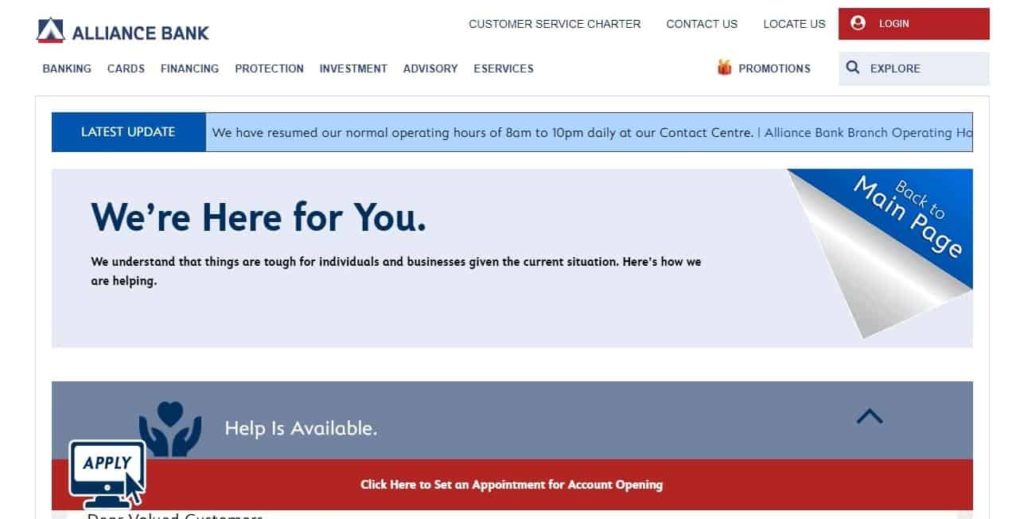 SERVICES
Account applications, fund transfer, e-deposits, business banking, loans, DuitNow, e-statements
WEBSITE
https://www.alliancebank.com.my/
ADDRESS
Kuala Lumpur, Malaysia
CONTACT DETAILS
Main
Telephone: 03-5516 9988
Email:

[email protected]



Business Banking
1-300-80-3388 (Malaysia)
+603-5624 3888 (Overseas)


[email protected]



Consumer Collections & Recoveries
03-5516 9000 / 03-5516 9200
OPERATING HOURS
Self Service Phone Banking
Available 24 hours

Business Banking Call Centres
Monday to Friday, 9:00AM – 7:00PM
Saturday, 9:00AM – 1:00PM

Consumer Call Centres
Monday to Thursday, 8:45AM – 5:45PM
Friday, 8:45AM – 4:45PM

Physical Branches
Mon-Fri 9:00 am- 4:00 pm
Alliance Bank offers their digital services for both personal and business categories so if you use both, this might be the bank for you! You can easily apply for an account through their site that you can access 24 hours daily.
In personal banking, you can make purchases, pay bills, and apply for loans using their mobile app and some of these come with exciting rebates and rewards. Applying for a personal loan only takes 10 minutes to get approved and you can receive the cash within 24 hours with a 3.99% interest rate.
We also find their business banking services, AllianceBizSmart, very helpful because it enables the user to manage their finances in one place. You can access all your accounts in one place and automate payments for suppliers and payrolls for employees even if you're abroad.
Another digital banking service they offer is their Alliance Online Remittance through their AllianceOnline to send money abroad. It's available in currencies from the Philippines, Indonesia, Myanmar, Vietnam, Bangladesh, Sri Lanka, India, Nepal, Pakistan, and Thailand.
Offers both personal and business digital banking services
Fast loan approval and cash disbursement
Supports other currencies for cash remittance
Self-service terminals like ATMs do not operate 24/7
The mobile app can have a more extensive list of services
5. OCBC Bank Malaysia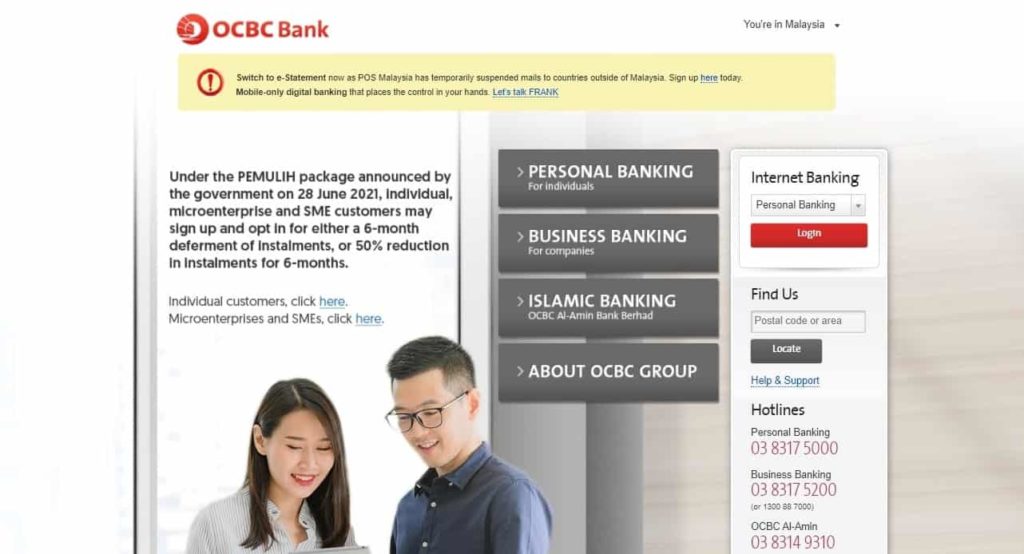 SERVICES
Accounts monitoring, fund transfer via DuitNow, Bills payment, e-statements
WEBSITE
https://www.ocbc.com.my/group/gateway
ADDRESS
For Mails
OCBC Bank Head Office
Menara OCBC
No. 18 Jalan Tun Perak
50050 Kuala Lumpur
CONTACT DETAILS
Banking & Cards
03 8317 5000

OCBC Al-Amin
03 8314 9310

Premier Banking
03 8315 4288
OPERATING HOURS
Hotlines
Daily 8:00 am – 10:00 pm

Physical Branches
Mon-Fri 9:30 am -2:00 pm
OCBC Bank's digital services enable their customers to take control of their funds through their OCBC Malaysia app that's available on App Store, Google Play, and Huawei's App Gallery. You can monitor your deposit, credit cards, loans, and investments in this app.
For payments and fund transfers, you can use DuitNow for contactless and cashless transactions, ensuring safety and convenience. Even when you're abroad, you don't need to worry about losing access to your accounts because the OCBC Malaysia app works anywhere in the world.
Their app also provides insights on your assets, liabilities, spending goals, and saving goals through People Like You. It's a feature that compares your investments and credits with your peers who also use OCBC.
If you're starting to sort out your finances, you might also find the Money Flow feature helpful. Here, you can monitor, categorize and analyze your cash flow to help you make wiser financial decisions in the future.
Provides money insights feature
Available at all app downloading channels
SSL secured banking
No online account opening service
No investment platform on app
No touch ID or face ID feature
Customer Reviews
Check out this review from Google Play:
"App itself is very minimal, could be a good thing also. Would appreciate if can bring the OTP to somewhere we can access faster. So many clicks to reach there now and it is kinda getting irritating." -Jenny Lau
FAQs about Digital Banks in Malaysia
---
You've made it to the end of our list of the best digital banks in Malaysia! We hope that this helped you make the right decision of switching to digital banking.
Don't forget to let us know other digital banks with excellent service so we can check them out! It'll be great to hear about how convenient and efficient digital banking has been for you.
Ready to take your finances to the next level with investment platforms but don't know how to go about it? Check out our article on Raiz vs Wahed!