The 5 Best Multivitamins in Malaysia
Featured Image Source from Unsplash
Given a hectic lifestyle, you might not be getting all the nutrients that your body requires. Thankfully, you can take a multivitamin to make up for them to look and feel healthy.
But if you don't know what to get, chill out, as we've put together a list of the best multivitamins in Malaysia for you here, which you can use.
Before we go to our list, we'll start with the average cost of multivitamins in the country just to give you an overview of what's to come!
The Average Cost of Multivitamins in Malaysia
Multivitamins in Malaysia cost differently depending on the brand, ingredients, and capacity. On average, their prices can range anywhere between RM8.50 and RM864.
Some sellers offer bundle products for a value price and sometimes even with a freebie like a beauty product or additional tablets.
Now, here is the price summary of our top multivitamin options in Malaysia:
| | |
| --- | --- |
| Product | Price |
| Scott's Multivitamin Gummies (60 pcs) | RM33.80 |
| Bion 3 Probiotic Multivitamin (2 x 60) | RM96 |
| Blackmores Multivitamins + Minerals (3 x 120) | RM278 |
| Centrum Multivitamins + Minerals (100 tablets) | RM54 |
| Opti-Women Multivitamin (60 or 120 capsules) | RM78.90 – RM122.90 |
The Best Multivitamins in Malaysia
Now that you've seen the prices, here's our pick of the very best multivitamins in Malaysia!
1) Scott's Multivitamin Gummies with Tropical Flavours (60 pieces)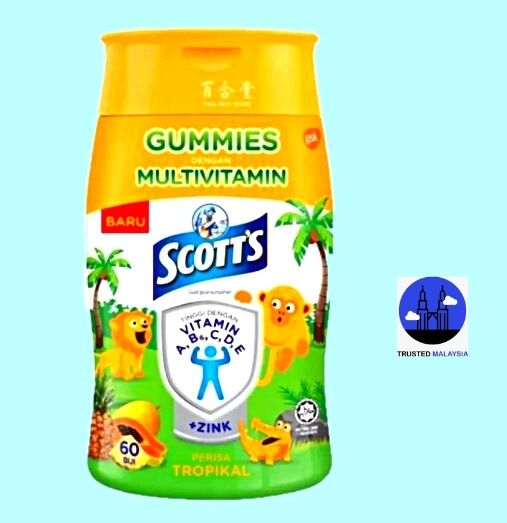 | | |
| --- | --- |
| Suitable for | Children aged 5 years and up |
| Recommended daily intake | 3 gummies/day |
| Vitamins & minerals included | Vitamin A, B6, C, D, E, and zinc |
| Health benefits | Child growth development, boosts the immune system |
| Flavours | Tropical, apple, orange, and black currant |
| Price | RM33.80 |
Scott's is a trusted supplement brand for both adults and children. Our chosen product makes it more fun for children because it comes in the form of tropical-flavoured chewy gummies!
The Scott's Multivitamin Gummies are packed with vitamins A, B6, C, D, E, and zinc to support the healthy bones and growth of your little one.
In particular, its vitamins A and zinc promote healthy vision, whilst vitamins A, B6, C, D, and zinc help boost the child's immune system, giving him a healthy body as he grows up.
Coming in tropical flavours, the gummies are yummy and fun. However, some children may prefer one flavour, which is why other kinds are also available like apple, black currant, and orange.
The serving size for this gummy supplement is 3 times a day and the container has 60 pieces—good for more than 2 weeks. These vitamins are suitable for children 5 years and above.
Also, what we like about this multivitamin is that it's affordable. Therefore, you won't have to overspend just to keep your child strong and healthy.
Tropical flavoured gummies
Enjoyable for children
Supports healthy bones and growth development
Boosts the immune system
Affordable
Kids may prefer single-flavoured gummies
Has a small capacity for just 20 days
2) Bion 3 Probiotic Multivitamin (2 x 60)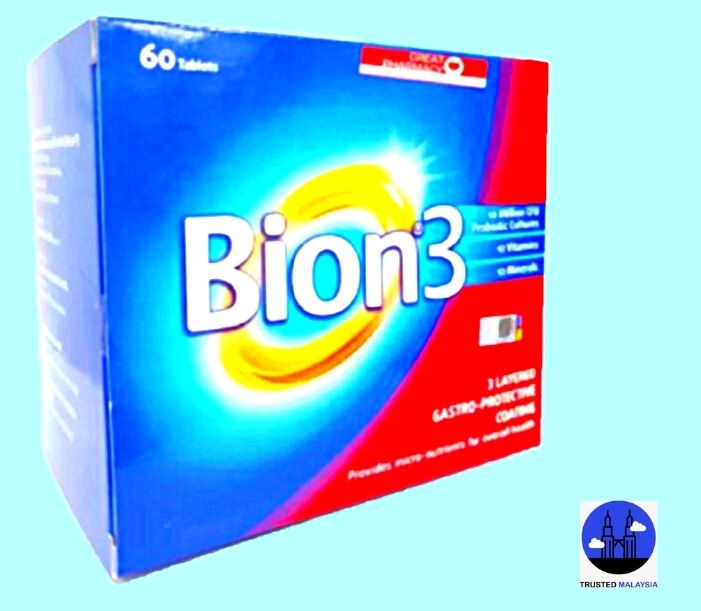 | | |
| --- | --- |
| Suitable for | People with digestive issues, experience common coughs and colds, or feel tired or sleepy all day |
| Recommended daily intake | Once a day |
| Vitamins & minerals included | Vitamin B6, B12, C, D, Zinc, and lots more |
| Health benefits | Supports the immune system, promotes a healthy metabolism, reduces fatigue, and keeps the digestive system healthy |
| Price | RM96 |
Constantly experience stomach pain or indigestion? Feeling lethargic when commuting to work every day? You may be lacking in nutrients and Bion 3 might be the answer to this.
Bion 3 combines probiotics and multivitamins in tablet form. Each tablet contains 12 essential vitamins and minerals for a healthy immune system and the TriBion Harmonis lactic acid culture to promote gut health.
The supplement has 60 mg of vitamin C, D, and zinc that fortify the immune system, vitamin B6 to reduce fatigue, and vitamin B12 to speed up metabolism, among other health benefits.
The result could be that you feel more energetic, healthy, and have less stomach pain when going about your daily tasks, such as working or bonding with your family.
For the price, we think that this is totally worth it. And you also get the assurance that the product is authentic as the seller will fully refund you if it isn't—guaranteed.
Its drawbacks are that some people may only need one box and due to the larger tablet, people may find it hard to swallow.
The two boxes include 2 packs of 60 tablets that can be used for 4 months. A person should take this tablet once every day.
Has 10 million CFU probiotics
Contains 12 essential vitamins and minerals
Aids people with a poor digestive system
4 months' supply
Comes with a money-back guarantee
Some people may only need one box
Could be harder to swallow
Customer Reviews
Most buyers gave positive reviews for this product. They said that it gave them better stomach health and energy as well as have the vitamins and minerals their body required.
One client named Anastasia left this review on OneClick:
"Bion 3 is a super supplement because its contain all the vitamins that we need, PLUS PROBIOTIC which keep my stomach healthy and happy…Im very happy and satisfied with this new product…Thank you bion3…will buy again…"
Also, here's feedback coming from Mae:
"The Bion 3 multivitamins is easy to carry when travel as it is packaged in aluminium foil instead of bottle. After consumed for a period of time, I feel that I'm healthier and not easy catch a cold as compared to previous. Good product to share with others."
3) Blackmores Multivitamins + Minerals (3 x 120)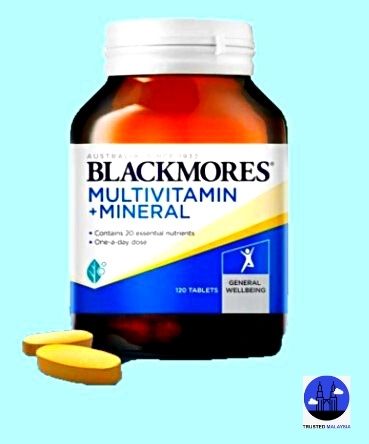 | | |
| --- | --- |
| Suitable for | Adults and teenagers |
| Serving size | Once a day |
| Vitamins & minerals included | Vitamin C, B3, B6, B2, B1, B5, D3, E, A, B12, folic acid, potassium, magnesium, zinc, biotin, calcium, choline bitartrate, iron, inositol, manganese, and magnesium |
| Health benefits | Maintains health, supplements people with unbalanced diets |
| Price | RM278 |
If you aren't getting much fruit and veggies on your diet or want to improve your overall health because you often feel weak or unwell, you can get Blackmores Multivitamin.
It's infused with a broad range of vitamins and minerals to make you healthy and happy. These include vitamin A, C, B1, B5, D3, folic acid, iron, potassium, calcium, magnesium, and more.
Not only will you prevent a variety of health conditions, but your energy and productivity level will also increase.
And since building up your resistance is vital amid the pandemic, this multivitamin can do the work. Only adults and teenagers can take it, however, for children aged 12 years and below, you can get the Blackmores Kids Multivitamins + Minerals instead.
Unlike other supplements, you only have to take the tablet once a day and no more. Thus, you can enjoy the rest of the day without having to think about when to next have it.
Although the product is a bit pricey, it brings value given its many health advantages. And you get a set of 3 multivitamins for a single price too.
Besides that, you can return the product within 15 days for free. If ever you find anything wrong with the product, just inform the seller of it and they'll handle the rest.
Excellent everyday vitamins
Supplements people with unbalanced diets
Once-a-day dose
Gives value for money
15-day free returns
Expensive
People may only want to get one container
4) Centrum Multivitamins + Minerals (100 tablets)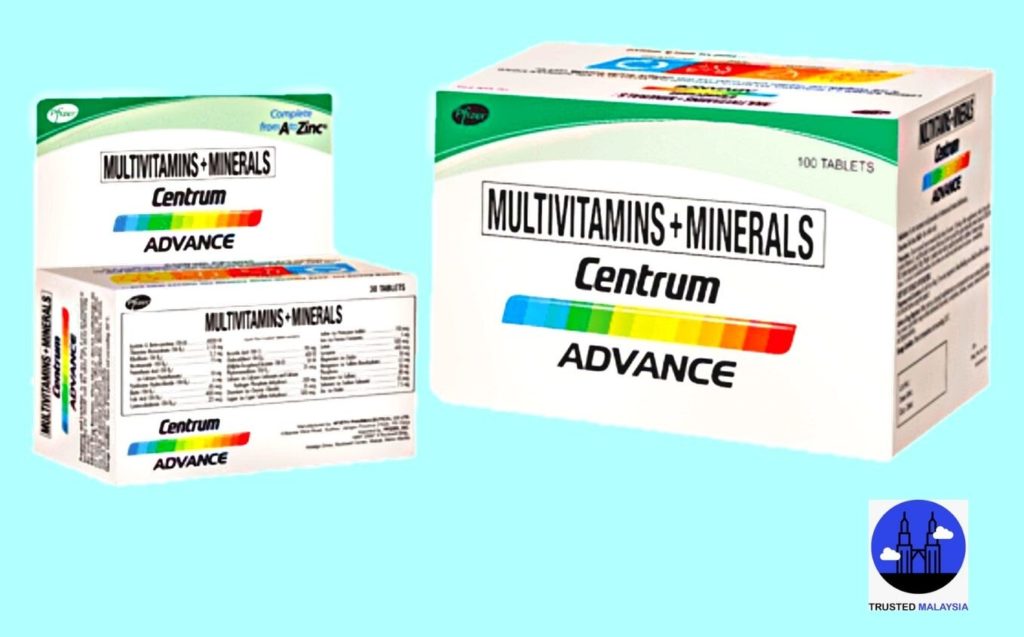 | | |
| --- | --- |
| Suitable for | Adults |
| Recommended daily intake | Once a day |
| Vitamins & minerals included | B-vitamins, vitamins C, E, zinc, iron, and many more |
| Health benefits | Increases energy, boosts immunity, speeds up metabolism, promotes health and well-being |
| Price | RM54 |
Another great and proven multivitamin for adults is the Centrum Multivitamins and Minerals. This pack comes with 100 tablets to be taken once a day or as suggested by your GP.
Formulated with 30 essential vitamins and minerals, including B vitamins, iron, and zinc, this can improve your vision, bone health, energy, and general well-being.
You get the complete package with this supplement at a very good price. Other supplements only offer some of the micronutrients that this brand has.
On top of that, it's also verified to be non-GMO (produced without genetic engineering) and gluten-free, making it healthier and better for people to take.
If you're not getting enough vegetables and fruits due to your busy schedule or diet restriction, Centrum is a great supplement that allows you to catch up on your nutritional needs.
Also, make sure to inquire about the expiry date first before buying this item online. Some people got one that can only be used for a year and a couple of months.
Non-GMO and gluten-free
Has 30 key nutrients
Promotes an overall good health
Great value for money
Guaranteed authentic
Short expiry date
No freebies
5) Opti-Women Multivitamin (60 or 120 capsules)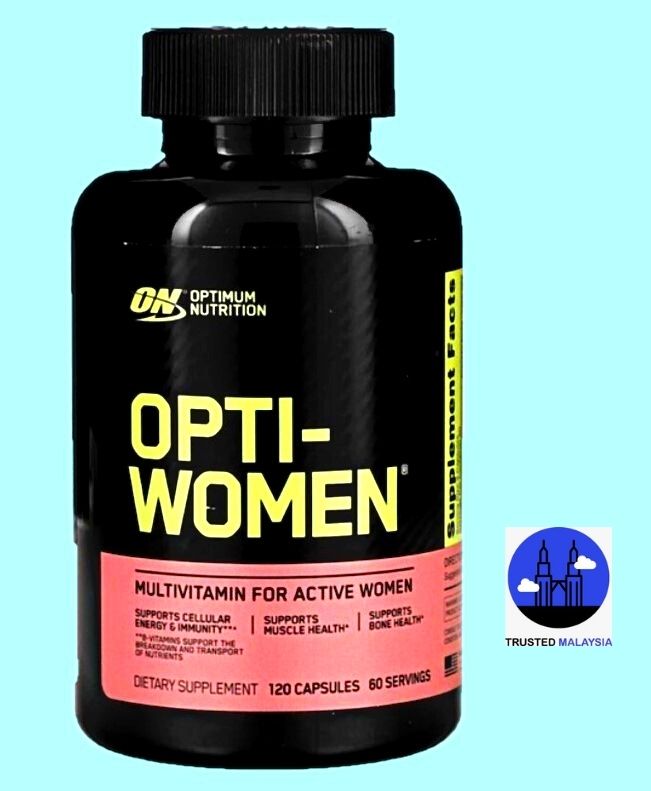 | | |
| --- | --- |
| Suitable for | Active women, vegetarians |
| Recommended daily intake | 2 capsules daily with food |
| Vitamins & minerals included | folic acid, iron, zinc, calcium, vitamins A, C, D, E, K, B-vitamins, and more |
| Health benefits | Reduces fatigue, promotes overall health, strengthens the immune system, and helps in recovery after training |
| Price | RM78.90 – RM122.90 |
Opti-Women Multivitamin is a pure vegetarian multivitamin designed for women with active lifestyles. It boosts the person's energy level during a workout, aids in her recovery, and shows body results faster.
It contains 23 vitamins and minerals plus speciality ingredients making for a high potency multivitamin. Folic acid, iron, calcium, and zinc are some of the substances that constitute this product.
The recommended daily intake is twice a day: one capsule in the morning and the other one at night—both of which have to be taken after a meal. The capsule is also easier to swallow, adding to the product's list of perks.
Keep in mind that this is only meant for adult women and not for those below 18 years old, pregnant, and nursing women. And keep this away from children as the multivitamin is unsafe when ingested.
You can also opt for 60 capsules or 120 capsules at a corresponding rate. They're expensive but not as much as other multivitamins for women who go to the gym or train for sports a lot.
The purpose of this multivitamin is they've put it all together in one. That means no more drinking a lot of pills at one time to get your complete nourishment every day.
For these reasons, we chose the Opti-Women Multivitamin as one of the very best multivitamins in Malaysia!
Designed for active women
Easy-to-swallow capsules
100% vegetarian supplement
Has 23 vitamins and minerals
Guaranteed authentic
Expensive
Not for under-18 or pregnant women
Not safe around children
Customer Reviews
Somepeople complained about the product's side effects as certain ingredients didn't fit them. However, most loved this product for making them feel wonderful and healthy.
One buyer named Dona left this feedback on Shopee:
"This is the 2nd time I bought Opti Women… Very effective for me, much better and cheaper than Amway Double X. Opti Women is specifically made for women needs and show the result more effectively. Love it so much!"
Also, Katie wrote this review on Amazon:
"I have been an Amazon Prime customer for 5 years, and I have yet to write a review….until now. These vitamins ROCK. Seriously, no ifs, ands or buts. I have only been taking them for two weeks, but my hair and nails are growing like weeds. In fact, I have been a chronic nail biter for 18 years, and now my nails are too thick and strong to even bite! My skin is clearer. I am less tired – the list goes on. I can't wait to see how I feel after more time taking these. Again, this is no bullsh*t. I always take the reviews with a grain of salt, but these vitamins are the real deal. HIGHLY recommend."
What to Consider When Buying Multivitamins
You should take extra care when buying multivitamins online as you will consume them. Here are the essential things you need to consider when buying one:
1) Need
Do you really need to take a multivitamin? Multivitamins are only for those people that miss out on micronutrients in their regular diets.
If you are healthy and have well-balanced meals every day, you don't need to get multivitamins. Otherwise, you could get side effects and will needlessly spend your money.
Multivitamins could help with many things. Among them are to improve your joints, boost your resistance, reduce your stress and anxiety, and reach your daily nutritional requirement.
Furthermore, they can supplement the diet of vegan and keto people and also those who just had weight loss surgery.
Assessing your current diet and exercise habits will allow you to gauge your need. And this can help you decide whether or not to buy multivitamins.
2) Vitamin Form
Multivitamins usually come in four forms: tablet, capsule, syrup, and gummy.
Tablet and capsule work best for adults because these are easy to carry and take on the go. Some are bigger than the others so swallowing may be harder.
Whereas syrup is for kids since this is often flavoured and easy to swallow. However, as we all remember in our childhood days, the aftertaste can be quite bitter.
Gummies are lovable, chewy, and packed with the vitamins the child needs. These can be an alternative to syrup. But it will take longer as the child has to chew and swallow them.
3) Health Issues
Do you have health issues? Some supplements aren't good for you because they will make the condition worse.
There are tons of multivitamins out there and you should only buy multivitamins that your body requires.
To be safe, you can consult your physician first who will prescribe to you a supplement that's right for you. As a result, you won't have to worry about taking the right multivitamins.
4) Age
People become weaker physically as they get older. People that are 50 years old and above may need multivitamins to make up for their poorer eyesight and weaker bones.
That said, people lower than this age range may need them to stay healthy and at their best. That's only if they often get sick, feel tired, get stomach pains, among other conditions.
5) Authentic Supplement
Remember to always buy from trusted manufacturers and sellers (if you're buying online). You should also check the expiry date, read buyer comments, and look for a guarantee to ensure you get an authentic, great-quality product.
This will give you peace of mind that the multivitamin will benefit your health and not harm it.
FAQs about the Top Multivitamins in Malaysia
---
And that finishes our list of the top multivitamins in Malaysia. These can help you feel well physically and emotionally so you can live your best life!
Found any multivitamins that could be for you? If you have any questions, please let us know by dropping us a line and we'll get back to you promptly.
But if you're looking to add muscle and weight to your body, you can explore our options for the best mass gainers in Malaysia!