The Top 11 Event Management Companies in Malaysia
Events, no matter how big or small, are stressful to both plan and manage. There are so many details to consider and so many people to talk to which is why it's always such a load off of your shoulders when you decide to go with the top event management companies in Malaysia.
If you want to know more about what we're talking about, read on! We'll be letting you in on these top companies and even answer a couple of burning questions you may have in your mind.
What Factors Affect the Cost of Services of an Event Management Company in Malaysia?
Since every event is different, we can't really give you an exact flat rate for how much you'll be charged for the event management services you avail of. However, we can let you know what factors affect the cost of these services:
1. Type of Event
The cost for hosting weddings, family parties, corporate parties, trade shows, workshops, conferences, and the like will all be different. This is because they all require different kinds of handling and some are more complicated than others.
For example, big events like weddings and festivals are much more expensive to have managed than webinars and workshops. Same goes for, let's say, the fact that virtual events are significantly less costly than physical ones.
2. Size of Event
The size of your event refers to how many people will be attending your event. This is because you want your event management company to know exactly how to maximize the space they have, the desired impact of your event, and adjust the requirements needed for your event (which we'll go into more later).
For example, if you have 100 guests, you'll be paying more than if you had 50 guests.
3. Requirements of Event
Usually, when you pay for an event management company, you trust them to take care of everything from the venue, the program flow, the hosts, the catering, and other things you may request for. So you aren't just paying for their services, you're also paying them to pay those they hire for your event.
For example, if you require them to hire a catering service, it'll be much more expensive than if you didn't have that extra service requested.
The Top Event Management Companies in Malaysia
Now that that's out of the way, let's talk about the top event management companies in Malaysia and learn everything there is to know about them!
1. Jiggee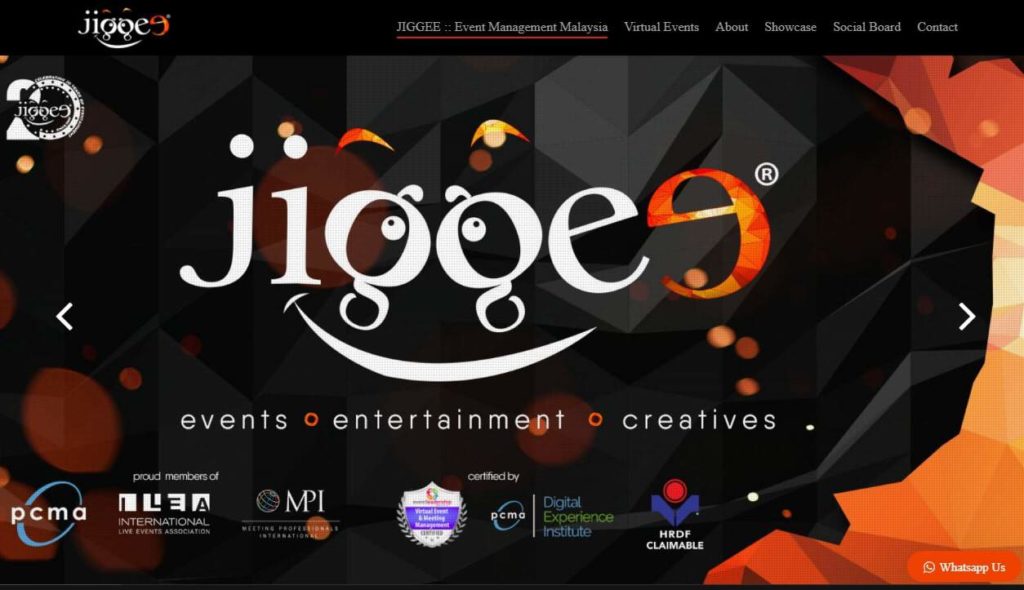 | | |
| --- | --- |
| SERVICES | Virtual and hybrid events, Social events, Business events, Destination events |
| WEBSITE | https://jiggee.com/ |
| ADDRESS | 5-08 Menara MBMR, 1, Jln Syed Putra, 58000 Kuala Lumpur, Malaysia |
| CONTACT DETAILS | +60 12-243 4950 |
| OPERATING HOURS | Open 24 hours |
Whether you're looking for an event management company in Malaysia or you're looking for a virtual event management company anywhere in the world, Jigee is one of our top recommendations.
With over 20 years of experience in the world of event management, they've worked with hundreds and hundreds of individuals and companies to give them the event they're looking for.
They're also highly experienced in turning all sorts of events from educational sessions, multi-day conferences, and the like into successful and interactive hybrid & virtual events. This is something we view as vital in today's new normal.
One thing they pride themselves in is their creative theme that does an amazing job transforming your ideas into an entire event production.
Their use of their wide network in the talent industry also makes for good use whether you're looking for filler performances, thematic performances, or even star performances.
Offers virtual and hybrid events
Provides talents for entertainment
Provides virtual event services anywhere in the world
No mention of rates
No online booking/contact forms
Customer Reviews
Choosing the right company to manage your events can be a difficult thing to do. Below are some reviews from Jiggee's clients to help you decide on what's best for you:
"Did a very good job in ensuring a wonderful virtual conference where all expectations are met. Very accomodative and flexible along the way. Emcee jiggee jon is outstanding in maintaining the hype to our participants throughout the conference. Overall, satisfied with Team Jiggee for perfect execution !" -Andy
"They were successfully delivery a high satisfactory service for our virtual corporate conference which much more than what was committed to us earlier. Moreover, we were impressed by their professionally on organising the entire event and promptly response to any unprecedentedly hiccups with their best efforts. Jon (owner) and his teammates are approachable and helpfulness. I'm highly recommended jiggee to you for organising any kind of formal or informal event and conference." -Mark
2. Sevenue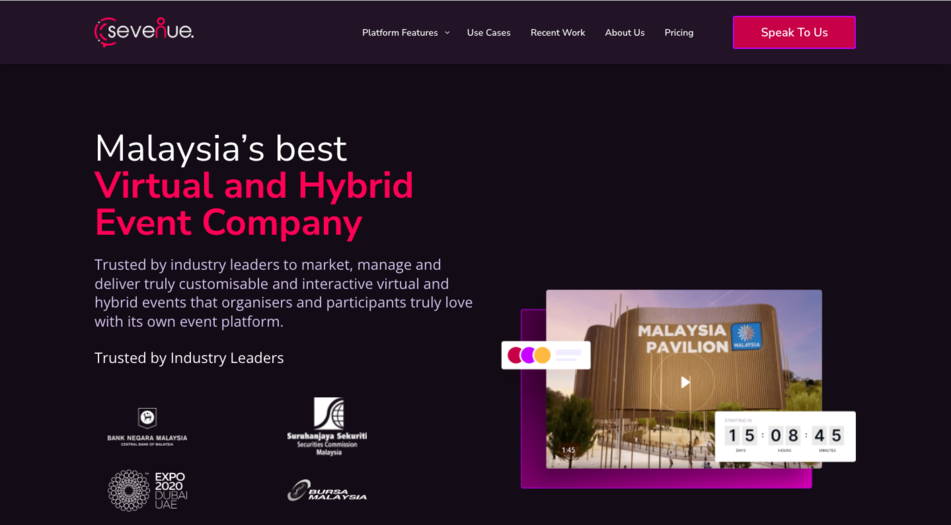 SERVICES
Customizable and interactive virtual and hybrid events
WEBSITE
https://www.sevenue.com/
ADDRESS
8, Jalan Biola 33/1, 1st Floor, Seksyen 33, 40400, Shah Alam, Selangor, Malaysia
CONTACT DETAILS
Phone: 011-11578977 | 03-20111931
Email:

[email protected]

|

[email protected]

OPERATING HOURS
Monday to Friday: 9:00 AM – 6:00 PM
Sevenue is a Virtual and Hybrid Event company that can bring your vision to life – whatever your event may be. Whether you're planning a virtual or on-ground gathering, planning an event with Sevenue can help you accomplish anything you desire.
Due to the popularity of virtualization, Sevenue offers cutting-edge technology and services to provide the best event for you. From the detailed planning, extensive consultation, and provision of support, Sevenue and their fully-staffed team of experts provide services to both traditional events and even state-of-the-art virtual events.
With its innovative and creative eye for events management, Sevenue dedicates its service to providing fully-customizable packages that fully bring out engagement to bring an experience unlike any other. From LED backdrop screens to branded 3D environments virtually, they offer the best in both traditional and virtual events.
As a company that works with significant brands and businesses, you can expect the best results from small events to events catered for networking, Sevenue can deliver results. As a 100% Malaysian-grown company, they wish to provide the best events management services in the country.
Clients who wish to contact the company can speak via phone or write an email. They also provide submissions for a brief for you to explain the services that you need for the event.
Virtual and hybrid event company that has its own event platform
Platform contains many features from branding to security
Trusted by industry leaders such as Bank Negara Malysia, Acer, and Bursa Malaysia
Closed on weekends
Base rates are not available on their website
3. Carat Comms Management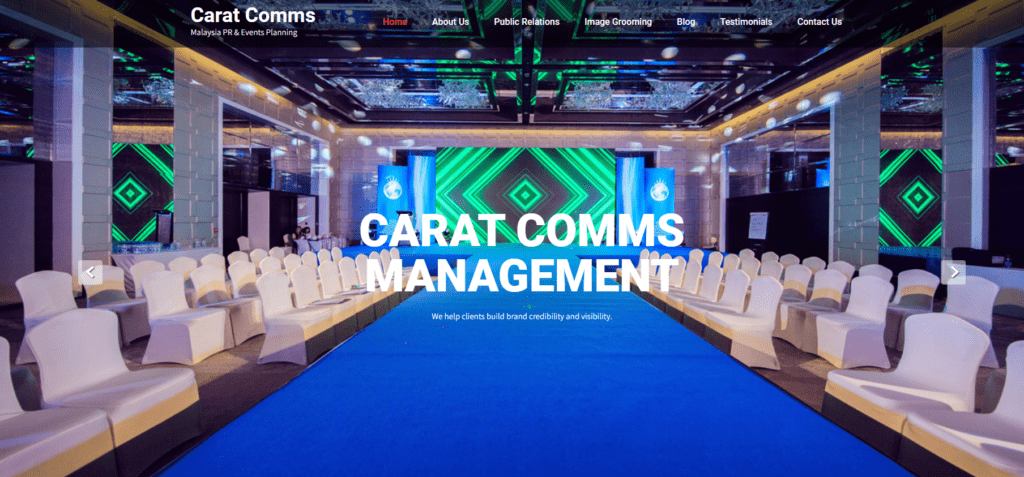 SERVICES
Event Managements and Consulting, Public Relations, Performing Entertainers, Social Media Marketing/Online Promotions
WEBSITE
Carat Comms Management
ADDRESS
Zenith Corporate Park,
Jalan SS7/26,
47301, Kelana Jaya,
Selangor, Malaysia
CONTACT DETAILS
Phone: +60 10-771 1376
[email protected]
OPERATING HOURS
Mon to Fri 9:00 am – 6:00 pm
As a business owner or event planner, you will need to hire talent who can deliver value and help your organization grow. With the help of Carat Comms Management, you can be sure that you will be able to make an incredible event happen for your company.
They can help you plan your next conference, convention, or trade show with their team of professional executives.
The Carat Comms Management team is one of the best in town – it is made up of experts with extensive experience in various fields including event planning, production, marketing and social media management. Their team includes marketers, writers, designers and digital experts.
We can recommend them since the services they offer are a wide range, meaning you can customise the package you get according to your needs. If you need help with both PR and event management, then you've definitely come to the right place.
Various in-house marketers, writers, designers, and digital experts

Doubles as a PR company

Offers customised packages according to your needs
No mention of service rates
4. FGNC Event Management (M) Sdn Bhd.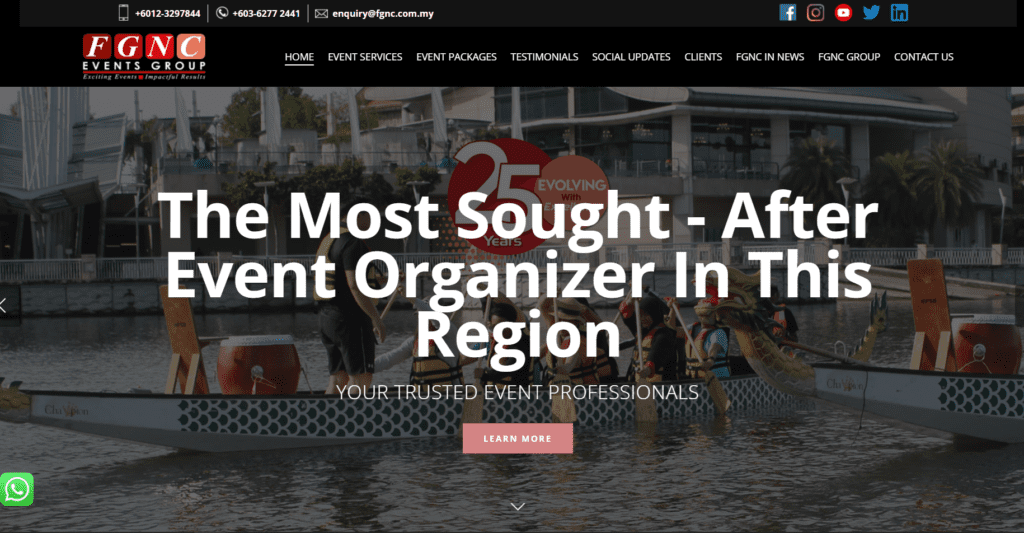 SERVICES
https://www.fgnc.com.my/event-organising-services/
WEBSITE
FGNC Group
ADDRESS
FGNC Events Group
FGNC Event Management (M) Sdn Bhd
Suite 2-8-2 & 2-8-3, Level 8, Wisma Menjalara
Jalan 7A/62A, Bandar Menjalara
52200 Kuala Lumpur

Selangor Branch
FGNC Events Group
No. 4-2, Jalan DU2, Taman Damai Utama
47180 Puchong, Selangor
CONTACT DETAILS
+6012-3297844
+603-6277 2441


[email protected]

OPERATING HOURS
Monday – Friday, 9AM – 6PM
Another one of Malaysia's best event management companies if FGNC Events Group. First incorporated in 1994 in Kuala Lumpur, the company now offers one of the most comprehensive, one-stop access to the various ins and outs of event management.
In fact, they have built such good reputation for themselves throughout the years, that they have gained the trust of some big brands in various industries. Some of their previous clients include J.P. Morgan, Toyota, Motorola, and Panasonic. Pretty impressive, right?
The scope of their services are also impressive. FGNC can help you with activities like treasure hunts and team races, annuals dinners and gatherings, virtual team buildings and events, and even corporate launches and road shows.
They even have various event packages that have been customized to your various needs. So if you're looking for a trusted and reliable event management company that can meet all your expectation, you should definitely consult with FGNC.
Wide variety of services
Trusted by prestigious companies
More than 25 years in the industry
Customer Reviews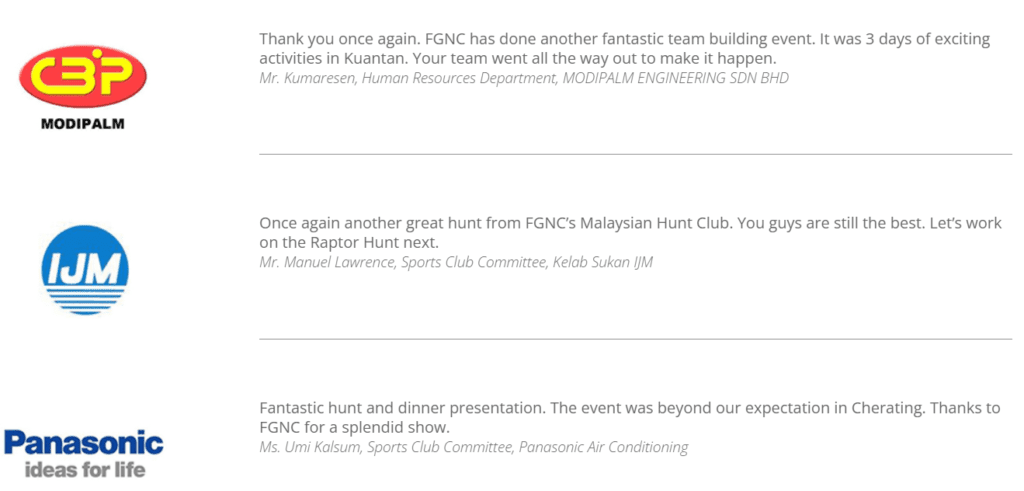 5. Demojo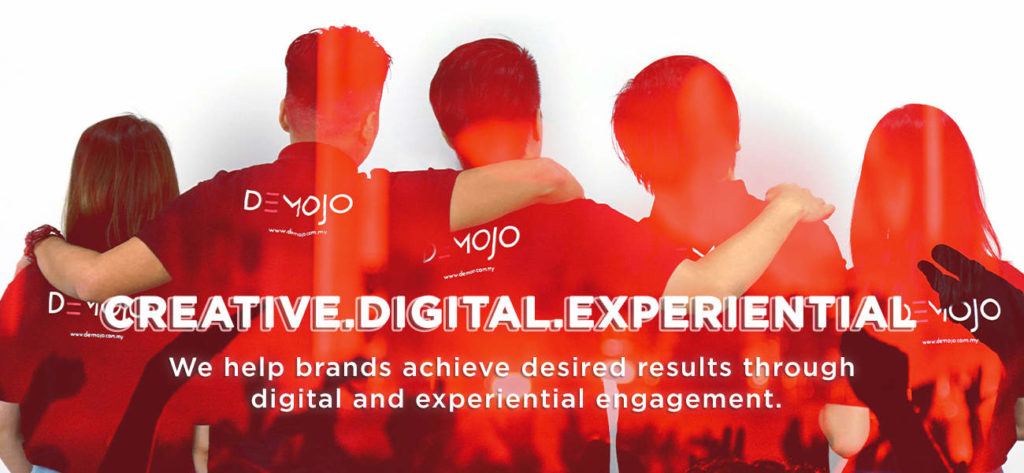 SERVICES
Advertising agency, Creative Agency, Event management, and Digital marketing
WEBSITE
https://demojo.co
ADDRESS
16-10 Infinity Tower, Jalan SS6/3, 47301
Petaling Jaya, Selangor Darul Ehsan, Malaysia.
CONTACT DETAILS
+60 12 353 6090 ;

[email protected]

OPERATING HOURS
Monday – Friday, 9:30 AM – 6:30 PM
Demojo provides one of the top event management services in Malaysia producing quality work. They provide fresh and creative events that put them into collaboration with top brands such as Dunkin'Donuts, King Cup, and Faber Castell.
They offer a wide variety of services in the production, design, strategic, and creative agency which mainly involves event management, advertising agency, creative agency, website development, environmental, and graphic design.
The best thing we noticed with Demojo is their amazing customer communication, you can inquire directly from either their catalyst director or their experience director to ask how they can bring your company to new heights using their innovative and fresh ideas.
Being featured by The Fun Empire as one of the best creative agencies in Malaysia, you can rest assured that your partnership will be worthwhile. We highly recommend Demojo to bring spice to your event.
Great customer communication
Fresh and intricate designs
Offers a lot of services
Customer Reviews
Professional Team
"Professional team, definitely will engage them for more projects." – Raymond Wong
Beyond our Expectations
"Demojo's creativity always impressed us. The outstanding result is always beyond our expectations. Demojo is a trustworthy agency that is worth a try." – Doreen Ng
6.   Hawt Dotz Sdn Bhd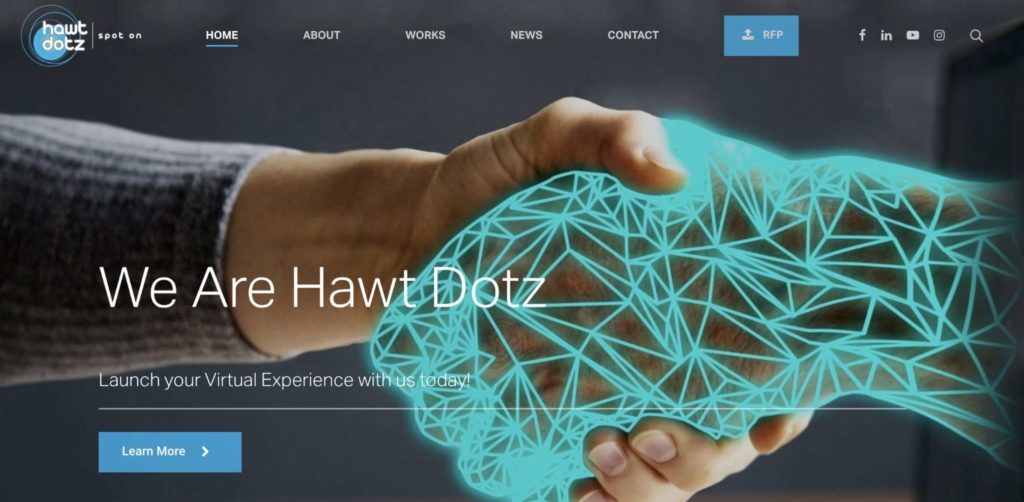 | | |
| --- | --- |
| SERVICES | Interior fit-out, Design conceptualization, Exhibitions, Events |
| WEBSITE | https://www.hawtdotz.com/ |
| ADDRESS | Kota Damansara, No. 32A-2, Jalan PJU 5/21 The Strand, Kota Damansara, 47810 Petaling Jaya, Selangor, Malaysia |
| CONTACT DETAILS | +60 3-6142 8813 |
| OPERATING HOURS | Mon-Fri 9:00am-6:00pm |
Hawt Dotz is a Malaysia-based event management, interior design, and exhibition company all in one.
The mixture of these three industries can let you hire them and rest easy knowing that you won't have to worry about the overall look and feel of your entire event because that is definitely their area of expertise. Now, as much as we want to talk about how well they do in all three industries, let's focus on their event management side.
The thing they look at the most when it comes to planning events is to know how to maximize your brand's reach through functionality and aesthetics. Whether you're going for a small launch with only your biggest investors or a gala with over 5,000 people, they know how to go about it with their designers and marketers.
Finally, one of their most important services now is their virtual event management services. Whether it's for launches, webinars, or roadshows, all you have to do is let them know what you're thinking and they will easily plan and execute it just the way you want.
Multiple areas of expertise
Manages virtual events
Focuses on company gatherings
No mention of rates
No free quote
Customer Reviews
Here are some of their customer feedback:
"One of the top exhibition and event management company. Attended a creative virtual conference hosted by Hawt Dotz Sdn Bhd as well. Dedicated team that shows 110% effort" -Vivian
"Creative team and congratulation on the best design award 2019 by Malaysia Airport !!!" -Asther
7. Event Company KL (YOLO events)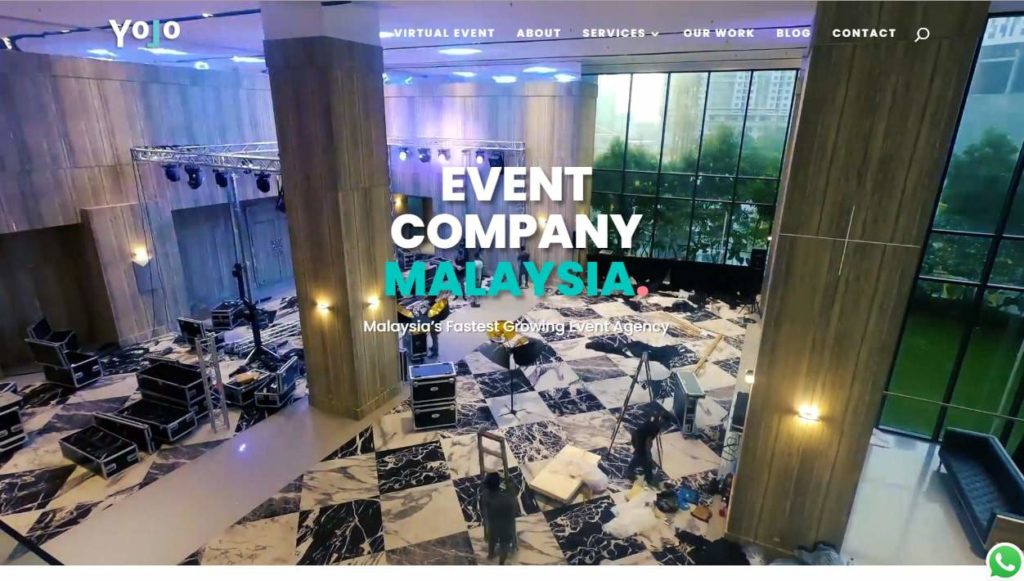 | | |
| --- | --- |
| SERVICES | Web development, AR | VR, Virtual Events, Event management |
| WEBSITE | https://www.eventcompanykl.my/ |
| ADDRESS | Plaza Vads, No. 1, Jalan Tun Mohd Fuad, Taman Tun Dr Ismail,60000 Kuala Lumpur |
| CONTACT DETAILS | +017 352 6450 |
| OPERATING HOURS | Open 24/7 |
YOLO is an event management company that focuses more on helping brands and companies of all kinds make a stronger impact in their industry towards their target audiences.
Each and every event they manage, they make sure to integrate the use of smell, taste, touch, vision, hearing, and even emotion to do so. Whether your company is in the fashion, technology, retail, travel, banking, or luxury industry, they know how to deliver the event you're looking for.
This is with the help of their international team consists of creatives, producers, product managers, set designers, artists, digital tech nerds, carpenters, and strategists who make sure your event is the best it can be.
If you're looking to host a virtual event, YOLO is going to be our top recommendation. Their digital tech nerds are the masters at creating virtual events whether they're products launches, talk shows, or even online training.
They, along with their creatives and producers, make sure to provide the best virtual environments through their use of backdrops, tools (breakout rooms, whiteboards, etc), and even virtual stagings.
You can view a few of their past projects here.
Has worked with big-name companies (Lego, AirAsia, Google, etc)
Specializes in brand and company events
Offers virtual event services
Online inquiry available
Does not manage personal events
No free quote
No mentions of rates
Customer Reviews
Here are some reviews left by happy and contented customers:
"Great event management company. Saved me from a lot of headache and trouble." -Ong
"Great company that provides awesome service for event organizing. Ambiance created by the company at the requested venue is perfect!" -Rae
8. Above Creative Events Malaysia Sdn Bhd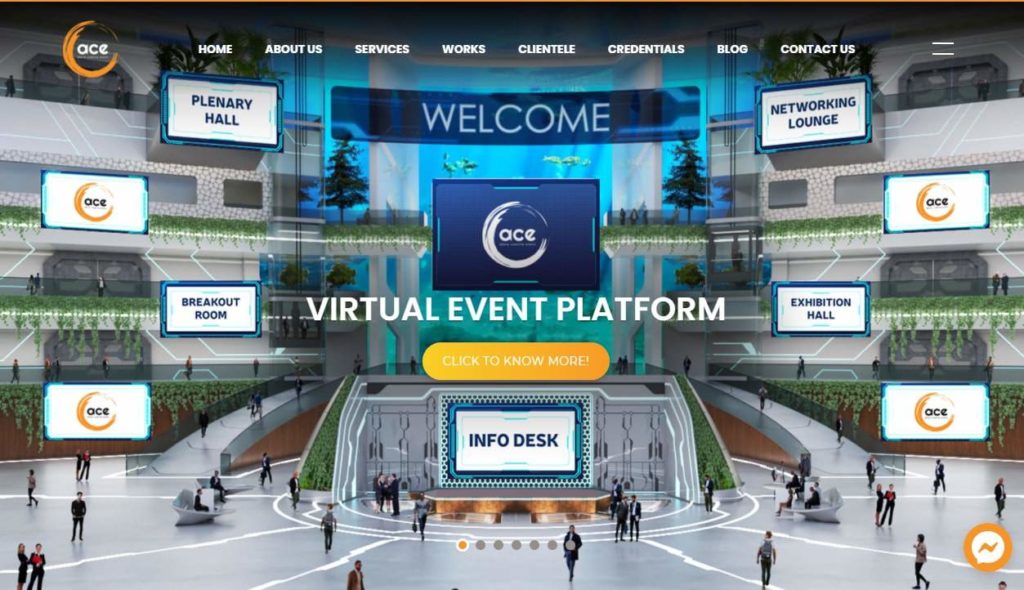 | | |
| --- | --- |
| SERVICES | Artist & entertainment, Innovative & digitalise, Design & production, Virtual events, Events |
| WEBSITE | https://www.creativemalaysia.com/ |
| ADDRESS | Block F-2-5, Plaza Arkadia, No.3, Jalan Intisari Perdana, Desa Parkcity, 52200 Kuala Lumpur, Malaysia. |
| CONTACT DETAILS | +603 – 2780 9609 |
| OPERATING HOURS | Mon-Fri 9:30 am – 6:30 pm |
If you're looking for an event management company that caters to both corporate and personal events, take a look at Above Creative Events.
They consist of a team of passionate personnel who are well-versed in the creative and technical sides of bringing events to fruition. Even if your event is a destination one, they'll find the best suppliers and vendors of everything you need.
Their production team is experienced in ensuring that everything from design to the actual product is in tip-top shape. Now, for virtual events, they push them forward with their GO GREEN CAMPAIGN.
Asides from the obvious new normal that requires most, if not all, events to go virtual, they also promote hybrid or full-virtual events packed with broadcasting and live streaming avenues.
In line with this, one of their services is app or website creation and design. This is especially helpful to make the registration for events as well as networking easier thus creating a central database for better ROI.
Wait time can be quite long depending on the day
Customer Reviews
Take a look at some of Above Creative Events Malaysia's customer reviews:
"Din't thought such wild ideas can really be brought to life by this excellent team of event pros. You guys deserve the best compliments" -Camille
"An exprienced team that understand our needs and concerns while providing the best solution. Good job guys! Definately will come back for future collabs" -Jianhang
9. Pulse Asia – Event Management Company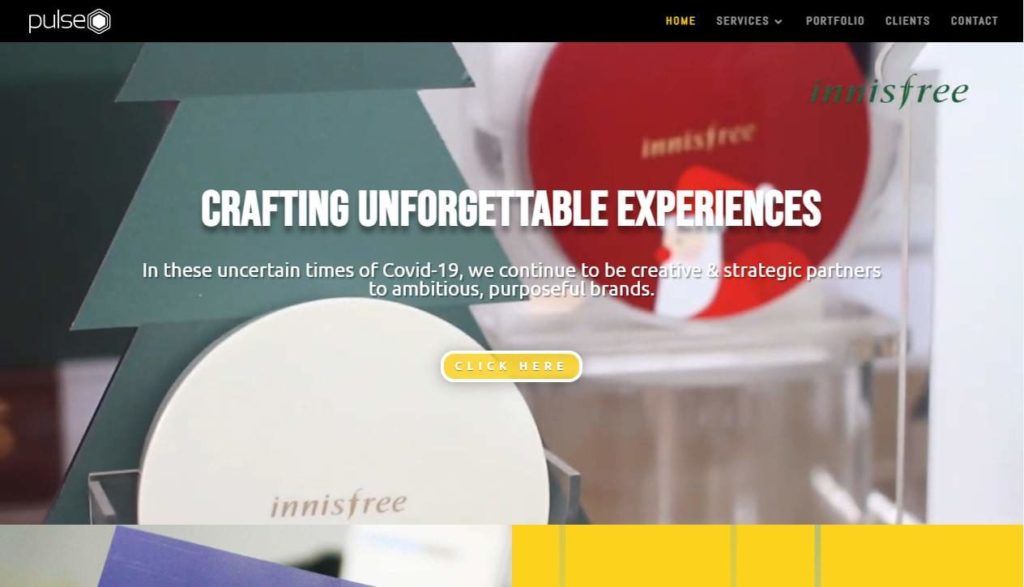 SERVICES
Corporate video production, Event marketing & Communications, Virtual events, Content management, Av production, Delegate management, Event management,
WEBSITE
https://www.ievents.biz/
ADDRESS
A-2-11, Glomac Damansara, Jalan Damansara, 60000, Kuala Lumpur, Malaysia
CONTACT DETAILS
+6012 662 7599
OPERATING HOURS
Mon 9:00 pm-12:00 am
Tue-Fri 12:00 am – 6:00 pm; 9:00 pm-12:00 am
Sat 12:00 am – 6:00 pm
Pulse Asia is an event management company that specializes in corporate events with businesses no matter how big or small.
In the past, they've worked with big-name companies like Bridgestone, AirAsia, Samsung, eBay, and the like to turn their events into successful and unforgettable ones for clients and potential clients.
The goals of their events are to inspire and engage your participants so they work closely with you to find out how to by getting to know your target audience. This begins their strategic planning and concept design which they then take and turn into what you're looking for in an event.
Of course, like every other company, they also offer virtual event services. This is the best way to go if you want to achieve global reach, seamless networking, and reduced costs.
Like with their physical events, they still make it their goal to make your event as interactive and engaging as possible which is perfect for webinars. They also provide you with reports and insights on your attendees after the event.
Manages virtual events
Specializes in corporate events
Provides reports and insights after the event
No free quote
Does not work personal events
10. CK Events Management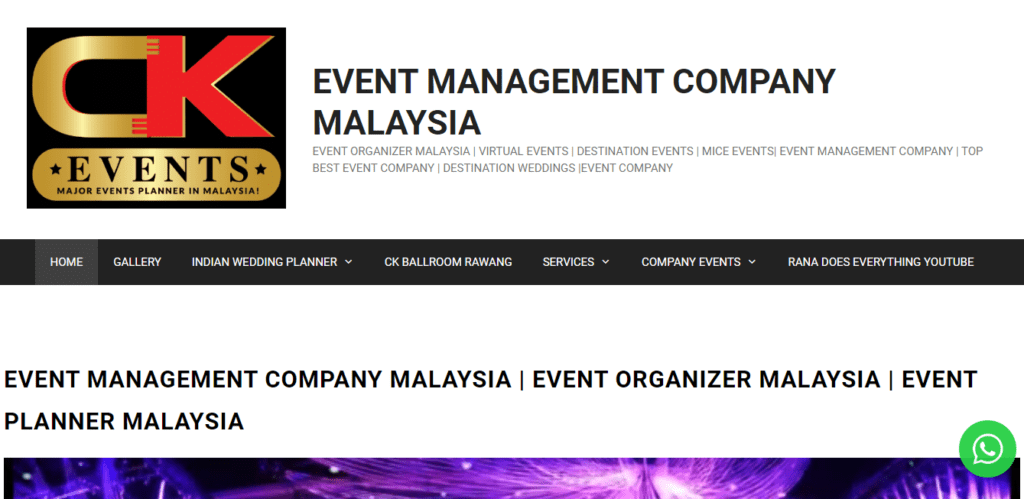 | | |
| --- | --- |
| SERVICES | Event Management, Event Production, Wedding Destination Services, Virtual Events Management, Event Fabrication, Led Visual Rental, Event Designing and Installation |
| WEBSITE | https://eventmanagementcompanymalaysia.com/ |
| ADDRESS | Jalan Seri Wangsa, Taman Sri Rampai, 53300 Kuala Lumpur, Wilayah Persekutuan Kuala Lumpur |
| CONTACT DETAILS | +60-126597702 / +60126597202 / [email protected] / [email protected] |
| OPERATING HOURS | Contact for more details |
CK Events Management is a company that specializes in a wide range of event management services most especially Event Fabrication, Led Visual Rental, Event Designing, and Installation. They currently have three offices in Kuala Lumpur, Penang and Johor Bahru all across Malaysia.
Established back in 2003, the company prides itself on consistently delivering exemplary services to its clients by being able to deliver stellar event performances despite the limited time period. They have since then serviced and assisted a wide variety of events such as home-based, corporate events, educational events, seminars, conferences, workshops, and exhibitions among others.
They are also highly praised and acclaimed by their past clients to deliver efficient solutions and deliver at an impressive rate through every event that they handle. They are characterized to be organized and customer-oriented and made each event enjoyable aesthetically through their design and expertise in the said field.
We recommend this company for clients looking for an excellent company to organize their events every step of the way. They are very much praised for their expertise and commended by their clients for the enjoyable experience all throughout.
Well-organized team
Professional staff
Customer-centered services
Operating hours are unavailable
Customer Reviews
"A very well managed and customer-oriented events organizer, Kevin really made my event locations light up and beautiful ambience throughout the ceremonies and dinners that were help. Responsive and well-versed with their work, they made a very good and lasting impression in my eyes. Very much recommended to anyone interested in services such as theirs. One of the most underrated companies around. Well done Kevin!"
"There are no words to describe how amazing Kevin is as a person and of course an incredible event planner! From the first day we met Kevin until the final minutes of our amazing event day. Kevin provided incredible organization and an enjoyable experience every step of the way. I would 100% recommend Kevin and his team to any event for the matter. Thank you for everying!!"
10. Twist Events
SERVICES
PA/Sound System
Lighting
Photobooth
Talents/Shows
Emcee
Catering
Bunting/Backdrops
Location Scouting
Stage/Truss
Photo/Video
Flat Screen/Projection
Furniture/Rostrum
Costumes/Mascots
Graphic Design and Animation
DJ
Ushers/Butlers
Foam/Snow/Bubbles
3D Projection Mapping
PR Marketing
Table and Venue Deco
WEBSITE
http://twisteventsasia.com/
ADDRESS
Axis Atrium, Jalan Cempaka, 68000 AMPANG
CONTACT DETAILS
(+60) 163925940


[email protected]

OPERATING HOURS
Contact for more information
Twist Events is a young, yet experienced, event management company. What makes them stand out from the industry is their expertise in unique events for luxury brands.
Not to brag but over the last 8 years, they have already worked with clients from countries across Asia, including Malaysia, Indonesia, and Singapore!
We prefer them over other companies because they can do almost everything an event can need. As you can see from the list of their services, they can handle it all.
In comparison to others, they can cater to any type of event. Some examples are charity events, fashion shows, sporting events, and such.
The only catch here is that they have no information on their website regarding their base rates. You have to contact them first in order to get a quotation.
Has served prestigious clients already
Updates clients regularly
Rates are unavailable on their website
11. Twist Creatives
| | |
| --- | --- |
| SERVICES | Event management |
| WEBSITE | http://twistcreatives.com |
| ADDRESS | Jalan Cempaka, Taman Cempaka, 68000 Ampang, Selangor, Malaysia |
| CONTACT DETAILS | +60 16-392 5940 |
| OPERATING HOURS | Monday – Sunday, 9:00 AM – 10 PM |
Twist Creatives is a young creative firm located in Malaysia that specializes in alternative branding and marketing solutions. They assist businesses in cultivating a particular relationship with their clients by interrupting the routine and injecting some fun into it.
The team is always looking for new and creative methods to sell yourself, your companies, and your products and services. Their pool of creatives excels in a variety of art disciplines and adds new life to their work.
They are mostly concerned with brilliant graphic design, application development, event management, and surprising and unorthodox marketing strategies that rely on creativity to get maximum outcomes with low resources.
Not only will you convert new clients and strengthen existing ones' loyalty, but you will also receive extensive media coverage. They are looking into every conceivable technique to keep the consumer experience new and entertaining while also assisting you in standing out through the intelligent use of contemporary technology such as mobile phone applications, interactive installations, and more.
Open seven days a week
Creative-based services
Great customer communication
Needs further contact to get the rates
Customer Reviews
Thank you Twist Creatives, I hope to work with you guys again in the near future.
"Twist Creatives have provided an impressive service for my company, the person in charge has the know-how on making our event a really unforgettable one, they have good sound systems, a good library of songs for all kinds of event genre. And most importantly, their price for PA system rental is surely unbeatable for its value. Thank you Twist Creatives, I hope to work with you guys again in the near future." – Warren Lee
100% happy with the service provided
"We recently used Twist Creatives to build our company website and are 100% happy with the service provided. We found Mathieu to be very professional, very responsive, very helpful and unusually in Malaysia – on time every time! In fact he was waiting for us more than the reverse. We would certainly highly recommend the services of Twist Creatives to anyone wishing to create a fresh and dynamic website. Entrepot Publishing." – Marcus Langdon
FAQs about Event Management Companies in Malaysia
---
There you have it! Everything you need to know about event management companies and the top event management companies in Malaysia.
Hosting an event doesn't have to be a stressful experience and we hope we made that clear to you with this article.
We hope that you were able to decide which one to go with and, if you did, don't hesitate to reach out to us and let us know all about your experience. We'd love to hear from you soon!
If you don't have an event space yet, you might also find it useful to check out our article on the best event spaces in Kuala Lumpur!