The 9 Companies for the Best Waterproofing in Malaysia
Featured Image Source: Shutterstock
Dealing with leakage and moisture concerns is tough. And when your home or office is involved, you want to make sure it's water-resistant to stand the test of time. Luckily, we've got the companies for the best waterproofing in Malaysia to help you with your problem.
Waterproofing is a great solution if you want to keep your facilities from deteriorating overtime. So to make things easy for you, we've rounded up a list of companies based on their waterproofing services, range of products, and customer ratings.
Check out our list of companies for the best waterproofing in Malaysia below.
1. Vroof Waterproofing Enterprise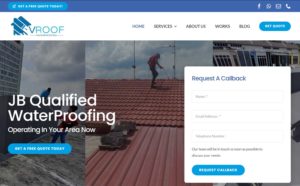 | | |
| --- | --- |
| SERVICES  | Roof leak, roof repair, roof protective coating, roof jet cleaning, PU injection, slab-rc repair, wall crack repair, torch on membrane, and fiberglass waterproofing.  |
| WEBSITE | |
| ADDRESS | 34, Jalan Badik 20, Taman Puteri Wangsa, 81800 Ulu Tiram, Johor, Malaysia |
| CONTACT DETAILS | +6017 657 8400 |
| OPERATING HOURS | Monday – Saturday, 9:00 AM – 6 PM |
V Roof Waterproofing is a one-stop solution for all of your roofing needs in Malaysia. They are quite proud of their reputation, which has been earned over many years of service to homeowners, builders, and commercial contractors. 
From suppliers and distributors to employees, owners, customers, and friends, they are a close-knit family. They care about their staff so that they may give you their all every day. They are glad to continually astonish their consumers throughout the years with unrivaled service, quality, and expertise.
They have a firm approach on their methods wherein they prioritize assisting their customers in creating the ideal home for their individual requirements. They approach each project with care and an emphasis on open communication and doing the work correctly the first time.
Their client's have been coming back because of their highly experienced and easy to talk to waterproofing contractors who have worked on residential and commercial projects of all sizes in Johor Bahru. They understand the task and can collaborate with you to create a fantastic job that will last a lifetime.
Highlights
Experienced staff

Wide variety of services

Great customer communication

Transparent rates
2.  Best Waterproofing Malaysia
Best Waterproofing Malaysia is a reliable construction company that specialises in skim coating, painting, waterproofing, repainting, spray, structure repair, and refurbishment.
For more than 10 years, they have been guided by over 150 expert workers and a team of professionals who deliver quality consultation and construction services.
Basically, Best Waterproofing Malaysia is one of the companies for the best waterproofing in Malaysia because they provide budget-efficient waterproofing. Their mission is to turn establishments water-resistant in order to avoid future damage.
Highlights
Membrane waterproofing
Rooftop waterproofing
Waterproofing solutions
3.  Le Grande Enterprise
Le Grande Enterprise is one of the companies for the best waterproofing in Malaysia because they deliver cost-efficient waterproofing and coating systems to household, business, and industrial properties.
The company guarantees that their team of waterproofing specialists work alongside architects, contractors, town developers, and manufacturers to successfully produce waterproofing solutions. This results in the protection of properties from damaging weather conditions and calamities.
In addition, Le Grande Enterprise makes sure they deliver quality consultancy when it comes to the proper materials to be used for water insulation.
Highlights
Waterproofing consultancy
Waterproofing installation & application
Waterproofing maintenance & repair
4.  VSeal
| | |
| --- | --- |
| BEST FOR  | waterproofing |
| PRODUCTS | https://vseal.com.my/services-2/ |
| WEBSITE | https://vseal.com.my/ |
| ADDRESS | Vseal Engineering Sdn. Bhd. A-5-10 Empire Tower, Subang Jaya, 47500 Selangor, Malaysia |
| CONTACT DETAILS | Tel: +60 3-5021 9289 |
| OPERATING HOURS | Mon to Sat: 9:00am-5:00pm |
VSeal promises quality workmanship by providing waterproofing solutions to household and business establishments.
They're also one of the companies for the best waterproofing in Malaysia and have an expert team of engineers and specialists. With their combined experience, they're capable of handling projects and making sure everything is leak-proof.
And through the use of high-quality materials and cutting-edge technology, VSeal also presents metal roof solutions and repair, wall waterproofing, and coating services.
Highlights
Waterproofing solutions
Basement waterproofing
Moisture control system
Customer Reviews
VSeal is commended by their customers for doing a great job at solving leaks. They're also known for their friendly and helpful employees and reliable service.
Some customers shared their reviews:
"The workmanship is beyond expectation, the price is the most reasonable one from a few quotations I had got. There was enough honest and constructive explanations and sharing during the inspection session."
"I would like express my gratitude to thank Sean and Vseal to fix my leaking ceiling. I'm satisfied with the good workmanship and job well done. xie xie"
5.  Greenseal
Greenseal, another one of the companies for the best waterproofing in Malaysia, is recognised for their array of waterproofing products used in construction and the protection of concrete.
These products are developed in the United Kingdom and meet International Standards and Quality requirements. Thus, you can be certain that you're getting quality materials from them.
Greenseal's main products include Cementitious Crystallization Compound and Liquid Waterproofing Membrane Solvent, which are both used to successfully get rid of leakage. Give them a call and they'll only be too glad to walk you through your options!
Highlights
Liquid waterproofing membrane systems
Crystallization systems
Flexible cementitious systems
6. Qinglong Malaysia
Source: Qinglong Malaysia
Established in 2010, Qinglong Malaysia is an award-winning water repair company that aims to "Make every building no leakage". For any waterproofing needs you may need, be it industrial or residential leakages, Qinglong promises quality services to solve the domestic leakage problem of local citizens in Malaysia. 
They also offer a wide range of world-renowned water-proofing products such as curing solutions, sealants, and waterproof coatings. With their expertise and experience in the waterproofing industry,  they won't disappoint!
Highlights
Industry veteran

Extensive list of waterproofing products
7. No Hacking Waterproofing
Source: No Hacking Waterproofing
Having been established since 2008, No Hacking Waterproofing takes pride in being appointed as the Sole and Exclusive Country Distributor for ISONEM waterproofing in Malaysia.
Whether it is for commercial or residential premises leakage problems, they have you covered
Highlights
Exclusive Country Distributor for ISONEM waterproofing

Wide variation of waterproofing products

Trusted company
8. Shieldo
Shieldo is a company that specializes in waterproofing services in various parts of the building such as the balcony, bathroom, rooftop, and car porch. The company also offers residential options such as cement, nano-coating, polyurethane, rubber sealant, and torch-on.
They also offer a five-year warranty on their services to ensure long-lasting high-quality services and customer satisfaction. Furthermore, they offer the said services at a lower price compared to the regular market rate.
We recommend this company for clients looking for an all-around waterproofing service that is affordable, informative, and delivers high-quality services.
The company also offers complementary product application training in order to maximize the efficacy of its products upon application.
Highlights
Affordable rates
Complementary product application training
5 year warranty on all services
9.  Nano-G Malaysia
Nano-G Malaysia offers hospital-grade and environmentally-friendly nanotechnology waterproofing solutions that can be put in place without having to renovate or remove structures.
To further eliminate water leakage problems, they also offer anti-slip floor coating solutions that produce an ultra-hard layer. What's more, the layer is friction- and water-resistant, so it's perfect for households.
Other than that, what makes Nano-G Malaysia one of the companies for the best waterproofing in Malaysia is that they focus on the sustainability of the environment and use Green Technology products.
Highlights
Nanotechnology waterproofing
Anti-slip floor coating
Customer Reviews
Nano-G Malaysia is recommended by their customers for their professional work, good services and maintenance, and great value for money.
Some customers shared their reviews:
"I would like to especially commend their sales rep (Sunny I think) for the quick and efficient diagnosis on to any of the problem they face. Shows good training. No-nonsense, straight to the point. I love these kind of people. Great job, Nano-G for not only your quality services, but also excellent sales rep."
"They have a professional team with good explanation and service. They did a proper check before do the repairing. The most important is no hacking require and truly appreciate it. Luckily they have an office at Penang and there is no leaking from 3rd March 2020 until now. Thank you Nano-G team."
And that concludes our list of companies for the best waterproofing in Malaysia. We hope you were able to pick a company for your waterproofing needs.
If you were able to find the perfect waterproofing company, please leave your comments down below and let us know how it went. We'd love to hear from you!
And while you're here, in case you're looking for a contractor for your home or office space, check out our list of the best renovation contractors in Malaysia!