The Top 5 Dishwashers in Malaysia
Sometimes, scrubbing off food from your plate and washing it afterward is not what you would want to be doing on a very busy day. One way to get around this chore is to get a dishwasher for your home.
So if you're here, you're probably looking for one. Luckily, we've compiled our list of the best dishwashers in Malaysia together with their features, prices, and user reviews.
Check 'em out!
The Top Dishwashers in Malaysia
Without further ado, here are our picks of the top dishwashers in Malaysia we put together for you. Scroll down and get those dishes clean in no time!
1. Electrolux ESF6010BW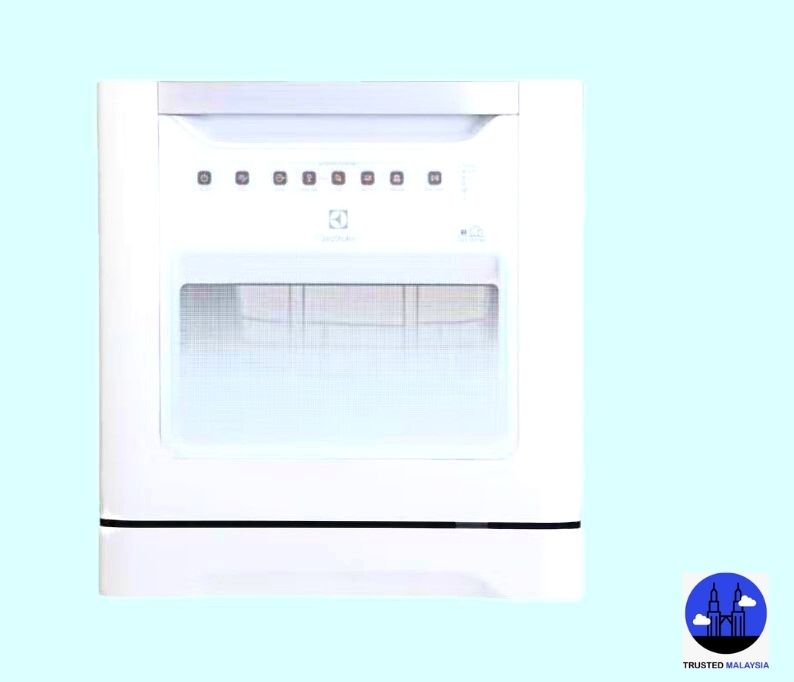 Price: RM 2,499
| | |
| --- | --- |
| COLOR/S | White |
| DIMENSIONS | 55cm (W) x 52.3cm (D) x 60.4cm (H) |
| WATER CONSUMPTION | 2.24L |
| PROGRAMS | Normal, Intensive, Eco, Glass care, Soak, and 30 minutes quick |
| DRYING SYSTEM | Residual heat drying |
| FEATURE/S | LED indicator, Washing versatility, 6 automatic programs, convenience, Compact standalone with 8 place settings |
| WARRANTY | 2-year general warranty |
The Electrolux ESF6010BW is a compact standalone dishwasher making it the ideal dishwasher for those who have limited space.
It has 6 automatic washing programs and 8 place settings so that the wash cycle it chooses will be specific to the dishes you're having clean. The LED indicator is there to let you know when it's running and what program it's on, but it doesn't have a countdown timer which is a bit of a letdown.
To dry your dishes, it uses residual heat drying which is known to be the best way to get the job done. This is because it makes use of the heat created during the wash process instead of getting air from outside the dishwasher making it both economic and more sterile.
This dishwasher has an auto-off function that activates once all your dishes are clean and dry. It has an anti-flood and anti-leak feature as well.
Note that it has a water consumption of 2.4L and energy consumption of 1.25 (kW-hr/yr).
Ideal for small spaces
No installation required
Uses residual heat drying
Does not have child-lock
Does not have a countdown timer
Does not come with any accessories
Customer Reviews
Check out these reviews from happy buyers of this dishwasher:
"The huge box was wrapped with bubble wrap. Item is working nicely and easy to setup. Seller also very responsive to my questions. Recommended!" -b*****c
"We've been using this dishwasher for a few months now and we're very pleased with it. It has multiple programs, all efficient. The size of it is ideal for a small kitchen and two people. We haven't noticed a big increase in our electricity consumption." -Raluca
2. Toshiba DWS-22AMY (K) Mini Dishwasher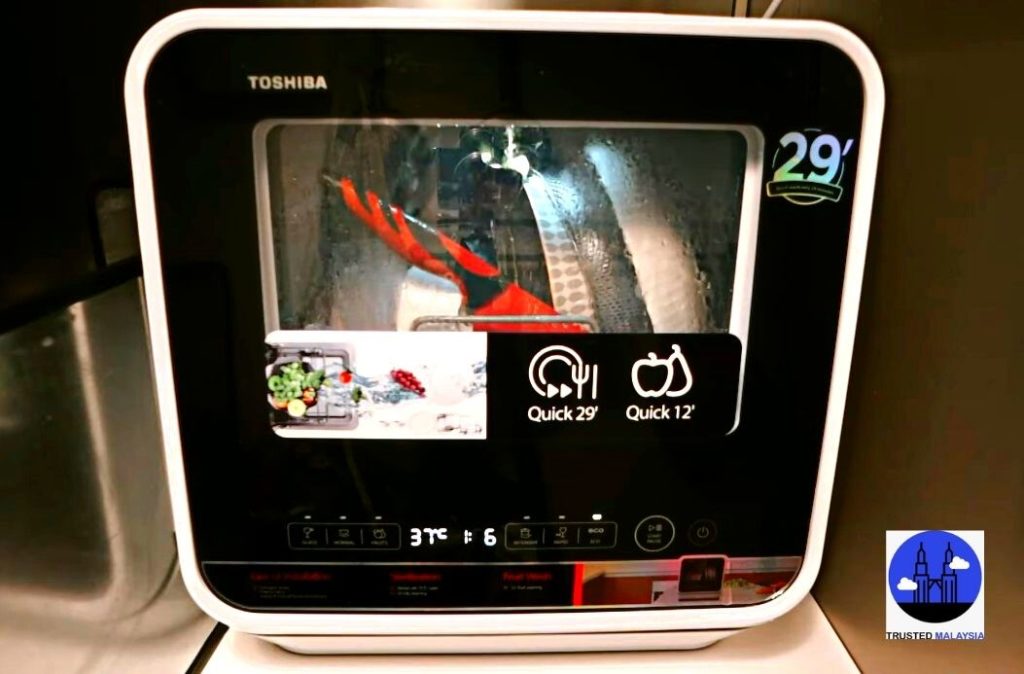 Price: RM 949
| | |
| --- | --- |
| COLOR/S | White |
| DIMENSIONS | 42xm (W) x 43.5cm (D) x 43.5cm (H) |
| WATER CONSUMPTION | 5L |
| PROGRAMS | Intensive, Steam wash, Glass, Rapid, & Eco |
| DRYING METHOD | Ventilation drying forced by fan |
| FEATURE/S | Anti-bacterial, Pause function, Fruit washer |
| WARRANTY | 1-year local manufacturer warranty |
This Toshiba DWS-22AMY (K) Mini Dishwasher is a 5L dishwasher with 6 programs you can choose from.
The LED display tells you everything you need to know from if the dishwasher is open to when it's time to shut down. This includes the program it's on, when you need to refill the water and how much time you have left until the washing cycle ends.
There's also a pause function so you can put in additional dishes without the hassle of turning the machine off and restarting the whole process.
To rinse, it uses high-temperature sterilization to remove 99.99% of E. coli bacteria to protect you from using contaminated dishes. After this, your dishes are dried by a ventilation method forced by a fan in the dishwasher for quick drying.
As a nice little addition, it also has a leak protection system and a self-cleaning function for easy maintenance.
By the way, the purchase of this dishwasher comes with a water kettle, chopstick basket, drainage pipe, and bowl basket.
No installation required
Has a countdown timer
Has self-cleaning maintenance
Comes with multiple accessories
Does not have child-lock
Does not come with a water inlet
Customer Reviews
Here are some short reviews from recent buyers who purchased this product:
"User friendly. Recommended for small family." – Y***
"Great size…works very well!!" -Chelsra
3. Giselle Table Top Dishwasher (KEA0205)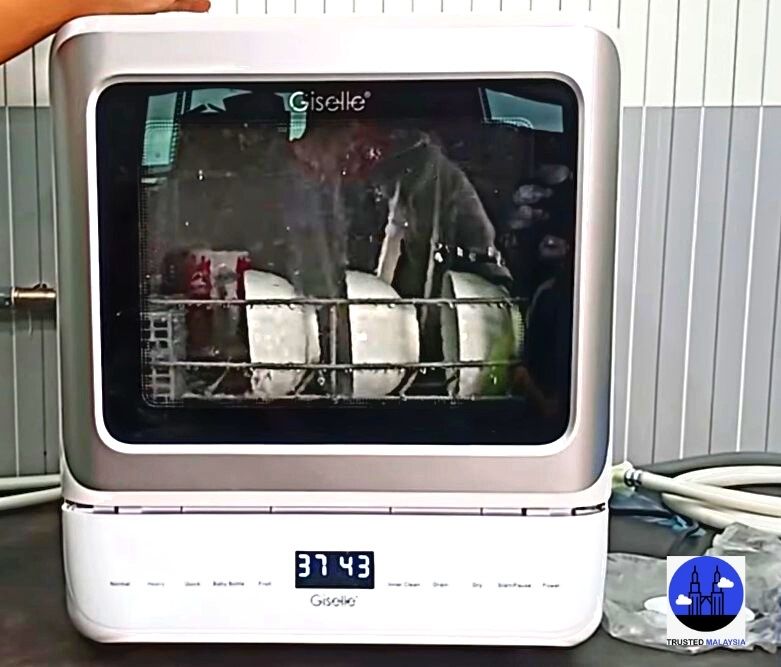 Price: RM 949.99
| | |
| --- | --- |
| COLOR/S | White |
| DIMENSIONS | 48cm (W) x 42cm (D) x 48cm (H) |
| WATER CONSUMPTION | 6L |
| PROGRAMS | Normal, Heavy, Quick, Baby bottle, Fruit, Inner cleaner, Drain, Dry mode, Start/Pause, Power On/Off |
| HEATING SYSTEM | Dual heating system |
| FEATURE/S | Multi-purpose cleaner, Table wear wash, Baby items sterilization, Storage with drying system, Fruit and vegetable wash |
| WARRANTY | 1-year local warranty |
If you're looking for a simple tabletop dishwasher, you may want to consider the Giselle Table Top Dishwasher (KEA0205). It has a digital touch screen that makes it easy to navigate and understand especially if it's your first time using a dishwasher.
It has 10 preset programs that you can view in the table above. This dishwasher utilizes a 3-dimensional spray washing technique which ensures excellent cleaning results without the overuse of water or heat.
As for the drying method, it's a dual heating system that uses 72°C hot air to get the job done. This ensures that all your dishes are dried perfectly and kept sterile.
You can also wash your table cloth, sterilize your baby items, and use it as storage for your dishes. Now, we'd just like to add that one thing we really like about it is the pause option which allows you to put in additional dishes you may have forgotten to toss in.
Note that you can't use just any type of dishwashing liquid with this washer. You need one that is phosphorus-free to keep it in optimal condition.
Has a countdown timer
Has sterilization for baby items
Has self-cleaning maintenance
Uses 3-dimensional spray washing technique
Does not have child-lock
Does not come with any accessories
Requires specific type of dishwashing liquid
Customer Reviews
Below is a review from a recent buyer of the Giselle Table Top Dishwasher (KEA0205):
"The perfect dishwasher for my kitchen in terms of size and functions.The inside of the dishwasher is not made of metal but some reasonably high quality plastic. The dishwasher is very easy use and big for a counter top model. However during washes there's a kind of smell…smell subsided after a few washes. Dishes are washed clean. Overall a good dishwasher." -C***
4. Xiaomi Mijia VDW0401M Dishwasher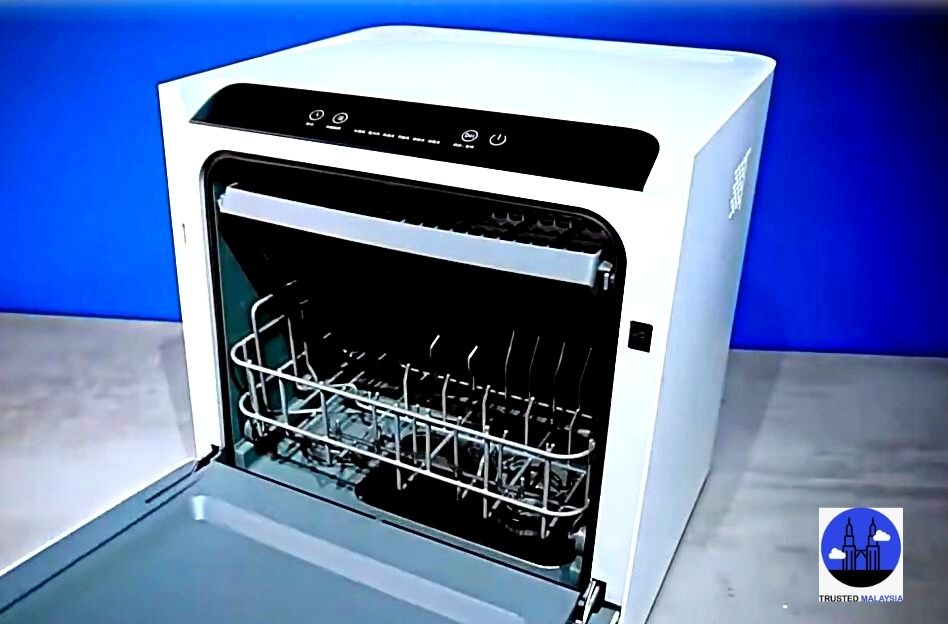 Price: RM 929
| | |
| --- | --- |
| COLOR/S | White |
| DIMENSIONS | 44.2cm (W) x 46.15cm (D) x 41.9cm (H) |
| WATER CONSUMPTION | 5.3L |
| DRYING METHOD | Fan drying + Residual temperature drying |
| FEATURE/S | Sterilization and disinfection dual-effect clean |
| WARRANTY | 6 months |
If you're looking for a smart dishwasher, the Xiaomi Mijia VDW0401M Dishwasher is definitely the way to go. It supports the Mijia application and can be activated by Xiaomi voice control.
It doesn't have any set programs like most dishwashers, but it does have a 6-dimensional double spray system. This makes sure that no matter what you're having washed, it gets cleaned properly.
This dishwasher has a 99.99% sterilization rate which makes it ideal for dishwashing as well as disinfection for things like baby items. It also utilizes fan drying as well as residual temperature drying for your dishes after the wash.
You can either use it plugged in or charge it and let it run on its battery. Since it's a rechargeable dishwasher, it's ideal for those who like to go on nice little trips out of town.
However, take note that you can't use it during its 4-6 hour charging time and its running time is only 1-2 hours.
Since this is a Chinese product, the voltage is different from what is normally used in Malaysia but this package comes with voltage adapters.
Best for small homes
No installation required
Comes with multiple accessories
Uses fan and residual heat drying
Can be activated with voice control
Does not have child-lock
Does not have preset programs
Ratio of charging to running time isn't ideal
Customer Reviews
Check out this feedback left by a satisfied past buyer:
"fast response & next day delivery by DHL, for safer handling also. Bought 11.11 at 0.08hrs, got it [email protected] Using 2nd day, suggest to do empty run with just water to clean inside to start, it was yellowish water. After that was clean. need 15g powder so far, good can adjust/load. Salt a must. " -j*****k
5. Beko DFN28R22W Freestanding Dishwasher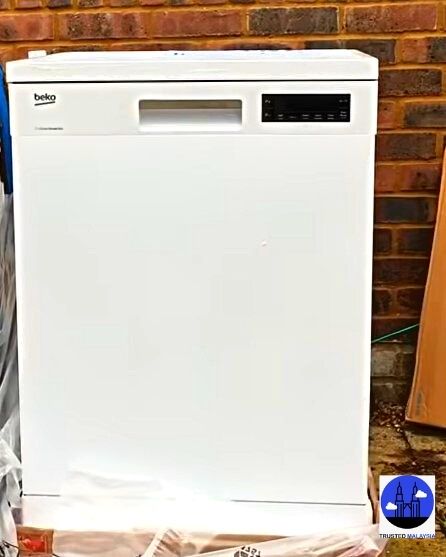 Price: RM 2,518.99
| | |
| --- | --- |
| COLOR/S | White |
| DIMENSIONS | 59.8cm (W) x 60cm (D) x 85cm (H) |
| WATER CONSUMPTION PER CYCLE | 9.5L |
| PROGRAMS | Prewash, Mini 3D, GlassCare 40, Quick&Shine, Intensive 70, WashOnce, Auto, Eco 50 |
| DRYING SYSTEM | Active ventilation |
| FEATURE/S | Freestanding, 14 place settings, Adjustable upper rack, Child lock, AquaIntense technology |
| WARRANTY | 2-year local manufacturer warranty |
Now, if you're looking for a full-size dishwasher, check out the 9.5L capacity Beko DFN28R22W. With its use of AquaIntense technology to get your dishes clean, there's no reason to worry about any residual dirt or bacteria.
It has a 2 row LCD display where you can view which of the 8 programs it's on and how much time is left for the washing cycle. Note that this is an energy-efficient dishwasher powered by a ProSmart Inverter motor.
It has a 3-position adjustable upper rack which makes it easy to fit all your dishes in regardless of the size. It also comes with a cutlery basket so you can keep everything organized instead of having them laid out all over the dishwasher rack.
Here's a tip: for your dirtiest dishes, put them at the lowest rack. Beko designed this dishwasher so that the lowest rack gets the most pressure which is perfect for those grimy pots and pans.
Due to its size, you may be worried about your child getting around it but you don't have to. It has a child-lock for your safety and theirs.
Energy-efficient
Great for big families
Has child-lock protection
Power washer designed for heavily dirty dishes
Requires installation
Does not have sterilization for baby items
Customer Reviews
Here are a couple of reviews left by happy shoppers who purchased this Deko dishwasher:
"The dishwasher work well. Fast delivery." -k***
"This beko dishwasher is excellent! Clean dishes. Much better than my old Panasonic dishwasher. Shipping by SkyNet is slow though." -Soh
"I was going to take off one star from the review, but after receiving the item, this seller deserve full 5 stars. Just look at the efforts made by the seller to package this big bulky item. Item received safely, no scratch, just excellent! Dishwasher works great, setting up is not straight forward. Just make sure you test for the water hardness and make adjustments where appropriate. Highly recommended seller. Note: Shipping is a bit slow, but your item will arrive safely!!" -Wan
Things to Consider Before Purchasing a Dishwasher in Malaysia
1. Size
Before you buy a dishwasher, you should consider the size of the dishwasher you're about to get. This is in terms of its capacity and its actual physical size and how it fits into your home.
You wouldn't want a dishwasher that's too big or too small for the space you want it in. You also wouldn't want one that won't be able to wash all or at least most of your dishes in one go.
2. Type
You can either choose from buying a portable dishwasher or have someone install a built-in dishwasher in your kitchen. Usually, going for a portable dishwasher is more convenient if you move around a lot.
3. Wash Cycle Options
Your dishwasher's wash cycle options will determine the intensity of the machine as it washes your dishes. This includes both how it manages the temperature and the water pressure.
The most common programs are a steam wash for prewashing, glass for any glassware, rapid for quick washing sessions, and intensive wash for fishes with heavy oil stains.
There's also an eco wash which uses less heat and water during the washing process.
4. Warranty
Make sure that you purchase your dishwasher from a trusted shop that provides a warranty period. You don't want to waste your money on a product that doesn't work properly.
FAQs about Dishwashers in Malaysia
---
Well, that concludes our list of the top dishwashers in Malaysia! Did you find what you were looking for to make your day a little less stressful?
We hope you did and that you'll tell us all about it! Feel free to drop us a message and let us know how the dishwasher you purchased is working out for you.
If you ever find yourself in need of a nice and reliable rice cooker, feel more than free to check out our list of the best rice cookers in Malaysia!