Top 5 Cool Cafes in Penang
If you're looking for a quirkier type of cafe in Penang that adds to the cafe experience, we've listed down our best picks in the area.
The Price Range for the Coolest Cafes in Penang
We narrowed down the price ranges for popular bites at cool cafes in Penang. You can refer to the table below for the estimated costs.
| Menu Item | Estimated Costs |
| --- | --- |
| Rose Latte | RM10 and up |
| Espresso (shot) | RM6 and up |
| Waffles | RM14 and up  |
| Matcha Latte | RM11 and up  |
| Croissant | RM10 and up  |
The Top Cool Cafes in Penang
We went through the following criteria to determine the coolest cafes in Penang: 
1. Macallum Connoisseurs Coffee Company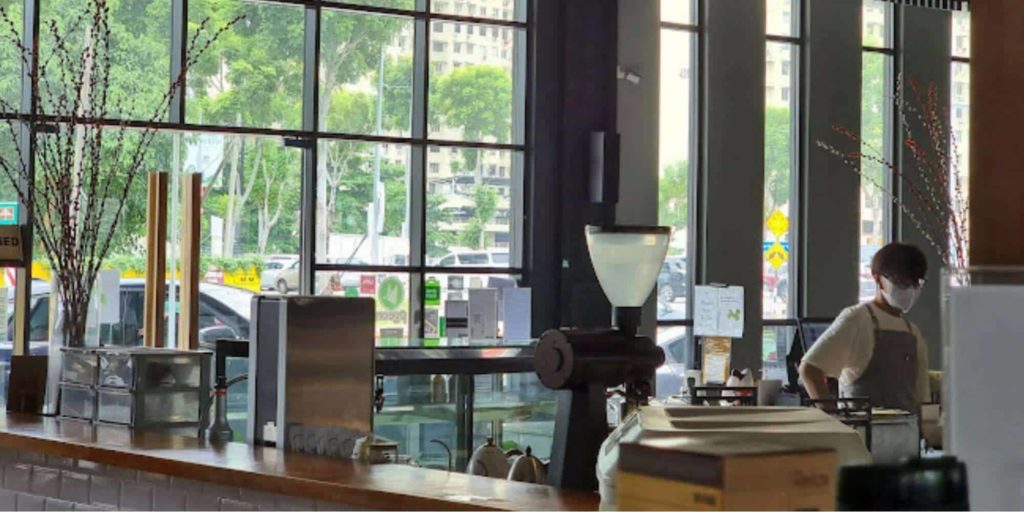 | Test | Info |
| --- | --- |
| WEBSITE | https://www.macallumcoffee.com/ |
| ADDRESS | 1, Gat Lebuh Macallum, 10300 George Town, Pulau Pinang |
| CONTACT DETAILS | +60 4-261 3597 |
| OPERATING HOURS | Open every day: 9:00 AM to 9:00 PM |
| Criteria | Ratings |
| --- | --- |
| Ambience | ★★★★★ (5/5) |
| Menu | ★★★★☆ (4/5) |
| Customer Service | ★★★★☆(4/5) |
| Accessibility | ★★★★☆ (4/5) |
We couldn't skip over a Penang classic for the first cafe on our list. Macallum Connoisseurs Coffee Company is a warehouse-turned-cafe for coffee enthusiasts out there.
Once we stepped in, we were already impressed by the industrial feel this cafe gave. As a repurposed warehouse space, the high ceilings and spacious area had us whipping out our phones for pictures.
They don't call themselves "connoisseurs" for nothing. We noticed that the staff and owner knew their stuff and were more than willing to explain menu items and suggest drinks and blends we'd like.
We loved the variety of their drinks menu, with speciality beans and interesting mixes. We recommend trying their Iced Rose Latte – it packs a punch and is a very "photogenic" drink in our opinion.
Something everyone is eager for in a cafe is the Internet, be it for work or social media purposes. Don't fret! We observed that their WiFi was easy to connect to and also speedy.
One gripe we had was the inconsistency of their pastry menu. While some bread and desserts were fine, other pastries like their scones were a bit hit-or-miss.
Since this is a busy area, the wait times could get a bit annoying especially if you ordered a dish with your drink. The ambience made up for it at least, and we could mull and chat while we waited.
All in all, Macallum Connoisseurs Coffee Company is a great place for a chill hangout or a break from working at home or the office. We definitely enjoyed the nice environment and snapping pictures here!
Helpful and knowledgeable staff
Clean and spacious dining
Fast WiFi
Excellent coffee options
Inconsistent pastry quality
Slow wait times
Customer Reviews
Coffee lovers should not miss this place
"Coffee lovers should not miss this place.
Especially those who like it black.
Ask their friendly baristas for specialty coffee beans available, and try their hand brew drip coffee. 😍😍😍
Wonderful cuppa.
Tried a few breakfast items too. Nice food.
But be aware that, lunch menu is only available after 12noon.
Besides that, carpark can be a problem.
They do provide free carpark but are relatively limited compared to the seats available in the Cafe.
Definitely worth a try." – Pek Yong Tan
Speedy wifi and delicious coffee
"Perfection! Definitely a place that I'm looking for: a spacious cafe with speedy wifi, delicious coffee and wide-range of food options.
The breakfast menu is delicious, tried every breakfast platter they offer, nothing is a dissatisfaction.." – Indah Mustikasari
2. Kraffmen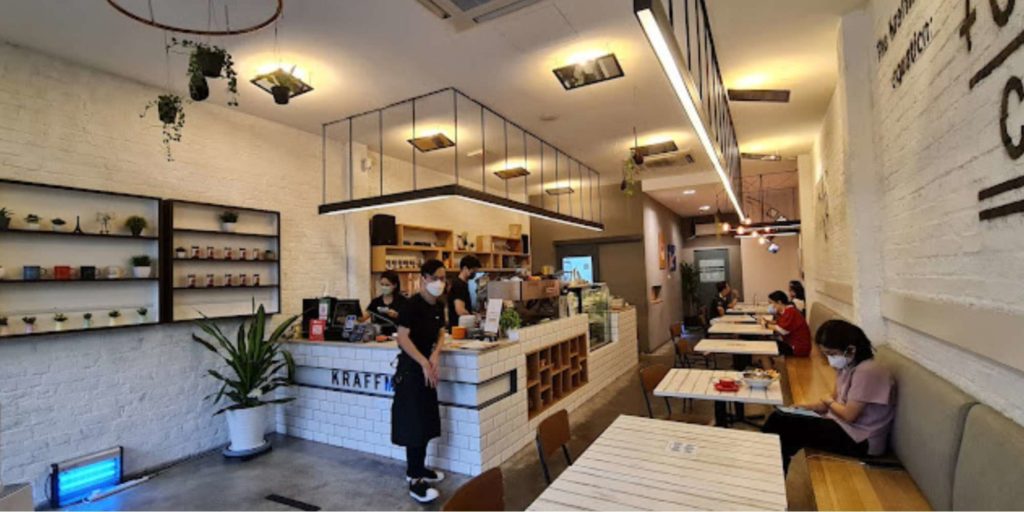 | Test | Info |
| --- | --- |
| WEBSITE | https://www.facebook.com/kraffmencafe/ |
| ADDRESS | 80, Jalan Zainal Abidin, George Town, 10400 George Town, Pulau Pinang |
| CONTACT DETAILS | +60 4-226 2770 |
| OPERATING HOURS | Open every day except Wednesdays: 11:00 AM to 10:00 PM |
| Criteria | Ratings |
| --- | --- |
| Ambience | ★★★★☆ (4/5) |
| Menu | ★★★★☆ (4/5) |
| Customer Service | ★★★★☆ (4/5) |
| Accessibility | ★★★★★ (5/5) |
For a cute and cosy cafe experience, we recommend Kraffmen located in George Town. This smaller cafe maintains a quiet ambience with a cool and clean design. 
Nobody ever enters a cafe expecting Pork Ribs on the menu, but our friendly waitress was quick to explain their best sellers and this was one of them. They were delicious!
We noticed their savoury dishes were popular and they definitely did not disappoint. We also recommend the Vongola Pasta and any of their latte options–for the cute latte art!
We appreciated the wallet-friendly prices too. The coffee started at RM7 and the meals at around RM21.
The establishment wasn't too big but we liked that they maintained good spacing for a comfortable dining experience. They also had a little nook with neon lights that were perfect for a cute selfie.
Their speedy free WiFi also sweetened the deal for us, but the short waiting times didn't have us scrolling our phones as much.

In general, their staff were quite friendly, although we noticed warnings online of staff being less nice during terribly busy hours. We think it might be rare.

As is our annoyance with smaller establishments, parking was a bit hard to come by and we needed to park at a nearby establishment and walk a bit at peak hours.
Ultimately, Kraffmen was the perfect spot for rest and relaxation with a cool vibe. Their good food and lower prices could have us back on the daily if we lived in the area.
Rare cafe menu finds
Great price for value
Modern ambience and design
Free WiFi
Some reports of rude staff
Limited parking
Customer Reviews
Warm ambience and helpful staff
"Hunt for a few cafe around this area and decided to have a go here after reading so many great reviews about this cafe.
Cafe vibe with warm ambiance. I was served by this sweet and friendly waitress and asked her to recommend their specialty. If my stomach allows I would have try more😆. So decided to try this Pork Ribs since not many cafe offer this dish. The Ribs was superb, it match so well with the side salad, sweet、 sour and tangy. The cappuccino was good too.
Will definitely go back and try other dishes next time when I go Penang." – Daphne Lau
Cosy ambience, delicious food, and passionate owner
"Cosy ambient, delicious food, passionate owner who is willing to spend time to introduce their food to you. These are the criteria that make you feel enjoying when having your meal at Kraffmen. Their signature latte is full of aroma, and the texture is smooth. The red wine sauce on top of butterflied pork loin is an icing of the cake. Shepherd pie is something must try, they don't stingy on cheese, and so do the content. Texture of the pork cube on aglio olio is just spot on, they are still tender and juicy. Definitely will visit again with friends. Highly recommended cafe in Georgetown area." – Zi Xuan Ong
3. 3 Leg Cat Cafe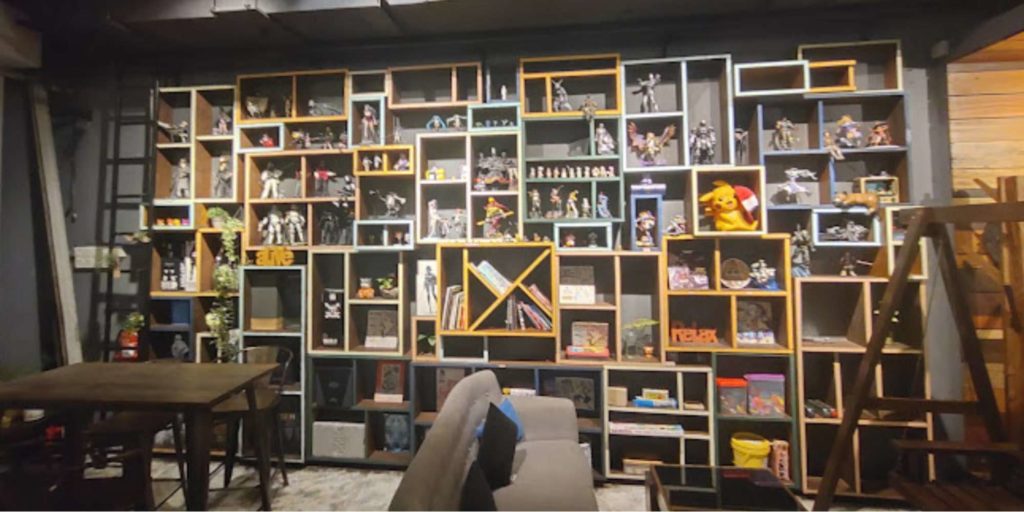 | Test | Info |
| --- | --- |
| WEBSITE | https://www.facebook.com/3legcatcafe |
| ADDRESS | The Golden Triangle, 29-1-62, 11900, Jln Paya Terubung, Relau, 11900 Bayan Lepas, Penang |
| CONTACT DETAILS | +60 12-427 3021 |
| OPERATING HOURS | Open every day except Thursdays: 11:00 AM to 10:00 PM |
| Criteria | Ratings |
| --- | --- |
| Ambience | ★★★★★ (5/5) |
| Menu | ★★★☆☆ (3/5) |
| Customer Service | ★★★★☆ (4/5) |
| Accessibility | ★★★★★ (5/5) |
Here's a cafe for cool geeks in Penang. 3 Leg Cat Cafe offers a quirky cafe experience with board games and video games as you dine.
It was hard to miss the overall theme of this cafe. Upon walking in we were excited to see an entire wall of classic anime and game figurines–perfect for pictures!
We liked that their board games, PS4, and arcade machine on the second floor were free for use by customers. It was honestly hard to focus on dining with the well-maintained game stations available.
Speaking of dining, we were surprised by how large the portions of food were. The only caveat is that we wanted to dine faster so we could play another game of FIFA on their PS4.
The staff were also friendly and attentive despite the bustle of the cafe. We were glad to see that they were helpful with the consoles too.
We did notice that some of the food options were just "okay" at this cafe compared to others. We chalked it up to food not being their main focus at the establishment.

Given that it's a cafe catered to pop culture enthusiasts and offers interactive gaming, the place can get quite noisy when it's packed. This high-energy establishment is far from serene.
Overall, 3 Leg Cat Cafe is a cool place to hang out with friends and family, with fun and interactive games all around. 
Anime, games, and pop culture-oriented decoration
Has a variety of board games, a PS4, and an arcade machine
Generous portions for food 
Friendly staff
Inconsistent food quality
Can get noisy
Customer Reviews
A great place for gamers and anime lovers
"A great place to hangout and chill with friends (especially gamers / anime lovers).
Cafe has a wide variety of food and we had a hard time (positive point) deciding on what to order because the menu has many cute graphics related to the food.
The staff were very friendly and I can see that they are very conscientious in the subtle things they do.
My only suggestion is to have a real cat in the cafe (joke)." – Alan Law
Beautiful cafe with anime and pop culture decoration
"Absolutely beautiful cafe decorated with all sorts of anime and pop culture inspired art and figurines. Even the menu and toilet are beautifully designed here.
The food is topnotch too and comes with great presentation and portion while being served by professional wait staff.
Free self-service plain water is available too." – Isabel I
4. 2F+ Coffee Roastery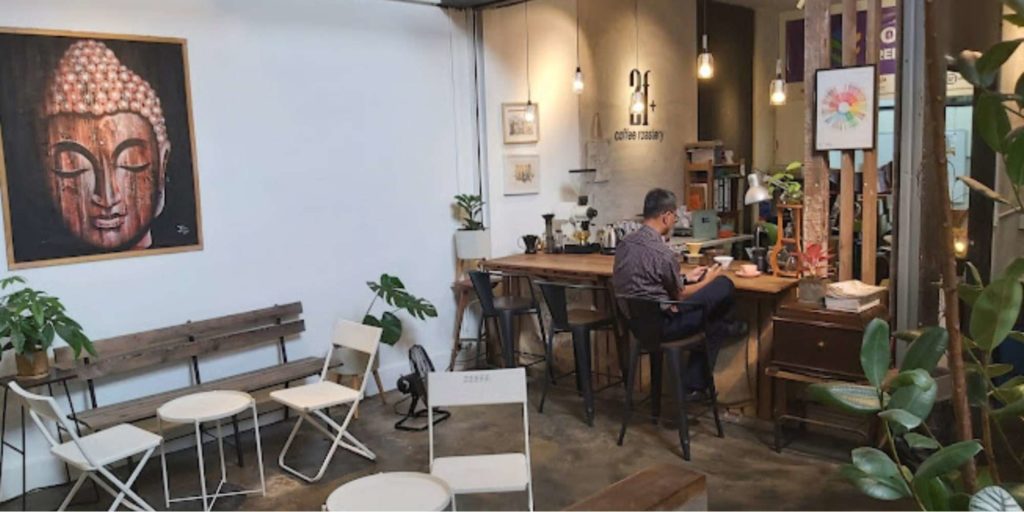 | Test | Info |
| --- | --- |
| WEBSITE | https://www.2fcoffeeroastery.com/ |
| ADDRESS | Jin Paya Terubung, 11900 Bayan Lepas, Pulau Pinang |
| CONTACT DETAILS | +60 12-908 1714 |
| OPERATING HOURS | Open every day: 10:00 AM to 10:00 PM  |
| Criteria | Ratings |
| --- | --- |
| Ambience | ★★★★★ (5/5) |
| Menu | ★★★★☆ (4/5) |
| Customer Service | ★★★★☆ (4/5) |
| Accessibility | ★★★☆☆ (3/5) |
2F+ Coffee Roastery in Relau is another hidden gem in Penang. Some of the best things we love about this cafe is its straight up retro-modern vibes and chill garden.
We noticed that the staff were very attentive, and the owner was quite active on their Google community page. Most low-star ratings had follow-ups inquiring about the bad service, and how they could improve further.
The dessert selection was another thing we loved in this cafe. We recommend their rich Belgium Chocolate cake or popular Waffles to go with your coffee!
Aside from being lovely to look at, we were excited to find out that the cafe also offers classes to learn how to roast coffee and latte art-making. Just ask any of the staff for more details.
We didn't like that the service was on the slower side, with wait times of about 30 minutes and longer. We'd suggest enjoying the environment, and taking some pictures while you wait.
Another gripe we had was that the menu was on the pricier side for what they were, with beverages starting at RM14 and meals starting at around RM18 and up.
Nonetheless, we think that 2F+ Coffee Roastery is a great place overall for food, coffee, and activities that can spark the coffee lover in you. 
Great interior design
Responsive and helpful staff
Tasty desserts 
Also offers classes for latte art, pour-over, and roasting
Slower service
On the pricier side
Customer Reviews
Multiple seating options and charging sockets
"An amazing place to chill out with friends and family. Loved the ambience and the people serving the menu. This place is just like every Cafe but with a beautiful ambience.
The place has multiple seating options and socket available at each places to be able to charge your devices to work and have some Cafe at the same time." – Manikandan SR
Serene environment
"Definitely a good spot to get delicious cups of coffee. Fell in love with their Cappuccino and the Belgium chocolate cake. Serene environment to hang out with peers. Only drawback is the limited parking space as the cafe is beside of a sharp corner. And also the prep time for the food and coffee is abit slow. But if you are having a good company, then the time is worth the wait 😉" – Viknesh Nair
5. Kafka Kelawai 
Test
Info
WEBSITE
https://www.kafkacoffee.com/
ADDRESS
15, Jalan Kelawai, George Town, 10250 George Town, Pulau Pinang
CONTACT DETAILS
+60 4-218 9726
OPERATING HOURS
Wednesdays to Mondays: 8:00 AM to 10:30 PM

Tuesdays: 8:00 AM to 6:00 PM
| Criteria | Ratings |
| --- | --- |
| Ambience | ★★★★★ (5/5) |
| Menu | ★★★★☆ (4/5) |
| Customer Service | ★★★★☆ (4/5) |
| Accessibility | ★★★★☆ (4/5) |
Kafka Kelawai's nature aesthetic makes it another popular favourite in Penang. The design of the restaurant felt straight out of a Kinfolk catalogue and offered an escape from the bustling urban scene.
The interior was set up in a way that makes it spacious for customers even at peak hours. It was hard not to relax with the chill music and plants displayed around the place.
The staff in the cafe were also very helpful with queries about their menu and were eager to let us know more about their specialty coffee and gear for home brewing.
We also liked that their prices were on the cheaper side, given the great ambience and good food. RM25 was enough for coffee and a nice dish – a huge plus in our books!
Something we didn't like was seeing visibly empty tables while people were queuing outside. The staff did explain that these tables were reserved, but they didn't help the stress of people in line.
Moreover, some dishes also left us wanting fresher flavours. Their bread options were a bit subpar and weren't served hot.
Overall, Kafka Kelawai gave us a lovely and calm cafe experience, and we definitely left with more knowledge about coffee variations. We didn't regret stopping by this "hidden" cafe in George Town!
Serene nature-themed environment
Friendly and responsive staff
Clean and comfortable venue
Affordable prices
Limited seats at busy hours despite visibly empty tables
Inconsistent food quality
Customer Reviews
One of the best hidden cafes
"One of the best hidden cafes with a rich urban ambience surrounded by greens. Properly cooked delicious western dishes. I felt like I was eating at a restaurant in an expensive quiet residential neighborhood in Singapore, or a nice cafe in New York. Quick service. My wife and I will come back soon! Kelawai road entrance is okay, but there's also another south side back entrance for cars, which I will use from next time. Many car park spots at front and back." – Yoshiyuki Abe
Great coffee and beautiful latte art
"I love the ambience here
Music is so good. Its not noisy so you can have a great chilling time here with your friends.
Well its quite hidden which took me a while to locate this cafe, as you are not able to see the Kafka sign on the main road.
The coffee is great! Latte art is beautiful
Staffs are very friendly.
I will definitely revisit. 👍👏" – Kin Chun
FAQs about Cool Cafes in Penang
---
We hope you enjoyed our list of the coolest cafes in Penang. In case you might be looking for a more productive space in the state, check out our article on the best coworking spaces in Penang.