Where to Eat Lunch in Setapak: Our Top 5 Picks
Can't decide where to eat? We've put together a list of the best places to eat lunch in Setapak!
The Price Range for Lunch Restaurants in Setapak
Searching for where to eat lunch in Setapak could have a whole range of prices, but we've narrowed down some good bites from different varieties of cuisine in the city. You can refer to the table below for the price ranges.
| Dish | Estimated Costs |
| --- | --- |
| Nasi Lemak | RM13 to RM20 |
| Burger | RM20 to RM40 |
| Pizza (per slice) | RM18 and up  |
| Wagyu | RM50 and up  |
| Sushi | RM20 and up  |
The Best Places to Eat Lunch in Setapak
We went through the following criteria to determine the best places to eat lunch in Setapak:
1. Nian Dai KopiDiam 年代餐室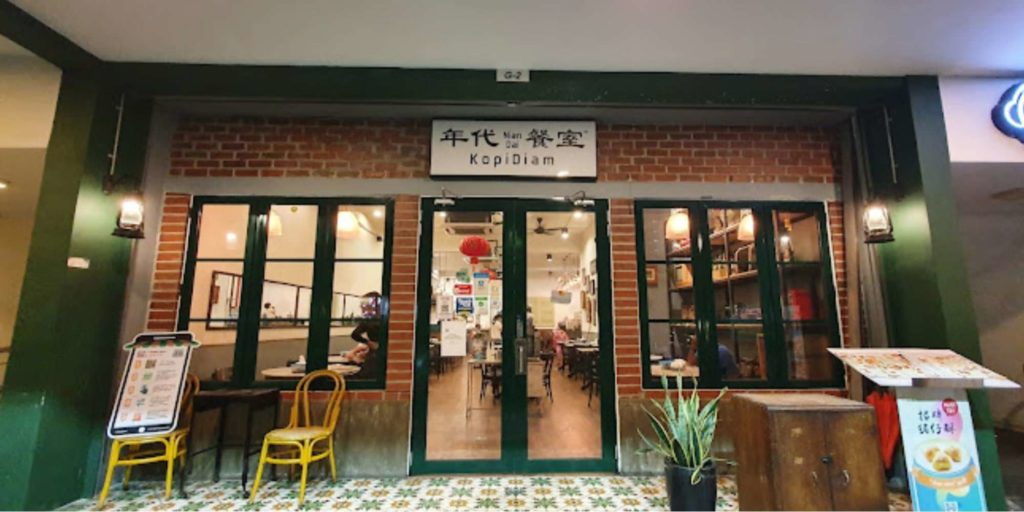 | Criteria | Ratings |
| --- | --- |
| Food Quality | ★★★★★ (5/5) |
| Customer Service | ★★★★☆ (4/5) |
| Pricing | ★★★★★ (5/5) |
| Ambience | ★★★★☆ (4/5) |
If you're looking for a chill bite of local cuisine, Nian Dai Kopidiam offers a cute vintage vibe and local favourites. 
We were delighted to see their retro TVs and other memorabilia as soon as we stepped in. The tables were also comfortably spaced and everything was quite clean.
It was a pleasure that their menu featured classic local favourites like Nasi Lemak, with many sides available, and the crunchy nostalgic taste of Kaya toast. We also loved their milk tea selection and coffee brews.
We appreciated that you could get by with RM9 and up for a single-person meal in Nian Dai, with no sacrifice to food quality. The staff were also very attentive and gave us a good chat while we ordered.
We think this kopitiam is ideal for brunch to lunch dates given its hip atmosphere and early opening time. The lunch rush also had us in a 5 to 10-minute wait, so dropping by earlier might be better.

If you live or work nearby, this place is great for a quick bite if you're walking or taking a cab because we definitely didn't enjoy the limited parking spaces.
For a cute 80's cafe experience, Nian Dai Kopidiam is a great lunchtime option for good food, great pictures, and the comforting smell of coffee.
Attentive and friendly staff
Nostalgic interior design and comfortable dining
Friendly prices
Authentic local flavours
Limited seating at lunchtime
Limited parking options
Customer Reviews
Great atmosphere and kopitiam
"This kopitiam had a great atmosphere and the food selection was super tasty. They didn't scrimp on the filling for the dumplings. The curry was well balanced. The jaya toast crunchy and so traditionally good. And the chicken chop was juicy. The kopitiam also uses all local workers which is rare. Super appreciative." – Steve Chao
Awesome food and efficient service
"Food awesome! We just ordered the asian version of the menu and it was amazing. Almost overdone ourselves with the orders but manage to keep in control.
Definitely recommended to come here especially early and avoiding the lunch crowd. We parked basement for rm1.
The shop beside have more person and queue." – Anthony Liew
2. The BRGR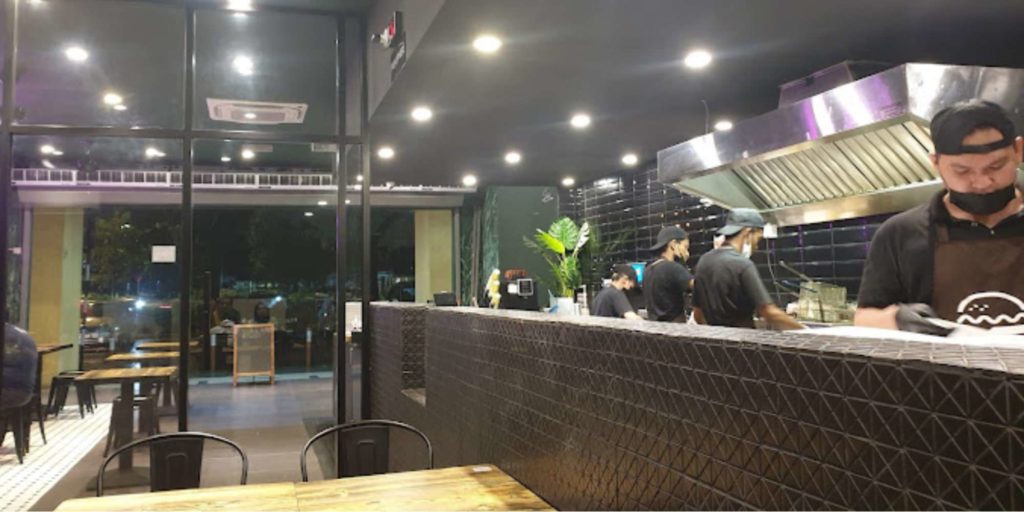 | Criteria | Ratings |
| --- | --- |
| Food Quality | ★★★★☆ (4/5) |
| Customer Service | ★★★★☆ (4/5) |
| Pricing | ★★★★☆ (4/5) |
| Ambience | ★★★★☆ (4/5) |
Lunch at a quirky burger joint could be fun! The BRGR branch in Setapak is another good option if you're looking to eat from lunch to afternoon times. 
Despite the busy lunch rush, we noticed the staff stayed patient and efficient. We liked that it was easy to call their attention despite the crowd.
We found the burgers flavourful and juicy, with a fairly bigger size for its cost. The variety of burgers was a pleasant surprise–try their signature Crabshell or Triple Cheese burgers!
As it was a mostly meaty establishment, we noticed that there were certified halal options on the menu as well. The staff were also friendly when asked more about the halal picks.
Burger joints can leave you smelling like one if the ventilation isn't too good, so we loved The BRGR's spacious and clean setup. We didn't have to worry about smoke or grill smell!
We had a few bones to pick with the inconsistency of their burgers. While some favourites were definitely worth the hype, other burger types were a little underwhelming.
Speaking of underwhelming, we didn't enjoy the way they cooked their fries. This may be nitpicky, but they felt a little brittle for fries and didn't mesh with their delicious burgers as much.
If you're fed up with fast food for lunch, THE BRGR is a great change of pace for meaty patties, creative burger flavours, and an overall comfortable and casual dining experience.
Friendly staff
Juicy and authentic burgers
Halal options
Comfortable dining
Inconsistent flavours
Subpar fries
Customer Reviews
Good meat texture
"Burger is ok for the price. Not too pricy. U can taste the meat texture instead of shop bought burger. Burger size is not too big.
Would rate it just a bit higher than fast food burger.
Place is spacious and not too crowded. Waited just few minutes to receive the burger." – Bun Bun
Friendly staff and great vibe
"What i love about this organization is, their environment and their vibe. i went here on weekdays night with my friend. he bring me here to eat burger that is worth my money to eat. Plus, their staff is super nice and friendly. If im at here again, i will definitely eat here again 👍🏻. (disclaimer: if others got differ treatment maybe because of the peak time or short of staff)" – Syed Muhammad Ikhwan
3. US PIZZA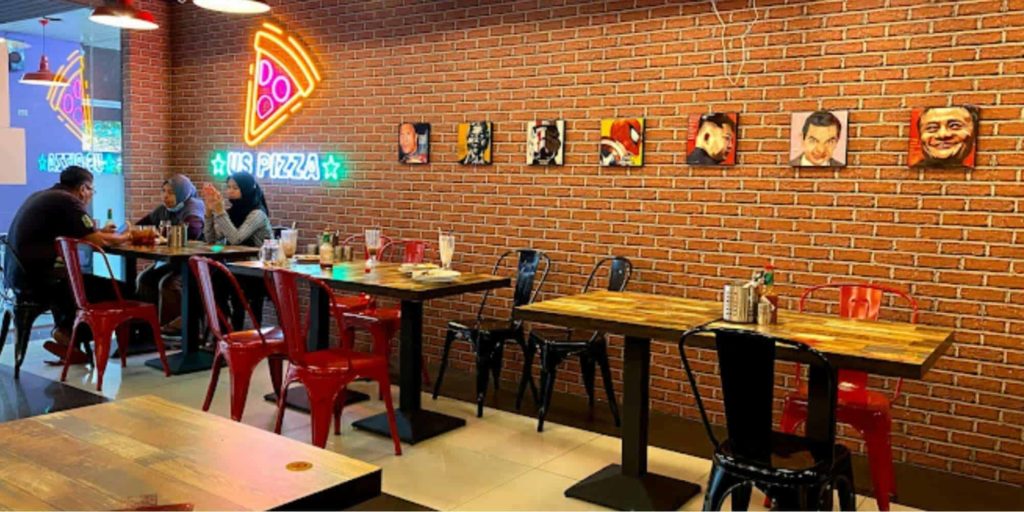 Test
Info
WEBSITE
https://uspizza.my/
ADDRESS
No. 29, Block A, Platinum Walk, No. 2, Jalan Langkawi, Setapak
CONTACT DETAILS
+60 3-4131 1611
OPERATING HOURS
Monday to Thursday: 10:30 AM to 10:30 PM

Friday to Sunday: 10:30 AM to 11:00 PM
| Criteria | Ratings |
| --- | --- |
| Food Quality | ★★★★★ (5/5) |
| Customer Service | ★★★☆☆ (3/5) |
| Pricing | ★★★★☆ (4/5) |
| Ambience | ★★★☆☆ (3/5) |
US PIZZA in Setapak is a great lunch option if you're in it for a food coma. This humble burger joint definitely packed a punch. 
We were excited to try their famous Cheese Boat Pizza, and it did not skimp out! The unique flavours on the menu were fun to go through–give the Durian Pizza a chance, trust us.
Another thing we liked was the great quality of the pizza dough and the generous toppings on all their selections. The slices were also huge so we'd suggest taking it slowly.
We also enjoyed the relaxing elevator jazz-like music in the establishment. It set a comfortable and cool vibe while we wolfed down our pizza.
Something we didn't like was spending a long time flagging down staff for their attention. Once we did get one of the staff's attention, they were a bit snooty.
We also noticed some of the tables weren't being bussed right away, as the busier crowd kept the staff busy with other matters. Nonetheless, we think the pizza joint could be a bit more efficient.
A meal for any time is good here at US Pizza. Although the spacing is limited, the establishment offers a relaxing ambience, and great food to enjoy it with.
Unique flavours
Good food quality
Relaxing music and ambience 
Large slices for pizza
Some inattentive staff
Messy tables
Customer Reviews
Cozy ambience and affordable prices
"My first time dinner at US Pizza, Setapak. We ordered the Famous Cheese Boat Pizza & Sambal Petai Pizza.
The cheese is superb, fresh & kick sambal, & the doughs is soft.
Ambience is nice very cozy and the price is affordable. Staff that serve us is friendly & suggest the best." – Rodiah Amir
Interesting Pizza Durian
"We ate Pizza Durian D24 and Musanh King. The price were also reasonable. At first, we kinda a little bit skeptical about 'Durian with Pizza but to be honest it was Very interresting and super tasty ! Surely will repeate it" – Kenshin Fatal
4. Me'nate Steak Hub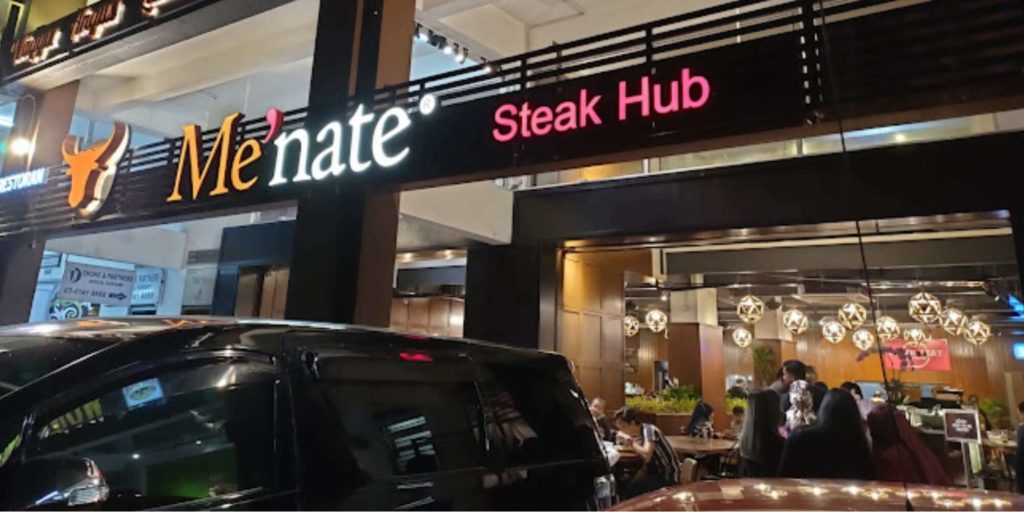 Test
Info
WEBSITE
https://menate.com.my/
ADDRESS
C-01-02 & C-01-03 StarParc Point, Jln Taman Ibu Kota
CONTACT DETAILS
+60 3-4131 1611
OPERATING HOURS
Saturday to Thursday: 11:00 AM to 11:00 PM

Fridays: 11:00 AM to 12:30 PM, 2:30 PM to 11:00 PM
| Criteria | Ratings |
| --- | --- |
| Food Quality | ★★★★★ (5/5) |
| Customer Service | ★★★★☆ (4/5) |
| Pricing | ★★★★☆ (4/5) |
| Ambience | ★★★☆☆ (3/5) |
If you feel like indulging yourself with some high-quality steak, the Me'nate Steak Hub nestled conveniently at StarParc Point is another excellent place for lunch in Setapak.
What can we say, we were suckers for their vast meat menu–and it's halal! The steaks were properly cooked, and their other side options like carbonara could stand well on their own.
Really, how couldn't we love the huge servings at this steak hub–despite the rather hefty prices at RM40 and up. The staff were also helpful with recommendations and the service was efficient.
We liked that we didn't have any trouble with parking as the restaurant is located in a commercial area that did not lack for parking.
One gripe we had was the very loud intersection that could be heard from inside the establishment. We know the busy Setapak streets weren't their fault, but it's something to consider if you prefer quieter dining.
Also, although it was convenient that we could pick meats based on price budgets, by late lunchtime a lot of their premium meats were sold out. It was a bit of a buzzkill for us after we excitedly went through the menu.
Overall, Me'nate Steak Hub is an ideal option if you're looking for a heavy lunch and don't mind shelling out a bit more for some premium wagyu. 
Wide selection of halal meat
Generous portions
Efficient service 
Available Parking
Some noise from nearby intersection
Limited stock on some dishes
Customer Reviews
Exceptionally good pasta
"I tried two of their signature pastas during a promotion. Happy to find that they both taste exceptionally good. Will definitely return to try the rest of their pastas in the future." – Raymond Wong
High-level taste and service
"A refreshing upmarket western food joint with good selection of choice meats and fillets including some imported Wagyu beef steaks and occasional lobsters which customers can choose and then select how they want their selection cooked to their specifications. Prices are in the mid-high range but definitely worth at least a try." – Pat Loh
5. Sushi Mentai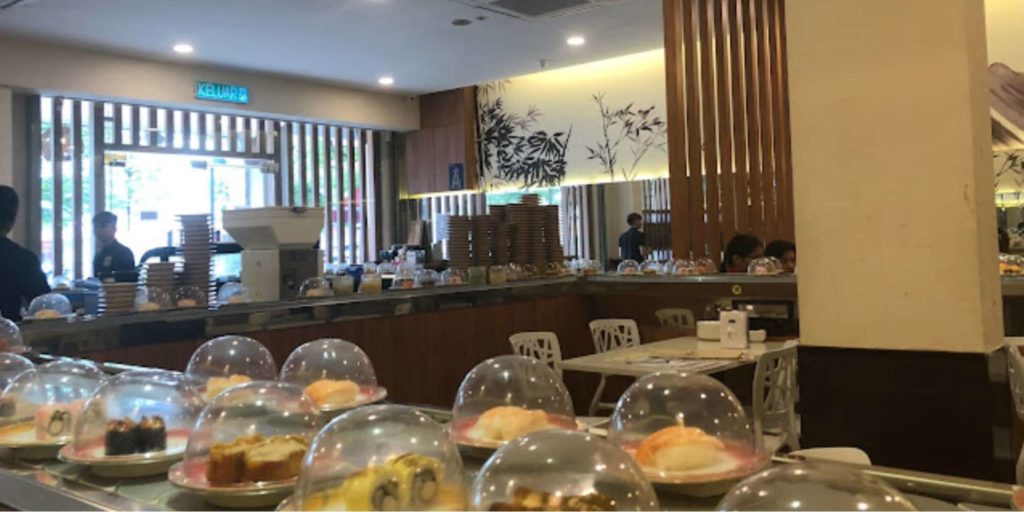 Test
Info
WEBSITE
https://sushi-mentai.com/EN/home
ADDRESS
126, Jalan Genting Kelang, Taman Danau Kota
CONTACT DETAILS
+60 11-3772 3839
OPERATING HOURS
Weekdays: 12:00 PM to 9:30 PM

Weekends: 11:30 AM to 10:00 PM
| Criteria | Ratings |
| --- | --- |
| Food Quality | ★★★★★ (5/5) |
| Customer Service | ★★★★☆ (4/5) |
| Pricing | ★★★★★ (5/5) |
| Ambience | ★★★★★ (5/5) |
We don't think you can go wrong with sushi when you're considering what to eat for lunch. You can get your fill of Japanese cuisine at Sushi Mentai in Setapak.
Raw food is always tricky, but we were pleased to note the fresh flavours in their salmon sushi. Their other dishes and sushi selections were also of great quality and were served hot and steaming.
Aside from the lovely design, the venue itself was clean and comfortable with enough space between customer tables.
The service was also very efficient, mirroring the discipline you'd imagine in a Japanese setting. We hope you have as much fun using the sushi conveyor belt as we did!
We were happy to see affordable prices for quality Japanese food. The sushi (per plate) started at RM1.8 so it's up to your gullet to decide when enough is enough on that tempting budget.
As is our usual annoyance, parking was limited and was a bit of a trouble to find in the area. We noticed the staff were also a bit aloof when asked for help.
All in all, Sushi Mentai is a good place to follow your cravings for lunch. Cheap and quality sushi and other Japanese dishes are hard to come by, but not here in Setapak.
Fresh flavours
Quick service
Clean and comfortable venue
Affordable prices
Limited parking
Some reports of unfriendly staff
Customer Reviews
Delicious sushi and affordable prices
"Delicious Sushi with affordable price all the time all year along. What they need to keep it up is the services as I had to take my own sushi those I ordered in the menu. Other than that, yummy Sushi especially Salmon Mayo ones 😋. Their hot/cold Green tea is good and worth it. Great choices too." – Rusidan Rusli
Great food and efficient service
"Great for cheap and delicious sushi. Salmon tastes fresh. Quite packed during lunch but service is fast nonetheless." – Ahmad Fadhil Abdul Fatah
FAQs about Eating Lunch in Setapak
---
That was our list of the best places to eat lunch in Setapak. If you're curious about popular lunchtime dishes in Malaysia, check out our article on what Malaysians often eat for lunch.