Top 5 Halal Restaurants in Setapak
Setapak is a great area for a variety of Halal cuisine. We've narrowed down our picks for the best restaurants for Halal food in the city!
The Price Range for Halal Restaurants in Setapak
Halal cuisine isn't limited to a single kind of dish, and can be practically anything as long as it was prepared the right way. With that, we've made a short table of the different halal cuisines you can find in Setapak–and in our top 5 list.
| Dish | Estimated Costs |
| --- | --- |
| Halal Buffet | RM45 and up (for adults) |
| Wagyu | RM40 and up |
| Dakgalbi | RM23 and up  |
| Thai Fried Rice with Sweet Chicken | RM14 and up |
| Mamak Soup with Popiah | RM15 and up |
The Best Halal Restaurants in Setapak
We went through the following criteria to determine the best restaurants for halal food in Setapak:
1. The Khan Mongolian Restaurant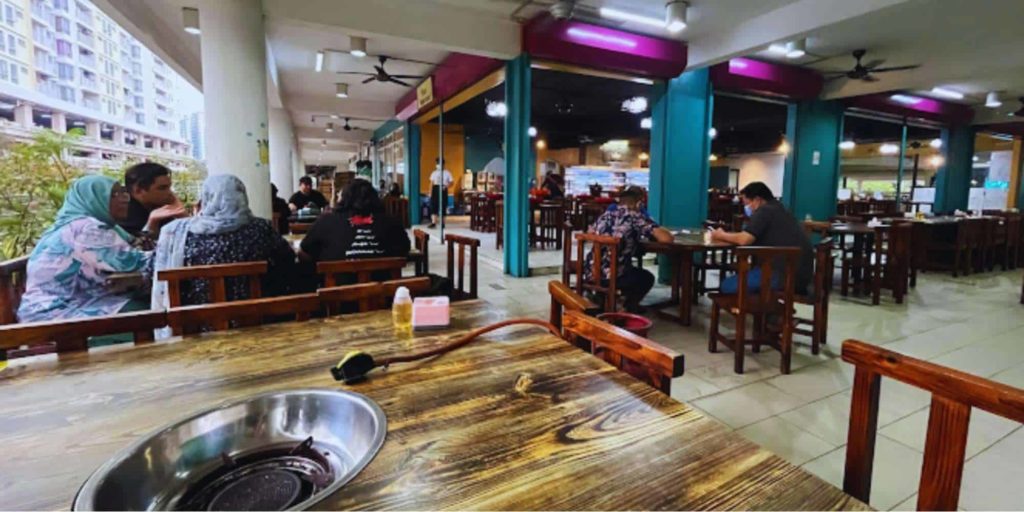 | Test | Info |
| --- | --- |
| WEBSITE | https://www.facebook.com/TheKhanMR/ |
| ADDRESS | 1-36, PV 128, Jalan Genting Kelang, Taman Danau Kota |
| CONTACT DETAILS | +60 3-4141 8566 |
| OPERATING HOURS | Friday to Wednesday: 5:00 PM to 11:30 PM |
| Criteria | Ratings |
| --- | --- |
| Food Quality | ★★★★★ (5/5) |
| Menu | ★★★★★ (5/5) |
| Pricing | ★★★★☆ (4/5) |
| Ambience | ★★★★☆ (4/5) |
If you're looking for a place to meet with a large group of friends or family, you can drop by the Khan Mongolian Restaurant for classic steamboat buffet.
We enjoyed the variety of options offered by the buffet, and their food's rich flavours and freshness did not disappoint. The advertised 138 food options were not a lie!
Buffets can get pretty busy, but the layout and upkeep of the restaurant kept things mostly clean and orderly despite the crowd. Steamboat restaurants can be on the hotter side, but we liked that their ventilation was cool enough at least.
Another thing we liked was the convenient parking slots that they offer near the restaurant. These can still fill up quickly at the dinnertime rush so the earlier you arrive, the better.
It was pleasant for us to see that they had a dedicated area for prayer in the establishment. We found out that the owners are Chinese Muslims, and this was a nice addition for Muslim customers.
One thing we didn't like was their slow beverage service since it was tough to wash down everything we'd been eating without a cool drink!

Another qualm we had was the hefty adults' price of RM50. They had understandably raised their prices in the last 2 years, but getting your money's worth at buffets is usually up to your appetite anyhow.
Overall, the Khan Mongolian Restaurant gave us an enjoyable dining experience, with a few breathers to get our stomachs going for seconds and thirds.
Fresh food and wide selection of dishes 
Spacious and comfortable area 
Convenient parking
Has a surau area for prayer
On the pricier side 
Slow drinks service
Customer Reviews
Muslim friendly establishment
"I love it, all good and delicious! If you're steamboat lover should go try it, this place i can say spacious so can bring your family especially kids, no worries for Muslim because they have room for prayer which is very nice for any time you want to come to dine in." – Mus Official
Fresh food and large prawns
"Been there twice the food was awesome the meat was very fresh we doesnt even waste any food cause the food was super yumm n fresh plus yesterday they serve the prawn in Large size! How lucky need to grab fast!" – Nabilah mohd jaafar
2. Wagyu Yakiniku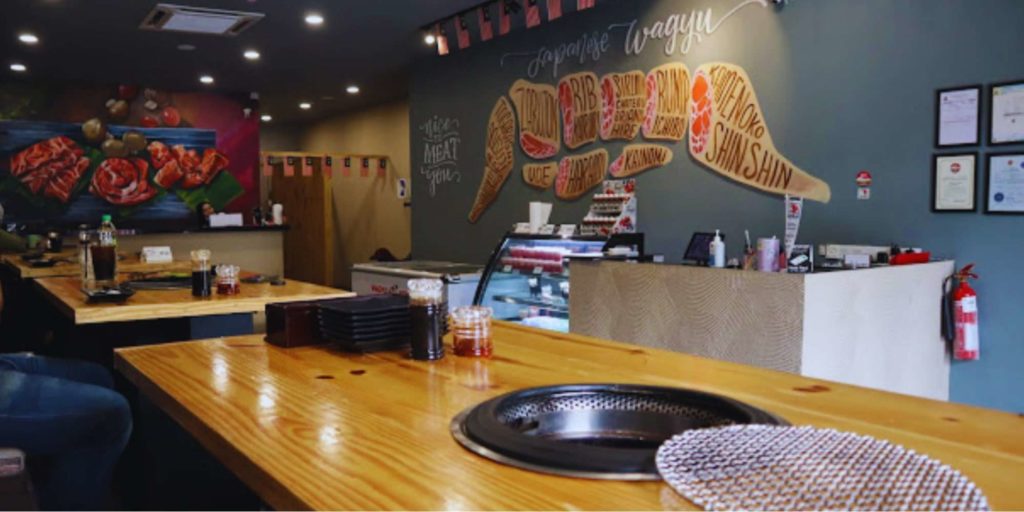 | Criteria | Ratings |
| --- | --- |
| Food Quality | ★★★★★ (5/5) |
| Menu | ★★★★☆ (4/5) |
| Pricing | ★★★☆☆ (3/5) |
| Ambience | ★★★★☆ (4/5) |
Wagyu Yakiniku in Setapak has become famous for–you guessed it—their halal wagyu, but also their halal ramen! This Japanese halal restaurant is conveniently nestled in Star Parc Point.
We loved the air-conditioned setup that Wagyu Yakiniku had amidst the sizzling meat from the grills of other tables. Although a little nitpick we had was that we were left wanting for more Japanese-themed decoration and ambience.
Another thing we enjoyed was the efficient service and attentive staff in the establishment. They didn't mind even being asked the simplest of things–asking how to adjust our grill!
We had to get their premium A5 Wagyu, and it did not disappoint. Their other selections of meat were also fresh and flavourful while their ramen had a thick and rich broth.
Although the prices made our wallets shake at RM35 and up, reaching up to RM100 for fancier meats. The group sets and ongoing promos definitely soothed our pain.
While the premium meats and dishes were great, we noticed that they sold out right away. By dinnertime, some of the more popular premium meats were gone and would not be stocked until the next day.
All in all, Wagyu Yakiniku offers a great halal Japanese grill experience with a great dining set-up, friendly and alert staff, and fresh meats. You might leave here smelling like wagyu, but that's part of the experience!
Spacious and comfortable dining
Attentive staff
Fresh and flavourful food 
Offers group sets
On the pricier side
Limited stock on premium meat
Customer Reviews
Wagyu tasted fantastic
"I ordered 100gm of Super Premium A5 Wagyu with 30% OFF during the promotion period and it just tasted fantastic. However, it can be improved in term of the taste and the smoothness when you swallowed it. Besides, I also ordered Seafood Ramen and Unagi Rice. The seafood ramen tasted good without any spiciness (good for those who cannot eat spicy ramen) and the unagi came in a big size and it was suitable for those that love unagi. The environment was cool, not that hot as inside had air-conditioner. You can choose to sit at the second floor or ground floor as well. Prefer making appointment before going. Nice for gathering as well. Peace." – Bruce Ning
Nice and cozy place
"Nice and cozy place for dining. Very attentive staffs. Was here for the halal ramen. Had silky wagyu ramen and spicy seafood ramen. It wasn't the thick soup type but the flavour of the broth was good. Very generous ingredients and worth the money. One of the nice halal ramen I had. However, sadly the prawns in my Raman wasn't fresh and mushy.
Ordered Silky Wagyu Ramen, Spicy Seafood Ramen and two drinks, total RM 83.60." – Antony Lim
3. Restoran Sup & Popia Zaiton Hussin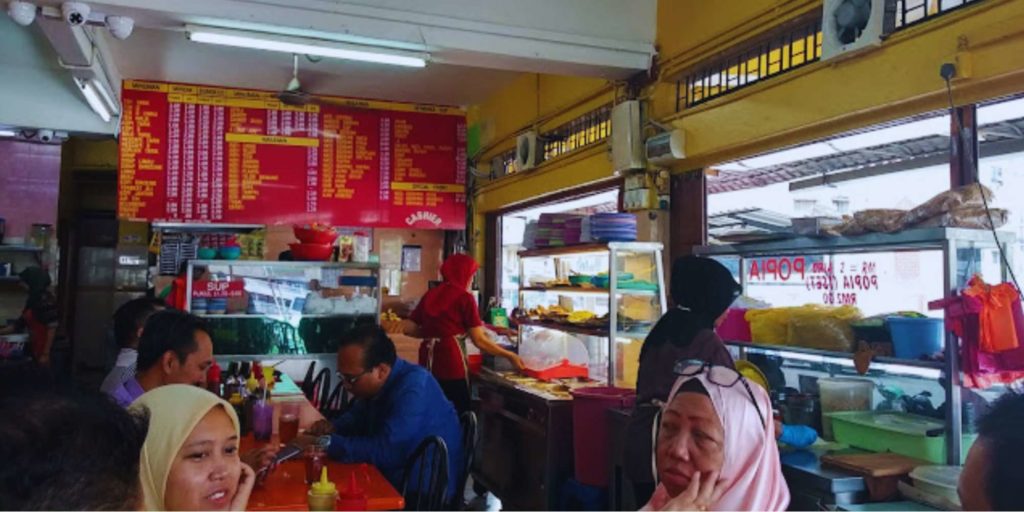 Test
Info
ADDRESS
9, Jalan Puah Jaya 1, Taman Setapak Indah Jaya
CONTACT DETAILS
+60 16-625 0064
OPERATING HOURS
Monday to Saturday: 12:00 PM to 8:30 PM

Closed on Sundays
| Criteria | Ratings |
| --- | --- |
| Food Quality | ★★★★★ (5/5) |
| Menu | ★★★★☆ (4/5) |
| Pricing | ★★★★★ (5/5) |
| Ambience | ★★★☆☆ (3/5) |
Whether it's for grabbing a quick bite, or a casual meal with friends, Restoran Sup & Popia Zaiton Hussin is another great halal place to stop by.
We know it's their signature dish, but nonetheless, their soups of different varieties including mutton and Mamak did not disappoint with their rich flavours. We recommend ordering a side of Popiah along with it!
With their soups at RM10 upwards and Popiah at RM1 per piece, we're not kidding when we say this place is a hidden gem in pricing and food quality. We even saw some students dining in!
We pleasantly enjoyed their generous portions for the price. It wasn't tough to get our fill, without having to cough up too much.
Something we think hampered the experience was the less-than-ideal upkeep and cleanliness. Some of our plastic utensils didn't look very well-washed, and the establishment is also completely open-air.
We also weren't completely comfortable in the cramped indoor setup, although the outdoor seating mildly fixed this problem for us. There aren't many tables either, so it might take some luck to get seats at peak times.
Restoran Sup & Popia Zaiton Hussin isn't a fancy place to dine for halal, but their affordable prices and great flavours will keep bringing us back. If you don't care much for ambience, their dishes are definitely a must-try.
Serves thick and flavourful soup
Affordable prices
Quick service
Generous portions
Less-than ideal-cleanliness and upkeep
Limited space
Customer Reviews
One of the best places for Mamak soup
"One of the best places to get your mamak type soup. The broth is nice and thick but not over spiced nor it is too spicy. A great combination of spices and heat. They serve beef, chicken, cow innards and to cow's tongue.
You can have your soup either with rice or plain bread to dunk and slurp the soup. This place also serves popiah basah or goreng. I don't seem to fancy the popiah that much but the soup, yes. To me, its overtaken one popular soup place in KL in terms of taste and price." – Saiful Jazri Zahari
Authentic Mamak Popiah and soup
"Went there during weekdays . It was a hot sunny day for a hot bowl of soup and popiah. The soup was thick and full of flavour . The popiah basah was delicious and fluffy. The sauce was sweet , creamy and not so spicy. Would definitely visit again and it is recommended , not many authentic mamak popiah and soup left in Klang Valley. Hope we can support them so that our next generation can enjoy this experience." – Ahmad Humaizy
4. Thai Moment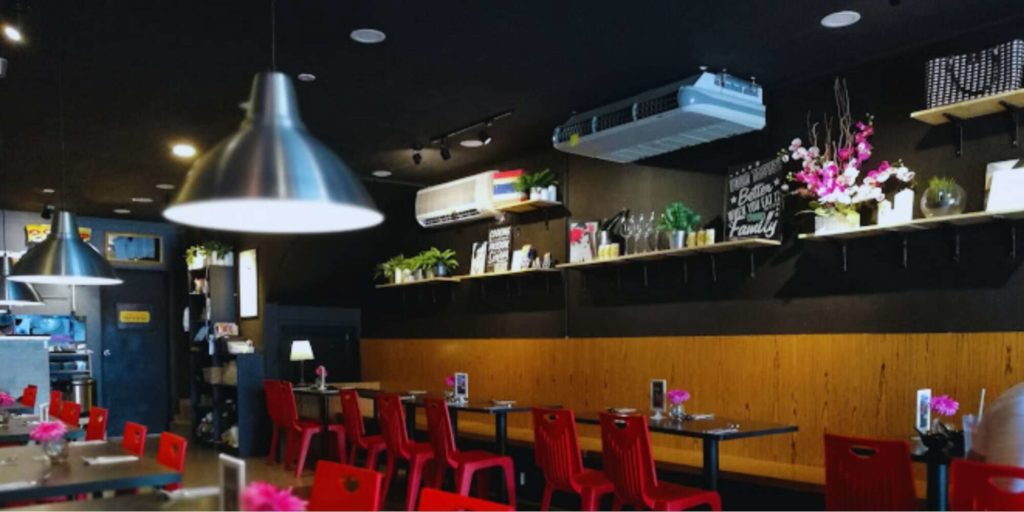 | Test | Info |
| --- | --- |
| WEBSITE | https://www.thaimoment.net/ |
| ADDRESS | 21, Jalan 1/27b, Desa Setapak |
| CONTACT DETAILS | +60 3-4141 9818 |
| OPERATING HOURS | Open every day: 11:00 AM to 10:00 PM |
| Criteria | Ratings |
| --- | --- |
| Food Quality | ★★★★★ (5/5) |
| Menu | ★★★★☆ (4/5) |
| Pricing | ★★★★★ (5/5) |
| Ambience | ★★★☆☆ (3/5) |
For more than a decade, Thai Moment has been known for their authentic and halal Thai delicacies, so we dropped by the Desa Setapak branch to see what was up.
The complexities of Thai dishes are something we think Thai Moment had gotten down with their dishes. Their spicy Tomyam soup and Thai Kailan Chilli Padi made our tongues numb–in a good way, we guess!
We were already hungry right when we ordered, but the quick service saved our sanity at least. The cozy air-conditioned and Instagram-perfect design of the small resto also made the short wait easier.
For how clean and fancy the restaurant looked, we appreciated the affordable pricing. With lunch sets that include drinks and dessert at RM15.9, even students flock over during lunchtime and dinnertime peaks.
We guessed it was some pandemic leftover process, but we didn't find it convenient that the establishment still didn't carry cash. Tables are suited with QR codes for e-payments, and there was no cashier.
As much as we found the size of the restaurant charmingly small, this didn't do much for the mealtime rushes at the restaurant. Reserving a table in advance may be ideal unless you just happened to catch it at a good time.
Truly showing that halal delicacies have virtually no limits, we could tell that Thai Moment stayed dedicated to making their cuisine more accessible, with great ambience and prices on top of that.
Authentic Thai flavours
Quick service
Air-conditioned and pleasant design
Student-friendly pricing
Can't pay with cash
Limited seating
Customer Reviews
Good environment and affordable prices
"Good environment. Their set lunch is relatively cheap and affordable especially for students like my friends and I. 🙂 Ordered the Chicken Salad Rice and it was really tasty. Strongly recommending y'all to try out!" – Denise T.
High-level taste and service
"One of the best kept secret when it comes to Thai food. Price is pretty reasonable but the taste and service is high-level for a small Thai shop.
Opened a second branch recently in Pj but their taste stays true to the heart.
No reservation required and they accept credit card and debit card as well.
Things to try:
Clear soup tomyam
Fish cake
Mieng Kam
Som Tam
Lemongrass drink." – Jonathan Hisham
5. Mr Dakgalbi PV128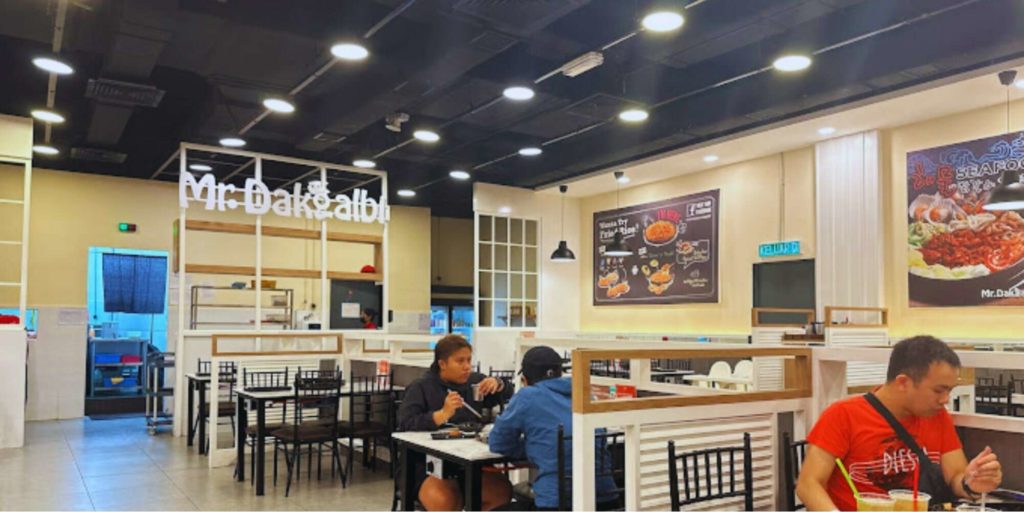 | Test | Info |
| --- | --- |
| WEBSITE | https://www.mrdakgalbi128.com/ |
| ADDRESS | Danau Kota PV 128, Jalan Genting Kelang |
| CONTACT DETAILS | +60 3-4141 6270 |
| OPERATING HOURS | Open every day: 12:00 PM to 11:30 PM |
| Criteria | Ratings |
| --- | --- |
| Food Quality | ★★★★☆ (4/5) |
| Menu | ★★★★☆ (4/5) |
| Pricing | ★★★★☆ (4/5) |
| Ambience | ★★★★★ (5/5) |
Korean cuisine is a big part of the K-wave sweeping over the globe, and we satisfied that craving at the well-loved Mr Dakgalbi located within PV 128.
We enjoyed the authentic taste of their dishes and the fresh quality. We were comfortable with cleanliness and quality as the staff brought over a hotplate to our table and cooked our food right in front of us.
Before our trip, we also heard great things about this specific branch. The good comments did not lie and we found a more clean and cozy dining experience.
We also loved the quick service at the restaurant and the friendly staff. They'll even cut up some of the tough-to-chew food (like Octopus) at a customer's request.
Their Korean-themed design was also something we particularly liked. The establishment was well on-theme and we felt like we were dining in a K-drama scene with our chopsticks and chatter.
One thing we didn't like was that their spices were on the milder side. After experiencing the bite of instant ramyeon, we were left wanting more oomph in their hot dishes.
The milder spices only slightly helped our problem with the ventilation at this branch. We could see an air-conditioner in great condition, but peak-time crowds made the place a bit warmer than we liked.
Generally, Mr Dakgalbi gives an authentic Korean experience for halal customers. The spices may not leave you sweating, but you'll be coming back for the friendly staff, great atmosphere, and great flavours.
Consistent food quality
Preferred among other branches
Quick service and friendly staff
Comfy Korean-themed atmosphere
Spices are on the milder side
Limited ventilation
Customer Reviews
Good food quality and affordable pricing
"I love their food because they are maintaining their food quality. Some of the peak hours will make the restaurant fully occupied and you may need to wait. It's very easy to find this Mr.Dakgalbi and you can see it from the main road. There's an ample parking nearby and located in front of the restaurant. The price is still average and affordable." – Scha Kim
Friendly staff and smooth service
"really nice treatment from the workers there! have a pleasant time as the food were cooked in front of us. everything went smoothly over here! also got a surprise from them thank you soo much! will meet again soon! the price is reasonable too!" – Natasha
FAQs about Halal restaurants
---
That was our list of the best places for Halal food in Setapak. If you're not up for the food crawl and want to dine in (at home), have it brought to you! We made a list of the 9 best delivery services in Malaysia so you can get your cravings solved.