The Top 5 Braces Suppliers in Malaysia
Are you a dentist who's looking for more braces brands to treat your patients? Finding the right braces from trusted brands will give you the best results possible.
Orthodontic procedures can be rigid and sensitive since it changes our patient's teeth's initial structure by fixing and aligning them for their comfort and health. Our list of top braces in Malaysia is full of insights about the right materials for your clinic.
How Much Do Braces Equipment Cost in Malaysia?
Here's a quick idea of how much orthodontic equipment/supplies tend to cost in Malaysia. Note that the prices could be much higher or much lower depending on where you choose to purchase these products:
| | |
| --- | --- |
| Product | Average Cost |
| Invisible braces | RM 5,497 |
| Ceramic brackets | RM 1150 |
| Metal brackets | RM 220 |
| Archwires | RM 30 |
| Elastomeric products (1040pcs per pack) | RM 41 |
The Top Braces in Malaysia
These top braces manufacturers in Malaysia are guaranteed the best we found so if you're as ready as we are, let's go!
1. Zenyum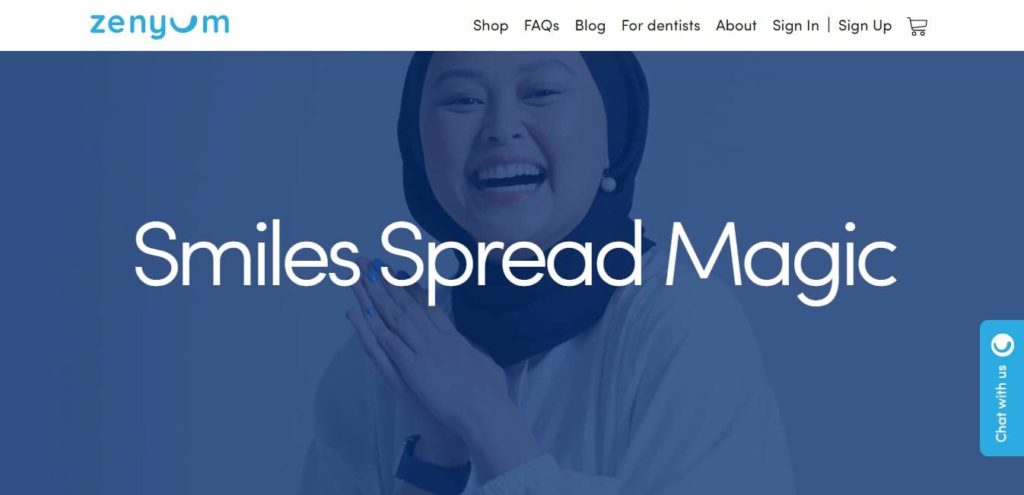 Zenyum is one of the most affordable brands of invisible braces so partnering up with them will make you more attractive to potential patients.
Here's how it works with Zenyum: patients communicate directly with them at the start for the initial assessment as to whether or not the patient is suitable for Zenyum invisible braces. After they deem the patient suitable, they partner the patient up with the nearest dental clinic to them.
What you can expect is that your patient won't be coming in too often because Zenyum recommends using their phone application for check-ins.
To become a partner of Zenyum, all you have to do is fill up this form and their partner managers will be in contact with you shortly.
Any locally certified dental clinic is eligible to partner up with Zenyum. However, if you don't have any experience with invisible braces, you'll have to undergo modular training at no additional cost.
Most affordable brand of invisible braces
Refers patients to you
Minimal visits from your patient
Invisible braces are expensive compared to other types of braces
Only offers invisible braces
Customer Reviews
If you're wondering whether or not Zenyum is worth your partnership, check out these reviews left by satisfied patients who used Zenyum and decide for yourself:
"Effective and customer centric. The two that got me recommending Zenyum to many. On my 11th out of my 18 sets of braces, I've seen major results in closing teeth gaps! But that wasn't just it, you'll be assigned to a customer service representative who is attentive to all your needs. The assigned representative is someone who you could talk to even on a personal level. You won't ever feel like you're not heard. Here's to my remaining months in my journey. Thank you, Zenyum!" -Adam
"So…it works! Great team over at zenyum, couldn't ask for more. Yall should try it too" -Ryon
2. Everest Dental Supply Sdn Bhd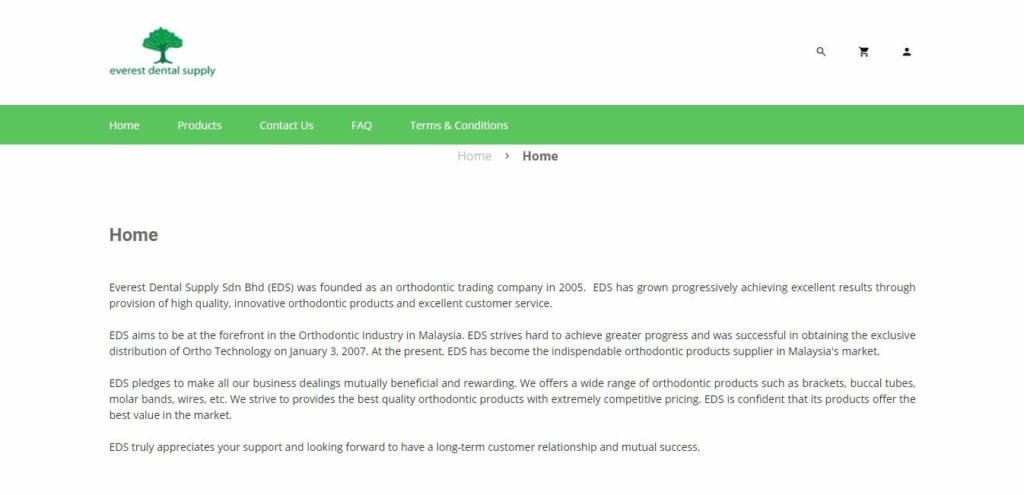 | | |
| --- | --- |
| PRODUCTS | Attachments, Wire products, Orthodontic Anchorage, Impression supplies, Lingual or Fixed appliances, Lab supplies, Buccal tubes, Molar bands, Bracket system, Bicuspid bands, Orthodontic instruments, Organizers, X-ray imaging, Bonding supplies, Headgear products, Elastomeric products, Patient accessories or Patient cares, Photography, Burs and Discs. |
| WEBSITE | http://www.everestdental.com.my/ |
| ADDRESS | 17-G, Jalan Puteri 2/5, Bandar Puteri, 47100 Puchong, Selangor, Malaysia |
| CONTACT DETAILS | +603 8061 1160 |
| OPERATING HOURS | Mon-Fri 9:00 am – 5:00 pm, 6:00 pm – 7:00 pm |
Now, let's talk about Everest Dental Supply. They aren't a manufacturer of dental products and equipment but they are a distributor of all kinds of high-quality ones.
Their goal is to provide you with the best equipment at extremely competitive prices so you can make the most out of your practice. Some of these equipment include organizers, lab supplies, headgear, and even endodontic equipment.
To talk more about their orthodontic supplies, they offer bracket systems, molar bands, buccal tubes, archwires, and elastomeric products. They also offer cephalometric tracing pads for X-Ray imaging which is one of the most important steps before beginning the orthodontic treatment.
We think the best thing about getting your orthodontic supplies from Everest is that you can also browse through their other products so you don't have to look elsewhere. Everything you need is just on one website plus deliveries take just 3-5 days.
You can also create your own account on their website for easier checkouts. Payment methods include bank transfer and credit cards through PayPal.
Affordable prices
Offers all kinds of dental equipment
Wide choice of braces supplies
Does not refer patients
Does not offer invisible braces
3. Calmal Dental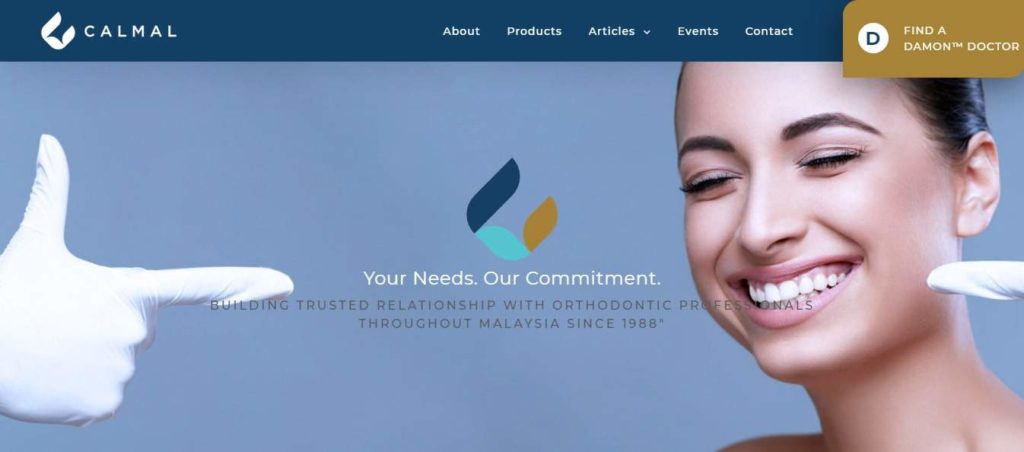 | | |
| --- | --- |
| PRODUCTS | Archwires, Aligners, Band-setting, Auxiliaries, Cutter, Bio material, Interactive, Forceps, Elastics & Power products, Ligature, Legacy, Ormco custom, Nadelhalter, Self-ligation, Pliers, Swish, Tri-lobe, Shade determination, Spectra, Tweezer, Tubes & Bands, Twins |
| WEBSITE | http://www.calmaldental.com.my/ |
| ADDRESS | No. 1-2A & 3-2A, Jalan 5/125D, Desa Petaling, 7100, Kuala Lumpur, Malaysia |
| CONTACT DETAILS | (603) 9058 2717 |
| OPERATING HOURS | Mon-Fri 9:00 am – 6:00 pm |
Calmal Dental has been in service since 1988 providing dental clinics all over Malaysia with quality dental products. These products, of course, include supplies you need for your braces treatments.
So let's focus on the orthodontic products they supply. The brackets they offer are only for the self-ligating Damon Braces. One benefit of going with Damon Braces in your practice is it's best for those with sensitive teeth and mouth tissue.
That goes without saying that it allows for a much more comfortable and faster treatment for your patient. They also offer archwires and elastics that you can easily view on their website.
One more type of brace they offer are invisible braces. These are Ormco's Simpli5 and Insignia Clearguide Express and they provide you with free phased training that works for your schedule.
This is so you can learn to use the Ormo software to create the perfect smiles for your patients. Note that this doesn't require any course certification, minimum case requirements, nor start-up and licensing costs.
Offers invisible braces software
Offers Damon braces
Wide range of dental supplies
No mention of rates of products
Only offers Damon Braces brackets
4. 3M Malaysia Sdn. Bhd.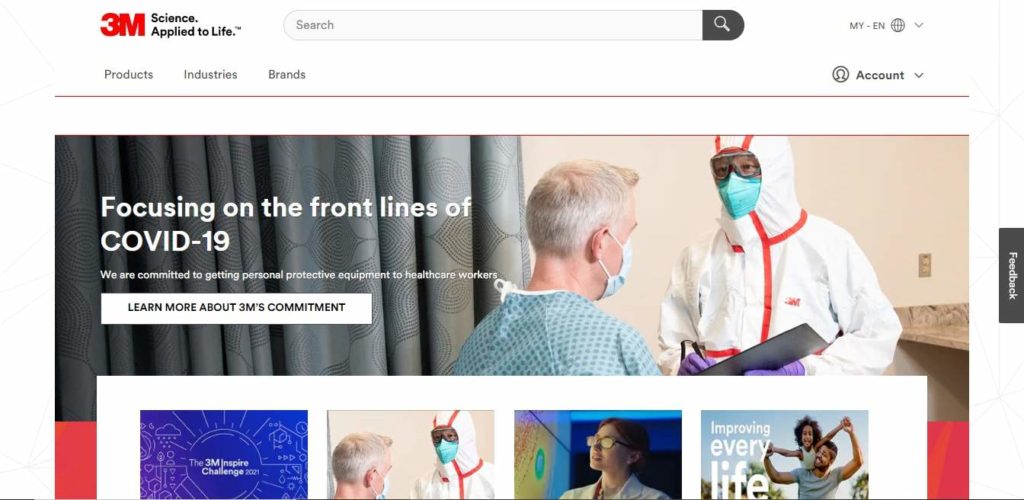 | | |
| --- | --- |
| PRODUCTS | Dental & Orthodontics, Compounds & Polishes, Communications, Coatings, Cleaning supplies, Building materials, Automotive parts & Hardware, Advanced materials, Adhesives, Sealant & Fillers, Abrasives |
| WEBSITE | https://www.3m.com.my/3M/en_MY/company-my/ |
| ADDRESS | Lot 3, Lower Level 5, Hotel Equatorial, 1, Jalan Bukit Jambul, Bukit Jambul, 11900, Bayan Lepas, Pulau Pinang, 11900, Malaysia |
| CONTACT DETAILS | +603 7884 2888 |
| OPERATING HOURS | Mon-Fri 8:00 am – 5:00 pm |
3M Malaysia Sdn. Bhd is a wholesale distributor of all kinds of products across a wide range of industries including dentistry, orthodontics, electrical, medical, and many more.
No matter what equipment or supplies you need in your clinic or business, we highly recommend checking out this supplier. This is especially true if you have more than one business in multiple industries.
When it comes to their orthodontic products, they make sure to only distribute those of the highest quality because they know how important dental health is to every person.
Whether it's orthodontic auxiliaries, appliances, or supplies 3M Malaysia has more than enough options for you to choose from. You see, they have over 300 ortho appliances and over 50 ortho auxiliaries.
The wide range of products they offer doesn't only cater to orthodontics but also to those who practice general dentistry. So when you're on their site shopping for restocks on your braces supplies, be sure to check out all their other products as well.
Wide range of products in many industries
Wide range of orthodontic products
Offers dental equipment
Does not offer invisible braces
Only does wholesale
5. DentalSupply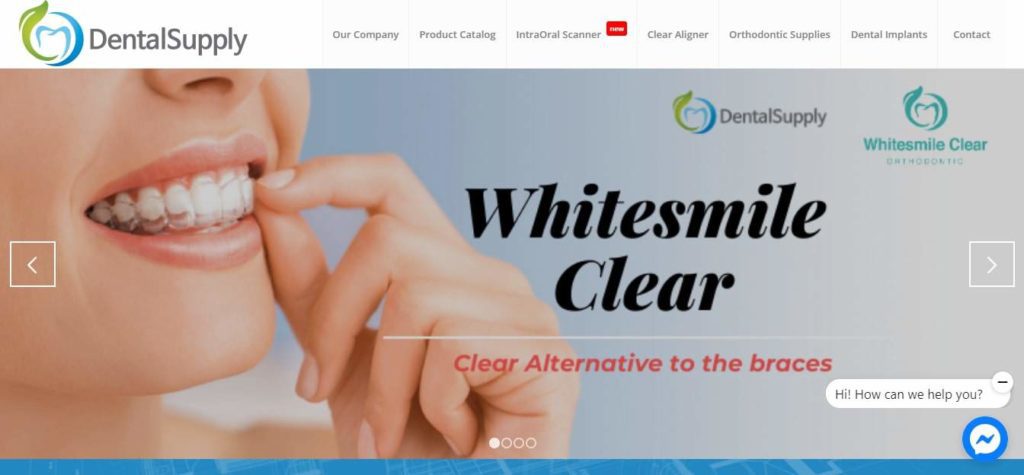 | | |
| --- | --- |
| PRODUCTS | Clear aligner, Intraoral scanner, Orthodontic supplies, Dental implants |
| WEBSITE | https://dentalsupply.com.my/dentalsupply/ |
| ADDRESS | Lot07-51, 7th floor, Berjaya Times Square, No1. Jalan imbi, 55100, Kuala Lumpur, Malaysia |
| CONTACT DETAILS | +60(18) 327 4707 |
| OPERATING HOURS | Mon-Sat 9:00 am – 5:00 pm |
DentalSupply is known for providing their dental clients with excellent service, products, and cultivating lasting business relationships with them. This makes them ideal as a long-term supplier for your clinic.
If you want to have face-to-face consultations as well as product assessments with them, it doesn't matter where you are. Their mobile sales team will go to you whether you're in Singapore, Vietnam, Korea, or Malaysia.
They offer all sorts of orthodontic supplies and instruments including ceramic & metal brackets, orthodontic implants, handpieces, orthodontic pliers, and clear aligners.
The clear aligner they offer is Whitesmile Clear which is made of Tristar material which is both completely transparent and durable. Whitesmile Clear is said to be approximately ⅓ the price of other competing brands of clear aligners which makes it better for your potential patients.
If you're wondering if they also offer other dental equipment for general dentistry, you'll have to skip this one! They only offer the aforementioned products as well as implants and micro-implants.
Offers clear aligners
Offers ceramic and metal brackets
Offers wide range of orthodontic supplies
Does not offer general dentistry equipment or supplies
Does not mention rates; need to contact
FAQs about Braces in Malaysia
---
There you have it, Doc! Our list of the top braces suppliers in Malaysia.
We hope that our suggestions were helpful to you and your practice. We know how important it is to make sure that every single product you use on your patients is top-notch so we commend you for all the work you do.
By the way, please let us know if you decided to partner up with any of these suppliers based on our recommendation! We'd love to hear all about your experience and maybe even put them up here.
Now, lastly, please check out our article on the clinics for the best orthodontics in Malaysia. We'd love to hear your thoughts on that as well and, if you'd like, we'd love to include your clinic!