The 5 Best Wi-Fi Extenders in Malaysia
Can't get a strong signal from your router? Instead of replacing it with a new one, you could just get a Wi-Fi extender, which will save you money.
So here, we made our own list of the best Wi-Fi extenders in Malaysia for you. We also have a buying guide after our picks to help you find the right one for your budget and requirements.
The Best Wi-Fi Extenders in Malaysia
If you're ready to view our top recommendations, allow us, to present to you the best Wi-Fi extenders in Malaysia!
1) TP-Link TL-WA850RE Wi-Fi Extender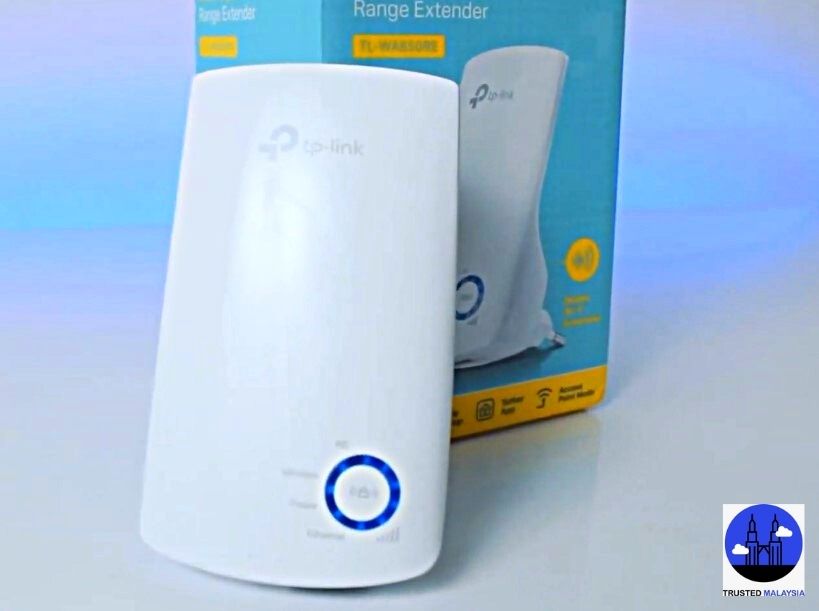 | | |
| --- | --- |
| Wi-Fi speed | Up to 300Mbps |
| Frequency | 2.4~2.4835GHz |
| Connectivity | 1 x 10/100M Ethernet Port (RJ45) |
| Features | Tether app, night mode, and access point mode |
| Dimensions | 110.0 x 65.8 x 75.2mm |
Price: RM69.90
Though it brings a speed of up to 300Mbps, the TP-Link TL-WA850RE Wi-Fi extender is very simple to set up and use.
You can plug it into a wall outlet at your home or office to start. Make sure this is not too far from your router or the area where you want to expand your network coverage.
You only have to press the WPS button on your router and within two minutes, also the RE button on your Wi-Fi extender—and you're good to go with your surfing!
Note that you can check the LED bar to know its signal strength. If it's low, you can adjust and move closer to the router, but if it's high, that means the setup location is already good.
This clever product from TP-Link will amplify the signal of your router and rebroadcast it to reach farther areas in your house, even to the dead wireless zones.
As a result, your family will be able to study, work, play, or chat even while they're moving around without the connection dropping out on them.
At any time, you can access and change this extender's setting through the Tether app. Besides that, it has an Ethernet port to connect wired devices like a smart TV, PC, or gaming console.
Therefore, for great performance, affordable price, and easy installation, the TP-Link TL-WA850RE is undoubtedly one of the best Wi-Fi extenders in Malaysia!
Gives value for money
Easy to set up with the WPS button
Has an Ethernet port to connect wired gadgets
Manageable via the Tether app
Slow speeds only up to 300Mbps
Only has one Ethernet port
Customer Reviews
Owners of this Wi-Fi extender praised the product on Lazada. Most of them admired its fast speed and ease of setup that allowed them to use the Internet conveniently in their houses.
One satisfied shopper named Rachael commented this:
"working just fine. finally I can get signal all over the house. installation not that hard just follow the guidelines its easier to install with method 3 which is via the web browser."
Moreover, Syamih wrote this review:
"Its works perfectly! I put in my bedroom and tahnk god the signal was ok but cannot be connected with my phone, this extender helped! The setup is not that tedious, just download the app, and then follow instructions."
2) Wavlink Aerial X AC1200 Wi-Fi Extender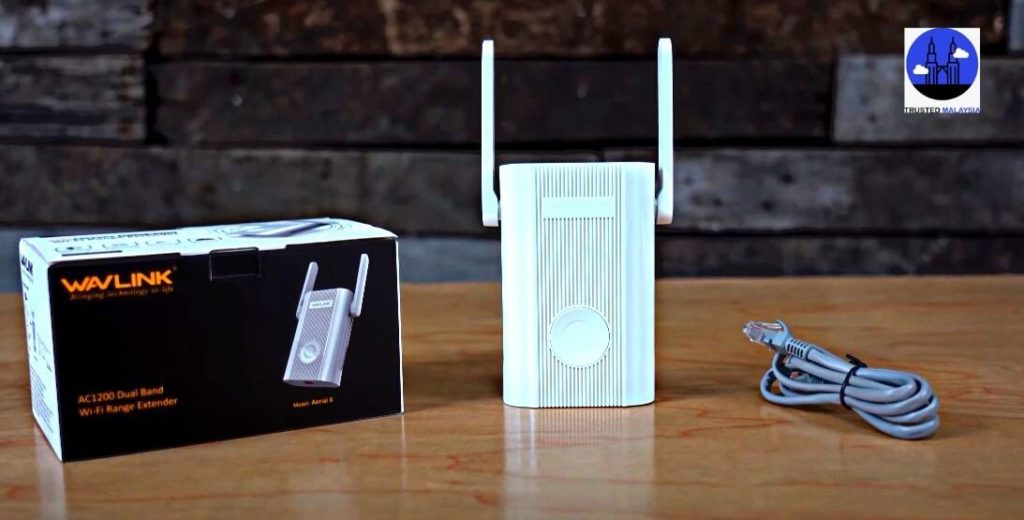 | | |
| --- | --- |
| Wi-Fi speed | Up to 1167Mbps |
| Frequency | 5GHz, 2.4GHz |
| Connectivity | 1 x 10/100/1000Mbps LAN 1 x 10/100/1000Mbps WAN/LAN |
| Features | Omnidirectional antennas, beamforming, router mode, AP mode |
| Dimensions | 113mm x 63mm x 32mm |
Price: RM141.55
The Wavlink Aerial Xbrings blazing internet and data transfer speeds over great distances.
It uses the powerful 802.11ac Wi-Fi standard with dual bands of 5 and 2.4GHz for speeds up to 1167Mbps. Whether you want to stream HD movies or transfer large files, this could be for you.
As you can see, it has four antennas that you can adjust to point in various directions, along with a high-powered amplifier to boost the extender range and maintain connection stability.
Unlike other products, it has ventilation holes surrounding it. This helps to dissipate heat, foster optimum performance, and also extend the product's life.
The design looks a bit crabby but most people care about the products' performance. However, it can take a larger space in your home.
Another great thing about it is its multi-functionality. Not only can it be used as a router and repeater, but also as a Wi-Fi hotspot by connecting it to your router's LAN port.
Like our previous pick, this device is relatively simple to use. It's compatible with almost any router out there and all you have to do is press their WPS buttons—one soon after the other.
As for the downside, this Wavlink Wi-Fi extender comes with a UK 3-pin plug so it may not work for everyone. Plus, you have to spend more on it but the trade-off here is a superb Wi-Fi speed.
Blazing internet speeds
Great coverage from 92.9sq.m.
Easy to set up with the WPS button
Maximum heat dissipation with ventilation holes
Has two Gigabit ports for rapid data transfer
Expensive
Takes up a larger space
Has a 3-pin UK plug
Customer Reviews
Except for some buyers, this Wi-Fi extender has worked well for the majority. For them, the setup, coverage, and speed were fantastic.
One buyer named Lim wrote this review:
"Though the item tooks quite a while to arrive, but worth waiting. I use it as repeaterand it really helps to send signal to every corner of my hse which my previous repeater can't reach. Tested for a few days, so far so good."
Here's another one from Martin:
"Works as advertised. My router is downstairs in my office, placed the repeater upstairs without direct line and walls in between and I get 4-5 bar 5G signal. 100mbs line, get 60mbs upstairs. Recommended."
3) D-LINK DRA-2060 AC2000 Wi-Fi Extender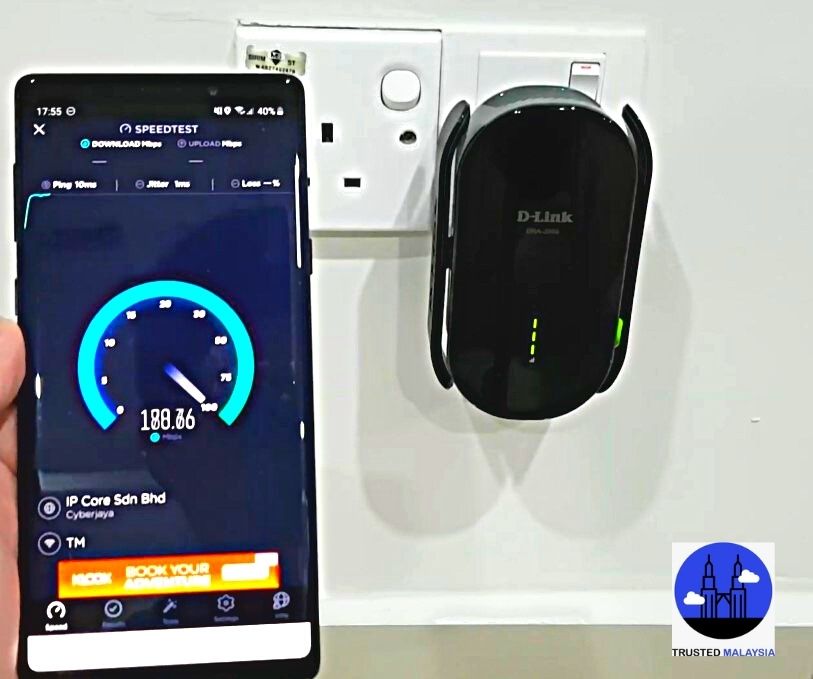 | | |
| --- | --- |
| Wi-Fi speed | Up to 2000Mbps |
| Frequency | 2.4GHz + 5GHz |
| Connectivity | 1 x 10/100/1000 LAN |
| Features | MU-MIMO, beamforming, mesh network |
| Dimensions | 139.95 x 85.34 x 48.51mm |
Price: RM286
For a Wi-Fi extender best for large homes and families, you might like the D-Link DRA-2060 AC2000. Its dual-band connection offers tremendous network speeds of up to 2,000Mbps.
This makes it capable of creating a mesh network or home Wi-Fi system. This is a setup where several routers can work together to provide Wi-Fi connectivity throughout a home.
However, it doesn't work with all routers but only with compatible ones like the EXO routers from D-Link, which can support Amazon Alexa and Google Voice Assistant for easy activation.
Everyone will immediately recognize this product because it only has one SSID name. And when you go from room to room, the connection will stay on and you won't need to input a password.
With the MU-MIMO feature, you'll be able to connect multiple devices to the extender at once. Unlike other products, there won't be any slowdowns or buffering with your network.
Furthermore, it has a beamforming technology to optimize the Wi-Fi to your phone or tablet. So even if you walk up the stairs or move around, the internet line will stay intact.
The D-Link DRA-2060 is ideal for online gamers, movie streamers, video chatters, and just about anyone else who wants to enjoy steady Internet.
And then there's the design. This thing looks way sleeker than regular Wi-Fi extenders and can add style to your house without easily getting dirty like white-coloured ones.
This Wi-Fi extender sells for a premium price and doesn't have any Ethernet ports for transferring data. Nevertheless, it's clearly one of the best Wi-Fi extenders in Malaysia!
Great for home mesh network
High-speed Wi-Fi extender
Sleek extender design
Supports multiple devices seamlessly
Has one SSID network name
One-touch WPS setup
Comes with a D-Link smart app
Premium price
Doesn't work with all routers
No USB or Ethernet ports
4) Netgear N300 Wi-Fi Extender (EX2700)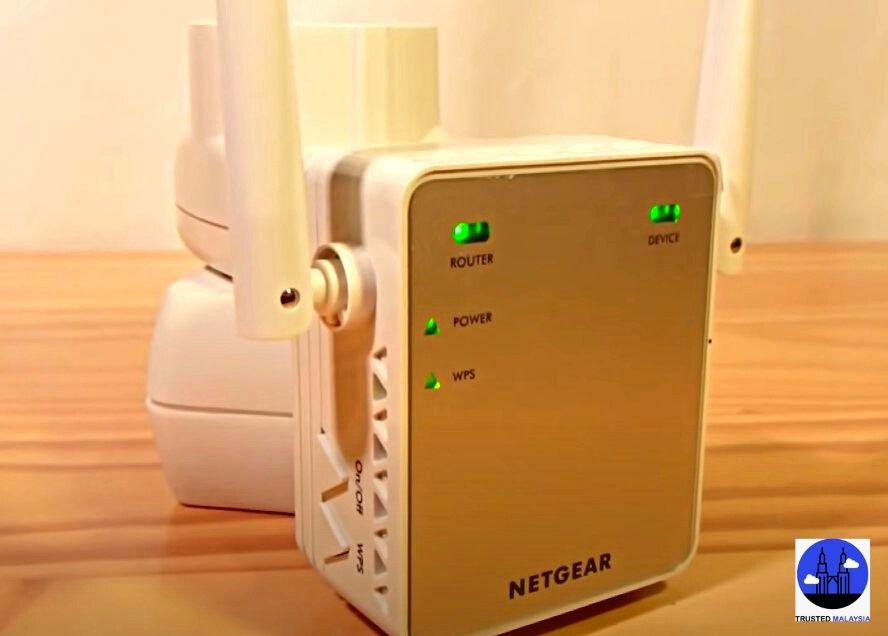 | | |
| --- | --- |
| Wi-Fi speed | Up to 300Mbps |
| Frequency | 2.4GHz |
| Connectivity | 1 x Ethernet port |
| Features | Fast Ethernet port for data transfers and connect wired devices |
| Dimensions | 67 x 55 x 34 mm |
Price: RM113
When it comes to routers and Wi-Fi range extenders, Netgear is well-known for the quality and value of its products. And the Netgear N300 (EX2700) is certainly one of them!
This wall-plug extender can give you a network speed of up to 300Mbps. Many clients reported that their speed improved moderately.
It comes with one Ethernet port, which executes fast data transfers as well as allows wired systems to connect for instant Internet.
But as far as this product is concerned, it doesn't have any other features available like night mode, beamforming, or even an app by which you can configure it.
Setting up the Wi-Fi booster is a piece of cake. For this, all you have to do is plug and play including pressing its WPS button as well as your router's.
This Netgear N300 has dimensions of 67 x 55 x 34 mm. Because it's small and doesn't take up a lot of space, it's excellent to have at your house, shop, or workplace.
The bottom line is if you don't need much network speed increase as much as the range, this is definitely a great option. Otherwise, there are faster Wi-Fi extenders you can find online.
Affordable product
Fast Ethernet port
Simple to set up
Space-saving size
Internet speed only improved moderately
No other ports and features
Customer Reviews
Most Lazada reviewers were satisfied with the product. It helped extend their Wi-Fi range at home and was incredibly easy to install.
A happy buyer named Constance left this review on the brand's website:
"This is ABSOLUTELY AMAZING!!! I have spectrum wifi and was told that it might not work. I moved and wifi was spotty, I remembered I had bought it found it and hooked it up and it is amazing, I can watch spectrum TV without it freezing up 100 million times. LOVE IT!!!"
Furthermore, here's another one from Craig:
"I have this setup and it works great. Easy setup. An use wps press a button setup can run it as a wireless extended and a bridge real simple to use worked great for my camera system I had setup in my garage and was able to connect to my router 75 feet away with full speed and bars. Would recommend this item."
5) Netgear Nighthawk X6 Wi-Fi Mesh Range Extender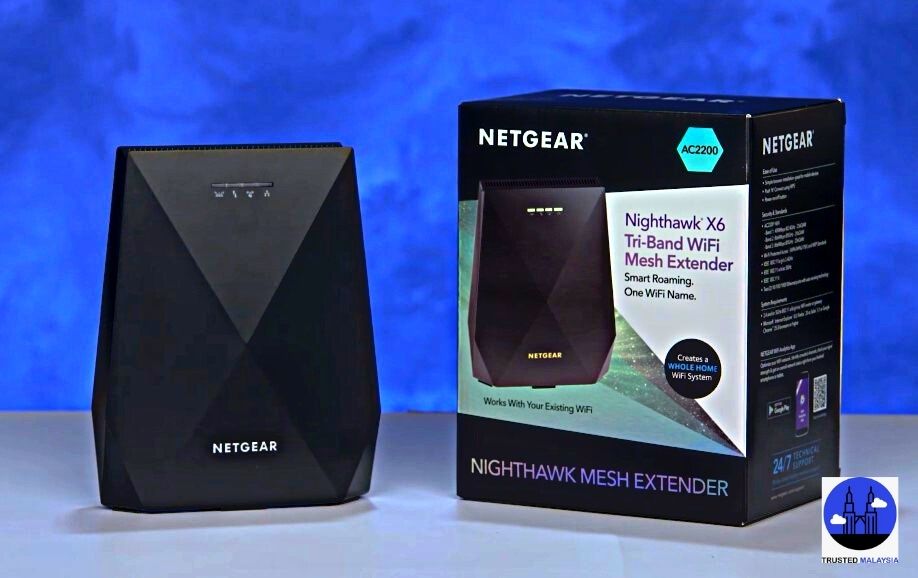 Wi-Fi speed
Up to 2.2Gbps
Frequency
AC2200 Wi-Fi
Band 1: 400Mbps @2.4GHz – 256QAM
Band 2: 866Mbps @5GHz – 256QAM
Band 3: 866Mbps @5GHz – 256QAM
Connectivity
2 x 10/100/1000 Ethernet ports with auto-sensing technology
Features
Innovative tri-band Wi-Fi with FastLane3 technology, wired AP mode
Dimensions
199.39 x 154.18 x 54.36mm
Price: RM899
The Nighthawk X6 is the holy grail Wi-Fi extender for people who need a long-range and strong signal throughout the house.
Whether it's for a video chat, 4K movie, home security system, or others, this packs a punch given its tri-band advantage on 2.4GHz and two 5GHz reaching speeds of up to 2.2 Gbps.
With FastLane3 technology, you'll get seamless and constant Wi-Fi connection in all three bandwidths. And its smart roaming feature keeps you online even as you move around the place.
Unlike other Wi-Fi extenders that disconnect and reconnect because of a different SSID, this one uses the same name and password so your call or movie enjoyment won't get cut off.
The geometric black design of the Nighthawk is fantastic. And behind the product are two Ethernet ports, which you can use for access point mode (AP) so others can join the Wi-Fi.
Also, you can set this up very easily with just one press of the WPS button. The system lights up to indicate the signal level, which is reliable for finding the best location to place it.
Thus far, the only drawbacks we found with this Wi-Fi extender are the lofty price and that it's bigger than other models. However, many clients can confirm that this product is cost-effective.
Another bonus is they have an app where you can access everything from the palm of your hand. With it, you can monitor your connected devices, run an Internet speed test, among others.
For these reasons, we think it's one of the best Wi-Fi extenders in Malaysia, if not the best!
Phenomenal speeds up to 2.2Gbps
Patented FastLane 3 technology
Uses the same name as your router's
Smart roaming for mobile devices
Wired AP mode
Has a smart app you can use
Expensive
Larger size than most models
Customer Reviews
Many people have been very pleased with this product. They said that it worked consistently, had super-fast speeds, and was easy to set up.
Check out this comment from one satisfied user, Lorena:
"So this is one of the best product I have ever bought. It works perfect. I was losing my WiFi sign in the bedroom a lot especially on my PS4. Once I bought this it stays connected and never lose signal. It's an amazing product. Have recommended it to few of my friends. Also it was really easy to connect."
Also, here's David's review of the Wi-Fi extender:
"Needed a stronger wi fi signal in my garage that was 100 feet away from my home . This device worked and my security cameras are working great . Thanks!"
What to Look for When Buying a Wi-Fi Extender
Here are the factors you need to consider before getting a Wi-Fi extender:
1) Wi-Fi Speed
The first thing you have to check is the Wi-Fi extender speed. This should at least be equal to or faster than the router you are using.
The top Wi-Fi speed today is 802.11ac, which provides the fastest speed when you're surfing online, uploading videos on YouTube, or binge-watching your favorite series.
If your router has a slower speed than what the extender offers, it's not a bad idea to get it still. That's because you will have to upgrade your router sooner or later.
2) Frequency
Next is the frequency of the Wi-Fi extender. You will find those with single, dual, and triple bands on the market, which have corresponding speeds.
Single-band devices operate on 2.4GHz, while double bands on 2.4GHz and 5GHz, and triple bands on 5.7GHz providing the fastest network speed of the three.
Bear in mind that the speed will depend on how many people will use the internet at your home. So you have to consider this as well.
Though it's great to get one with the highest Mbps, it will cost you more. To be practical, you should get the one that can meet your personal, work, or entertainment needs.
3) Location
A Wi-Fi extender can expand your network signal for an additional 75 to 185sq. m. These products vary in their speeds and wideness of coverage.
Where do you intend to use the Wi-Fi on your property? Do you have a guest room at home or conference room previously unreachable by the router?
Knowing these things is important in your search for a Wi-Fi extender. You have to think about if you and your family can get Wi-Fi where you need it.
Typically, all Wi-Fi repeaters have a signal strength indicator. This clearly informs you if the position of the product is ideal or needs to be placed in a better location.
Remember, you have to put the device in an area between the router and the place where you plan to go online for the best speed and reception.
4) Features
The features your extender comes with can help make it simpler and more convenient to use. Here are some of them:
WPS Button – The WPS button makes it very easy to set up your Wi-Fi extender. You simply need to press it on your router followed by the one on your extender.
Beamforming – Thisallows for a stronger and faster Internet connection relative to your device's position, rather than just broadcasting wireless data in all directions.
Mesh Network – This means that the Wi-Fi extender can work with a set of routers to boost its performance and amplify the wireless coverage in your home.
MU-MIMO – MU-MIMO stands for multi-user, multi-input, multi-output technology. Simply put, it enables multiple devices to be used at once with fast Wi-Fi speeds and shorter wait times.
Smart App – With a smart app, you can manage your Wi-Fi extender easily. You can configure it in a way that allows you to get the most use out of the product.
5) Price
Lastly, you have to look at the price and whether the functions and features of the Wi-Fi extender are worth it.
On Lazada, prices for this go from RM26 to RM1,441. But great-quality Wi-Fi extenders usually range between RM85 and RM300.
Having looked at the other aspects we mentioned, picking the best Wi-Fi extender according to the price should be a no-brainer. Also, make sure to read the buyer reviews to be safe.
FAQs about the Top Wi-Fi Extenders in Malaysia
---
And that wraps up our list of the top Wi-Fi extenders in Malaysia. Not only do they give you fast network speeds but they also have nifty features and are easy to install.
Do you have any questions or thoughts about our picks? If you have one, please drop us a line and we'll get back to you in a bit.
Other than that, if you want to keep your browsing safe and secure, you can read about the best VPN options in Malaysia too!