The 7 Best Franchises in Malaysia
Starting a business from scratch is risky and involves a lot of work. Because of this, it might be easier to apply for the best franchises in Malaysia, which we collated in a list for you here!
Now, you may be asking: how much do you need to invest in these companies? We'll tackle this below before we show you our list to help you choose from our top picks.
The Average Cost of Applying for a Franchise in Malaysia
The average cost of this is RM15,000 to RM1,000,000 depending on the company.
Prominent companies usually require you to pay a higher capital since more customers will flock to them. Also, don't forget, franchise and royalty costs will add to the total price as well.
As companies differ in these three costs, it's very important to think about the business, your goals, your vision, and if you have sufficient funds to run it.
Here's the table of some renowned companies (including those we featured) and their initial capital costs. With this, you can compare them against each other and see which one best fits your budget.
| | |
| --- | --- |
| Franchise | Initial Capital Required |
| 7-Eleven | RM250,000 |
| Tealive | From RM460,000 |
| Anytime Fitness | From RM900,000 |
| Secret Recipe | RM600,000 |
| Canadian 2 For 1 Pizza | RM340,000 |
| DABOBA | RM350,000 |
| Kenny Rogers Roasters | From RM1,269,000 |
| Mailbox ETC | From RM80,000 |
| McDonald's | From RM1,500,000 |
| Yamaha Music School | From RM50,000 |
The Best Franchises in Malaysia
Now that you have an idea of how much you should invest, here are our best options for franchises in Malaysia!
1) 7-Eleven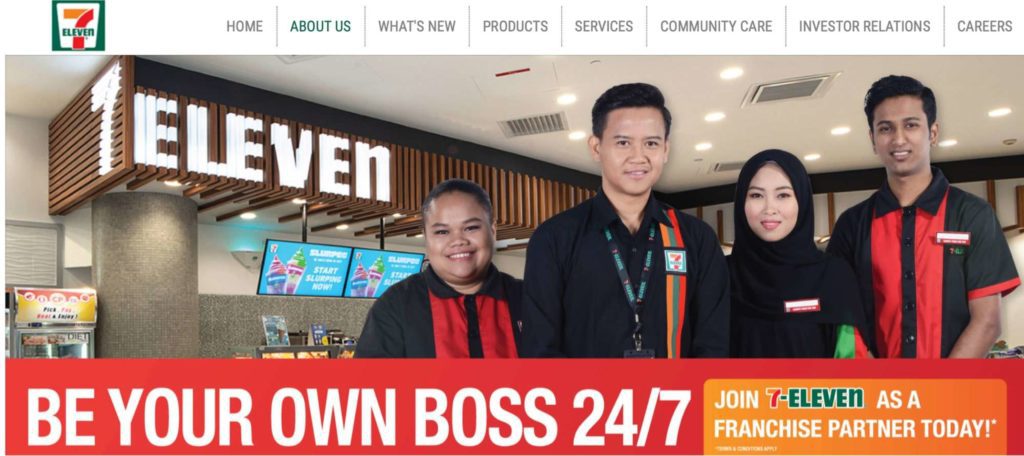 7-Eleven is a world-renowned convenience store brand. In Malaysia, the company is owned and managed by 7-Eleven Malaysia Holdings Berhad.
With over 2,400 branches nationwide and over 35 years of success, it's one of the best franchises in Malaysia.
Though their initial capital fee is higher compared to other companies, it's very profitable simply because a lot of people can get their most important wants and needs met here.
From fresh food to electronic bill payments, you get all the advantages of their unique product lines and partner brands. You even get to offer their smallest services like photocopying, faxing, and Wi-Fi, 24 hours a day!
However, the company charges a hefty one-time franchise and royalty fees so you have to run the business well to earn above these costs. But don't worry, as you'll get the full support of the franchisor the entire time.
You can apply as a franchisee from the link provided in the table. If you have any questions or concerns about anything, click the Talk to Us tab on the website and the team will get back to you promptly.
Profitable franchise business
Lots of product ranges and offerings
Full support from the franchisor
24/7 working hours
Relatively high capital cost
Competitive market
2) Tealive

Having more than 600 outlets in Malaysia, Tealive is a leading tea beverage company. It's also a recognised brand in Vietnam and is expanding further to Australia, China, Japan, Thailand, and the UK.
Along with other top food and beverage brands like Gindaco, Define:Food, Tealive is managed by LOOB Holding Sdn Bhd and has seen year-on-year sales growth for 7 consecutive years.
There are several reasons why it's one of the best franchises in Malaysia that you can join:
Firstly, it has over 70 freshly brewed drinks on its menu that many patrons enjoy. Also, the franchisee has bubble tea ingredients at its disposal to assist people wanting a custom tea drink.
Secondly, you can choose whether you want to get a small, medium, or large-sized franchise business. That will allow you to find the best one suitable to your budget and business vision.
Thirdly, your staff will get an initial orientation and hands-on training to serve customers as expected by the company.
And fourth and last, you get monthly audit checks for your Tealive franchise shop to help streamline its operation and produce more sales. And by using their business management tool, you get real-time updates about how your business is performing.
Their locations throughout Malaysia aren't that cramped and there are fifty new ones available with new opportunities.
The downside of joining this company is its lofty initial capital—double that of 7-Eleven—to run this business. That said, their franchisee and royalty fees are within the acceptable standard range.
If making and serving tea is your passion and you want to profit from it, Tealive may be the right franchise company for you.
Offers three franchise sizes
Monthly audit and quality service checks
Provides real-time updates
Conducts hands-on training
High initial capital
No advertising support
Customer Reviews
People were grateful that they were taught the proper way of running Tealive. Even though they didn't have much experience, it helped them to run and succeed with their ventures.
One franchisee named Janice wrote this review on the website:
"After seeing the success of my friends, I too decided to be a partner with LOOB. Since then, I've learnt the know-how to start and succeed in running my own business. I hope to continue this partnership for more years to come."
Also, take a look at Mani's comment below:
I've always loved the world of F & B, but I was hesitant due to my lack of experience and financial support. LOOB showed me otherwise, by guiding and training me since day one. It's been a fun and exciting adventure ever since! "
3) Anytime Fitness

If you're a gym rat and health-conscious person and want to make money helping people get healthier, owning an Anytime Fitness gym could be a great idea!
You can join 4,000+ other owners around the world that make gyms available 24/7. A lot of people come in and join memberships to train several times or more a week, translating to more profits.
Their required initial capital investment is a bit high but franchisees can get it back in time, which explains why there are so many Anytime Fitness gyms across the country. On the other hand, their franchise and royalty fees remain fixed and won't change a lot to shake your bank account.
If you get this franchise, you'll get family treatment and support for you and your staff. At every phase of growth, they can consult with you, which helps to direct your business.
The best-in-class training, equipment, and whatnot will be supplied to you at no extra cost. They also have a Pan-Asia payment gateway system to accept various debit and credit cards.
Their practical building design will minimise your costs and maximise your revenue. The space will have a comfortable and inspiring environment where people can train, socialise, and have fun.
One of the best franchises in Malaysia, Anytime Fitness has been voted as the #1 Top Global Franchise by Entrepreneur magazine.
Another disadvantage is that it's the pandemic season right now, so it's hard to maintain this gym business. But, then again, it's economically hard for every business until things have gotten a lot better.
Fast client membership rate
Offers franchise consultation
Provides staff training
Customisable marketing tools
Expensive capital investment
Hard to maintain the business amid the pandemic crisis
4) Secret Recipe

Secret Recipe is a popular Malaysian café that serves delicious and affordable food and cakes. They have a casual dining model and offer Western and Asian cuisines for their diners.
Established in 1997, it has 440 outlets in the country and has been steadily growing in the Asia-Pacific region including Singapore, Maldives, Thailand, Brunei, Indonesia, and Bangladesh.
By buying its franchise, you get a lot of benefits including continuous training and support, R & D, field agent visits, and advertising and promo support so your business can thrive.
You have to shell out a larger capital to acquire a franchise for this lifestyle café. The franchise fee is relatively higher but come to think of it: they're an award-winning company in this respect.
Among their accolades are Homegrown Franchise of the Year, Best Sales Growth award, International Franchisor of the Year, among others.
Compared to other companies we've listed, their royalty fee is 5 per cent of your net sales, which is variable rather than fixed. Thus, earning higher will mean that you'll pay the franchisor more.
So if your dream is to have your own café but think it's too risky, then you might want to consider owning a Secret Recipe franchise as many people have gained trust with this brand.
Award-winning franchise business
Provides advertising support
Offers continuous training and support
Assists with research and development
Conducts field agent visits
Royalty fee isn't fixed
Relatively high initial capital
5) Canadian 2 For 1 Pizza

For citizens and entrepreneurs who want to bring families together through slices of pizza, a Canadian 2 for 1 Pizza franchise could be for you.
It's a Canadian-owned and operated pizzeria that's looking to open more outlets in Asia. This creates more opportunities for people, considering that pizza is an all-time favourite food among the locals.
As their name suggests, this pizza restaurant offers affordable prices. This, coupled with their flavourful and crunchy pizzas make them the go-to for many customers, especially in Canada.
You'll be able to offer people a wide variety of pizzas as well as side dishes, and soft drinks. Many buyers can even order in bulk for an event or party, allowing you to earn more profit.
Here, the amount you need to invest is not very high; the given franchise fee will do for ten years, and the royalty fee will require you to pay 5 per cent of your gross sales.
Currently, the pizzeria has branches in Kuala Lumpur and is gradually growing given its international prominence.
And so, if you're interested in obtaining a franchise for Canadian 2 for 1 Pizza, you can enquire with Venice Franchise Holdings Sdn Bhd at this +60 3-7885 9053.
Wide variety of pizzas and side dishes
Gradually growing in Asia
Provides training and advice
Light royalty fee
Franchise is only starting in Malaysia
Relatively high capital cost
6) Dave's Deli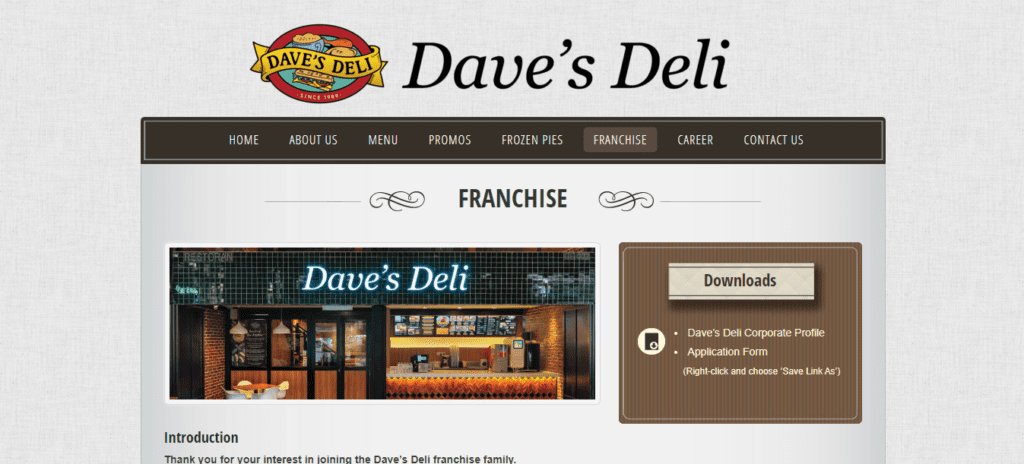 Dave's Deli's mission is to serve happiness through fresh, healthy, and affordable food that everyone can enjoy. For over 30 years of service, they have been recognized as one of the western restaurant chains with amazing food and a welcoming atmosphere.
What's great about them is that 90% of food supplied to different branches is from their central kitchen at Ara Damansara. In addition to this, they also have a satellite kitchen located at Penang for their Northern outlets.
In comparison to other restaurants, the size of their outlet restaurants is 1500 to 2500 square feet which can hold up to 80 to 15 people. With its unique design, your branch will definitely stand out from the rest.
Another reason why we recommend them is their affordable menu. The average money per meal is RM20.80, plus if it's delivery they only take less than 15 to get it done.
Unfortunately, their menu does not have that much dessert since they really focus on roasted chicken and main meals.
Easy to learn recipes
80% food and 20% beverages
10 outlets in Malaysia, 1 in Australia
Need to ontact the restaurant for initial capital
7) Yamaha Music School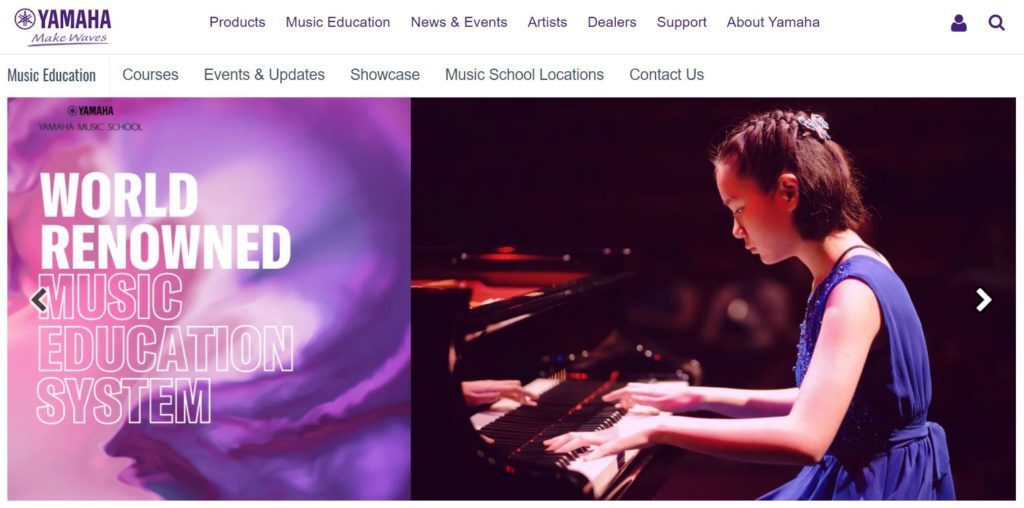 | | |
| --- | --- |
| Initial Capital | RM400,000 |
| Franchise Fee | RM50,000 |
| Royalties | Contact for more information |
| Contact no. | +60 3-7803 0900 |
| Website | https://my.yamaha.com/ |
Yamaha Music School is a company that provides all-around services when it comes to the music industry. May it be the production of high-quality musical instruments to developing teaching courses in the said field – this company will surely fulfill all your needs.
With over 50 years in the music field and industry, they continue to provide you with superb and advanced technology when it comes to crafting music and enjoying it as well. They are dedicated to sharing their expertise so you, along with many other individuals, may realize and find your passion in music no matter what form.
All of their teachers are highly passionate about music education. Aside from this, they are all trained and qualified musicians who are dedicated to encouraging your child's interest in music and developing the next generation of musicians.
We recommend this company for all of your musical needs due to their versatility and quality control when it comes to the products they produce and their commitment to quality services that will surely bring the best value out of your money.
Over 50 years in the industry
Brand consistency
Stakeholder policies are in place
High initial upfront capital
FAQs about the Top Franchises in Malaysia
---
And those were our best options for franchises in Malaysia. Given their reputation locally and overseas, they can give entrepreneurs great opportunities!
Have any questions or comments about our list? If you have one, kindly drop us a line and we'll reply to you promptly.
Not sure how you'll financially fare as a franchisee? No worries, for this, you can engage the best financial advisors in Malaysia to aid you in your decision-making.