Top 5 Appliance Repair Services in Kuala Lumpur
An appliance's lifespan usually ranges just below a decade. That's why, if you find your appliances on the fritz, a repair might be worth more than getting it replaced.
Unless it's on its last leg, you'll be getting back something that's good as new. To get that value out of your appliance, you'll have to find a good repair service to let you know if your appliance is worth saving.
In this article, we'll be listing appliance repair services – from refrigerator repairs down to general repairs – that you can call up if you happen to be in Kuala Lumpur.
How Much Do Appliance Repair Services Cost in KL?
The rates below show how much it may cost to repair various appliances. These figures will vary depending on the brand and type of your appliance, however keep in mind that they are likely to change!
| Service | Average Cost |
| --- | --- |
| Washing Machine | RM 200-450 |
| Dryer | RM 200-400 |
| Refrigerator | RM 500-900 |
| Airconditioner | RM 250-400 |
Best Appliance Repair Services in KL
We've got quite a few interesting picks for you today and we think that you'll agree! Before detailing them below, buckle up as we run through what was taken into consideration when coming up with these recommendations.
1. Profession Electronic Sales and Services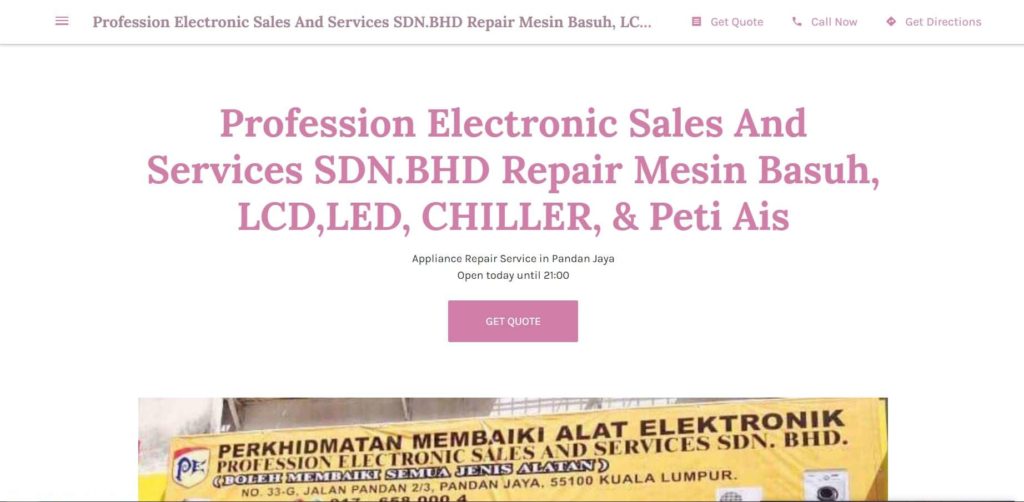 Test
Info
SERVICES
General Appliance Repairs, Secondhand Appliance Sales
WEBSITE
https://profession-electronic-sales-and.business.site/
ADDRESS
33-G, Jalan Pandan 2/3, Pandan Jaya 55100 Kuala Lumpur, Malaysia
CONTACT DETAILS
+60 13-705 0253
OPERATING HOURS
Mondays to Saturdays

10:00 AM to 9:00 PM
| | |
| --- | --- |
| Areas of Expertise | ★★★★★ |
| Customer Service | ★★★★☆ |
| Transparency | ★★★★☆ |
| Experience | ★★★★★ |
We can repair almost everything!
This is the promise that Profession Electronic Sales and Services offers to their clientele. Trust us when we say that these aren't just empty words.
The people at Profession Electronic Sales and Services take pride in offering quality home repair, restoration and maintenance services for all major and minor appliances of all makes and models.
Customers may enjoy the convenience of calling and setting up an appointment for their appliances to get repaired at a later time. The technicians will tell you about the fees related to your repairs ahead of time so there are no surprises when you arrive to pick it up.
They also offer online consultation through their Facebook Page. This means that you can get a quoted price for canvassing before you even go to their shop!
While they're reputed to be affordable, they don't have guaranteed warranty for the parts that they replace in your appliances unlike other services do. This may be risky if you're getting an expensive part replaced!
Overall, choosing Profession is a good choice if you're looking for a quick repair and are in town. When it comes to price, it's definitely one of the most competitive and could be the one that best fits your needs.
Affordable repair services
Excellent customer service
Quite far from downtown
No definite part warranty
Closed on Sundays
Customer Reviews
Very professional
Very fast response and professional. Solved my washing machine spinning & aircon noisy problem. The charges are worth for both problem. Recommended!! – Dongle Teh, Google Reviews
Trustworthy
Rohan is someone who I can always depend on. He's really skilful and does a professional service. Really trustworthy! Thanks Rohan all the best! – Sean Paldano
2. Tan Boon Ming Sdn Bhd (TBM)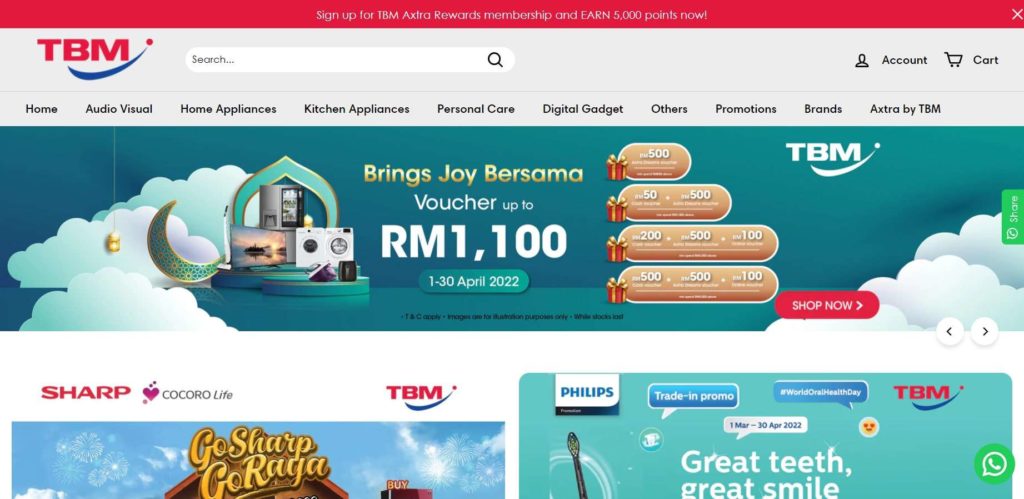 Test
Info
SERVICES
Electrical Appliance Retail, General Repair Services
WEBSITE
https://shop.tbm.com.my/
CONTACT DETAILS
+60 3-7983 3620
OPERATING HOURS
Mondays to Saturdays

9:00 AM to 6:00 PM
| | |
| --- | --- |
| Areas of Expertise | ★★★★☆ |
| Customer Service | ★★★★☆ |
| Transparency | ★★★★☆ |
| Experience | ★★★★★ |
TBM is a Malaysian family-owned business in Kuala Lumpur that has been providing appliance repair services to the city's residents for over 22 years. Their expertly trained technicians are equipped with all of the needed skillsets to be able to repair anything related to appliances, and they can lend a helping hand on a short notice.
Which is why reviews of their services recommend coming to TBM whenever you need repair work done. In fact, they are one of the most accessible appliance repair service providers in Jalan Klang Lama, Bangsar Baru, Cheras and neighboring areas.
What we like about their services is that they mainly offer genuine parts for repairs. These parts, in turn, have their original warranty and a year's worth of general warranty from the shop.
Do note that some of their clientele share sentiments about their repair services taking over 2 weeks at a time. This may be because TBM is now primarily an appliance retailer while also having access to specific spare parts for repairing.
While there's still some room to improve, TBM provides a solid service. Their extended warranty service is an excellent bonus for those who are worried that something might go wrong with their newly repaired appliances.
All-around repair services
Parts used for repairs are genuine
Long average repair time
Prices are somewhat higher than the average
Customer Reviews
Very helpful
I went here bringing my precious 6 years pressure cooker to get it fixed. The staff at the main counter was very very helpful and within 2 weeks i got back my cooker fixed! I really liked their service here. You can send any of your electronic items and they fixed it with an affordable price. – Sivaranjani Sukumaran, Google Reviews
Excellent service
From survey to purchase till delivery of the electrical items, the staff from TBM are patient and good in providing their services and advises. Special thank you to Noel from Setapak Central Mall who provided the excellent customer service. – Hs Loh
3. Mitsui Electrical Services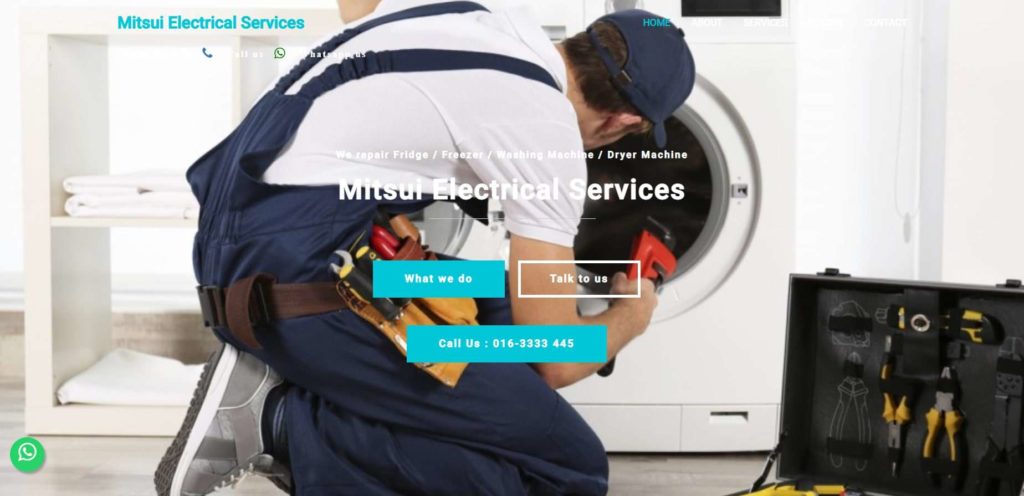 | Test | Info |
| --- | --- |
| SERVICES | Fridge Repair, Washing Machine Servicing, and Freezer Repair |
| WEBSITE | https://www.mitsuirepair.com/ |
| ADDRESS | 9-6, Apartment Prima Tiara 2, Jalan 6/38a, Taman Sri Sinar, 51200 Kuala Lumpur, Malaysia |
| CONTACT DETAILS | +60 16-333 3445 |
| OPERATING HOURS | Open 24 Hours |
| | |
| --- | --- |
| Areas of Expertise | ★★★★☆ |
| Customer Service | ★★★★☆ |
| Transparency | ★★★★★ |
| Experience | ★★★★☆ |
Despite being one of the younger servicing companies in Kuala Lumpur, Mitsui Electrical Services has earned our trust with its affordable and professional services.
Mitsui Electrical Services first opened its doors in 2017 as one of the fastest fridge repairing services in Kuala Lumpur. To be truthful, this is the limit of their servicing as they only do repairs for refrigerators and washing machines.
What we love the most about Mitsui is how they offer same-day service on most occasions, and their store is stocked with the tools and parts you'll need to get your appliance up and running again as soon as possible.

And if traveling is a hassle for you in your work life, they can even come to your home to repair your appliances!
Moreover, Mitsui offers a money-back guarantee to their customers as an after-service care should they be unsatisfied with their work. They also have a 1-year warranty offer for any parts used in their services.
While we're not a big fan of the fact that they have a limited range of appliances that they service, they're still a good choice for the quality of service they offer. Sof if you're in need of getting your fridge running ASAP, then they're definitely a service to go for.
Open 24/7
Offers same-day repair services
On-site repair services are available
Customer service via phone calls isn't the best
Limited repair services offered
Customer Reviews
Efficient and responsible
Fridge was not cold and the ice in my freezer was melting. Called Mr. Tan and he came over the same day. Changed the fan motor, but did not solve the problem. Called him the next morning, and he came over, this time more work done, no additional charges and problem finally solved. All in, efficient, responsible and reasonable price, comparing the price of a new fridge. – Hammond Lai, Google Reviews
Swift service
Thanks Mr Tan who detected the fridge issue in less than 5mins, got it repaired within 45mins and less. Contacted him at around 8am and managed to drop by to check at 11am. Very friendly person, very recommended!!! – Miow Fen Ong
4. ASR Electronics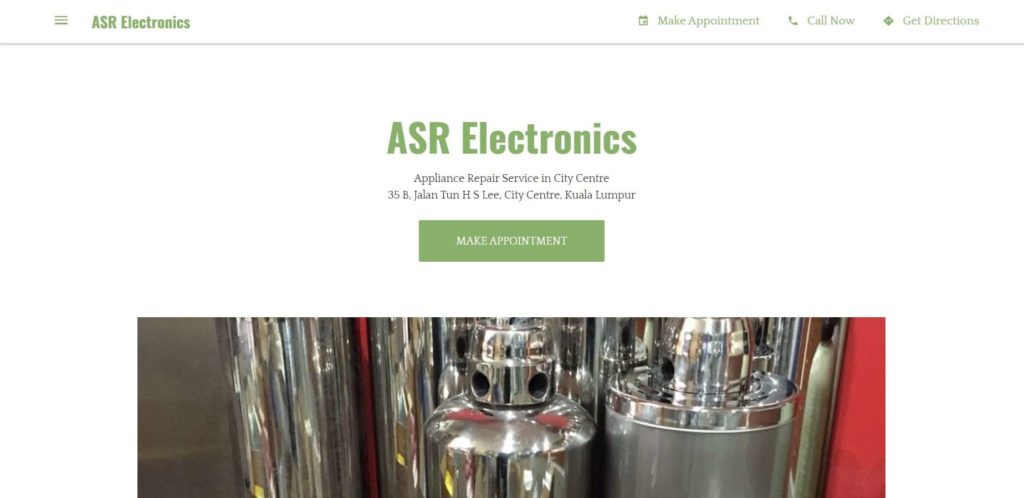 Test
Info
SERVICES
General Electronic Repair Services
WEBSITE
https://asr-electronics.business.site/
ADDRESS
35 B, Jalan Tun H S Lee, City Centre, 50100 Kuala Lumpur, Wilayah Persekutuan Kuala Lumpur, Malaysia
CONTACT DETAILS
+60 18-224 1623
OPERATING HOURS
Mondays to Sundays

9:00 AM to 9:00 PM
| | |
| --- | --- |
| Areas of Expertise | ★★★★★ |
| Customer Service | ★★★★☆ |
| Transparency | ★★★★☆ |
| Experience | ★★★★☆ |
When it comes to appliance repair, ASR Electronics is a newcomer to the scene. They are still new, having opened over three years ago, but do not mistake that for inexperience.
In those years, ASR Electronics has made a long history of being at the forefront of the appliance repair game in Kuala Lumpur. Regardless, clients will find their customer service representatives to be kind and knowledgeable about household appliances in general.
What we love the most about them is how they have an unparalleled reputation for providing exceptional services at a reasonable cost. It's also worth to note that the company's technicians can repair any appliance at your home or at the office.
If we had to nitpick something about them, it would be that the warranty that they offer their clientele are shorter than most services at the same pricepoint.
Other than that, it would be that they're shop is near a popular KL landmark. So if you're going to their physical store, be prepared to encounter some traffic along the way especially at peak hours.
Overall, ASR Electronics is a service to try if you're looking to get same-day services withing the heart of the city.
Competitive pricing
Offers on-site repair services  
Relatively new to the business
Short warranty
Customer Reviews
Amazing work at an affordable price
Excellent work. The guys are done amazing work. Well behaved also. My office have air-con and electricity problem thats why i am call this guys they also response me. Three people come here and solved my office air-con and electricity problem properly with cheap price. i am very happy by their work. Next time i must choose that guys for my any work. i recommended them. – Ramesh Babu, Google Reviews
5. MH Home Appliances Service & Repair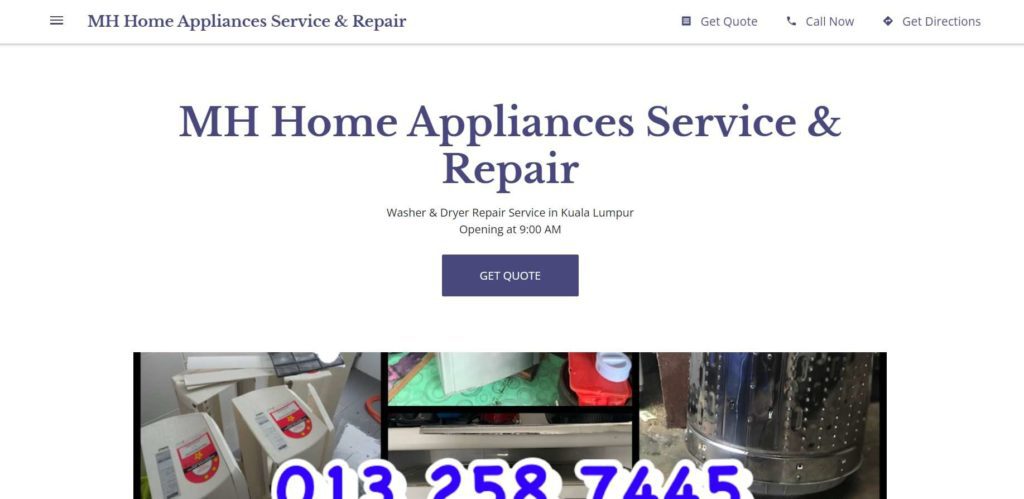 Test
Info
SERVICES
Washer and Dryer Repair Service
WEBSITE
https://mh-service-repair.business.site/
ADDRESS
82A, Lorong Kampung Pandan, Maluri, 55100 Kuala Lumpur, Wilayah Persekutuan Kuala Lumpur, Malaysia
CONTACT DETAILS
+60 13-258 7445
OPERATING HOURS
Mondays to Sundays

9:00 AM to 8:00 PM
| | |
| --- | --- |
| Areas of Expertise | ★★★☆ ☆ |
| Customer Service | ★★★★☆ |
| Transparency | ★★★★☆ |
| Experience | ★★★★☆ |
MH Home Appliances Service & Repair specializes in washer and dryer repair services. If you find yourself in a laundry emergency in Kuala Lumpur, this particular company is your best bet.
Their skilled technicians have the know-how and experience to keep your laundry equipment running at peak performance. Whether it be temperature control issues, electronic problems or other general issues, they can help you find a solution as soon as possible.
Our favorite thing about MH Home Appliances Service & Repair is how their staff are easy to contact.
The way that their prioritize their client's time when servicing is a plus too! To provide their services efficiently, customers can request a house visit instead of bringing their appliance to the shop.
The thing we're not so excited about them is the fact that they're niche and doesn't offer services outside their specialties.
On top of that, the parts that they offer in-store don't really have any service warranty offered. While this is something common among niche shops like MH Home Appliances Service & Repair, we would have loved to be guaranteed a checkup in the long run.
However, if those issues aren't a deal breaker for you, definitely give them a call next time you need a laundry fix-up ASAP.
Quick-response technicians
Open all week
Affordable services
No shop warranty offered
Service offered are niche
Customer Reviews
Extremely responsive
Mr. Hanafi is extremely responsive and punctual. Showed up 10 mins before the time was scheduled. Has great expertise in fixing washing machines, he was able to diagnose and fix the issue within 20 mins. His charges are also affordable. I would highly recommend Mr. Hanafi to fix washing machine related issues. – Prashant Gonga, Google Reviews
Highly recommended
Excellent services and very efficient technician (Mr. Hanafi). He was responsive and punctual. He was able to fix the issues swiftly Replaced the faulty item with original, high quality parts. Highly recommended 👍🏻 – Elza Maureen
FAQs about appliance repair services