6 Best Cat Boarding in Malaysia
When you need to leave your beloved cat for any length of time, it can be challenging to figure out where they will be taken care of. It is not uncommon for people to search for pet boarding when they're going away for an extended period of time.

So, if you're looking for the best place to have someone take care of your cat, then look no further!
To guarantee that your pet receives the best possible care, we have curated a list of the best cat boarding in Malaysia.
How much does cat boarding usually cost?
As loving dog owners, we want to give our pets the best, but finding the right boarding option can be challenging. Here's a compiled list of the prices to expect when looking for one:
Take note that costs may fluctuate depending on parts and availability.
Service
Average Cost
Luxury Rooms (with air conditioning)
RM150.00 for the first two cats

+ RM 65 for additional cats

Regular Rooms (with air conditioning)
RM 35 per cat
Private rooms
RM 95 for the first cat

+ RM 20-50 for additional cats

Daycare
RM 15-30 per cat
Best Cat Boarding in Malaysia
Here are some things to consider while comparing different boarding providers!
1. L Residence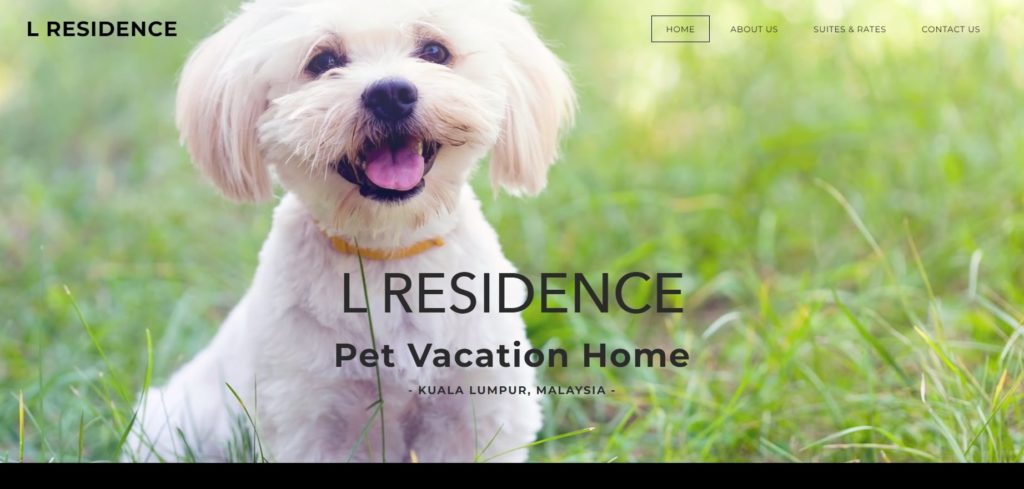 Test
Info
SERVICES
Grand Suite Vacation Home, 1-on-1 Play Session, Pet Music Therapy, Feeding, PlayPens
WEBSITE
https://www.petboardinghouse.com/
ADDRESS
Jln SS 1/11, Kampung Tunku, 47300 Petaling Jaya, Selangor, Malaysia
CONTACT DETAILS
+6017 364 8117
OPERATING HOURS
Open 24/7

Check in & Check out: 10:00 AM - 12:30 PM, 4:30 PM - 7:00 PM
| | |
| --- | --- |
| Amenities | ★★★★★ |
| Cost | ★★★★☆ |
| Staffing | ★★★★★ |
| Experience | ★★★★★ |
L Residence is a division of Pet Playground Cageless Pet Hotel, which is well-known for its customized pet services. They have earned a reputation as a clinic that handles cats, dogs, and rabbits with the utmost care in the six years since it opened.
They are known for offering high-end, opulent accommodations for their owners to stay in when on extended trips. Despite the fact that their branding looks to be geared at dogs, their staff is knowledgeable and prepared to meet your cat's every need throughout their stay.
With small and large pet rooms accessible to keep their feline family members comfortable, pet owners can relax knowing that their dogs are in good care. In fact, their rooms are equipped with air conditioning, a television, music equipment, and a selection of toys to make sure that your furbaby's stay is as comfy as it can be.
Their services may appear to be costly, but they are well worth it given how skillfully they do their services.
What we like best about their services is how they prioritize your pet's health by employing in-house pet nutritionists to deliver a well-balanced meal. They also provide innovative music therapy services to keep your dogs calm during the process.
Open 24/7 with specific check-in and check-out times
Has many choices for multiple pets boarded
Can house cats, dogs, and rabbits
May be pricey 
Primarily known for dog boarding
By appointment only
Customer Reviews
Cats are well-cared for even for long-time stays
"We sent our 2 elderly cats here when we moved overseas. They ended up staying longer than we expected which the pet hotel was very accommodating about. They were well cared for and we also used their services to relocate our pets to their new home. Very friendly, great care, and nice to have updates sent through. I highly recommend." – Sam Cockerill
Great pet hotel!
"Our fur family of 3 cats and 1 dog had a 3.5-day stay. Jeremy kept us up to date on how they were doing and even had some funny stories. One of our kitties apparently liked hiding under the rug. From the photos updates, we could see one cat and the dog was very Manja with the caretaker. I think the home environment made it less stressful for them and reassuring for the human family when we went for our holiday. Great pet hotel!" – Juliana Ng
2. Catzonia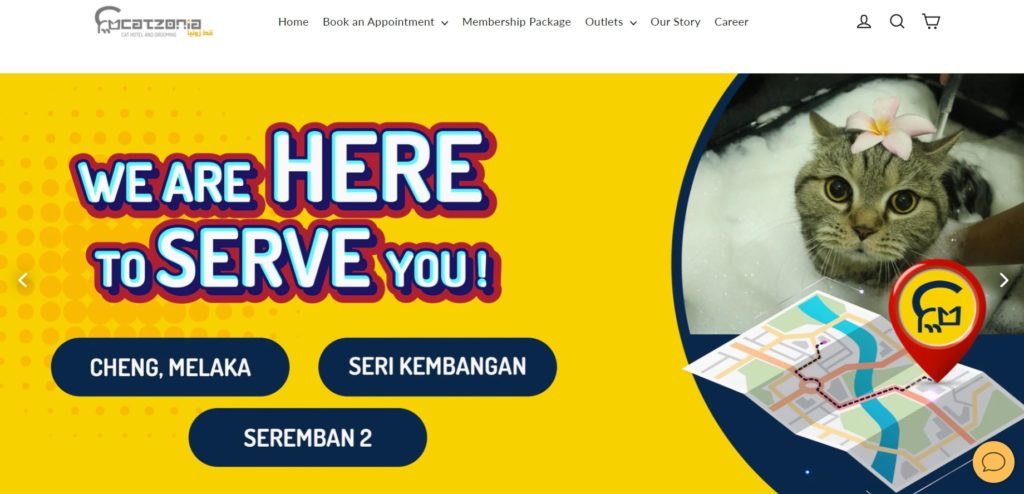 Test
Info
SERVICES
Shared Cat Boarding, Private Cat Boarding, Airconditioning, CCTV Surveillance, Grooming Services, Cat Spa
WEBSITE
https://www.catzonia.com/
ADDRESS

Damansara Perdana

E111 Metropolitan Square, 47820 Damansara Perdana, Petaling Jaya




Wangsa Maju

9, Jalan Wangsa Delima 13, Wangsa Maju, 53300 Kuala Lumpur, Wilayah Persekutuan Kuala Lumpur




Bangi

Unit 20 Ground Floor Bangi Gateway Shopping 43650, Complex Selangor




Shah Alam

G08 Block 2, Laman Seri Business Park Section 13 40100, Shah Alam




Johor Bahru

9, Jalan Mutiara Emas 10/2, Taman Mount Austin, 81100 Johor Bahru, Johor

CONTACT DETAILS
Tel: +60 13-222 9606

Email: [email protected]

OPERATING HOURS

Weekdays: 10:00 AM – 8:00 PM

Weekends: 10:00 AM – 7:00 PM

Wednesday: Closed
| | |
| --- | --- |
| Amenities | ★★★★☆ |
| Cost | ★★★★☆ |
| Staffing | ★★★★★ |
| Experience | ★★★★★ |
Catzonia is a cat boarding facility for every cat lover that wishes to maximize their cat's comfort. Catzonia allows our customers to have peace of mind by knowing their cats are receiving the best care possible!
Catzonia is an animal haven for cat lovers that emphasize the importance of providing luxurious accommodations for furry friends that will indulge kitty senses with modern deluxe rooms, spa services and products, and even a playground.
Catzonia is pet-approved and meets the highest standards in cage design for optimal comfort. They also provide the greatest pet-sitting and grooming services in the neighborhood, as well as a wide range of cat-themed merchandise.
As a dedicated cat boarding service, Catzonia is known to have 5 branches all around Malaysia with a couple more on the way! This means that wherever you may be, you can find one of their branches and avail their hassle-free services.
What we love about them is that they have CCTV services for their Very Important Cat units and above so you can keep an eye on your furbaby even when you're away.
We're kinda iffy by their membership-locked services like discounts and birthday packages. However, they do offer a good deal if you decide to avail them.
Offers CCTV services
Has cat spas, cat grooming, and cat boarding in one place
Membership-locked benefits
Limited services for the more affordable rooms
Customer Reviews
Reasonable price and packages
"I've been sending my cats to Catzonia when I only have 2 cats and until now I have 6 cats in total. Their service is great with a reasonable package and price. They provide kibbles and play time for the cats. You can get daily updates through the CCTV too. The most important thing is their customer service is awesome, friendly, and reliable for me. I will definitely use their service in the future! 😸" – Sam Cockerill
Great services
"Great service and friendly staff who are very skilled with cats. Boarded my two cats in the VIC room which allows me access to watch my babies through their cameras. Very prompt in replying and responding to texts. Thanks, kakak2!" – Eza Tajul
3. Kitty Hotel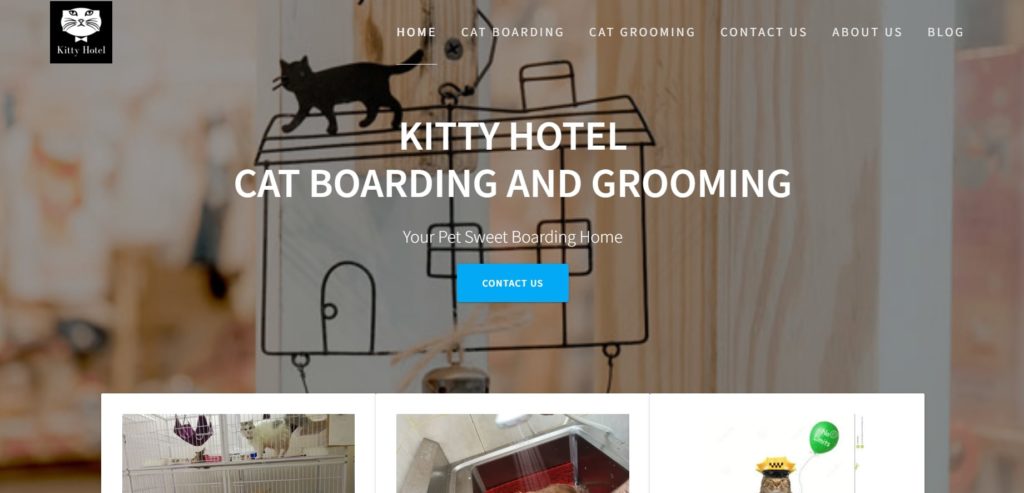 Test
Info
SERVICES
Cat Boarding, Kong-term Boarding, Cat Grooming, Fungus Treatment, Flea Treatment
WEBSITE
https://www.petskitty.com/
ADDRESS
Kitty Hotel, No.88, Ground Floor, Galaxy Ampang Mall, Jalan Dagang 5, Taman Dagang, 68000 Ampang Selangor, Malaysia
CONTACT DETAILS
0173990549
OPERATING HOURS

Weekdays: 10:00 AM – 6:00 PM

Weekends: 10:00 AM – 6:00 PM

Wednesday: Closed
| | |
| --- | --- |
| Amenities | ★★★☆☆ |
| Cost | ★★★★★ |
| Staffing | ★★★★★ |
| Experience | ★★★★☆ |
Kitty Hotel is one of the most affordable cat boarding services in Malaysia. But don't worry because they don't sacrifice quality to achieve such prices!
Kitty Hotel in Ampang is a luxuriously clean cat boarding and cat grooming facility that is sure to tickle your pet's fancy.
Not only is it a place for your pet to stay while you're away, but it's a fun place where they can get all the treatment they need, including a bath and a haircut, and feel comfortable in the clean and hygienic environment.
There are several types of rooms available for cats to stay in, depending on how long they need to stay. The staff are all cat lovers who will take great care of your kitty when you have to be away from them
You'll be able to rest assured knowing that your cat is going to be in safe hands at Kitty Hotel. This means you can go on with your life knowing that you left them in the care of some of the best professionals out there.
If we had to nitpick something about them, it would be that they use cages for boarding and may require you to provide food for your cat during your stay. Of course, this comes with the affordability that other services lack.
Affordable boarding prices
Long-term boarding is qualified for discounts
Cage-style accommodations
Owner may need to provide own cat food to cut costs
Customer Reviews
Strongly recommended!
"Located at a strategic area but serene, easy access, plenty of places to park & can sense Lynn is really passionate about cats based on her explanations about them. Affordable price too. My kitty smells wonderful after her grooming session. My plan is to try for boarding the next time I have to be out of town. Strongly recommended!" – Reez A. Sam
Affordable and hygienic
"Glad that I found this place. The price is affordable. My cat smelt really nice.Fast reply within minutes. Easy and free parking for dropping and picking up my cats. The owner is so friendly and helpful. They even show us their own cat and allow us to play with them. Strongly recommended cause all cat cage is so clean and spacious. Even their cat litter is clean. No poop marks." – Siti Fatimah Zaharah Safar
4. Māobulous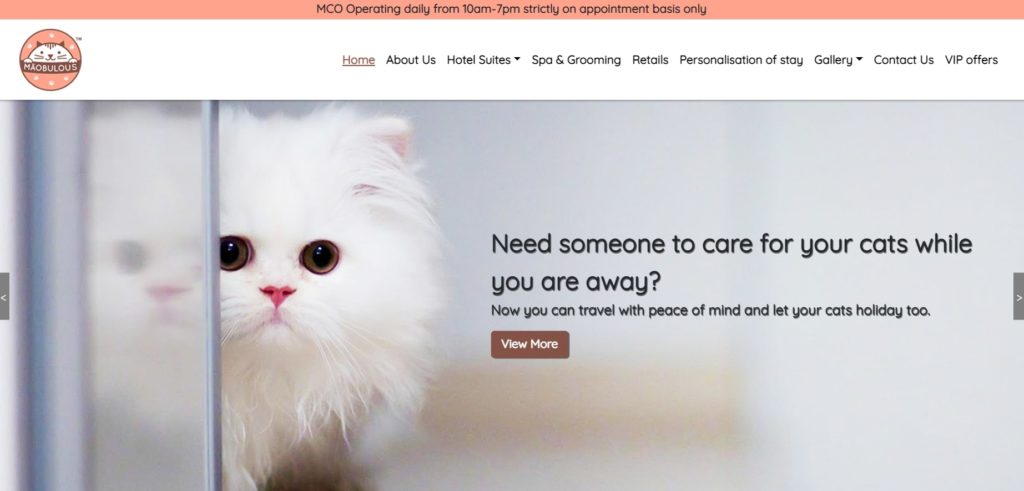 Test
Info
SERVICES
Cat Boarding, Luxury Boarding, Air Conditioning, Music Therapy, Dedicated Play Lounge & Scratching Post, Cat Grooming, Cat Spa
WEBSITE
https://maobulous.com/
ADDRESS
No. 27, Jalan SS 18/6, Ss18, 47500 Subang Jaya, Selangor
CONTACT DETAILS

Tel: 03-74940601
Whatsapp: 018-3616888
Email: [email protected]

OPERATING HOURS

Weekdays: 10:00 AM – 7:00 PM

Weekends: 10:00 AM – 7:00 PM
| | |
| --- | --- |
| Amenities | ★★★★★ |
| Cost | ★★★★☆ |
| Staffing | ★★★★★ |
| Experience | ★★★★☆ |
Māobulous offers a cat boarding hotel so timeless and serene, that it will make your cats feel right at home. Modern in their own way, but traditional at heart,, this feline accommodation offers guests everything they could desire in the lap of luxury.
The open veranda windows of their luxury rooms offer great views of the surrounding grounds and give plenty of room for your furry babies to play. Not only that, but all their suites offer air-conditioned rooms, ventilation, personalized scratch posts, and many more!
Māobulous also caters to the needs of our fluffy feline friends with experts in placating fussiness and calming those who have been known to stress out in the past.

If so desired, your cat can even experience spa baths, gentle cat grooming, nail trimming, and individual toy time with special attention!
This cat haven has been designed by experienced cat owners so that everyone may enjoy the comfort and wholesome nature offered. Your precious pets will be looked after and will never want for anything!
We would have loved it if their base prices were available on their websites, and not just the discounts offered to VIP clients as this could help future clients decide on boarding their cats.
Open all days of the week
VIP discounts for extended stays
No prices available on the website
No walk-ins
Customer Reviews
Quality service
"I would recommend everything about Maobulous, from their spa service to boarding service. This place is super clean and the staff is super friendly! They will answer any inquiry or concern that you have for your pets. Maobulous is our go-to place now. Ever since we discovered this place we don't go anywhere else. Only the best for my cats. Quality service, highly recommended!" – Haifa Roslan
Meticulous staff
"Miko and Milo spent their weekend last week at this pet hotel. The service was good. May have to spend some time filling in all the forms, but at least you know your furkids will be taken care of well. They will post pics on Facebook and Insta, so you can see your furkids there. Grooming, especially nail clipping was done well. Will go there again whenever I go on my weekend escapades." – Dila Hamid
5. Neko Inn Premium Cat Hotel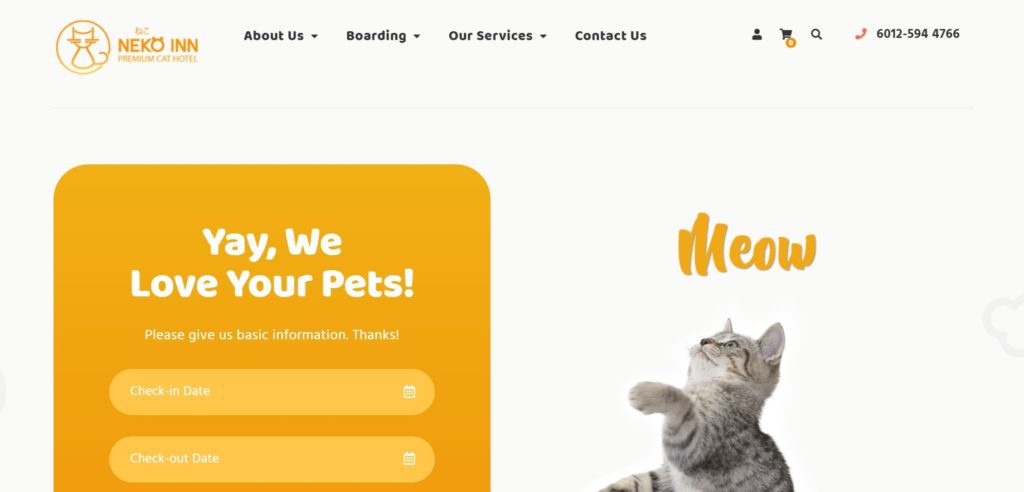 Test
Info
SERVICES
Private Cat Suites, Airconditioning, Play Time, Soft Music 24 / 7, Tofu Clumping Cat Litter, Shared Pet Suites
WEBSITE
https://www.nekoinn.com/
ADDRESS
72-2-09 Arena Curve, Jalan Mahsuri, 11950 Bayan Bahru, Penang
CONTACT DETAILS
Tel/Whatsapp: +6012 – 594 4766

Email: [email protected]

OPERATING HOURS
Monday to Saturday: 10:00 AM – 6:00 PM

Sunday: 10:00 AM – 2:00 PM
| | |
| --- | --- |
| Amenities | ★★★★★ |
| Cost | ★★★★☆ |
| Staffing | ★★★★★ |
| Experience | ★★★★☆ |
Neko Inn is one of the most reputable premium cat hotels in Penang. It takes special care of felines and provides them with everything they need to enjoy their stay.

Neko Inn is a cat hotel solely centered on providing the best experience for cats. In fact, they pride themselves to be 100% canine-free even when they're situated in the middle of the city!

Some of the services include a big play area, plenty of toys and cat food, environmentally safe cleaning products, as well as many other cat-friendly services such as daily grooming services.

Their private suites are large, climate-controlled rooms that provide your pet with a comfortable and cozy place to stay. Each private suite has its own soft bed for your pet to sleep in and is cleaned by our staff daily.

What we love the most about Neko Inn is how their boarding suites' layout resembles what a home environment would look like. This can greatly help your cat adjust easily to being boarded no matter how long they need to stay.

Do note, however, that unlike the other boarding services listed, they don't have clear discount offers for long-term cat boarding.

Affordable boarding prices
Accommodates a maximum of 6 cats for their bigger rooms
All rooms have CCTV feeds
No discounts for long-term stays
No in-house veterinarians
Customer Reviews
Feels safe and comfortable
"Staffs are definitely friendly and helpful. The place is so clean, well maintained, spacious, and of course, sanitized. My cat looked comfortable staying there for 4 days after adjusting herself. Each room has its own IP camera where owners can monitor and communicate with their furbaby. Price is affordable and the security 💯. I feel safe leaving my cat at Neko Inn. Highly recommended !! Definitely will drop my cat again in the future." – Fasiha Abd Halim
Tremendously clean and odor-free
"Tremendously clean and odor-free cat-only grooming services, perfect for my precious ones! The staff and groomer are so nice and very helpful.  Also won't hesitate to bring my cats here during my next long trip." – Polly Tsang
6. 88 Pets Mart Sdn. Bhd.
SERVICES
Pet Hotel:
Dog Hotel & Day Care
Cat Hotel
Small Animal Hotel
Pet Grooming:
Dog Grooming
Cat Grooming
Small Animal Grooming
WEBSITE
https://www.88petsmart.com/
ADDRESS
20 & 22, Jln PJU 1/3D, Sunwaymas Commercial Centre, 47301, Petaling Jaya, Malaysia.
CONTACT DETAILS
+603-7805-447888
[email protected]
OPERATING HOURS
Monday – Friday, 10:00 AM – 7 PM
Saturday, 9:00 AM – 7 PM
| | |
| --- | --- |
| Amenities | ★★★★★ |
| Cost | ★★★★☆ |
| Staffing | ★★★★★ |
| Experience | ★★★★☆ |
In 1985, 88 Pets Mart Sdn Bhd was established and for over 30 years, they have dedicated themselves to delivering delight to you and your pet. Their goal is to be the one-stop online pet supplies store for all of your pet's requirements. 
They make shopping quick, convenient, and timely with 88 Pets Mart. At their online pet supplies store, you may find kibbles, wet food, toys, carriers, and other items for your pets. 88 Pets Mart's professional team is dedicated to constant improvement and client satisfaction.
They hope to promote pets' well-being and quality of life by providing an easy and cost-effective internet portal for their people. They also offer pet boarding for folks who are traveling with their pets.
In their developing relationship with their companions, they hope to educate and inform pet owners that there is more they can do to provide a high-quality living for their pets. They provide the whole spectrum of supplies that our pets need, while their pet services are also tailored to the specific needs of dogs, cats, and small animals. 
Experienced staff
Tailor-made service
Provides a wide range of services
Customer Reviews
Love bringing my dog Brownie here.
"Love bringing my dog Brownie here. My dog is very shy and does not like to mix around. However, he loves to go there and mix around with the dogs and staff. They have the best grooming and hotel services.They ensure my pet is comfortable and daily updating at all times to the owners. Staff here are very caring and friendly as well. Keep up the work!" – Andrea Loh
My go-to pet hotel for when I need someone to take care of my Tofu.
"My go-to pet hotel for when I need someone to take care of my Tofu. I really appreciate the daily updates through photos/videos and voice messages. The place is clean and well-kept – I usually book the Large room – and the staff are gentle and friendly. They also take precautions, like ensuring your pet gets a flea/lice spot-on treatment at check-in. Very happy with their service!" – Hanis Maketab
FAQs about Cat Boarding