The 5 Best Bed Frame Choices for Your Abode
Sometimes, picking a bed frame can make or break the aesthetics of your bedroom alongside your choice of bedsheets, decor, pillows, and mattress. Investing in a bed frame can also help you future-proof your bedroom layout for years to come.
To guide you through this dilemma, we've combed through dozens of bed frame choices. Below, you'll find our in-depth reviews to help you find the one for your home.
Top Bed Frames to Choose From
There's no doubt that there are a lot of bed frames in online catalogs and furniture boutiques for anyone to choose from. But before seeking one out, one should set a couple of standards to meet.
Fret not because we've got your back in this one. Listed below are the qualities that we kept in mind when picking:
1. The Bed Frame by Floyd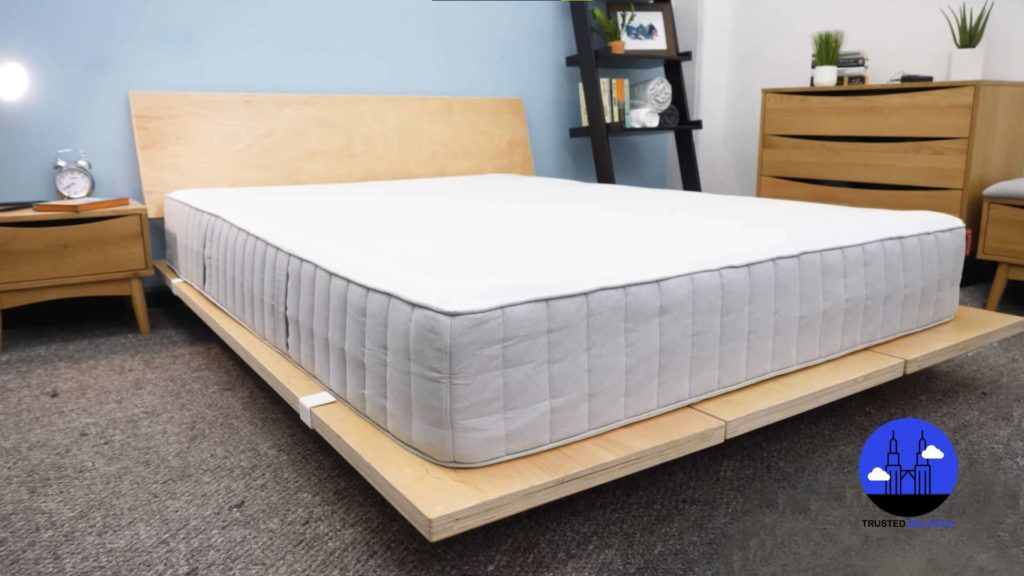 | Test | Info |
| --- | --- |
| DIMENSIONS | 67" x 86" (1.70m x 2.18m) |
| WEIGHT | 600 lb (approx. 272 kg) |
| MATERIAL | Birch Plywood, Powder-Coated Steel, Nylon Rachet Straps |
| PRICE | $1375 |
| | |
| --- | --- |
| Criteria | Ratings |
| Durability | ★★★★☆ |
| Price | ★★★☆☆ |
| Assembly | ★★★★★ |
| Versatility | ★★★★☆ |
Get it from FloydHome.
At first glance, The Bed Frame by Floyd looks like your run-of-the-mill Instagrammable bed frame with its minimalistic wooden furniture. But, oh boy, does it pack a lot more than how it looks.
One of our favorite things about this bed frame is how versatile it looks – whether you want to have it in a bedroom in a cabin or even upstate. Its minimalistic build allows you to build on its design to fit your aesthetics, which is a major plus in our books.
No matter what your preferred mattress size is, The Bed Frame by Floyd allows so much customizability that you can even fit a king-sized bed if you wish. You can even add a storage drawer underneath the base if you need extra space!
Though it looks simple and all, don't let its appearance deceive you. The Bed Frame promises sturdiness with real birch tree plywood as its base and high-quality steel as its support.
The only downside about all of this is that the package tends to be rather heavy. If you live on the higher floors of your building, you might have a hard time getting it home even with the help of strong people.
Overall, it's a good choice for anyone who wants a simple bedroom setup without having to worry about your bed breaking down on you.
Highly customizable
Requires little to no tools to assemble
Made of high-quality materials
Moderately pricey
Might make redecorating tedious because of its weight
Customer Reviews
Magic of the internet
Ordering this solid, attractive bed—headboard, storage, mattress, and all—is very easy. The magic of the internet! It will arrive at your front door in clearly labeled boxes, that you may or may not need help with. Plus, there isn't an obscene amount of packaging. Assembly isn't as easy as they make it look in the ads, but it also doesn't take more than an hour. If you've done some stretching beforehand, even better: Getting that strap secured under the low-profile bed takes some on-the-floor wiggling. The hardest part was getting all the parts up four flights of stairs, and that may not even apply to you! – Zoë Sessums, Clever
2. The Bed by Thuma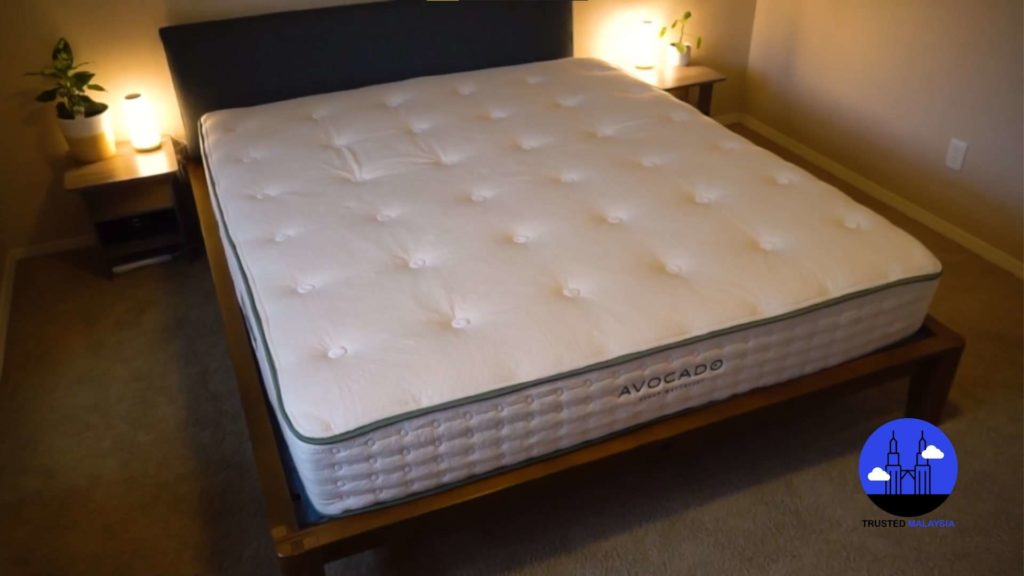 Test
Info
DIMENSIONS

Twin (39" x 75" / 1.00m x 1.90m)

Full (54" x 75" / 1.37m x 1.90m)

Queen (60" x 80" / 1.52m x 2.03m)

King (76" x 80" / 1.93m x 2.03m)

CA King (72" x 84" / 1,83 x 2.13m)

WEIGHT
1,500 lbs (680.39kg)
MATERIAL
Upcycled Rubberwood
PRICE

Twin: $695

Full: $895

Queen: $995

King: $1,095

CA King: $1,095
| | |
| --- | --- |
| Criteria | Ratings |
| Durability | ★★★★★ |
| Price | ★★★★☆ |
| Assembly | ★★★★★ |
| Versatility | ★★★★☆ |
Get it from Thuma.
The Bed by Thuma might be one of the frames you've heard of before as it's been raved on and on about by different internet personalities and websites. And, quite frankly, we think the clout is well-deserved!
This bed frame is an absolute must-have if you're looking for a midcentury-esque solid-base platform bed frame with an added cushioned headboard that doesn't sacrifice aesthetic for functionality. Since it's a low-profile bed, it's also perfect for smaller-sized bedrooms.
But the thing that we love the most about this bed frame is that it needs absolutely no additional tools and takes only a few minutes to build. Building the frame was as simple as attaching the legs onto the frame and laying the wooden slats over it.
If we had to nitpick something about this piece, we would have liked to see a higher cushion headboard. Of course, this wouldn't be much of an issue unless you like doing your work in bed or reading books before sleeping.
While being not the most budget-friendly bed frame out there, countless reviews would agree that The Bed by Thuma is a great investment to make. Even if you had to move houses, you wouldn't have any trouble with disassembling it and getting it to your next place.
To sum it up, The Bed is something we could easily recommend for someone to get if the frame is within your budget. Its seamless assembly process and eco-friendliness are of peak modern design.
Takes a short time to assemble and disassemble
Uses sustainable and upcycled materials
Moderately pricey
Headboard falls a bit short in height
Customer Reviews
Well-crafted and thoughtfully designed
I found the Thuma bed frame to be well-crafted and thoughtfully designed. It's solid, eco-friendly, and beautiful. Since putting it together, we've taken it apart and reassembled it again while moving apartments, and it was just as seamless and easy. Starting at $795 and going up to $1,195 for a king-sized bed like ours, it's certainly an expensive investment and a high-end alternative to its more affordable competitors. But I'm confident it's a piece of furniture we'll have for many years to come. – Emily Hochberg, Insider
3. IKEA NORDLI Bed (Queen Size)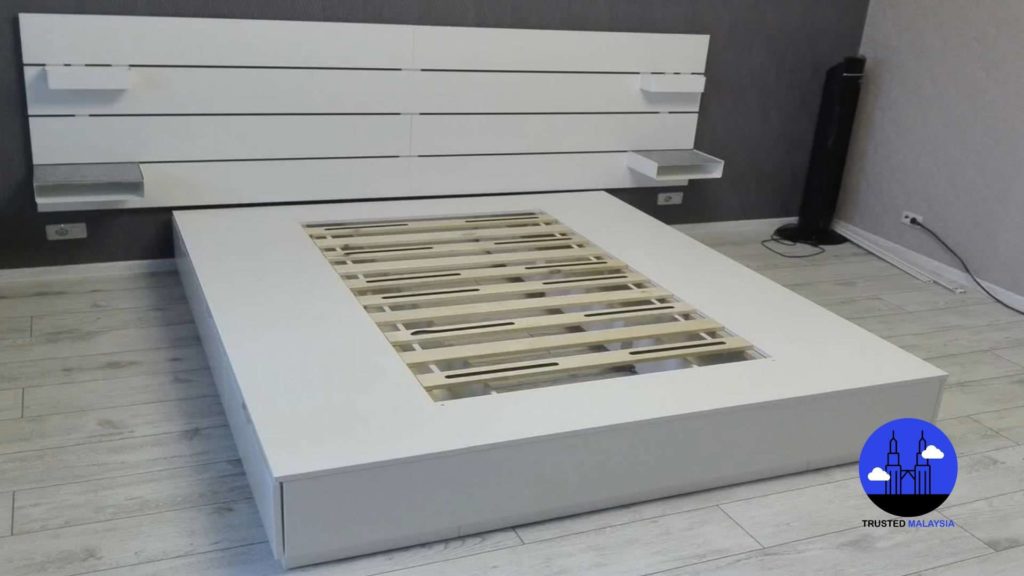 Test
Info
DIMENSIONS

Overall: 79 1/2" x 63"

Platform height: 11 3/4

Storage drawers width: 26 1/2"

WEIGHT
Approximately 500 lb (226.80 kg)
MATERIAL
Particleboard, Fiberboard, Solid Birch Rails
PRICE
$399
| | |
| --- | --- |
| Criteria | Ratings |
| Durability | ★★★★☆ |
| Price | ★★★★★ |
| Assembly | ★★★☆☆ |
| Versatility | ★★★★★ |
Get it from IKEA.
Coming in third is the IKEA NORDLI bed, which is probably the most budget-friendly bed frame on our list. In fact, a lot of NORDLI users are pleased with their storage beds, stating that they are of amazing quality for the price.
Other than its affordability, it earned its spot by being space-efficient, having 6 drawers (3 on either side) under its slats. This allows for more storage space that one might need in smaller bedrooms.
The clean, clear white finish brightens any space and matches any neutral color scheme. We're totally in love with the fact that this bed frame will look amazing in any bedroom, whether it is classic, minimalist, or contemporary.
Since the bed is pretty weighted and has pretty stable bases, best expect that this bed frame won't creak when you're getting a well-deserved snooze.
Perhaps, the only downside with this bed frame is how it isn't that easy to assemble with all the parts that go into it. This also means that this frame is relatively heavier than other types of bed frames.
In totality, the NORDLI bed frame from IKEA is a wonderful choice for people who want a comfortable bed with plenty of storage space. Plus, it offers a versatile design that teenagers and even grown-ups can utilize.
Good quality for its price
Increased storage space, especially for tight rooms
Difficult to assemble
Pretty weighty and difficult to move
Customer Reviews
Amazing
We ended up buying Nordli and we love it! No squeaky sound or any other issue. Our floor isn't flat, but that doesn't make the bed squeaky or shaky, either. I thought the headboard was ugly looking at the pictures but bought it anyway. And it turns out amazing, too! We are very happy with the bed! – WhoseverFish, Reddit
Very functional and stable
This frame is excellent and very good quality and very very functional since the drawers work as a storage for everything. It is stable and does not move at all. you will need at least 3 hours to finish it, meantime, enjoy the process and listen to nice music. – Leonardo, IKEA
4. Habitat Blissford Four-Poster Bed Frame (King Size)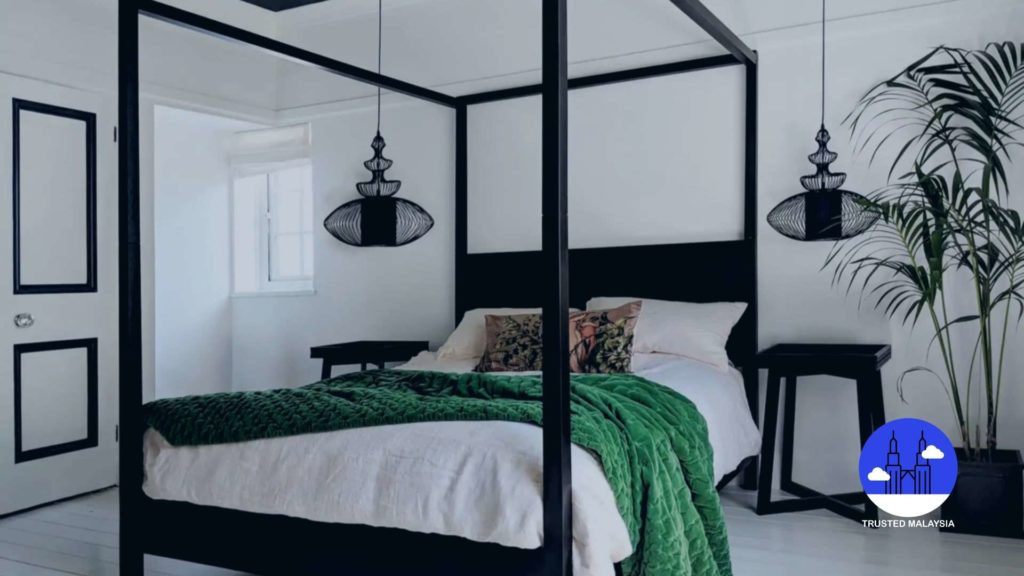 | Test | Info |
| --- | --- |
| DIMENSIONS | 63" x 78 ¾" x 78 ¾" (1.60m x 2.00m x 2.00m) |
| WEIGHT | 500 lb (226.80kg) |
| MATERIAL | Particleboard, Fiberboard, Solid Birch Rails |
| PRICE | $638 |
| | |
| --- | --- |
| Criteria | Ratings |
| Durability | ★★★☆☆ |
| Price | ★★★★★ |
| Assembly | ★★★☆☆ |
| Versatility | ★★★★☆ |
Get it from Argo.
In recent years, we've seen the hype for classical-themed entertainment on the rise, one of which is the Netflix Original Bridgerton. Along with this is the resurgence of the four-poster bed frames in the market.
If you're looking for a bed frame while going for the Regency era vibes, then the Habitat Blissford Four-Poster Bed Frame might just be for you.
We were immediately charmed by Habitat's four-poster bed, which is simple, sleek, and streamlined – not to mention reasonably priced. The light pine frame also has an integrated headboard for you to rest against when sitting up.
Additionally, it was charming how the legs are subtly arched and the fittings are skillfully hidden so that the bed's sleek and stylish aesthetics are not compromised.
However, as some reviews would suggest, it would be best to add support to the slats as they may seem flimsy to others. This also means that you wouldn't be able to put on too much weight on the bed on top of the mattress.
To conclude, if you're looking for a budget statement bed frame with decent durability, then you should definitely look into Habitat Blissford Four-Poster Bed Frame. It can also fit low ceilings quite well, but make sure to measure your room before thinking of getting one.
Great value for the cost
Instagram-worthy
Flimsy slats
White finish can easily get stained
Customer Reviews
Good quality for the price
Just done a much-needed overhaul of my bedroom, certainly not disappointed with this choice of bed, needs two to construct, but sturdy and definitely good quality for the price and gives the look I was aiming for. – Matt, Eastbourne
Great value
I was really happy with the bed, for the price there was no other 4 poster that come close to this one for value for money, great quality and a respectable price. Assembly was easy enough the pieces are numbered and I even managed to put it together on my own although, I would not recommend this to someone who's not the handy type. – Smithy, Cheshire
5. Nectar Adjustable Bed Frame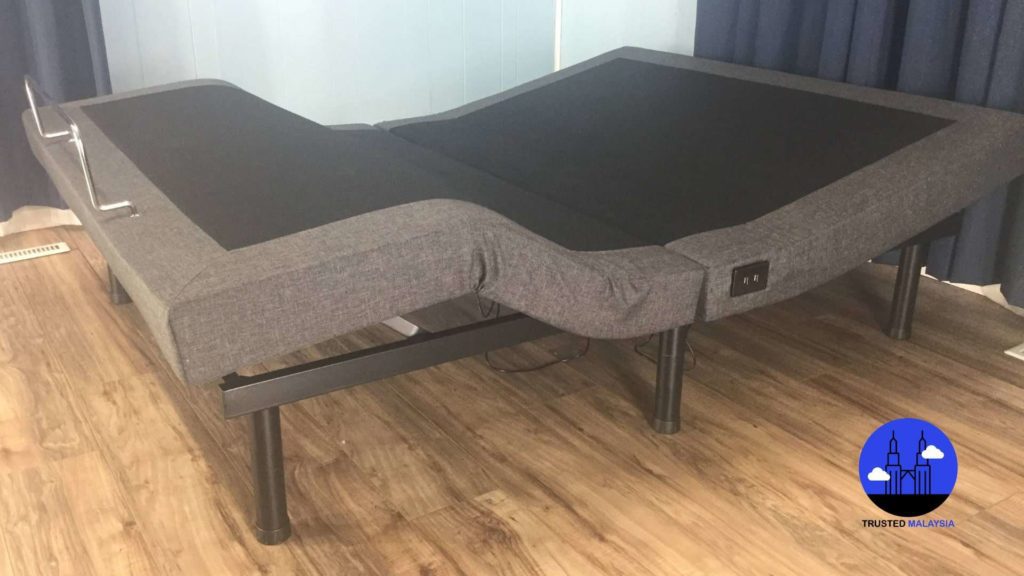 Test
Info
DIMENSIONS

Twin XL: 39" x 80" x 15" (1.00m x 2.03m x 0.38m)

Full: 54" x 75" x 15" (1.37m x 1.91m x 0.38m)

Split King: 78" x 80" x 15" (1.98m x 2.03m x 0.38m)

WEIGHT
1000 lb (453.60 kg)
MATERIAL
Dura-mesh Resin
PRICE

Twin XL: $849

Full: $899

Split King: $1,698
| | |
| --- | --- |
| Criteria | Ratings |
| Durability | ★★★★★ |
| Price | ★★★★☆ |
| Assembly | ★★★★☆ |
| Versatility | ★★★☆ ☆ |
Get it from Argo.
Even though an adjustable bed frame is not absolutely necessary for any bedroom, having one has been said to improve sleep quality. For starters, the Nectar Adjustable Bed Frame is a highly regarded adjustable bed frame for its build and price.
With your package comes a remote control, so you can adjust your bed frame without having to move around too much. The remote is pre-programmed to work with the base and has a number of options.
To begin with, the Nectar Adjustable Bed Frame has a lot more features than its competitors, such as a massager and zero gravity mode. For a reasonable amount of money, you may have access to features that relieve back pain while increasing circulation.
Plus, setting the bed frame up isn't much of a hassle. Just make sure that you've got over thirty minutes of your time to set it up, and an extra pair of hands to lend you help.
While it's rather quirky, we loved that you're given USB ports on the bed to charge your phone with when you're feeling too relaxed from the massage settings that the bed offers.
One thing that we're not super happy about is their customer service. They're quite difficult to reach as they outsource their customer service hotlines.
Overall, the Nectar Adjustable Bed Frame is a good choice if you want to elevate your sleeping experience. Just hope that you won't have to deal with their customer services hotline by directly communicating with them through email.
Extra massaging features
Most budget-friendly adjustable bed
Shipped in one package
Not the best customer service
Setting up takes a long time
Customer Reviews
Relaxing
I've had this for a month now, and let me tell you! I will never sleep on a flat bed frame again!! I have the Titan mattress(built for heavy people) and it's perfect on this frame. All the options are amazing, I love the wireless remote with the flashlight, and I love the massage function. It's not like a real "massage" but it is relaxing. Best Sleep of my Life! Easy to set up, better with 2 people. It is heavy. But I love it, I feel like I'm sleeping on a cloud. – Stephanie H.
FAQs about bed frames