Royal Belum State Park Camping Tips
Every camper dreams of exploring the great outdoors and spending a night or two in the middle of its natural landscapes. As die-hard explorers ourselves, we've visited some of the most beautiful camping sites in the world but for us, nothing beats Royal Belum State Park.
This gigantic rainforest in Peninsular Malaysia is the most fulfilling place to spend numerous days in because of everything it offers. It's filled with beautiful landscapes, unspoiled wildlife and of course, hiking trails.
If you're planning to add this state park to your list of conquered places around the world, you've come to the right place. Below is a curated camping guide that you can use to your advantage when you eventually get the chance to visit, so keep on reading to learn more!
Things You Need to Know about Royal Belum State Park
Before spending a night or two in this state park and adding it to your list of conquered camping sites, here are a few things you may want to know about it:
It's a Unesco World Heritage Site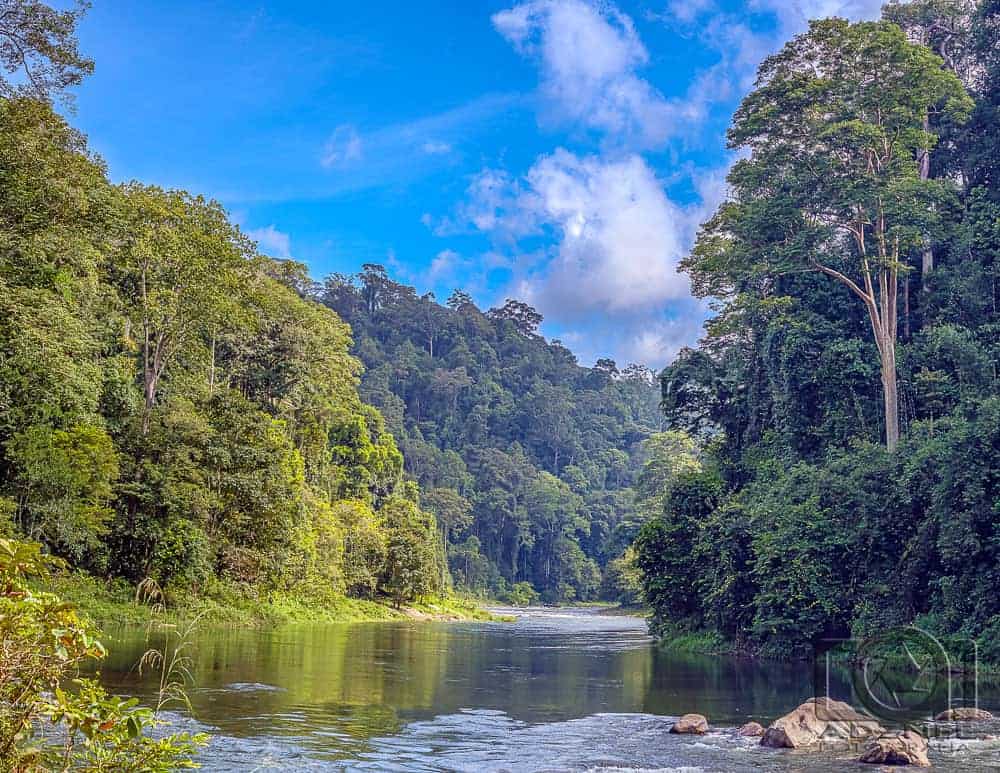 One of the most important things you need to know about Royal Belum State Park is that it's a UNESCO World Heritage Site. UNESCO World Heritage Sites are preserved for different reasons from scientific to historical or any kind of significance.
In the case of Royal Belum State Park, it is being conserved for its biodiversity. It's a hotspot for different species of animals and plants, some of which are rare or endangered which is why you'll likely come across them during your camping trip.
With that in mind, it's highly recommended to avoid doing any kind of damage to the conserved land. We recommend following the "leave no trace" rule, which means not leaving any trash behind, especially when you're packing up your campsite.
Additionally, please refrain from marking your territory in any kind of way such as carving out your initials on trees.
A park permit Is required to access the state park completely
Before visiting Royal Belum State Park, make sure to process your park permit at least a week before your actual camping trip. This way, you can access the park as a whole and enjoy everything that it offers from the waterfalls to the lakes, trails and more.
Entry permits can be downloaded as a PDF from the Royal Belum official website. This is also where you can get other forms such as camping approval for outside royal state park camps.
We recommend making this a necessity for your camping trip. Campers won't be allowed to explore some areas of the state park without this permit.
It's home to untouched wildlife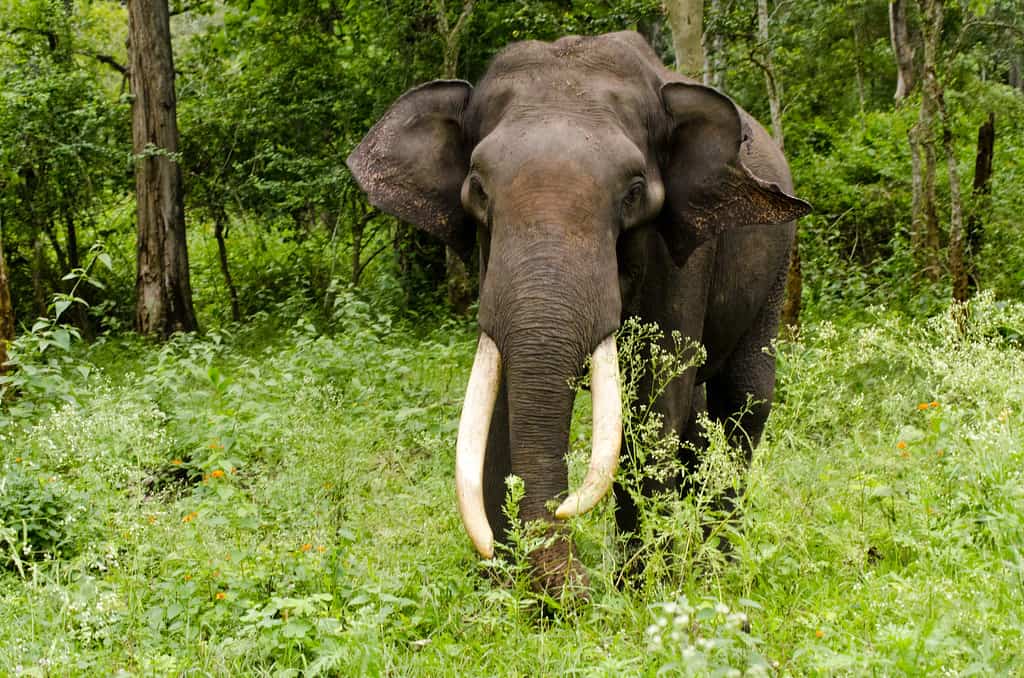 As mentioned earlier, Royal Belum State Park features diverse ecosystems. Some of the rare species of animals and plants that you can expect to see during your camping trip here include:
Rafflesia (Corpse Flower)
Asian Elephant
Malayan Tiger
Malayan Tapir
Hornbills
These are just barely scratching the surface of what you'll encounter in the state park. Belum is also home to different species of moths, snakes, toads, birds and more.
Keep your distance when observing these animals from your camp. This way, you don't accidentally spook them with your presence.
Royal Belum State Park is massive!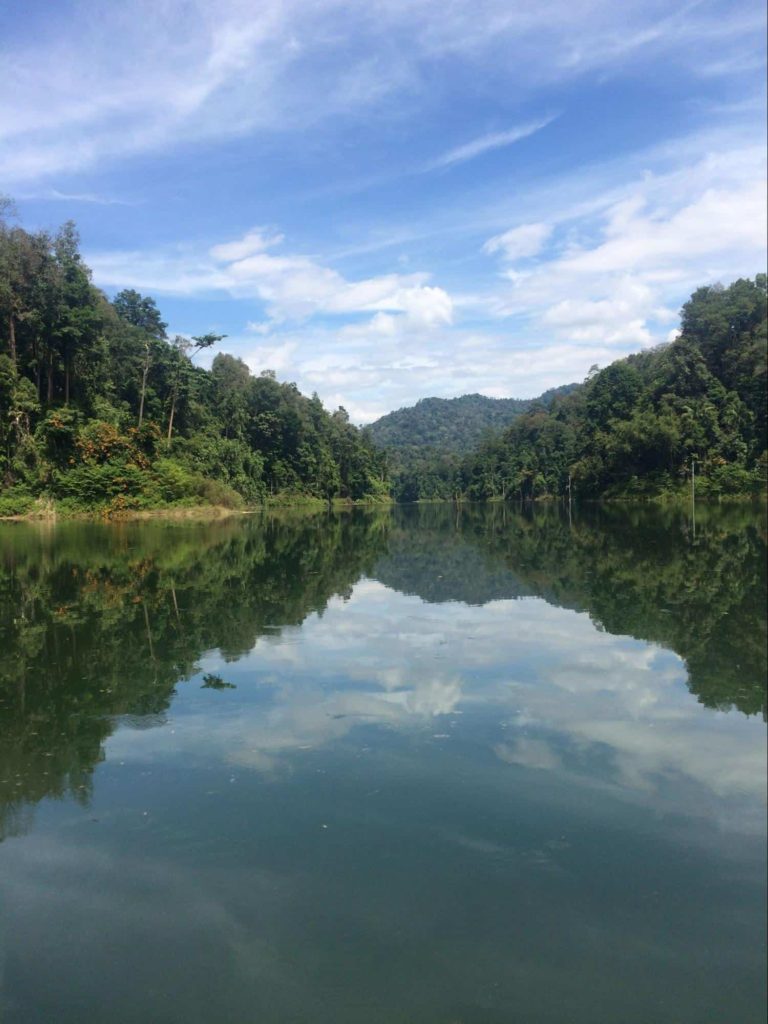 To say that Royal Belum State Park is big is an understatement. Its total area comes at around a whopping 117,500 hectares which is a lot of ground to cover.
It's important to know this before you visit because oftentimes, campers get overwhelmed by the sheer density and size of the state park. This is also part of the reason why we recommend camping with a guide or opting for a travel package that includes outdoor camping.
On a side note, we also recommend hiring a guide because you'll learn so much from them during your camping trip. Back when it was our first time, our guide taught us to spread some sulphur powder around the campsite to fend off reptiles that can be a danger to us.
To enjoy everything that the state park offers, we recommend allotting at least three days for your camping trip.
Must-See Points of Interest in Royal Belum State Park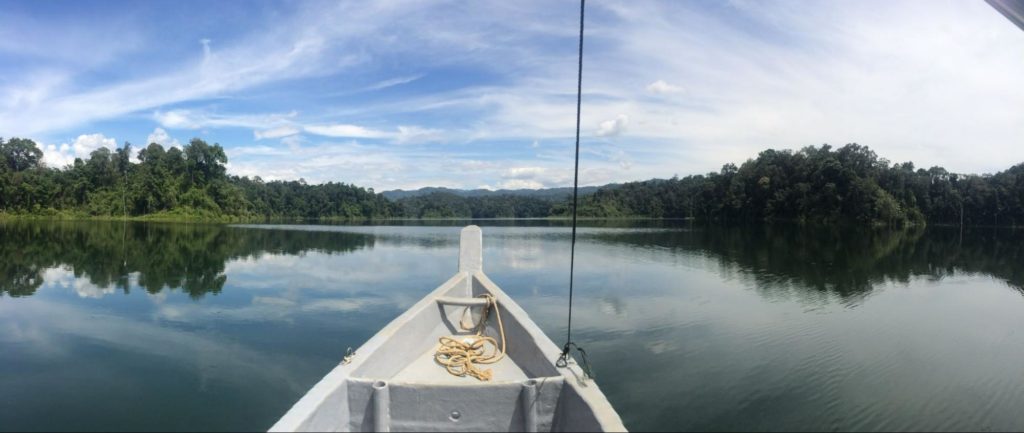 A camping trip in Royal Belum State Park wouldn't be complete without stopping by its most renowned points of interest. As you spend at least two or three days here, make sure to stop by the following to make your camping trip extra memorable!
1. Sungai Kooi Waterfall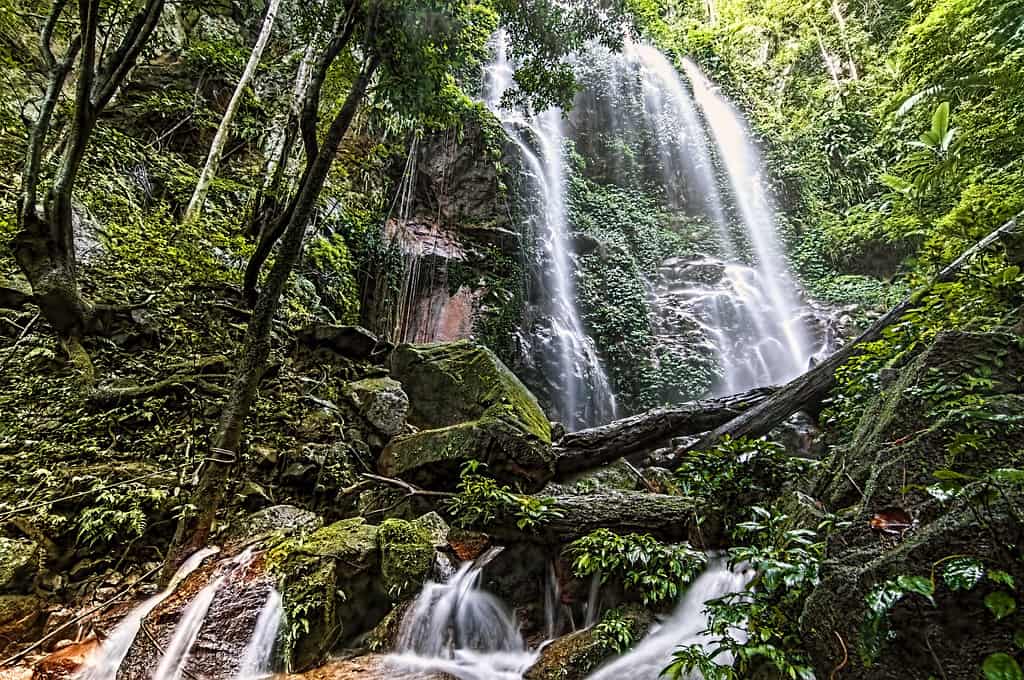 It would be a shame to camp for days in Royal Belum State Park without seeing the Sungai Kooi Waterfall in person.
The Sungai Kooi Waterfall is a sight to die for. It's so tall that by the time the water crashes into the ground, it turns into a mist that makes it look all the more magical.
We never get tired of stopping by this 50-foot waterfall during one of our camping trips as it's a great point to stop and admire our surroundings.
This majestic attraction is one of the main highlights of the state park and it also features one of the toughest hiking trails. Don't worry though as it's the ultimate payoff that you can get for persevering and reaching it.
2. Lake Temenggor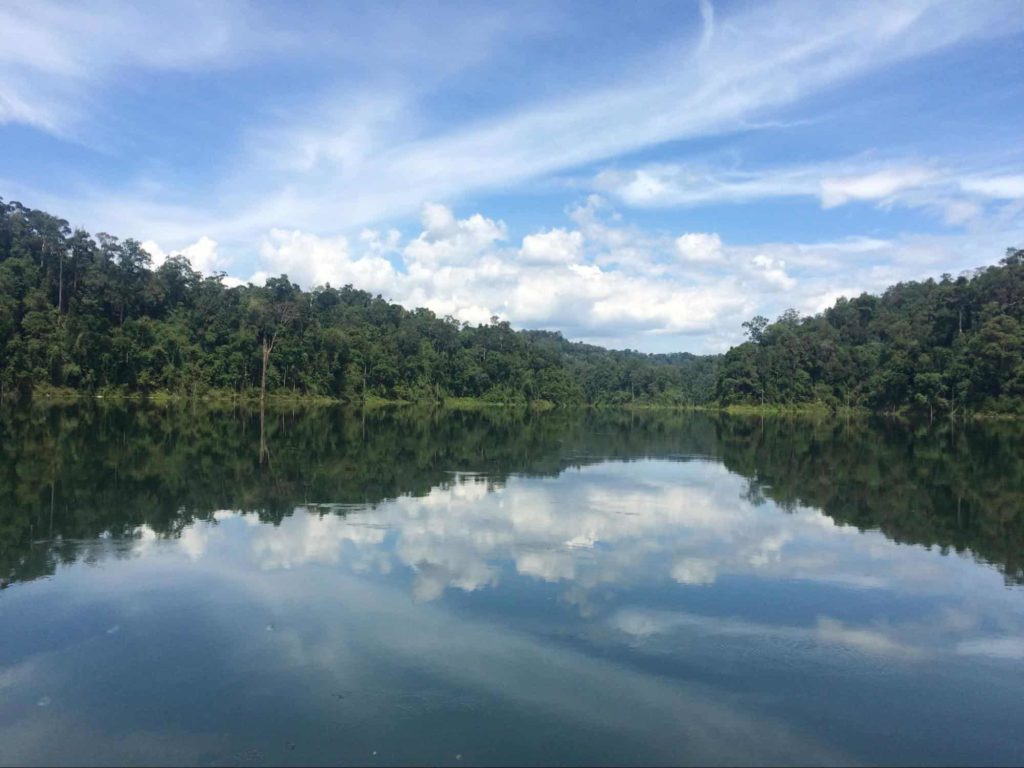 Camping in Royal Belum State Park is great because it offers variety. One day you could be hiking to a 50-foot waterfall and the next you could set up camp beside the second biggest lake in Peninsular Malaysia, Lake Temenggor.
During our camping trip, we had a collective agreement that we must stop by this lake and thankfully we did because it was breathtaking. We also got to go fishing and even caught some cool species of fish like snakehead.
Seeing this in person really put into perspective how tiny we were and it gave off this sense of serenity that we've never experienced anywhere else.
3. Rafflesia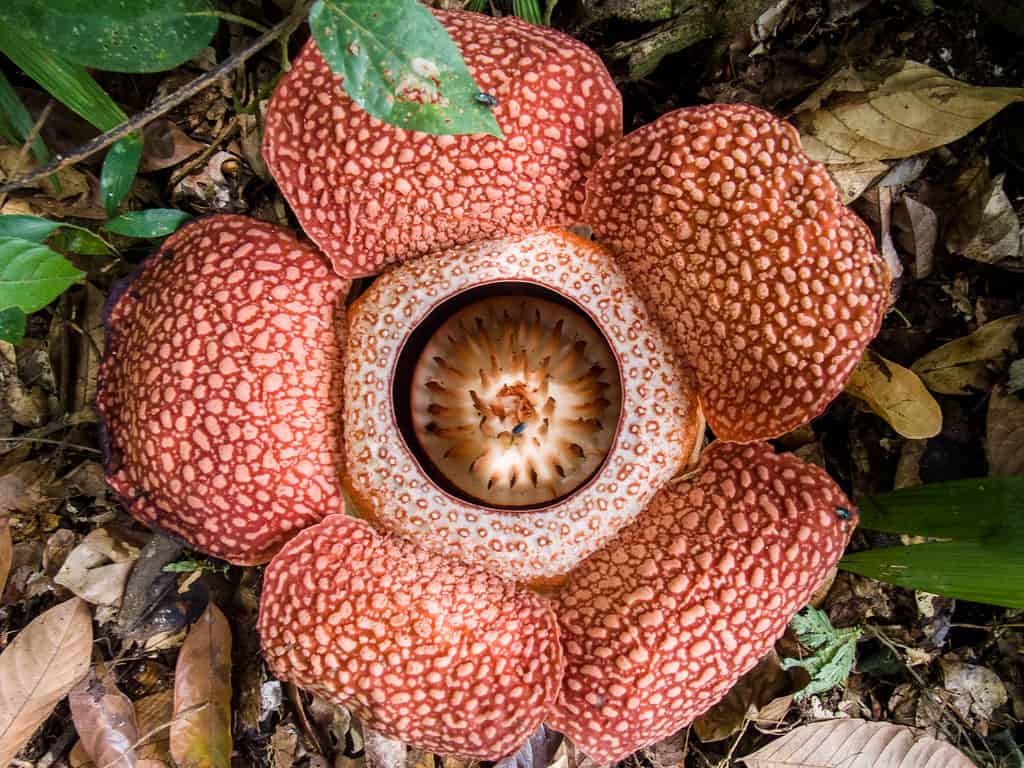 Although not a place, it's still worth mentioning that the Royal Belum State Park is home to the exotic flower called rafflesia also known as the corpse flower. It got its name because of its putrid smell.
Aroma aside, however, the rafflesia is a wonder to see first-hand for its bright red colour and massive size. We'll never forget the first time that we came across this flower during one of our camping trips as we couldn't believe how big it was.
4. Sungai Ruok Fish Sanctuary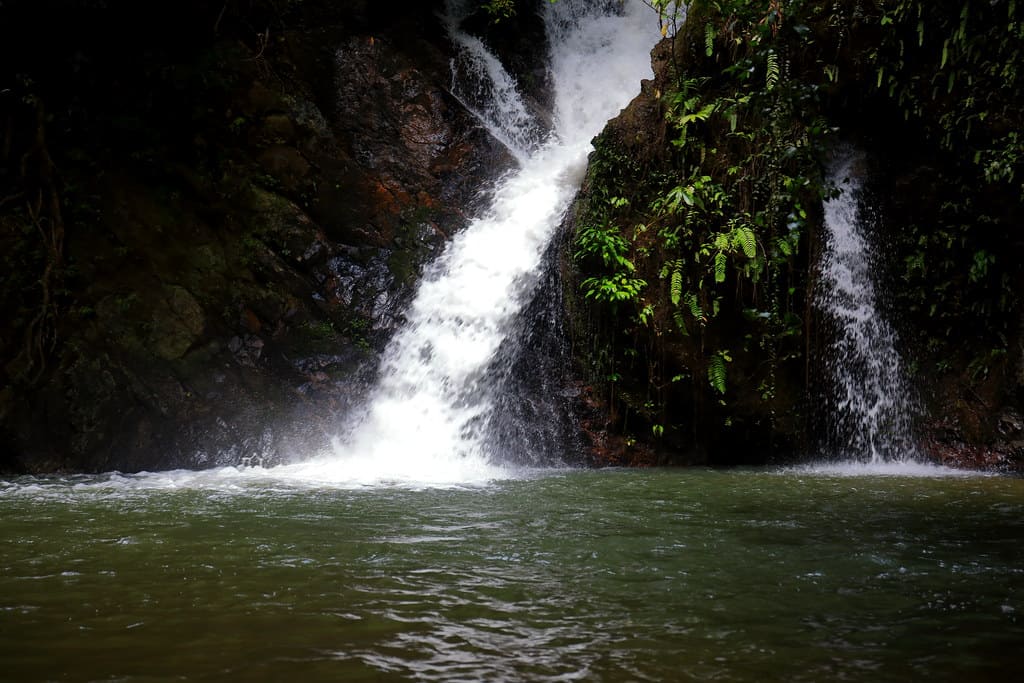 Another waterfall that we recommend you visit during your camping trip is Sungai Ruok. The trek towards this spot isn't as difficult as the one in Sungai Kooi but you still have to be careful.
Also, the difference between these two waterfalls is that you can swim in this one. This is thanks to the naturally-formed pools which doesn't only open the door for swimming but interacting with different kinds of fish as well.
The kids always love to spend time here and go swimming with the fish so it's on our list of points to visit whenever we go camping in the state park.
The 4 Campsites at Royal Belum State Park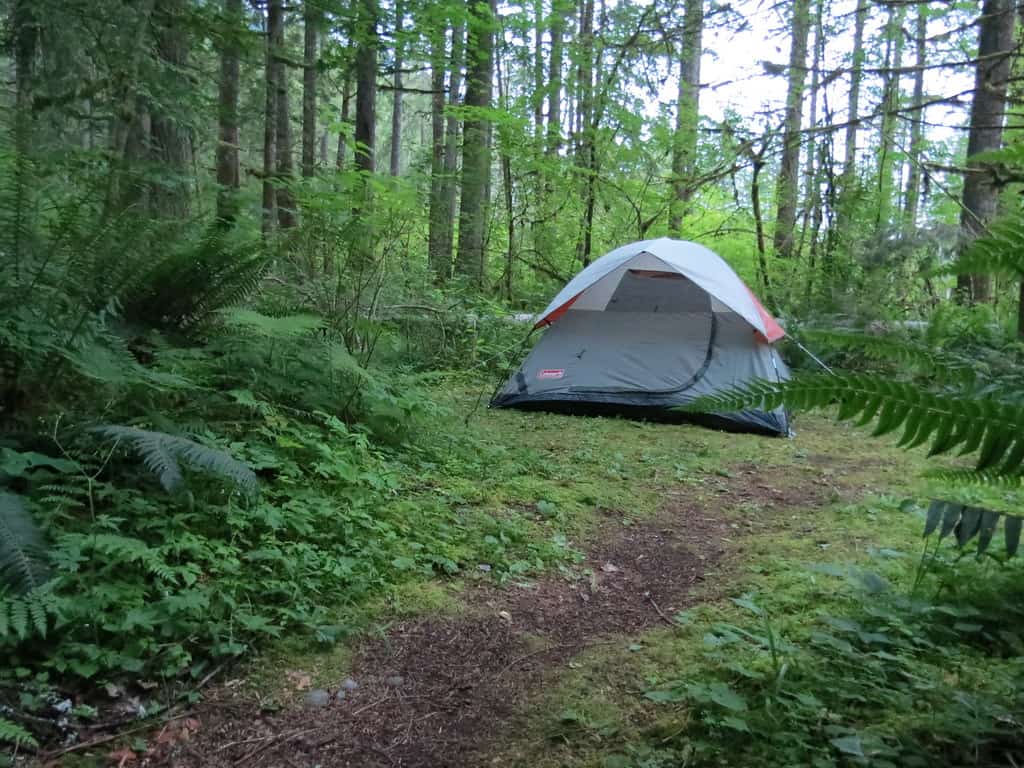 Visitors can set up camp at Royal Belum State Park at one of the four official campsites under their management. After getting an entry permit, campers can contact Puan Fadilah or any of their representatives at 019-512 0878 to book a stay.
If you're going to opt for camping sites outside Royal Belum State Park camps, make sure to download their approval form. This can be found on the state park's official website along with the entry and tour guide registration permits.
Here are the four official campsites under the state park's management:
Sungai Kejar Camp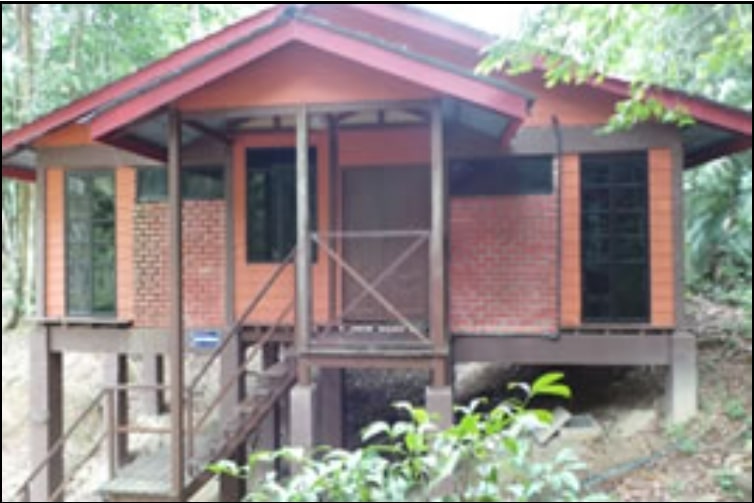 Highlights
Amenities
Capacity and price
• Near Sungai Kejar River and Waterfall

• Spacious area

• Kitchen

• Guest house

• Prayer room

• Dining hall

• Discussion hall

• Hut

• Surau

• Observation tower

• Water and power sources

50 to 80 people/RM750 per day
If you want your campsite to be nearby a waterfall, we recommend settling at the Sungai Kejar Camp. It can accommodate 50 to 80 people and it comes with huts, a kitchen, a dining hall and toilets.
Furthermore, it provides campers with water and electricity. However, it's recommended that guests advise the state park beforehand if they need to use electricity.
Lastly, the camp comes with an observation tower where guests can climb and admire their surroundings.
Campsite Sungai Tiang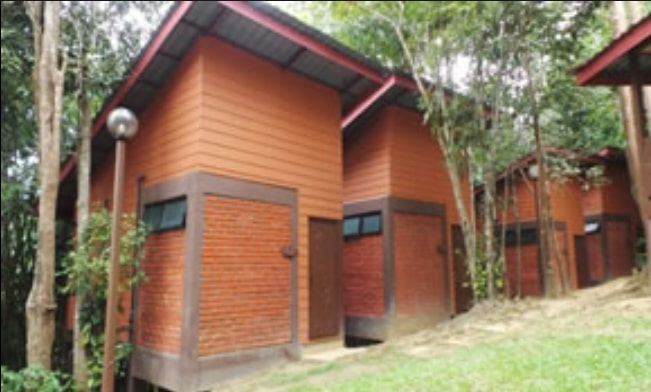 Highlights
Amenities
Capacity and price
• 45 minutes away from Banding Public Jetty

• Close to Lata Belanga waterfalls, Sungai Tiang Orang Asli Village, Lata Ko'oi

• Presence of rafflesias

• Clean toilets

• Surau

• 2-person chalet

• Hut

• Jetty

• Water and power supply

30 to 50 people/RM850 per day
Found just 45km from the Banding jetty is a campsite called Sungai Tiang, which is also nearby a waterfall.
This particular camp can house up to 50 people and comes with a kitchen, a surau and a hut.
Also, one of the best things about this campsite is their clean toilets. This is great for those who aren't necessarily comfortable with doing their business out in the wilderness.
A Reminder for Campers: Water and electricity are also provided at Campsite Sungai Tiang but keep in mind that the use of the latter should be advised to the state park beforehand.
Campsite Jenut Papan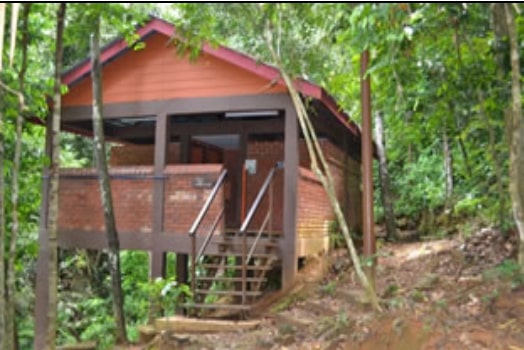 Highlights
Amenities
Capacity and price
• Hanging bridge that connects to forestry area

• Nearby Papan Salt Lick and wild animal viewing hut

• 3-hour trek to Sungai Ruok Kelah Sanctuary

• Common hall

• Kitchen

• Toilets

• Clean water supply

10 to 20 people/RM400 per day
Campsite Jenut Papan is a great option if you're looking for a place to stay that's close to the Papan Salt Lick. Moreover, it's also within the same area as a wild animal viewing hut where you can observe majestic creatures without disturbing them.
The camp comes with a kitchen and toilets. However, unlike the other entries on this list, it doesn't have rooms and huts.
Instead, it has a single hall where the guests are allowed to sleep. Alternatively, guests can also set up camp outside the hall.
It's worth noting though that the camp comes with a steady source of clean water which is great for drinking and bathing.
A Reminder for Campers: Campsite Jenut Papan lacks a power source. This means that you have to bring your own generator or any kind of power source if you want to use electricity in your camp.
Sungai Kenarong Camp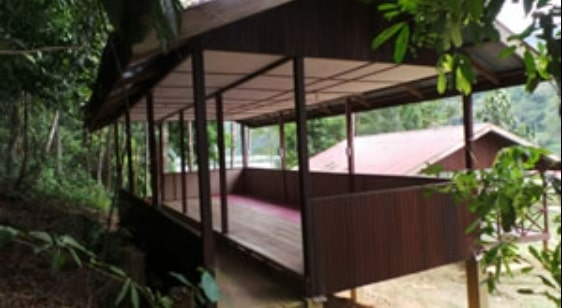 Highlights
Amenities
Capacity and price
• Nearby Sungai Kenarong Lake

• Only 30-minutes away from Banding Jetty

• Kitchen

• Bathroom

• Village house

• Barbeque area

• Four cottages

• Prayer room

30 to 50 people/RM500 per day.
The Sungai Kenarong camp is the nearest campsite to Banding Jetty, as it's only 30 minutes away. It's a great option if you want to go fishing during your camping trip thanks to its convenient location nearby Sungai Kenarong Lake.
It's also one of the most complete campsites in the state park boasting facilities such as a kitchen, barbeque area, toilets and more.
Lastly, Sungai Kenarong camp can accommodate up to 50 people thanks to its spacious area and abundance of lodging options. More specifically, guests can sleep at 4 different cottages, a village home and a prayer hall which can also serve as a room.
The Best Time for Camping at Royal Belum State Park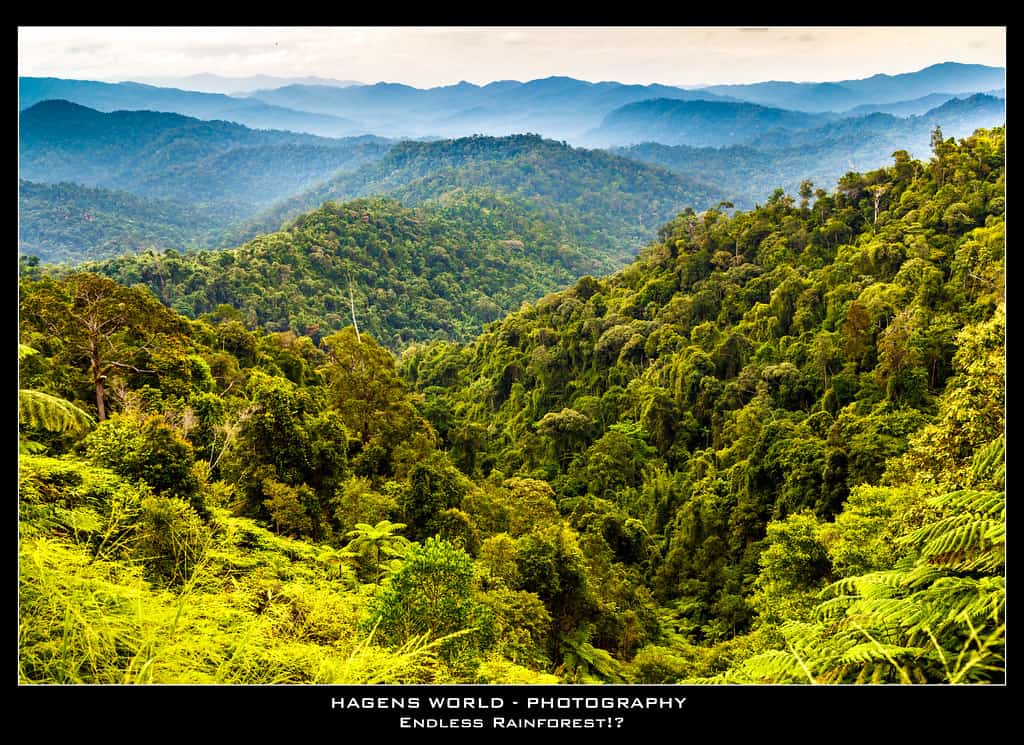 Royal Belum State Park is pleasant to visit all year round. However, the "best time" to visit here may depend on what you're looking to see and experience during your trip.
Here's a quick breakdown of what you can expect from visiting the state park during different months:
December to March – Best for Fishing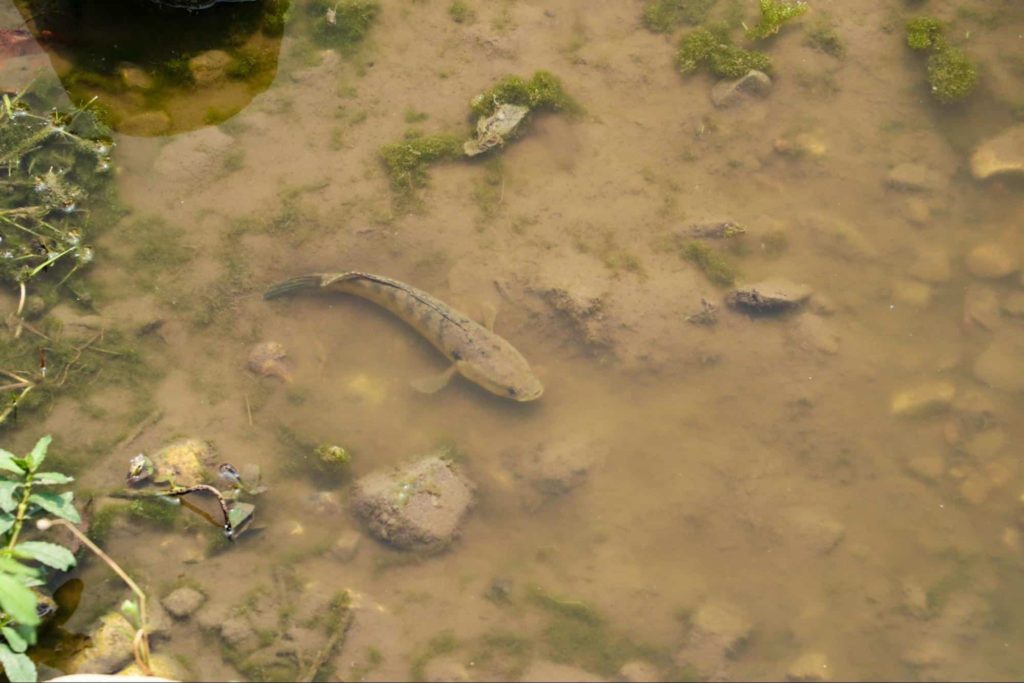 From December up to March of the following year, Lake Temenggor will experience a low tide opening numerous opportunities for hunting snakeheads. Fishing is one of the most fun family activities you can do in Malaysia and it doesn't get better than doing it here at Belum.
This is one of our favourite seasons to visit this state park because we love the serenity of being in the middle of the lake and away from civilisation. It's also our way to converse with each other while we wait for our next big catch to nibble on our bait.
Snakeheads are abundant in this particular tide and are always a blast to reel in, especially the big ones that can grow 30 to 90 cm.
Pro Tip: If you want to catch snakeheads in Lake Temenggor, the best bait to use are crayfish, frogs, mummichog minnow or other small fish species.
April to May – Best for Butterfly Spotting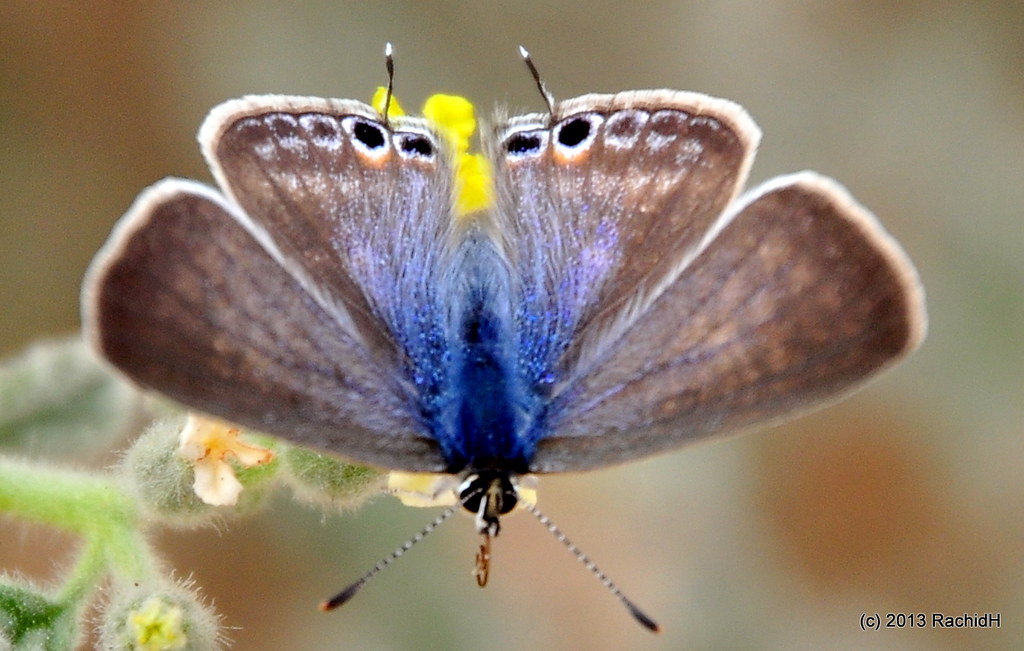 One thing that doesn't get old when visiting Royal Belum State Park is spotting different kinds of butterflies while trekking. You'll always find butterflies flying in the state park all year round but the best time to spot them is during April and May as this is their peak season.
During these two months, you'll be in awe of the different species of butterflies flying around the rainforest as you're camping. For us, we think of them as little rewards that we get to admire as we trek through the tough trails across the state park.
Pro Tip: Be on the lookout for a blooming purple flower called Bungor as this is also the time they start appearing.
June to August – Best for Fig Tasting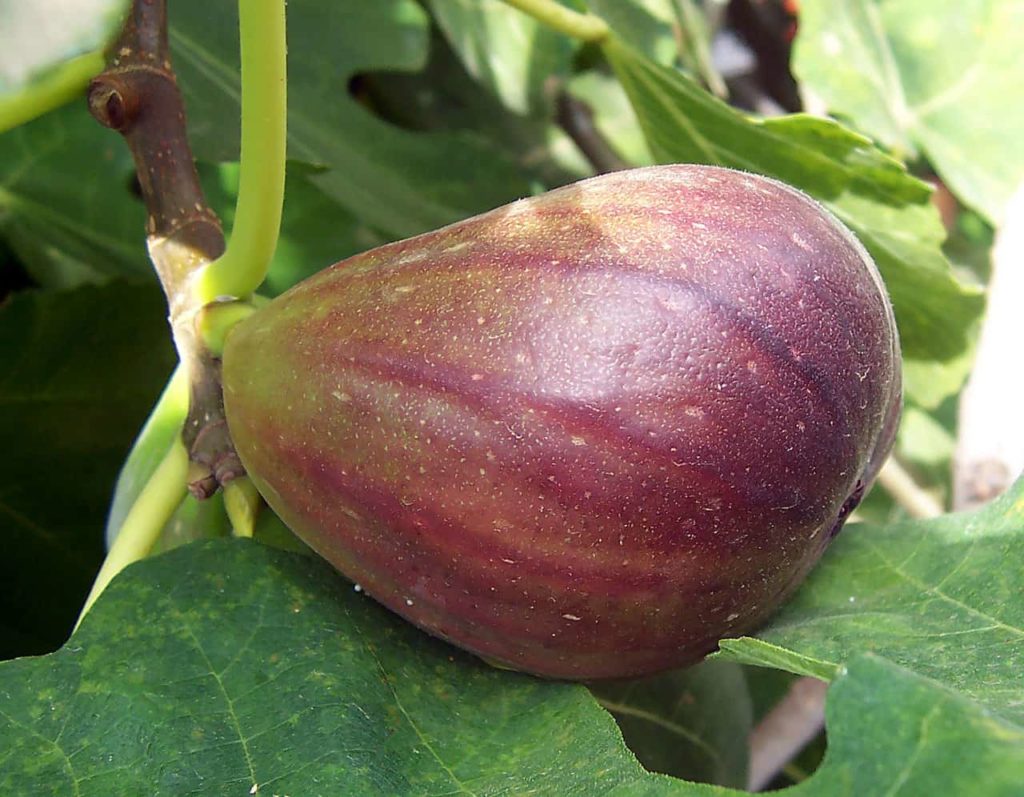 Aside from having pleasant weather, visiting from June to August will give you the opportunity to pick and try figs for yourselves.
Come this time, we'll begin hunting this deliciously sweet fruit in its trees across the state park and enjoy them in their freshest state. This is a great addition to the already exciting camping experience when you hike during this time of the year.
Plus, the best part is that you can gain numerous health benefits from eating figs such as improved gut health, healthier blood pressure and more.
Pro Tip: If you want to pick figs for the rest of the camping trip, store them in a plastic bag and place them inside your cooler. This way, you can slow down their deterioration and enjoy them for an extended period.
August to September – Best for Bird Watching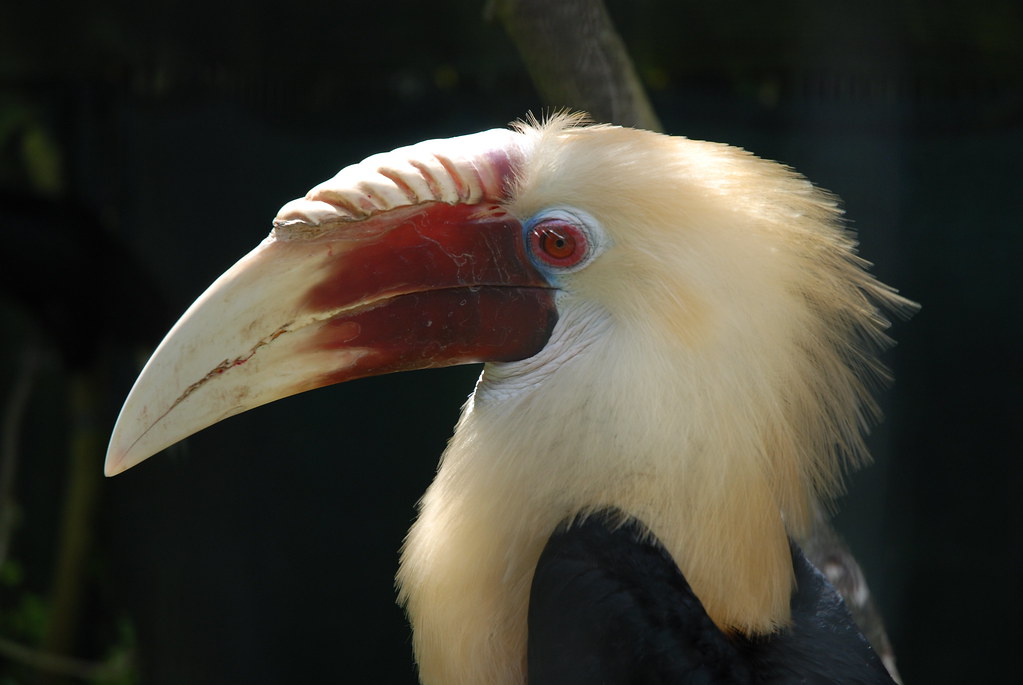 Birds are some of the most majestic creatures you can observe and admire during your trip to Belum Royal State Park. To see flocks of birds during your time in the state park, make sure to schedule your visit around August and September.
Seeing as how the kids love to see these birds up close, we once booked a camping trip in the middle of August as this is when these creatures migrate here.
One particular species that we found interesting was the hornbill because of its long banana-like beak. We asked our tour guide about them and he said that the specific breed that we saw was called the Plain Pouched Hornbill and they're most visible during this time of the year.
Pro Tip: Remember the saying "the early bird catches the worm"? Keep it in mind as you'll have a higher chance of seeing more birds when you wake up early in the morning during these months.
Travel Tips to Remember on Your Camping Trip to Royal Belum State Park
To ensure a smooth-sailing camping trip for you and your loved ones, here are some basic camping tips that we think you'll find useful:
Bring and apply mosquito repellent – Since the rainforest is a natural habitat for these nasty insects, it would be best to bring sprays, lotions or long-sleeved clothing. This way, you can protect yourself from their bites and any sickness that they may be carrying.
Bring gifts if you're going to visit the Orang Asli Village – These people will welcome you with open arms so it would be nice to give them something in return. They'll appreciate any gifts but we recommend necessities such as food and clothing.
Book a travel package – If it's your first time visiting the Royal Belum State Park, it would be best to opt for a travel package. You'll find numerous travel agencies that will let you camp overnight with a proper tour to make sure everything goes well.
Wear the right clothes – Prioritise comfort over fashion when going on a camping trip, especially in a rainforest like Royal Belum State Park. Wear loose-fitting clothes to avoid hindering your body movements and wear comfortable yet sturdy shoes.
Royal Belum State Park Camping Necessities Checklist:
Personal medication
Dry clothes
First-aid kit
Flashlights/headlamps
Igniters (lighter, matchstick, flint and steel, etc.)
Raincoat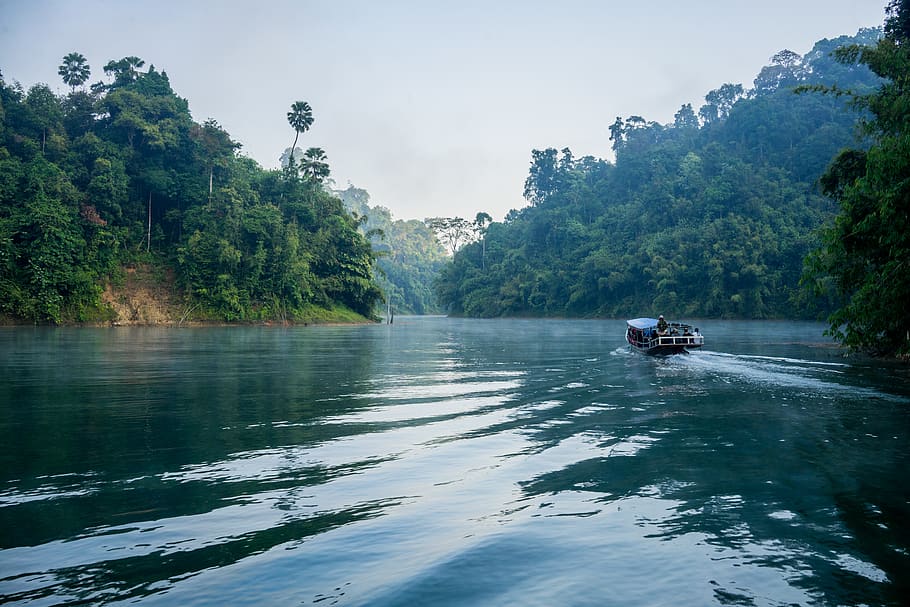 That about wraps up this Royal Belum State Park camping guide. Hopefully, you'll be fully equipped with everything you need once you set up camp here from what to bring to what to expect to see.
Furthermore, you can check out more of our hiking tips here to make sure that everything goes smoothly during your camping trip.
FAQs about Camping in Royal Belum State Park