A Guide to Royal Belum State Park: Things to Do and Where to Stay
As adrenaline junkies, we always dream and think about the things that we could be doing in the great outdoors. That's why we love visiting Royal Belum State Park, as it lets us live out our exciting dreams to the fullest while basking in picturesque sights!
Royal Belum State Park is believed to have been around for over 130 million years, making it one of the oldest rainforests on the planet. It's also one of the biggest rainforests not only in Malaysia but in the whole world covering 117,500 hectares.
This massive area is home to unspoiled wildlife housing rare plants and animals such as the rafflesia and Malayan tiger. Aside from these species, Royal Belum State Park is also filled with hiking trails, a couple of waterfalls and the famous Lake Temenggor.
To help you make the most out of your visit to this beautiful tourist attraction, we've listed down some of our favourite things to do as well as where to stay and essential tips. Keep on reading so you'd know what to expect at Royal Belum State Park!
Location
Perak, Malaysia
Estimated Area
117,500 hectares
Highlights
• Sungai Kooi Waterfall

• Lake Temenggor

• Sungai Ruok Fish Sanctuary

• Orang Asli Village

• 3,000+ flowering plants including the corpse flower, Rafflesia

• Rare animals such as Malayan Tiger, Malayan Tapir and 300 bird species.
Must-Try Activities in Royal Belum State Park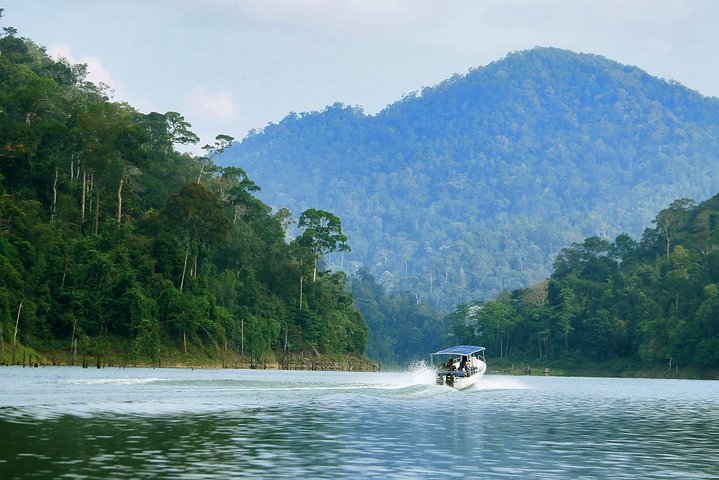 One of the best things to do at Royal Belum State Park is to go on tours and houseboat cruises to admire the untouched wildlife of this heritage site.
Royal Belum State Park spans 1175 sq km and it's filled with trekking spots, lakes and waterfalls, making it a great spot for outdoor lovers.
That's not to say that it's strictly for the adrenaline junkies out there! Royal Belum State Park is also a great place to relax and reconnect with nature – here are some of our favourite things to do here:
1. Trek to the majestic Sungai Kooi Waterfall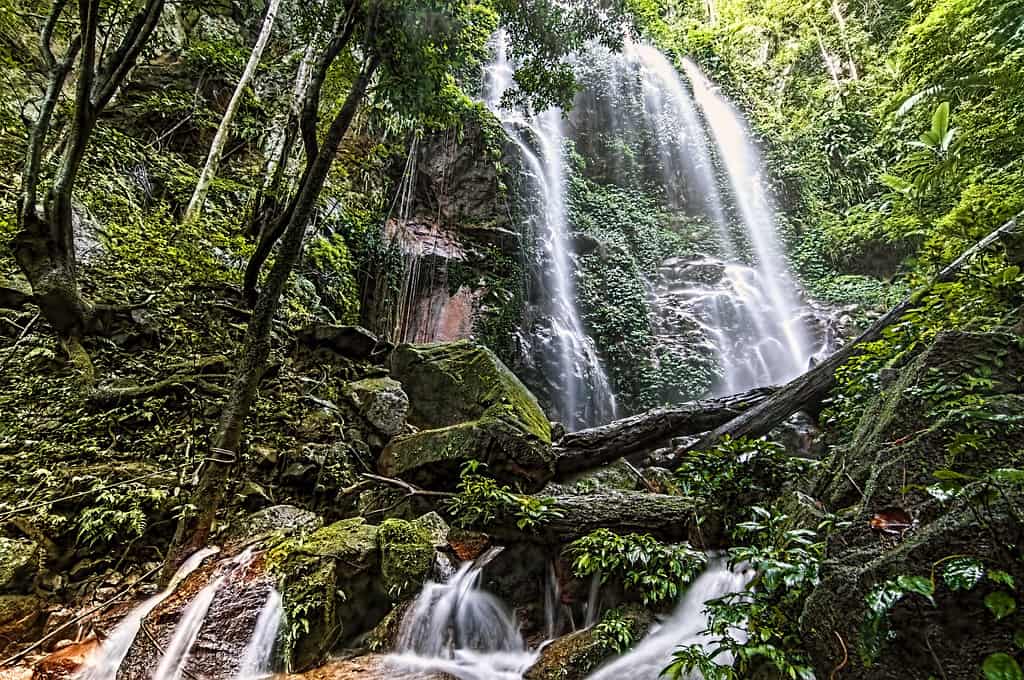 As previously mentioned, Royal Belum State Park is a great destination for trekking, and the Sungai Kooi Waterfall is one of the best reasons for this. This destination is one of the sweetest rewards for the toughest and most determined hikers who visit this place.
We've visited this waterfall once or twice now but it never gets old. It looks straight out of a fantasy movie, especially when you see the water forming this mist-like appearance once it showers down from the top of the falls.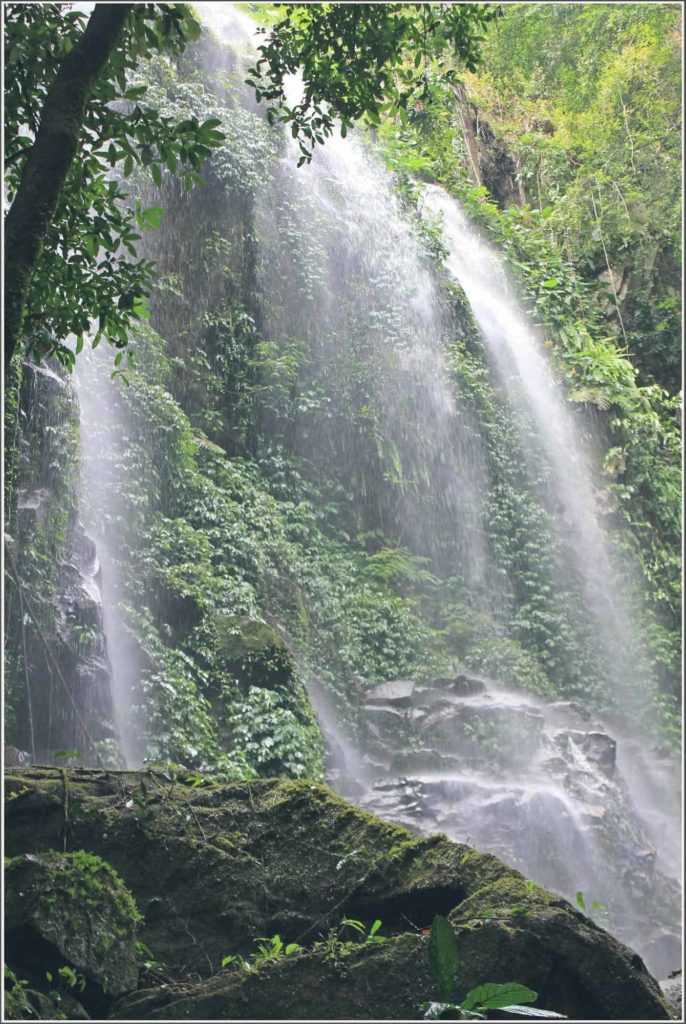 Plus, the sheer size of this waterfall is a marvel to look at. It stands approximately 50 feet and it's filled with different bumps and curves which adds more character and uniqueness to the already beautiful sight.
Additionally, we love including this spot in our itinerary here at Royal Belum State Park because the trek towards the falls is a must-try experience in itself. Throughout the trail, we were able to spot wildlife and picturesque landscapes that we were in awe of.
2. Catch and release various fish at Lake Temenggor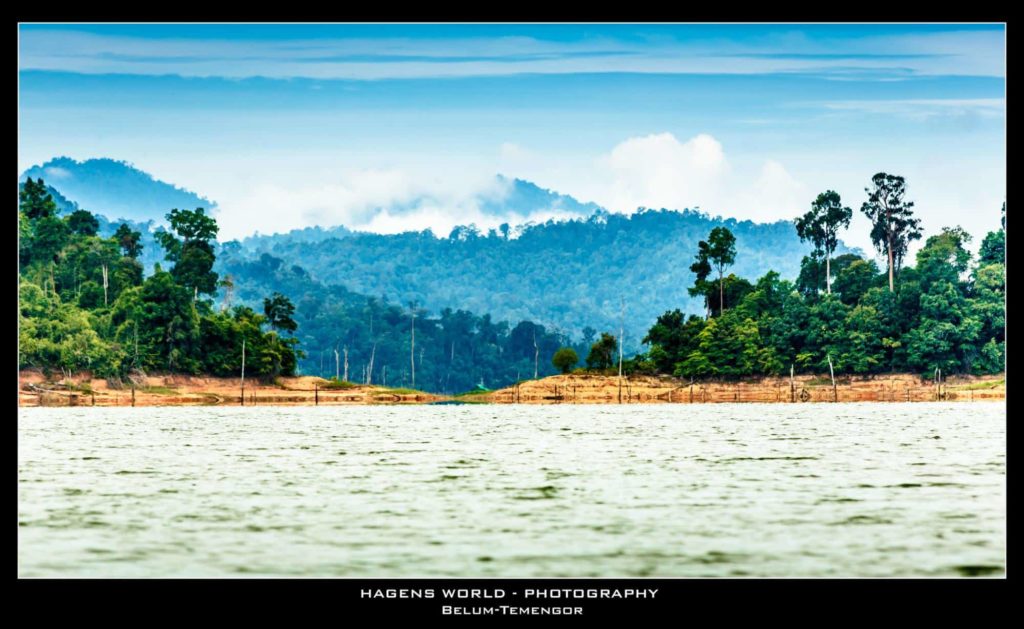 One of our favourite things to do with the kids is go fishing at the ever-so-majestic Lake Temenggor. Trust us when we say that there's nothing more relaxing than to be surrounded by serene water with a fishing rod at hand along with your loved ones.
Fishing in this amazing body of water doesn't only help us reconnect with nature but with our family members as well. This is because we use the same time we spend waiting for a bite to tell stories and catch up with one another.
Of course, the activity of fishing alone is rewarding in itself, let alone in a lake like this. During our time here, we've caught various freshwater fish species such as catfish, giant snakehead, barboides and more.
3. Cross the 30-metre suspension bridge of Sungai Papan Saltlick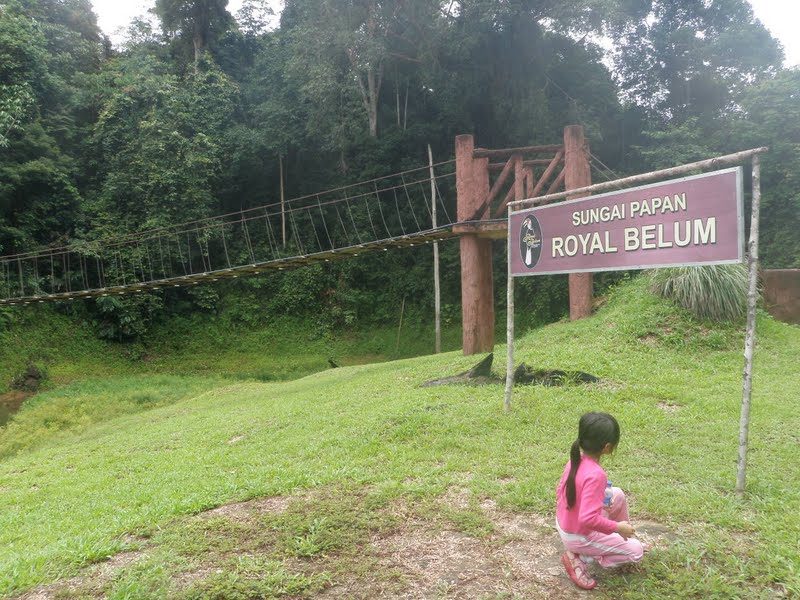 Whenever we want to observe animals doing their own things, we visit the Sungai Papan Saltlick. This is the place where different kinds of animals stop by and lick salts from the spring that leaked from the ground.
Aside from that, this is also where a 30-metre suspension bridge can be found, which is a great place to take pictures.
4. Swim with different kinds of fish at the Sungai Ruok Fish Sanctuary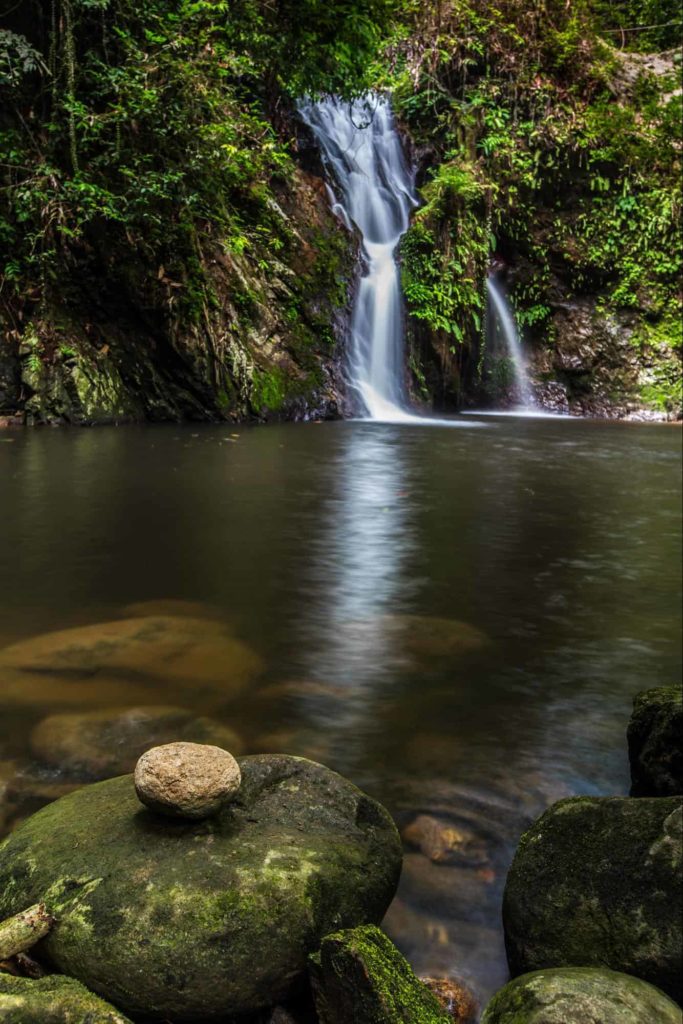 One activity children will surely enjoy is swimming with different fish species at the Sungai Ruok Fish Sanctuary. Unlike Sungai Kooi which doesn't offer the opportunity for swimming, this waterfall has naturally-developed pools.
These pools are bustling with different fish species that are friendly and harmless which is why it's one of the best activities you can do with your family.
Local Tip: The Sungai Ruok Waterfall is much easier to trek to so it would be a great place to start if you're just a beginner. However, there's still the possibility of slips and falls so travelling with a guide would be wise.
5. Meet the friendly locals: the Orang Asli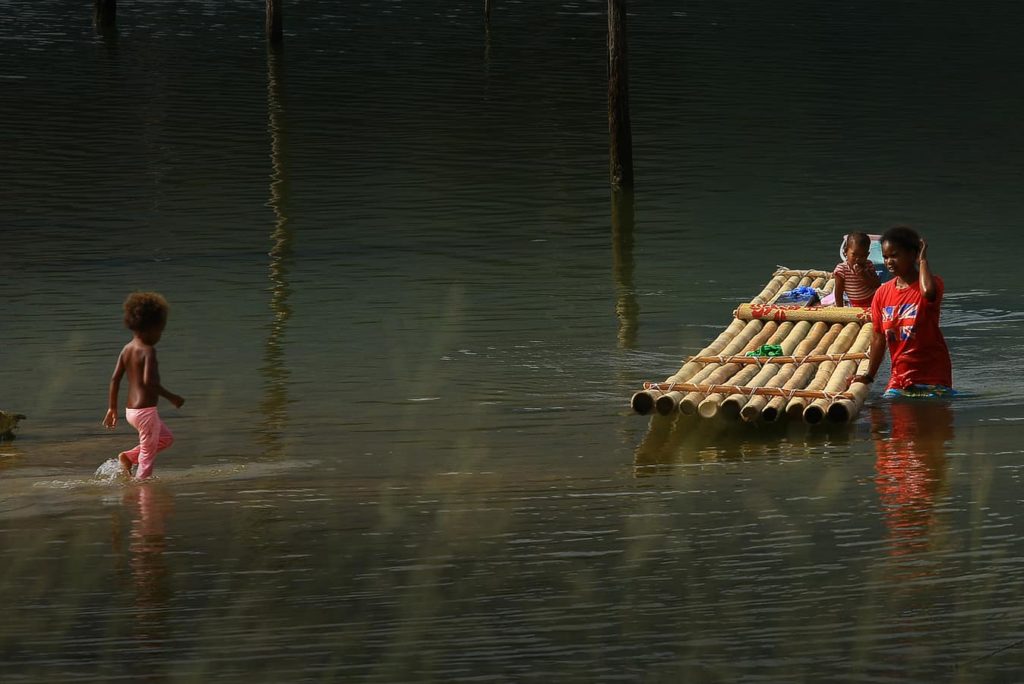 One of the most interesting things you can do when you visit Royal Belum State Park is to meet its locals. The people residing in this remote area belong to the Orang Asli tribe which is recognised as the oldest inhabitants of Peninsular Malaysia.
We got to meet them one time during our trip to the state park, more specifically in Kampung Chuweh and it was a complete eye-opener.
It was a different kind of experience finding and meeting them knowing that there were only around 100,000+ of them existing across Malaysia.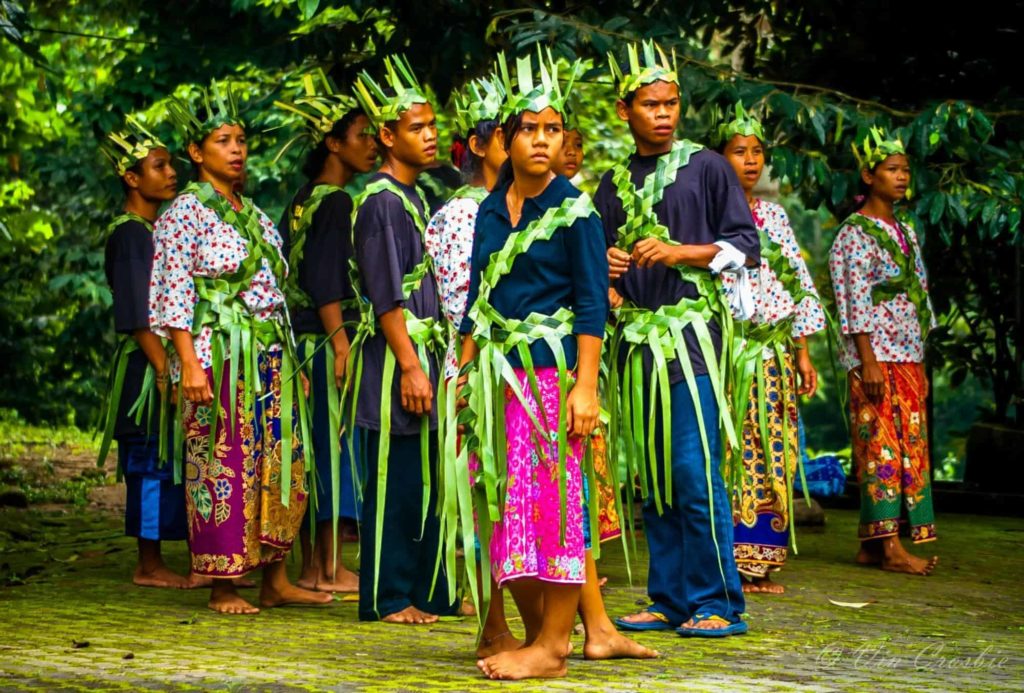 As we were roaming their humble village, we saw how they were living their daily lives. Their routines included gathering herbs, fishing and hunting.
At first, we thought that they were gathering these things for their own use alone but we were surprised to find out that they trade them too!
They also exchange with the outside world to gain necessities for their village, so it would be great to prepare something when visiting them.
Local Tip: To show your appreciation for the Orang Asli, bring a present! They will appreciate food, clothing, or any items that they can use for their households.
6. Go on a cruise on Lake Temenggor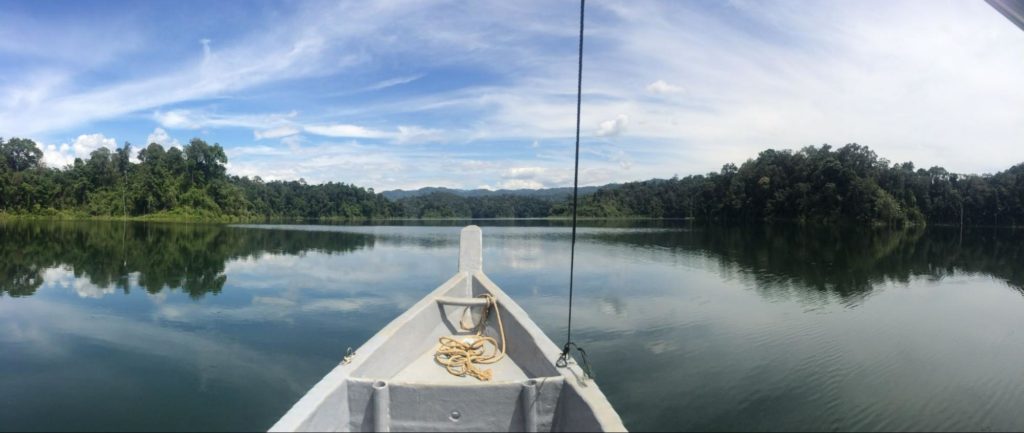 Since this state park is essentially a gigantic animal sanctuary, you're bound to see different animals such as birds and fish during your trip. One of our favourite ways to witness these creatures is by going on a serene cruise through Lake Temenggor.
To take it even further, you can stay on one of the park's famous houseboats!
Houseboats are accommodation options that allow visitors to stay in the middle of Lake Temenggor. This is a great option for those adventurers who want to cruise through the massive man made lake for extended days from the comfort of their own space.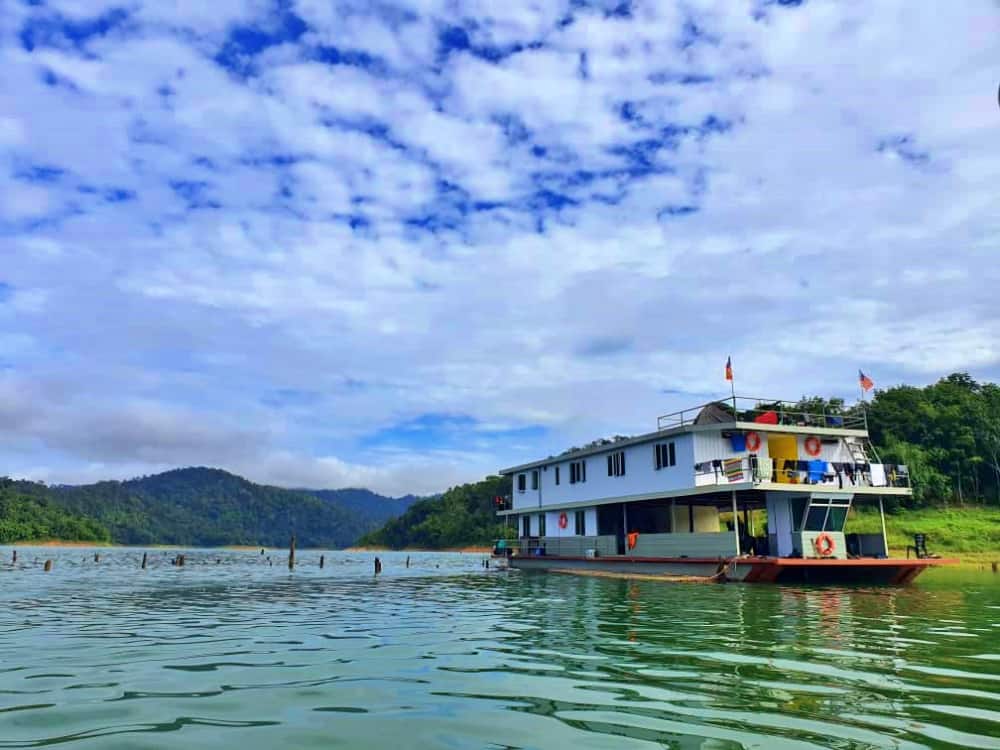 Boathouse cruises are the best way to observe wildlife as it doesn't disturb the animals. We get to admire them from afar and we don't have to worry about our safety as well as theirs.
Observe Unspoiled Wildlife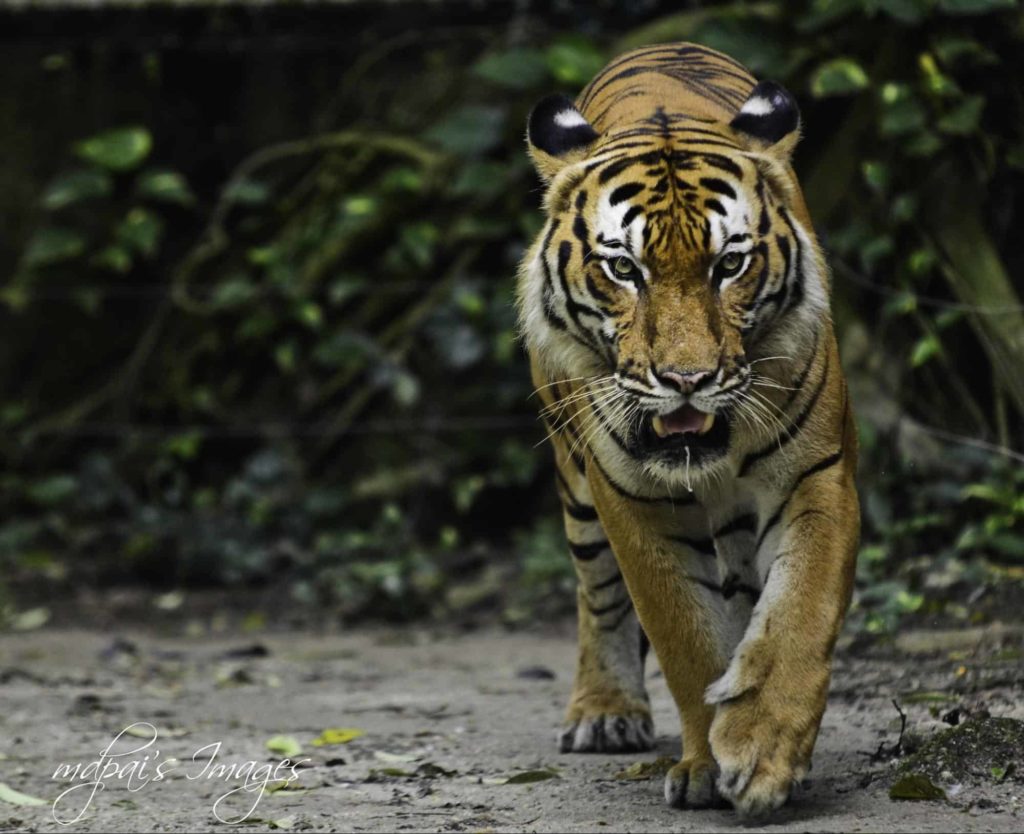 The state park is home to several kinds of animals including endangered ones such as Malaysian tigers, tapirs, white-handed gibbons and Sumatran rhinoceros. It's always amazing to see these rare species living freely in their natural habitat and away from civilisation.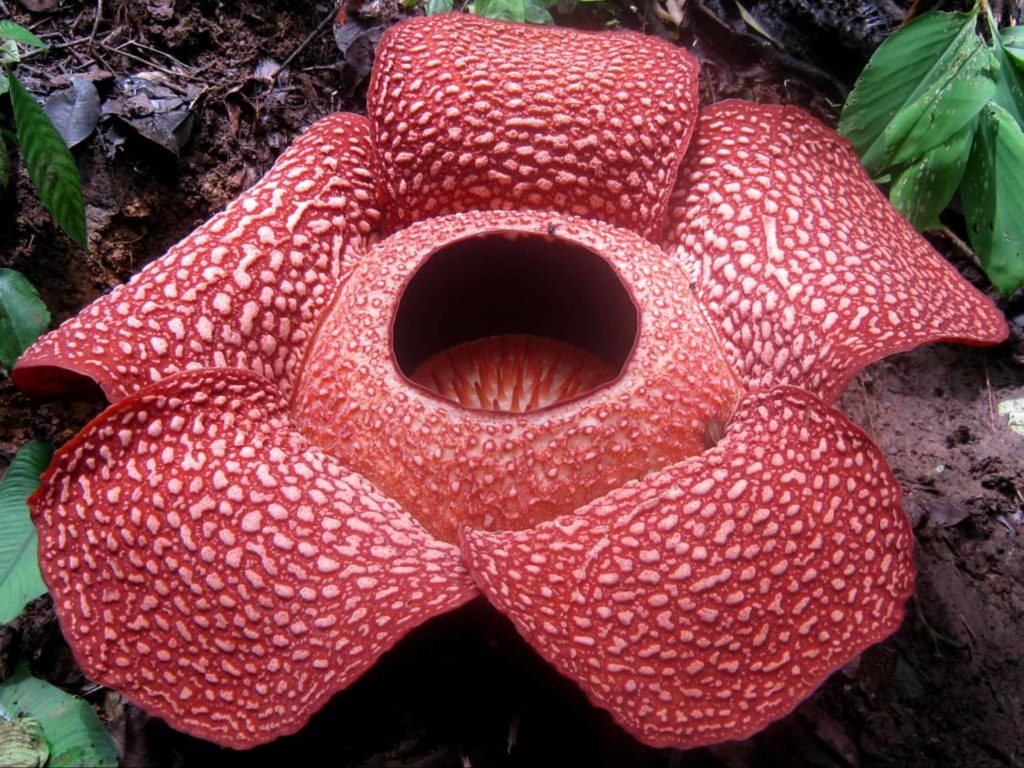 Local Tip: Keep an eye out for the bright red rafflesia, also known as the corpse flower. As the name suggests, it reeks like dead flesh but it somehow still impresses us due to its sheer size alone.
Where to Stay at Royal Belum State Park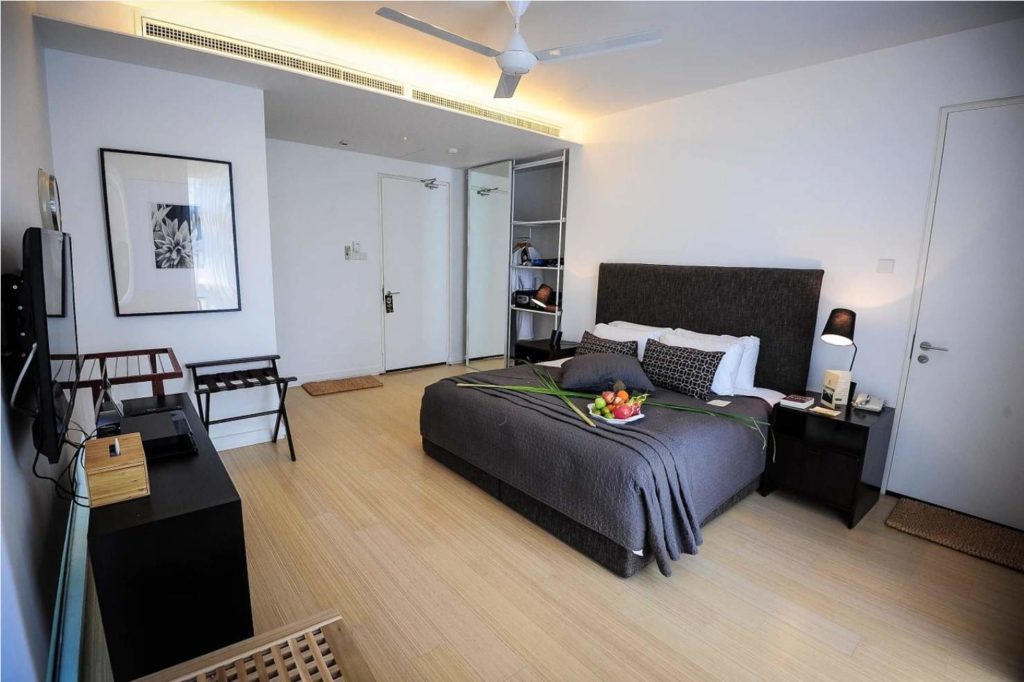 Take it from us, spending a day isn't enough to experience the wonders that Royal Belum State Park has to offer. Fortunately, this great outdoor destination has ample accommodation options that the family enjoys staying in whenever we return here.
To help you and your loved ones get the quality stay you deserve, we're going to share our experiences with the lodging options here. This way, you'll know what place to choose when you eventually visit this world heritage site.
Belum Rainforest Houseboat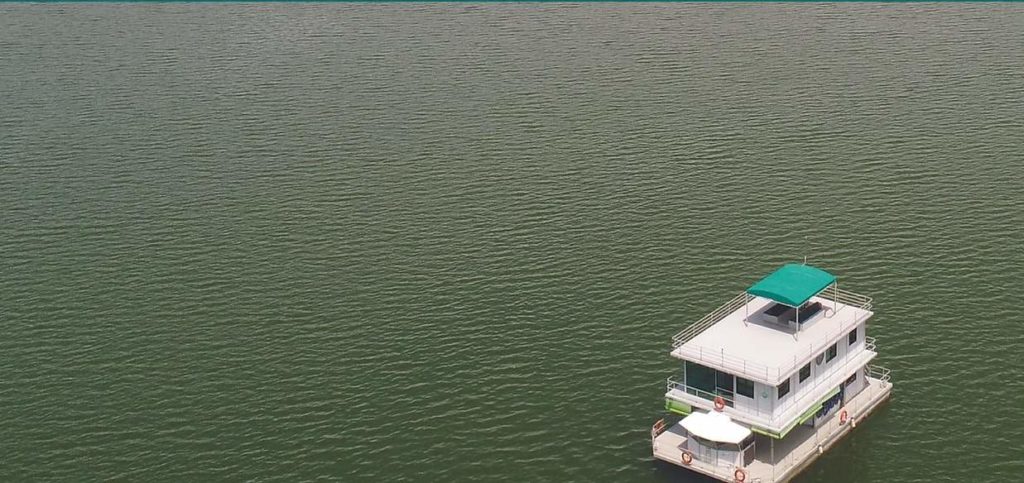 One of the establishments that offer houseboats is Belum Rainforest Resort. The specific vessel they offer is quite spacious as it's fitted with four cabins consisting of:
One master bedroom (with bathroom)
One twin sharing room
One five-sharing room
Two shared bathrooms
On top of that, the houseboat also has an open roof deck which is perfect for bird watching or simply admiring the beautiful views of the state park.
Belum Rainforest Resort offers this houseboat with either a 3d2n or 2d1n package which comes complete with all-day dining. Additionally, their packages include a karaoke machine to keep things entertaining throughout the guest's stay.
These packages also come with activity-filled itineraries. Some of the fun things to do included in their offerings include fishing, kayaking, bird-watching and trekking.
Belum Konspirasi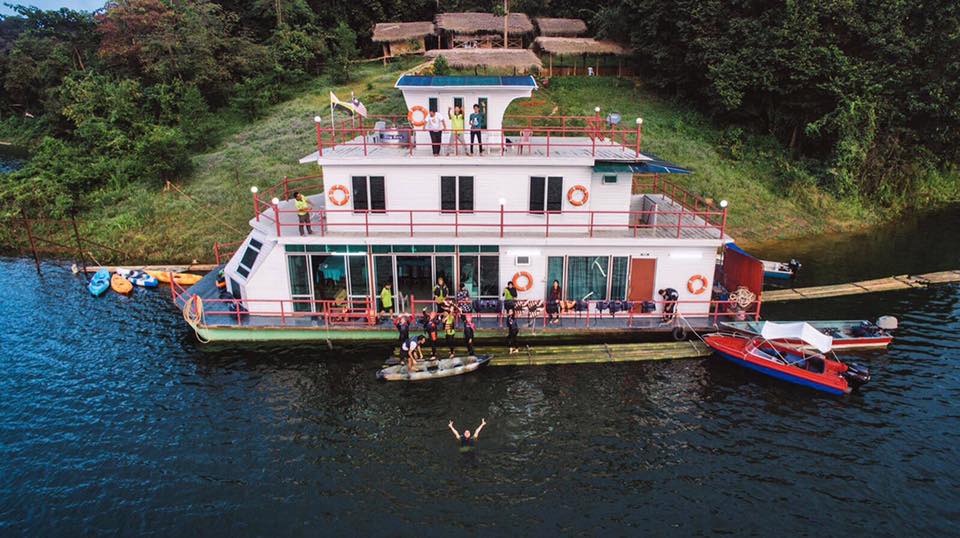 One of the most reliable tour providers in the state park is Belum Konspirasi. They're well-known in the park because of their affordable houseboat packages that come complete with fun-filled itineraries.
They offer several 3d2n/2d1n packages but one that we recommend, especially for big groups is their full package. This specific package can accommodate 25 people and it already includes the whole houseboat itself along with 2 speedboats and of course the guide.
On top of that, you won't have to worry about bringing food though you're free to do so. This is because the package also comes with full meals.
Their package comes with various activities but you won't be bored in the houseboat as well, especially at night. This is thanks to the entertainment system installed that you and your loved ones can enjoy which includes a karaoke machine.
Other Accommodation Options at Royal Belum State Park
If you get easily nauseous on boats, there are some quality lodging options in the state park that are located on land. Here are two that we recommend the most:
Belum Rainforest Resort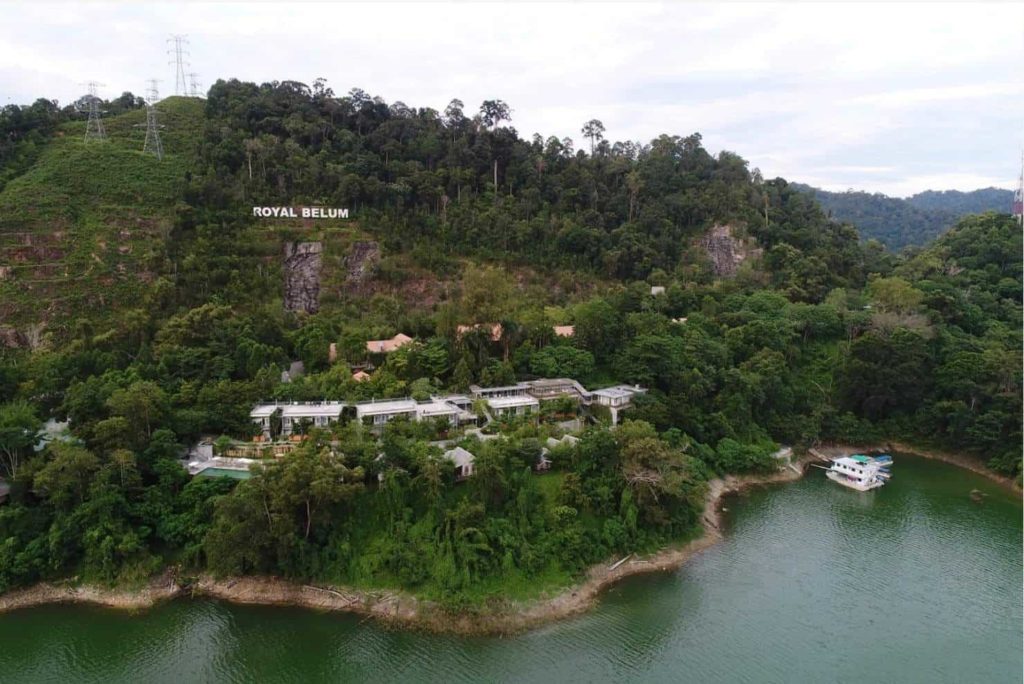 Highlights: Free parking, in-house restaurant, free wifi, air-conditioned rooms, outdoor pool, great location
One of the best places to stay in Royal Belum State Park is Belum Rainforest. This 3-star hotel offers high-quality rooms equipped with soft beds and air conditioning, which makes our stay always comfortable.
From the name itself, this world-class establishment is located in the middle of a bustling rainforest. However, we loved how it didn't stick out like a sore thumb thanks to its nature-inspired decor that's evident in both its exterior and interior.
Our favourite thing about this accommodation option is its wide array of amenities. It's not always when you can have an internet connection in a place like this which is why we love that we're given access to their wifi network for free.
We also love spending time in its indoor pool whenever we get some free time during our visit to this massive state park.
Belum Eco Resort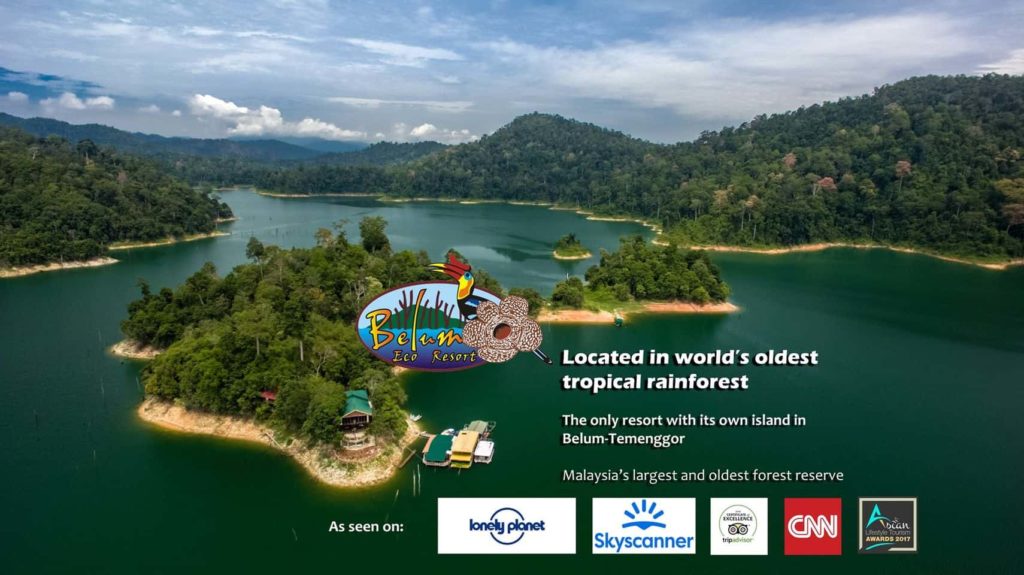 Highlights: Free breakfast, kid-friendly, free wifi, comfortable rooms
Our favourite thing about Royal Belum State Park is that it lets us connect with nature. Although we love air-conditioned rooms as much as the next guy, staying at an ultra-classy hotel can sometimes break this zen-like connection.
That's why we love staying at Belum Eco Resort because, for us, it's the most authentic way to stay at the state park. Don't get us wrong, they still feature comfortable rooms even though they don't have air conditioning!
The view from this resort is to die for. Looking outside from their balcony, we got to marvel at the majestic and serene lake in front of us.
Also, we love how their staff had been eager to take us to the most beautiful spots in the state park when we availed of their tour. This made our trip extra memorable as we felt like we got to witness exclusive sights that we could've missed if we went out on our own.
How to Get to Royal Belum State Park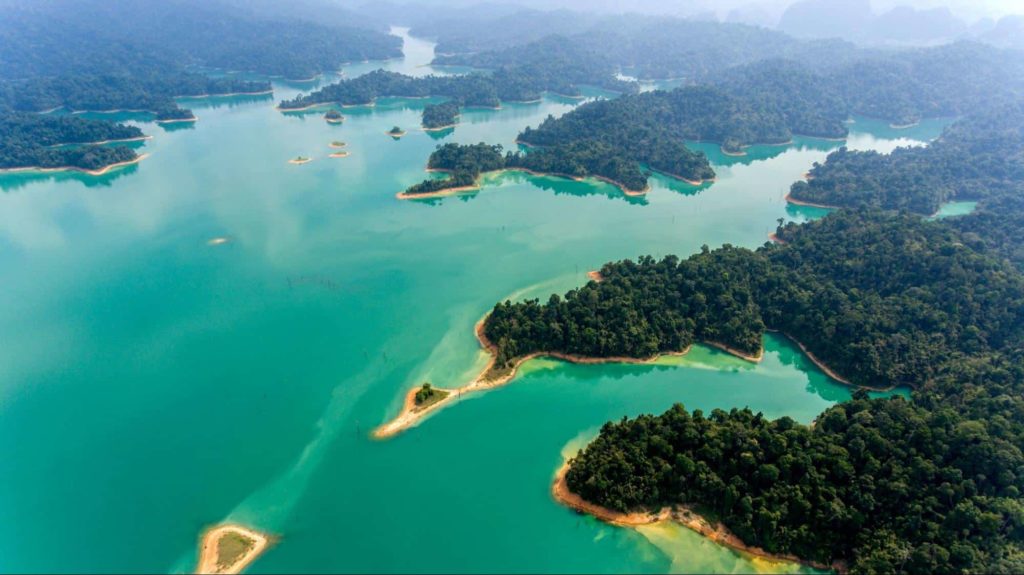 This massive state park can be found northeast of Ipoh and its only entry point is located in Pulau Banding (Banding Island). On this small island, you'll find a jetty point where you can then ride a boat that can take you directly to your resort.
Getting to Banding Island is fairly manageable and the journey is surely worth it. To help you with your visit, here are three different ways we use to travel to Royal Belum State Park:
| Mode of Transportation | Estimated Cost | Estimated Duration |
| --- | --- | --- |
| By Rental Car | RM120+ | 5 to 6 hours |
| By Train, Bus and Taxi | RM20+, RM12+, RM95+ | 6+ hours |
| By Bus and Taxi | RM44+, RM95+ | 6+ hours |
Getting to Royal State Park by Car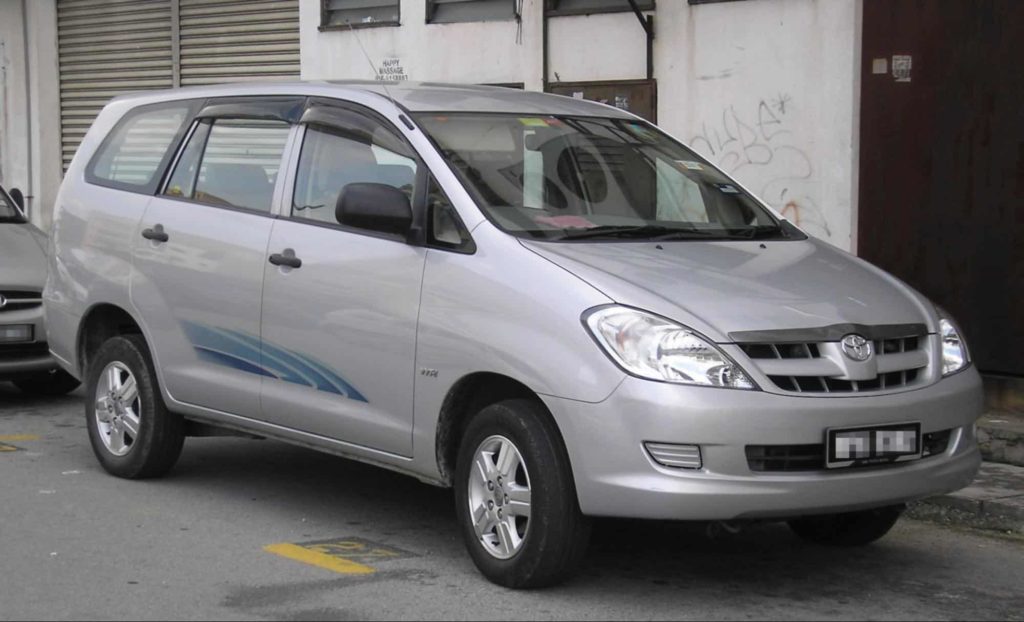 Our favourite way of getting to Royal Belum State Park is by riding a car towards Banding Island. We recommend this mode of transportation for three main reasons: comfort and privacy.
Furthermore, we love riding a car going to Banding Island as it lets us go at our own pace which means that we can modify our trip the way we want to. So instead of heading directly to Banding Island, we can stop by various attractions that we want to visit.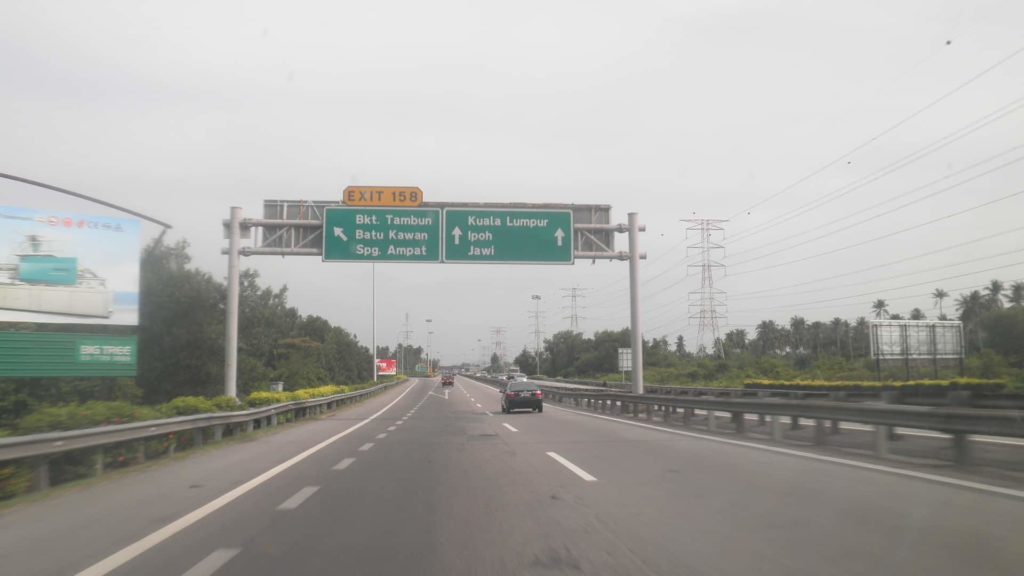 However, if you want the fastest way to get there, here's a route that you can follow which takes around 5 to 6 hours:
Pass through the North-South Expressway. This will take you all the way to Ipoh where you can take exit 143 at Kuala Kangsar.
Right as you pass Kangsar, follow the signs that point towards Sauk, Lenggong and Gerik.
Finally, you'll arrive at the East-West Expressway which goes all the way to Kota Bharu where you'll eventually find signs leading to Royal Belum State Park.
If you think you're running low on fuel as you enter the East-West Expressway, make sure to fill up your tank at Gerik. This is because it's the last place where you'll find a gas station.
If you don't own a car or if you're visiting from another country, you could rent one. In Kuala Lumpur alone, you can find numerous companies that let you rent a car for days and their services won't burn a hole in your pocket.
Getting to Royal State Park from Kuala Lumpur Sentral by Train, Bus and Taxi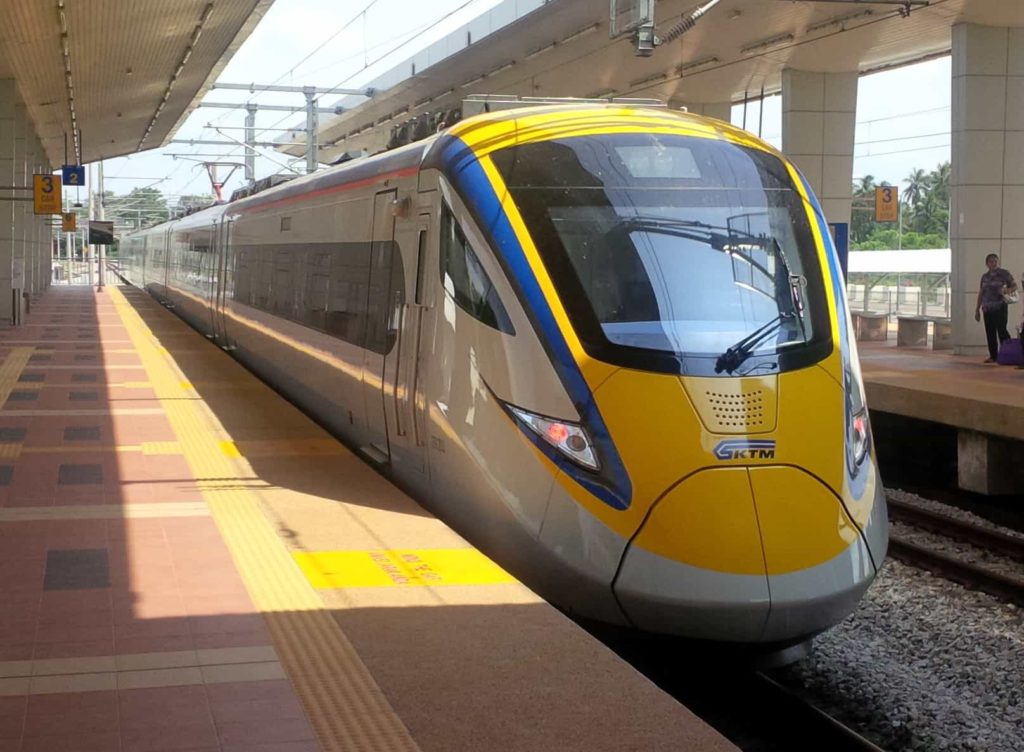 If you want to experience going to Belum as a local, you can try getting there by riding a train and a bus. This is for all those adventure-seeking visitors out there so take note that this route won't be as comfortable as riding a car.
To start, make your way to Kuala Lumpur Sentral where you can ride a train that will take you all the way to Ipoh Railway Station. Make sure to ride the ETS train which is the fastest option and will take around 2 hours and 40 minutes.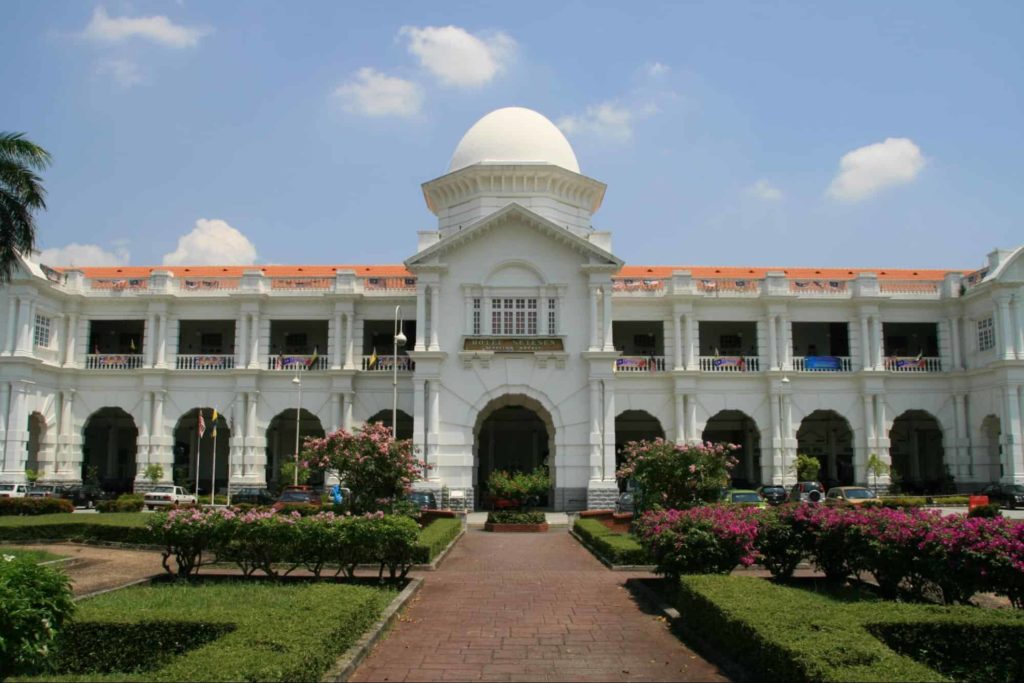 From Ipoh Railway Station, head to the bus station and look for busses that are en route to Gerik where you can then ride a taxi to Pulau Banding.
Getting to Royal State Park from Kuala Lumpur by Bus and Taxi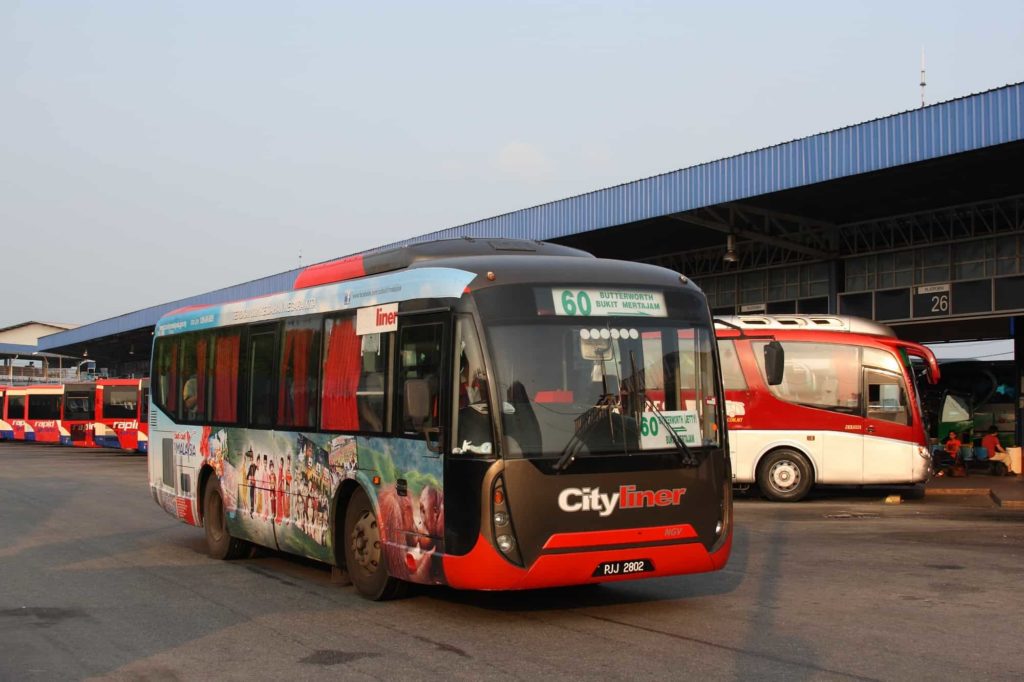 The last option is taking a bus from Kuala Lumpur to Gerik which will take around 5 hours. To do this, make sure to ride the buses that depart from Hentian Duta bus station in KL which costs around RM 44.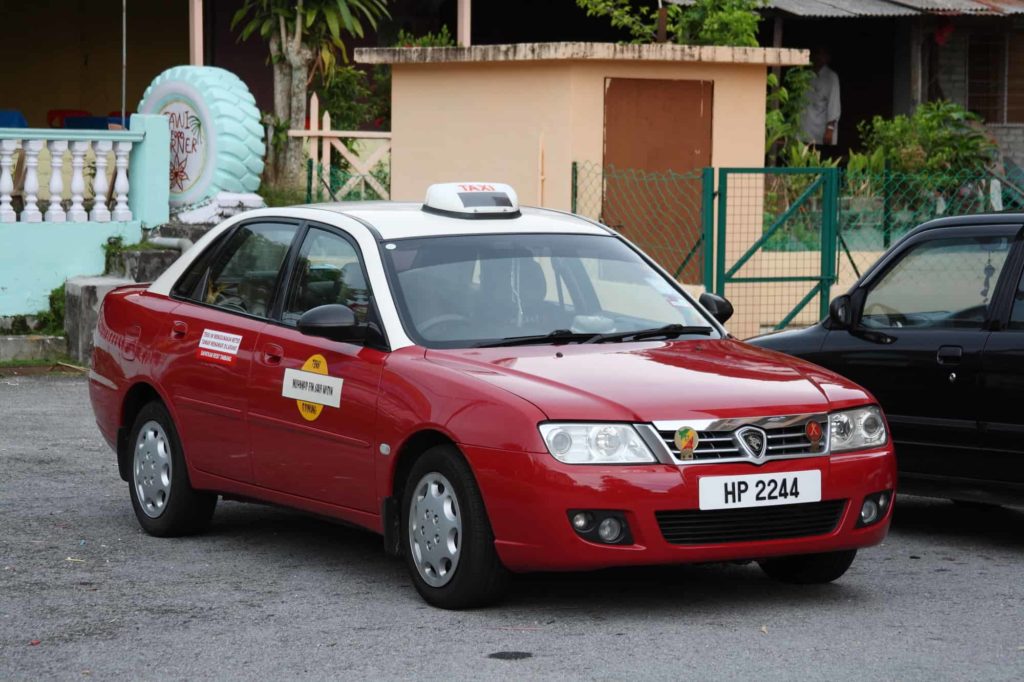 After departing the Gerik bus station, you can hail a taxi and catch a ride to Banding Island. This taxi ride will take about 45 minutes to an hour at most.
Tips to Remember When Going to Royal Belum State Park
We've been to Royal Belum State Park countless times to the point where we now know what to remember when visiting this place. In this section, we want to share some of the things we've picked up along the way to help you and your loved ones have the best time of your lives here.
Always bring and apply mosquito repellent wherever you go. A humid and vegetated place like the rainforest is bound to have mosquitos so it would be wise to protect yourself whenever you head outside your accommodation.
Opt for a travel package, especially if it's your first time as Royal Belum State Park is massive. It can be overwhelming to explore the place by yourself and you may end up missing out on some attractions and activities which would be a shame.
Dress for the occasion. Wear comfortable clothes and sturdy shoes that can stand the wear and tear of the hiking trails that you'll go on.
Pack a raincoat or an umbrella, as it often rains in this area.
Don't forget to process your park permit beforehand. The safest timeframe to process it is by arranging it at least one week before the visit itself to make sure that you don't run into any trouble during your trip.
Although you can still head to different areas such as the jungle located south of the park, it's still preferable to acquire a park permit prior to your visit. This way, you can enjoy the park as a whole and get the complete experience the state park has to offer.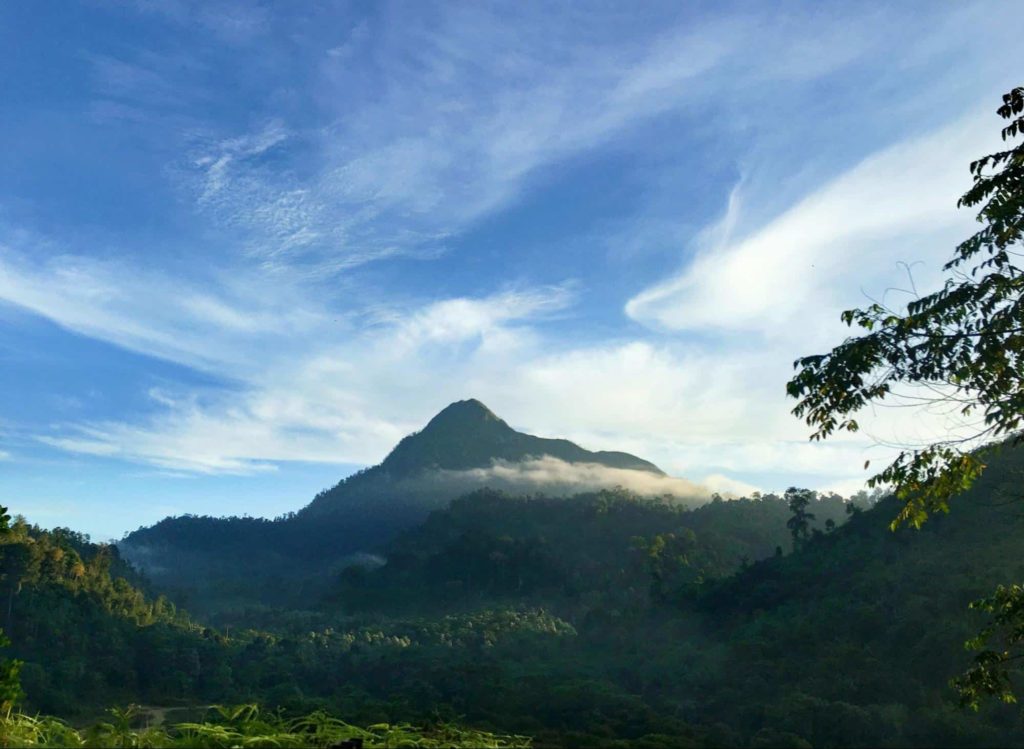 We hope you enjoyed our guide to visiting the must-see Royal Belum State Park. From how to get there to important reminders and more, keep these things in mind when you do eventually visit this perfect getaway destination.
This massive sanctuary opens the door to tons of fun activities and it would be a shame to miss out on them so make sure to try the things we've listed above during your trip!
FAQs about the Royal Belum State Park