Raiz VS Wahed: Which is the Better Investment Platform?
If you've recently been researching the best investment platforms, then there's a good chance you've come across Raiz and Wahed. And since you're here, you've boiled all the investment platforms down to these two and you're stuck!
As a starting investor, it'll be difficult to dabble in both so, now, we have to figure out which is better! But before we answer the question "Raiz VS Wahed: Which is the Better Investment Platform?", let's go into why you should even consider investment platforms in the first place!
What are the Benefits of an Investment Platform?
Gone are the days when you were required to go to stockbrokers and manually manage your stocks yourself. Here are the days when all you have to do is entrust your money to an investment platform and watch them do all the heavy lifting.
Both Raiz and Wahed are what we can call robo-advisors. This means that, when we entrust our funds to them, we don't get to pick and choose the assets we want to invest in.
These algorithm-driven services are what choose for us for maximum returns while automatically rebalancing our portfolios according to our risk levels. The number of risk levels varies depending on the investment platform.
1. Beginner-friendly processes
All investment platforms seek to make their processes the most beginner-friendly because their target market is people who are just starting when it comes to investing.
2. Low-cost investment
When it comes to investing, there are a lot of things you need to learn and be aware of. It isn't an easy industry to mess around in especially if you don't have a lot of extra funds to toss into investments.
Investment platforms give you access to lower-cost investments which makes it possible to grow even RM1. These two investment platforms in particular also choose and manage all your investments for you to ensure maximum interest.
3. Automatic rebalancing of portfolios
With investment platforms, you get to enjoy the safety of your stock portfolio being rebalanced for you! Your stock portfolio is a collection of your investments and these sometimes become a bit too risky with no good returns.
The job of an automatic investment platform is to manage these and rebalance your portfolio regularly based on your chosen risk level. The number of risk levels depends on the company themself but this is just how aggressive they can be when it comes to where to invest your money.
Raiz vs Wahed
Raiz and Wahed are two of the top investment platforms in Malaysia and rightfully so! Thousands of people have entrusted their funds to these platforms and have reaped the benefits.
Now, to better understand everything, let's learn about both these platforms to help you make an informed decision on which one is for you.
1. Raiz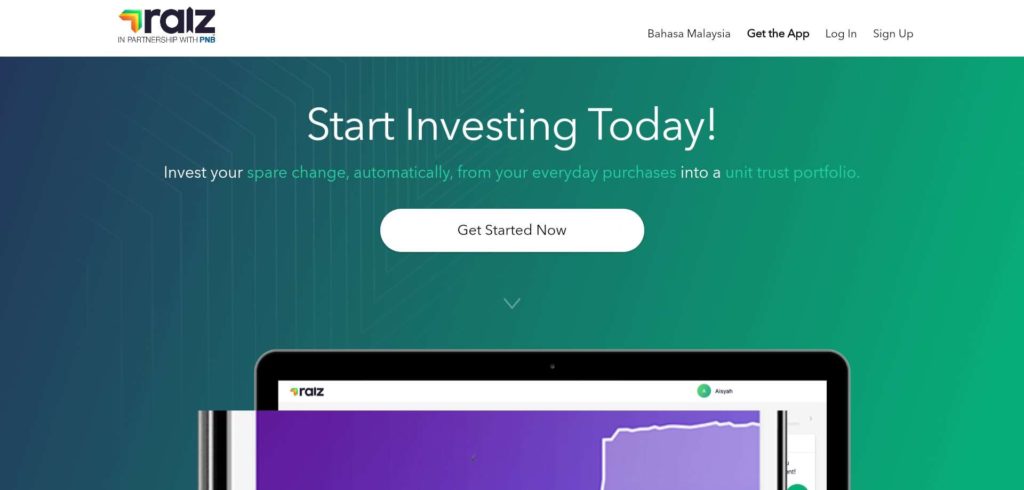 Raiz was introduced to the Malaysian market in 2020 as an investment platform. This was through the partnership of PNB's subsidiary Jewel Digital Ventures and Raiz Invest Australia.
They work together with Amanah Saham Nasional Berhad by utilizing their unit trust funds which are where they invest!
1. General Information
Raiz wants to make investing easy every step of the way. This includes the signup process and application itself.
The signup process is just like with any other application—they ask for the basic information they need from you (name, address, age, MyKad details, etc.) and make your account based on it.
One of the things they'll be asking you is your financial capacity. This will help them when recommending your portfolio's risk level which will determine how aggressive they can be when it comes to your investment risks.
You will also need to connect your bank for you to be able to fund, deposit, and manage your investment account. At the moment, the only bank you can link to it is your Maybank debit card.
They also don't allow the use of credit cards at the moment, whether Maybank or not. This makes the demographic of potential users a lot smaller but they have their reasons for this, possibly exclusivity contracts.
When it comes to their withdrawals or deposits, it takes around 5 days to reflect in your accounts due to the 2-day settlement period of the ASX and bank transfer times.
Their goal is to make investing easy and one of the ways they do this is by their main feature: automatic roundups. Anytime you make a purchase, they round it up to the nearest Ringgit and that spare change is deposited into your investment bank.
Since Raiz is a more youth-focused investment platform, this is a great feature! Most people don't care about their spare change and it's best that it goes into something as important as an investment.
The second way you can deposit your funds is by lump sums. All you have to do is go to the app, input your desired amount, and it automatically invests that amount.
The last way you can deposit funds is by utilizing their recurring funds feature. This will automatically set aside a specific amount you input as often as you want whether daily, weekly, or monthly.
2. Investment Portfolio
First off, it's important to note what we mentioned earlier! For Raiz, you have no control over any of the assets in your portfolio.
What you do have control over is your portfolio's risk level. You have three to choose from—conservative, moderate, and aggressive.
These determine how much risk you're allowing Raiz to take when it comes to investing your money. Higher risk, higher reward!
Anyway, the assets chosen by Raiz for you are unit trust funds that hold bonds, stocks, commodities, cash, and securities. Your deposited funds are managed by Amanah Saham Nasional Behad's unit trust funds.
The process of these being bought and sold is called rebalancing your portfolios is also in the hands of Raiz. They automatically do this every time you invest more funds in your account or whenever the percentage of your holding fluctuates 5% above or below its required allocation.
They adjust the proportions of the unit trust funds so they can move your account closer to your goal allocation.
3. Features
The features of an investment platform can sometimes be the thing that really drives customers to choose to invest with them. Since most of their methods and goals are alike, it's the features that make them stand out. Here are those of Raiz:
No minimum balance for account opening
First, let's talk about the fact that there's no minimum balance for opening an account. All you have to do is connect your Maybank debit card and you're good to go!
No fees for withdrawals and deposits
They also don't have any fees for withdrawals and deposits so you may do both as you please.
Raiz prides itself in its bank-level security with 256-bit encryption. Any unusual activity from your account will cause them to contact you for protection against any criminal activities.
They have multiple other ways to keep your account safe. Life multi-factor authentication, ID verification, and automatic logouts when you've been idle for too long.
Raiz is also available on both Android and iOS apps! Just go to your device's Play Store or App Store and type in Raiz to download it.
Raiz Kids is an option that allows you to set up investment funds for minors under your care. This is the feature that makes Raiz stand out the most!
You may select a portion of your balance to go to your kid's account and this will continue to grow as yours does or get lower as yours does. Most investment platforms don't allow kids below 18 to invest so this will help you build your kids' investment habits early on!
If ever you decide you no longer want the Raiz Kids account, you can cancel it at any time.
4. Taxes and Fees
While most of the ideas of Raiz are great for beginning investors, they may be a bit too ambitious when it comes to their management fees. They have a monthly charge of RM1.50 for accounts with a balance below RM6,000.
Now, this doesn't seem too big from up close but when you look at the bigger picture, this could really eat into your returns if you haven't been depositing a lot.
Fees
Withdrawal
None
Deposit
None
Balance of RM0
None
Balance of >RM6,000
RM1.50 a month
Balance of <RM6,000
0.30% a year
Also, note that they have an RM20,000 cap on one-time investment deposits.
Now, let's talk about taxes. When it comes to taxes, most interest incomes are tax-exempted at the unit trust level. Meaning, you don't have to pay income taxes on your earned returns with Raiz.
However, dividend income received by your fund is subject to tax so if that's what your funds were invested in, you will be receiving the distributions net of that tax. Not a bad deal!
Client Reviews
Here are a few reviews from satisfied clients of Raiz that you'd be happy to read:
"I have been really please with the Raiz offering so far. They have so many portfolio that you can choose the level of risk you want. They are transparent and they even invest the dividends that you back back into your portfolio. I've made hundreds over the last few months and want to share this success with everyone!" –Blako
"Such a great app and company with a real focus on simple and user friendly investing. I've been using it for months now and very impressed with the returns I have made. I recommend that they do more marketing and outreach to get their name out more." -Johnson
2. Wahed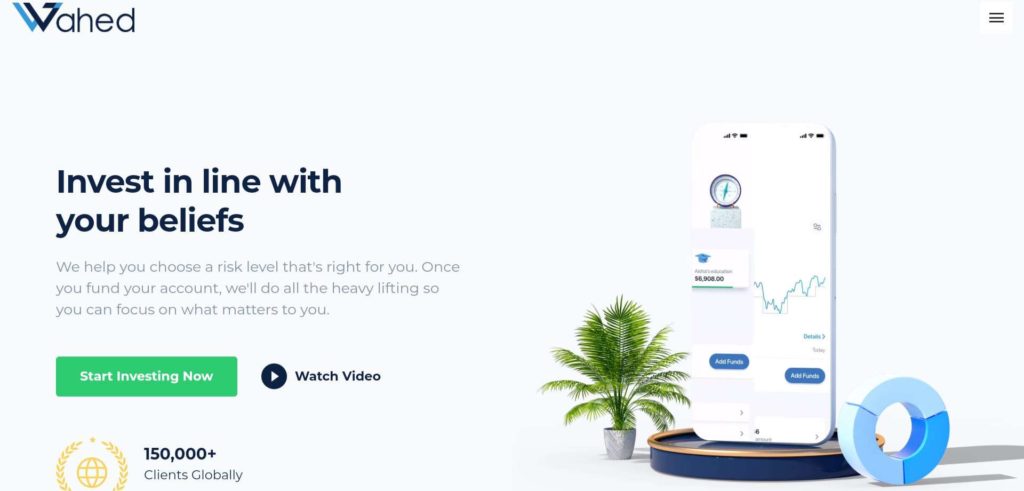 Wahed is the first-ever Islamic investment platform. It was developed in New York in 2017 and has since made its way to the smartphones of Muslims all around the world.
The way it's different from all the other investment platforms is it's governed by Sha'riah law.
This is such a big deal because here's an investment platform that's actively going out of the traditional investment norms and focusing on giving its clients a guilt-free investment experience.
1. General Information
Wahed is a certified ethically compliant wealth advisor that seeks to invest in companies that uphold the beliefs of Islam. All of this while still maximizing returns and minimizing the risks for all their clients who choose to invest with them!
Every company or investment they partake in is ensured to have gone through a thorough screening to make sure clients only participate in Halal investments. This means no supporters of gambling, liquor, pornography, or tobacco.
Now that you're assured that your investments with them will be ethically sound, let's talk about the process of creating your account!
With Wahed, you begin by completing a risk assessment questionnaire. This will help them determine the risk level for your portfolio.
After this, they recommend you your optimal portfolio with all the details regarding it. If you're satisfied with what you see, you may then begin filling out the online registration form to make your Wahed account!
To deposit funds into your account, log in to your Wahed account and click on Funding. After this, click on Add Funds and input the amount you want to deposit.
After you receive the information regarding the bank's details, transfer the funds through a wire transfer from your bank and that's it!
Both deposits and withdrawals aren't charged so you can do both as many times as you want which is great but note that they have a minimum deposit and withdrawal of RM100.
Now, while withdrawals aren't charged, they do take quite some time compared to other investment platforms. Some reviews have stated having to wait up to two weeks for their funds to reflect in their account.
2. Investment Portfolio
Wahed portfolios are classified into six different categories: very conservative, moderately conservative, moderate, moderately aggressive, aggressive, very aggressive.
Wahed client portfolios consist of very diversified assets from Malaysian stocks to U.S. stocks, including Sukuk (Islamic bonds), real estate, cash, and actual gold. These securities are where your first deposit is automatically invested into.
Note that they don't work with securities that earn an income with a total revenue that is greater than 5% unless they donate the rest to charity.
These portfolios are managed by both their algorithm and their Investment Committee. Every portfolio recommendation is thoroughly studied by the committee and they make changes when they deem necessary.
The changes are called rebalances to your portfolio. These are done when you either make a change to your risk profile, add or withdraw funds from your account or when there's a major change in market volatility.
3. Features
It's interesting to look at how investment platforms seek to differentiate themselves from other platforms and solve their clients' issues with the use of their features. Wahed tried, and successfully, did this by utilizing the following:
Shari'ah-compliant investments
They follow a very strict and comprehensive list of the investment avenues they take interest in. Anything that partakes in unethical practices or sells unethical products is automatically taken out of consideration.
This includes but is not limited to manufactures of tobacco, liquor, pornography. Also, companies that don't comply with certain debt riots or don't have a certain percentage of non-liquid assets.
Low fee for account opening
In order to open a Wahed account, you just need RM100! This is to ensure that, as soon as your account opens, your funds can begin going into those good investments no matter how small.
The Wahed application is available on both Android and iOS devices.
4. Taxes and Fees
No matter what investment platform you use, you generally aren't subject to tax incomes. You will only be subject to a 30% dividend tax for Wahed FTSE USA Shariah ETF's dividends.
Here's a table of the fees that Wahed charges:
Fees
Withdrawal
None (minimum deposit of RM100)
Deposit
None (Bank charges may apply)
RM0 balance
None
Balance of RM100 – RM249,999
0.99% per month
Balance of RM250,000
0.49% per month
Reviews
Check out these reviews of some of Wahed's satisfied investors:
"i have no market share kind of background thing. just a surface to learn about market share. tried invest to this robo-platform. so far satisfied. yes started small amount back then, but now slowly increase on investment. can see return even just few months invest." –Mitorak
"I'm new to Wahed but so far so good. Like any other investment product there is always questions of its legitimacy and this question will always be there…im also using other nvestment platform and hopefully Wahed being Syariah compliant would be a good choice for diversity" –Zawawi
Key Points
Like with anything in life, no one can really decide what's right for you. When it comes to investment platforms, you have to do your own research and ask around even more.
Each investment platform has its pros and its cons and, just like with traditional investing, returns aren't always guaranteed. Sometimes you may even lose more than you originally started with but that's why long-term investment is always the best idea!
As much as we want to do everything to help you, we can only go so far. So, as you go on and decide whether you want Raiz or Wahed, here's a summary of the key points plus a few more notes we got from reviews online!
RAIZ
Minimum deposit of RM5
Automatic round-ups
Automatic rebalancing
Raiz Kids feature
Charged fee based on the balance
Only Maybank debit card connection is available as of now
High fees for small-time investors
Investments aren't officially Shari'ah compliant
WAHED
No charged fee based on the balance
Shari'ah compliant investments
Automatic rebalancing
Minimum of RM100 needed for account opening
Clients have commented on customer service needing work
Minimum deposit of RM100 for all deposits
Takes a while to withdraw your funds
FAQs about Raiz vs Wahed
Conclusion
When it all comes down to it, all that matters is you're finally building good habits around your finances. We applaud you for this!
It's a step-by-step process and it does take time. These types of investments don't just grow overnight so it takes patience to really see it through and trust that you made the right choice with whatever investment platform.
---
If you have any thoughts on the debate between Raiz vs Wahed or even questions about it, please let us know! We'd love to hear from you.
Now, you know, the best way to stick to a goal is to have a prize waiting for you at the end. Try and tell yourself that you'll reward yourself with a trip someday soon by browsing through this article on the best travel agencies in Malaysia!