5 Shops for the Best TV Repair in Johor Bahru
Featured Image Source: Khalid Alshehri via Unsplash
Televisions have come a long way, from big old clunky boxes to flat-screen HD TVs. But despite our technological advancements, modern TVs are still prone to damages that can ruin your entertainment experience.
Before you decide on buying a new television, you should consider getting it checked by a TV repair shop near you. To help save you some money, we've listed down the top shops that offer the best TV repair in Johor Bahru.
How Much TV Repairs Cost in Penang
The cost of TV repairs can vary depending on the damage repairs and electronic components that your television requires. Luckily, you can get a rough idea of how much money you'll spend if you refer to our price list below.
| | |
| --- | --- |
| SERVICE | AVERAGE COST |
| Diagnosis | RM50 or more |
| Service Fee | Rm50 or more |
| Backlight Issues | RM250 – RM600 |
| Screen Panel Problems | RM200 or more |
| Circuit Board Replacement | RM300 – RM600 |
The Best TV Repair in Johor Bahru
With the rise of new display technology, you'll need a technician who knows how to fix different types of TVs like LED, OLED, LCD, and more. Luckily, the shops on our list have the skills and services to properly diagnose and repair your TV back into tip-top shape.
We've written down everything you need to know like their services, location, and contact details so you can have your TV repaired right when you need it. If you've got a television that needs fixing, it's time for you to find out about the best TV repair in Johor Bahru.
1. Third Wave Electronic Service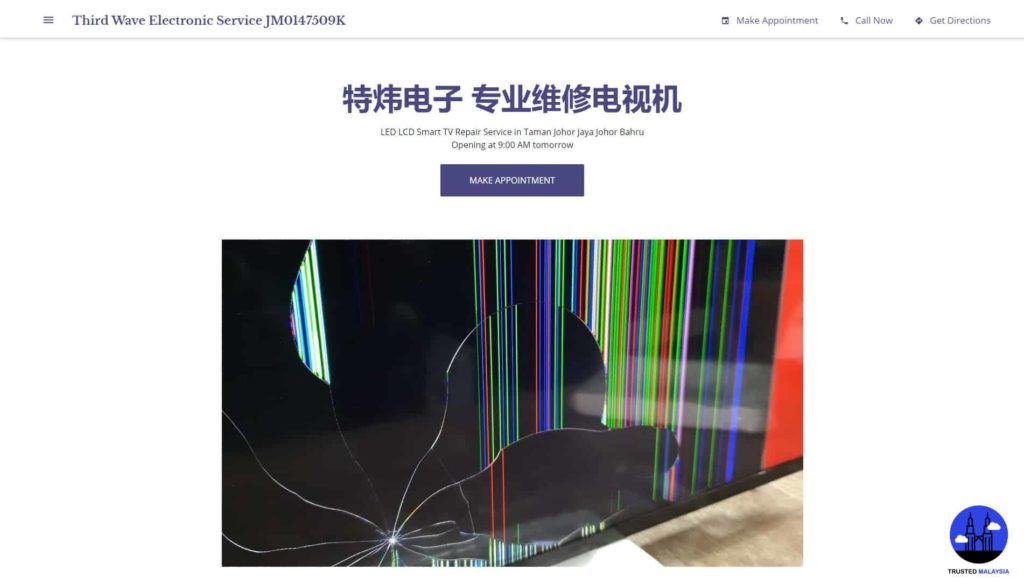 WEBSITE
third-wave-electronic-service.business
SERVICES
LED, LCD, Smart TV repairs
OFFICE HOURS
Monday – Friday: 9:00AM – 5:00PM
Saturday: 9:00AM – 2:00PM
Sunday: Closed
ADDRESS
Bagunan Arked Johor Jaya, MY Johor Johor Bahru Taman Johor Jaya A7,Tingkat Bawah, Jalan Dedap 14, 81100, Malaysia
CONTACT INFORMATION
Contact Number: +6011-1022 2324
If you're looking for a time-tested TV repair shop, we think that Third Wave Electronic Service is your best option. The shop has been running since 1990 and their customer feedback shows that their long-time clients trust their prices and services.
They primarily provide quick repairs for LED, LCD, and other smart TVs which their customers seem to really appreciate. The technician is responsive to questions from customers, provides honest rates, and even gives free TV diagnostics.
They post some of their repair jobs on their business site so you can get a picture of what they're capable of. Some of the stuff that we saw were LCD main board repairs, fixing burnt LED power control board, subwoofer repairs, amplifier repairs, and more.
The shop is located by the side of the road just right across from the Johor Jaya wet market so it should be very easy to find. However, if you have a hard time locating their shop, we're sure that you can find your way if you ask around the nearby stores.
Free diagnostics
Provides repair costs beforehand
Minimum of one day repair
Repairs other appliances and electronic devices
Not an accredited service centre
Does not provide brand new parts
Customer Review
One of their customer, Elivs Seow, wrote this detailed review:
"Had my faulty 32″ LG Smart TV sent for repair, and not only did the boss give free diagnostics, he will also inform beforehand if the price is worth the repair. Fortunately, the repair cost for my faulty TV is worth to go ahead with the repair. And the following day, the TV is ready for collection! Really fast and efficient service! And the shop repair all sorts of electronic equipments, and there's one customer who request to repair a rice cooker. Really amazed with the repair skills of the boss. Now I have a go-to stop shop to get my repair needs done! Don't need to spend and waste hefty amount of money to buy new electronics anymore, wheh my old beloved gadgets can be revived! Thank you, Third Wave Electronic!"
2. Repair TV Lcd/led/curve/crt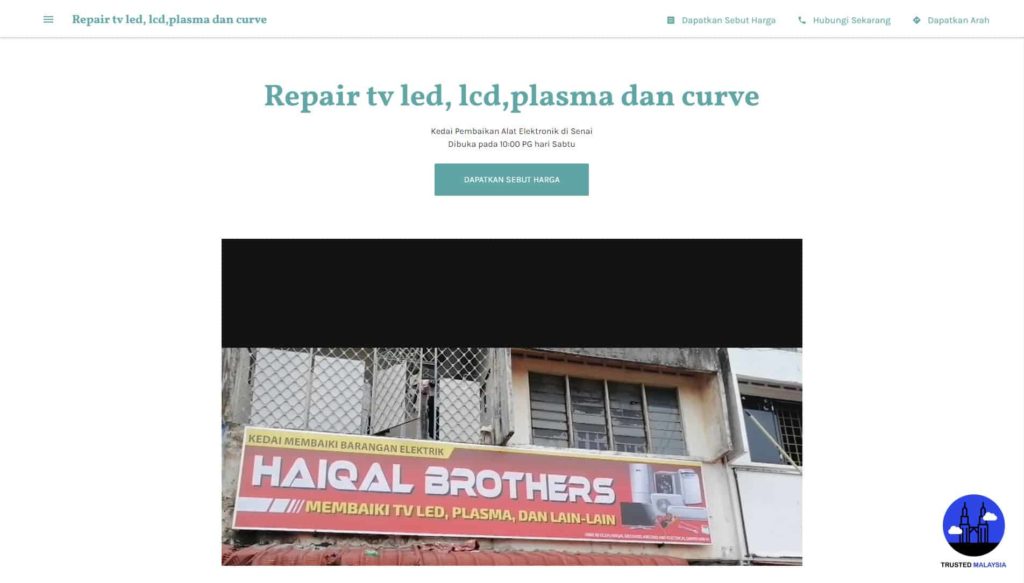 Are you looking for an affordable place that repairs all kinds of televisions? If so, we highly recommend that you visit Repair TV LCD/LED/Curve/CRT for their reasonable fees and fast services.
They cater to different types of television brands, display types, and issues so you can bring any type of TV to their shop. Aside from their top-quality services, they can also help you find spare parts that are suitable for your unit.
We've noticed that most of their clients praise them for the quick repairs and fair prices so that's something you should look forward to. You can also visit their website where they post tons of their work like fixing TV circuits, sound systems, and LED lights.
They're a small roadside shop so it should be fairly easy for you to find. You can also contact them first-hand if you want to make sure that they can cater to your needs.
Posts a lot of videos of their work online
Assists in finding spare parts
Caters to different brands and TV types
Limited info available on site
Does not provide service prices online
Customer Review
One of their customers wrote this comment:
"Reasonable price, guaranteed after repair! the repair process is a bit fast! best quality work!"
3. Repair & Service Team Johor Bahru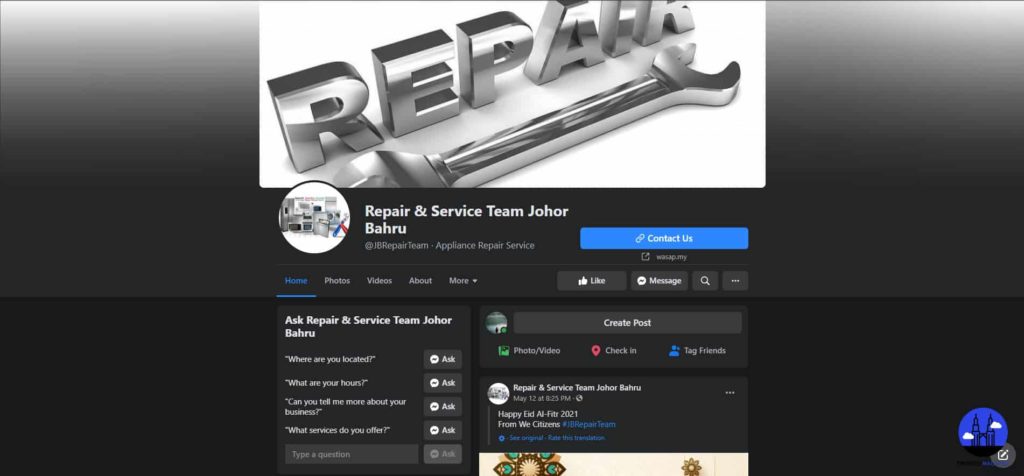 WEBSITE
Facebook, SNS PC Station
SERVICES
LED and LCD monitors, kitchen equipment, computer, and appliance repair
OFFICE HOURS
Saturday – Thursday: 12:00PM – 7:00PM
Friday: Closed
ADDRESS
SNS PC Station, RA Setia Maju Enterprise, G-03 Blok E, Flat Laman Tasek, Taman Redang, 81100 Johor Bahru, Johor, Malaysia
CONTACT INFORMATION
Contact Number: +6017-991 1659 (WhatsApp)
Do you have other electronic appliances that need repair aside from your TV? Repair & Service Team Johor Bahru because is more than your average TV repair shop because they offer services for ovens, mixers, projectors, smartphones, and even laptops.
When it comes to television repairs, they primarily cater to LED and LCD monitors. We've checked out their site and found a promising video of how they've fixed a shaky display of a 55-inch TV.
The best part about their shop is that they also cater to broken kitchen appliances and they have a different team that specifically handles computer devices like laptops, smartphones, and tablets.
They also reply very promptly via WhatsApp so you can ask for all the details you need before visiting their shop.
Repairs various electronic appliances and computers
Caters to kitchen equipment repairs
Open on Sundays
Closed on Fridays
Opens later than most shops
Limited details about their TV repair services
4. Leader Electrical Sales & Service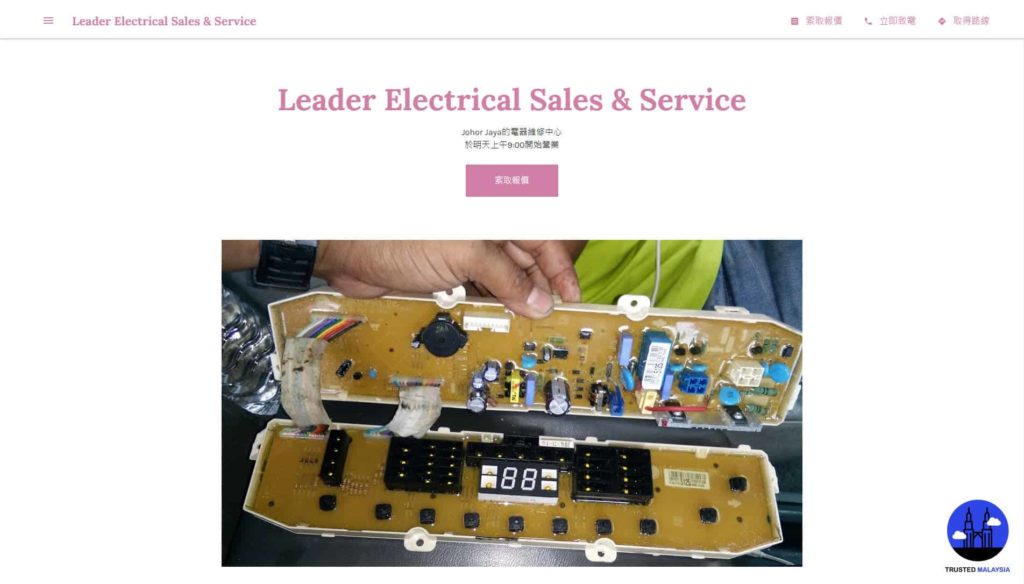 When it comes to branded televisions, it's always a good idea to have them repaired by an accredited service centre. Luckily, Leader Electrical Sales & Service is an authorized service centre for SHARP and LG appliances.
As a service centre, they can provide top-quality services such as certified technicians, genuine parts, warranty coverage, and even product recalls. Additionally, they also provide TV repairs for other brands and display types which means that they'll take care of any TV you have.
Although most of their details online are in Chinese, you can simply send them a message as they reply to inquiries very quickly. They can also provide important details such as their service costs and technical recommendations which is very convenient for customers.
Parking area available
Authorized service centre for SHARP and LG
Caters to different types of TV brands
Their online information is in Chinese
Minimal details about their work and services
Customer Review
One of their customer, Maimunah Ismail, left this review:
"Sent many items before and very please with their service. Sometimes they took longer time for repairs but as long they explain to customer and do a good repairing works, its fine with me."
5. GW Electric
WEBSITE
gwelectric.com.my
SERVICES
Electronic product provider and repair services
OFFICE HOURS
Monday – Friday: 9:30AM – 5:30PM Saturday: 9:30AM – 3:00PM Sunday: Closed
ADDRESS
120, 122, Jalan Keris, Taman Sri Tebrau, 80050 Johor Bahru, Johor, Malaysia
CONTACT INFORMATION
Email:

[email protected]



Contact Number: +607-332 0685, +6010-566 5894 (WhatsApp)
Whether you want to have your TV repaired or buy new electronic devices, GW Electric is the one-stop shop for you. With over 40 years of experience in providing electronic products and services, you can't go wrong with this shop.
They have a team of technicians who can repair LED, OLED, LCD, and other TVs that have audio problems, shaky screens, busted lights, burnt circuits, and more. And if you're in the mood to shop, they also sell LED TVs, audio equipment, electronic components, and surveillance cameras.
With their wide list of products and repair services, we highly recommend GW Electric if you are in need of electronic components and other devices. You can also contact them via WhatsApp and ask for more details about their TV repair services.
Specializes in professional audio-visual and lighting products
Sells surveillance and communication equipment
Limited details about their repair services
Primarily an electronic appliances provider
Customer Review
Their client, Shiyun Khoo, wrote this comment:
"Ask anyone in Johor Bahru for the go-to place for electronic supplies and you'll be directed here. Friendly and helpful staff. All basic supplies at good prices."
FAQs About the Best TV Repair in Johor Bahru
---
As long as you know where to find the best TV repair in Johor Bahru, you won't have to worry about missing out on your favourite shows anymore. All you have to do is take note of our recommendations and pick the shop that's closest to you.
If you found this article helpful, we'd love to know which shop TV repair shop caught your attention. You can share your thoughts by sending us a message and we'll get back to you as soon as possible.
Do you have anything else in your house that needs fixing? If you have leaky pipes and clogged-up drains, you might want to check out our list of the best plumbers in Johor Bahru.