Raiz VS StashAway: Which is the Better Investment Platform?
Anyone who uses investment platforms knows about Raiz and StashAway. They're two well-known platforms, specifically for the help they provide beginners in the investment industry.
When you're one of those beginners and you get stuck choosing between these two, it can be quite difficult! They're both similar platforms with virtually no differences so we're here to help you answer the question: Raiz VS StashAway – which is the better investment platform?
Read on and find out!
How to Choose an Investment Platform
There are two kinds of investment platforms: one kind is a D2C (direct to customer) platform which doesn't offer the service of a financial advisor, while the other utilizes a financial advisor who does your investing for you.
Both Raiz and StashAway are the latter.
With these two, you don't get the freedom of choosing which investment avenues you'll get to work with, though this is for the best if you're a beginner. These investment platforms do all the work needed to properly manage investments like monitoring, rebalancing, and optimizing the trades your funds are part of.
Now, when it comes to choosing an investment platform, there are a few things you should consider before deciding it's the right one for you and your needs.
Charges
Every platform has different charges that you should consider. The fixed fees and percentage fees are the most common.
The fixed fees are charged monthly or yearly and are the payment for availing of the services of the platform. Percentage fees are the fees taken out based on the amount you earned through your investment.
Be sure to check if they have withdrawal fees and exit fees as well.
Usage
As mentioned earlier, Raiz and StashAway don't allow you to choose your investments. So if you're someone who has specific stocks, bonds, real estate, or other investment avenues in mind, you might need to look for different investment platforms.
Tools and Guidance
Be sure to do your research and learn all about the tools and guidance the platform provides its clients. This includes things like newsletters, information on how to understand investing more, and updates on the economic climate.
Customer Service
This is a major thing to focus on! Since you're investing your hard-earned money, you're going to want to be able to contact the people who are managing all of it.
It'll be so much easier to have your questions answered by good representatives who know what they're doing and are easy to contact. Picking an investment platform with great customer service will save you a lot of stress in the future.
Raiz vs StashAway
As we said earlier, Raiz and StashAway are both very similar platforms which is probably why you're here reading this article. You need help figuring out what their differences are so you can choose which will cater to your needs more.
Here's the full rundown of both investment platforms:
1. Raiz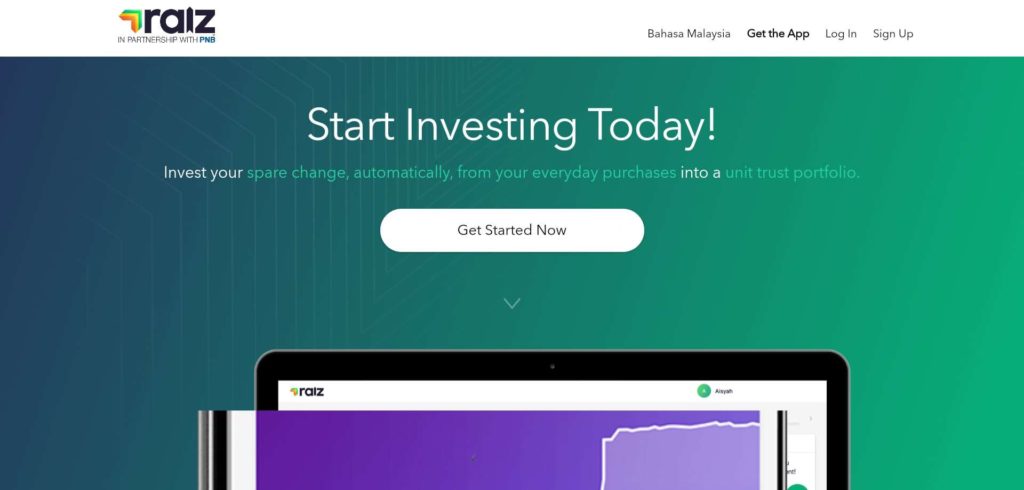 1. General Information
Raiz is an Australian investment platform that began its operations in 2016. It was in 2020 when Permodalan Nasional Bhd (PND) partnered with them and introduced the Malaysian market to the micro-investing mobile app.
You can open a Raiz account with a minimum of RM5! We see this as a huge deal as it makes them more accessible to the common man and allows everyone to invest.
The best thing about them is they help you automatically invest small amounts. This is done by taking every purchase you have using your Maybank debit card and rounding it up to the nearest Ringgit.
This spare change of yours is then easily invested into a unit trust portfolio that's regularly observed by Raiz. Now, here are the three main ways you can deposit funds into your investment accounts: roundups, lump sum, investments.
For round-ups, what they do is round up every transaction you have to the nearest Ringgit then invest your change into a diversified portfolio.
The next is you invest lump sum amounts by entering the amount on the app's Invest screen, and for the last, you just set up recurring investments of a specific amount.
Keep in mind you can deposit and withdraw anytime you want with Raiz as long as you're connected to the Internet which makes roundups easier.
2. Investment Portfolio
With Raiz, they don't give you the liberty of choosing your own assets to own or invest in. That's why ASNB is the management company that buys, sells, and manages all your assets to the best of its ability.
Your investment portfolio will consist of unit trust funds that include asset classes like bonds, shares, cash, and securities.
Raiz offers three types of investment portfolios: conservative, moderate, and aggressive. The type of risk profile you get will be determined by your answers during the signup process.
You have the liberty to change your risk profile anytime you want with no fee but please note that this will affect your investment profile as a whole. This change also takes about 7 days to fully take place.
3. Features
Every investment platform seeks to find ways to stand out and let their potential clients know why they should be chosen over all the other platforms out there. Here's how Raiz tries to set itself apart:
Raiz stores everything on a remote server. They utilize bank-level security and data encryption while making sure that none of your data is stored on your phone for safety in case of loss.
They also have ID verification, multi-factor authentication, and automatic logouts to keep your account even safer on your phone.
You can download Raiz on both Android and iOS devices.
If you have any children under your care, Raiz Kids is great to help teach them about developing good investment habits!
How it works is you can select a portion of your balance to go to your child's account. It won't be a separate account at all so you won't be able to adjust their risk portfolios but you can be sure that your funds will rise and fall together.
You can cancel Raiz Kids any time you want with no charge.
4. Taxes and Fees
You'll be happy to know that they don't charge fees on RM0 balances, for withdrawals, and deposits so you don't have to worry about that.
However, if your account balance is under RM6,000 they do charge RM1.50 a month. If your balance is RM6,000 and over, you will be charged 0.30% per year.
These charges are pretty steep for the average person when you start computing it so we recommend weighing the costs and benefits for you when it comes to this.
Client Reviews
Read these reviews of clients who were more than satisfied with the returns Raiz gave them:
"I have been really please with the Raiz offering so far. They have so many portfolio that you can choose the level of risk you want. They are transparent and they even invest the dividends that you back back into your portfolio. I've made hundreds over the last few months and want to share this success with everyone!" –Blako
"Such a great app and company with a real focus on simple and user friendly investing. I've been using it for months now and very impressed with the returns I have made. I recommend that they do more marketing and outreach to get their name out more." -Johnson
2. StashAway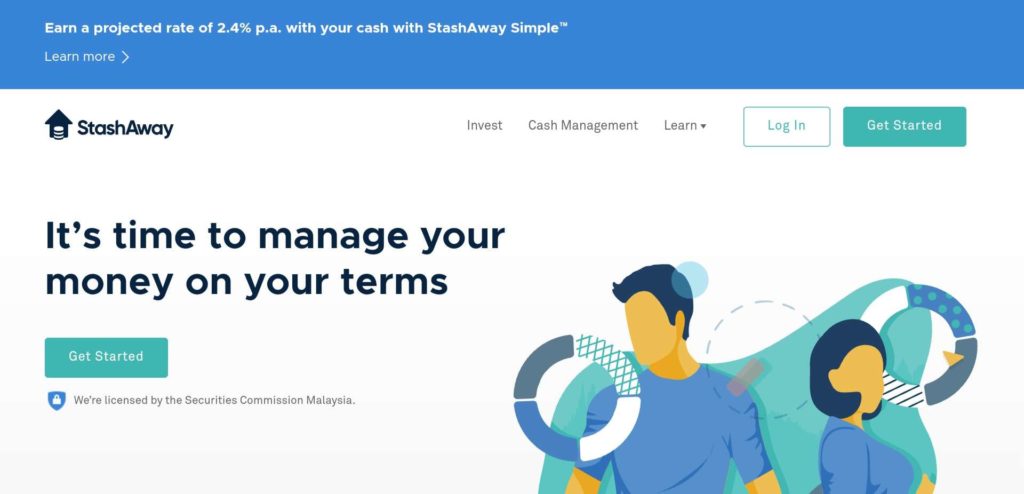 1. General Information
StashAway is a Singaporian investment platform that was developed in 2016. It first began its operations in Malaysia in 2018 when it was granted its license by the Securities Commission of Malaysia.
You can open an account by downloading the application and investing a minimum of RM1. It's a beginner-friendly investment platform with an easy-to-use application.
You start everything with StashAway by inputting a reason or a goal for why you decided to invest. This helps keep you on track and remember why you're doing this!
Also, while being an investment platform, StashAway now offers a cash management service called StashAway Simple. StashAway Simple is Shari'ah compliant while StashAway itself isn't strictly so.
They also offer a retirement planning service which you'll learn more about in the next section!
With StashAway, you can do one-time deposits or monthly recurring deposits through your connected bank account. All you have to do is go on the website or app and from there you can easily navigate your way to the transfer section!
Select SRS Account to put it into your investment account, select either one-time or monthly deposit, and from there you'll be guided by the bank instructions.
For withdrawals, it's the same concept except you go to withdrawals instead of transfer. You'll also be receiving a withdrawal verification code.
Note that StashAway doesn't allow you to open an account with them if you have two or more existing auto loans or home loans because you should be focusing on paying off those debts.
2. Investment Portfolio
StashAway offers four different types of investment profiles. These investment portfolios set the trajectory for your whole investment journey.
There's the General Investing Profile, Goal-based Investing Profile, and Retirement Investment Profile.
For the Retirement Profile, they take into account how much money you've saved and what you will be saving each month as well as what you want your retirement plan to look like. As your retirement approaches, StashAway will automatically lower your risk level so you can retire knowing you have funds being safely invested.
For the General profile, this is the profile you choose when you just want to be in control and comfortable with building your funds. You select the risk level you feel is right and access your money whenever you want with no issue.
For the Goal-based profile, all you have to do is tell StashAway your goals and they'll assist you in building a savings and investment plan to achieve these goals.
One thing about them is they know that high risks don't always mean high returns. The whole basis of StashAway is they want to protect your money from as much unnecessary risk as possible while still adhering to your risk profile.
This is different from most investment platforms that proudly state that high risks are really worth the high rewards. However, this may be just another way to appeal more to those who are worried about their money being wasted.
Anyway, Economic Regime-based Asset Allocation is their main investment strategy. This is used to manage and maintain each of StashAway's clients' personal risk preferences through any economic environment.
You select your risk profile based on StashAway's Risk Index (SRI). The SRI is what they use to determine the amount of risk your portfolio will be exposed to.
Once this is determined, they use that data to determine the assets your portfolio will be made of. On that note, there are two risk levels are Core and Higher Risk.
For those who choose Core portfolios, the SRI ranges from 6.5% to 22%. Higher Risk portfolios go up to SRI 36%.
Your funds are invested into assets through Exchange Traded Funds that are liquid, cost-effective, and tradeable. Your portfolio is then regularly readjusted based on your risk preference and the economic environment.
3. Features
To fully know if an investment platform is for you, you have to know everything about it and what makes it different from other platforms. Here are the features of StashAway that make them different from other platforms:
For every login on your account, you will be going through a two-factor authentication which includes your password input and a one-time verification code sent to your mobile number!
Any time you deposit or withdraw funds from your account, you will be receiving an email notification to alert you of any activity that may not be yours.
StashAway has been granted a CMS License from Malaysia Securities Commission. This makes them follow the same guidelines Malaysian banks must comply with
Operates on secure servers
They utilize their own secure server infrastructure designed to protect your data. This is regularly audited by third-party data protection and cybersecurity services.
4. Taxes and Fees
When it comes to taxes and fees, StashAway is a great partner! Their only fees are their annual fixed fees which begin at 0.8% and get lower as your investment amount grows.
Here's an overview of their annual management fees based on your total investment amount:
| | |
| --- | --- |
| Total Investment | Annual Management Fee |
| RM 0 – RM 50,000 | 0.8% |
| RM 50,001 – RM 100,000 | 0.7% |
| RM 100,001 – RM 250, 000 | 0.6% |
| RM 250,001 – RM 500,000 | 0.5% |
| RM 500,001 – RM 1,000,000 | 0.4% |
| RM 1,000,001 – RM 3,000,000 | 0.3% |
| RM 3,000,001 and above | 0.2% |
Also, one issue when it comes to people coming into the investment world is they're worried they may not have enough money. StashAway does a great job helping them with this by not charging you even if you only have RM0 in your account.
Income earned through investment isn't subject to taxes unless it's dividend income which then subjects them to 30% tax.
For StashAway Simple, they don't have any management fees for any balance. However, there is an average next expense ratio that underlying fund managers charge that's approximately 0.165%.
Client Reviews
Here are a few reviews of people who trusted StashAway enough to invest their hard-earned money with them:
"I have been with StashAway for about a year now, and it's been pretty pleasant so far. It's easy to transfer money across the various portfolios, and their customer support is very responsive and helpful. I would like to personally thank the team for their swift response when I accidentally transferred money to their account by accident, and the customer support team made the reversal of funds happen within the day itself." – Charmaine
"A very fuss free investment platform that allow one to easily DCA into a basket of ETF without much barrier. The only feedback is that it takes 1-2 working days to allow them to purchase the etf for you." –Barracuda
Key Points
As you can see, both Raiz and StashAway have a lot of similarities. After all, they both have the same goal in mind which is to make investing accessible and easy for everyone.
Here's a simple table to help you clearly see the differences between Raiz and StashAway:
RAIZ
Provides portfolio recommendations
Fee-based on balance
Minimum of RM5 to open an account
Does roundups for all your purchases
No withdrawal charges
Availability of Raiz Kids
20,000 cap on one-time investments
RM1.50 charge for balances below RM6,000
STASHAWAY
No fee based on the balance
Annual fixed fees lower the more you invest
Minimum investment of RM1
No withdrawal fees
High security on logins and withdrawals
Can't open an account if you have 2 or more auto loans/home loans
FAQs about Raiz vs StashAway
Conclusion
If you're a newbie investor, we know this could be a lot to take in! This is why it's important to really do your own research and learn as much as you can about everything before really settling down.
Here are our thoughts on Raiz and StashAway:
Raiz is more suited to people who want to just focus on investing in a much simpler way thanks to just three risk profiles. It's also great for those who have minors under their care who would really benefit from having their own "investment accounts" already.
Meanwhile, StashAway has a more diverse portfolio and risk set which is great for people who want to gradually up their risk profiles. It's also good for people who want to start planning their retirement and managing their savings on StashAway Simple.
Investment platforms are a great tool to help you slowly grow your money and form great financial habits. These financial habits could help you achieve all your financial goals when done the right way with the right tools so good luck!
---
If you have any thoughts on Raiz vs StashAway, please let us know! We'd love to hear from you.
Additionally, if you're in the process of building your own business in a stride to attain that financial freedom, check out our article on the best business loans in Malaysia!