The Only Guide You Need for Nightlife in Kuala Lumpur 
Since Malaysia is a predominantly Islamic country, a lot of foreigners think that the country's nightlife scene is non-existent. Although most locals here are indeed Muslims, you'll be surprised how bustling the nightlife scene is in Malaysia, more specifically, in Kuala Lumpur.
How's the nightlife scene in KL?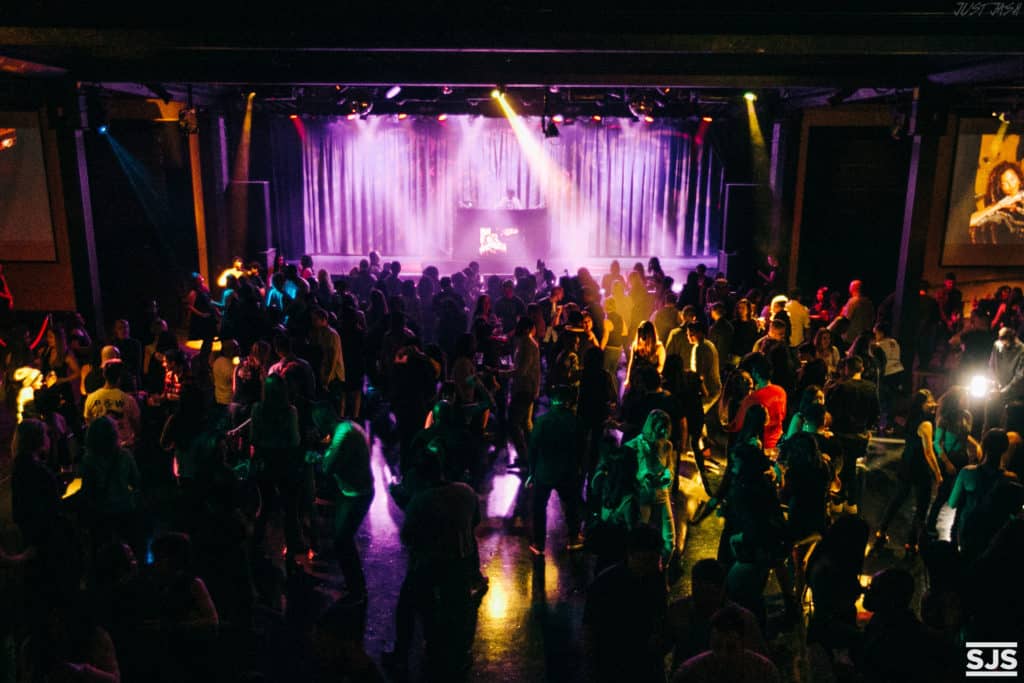 The nightlife scene in Kuala Lumpur is just as lively if not livelier than in other countries. It offers plenty of fun after-dark activities such as street food crawls, bar-hopping, nightclubbing, karaoke and more.
Furthermore, it's also home to some of the most unique bars that go above and beyond playing loud music and serving drinks. Take a peek into the ins and outs of nightlife in Kuala Lumpur below!
Where to Go after Dark in Kuala Lumpur
As soon as the sun sets, you can expect to see numerous establishments opening across Kuala Lumpur. More specifically, here are some of the spots in the capital that you'd want to visit after dark:
1. Changkat Bukit Bintang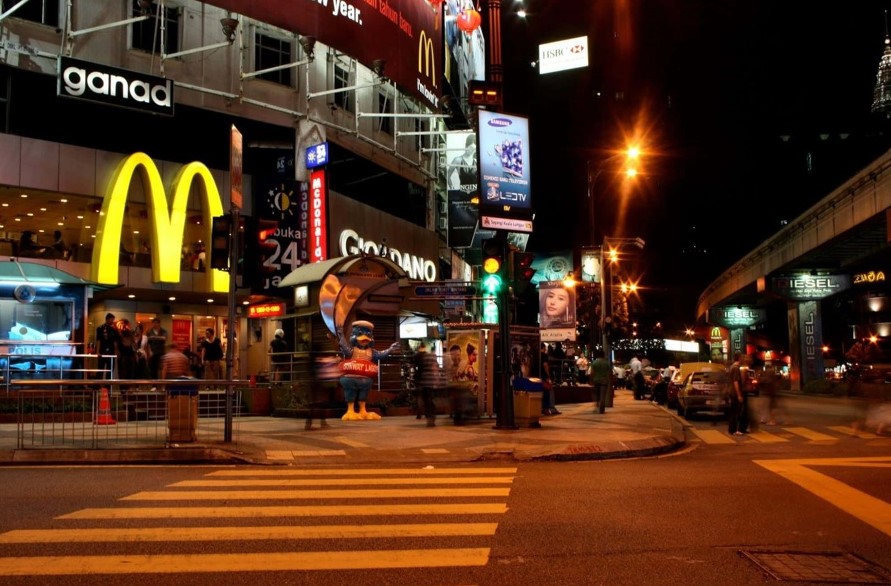 The best nightlife spot in KL is arguably Changkat Bukit Bintang. This place is famous for being a hotspot once the sun sets because of its night market, various street food stalls, restaurants, and nightclubs.
We often hear this place being dubbed the "Times Square of Malaysia" and it's not hard to see why. It houses just about everything a person might need to spend their night how they want, from electric nightclubs to chill bars, KTVs and more.
2. Jalan Alor Food Street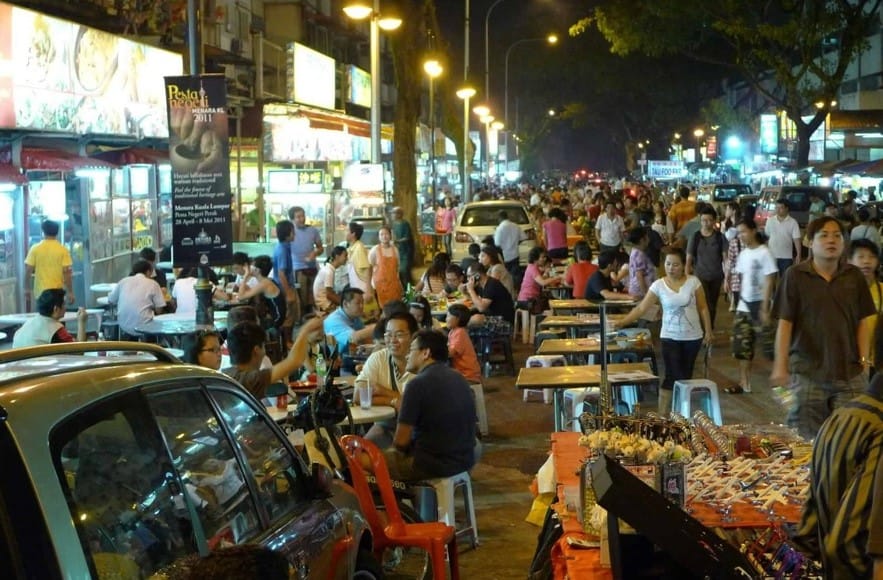 If you're more of a foodie than a party animal, then we recommend stopping by Jalan Alor Food Street. This place is the perfect spot for people who are looking to immerse themselves in the rich cuisine of Malaysia thanks to its rows of hawker stalls and humble eateries.
The best thing about this place is that the prices won't burn a hole in your pocket. You can choose from a wide array of local street food and be surprised how little you've spent so make sure to stop by when you can!
3. Kuala Lumpur City Centre (KLCC)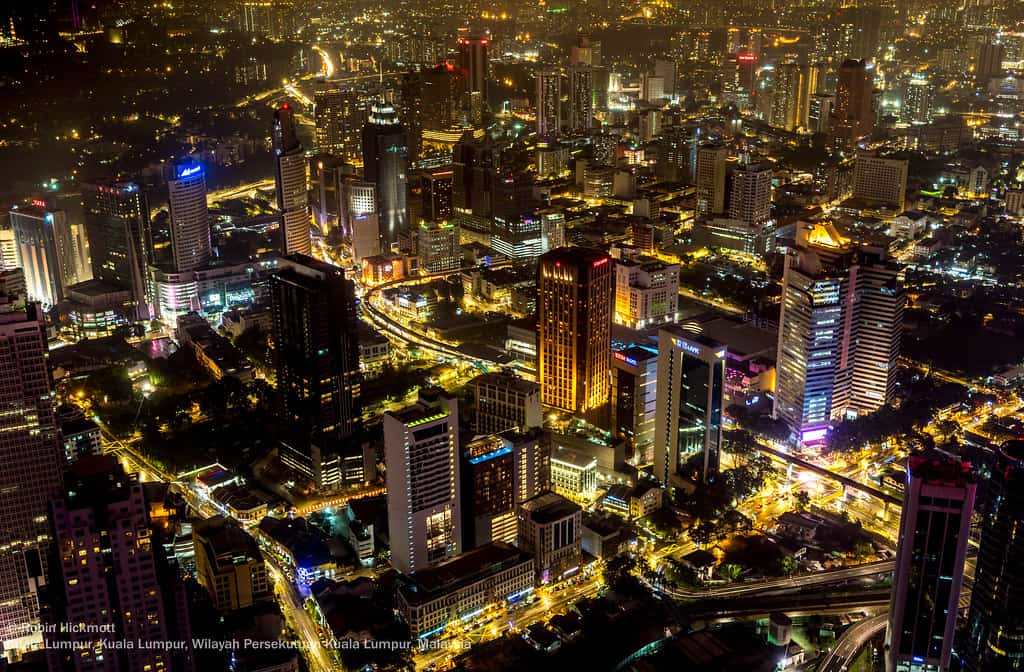 KLCC is busy in the morning until the afternoon because of people going from and to their jobs in the business district. However, that's not the same reason why this place is still bustling with people once the sun sets.
The City Centre is considered one of the liveliest nightlife areas in Kuala Lumpur, as it features such versatile offerings. It houses countless bars, pubs and clubs, and there's always the benefit of having a beautiful view of the KL skyscrapers
4. Asian Heritage Row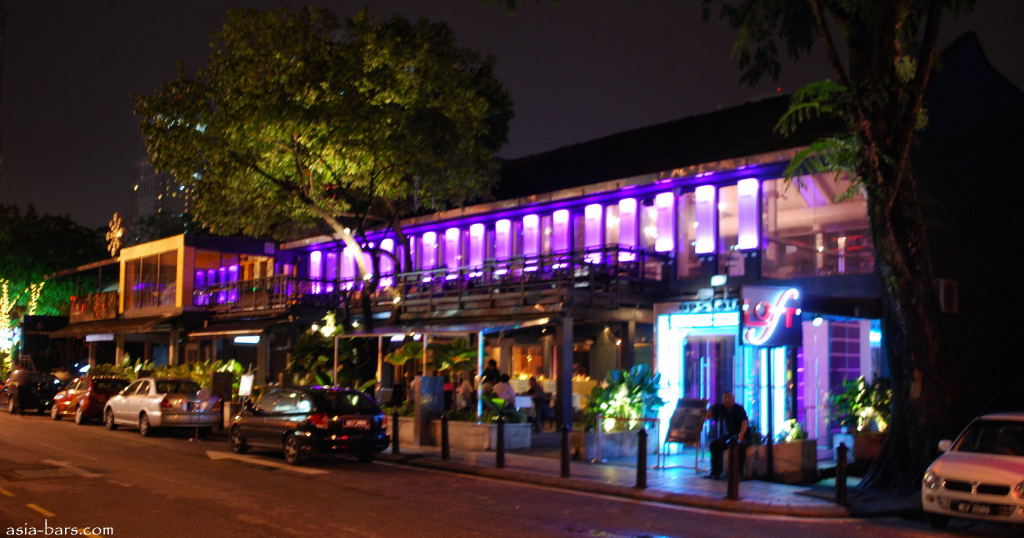 The best place to visit if you want to be fully immersed in Oriental culture is Asian Heritage Row. This area is frequently visited by tourists and locals because of its wide selection of clubs, upscale establishments and restaurants that serve delicious Asian dishes.
This is also a great place to visit if you're a wine person. We've been here a bunch of times now and one of our favourite activities is to drink bottles of wine that have come from different parts of the world.
5. Petaling Street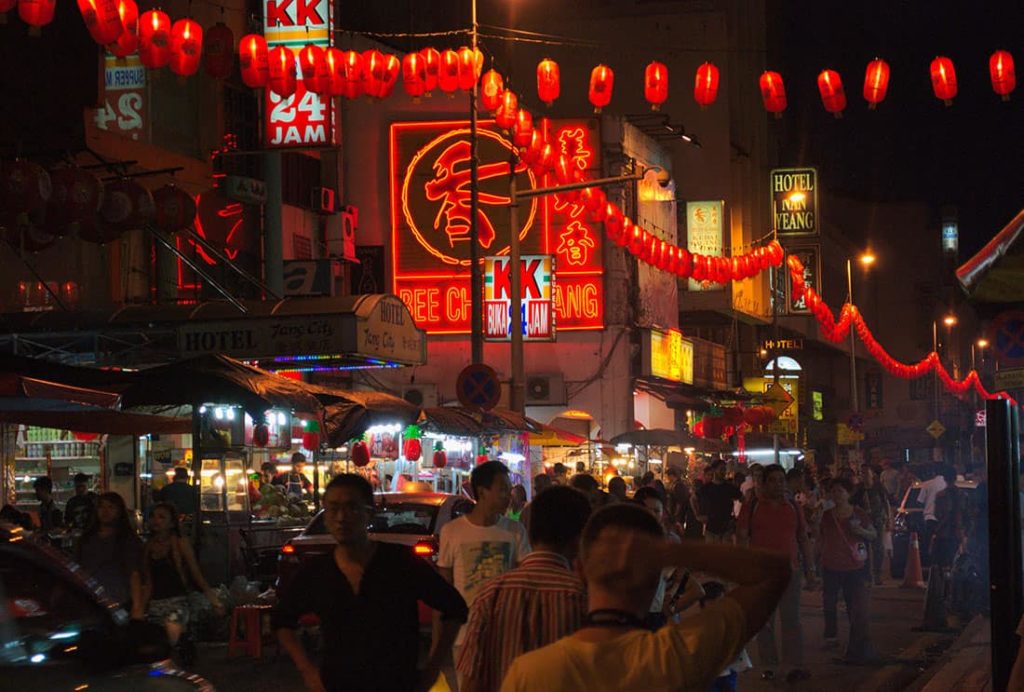 Much like Jalan Alor Food Street, Petaling Street becomes alive once the clock strikes 8 PM or so. During this time, you can enjoy a different kind of nightlife by trying our different street foods, buying local products or simply meeting new people.
6. Bangsar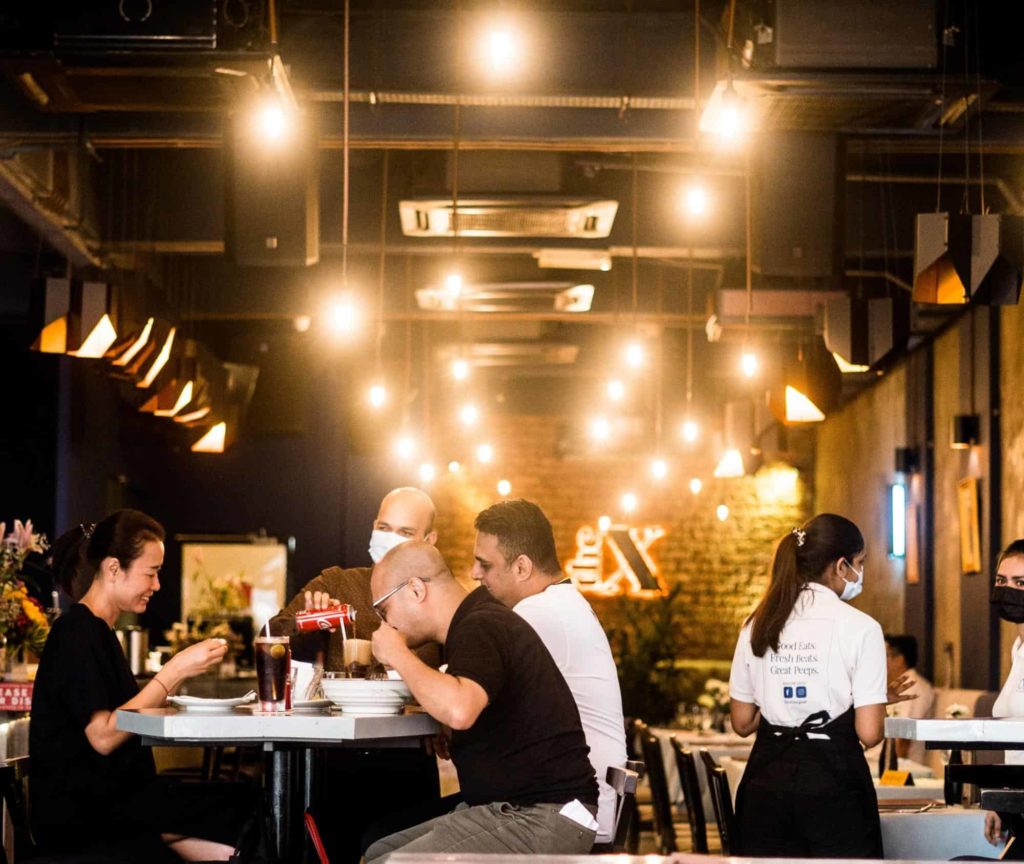 Bangsar is a famous spot all day long because of its wide variety of restaurants. Come nighttime, however, it becomes livelier, as people flock towards it for its selection of affordable bars and pubs.
Must-Try Nightlife Activities in Kuala Lumpur
To help you spend the most memorable nights in Kuala Lumpur, here is the ultimate guide to the city's nightlife activities:
Go Rooftop Bar-Hopping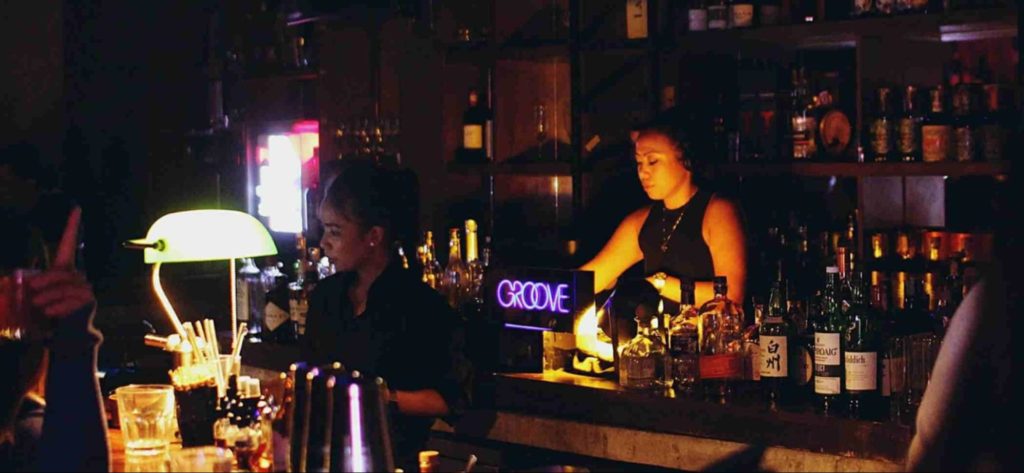 The most common nightlife activity is to go from one bar to another and spend time with your friends getting tipsy on your favourite drinks. However, in Kuala Lumpur, you can take one step further and go rooftop bar hopping!
Insider tip: Make sure to always bring your ID, as it's always required to present it before entering any bars. Plus, it's important to remember that the legal age for entering these establishments as well as drinking and smoking is 21.
KL is home to several rooftop bars, each of which features amazing views of the KL skyline and cool atmospheres. To make your night extra memorable, here are some of our favourite establishments we recommend you stop by on your next rooftop bar hopping in KL:
Heli Lounge Bar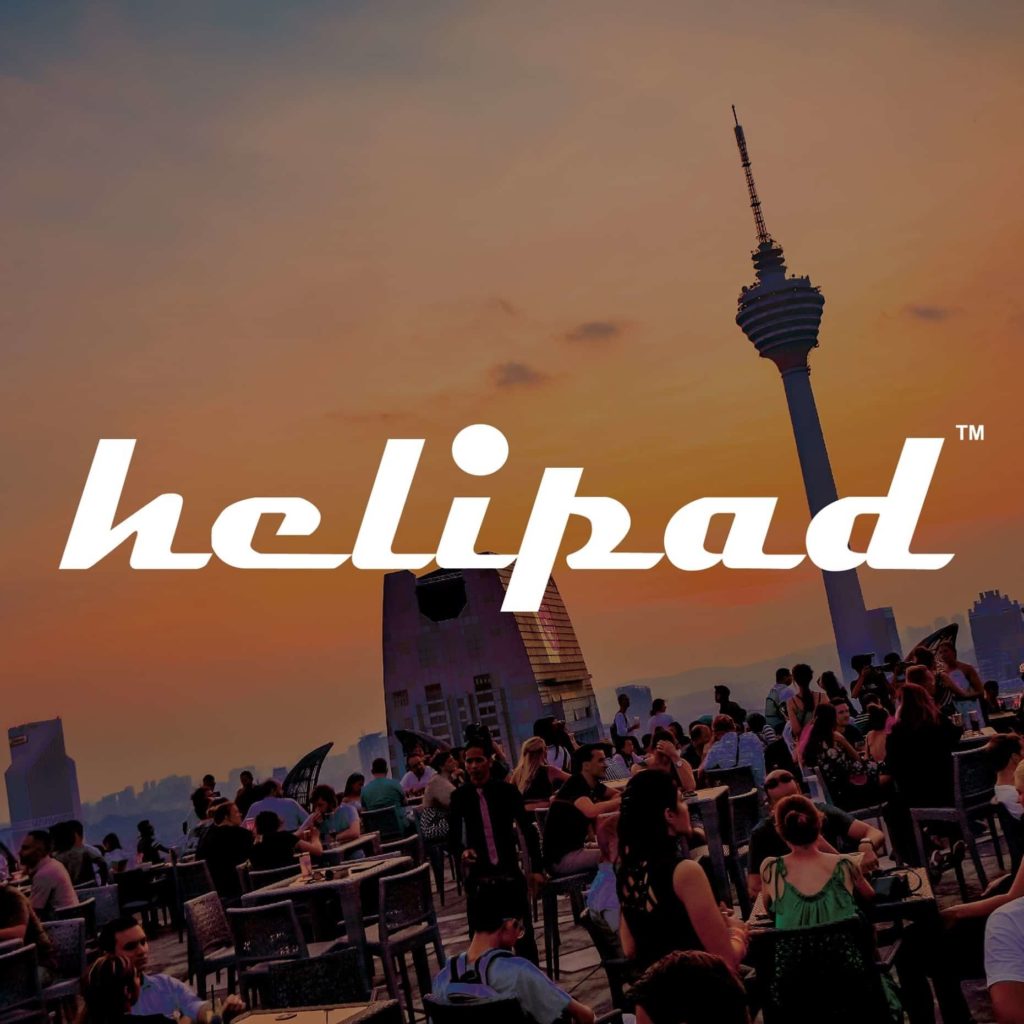 Address: Level 34, Menara KH, Jalan Sultan Ismail, Kuala Lumpur, Malaysia
Contact details: +60 3-2389 8861, [email protected]
Website: https://www.facebook.com/helipadbar/
Operating hours: Opens every day from 5:00 PM to 12:00 AM
The Heli Lounge Bar is among the most unique bars in Kuala Lumpur. Here, customers can enjoy the same fun experience of chilling with friends over alcoholic drinks and loud music but this time, they can do so on a helicopter pad.
As soon as the sun sets, this actual working heli pad morphs into the coolest bar you'll find at this height. Complete with seats, live DJs, a plethora of drinks and more, this rooftop bar has everything needed for a memorable night.
Insider Tip: Come here as soon as the doors open at 5:00 PM sharp. Not only are you going to be the first one here, but you'll also get to take beautiful sunset photos of the KL skyline!
Mantra Bar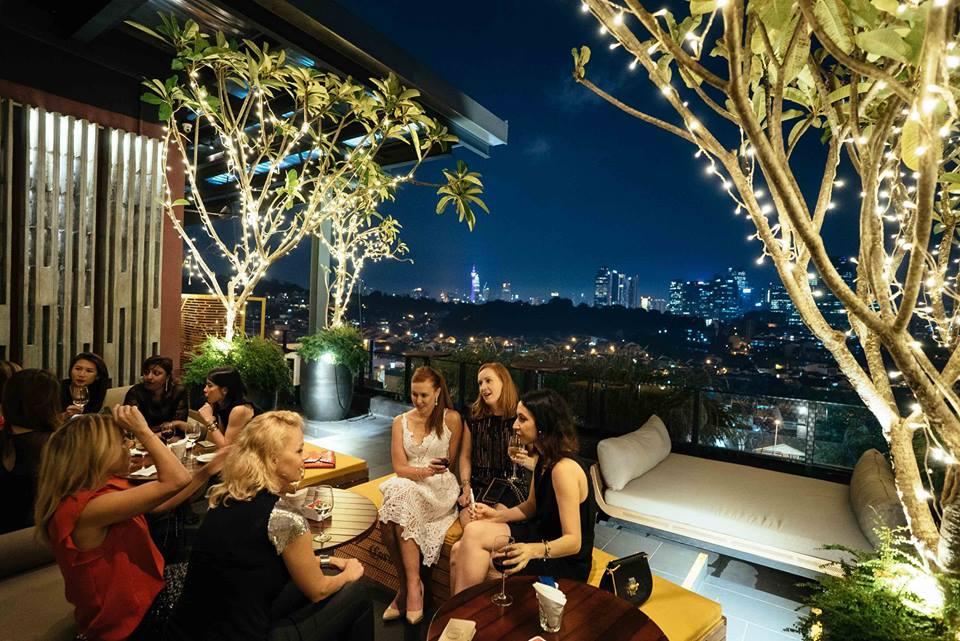 Address: Bangsar Village II, Jalan Telawi Satu, Bangsar Baru, Kuala Lumpur, Malaysia 59100
Contact details: +60 17 344 8299
Website: https://www.mantrabarkl.com
Operating hours: Monday, Tuesday and Sunday: 4:30 PM to 1:00 AM
Wednesday to Saturday: 4:30 PM to 2:00 AM
Another rooftop bar that offers unmatched views of the KL skyline is the Mantra Bar. It's located in Bangsar Village, and it's currently one of the hottest destinations for locals and tourists alike.
What sets this rooftop bar from others is its eccentric tropical theme. This can be unusual given that it's located in the middle of a concrete jungle, but it works!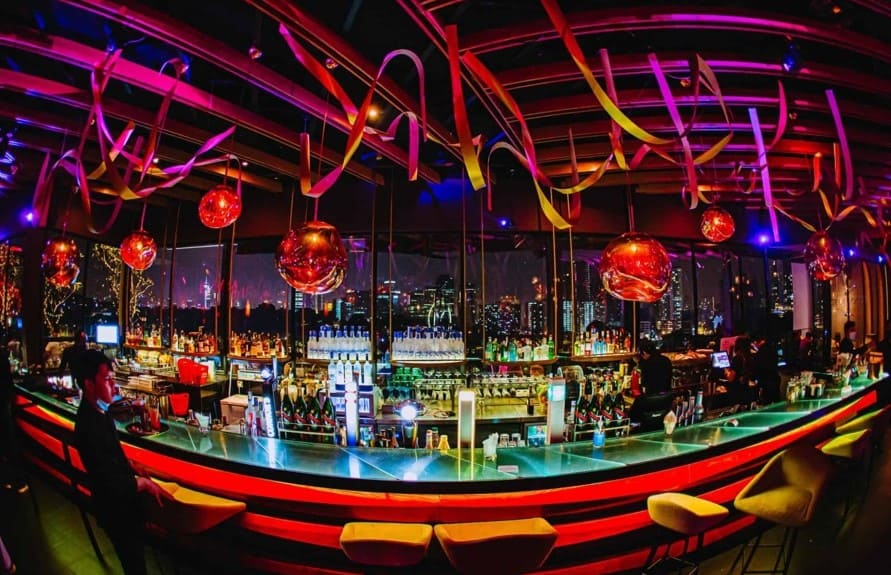 Late-night conversations with friends and colleagues hit differently with a view like this. Plus, it also helps that they serve a good selection of alcoholic drinks that aren't too shabby in terms of their tastes.
Canopy Rooftop Bar & Lounge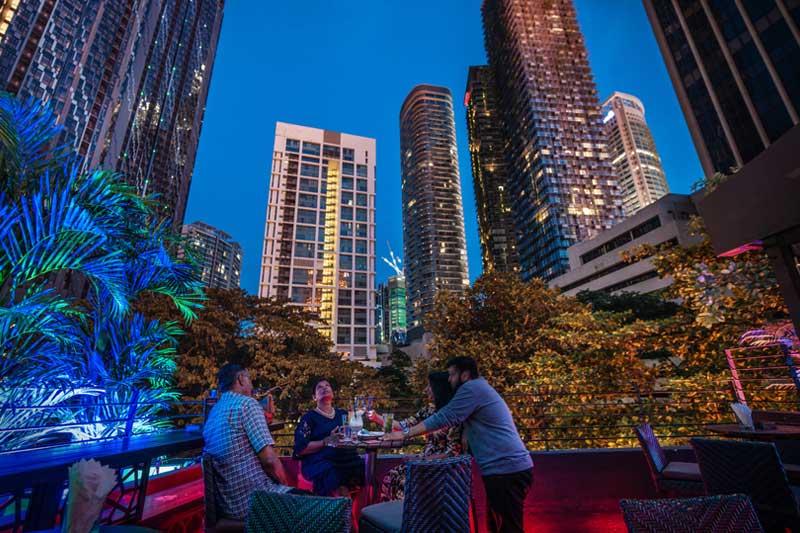 Address: 183, Jln Mayang, Kampung Baru, 50450 Kuala Lumpur, Wilayah Persekutuan Kuala Lumpur, Malaysia
Contact details: +60 11-5139 8301
Website: https://www.canopylounge.my
Operating hours: Opens every day from 3:00 PM to 3:00 AM
One of the hottest nightlife spots in KL can be found in Kampung Baru. It's this place called Canopy Rooftop Bar & Lounge, and it offers the ultimate party experience complete with cocktails, loud music and a shisha lounge.
This plethora of things to do gives the place a great party flow. For instance, one moment you could be dancing with a cocktail in hand and the next thing you know you're smoking hookah with your friends.
Of course, there's always the rooftop lounge where you can also sit back and chill as you bask in the beautiful panoramic views of KL.
Marini's on 57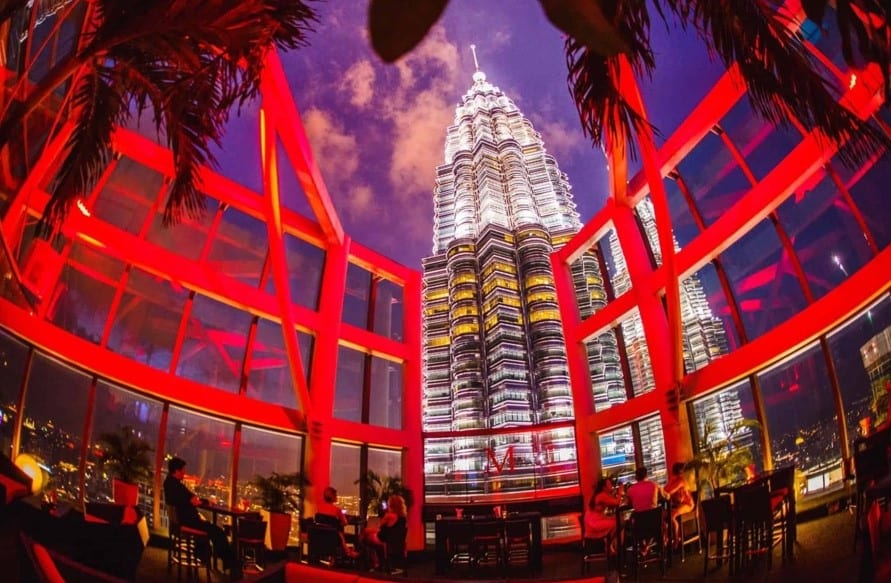 Address: Level 57, Menara 3 Petronas, Persiaran KLCC, Kuala Lumpur, Malaysia
Contact details: +60 3-2386 6030, [email protected]
Website: https://marinisgroup.com/marinis-on-57/
Operating hours: Opens every day from 5:00 PM to 3:00 AM
Marini's on 57 is one of the more upscale bars & lounges you can visit in KLCC. Located on the 57th floor, this rooftop bar is as close as you'll get to partying next to the iconic Petronas Twin Towers.
This nightlife spot offers a myriad of cocktails that have been made expertly by their talented bartenders. Furthermore, they feature a nice selection of bar chows and meals that could accompany your drink for the night.
Vogue Lounge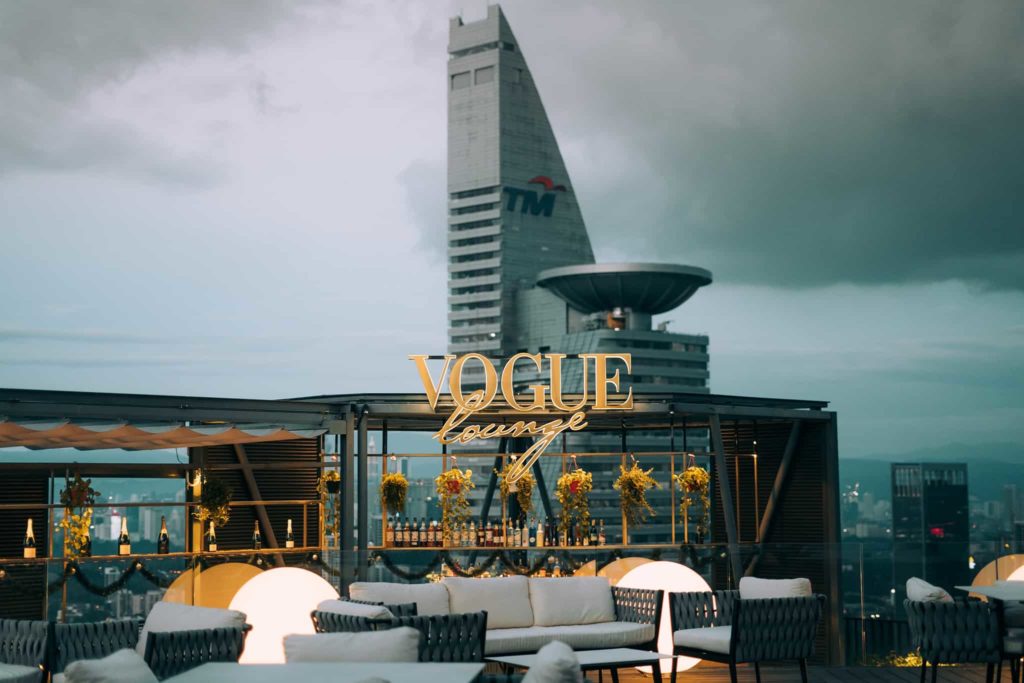 Address: Level 38, Menara SuezCap 1, KL Gateway, Jalan Kerinchi, Bangsar South, 59200 Kuala Lumpur
Contact details: +60 16-846 6552
Website: https://voguelounge.my
Operating hours: Tuesday to Friday- 5:30 PM – 2:00 AM
Saturday- 6:30 PM – 2:00 AM
Sunday- 6:30 PM – 11:00 PM
If you're looking for a more fancy and chic rooftop bar, you can include Vogue Lounge in your nightlife adventure. This elegant space is perfect for late-night partying thanks to its plethora of cocktails, spacious area, comfy seats and unmatched 360-degree views of the KL skyline.
You can even start your rooftop bar-hopping adventure here since they also serve an impressive selection of French and Japanese dishes. This means that after going on a sophisticated dining experience, you and your friends can proceed to drink and party in its rooftop bar.
Sing Your Favourite Songs at Karaoke Bars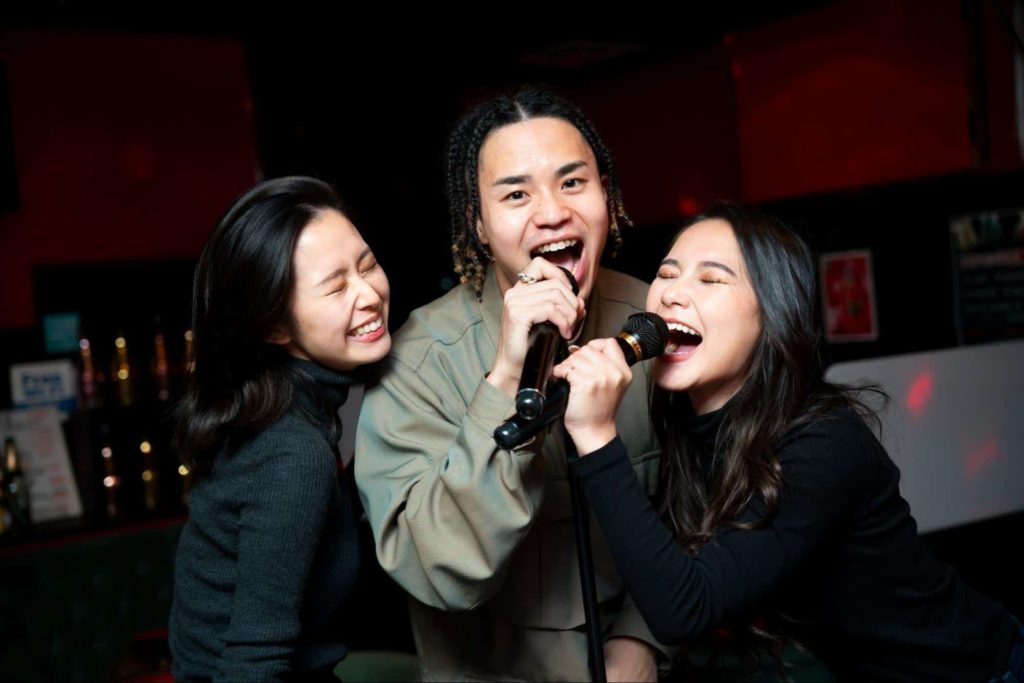 One thing that may surprise you about Malaysians is that they love to sing karaoke! That's why you'll often find KTVs scattered across Kuala Lumpur.
Aside from simply being a fun activity, karaoke nights are considered social events. It's when colleagues and friends get to catch up, blow off some steam that has accumulated from work and spend quality time together.
It's a great nightlife activity, especially when you order a bunch of cocktails, which is really when the party officially begins.
Before you know it, you're slurring the lyrics to your favourite songs, doing drunken duets with your friends or even screaming the tune as opposed to singing them.
Several karaoke spots can be found in KL. Among the bunch, however, here are some establishments we highly recommend:
Red Box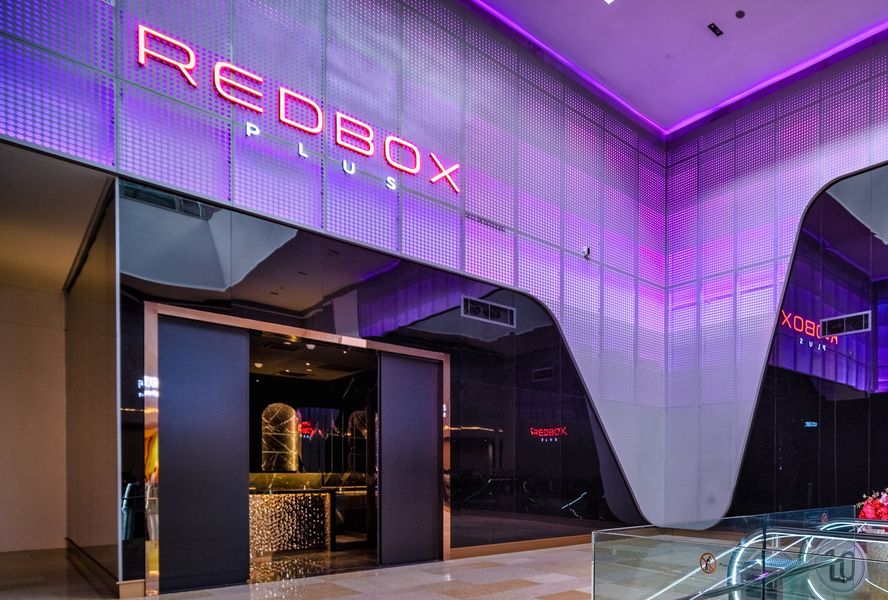 Address: Level 10, Pavilion Elite, Lot No 10.100.0 – 10.103.0 & 10,106.0, 166, Jalan Bukit Bintang, 55100 Kuala Lumpur, Federal Territory of Kuala Lumpur, Malaysia
Contact details: +60 3-2148 3322
Website: https://www.redbox.com.my
Operating hours: Opens every day from 11:00 AM to 3:00 AM
One of the premier karaoke joints in Kuala Lumpur and around the world is Red Box. It has several branches across Malaysia but the best one is arguably the one in The Pavilion Mall in KL.
Red Box is a solid option when you and your friends want to sing your hearts out. It features great sound systems, comfy seats, spacious rooms and a wide selection of drinks and bar chows.
You and your friends can sing all night long since the establishment keeps its doors open until 3:00 AM. Even with this kind of time, we feel like you won't feel it pass thanks to its wide selection of songs consisting of classic and newly released tracks.
Insider tip: Order their crispy parmesan truffle fries for your bar chow. The flavour of these fries perfectly contrasts the cocktails offered on their menu and they're just simply great to munch on while taking a break from singing.
CEO Karaoke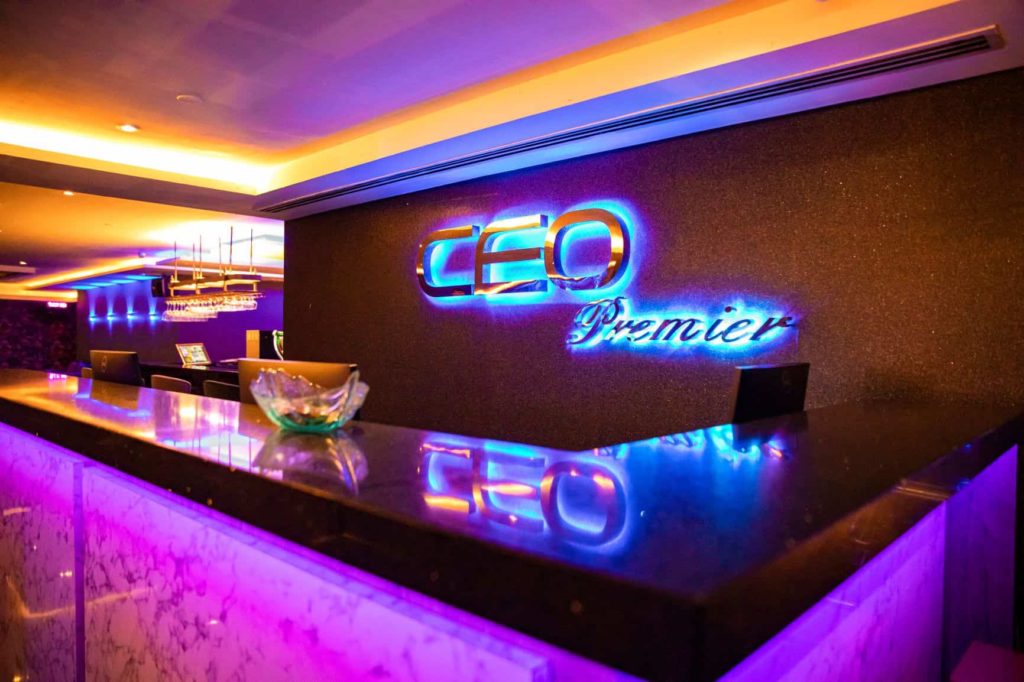 Address: Lot 4-01 and Lot 5-01, Level 4 & 5 Fahrenheit 88, 179 Jalan Bukit Bintang 55100 KL.
Contact details: +60 3-2148 2600
Website: http://www.newaykb.com.my
Operating hours: Opens every day from 11:00 AM to 4:00 AM
CEO Karaoke is a spot frequently visited by groups of friends and families alike. It's a great establishment that features comfortable rooms and top-of-the-line sound systems–two of the most important factors in a KTV.
Their rooms are also quite spacious which opens up the opportunity to dance while someone else is holding the mic. Speaking of holding the mic, they have multiple microphones to allow visitors to sing duets.
Overall, CEO Karaoke is a superb option for those times you want to sing along with your loved ones over some drinks and food.
Karaoke Manekineko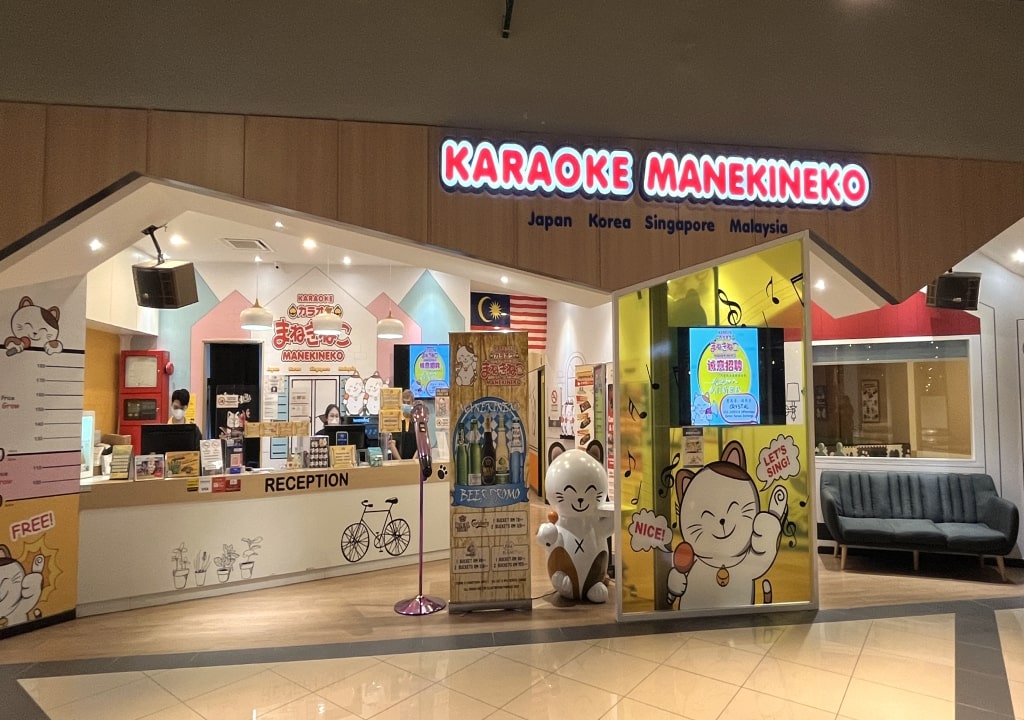 Address: No 693, EkoCheras Mall, Lot S-23, Batu 5, Jalan Cheras, Taman Mutiara Barat, 56000 Cheras, Federal Territory of Kuala Lumpur, Malaysia
Contact details: 03-9133 7371
Website: https://karaokemanekineko.my
Operating hours: Opens every day from 11:00 AM to 2:30 AM
Who said karaoke spots should only feature neon lights, dark interior and edgy designs? Karaoke Manekineko breaks the norm by featuring cute and family-friendly rooms.
This place is a great option if you're just looking to get some songs in without needing to drink alcohol. After all, we can't let non-alcoholic drinkers miss out on the fun!
That's because instead of cocktails, you'll find a wide array of desserts and delicious meals from their menu, which does indeed make the experience 10x better!
That's not to say that this place is less fun compared to those establishments that offer alcohol. In fact, it's just as enjoyable since it features comfortable rooms, amazing sound systems and high-quality microphones.
Dance at One of the City's Nightclubs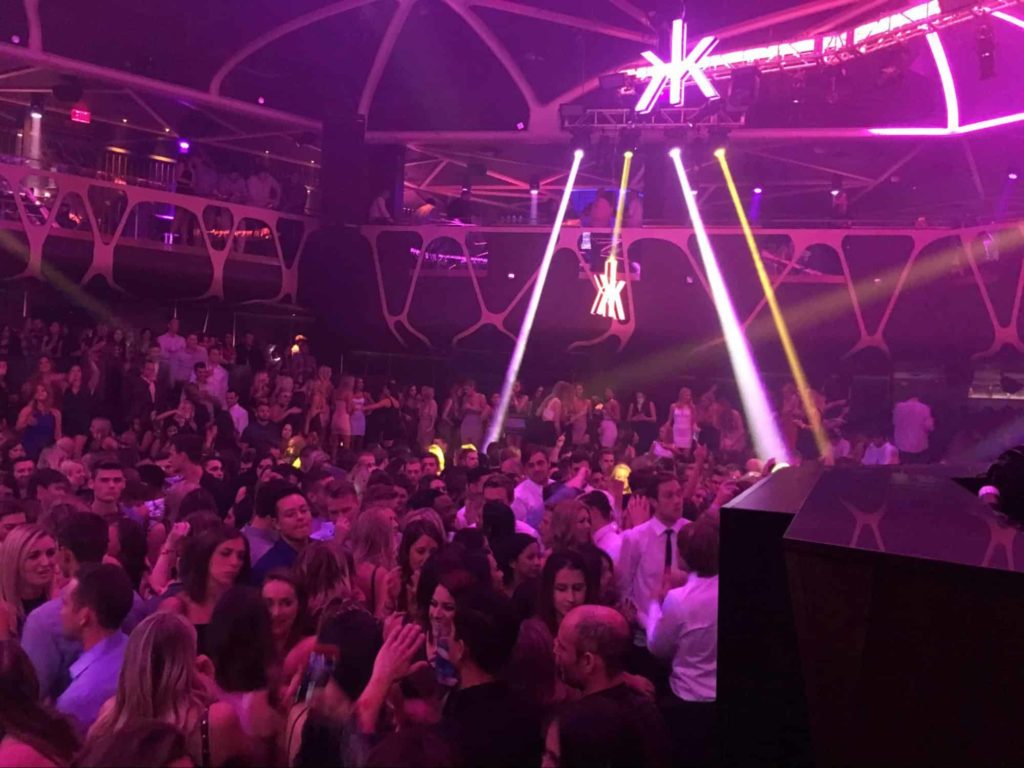 Kuala Lumpur is filled to the brim with nightclubs, which just goes to show just how much Malaysians love to party. You'll find multiple types of nightclubs ranging from your average establishments to underground clubs, rooftop lounges and more.
Regardless of which one you choose, the important thing is that you'll get to dance the night away with your friends with a drink or two in hand. Personally, we love going to nightclubs because they don't fall short of talented DJs that are sure to get a crowd going.
Here are some of our favourite nightclubs that we recommend you check out:
Kyo KL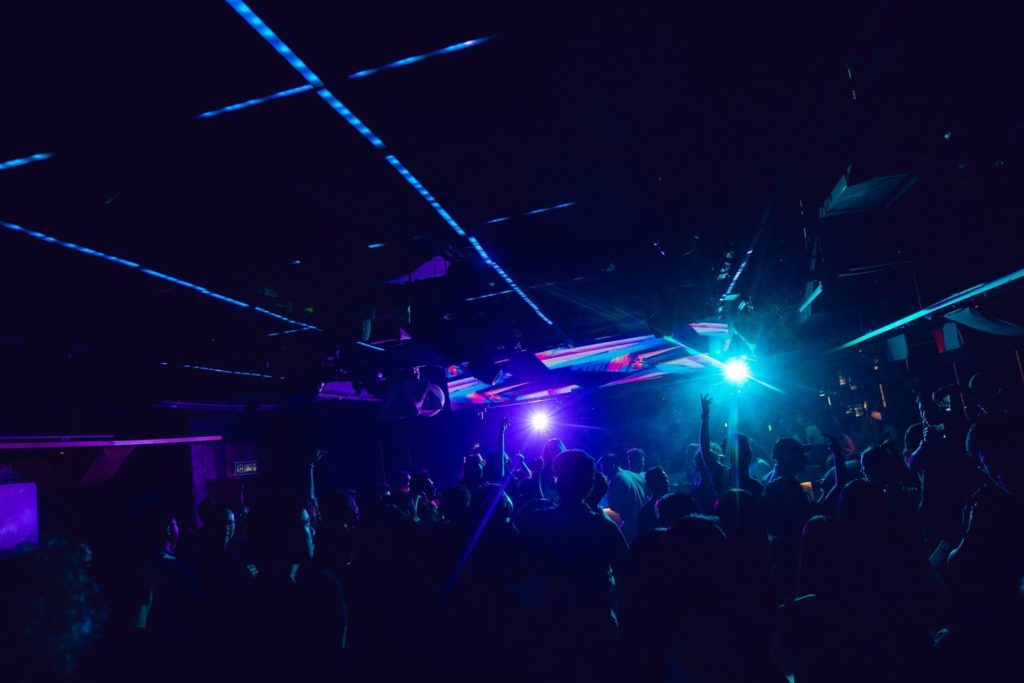 Address: Mandarin Oriental KL, Basement Level 3, Kuala Lumpur City Centre, 50450 Kuala Lumpur, Federal Territory of Kuala Lumpur, Malaysia
Contact details: [email protected]
Website: https://www.facebook.com/clubkyokl/
Operating hours: Wednesday, Friday to Sunday: 10:00 PM to 3:00 AM
The hottest and trendiest nightclub near the iconic Petronas Towers is undoubtedly KYO KL. It's located in the Mandarin Oriental, and it's a must-visit for people looking to experience the extreme nightlife that KL has to offer.
As with most clubs, this place blasts loud music ranging from pop, EDM, techno, hip-hop and more. These tunes are fun to dance to, especially with one of their well-made cocktails from the bar.
One of the biggest highlights of this nightclub, however, is the talented musical acts that they get to perform night in and night out. The DJs in this place are out of this world and they get to force us out of our seats and dance with the sea of partygoers on the dance floor.
Insider tip: Make sure to arrive here before 1:00 AM to be eligible for the early bird entrance price which is RM 40. This is RM20 less than what you'd have to pay when you arrive after 1:00 AM.
Zouk Club KL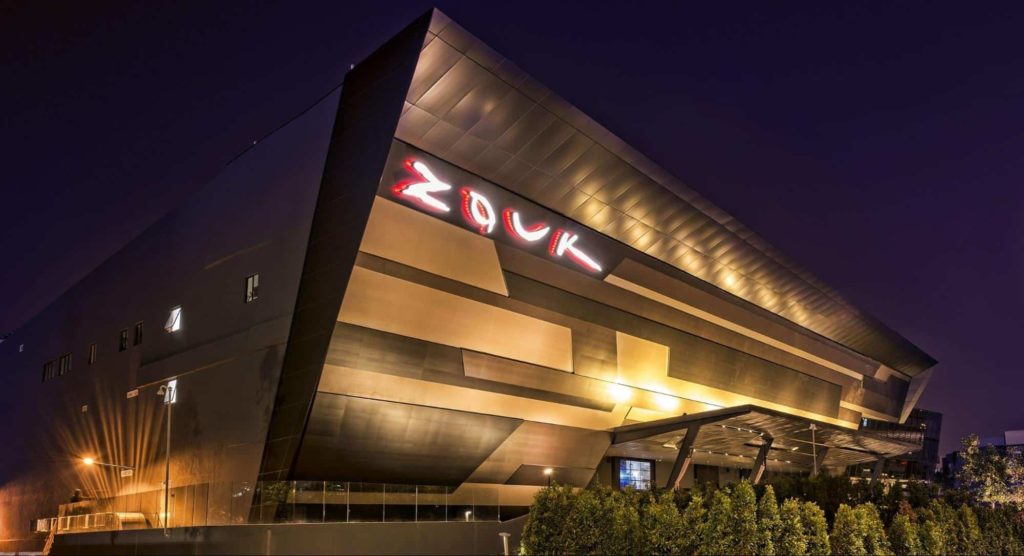 Address: 436, Jln Tun Razak, Kelab Golf di Raja Selangor, 50400 Kuala Lumpur, Wilayah Persekutuan Kuala Lumpur, Malaysia
Contact details: +60 3-2110 3888
Website: https://zoukgroup.com/zouk-malaysia/
Operating hours: Sunday to Tuesday: 5:00 PM to 3:00 AM
Wednesday to Thursday: 5:00 PM to 4:00 AM
Friday to Saturday: 5:00 PM to 5:00 AM
With over a decade of experience under its belt, Zouk Club KL never fails to provide us and our friends with a memorable night. This extraordinary club has won numerous awards over the years including being ranked #21 club in the world by DJ Mag's Top 100 Clubs 2017.
We can easily see why it was awarded, from the striking architectural design to the impressively spacious and elegant area inside made for dancing.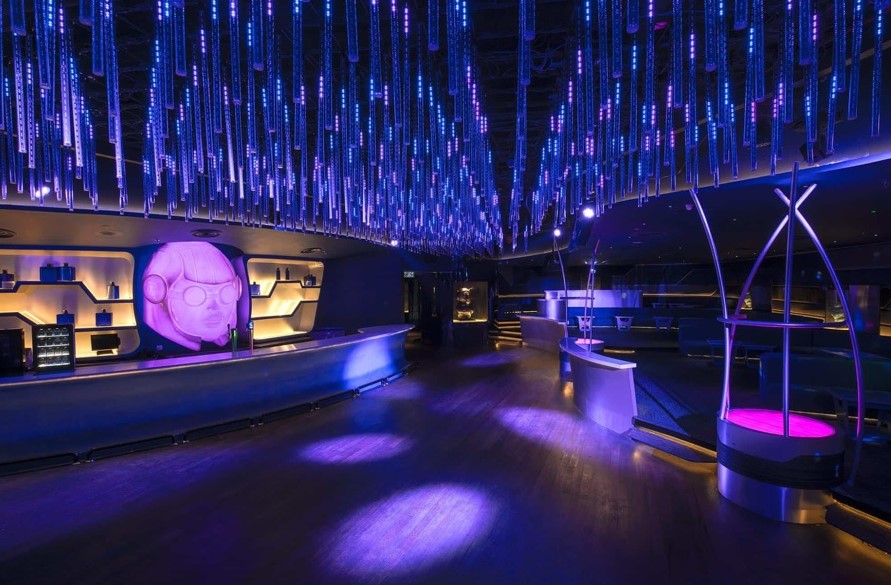 Speaking of dancing, this place has six different dance floors, each of which features different themes, which makes the place levels above your typical club. Plus, they get to have talented DJs night in and night out to make sure that everyone gets the best music while dancing.
Havana Bar and Grill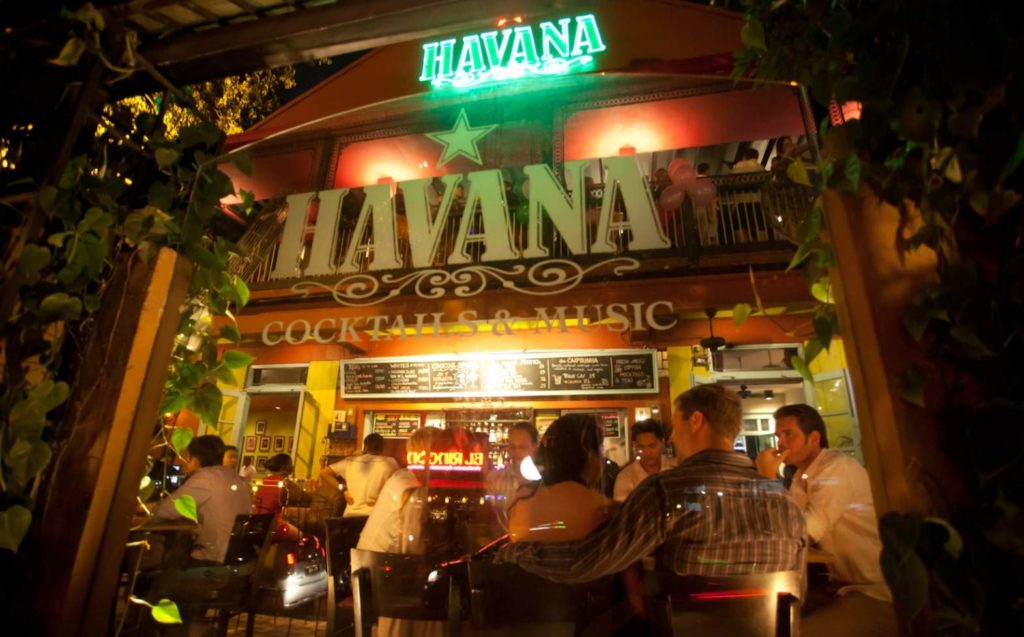 Address: 2 & 4, Changkat Bukit Bintang, Bukit Bintang, 50200 Kuala Lumpur, Wilayah Persekutuan Kuala Lumpur, Malaysia
Contact details: +60 11-1085 0074
Website: https://havanakl.com
Operating hours: Monday to Thursday: 4:00 PM to 3:00 AM
Friday to Sunday: 2:00 PM to 3:00 AM
If you want to get a taste of what a Latin American party would be like, we recommend checking out Havana Bar and Grill. One of the things we love about this establishment is that it mixes the party with authentic food and drinks.
The meals and cocktails they offer here taste authentic because of the talented people behind the kitchen and the bar. These food and drinks are great to have while chilling inside or outside their premises.
It's also worth noting that they play the coolest music here. Sometimes, they play international songs but most of the time, they're blasting Latin American tunes.
Insider tip: Visit this establishment on Saturdays if you want to salsa with your friends, as this day is considered Salsa Party Night. Meanwhile, if you're looking to laugh out loud, try visiting them during the first Thursday of the month to catch their comic on stage.
Embark on a Street Food Crawl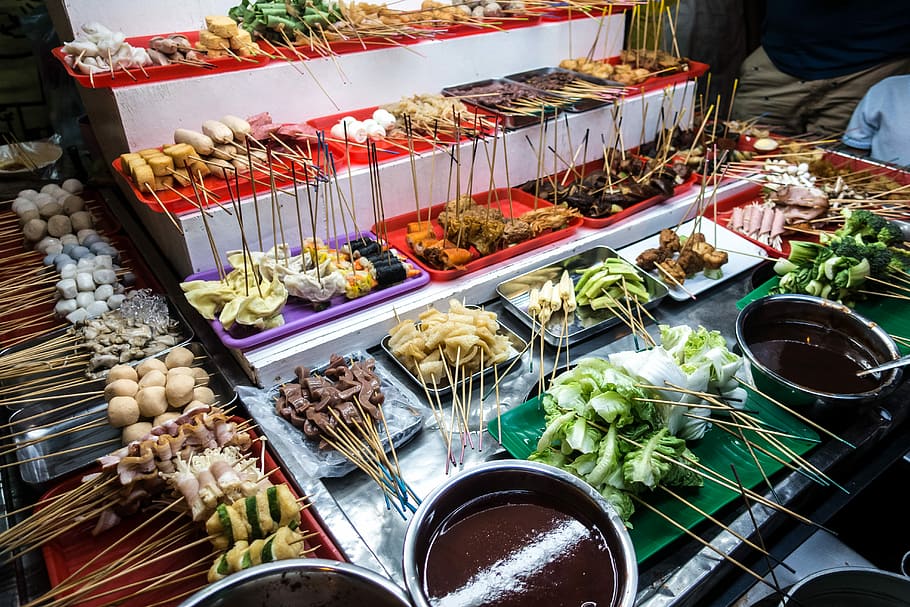 Our absolute favourite thing about the streets of KL is the countless hawker stalls and local eateries that open once it gets dark. If your idea of nightlife is indulging in local Malaysian dishes, we recommend embarking on a street food crawl in Kuala Lumpur.
There are several spots you can go to but we recommend you try the best street foods in Bukit Bintang and Jalan Alor Food Street. These two areas are filled with amazing food stalls that offer a myriad of lip-smacking street food, ranging from sweet to savoury dishes.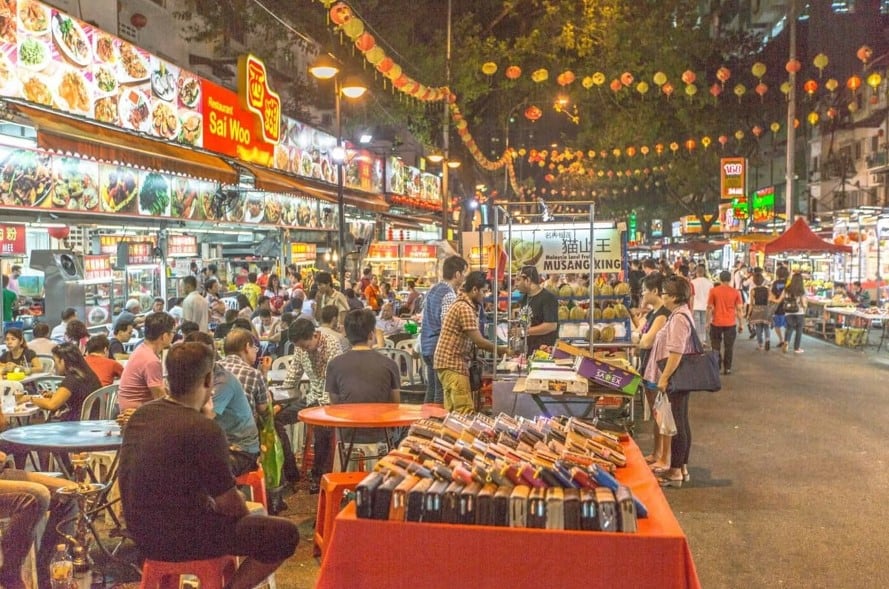 Nothing beats the feeling of being on one of these streets, feasting on Malaysia's rich cuisine as you're breaking a sweat. It's one of the most authentic things to do in the country, as it's something that Malaysians do for fun as well.
Satay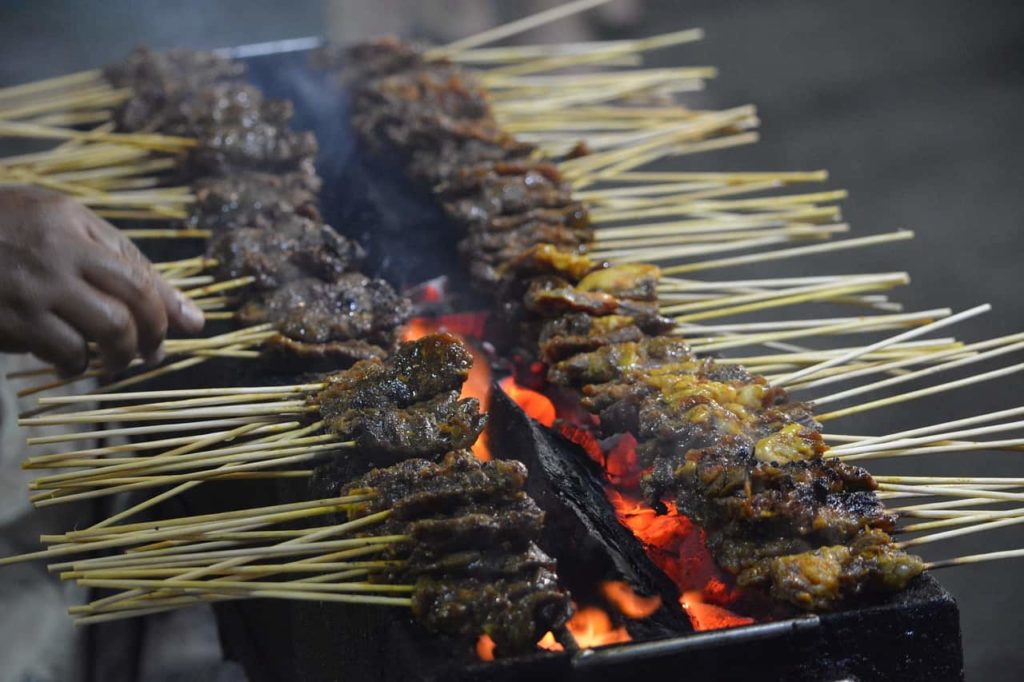 Satay is one of the most common street foods you'll find as you roam Kuala Lumpur's night markets. It's essentially grilled skewered meat chunks, which may seem like nothing special at first but will change your mind once you taste it.
What makes this grilled meat special compared to others you've tried in your life is its secret seasoning. Stalls and local eateries may have different versions of this but the constant ingredient used in creating this seasoning is turmeric, and we mean a whole bunch of it.
This simple seasoning goes perfectly well with the charred texture that the meat chunks will eventually develop once spending time on the grill. Speaking of meat chunks, the ones used to create this magnificent street food are usually chicken and beef.
Char Kuey Teow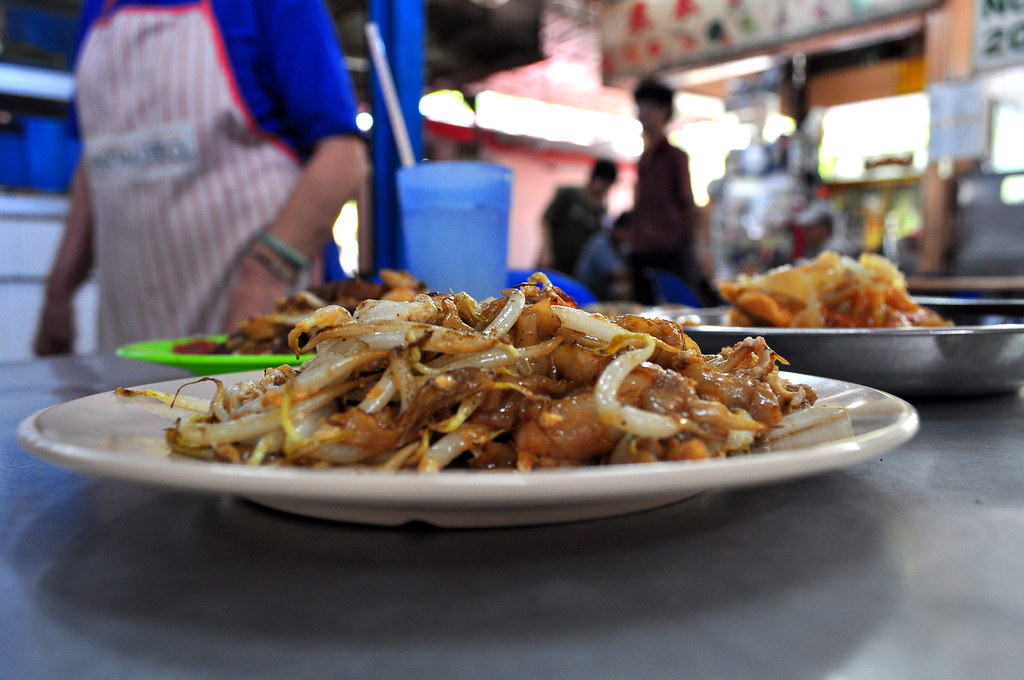 A famous comfort food you'll find in the streets of Kuala Lumpur is Char Kuey Teow. This plate of stir-fried noodles is great to eat all day long, but there's something about it that makes it a perfect roadside dining dish at night.
Although it's originally from China, Char Kuey Teow has been a staple in Malaysian cuisine for the longest time. This leads locals to believe that it's an original local dish born in the land of this country, and they have the right to do so!
The reason why so many people love this dish is its combination of different flavours and textures brought upon by its ingredients. Aside from the perfectly-cooked rice noodles, you'll find other components in this dish such as prawns, eggs, sprouts and lots of fresh veggies.
Rojak
A street food crawl wouldn't be complete without tasting Malaysia's Rojak. This street food is almost like a festival of flavours and textures in your mouth because of its unorthodox ingredients.
Rojak is essentially a plate piled high with cucumbers, mangos, jicama, pineapple chunks and a special sauce that puts everything together. This black sticky sauce consists of fermented prawn paste, chilli paste, sugar and lime, leaving a balanced flavour of sweet, spicy and sour.
It's served alongside dough fritters to balance out its strong flavour, and sometimes it's sprinkled with some freshly chopped peanuts for garnish. This is definitely one of the healthier street food options and we recommend you try it during your street food crawl.
Pork Noodles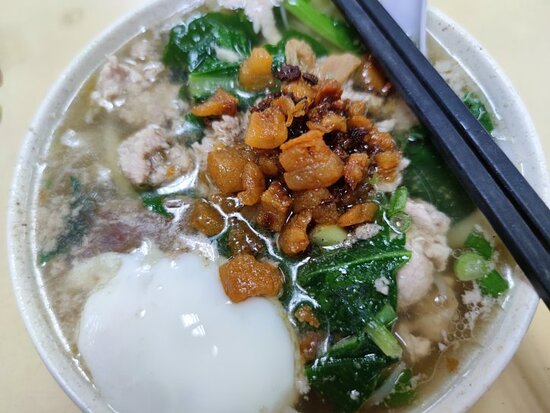 One of our personal favourites to try in the streets of KL is a nice hot bowl of pork noodles. This hearty dish is great as it satisfies both your taste buds as well as your hunger thanks to its delicious and rich components.
From the name itself, this street food's main highlight is the tender pork meat that's been slowly cooked to perfection. Then, other ingredients are tossed in the broth such as boiled eggs and green onion.
Furthermore, the rich and piping hot broth of these noodles is great to slurp after a night of drinking, as it will surely sober you up.
Ramly Burger
Throughout your time in the various street food hotspots in KL, you'll more than likely hear something about Ramly Burger. That's because this dish has become sort of an icon for street food in Malaysia because of its cheap price, delicious flavour and many variations.
One of the most notable traits of this specific burger is its juiciness. Locals and tourists alike, keep coming back to this savoury burger just to get a taste of its overly meaty and juicy flavour.
Furthermore, it can be customised to your liking as well. For instance, you can buy one with extra cheese or even wrap the patty in egg to make it richer.
Our Final Thoughts on KL's Nightlife Scene
Kuala Lumpur is the main nightlife hub for tourists and locals alike. It's where you'll find the establishments that offer different activities that are best done at night such as karaoke sessions, clubbing, drinking and more.
Make sure to stop by the places we've listed above and try some of our suggestions at least once during your trip to the country to make your night extra memorable!
FAQs about Nightlife in Kuala Lumpur
I'm filtering the content inside the main loop