What You Need to Know When Visiting Cameron Flora Park
Looking to go somewhere in Malaysia that offers stunning views and unique experiences? Then we've got just the place for you!
Located in the Cameron Highlands in the state of Pahang is Cameron Flora Park, a dreamy park that features fairytale-like gardens. It features numerous attractions, each of which features different species of vibrant flowers–perfect for taking amazing photos.
Join us here as we take a closer look at each attraction that this park has to offer along with its respective rates. Also, stick around to learn the important things you need to know before visiting such as what to wear, when to visit and more!
Important Things to Remember Before Visiting
Before visiting the park, there are some things that you might want to know to give you an idea of what you can expect on your trip. Furthermore, knowing these things can help you prepare to ensure that everything goes smoothly during your visit.
It has cool weather all year round
One of the first things you need to know about Cameron Flora Park is its cold weather throughout the year. This ever-present coldness is mainly because of its location, the Cameron Highlands, which is naturally elevated above sea level.
The coldest temperature in Cameron Highlands can drop down to about 10 degrees Celsius during the night and 23 degrees Celsius during the day. Also, just a fun fact: the coldest weather ever recorded in Cameron Highlands was 7.8 degrees Celsius back in 1978.
The park being located here isn't just a coincidence, however, as this type of temperature is vital for the growth of the various flowers planted here. By having the optimal temperature, they can blossom naturally and have a healthier lifespan in the long run.
With that in mind, we recommend wearing the right type of clothing when visiting this place. For starters, it's highly advised that guests would at least bring a jacket or a windbreaker to keep themselves warm during their time in the park.
If you know that you get cold easily, you can prepare yourself by wearing multiple layers of clothing.
There are six scenic attractions
The great thing about Cameron Floral Park is that it's not just a single garden. Instead, it features six different attractions, each of which features a unique scenic view and overall vibe, making the park more worthwhile to explore.
The six attractions you'll find here are the following:
Glass Sanctuary
Golden Maple Bridge
Petunia Garden
Flora Hills
Hobbiton Village
Stairway to Infinity
Its rates are slightly pricey 
One of the things that don't stick well with most visitors when they discover Cameron Flora Park is its somewhat pricey nature of the entrance fee. However, we're here to tell you that the entrance fee is worth every penny for what you'll get to admire and experience in the park.
The entrance fee varies between adults, kids and locals of Cameroon. Here's a quick breakdown for your reference:
Adults: RM50
Cameron citizen: RM45
Children aged 4 to 12: RM25
People with disabilities, children aged 3 and below: Free
Furthermore, keep in mind that the entrance fee guarantees that you can spend all the time you want inside the park, as long as it's during their operating hours. Furthermore, this fee also covers your return trip from the attraction to the parking area and vice versa.
Lastly, there are also some additional rates when you head inside the park such as the picnic and tea packages. However, they are entirely optional and you can freely enjoy the park without paying for them.
Here are the rates for the picnic and tea packages:
Sakura Garden Picnic Package: RM288/2 pax
Tea Set A: RM388/2 pax
Tea Set B: RM388/2 pax
Best Time to Visit
Cameron Flora Park is open every day from 10:00 AM to 6:00 PM. Typically, we'd recommend going on weekdays to avoid crowds, but sometimes this can be unpredictable because of how well-known this attraction is.
Season-wise, this flora park is pleasant to visit all year long. Just be sure to dress for the occasion, as it can be freezing cold here.
What's inside Cameron Flora Park?
We know the question lingering in your mind right now. What can you find inside Cameron Flora Park that makes it such a spectacle to visit?
As previously mentioned, there are six different attractions found inside this massive park, but that's not all! In this section, let's break down everything inside this place so that you can get an idea of what you'll experience when you spend your hard-earned money on the entrance.
Glass Sanctuary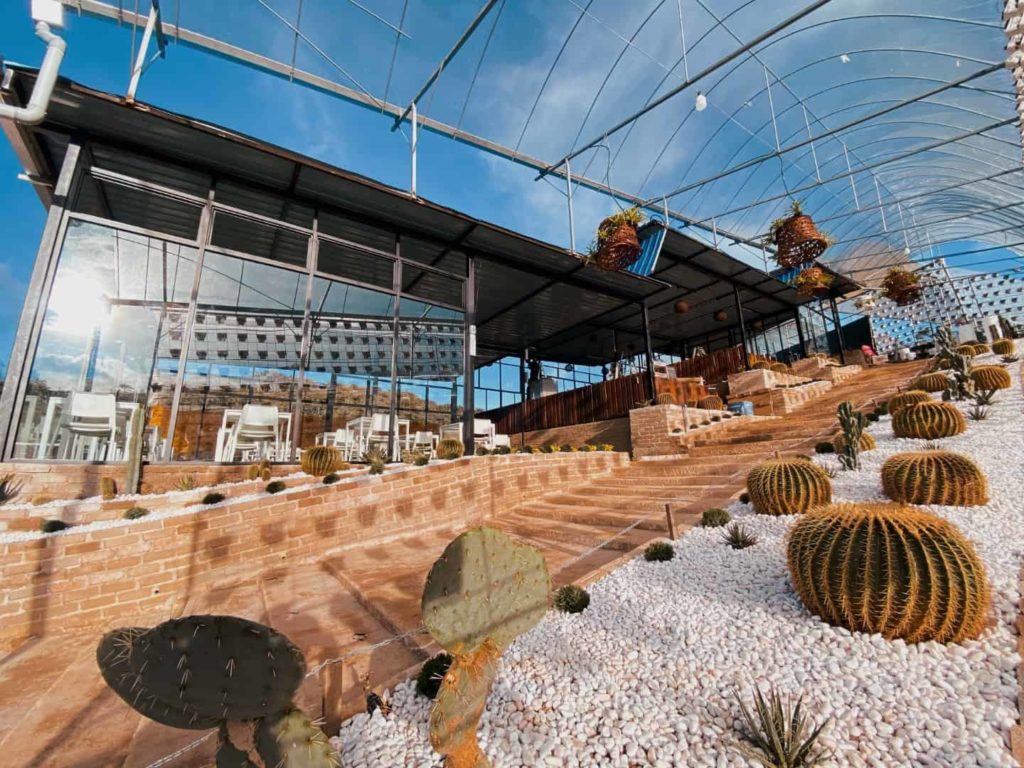 A greenhouse is a staple in every floral park, but here, it's quite different. Cameron Flora Park features what they call a "Glass Sanctuary", and we can easily see why they chose to name it this way.
Nestled inside this majestic glass structure are unique species of flowers that can only live and survive here in Cameron Highlands. Some flowers here bloom on the walls while others are planted firmly on the ground, making the glass house beautiful in every corner.
Golden Maple Bridge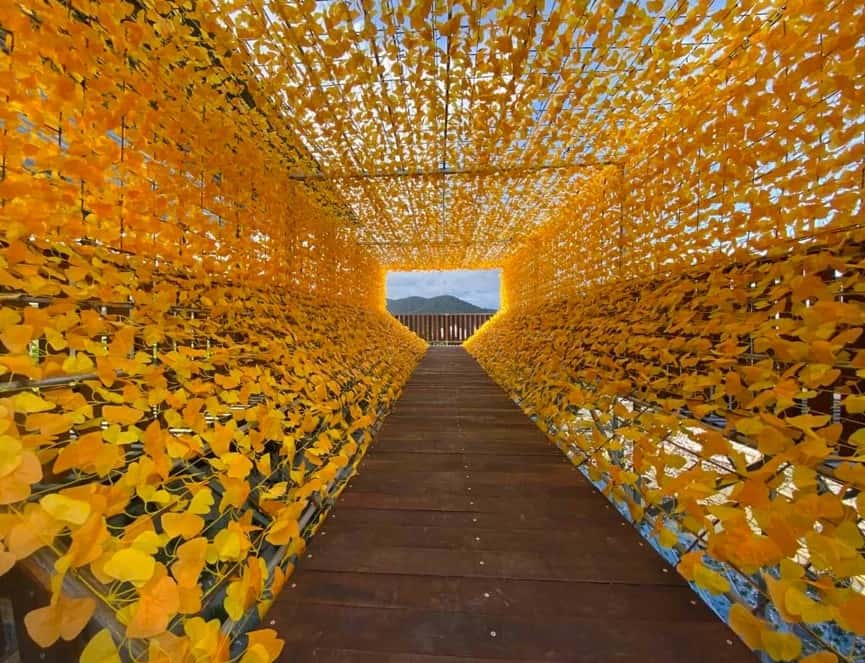 One of the most iconic attractions of the park is the Golden Maple Bridge, where you'll find plenty of people taking photos. We can see why though as this attraction features the most Instagram-worthy spot, or at least in our opinion.
Here, you can walk through a tunnel of beautiful and vibrant yellow flowers that will make the golden hour feel lacklustre. With each petal looking like the colour of sunset, we can see why this place is called the Golden Maple Bridge.
Pro tip: When taking a photo of someone in this tunnel, you can angle it just right so that you can catch the hills in the background to make the shot extra beautiful.
Petunia Garden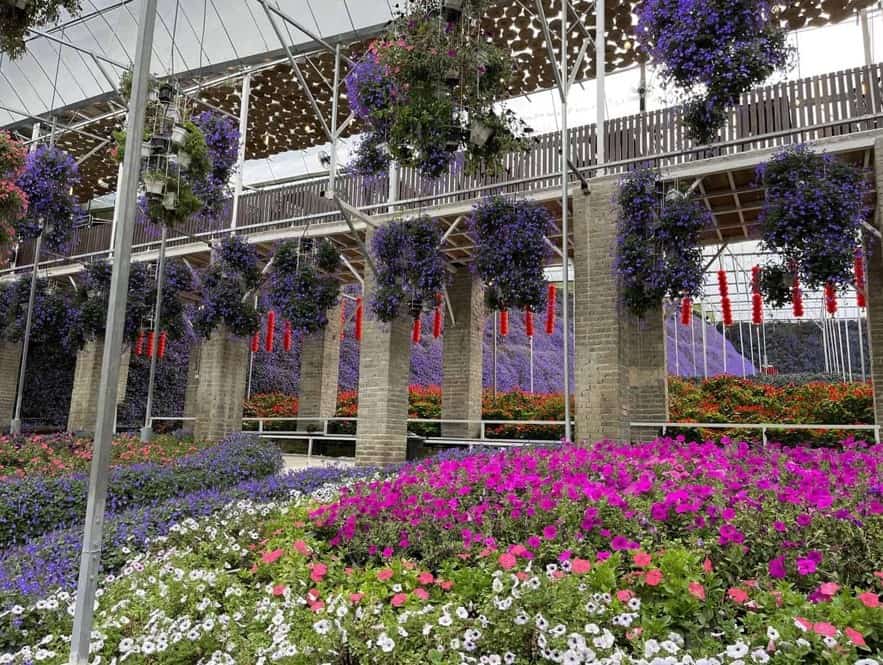 As soon as you head into the indoor walkway, you'll immediately be greeted by a sea of different-coloured flowers. This attraction is the Petunia Garden and you'll find hundreds upon thousands of blossoming flowers here, each of which looks healthy and vibrant.
Because of the abundance of these flowers here, the air smells fresher and more fragrant when walking through this walkway. This is a great way to unwind, as it's a far cry from the usual smoke-filled environments in cities around the country.
Flora Hills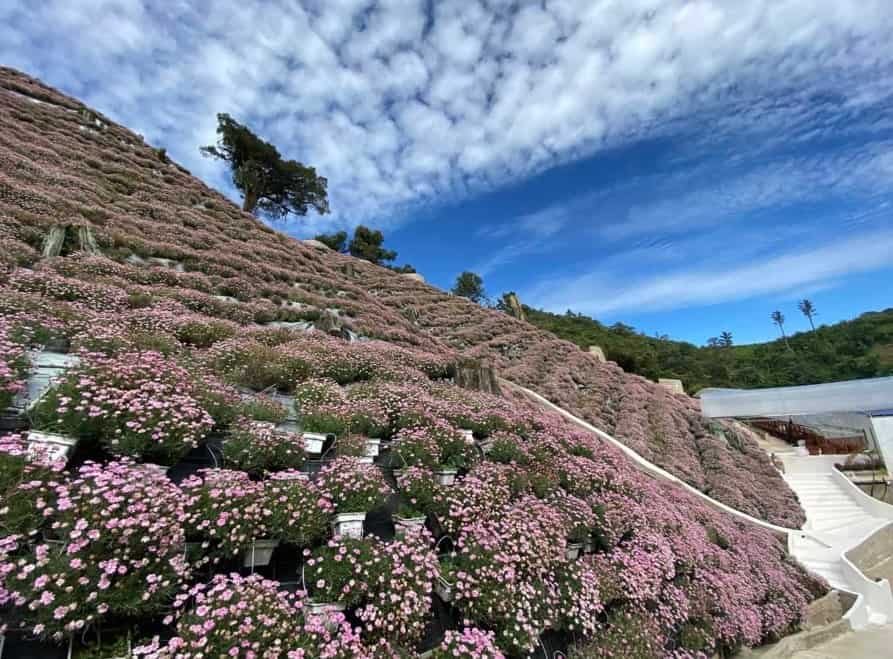 When you enter Cameron Flora Park, your attention will most likely be piqued by the bright pink hills over the distance. This attraction is called the Flora Hills and it looks pink from afar because it's dotted with tiny bright fuschia flowers.
When you want to show someone a picture of Cameron Flora Park, this hill would be the best photo to showcase, as it's the star of this tourist attraction. 
As soon as you get a glimpse of this majestic vegetation, you'll immediately feel like you've been transported into a fairytale world.
Hobbiton Village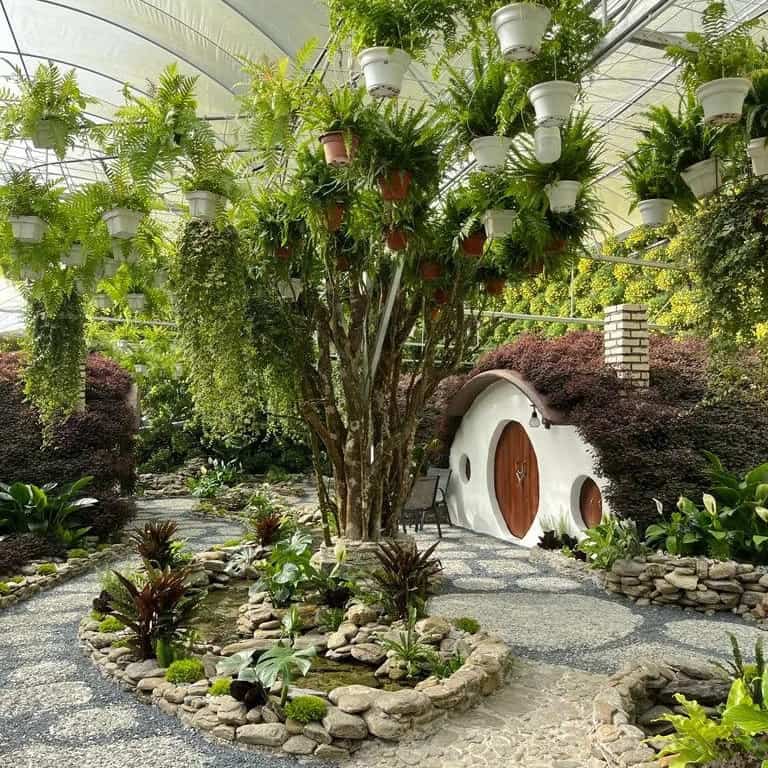 Taking inspiration from the world of J. R. R. Tolkien's The Lord of the Rings, the Hobbiton Village is this park's version of the hobbits' homes. It's a great place to spend time in, whether you're a fan of the books and movies or not because of its utter charm and serenity.
Frodo Baggins and the rest of his crew will be jealous of this attraction, especially when they find out that the experience comes with tea and desserts. Head to this attraction if you want to get a taste of Middle-Earth or if you simply want to spend a nice afternoon drinking tea.
This attraction is a great place to unwind while munching on some light snacks. They offer two different tea sets, both of which offer a wide variety of offerings such as chocolates, macarons, fresh fruits, cakes and more.
Stairway to Infinity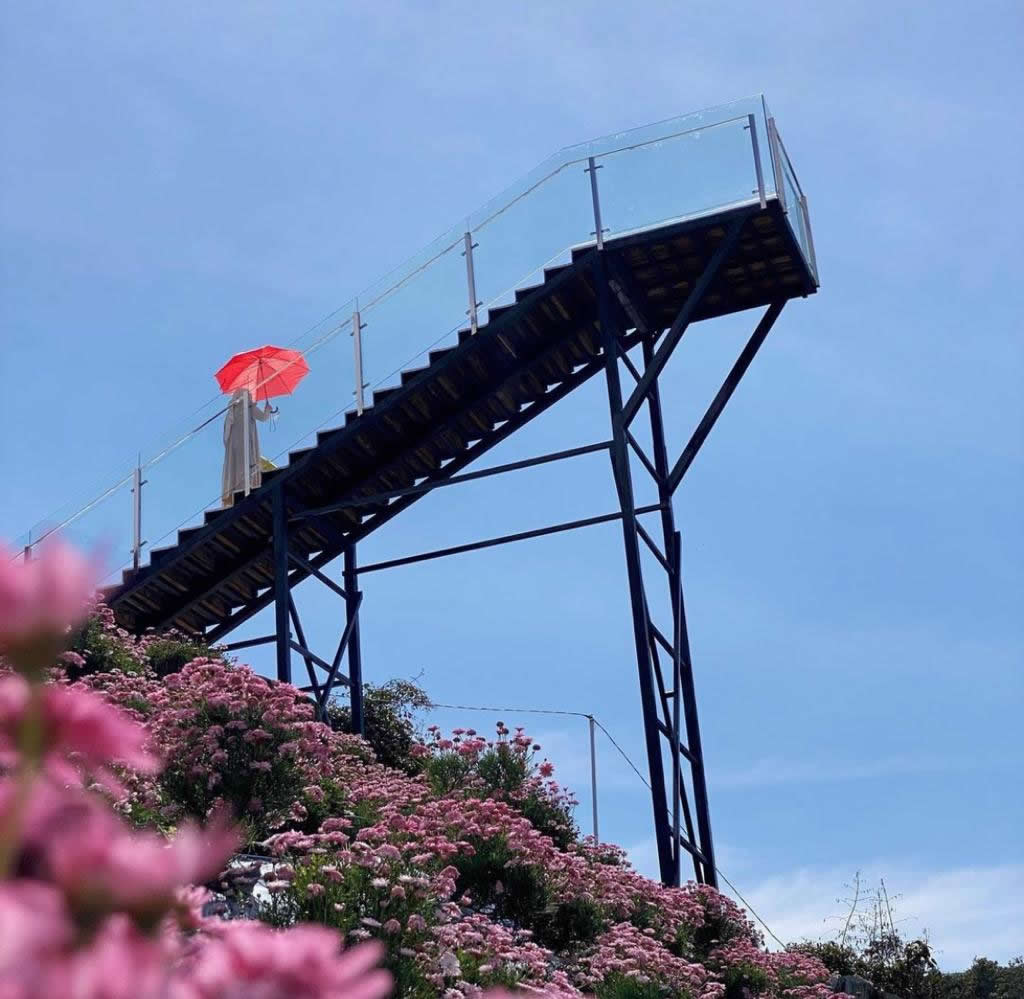 One attraction that may seem out of place at first is the Stairway to Infinity. This metallic structure is placed in the middle of paradise, but there's a reason why it's placed here and why it's named that way.
This is because If you angle your camera correctly, you can take a picture of someone climbing what seems like an endless flight of stairs. However, this attraction serves more purpose than just being a photo opportunity.
Reaching the top of these stairs will treat you to the most majestic views of the park as well as the surrounding areas. You can take numerous photos here or simply bask in the once-in-a-lifetime view that surrounds you in full 360 degrees.
Things to Do in Cameron Flora Park
Drink coffee and enjoy the sceneries from the Views Glass House Cafe
Address: Hilltop, Outdoor Garden, CH Flora Park
Phone: +60 18-912 4450
Operating hours: Every day from 10:00 AM to 6:30 PM
Pricing: RM20-40+
Located at the hilltop is a nice little quaint spot called The Views Glass House Cafe. From here, you can freely admire the surrounding views of the highlands while sipping on your favourite coffee drinks.
Sipping on a nice cup of joe in this kind of weather is a match made in heaven, which is why we recommend it to everyone. Aside from coffee and non-coffee beverages, however, they also serve a bunch of pastries such as waffles and croissants, which are top-notch as well.
There's truly no better place to bask in the beautiful natural landscapes because this is located at the tippy top. Wherever you look from here, there are bound to be beautiful sceneries waiting to be discovered by you.
Go on a romantic picnic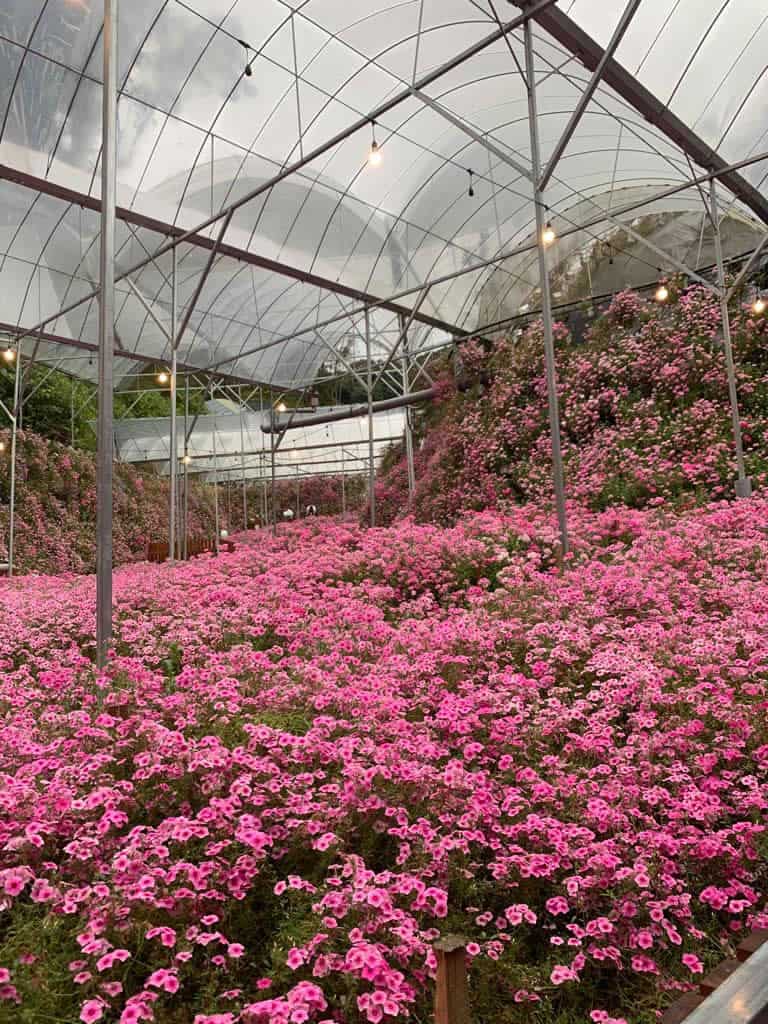 What's the next best thing to do when surrounded by beautiful vegetation and unmatched sceneries? For many, they'd say taking photos, exploring and whatnot but for us, it's sitting down and going on a picnic.
In their Sakura Garden, you and a loved one can enjoy one of Cameron Flora Park's picnic packages. The beautiful surroundings only elevate this special date even further, as the serenity in this garden is unlike any other.
You can even hear a fountain in the background to make the ambience feel more relaxing. Plus, the luscious greenery makes for a great scent that you and your partner can enjoy as you're eating delicious snacks.
Speaking of snacks, their package provides you with a picnic basket filled with different kinds of goodies. This includes sandwiches, fresh fruits, drinks, desserts and more.
It's not strictly for couples as well, as each table can accommodate up to four people. In fact, it's a great family activity that forces you to spend time with one another and be away from technology and the hustle and bustle of city life for at least a couple of hours.
Buy beautiful succulents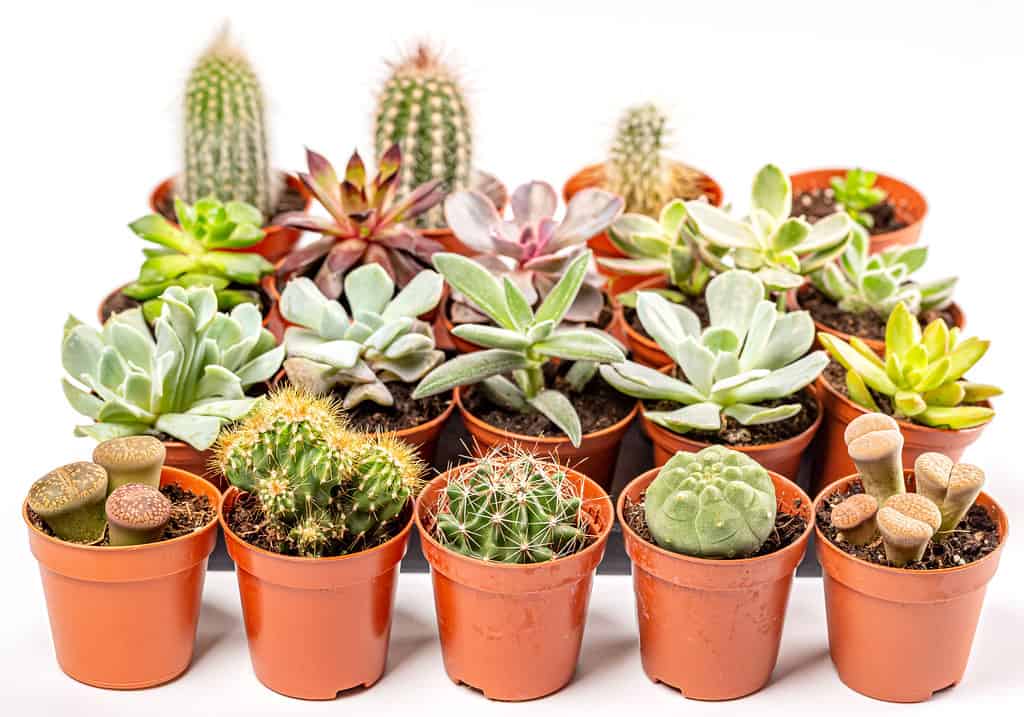 As much as it's tempting to pick at least one flower from the garden as a souvenir, we highly discourage you from doing so to preserve the park. Don't worry though as there's a safer way to bring home a piece of memorabilia from this place and that is by buying their succulents.
These colourful flowers and plants are some of the best souvenirs you can buy here in Malaysia. They come in cute packaging such as heart-shaped boxes, and the best part is that they're affordable! 
Prices of these flowers start at RM10, and all of them are of good quality. Also, succulents are low-maintenance which means that you can keep them alive and healthy with minimal supervision.
Climb up the white stairs leading up to the hill
Visiting Cameron Flora Park is sort of an exercise in itself, as you'll have to walk short distances to get to the next attraction. One perfect example of this is the white stairs that lead to the Flora Hills.
The stairs themselves aren't particularly challenging, but they are a great place to take amazing pictures. This is because its white colour perfectly contrasts with the vibrant flowers found on the hills of this park.
Take tons of photos
Of course, the best activity that you can do in a majestic place like this is to take tons of photos of either the place itself or you and your loved ones. Fortunately, you're free to take unlimited photos and the park features enough variety for you to create an entire album.
How to Get to Cameron Flora Park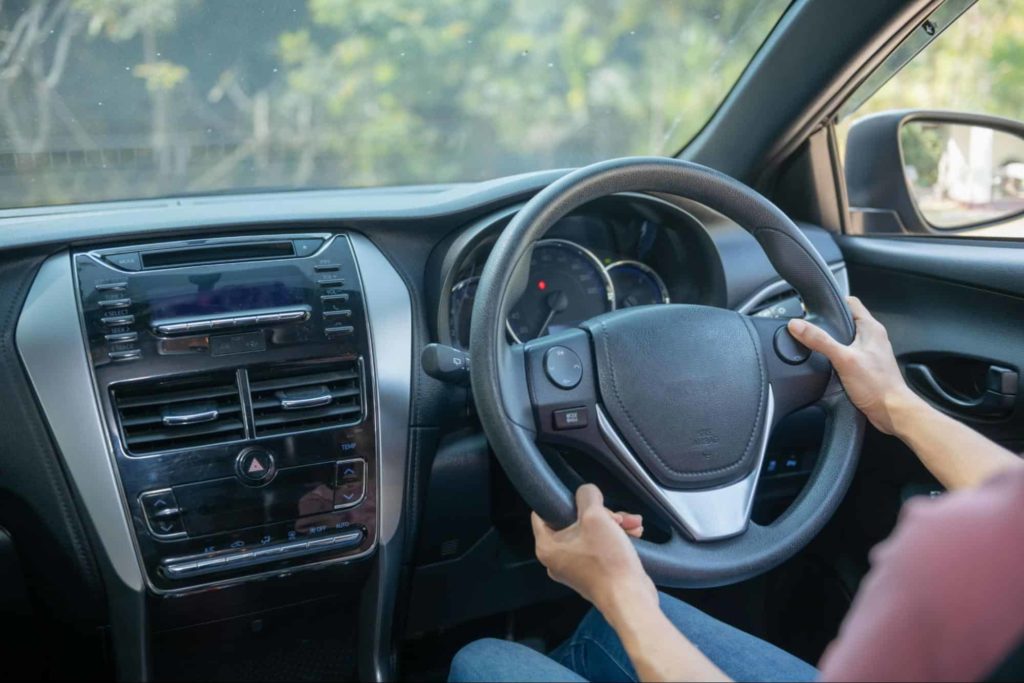 The best way to get to Cameron Flora Park is by car, as it offers the most convenience. Fortunately, there are great rental car services in Kuala Lumpur, Ipoh and Penang so you can travel with ease even if you don't own a car.
Aside from that, the only other way to get to Cameron Highlands is by bus. However, riding a bus here isn't such a bad option as you may think, as you won't have to switch from one vehicle to another.
To help you find your way to Cameron Highlands, here's a quick breakdown of what your bus trip would look like if you're coming from KL, Penang or Ipoh.
Coming from KL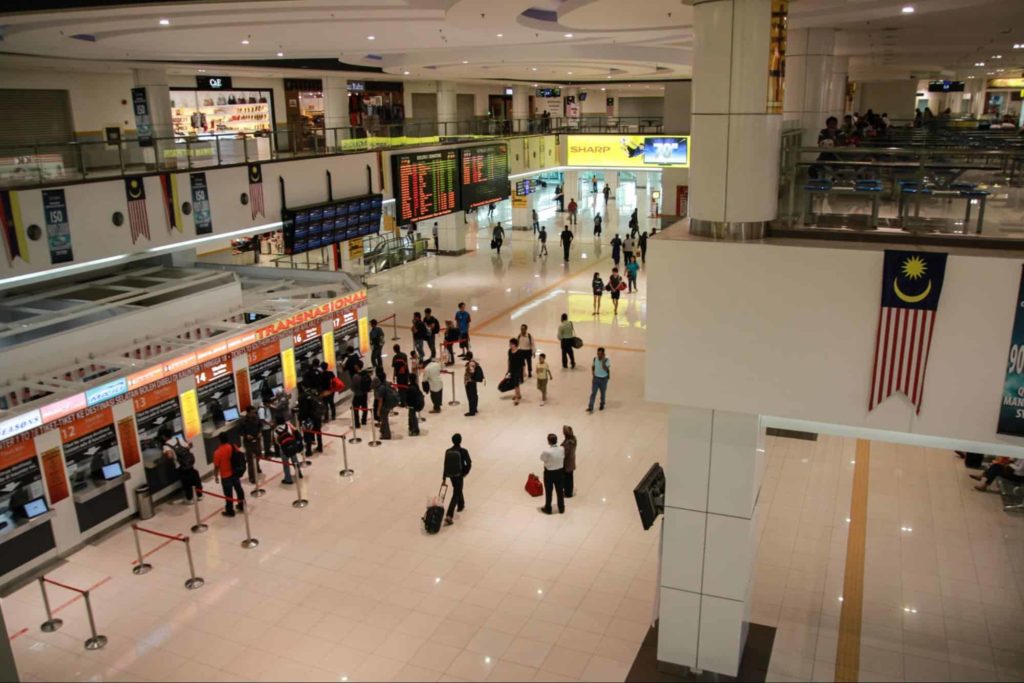 Bus Station: Bersepadu Selatan
Estimated Fare Price: RM40
Estimated Trip Duration: 3 ½ hours
Coming from Ipoh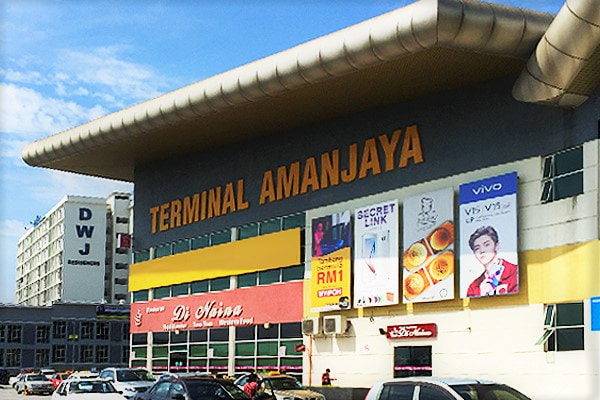 Coming from Penang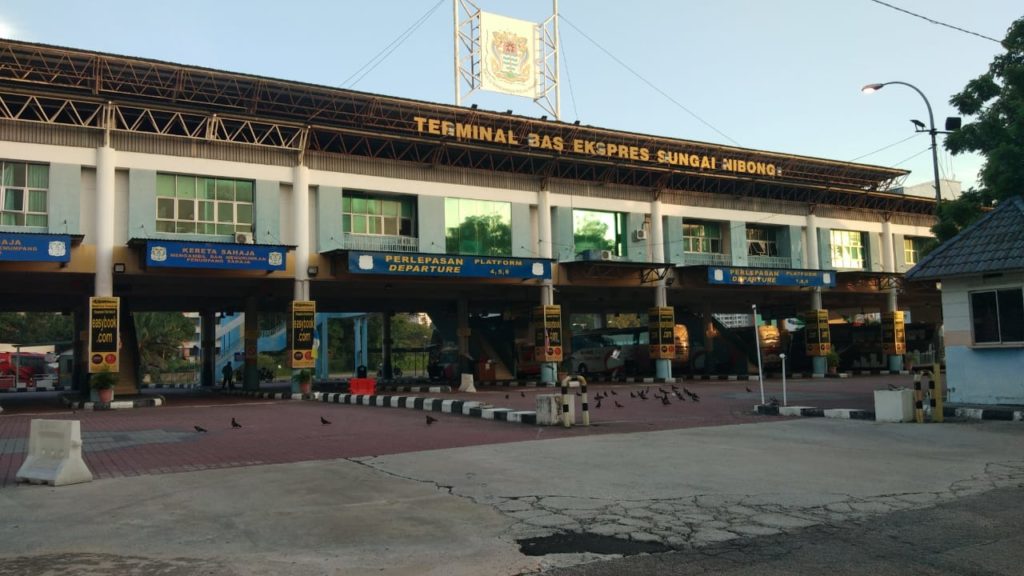 Lastly, keep in mind that upon arriving at their parking space, they'll send a 4WD transport to pick you up and take you to the actual flower park. This is because the park itself isn't nearby the parking spaces.
The time that the 4WD will take to pick you up may vary, but rest assured that it will just take a couple of minutes. As for the trip from that parking to the flora park itself, you're looking at a 10-minute drive at most.
Pro tip: If you arrived in your car, don't wait until the closing hours to leave the park. This way, you won't get caught up in traffic jams caused by other guests leaving at the same time.
Where to Stay at Cameron Flora Park
With 3 to 4 hours of travel time from and to Cameron Flora Park, most tourists decide to book an overnight stay at one of the nearby hotels at the park. This way, they can avoid travelling the entire day and enjoy a more relaxed trip.
If you want to experience a hassle-free trip to the park, here are some of our recommended accommodations at Cameron Flora Park:
Kea Garden Rest House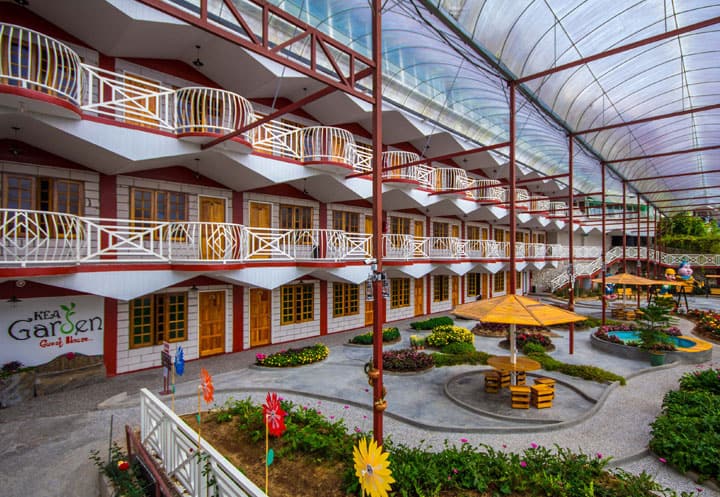 Address: Kea Garden, 39000 Brinchang, Pahang, Malaysia
Phone: +605-496 1472
Pricing: $-$$
Kea Garden Rest House is a solid option if you're looking for affordability and accessibility rolled into one. Not only is this place cheaper than other accommodations but it's also nearby important points such as the wet market, Goat Sanctuary and of course the flora park itself.
It's also worth noting that their rooms are of high quality as well. Each one is fitted with an air conditioning unit and comfortable beds–two important factors for a good night's sleep.
Copthorne Cameron Highlands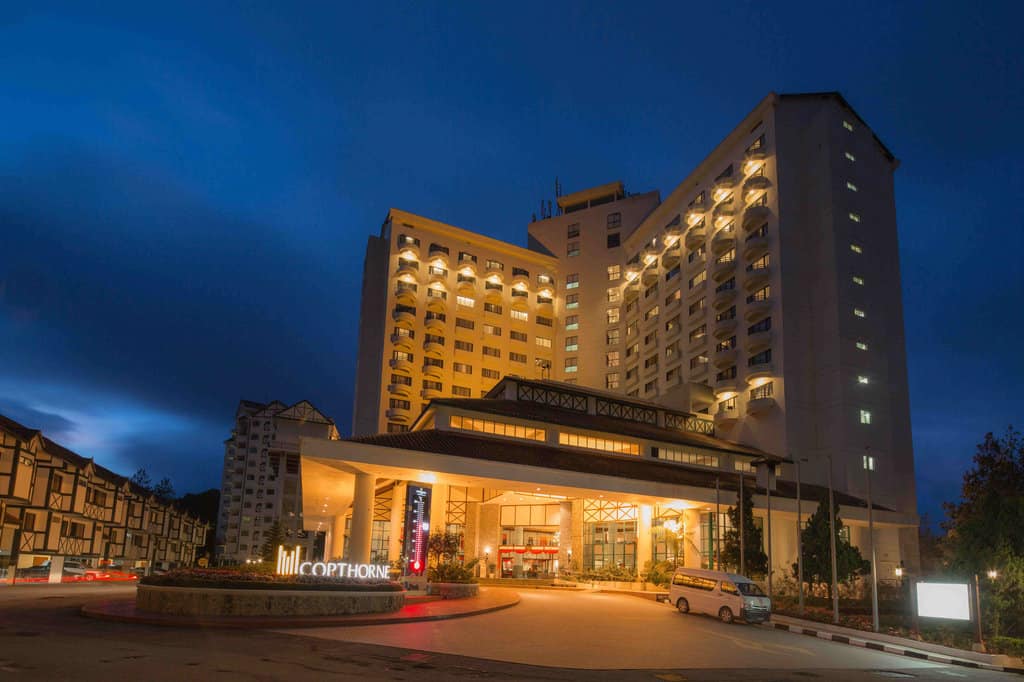 Address: Kea Farm Cameron Highlands, Brinchang, Brinchang, Cameron Highlands, Pahang, Malaysia, 39100
Phone: +605 496 1777
Pricing: $$
The Copthorne Cameron Highlands is a more high-end option to accommodate you and your loved ones during your visit to Cameron Flora Park. That being said, you can expect this establishment to be equipped with everything you need for a comfortable stay.
We personally like this establishment because of its classy interior design. Featuring elegant lighting, spacious rooms and a grandiose lobby, this place is a huge step up from the usual transient houses you'll find around the area.
Glamz Hills
Address: Lot PT22637, PT22638, PT22639, PT22640, Mukim Bentong, Daerah Bentong, Negeri Pahang
Phone:  012-664 5269
Pricing: $$-$$$
If you're looking for a unique way to stay overnight near Cameron Flora Park, you can contact Glamz Hills. This place lets you camp overnight in a dome-shaped tent that features amazing views of the highlands.
This place is one of the best glamping sites in Malaysia for several reasons. For starters, the amenities they offer are equal to the ones you find in luxurious hotels such as clean toilets and baths, comfortable beds, air conditioning and more.
It's a great place to hang out with your friends and families, as they also offer tons of activities that you can fit into your itinerary.