A Beginner's Guide to Pangkor Island
Pangkor Island is one of the best destinations for vacation-goers for both locals and tourists. It houses some of the most beautiful beaches in Malaysia as well as some remnants of its past that serve as today's top attractions.
In this in-depth guide, we're going to go over the most important things you need to know before visiting this small but special island. From where to stay, what to do, restaurants to try and more, keep on reading to learn more!
Time Zone
Malaysia Time (GMT+8)
Best Time to Go
Typically, it's hot all year round in Pangkor, with its wettest months being November and December. The best time to visit, however, is during the summer season, as the heat makes for a perfect accompaniment to the pristine beaches on the island.
Meanwhile, if you want to visit during the driest month, we recommend visiting in June. Visiting during this month lets you enjoy all the activities you can do on the island without worrying about a single drop of rain.
If you want the island all to yourself, we recommend visiting during the weekdays. This is because Pangkor is a famous vacation destination for both locals and tourists so expect it to be packed during the weekends and holidays.
Things to Know
Currency: Malaysian Ringgit
(Check the current exchange rate)
Language: Bahasa Malaysia, English
Calling Code: +6015
How many days should I spend in Pangkor?
We recommend spending at least 4 days and 5 nights on Pangkor Island to experience the best that it offers. By allotting this many days to the island, you'll get to enjoy its nearby islands, beautiful beaches and tourist attractions with some more time to spare for relaxation.
How to Get Around
Motorbike rental: The best way to get around the small island of Pangkor is by riding a motorbike. They're easy to maneuver, especially on the wide and open roads of the island.
Motorbikes can be rented across Pangkor, with the price usually ranging at around RM40 per day.
Rental car: If you're with a big group, it would be wiser to rent a single car as opposed to multiple motorbikes to save money.
The price of rental cars in Pangkor Island may vary depending on the model as well as the season during the time of your visit. Usually, you're looking to spend around RM90 to rent a car for an entire day.
Pink taxis/vans: The pink taxi/van is the only public transport in Pangkor. You can find them everywhere and you can ride them to get to your hotel as well as the different beaches and attractions around the island.
The fare for these taxis will vary depending on your destination as well as the number of passengers. They have set fares for common points on the island such as the jetty and Pasir Bagok but you can also hire them for a trip which will cost around RM80.
Bicycle rental: If you're looking for a more eco-friendly way of getting around the island while getting exercise, you can rent a bicycle. This option is also the cheapest method of getting to your destination as they only cost around RM15 to rent for an entire day.
Where to Stay in Pangkor Island
Pangkor Laut Resort
Address: Pangkor Laut Island Pangkor Laut, 32200 Lumut, Perak, Malaysia
Phone: +60 5-699 1100
Pricing: $$$
If you want to feel like you're staying in the Maldives, then you should check out Pangkor Laut Resort. This premier resort is one of the most luxurious places you can spend the night on the island because of its 5-star hotel facilities, amenities and of course, rooms!
You can either choose to stay in the villas built on stilts above the water or at the misty forested hills. Regardless of which one you choose, we've got a feeling that you won't regret your decision because of the villas' quality and the majestic views from each room.
Aside from the rooms, you can also enjoy the plethora of restaurants on their premises. It doesn't matter if you're craving seafood, local delicacies or Western dishes, you'll find something that will pique your interest from their menu.
Other facilities of theirs that you can enjoy include a spa, a beach club and equipment for various exciting water sports activities!
AVI Pangkor Beach Resort
Address: PT1130, Jalan Pasir Bogak, 32300 Pulau Pangkor, Perak, Malaysia
Phone: +60 3-2262 0288
Pricing: $-$$
AVI Pangkor Beach Resort is an establishment we recommend because of its affordable yet high-quality rooms. Instead of featuring wooden traditional villas, this hotel differs itself by letting you stay in a modern hotel, featuring nautical designs.
Another benefit that comes with being a hotel is that it comes with hotel-like establishments such as free Wi-Fi, hot water, flat-screen TVs and more. Some rooms even come with a balcony overlooking the Malacca Strait–how cool is that?
We also love this chic hotel because of its location, as it's a short walk away from one of the premier beaches on the island, Pasir Bogak Beach. This not only benefits your convenience but also provides you with stunning views from your room.
The hotel also features a lovely restaurant that serves amazing dishes from around the world. It's a treat to dine here not only for the dishes but because of the views of the rainforest as well.
Anjungan Beach Resort
Address: 6610 Nipah Bay, 32300 Pangkor Island, Malaysia
Phone: +60 5-685 1500
Pricing: $
If you're looking for a more budget-friendly accommodation option, we recommend staying at Anjungan Beach Resort. This resort features some of the cheapest rooms in Pangkor but the quality of its rooms will have you thinking otherwise.
The rooms featured here are spacious and tastefully designed. Furthermore, they come with amazing amenities that you'll find in world-class hotels such as satellite TVs, minibars and even private balconies!
One of the best things about this resort, however, is that it's sandwiched between two of the most beautiful beaches on the island! Whether you want to enjoy the exclusivity of Coral Beach or the majestic paradise that is Nipah Bay, all you have to do is take a short walk!
If you want to take a break from the salty waters of the beach, you can also dip in the hotel's cool sampan-shaped pool! Aside from that, this is a nice spot to relax and bask in the beautiful natural landscapes that you're surrounded by.
Pangkor Sandy Beach Resort
Address: Lot 30, Jalan Pasir Bogak, 32300 Pulau Pangkor, Perak, Malaysia
Phone: +60 5-685 3027
Pricing: $-$$
Pangkor Sandy Beach Resort is a great mid-range option if you don't want to overspend but don't want to settle for anything less. It's located along Pasir Godak Beach, so you'll have all the time in the world to head out and go for a swim in the pristine waters of the island.
Here, you'll get to stay in a spacious room that features all the amenities you need for a comfortable stay. Plus, they also feature some useful facilities such as restaurants and swimming pools.
We also love this place because it offers the most exciting activities to its guests. By providing the right equipment, you can enjoy fun things to do such as jet-skiing, kayaking and even banana boating!
Also, since it's located near the rainforest, you'll have the chance to trek if you're looking for that taste of adventure.
Marina Island Pangkor Resort & Hotel
Address: KM 1, Jalan Utama Marina Island, Teluk Muroh, 32200 Lumut, Perak, Malaysia
Phone: +60 5-683 2881
Pricing: $$
If you're looking to stay somewhere else than Pangkor but still want to be treated to its paradise, check out Marina Island Pangkor Resort & Hotel. It's located in the manmade island of Marina and it's just as magical as Pangkor itself.
It may be a short boat ride away from Pangkor, but it's worth the trip because this hotel combines affordability with style. This resort features 500 suites, each of which is designed stylishly and equipped with all the essentials you need for your stay.
The biggest highlight of staying here, however, is the beautiful view of the sea. Regardless of which room you book, you can ensure that you'll have an amazing picturesque view when you look out your window.
Where to Eat in Pangkor Island
Daddy's Cafe
Address: Daddy's Cafe, 27, Teluk Nipah, 32300 Pulau Pangkor, Perak, Malaysia
Phone: +60 10-465 0199
Pricing: $
If you're looking to treat yourself to a fusion of European and Asian cuisines, then Daddy's Cafe should be your next stop. This restaurant is famous among locals and tourists because of its amazing selection of dishes and its generous proportions!
These two reasons make Daddy's Cafe one of the best value-for-your-money restaurants on the island. Plus, it also helps that they also serve a wide variety of delicious coffee and non-coffee drinks.
If you want our advice, order the seafood and mango salad. All the ingredients here are as fresh as they come, and their flavours perfectly blend with one another.
Chao Sheng Seafood Restaurant
Address: 21-22,Jalan Pasir Bogak,32300,Pangkor,Perak, 32300 Pangkor Island, Perak, Malaysia
Phone: +33 1 42 78 51 45
Pricing: $$$
Given that Pangkor is surrounded by pristine waters with bustline marine life, it should be a must to try some of its freshly-made seafood. For this need, we recommend dining at Chao Sheng Seafood Restaurant.
Their seafood here is as fresh as they come, so you'll know you're in good hands. Any item from their menu can pass as their best offering, but there's just something about their crispy deep-fried squid that will leave you wanting more.
What's more impressive is this restaurant's price point. You won't have to worry about breaking the bank just to enjoy a full hearty and delicious meal.
Nipah Deli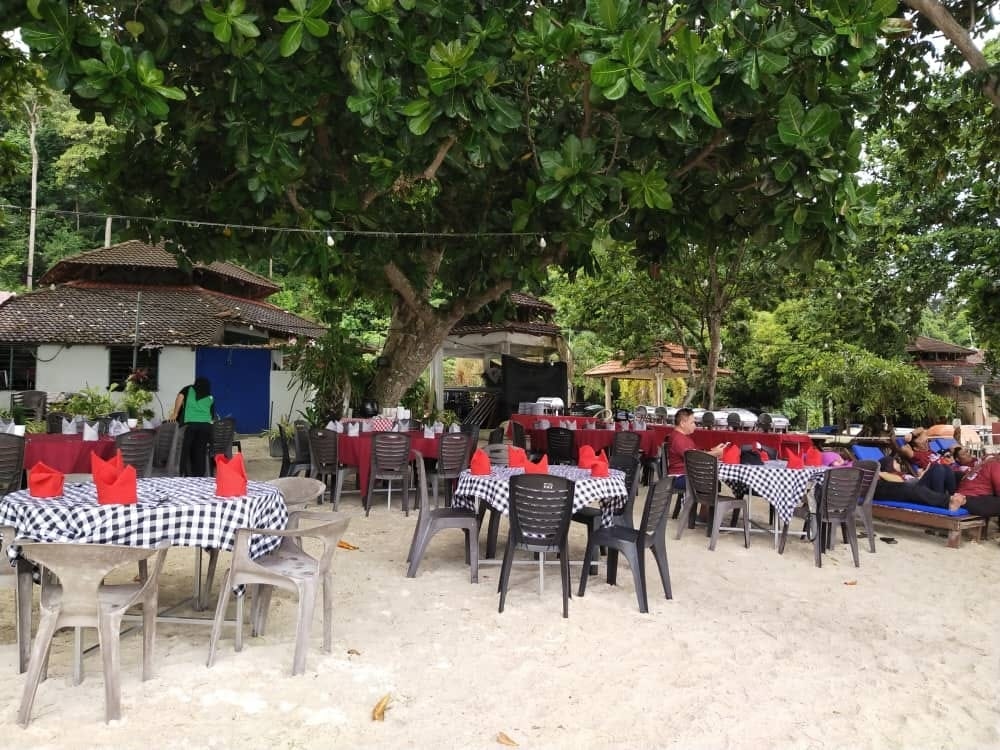 Address: 41 Boulevard Voltaire, 75011 Pangkor Island, France
Phone: +33 6 74 57 09 90
Pricing: $
Steamboat restaurants are always a treat to dine in and thankfully, this island has one of the best in the country. Nipah Deli is located along the beautiful sands of Coral Beach and it offers fresh seafood and amazing steamboat options.
If you don't know, a steamboat is a dining experience that lets you cook your food on either a hotpot or a sizzling grill. The variety of things you can cook here is amazing, from pork to beef, soft-shelled prawns and other seafood.
Plus, its strategic location makes it one of the most picturesque restaurants you can try on the island. It treats you to the beautiful view of Coral Beach as well as the ever-so-serenading sounds of waves crashing into the shore.
Feast Village
Address: Laut Resort, Pangkor Island, Perak, Malaysia
Pricing: $$
Located in one of the most luxurious resorts on the island is an equally premium restaurant called Feast Village. It's the go-to restaurant for couples who are looking to spoil themselves with a romantic fine dining experience.
Its fanciness isn't the only thing it's going for, however, as this restaurant features amazing dishes hailing here in Malaysia as well as around the world. They also feature a cafe where you can enjoy tons of pastries as well as a myriad of coffee and non-coffee beverages.
Uncle Lim's Kitchen
Address: 32300 Lumut, Perak, Malaysia
Phone: +60 5-699 1100
Pricing: $$
For those days on the island when you're craving Chinese food, the best place to visit is Uncle Lim's Kitchen. It features some of the best staples from this cuisine such as roasted duck, beef rendang, orange chicken, and spring rolls.
The restaurant is named after one of the chefs who has been cooking for this establishment since its inception. If you're lucky enough, you can even meet him in person and meet the one responsible for the delicious dishes on the menu.
Another reason why you may want to dine here is the stunning view you'll be presented with while eating. It overlooks the picturesque shores of the island, which adds more charm to the overall dining experience.
What to Do in Pangkor Island
Go island hopping
Aside from Pangkor itself, the small islands scattered around it are begging to be explored, which is why you have to visit them at least once! The best way to do this is by going island hopping with your friends or family members.
Through this activity, you won't only get to admire these islands up close, but you can also explore them for a while! You can even swim around their shores as well and you can compare your experiences with each one.
Some of these islands offer a more bustling marine life than others, which makes for perfect snorkelling spots. Also, one thing you'll notice from each island is that all of them are unpolluted, which is the most important thing to preserve–make sure not to leave any mess!
Lastly, riding the speedboat towards the different islands is an experience in itself. Seeing beautiful cerulean waters as far as the eye can see while moving at least 60 km/h is a zen-like experience like no other.
Admire beautiful marine life while snorkelling
Whether you're on the main island of Pangkor or in the little ones surrounding it, you can expect to see bustling marine life while snorkelling. This activity makes your swimming experience all the more interesting as you'll get to swim with different kinds of friendly sea creatures.
Aside from the fish, sting rays and other sea creatures, you'll also see colourful coral reefs that look straight out of Finding Nemo. These aren't just for show, however, as they serve as the homes for the different fish you'll be swimming around with so be careful!
Also, the gentle and shallow waters surrounding the island make it an ace snorkelling spot for inexperienced individuals. So if you have kids who are too scared to go snorkelling because of strong waves and depths, this is the best time to practice them!
Chill by the shores of Pangkor's beaches
If you're not looking for anything adrenaline-inducing, you can just chill by the beach and get your daily dose of vitamin sea. This is great to do if you want to slow down time and appreciate the beautiful nature that surrounds you.
You won't be disappointed with the views from this island, as they're as picturesque as a postcard–so be sure to take tons of photos! Plus, this scene is a great breath of fresh air, both figuratively and literally, from the hustle and bustle of the city.
Also, you can treat yourself to some of the restaurants and bars that you'll find along the shore and spend your time there!
Spot some majestic hornbills
Pangkor Island is home to countless hornbills, which is why you'll find plenty of them flying around during your visit. Consider yourself lucky if you see them though as they're considered a rare species of bird and they're extremely shy.
You'll mostly find them perched on tree branches and it's not easy to miss them because of their distinct appearance. One of their most unique features is well, their hornbills, which are yellow like bananas but unusually huge.
When you spot some of them during one of your treks, we discourage you from feeding them, as they aren't the best at digesting food. If you want to do so, however, you can visit Sunset View Chalet where they hold a regular hornbill feeding session.
Kayak with your best buddies
Another activity you can enjoy with your loved ones thanks to the island's gentle waters is kayaking. This is a must-try if you're looking to do something that isn't too scary but still exciting at the same time.
Kayaking is one of the best duo activities to do on the island as you'll get to practice your teamwork while basking in scenic views. Plus, there's just something about being in the middle of gentle and shallow waters that makes you feel utmost relaxation.
If the calm waters aren't enough to encourage you to do this activity, don't worry, as you'll also be provided with floatation devices. These pieces of equipment along with the kayak themselves are sometimes offered by the resort so choose your accommodation wisely!
Watch the most mesmerizing sunset of your life
One activity you can do in Pangkor that will leave you in awe is watching the sunset. It may be a simple thing, but the added natural landscapes of this island make it a hundred times better than any sunset you've ever witnessed in your life.
Feast on delicious seafood
It would be a shame to leave the island without trying some of its best seafood offerings. Thankfully, the island features tons of seafood restaurants that make use of the abundance of fresh fish, crabs, prawns and more around the island.
Plus, the best part is that these seafood are prepared in several different ways. Whether you're looking for a soup or a snack, you'll find something in one of these restaurants that will suit your taste.
Be in awe of the Dutch Port
Address: 32300 Pangkor Island, Perak, Malaysia
Phone: +33 1 71 25 24 23
The Dutch Port is one of the most iconic attractions on the island so it should be included in your itinerary. It serves as a remnant of the island's colonial past when it served as a place of refuge for merchants and pirates during the 17th century.
Today, you can roam around the fort and marvel at its beautiful architecture, which mostly consists of brick walls. Aside from that, you'll also find a park and some souvenir stores around the fort, further cementing it as a top tourist attraction on the island.
Where to Shop in Pangkor Island
Pangkor Market
Address: 45B Kampung, Sungai Pinang Kecil, 32300 Pangkor Island, Perak, Malaysia
Phone: +60 16-907 7087
Pangkor Island is the best place to buy dried anchovies. Locally known as ikan bilis, this fish is one of the most common products exported by the island so it makes sense to take some home after your visit.
If you're not a fan of anchovies, no worries! There are also other dried seafood products on the market, all of which feature the same high quality.
Coco Valley Duty Free Pangkor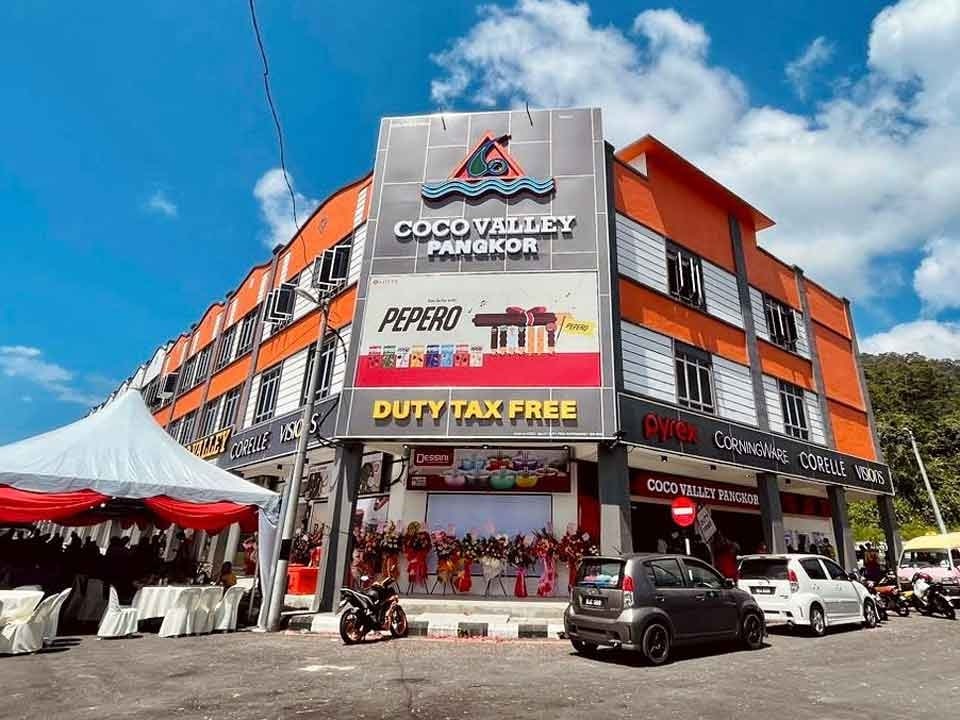 Address: 1, Tingkat Bawah, Jalan Pangkor Sentosa 1, Taman Pangkor Sentosa, 32300 Pulau Pangkor, Perak, Malaysia.
Phone: +60 17 350 9998
One of the best things about the island is the abundance of duty-free stores, allowing visitors to score amazing deals on different kinds of products. For instance, Coco Valley Pangkor is the best duty-free store if you want to buy chocolates for a fraction of their actual price!
Aside from chocolates, you'll also find other products here including kitchenware, snacks and more.
Pangkor Special Corner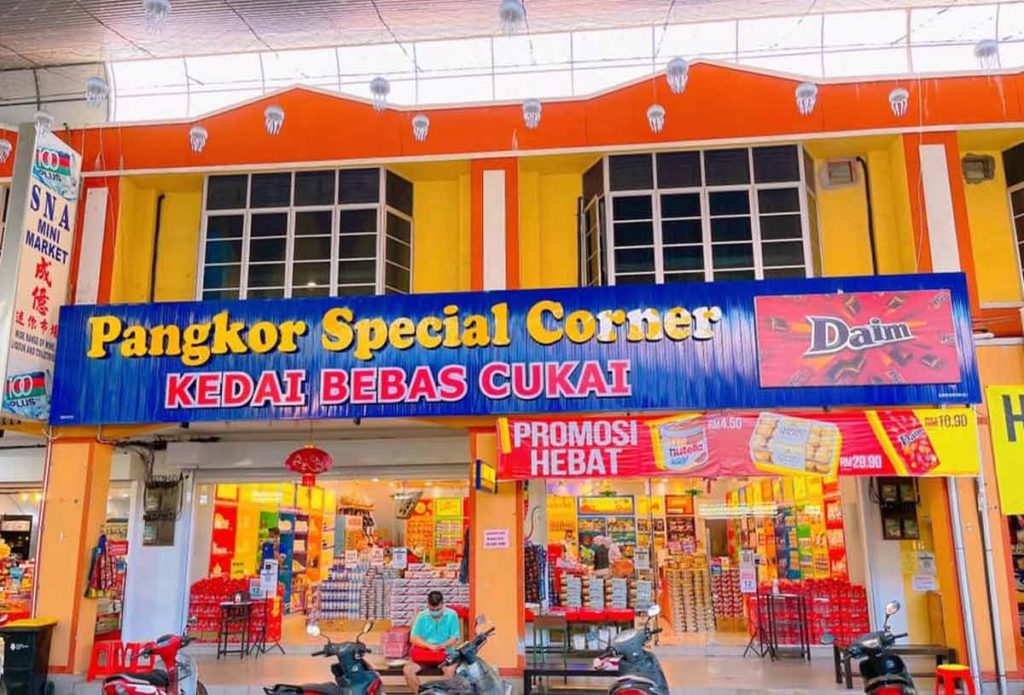 Address: K10. Jalan Besar, 32 300 Pulau Pangkor, Perak, Malaysia
Phone: +60 18-953 8296
Pangkor Special Corner is a must-visit before you hop onto the jetty. This is the best place to buy souvenirs and sweets for the people waiting for you at home, and the best part is that the products here are way below their regular rates.
From chocolates such as Snickers, M&Ms, Toblerone, Cadbury and more, you'll find tons of brands here offering discounts on their products.
SP Duty Free Pangkor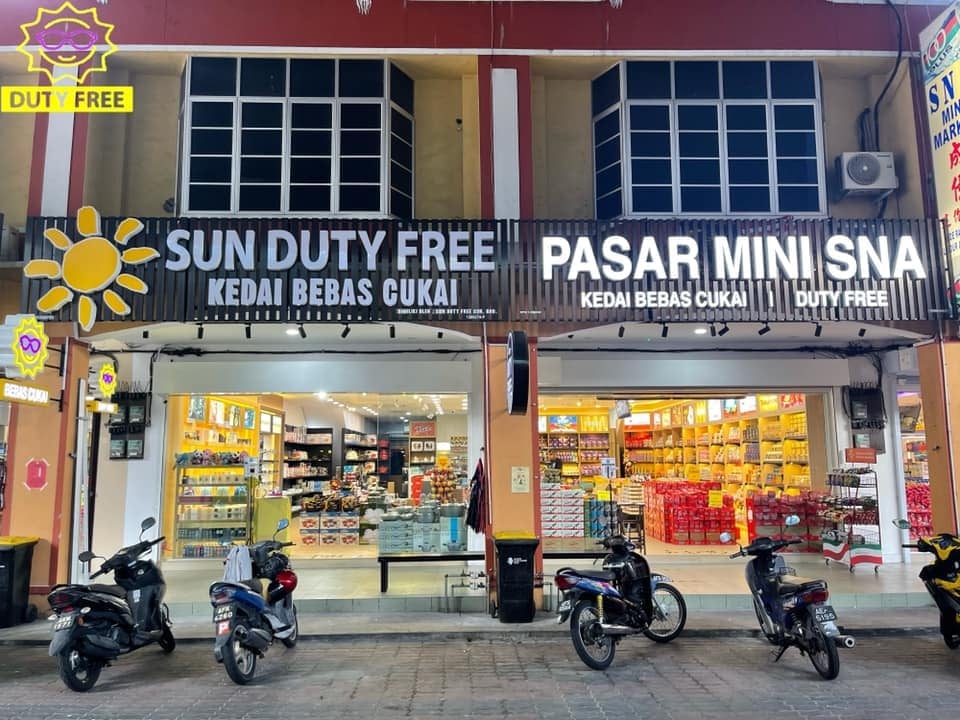 Address: No 7, Jalan Pangkor, Taman Mutiara 1, 32300 Pangkor Island, Perak, Malaysia
Phone: +60 12-957 4877
SP Duty Free is a great shop to visit if you're looking to find discounted perfumes from different brands, some of which are designer ones. Also, in true duty-free fashion, you'll find a bunch of cheap chocolates here, ranging from local to international brands.
Laris Duty Free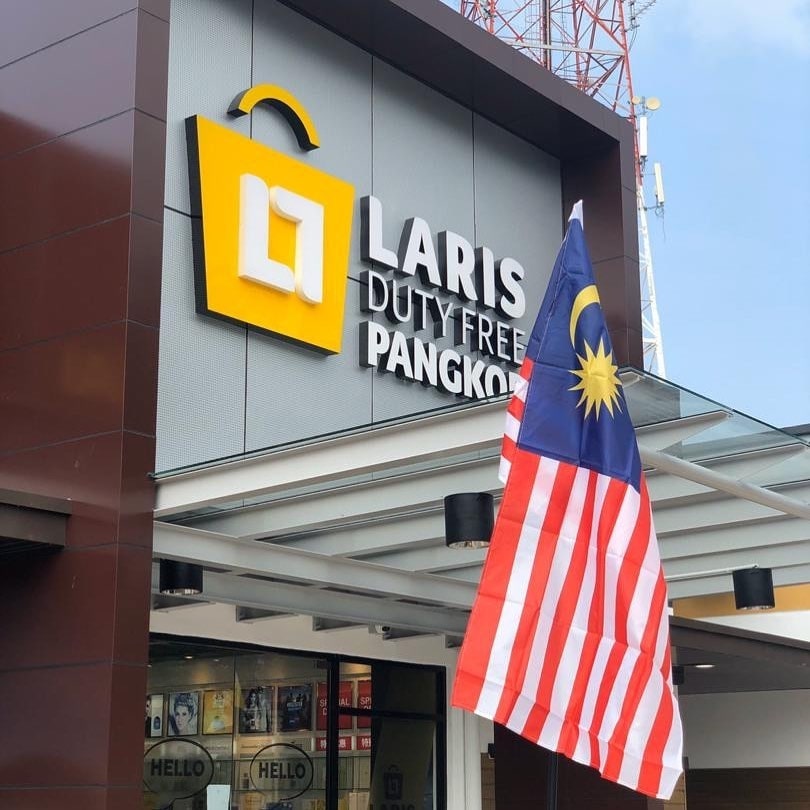 Address: 3A, Taman Pangkor Mutiara, Pulau Pangkor 32300 Pangkor, Perak, Malaysia.
Phone: +60 5-685 1103
Laris Duty Free contains one of the biggest collections of products on the island. For starters, they house over 300 types of imported chocolates on their shelves, all of which are heavily discounted.
Furthermore, the store features locally-made chocolates as well, so if you're looking for something more unique, this is the best place to go. 
What to Expect from Pangkor Island Weather
Rainy Season: It's fair to say that the weather on Pangkor Island is hot all year round. However, come November to December, there's a higher chance of rain so avoid these months if you're planning to visit anytime soon.
Dry Season: January to August are the dry months of the year on Pangkor Island. If you want the best weather, however, we recommend visiting in June.
Apps to Download for a Trip to Pangkor Island
Google Translate: A handy translation app
Maps.me: Offline map of the world
XE Currency App: Real-time currency exchange rate app