The 9 Best Things to Do in Labuan
Labuan was declared a federal territory of Malaysia back in 1964 and since then, it has been a famous vacation spot among local folks. Compared to other destinations in the country, however, Labuan is a fairly lesser-known place among tourists–that's where we come in!
We think it's a shame that this island doesn't get the spotlight it deserves because it has so much to offer to its visitors. From activities to beautiful man-made structures, amazing natural landscapes and more, here are some of the things you can visit and do in Labuan:
Spot shipwrecks while scuba diving
One of the most iconic things you can do in Labuan is scuba diving. This is because the island is surrounded by pristine waters that house one of the most bustling marine life you'll see in Malaysia.
What's great about diving here is that sessions are categorised by difficulty, more specifically from beginner to intermediate. Each difficulty varies in depth as well as the overall challenge of the dive itself so make sure not to choose something that's way above your skills.
By going on this exciting adventure, you'll get to spot different species of fish, stingrays and even corals! It's one of those majestic sights that can't be given justice based on description alone, as you have to experience it for yourself!
What makes Labuan a special diving spot, however, is its abundance of shipwrecks, such as:
Australian Wreck: Southwest of Pulau Rusukan Besar, about 23km from Labuan.
American Wreck: Southeast of Pulau Rusukan Kecil, about 1.5 km from the Australian Wreck.
Cement Wreck: East of Pulau Kuraman, about 21 km from Labuan.
Blue Water Wreck: Northwest of Pulau Kuraman, about 34 km from Labuan.
It's crazy to think how these ships have become mere structures that different sea creatures pass by every day. Also, each of these wrecks has a story, and it's up to you to discover them through your diving adventure!
Pro tip:
If you're not sure which difficulty to choose, you can always ask the instructor to help you find the best for you. As a general rule of thumb, however, we recommend starting with the beginner's course to ensure your safety.
Score great deals on duty-free shops
Before you leave Labuan, it's a must to go shopping in the various duty-free shops around the island. This isn't just because of the quality of items found here but also because of the cheaper price since the island is a tax-free zone.
Whether you're looking for perfumes, bags, clothes, sweets and more, you'll find everything you need across the various shopping centres on the island. For instance, if you want your phone fixed or you need anything related to electronics, we recommend the Financial Park Mall.
Meanwhile, if you're looking for something to bring home with you as a souvenir, we recommend checking out Bazaar Labuan. This bazaar features some amazing traditional Malay arts and crafts that are perfect for remembering your trip.
Sometimes, you'll even find discounted prices to make your shopping experience all the more satisfying!
Pro tip:
Save your duty-free shopping for the last part of your trip, as these stores are usually found near the harbour.
Relax on one of the island's beaches
If you're looking for a more laid-back activity to do with your friends and family members, visit the island's beaches. Labuan is known to house some of Malaysia's beautiful beaches, and it would be a shame to miss out on visiting them during your time on the island.
Personally, we love going to Pohon Batu Beach because of the unmatched serenity that it offers. It's sort of like the ultimate island life experience that you'll get in Labuan, as it lets you
bask in the ambience while sipping on some fresh drinks from local stalls.
Meanwhile, if you're looking for a more lively experience, we recommend checking out Labuan Beach. It's the most popular one among tourists, which is why you'll find it crowded most of the time, especially during weekend afternoons.
Lastly, if you want to be left alone, UMS Beach is the best one for you. It's the most remote beach out of the bunch, which is also why you won't see any establishments standing here.
Pro tip:
If you want to eat your favourite snacks while enjoying a view to die for, you can freely bring your own picnic basket!
Breath in fresh air at Labuan Botanical Gardens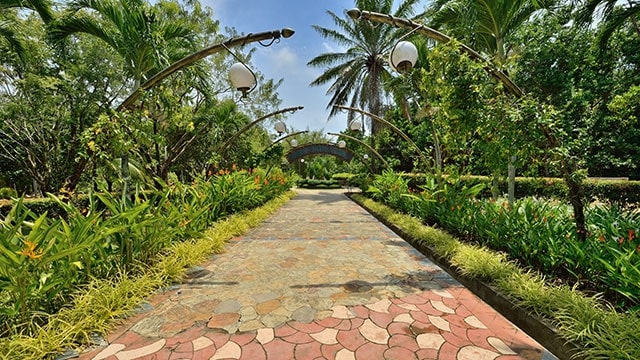 Website: https://www.pulaulabuan.com/botanical-gardens/
Address: Labuan Botanical Garden, 708, 87000 Labuan, Labuan Federal Territory, Malaysia
Contact details: +60 874 08600
Operating hours: Opens daily from 6:00 AM to 7:00 PM
Labuan Botanical Gardens should be a part of your itinerary, as it's one of the most impressive public parks in the country. It showcases a vast range of greeneries from trees to shrubs, flowers and more, and the best part is that it's not that far away from the city!
This is a great place to take Instagram-worthy photos because of the beautiful views and Southeast Asian flowers and trees it features. Plus, it also features a manmade pond, which reflects the tall trees perfectly, creating a cool illusion.
One of our favourite spots to take photos in this park is by the bridge, as it's fully surrounded by trees. If you angle your photos just right, they'll look like you're in a tropical paradise!
Pro tip:
Don't forget to pack mosquito repellent before your visit here, as these insects are quite prevalent in some areas. This way, you can enjoy the different breathtaking views without worrying about catching any kind of disease.
Take memorable photos at the Labuan Clock Tower
Address: Jalan Tanjung Purun, Bandar Labuan, 87000 Labuan, Wilayah Persekutuan Labuan, Malaysia
The Labuan Clock Tower is one of the island's best attractions because of its meaningful history and sheer beauty. Just to give a quick background, this structure is a replica of the original clock tower in Melaka that was destroyed during World War II.
As for it being a spectacle, there's not much we can say to properly describe how majestic this tower is. Although it's not as tall as other memorable clock towers around the world, it's still worth seeing in person because of its architecture and attention to detail.
Plus, it's worth noting that the tower is located near the Marine Museum and Labuan Beach, so it doesn't hurt to stop by when you get a chance.
Pro tip:
If you want to see this attraction in its best form, we recommend visiting at night, as it will be lit up with pretty lights!
Meet new feathered friends at the Labuan Bird Park
Website: https://labuanisland.net/historical-attractions-places-labuan-malaysia/labuan-bird-park-labuan-malaysia/
Address: Labuan 87000 Labuan, Labuan Federal Territory, Malaysia
Contact details: +60 87-272 288
Operating hours: Saturday to Thursday: 10:00 AM to 4:30 PM
Entrance fee:
Malaysian: RM3 (adults), RM1(children)
Non-Malaysian: RM5, RM2 (students and senior citizens)
If you're looking for a place that both adults and kids will enjoy, stop by Labuan Bird Park! This massive sanctuary houses a vast array of bird species, all of which are cool and majestic in their own right.
What we love about this place is that the birds aren't enclosed in tight cages. Instead, they're free to fly around and live their best lives, which is fortunate for us visitors because we'll get to see them in action!
Furthermore, you'll get to learn a bit more about these birds through the visual aids posted on each exhibit. This will help you understand their behaviours and overall personalities, which will open up a new perspective in your eyes.
Some of the most notable bird species you'll find in this sanctuary include peacocks, hornbills, parrots and more. However, the discovery doesn't stop there as the park also houses other animals such as rabbits, and various floras in its rainforest.
Pro tip:
If you want your trip to this sanctuary a bit more memorable, we recommend visiting at 11:00 AM and 3:00 PM. This is because these are when the live shows are held, where different species of birds showcase their impressive talents!
Admire the mysterious chimney
Address: 87000 Labuan, Labuan Federal Territory, Malaysia
Contact details: +60 87-463 603
Operating hours: Opens daily from 8:30 AM to 5:00 PM
Entrance fee: RM3
The mysterious chimney is a particular attraction on the island that's just as mysterious as it's beautiful. This man-made structure is believed to have been around since before World War II, and it even survived the historic battle itself!
Today, the tower serves as a famous tourist attraction that's usually included in several travel itineraries. It stands approximately 105 feet tall and is entirely made out of bricks, 23,000 of them to be exact.
The underlying mystery here is that nobody knows the truth as to what this chimney is for, but that didn't stop locals from creating their own theories. Some said that it served as ventilation for an underground mine while others claim it's part of a factory that has long been demolished.
Regardless of who's right or wrong, it doesn't take away the fact that it's one of the coolest attractions on the island. Personally, we think that the surrounding mystery is part of the reason why it's such a huge draw among locals and tourists alike.
Pro tip:
Labuan Chimney is just a stone's throw away from the Bird Park. You can hit two birds with one stone by stopping by this chimney before or after your trip to the sanctuary.
Meet the locals of the Patau Patau Water Village
The Patau Patau Water Village is one of the most interesting places you can visit in Labuan. It's a cool little village that's built on stilts above the shallow waters of Labuan Harbour.
What's even more impressive is that it's more than just an attraction, as it serves as a place of residency for several locals. These homes are part of the charm of this place, as their beautifully structured nature is majestic to see in person.
Speaking of the residing locals here, they're super friendly and will accommodate all visitors who step foot in their village.
Being here is a great experience, as it provides you with a different point of view of how some locals in Labuan live their daily lives. If you're big on learning Malaysian tradition and culture, this is a must-visit for you!
Pro tip:
If you want to take your experience to the next level, you can choose to spend the night in one of the Water Village's homestays! This is great if you're looking for a cheap and authentic way to experience Labuan.
Be mesmerized by the aquatic life at the Marine Museum
Address: Kompleks Sukan Air Antarabangsa Labuan, Jalan Tanjung Purun, 87008 Labuan, Malaysia
Contact details: +60 87-425 927
Operating hours: Opens daily from 9:00 AM to 5:00 PM
Given that Labuan is surrounded by beautiful waters, it's only fair that the city has a museum dedicated to its healthy marine life. The Labuan Marine Museum won't only mesmerize you with its abundance of galleries and exhibitions but it will also educate you.
More specifically, this museum features 16 different galleries, each of which features different attractions. For instance, there's this gallery that's solely dedicated to educating visitors about the shipwrecks and artefacts found around Borneo, more specifically in Labuan waters.
Of course, the main highlight that attracts visitors is the selection of aquariums containing live sea creatures. Some of the majestic creatures you'll find here include sharks, molluscs, king crabs, sting rays and more!
Pro tip:
If it's your first time here and you want to enjoy every nook and cranny of the museum, we recommend opting for a guided tour. They're available for request on the premises of the museum.