Everything You Need to Know before Visiting Morib Beach
Located just 30 minutes away from Klang, Morib Beach is one of the closest beaches to Kuala Lumpur. This location makes it one of the best quick getaway destinations from the capital where you can spend a relaxing day away from the city!
To maximize your time in Morib Beach, we crafted a guide with everything you need to know so you can prepare well! Read on to learn about the best times to go, where to stay, and other essential info like parking conditions — so be sure to stick by until the end!
Time Zone
Standard Malaysian Time (GMT+8)
Best Time to Go
As a general rule of thumb, we recommend visiting Morib Beach during the dry season, which is generally from March to October. During these months, the sun will be out and rainfall will be less likely to occur, allowing you to enjoy the complete beach experience without restrictions.
As much as possible, we discourage anyone from visiting during the monsoon season (November to February). This is because you may find yourself in the middle of a rainstorm, which can prevent you from swimming on the beach due to strong waves.
Meanwhile, if you don't want your visit to be crowded with tourists and locals alike, we advise visiting during weekdays. The beach sees fewer visitors during these days, which is perfect for those who are looking for a more peaceful beach experience.
Things to Know
Currency: Malaysian Ringgit (Check the current exchange rate)
Language: Malay, English
Calling Code: +60
Address: Morib, 42700 Banting, Selangor, Malaysia
Contact number: +601123236779
Website
Parking: This beach features several parking bays that are available to use for its visitors. Also, if you're planning to stay overnight at one of the beach's resorts, you'll have the pleasure of gaining free parking access on their respective premises.
Swimming access: Morib Beach is suitable for swimming even for its small size. In fact, this size is part of its charm, as it makes it appear more intimate and cosy.
Entrance fee: Free entry
Total length: 3 km
How to Get to Morib Beach
Trains: Riding the train is one of the most convenient and affordable ways to get to Morib Beach, especially if you're coming from the capital. All you have to do is hop on the KLIA Transit Train and enjoy the 30-minute ride or so to get to the beach, which costs around RM18.
Buses: Taking the bus is the cheapest way to get to Morib Beach, as there are plenty of bus stops near the shore itself. For instance, if you're coming from Kuala Lumpur, you can take the P701 bus for only around RM5.
Taxis: If you don't want to travel along with other tourists and locals through public transportation, you can ride a taxi. It's also a quick way to get to the beach compared to riding the bus, but expect to pay a lot more as opposed to the public mode of transportation.
Grab: Grab is also a great alternative if you don't want to go through public transportation. It's a ride-hailing app in Southeast Asia, and it's fully operational in various cities in Malaysia including Selangor and Kuala Lumpur.
If you're someone who experiences anxiety over a taxi's metre, this is a great option, as rides will already come with a fixed rate.
Car rental: Renting a car is our most recommended way of getting to Morib Beach because it lets you enjoy a scenic route. Also, it leaves you in charge of your route so you can stop by all the restaurants and other points of interest you want with you and your loved ones.
Where to Stay in Morib Beach
Villea Morib
Address: Lot 183 &184 Jalan Pantai, 42700 Banting, Selangor, Malaysia
Phone: +60 3-3198 2070
Pricing: $$
Book Now
When a resort is named after the beach it stands on, you know that it's the real deal. Villea Morib is the absolute best way to stay overnight on the beach if you want to be pampered with high-quality rooms, amazing customer service and world-class facilities.
The rooms you'll get to stay in here ooze with elegance and charm, with their palace-like interior design and plentiful amenities. It gets better when you step outside your room as you'll be greeted with a massive pool and of course, Morib Beach itself!
Amverton Cove Golf & Island Resort
Address: Jalan Pulau Carey, 42960 Pulau Carey, Selangor, Malaysia
Phone: +60 3-3123 3888
Pricing: $$$
Book Now
If you're looking for a place to stay that's more than just a hotel, we recommend heading over to Amverton Cove Golf & Resort. This place is an entire attraction in itself and you won't regret booking a stay here, as you and your loved ones will be treated to endless hours of fun.
Aside from providing high-quality rooms, this resort also lets you access a massive water park, a golf course, a survival park and more! Also, if you're a foodie, you'll have a blast here, as they feature a wide selection of stalls and restaurants.
Tune Hotel KLIA-KLIA2, Airport Transit Hotel
Address: Lot Pt 13, Jln Klia 2/2, KLIA, 64000 KLIA, Selangor, Malaysia
Phone: +60-3 8787 1720
Pricing: $-$$
Book Now
Tune Hotel KLIA-KLIA2, Airport Transit Hotel is the best mid-tier hotel you can book if you're on a somewhat tight budget. It offers spacious rooms that are fitted with all the amenities you need for a comfortable stay at an affordable price.
The best part about this hotel, however, is that it's located in the airport so that you won't have to rush your way to your flight. Also, this location allows it to be near essential establishments as well such as restaurants, convenience stores, shopping centres and more.
Indah Morib Homestay
Address: Pt 704, Jalan Perdana 2 Indah Perdana, Kampung Endah, 42700 Banting, Selangor, Malaysia
Phone: +60 11-5757 2001
Pricing: $
Book Now
We recommend staying at Indah Morib Homestay if you're coming with your family or a big friend group. This lodging option lets you stay in an entire house all to yourself complete with a kitchen, living room, bedrooms, bathrooms and even an outdoor swimming pool!
Arguably the best thing about this place, however, is its price, as it's nowhere near the range of what other nearby hotels cost. Although it's not super cheap, we feel like it's the perfect option if you want the best value for your money.
Gold Coast Morib Studio
Address: MY Selangor Banting Kampung Endah Unnamed Road, 42700, Malaysia
Pricing: $$-$$$
Book Now
Gold Coast Morib Studio is another accommodation option that we recommend because of its facilities, most notably its massive pool. This swimming pool is located in front of the hotel and it can accommodate several guests thanks to its sheer size.
Furthermore, the pool also features various slides, which makes it look like an all-out waterpark. So if you want to impress your kids, go ahead and surprise them by booking a stay in this hotel; just wait until you see the surprised look on their faces!
Where to Eat in Morib Beach
Morib Cafe
Address: No 2 Pantai, Morib, 42700 Banting, Selangor, Malaysia
Phone: +60-1 3302 1512
Pricing: $
Website
If you're looking for a restaurant that serves cheap but delicious local dishes, you must stop by Morib Cafe. Located along the shores of the beach, this humble eatery features all the staples of Malaysia's cuisine from nasi lemak to laksa, nasi goreng, tom yum and more.
Aside from their savoury offerings, they also serve a solid selection of sweets, one of which is one of Malaysia's best sweets, ais kacang. 
AYONG'S Satay Banting
Address: Lot 1001 B, Batu 23 3, 4, Jalan Sultan Alam Shah, Kanchong Darat, 42700 Banting, Selangor, Malaysia
Phone: +60-1 9284 5649
Pricing: $
Website
AYONG'S Satay Banting is a great spot to try out if you're craving some of Malaysia's best street food. As you may have gleaned from the restaurant's name, this place is known for its delicious satay.
If you don't know, satay is basically grilled skewered meat much like barbeque but what makes this restaurant's version different and better is its marinate.
We don't know what it's made from, but we can confirm that it's certainly delicious, especially after it blends with the charcoal taste.
Kafe Cikgu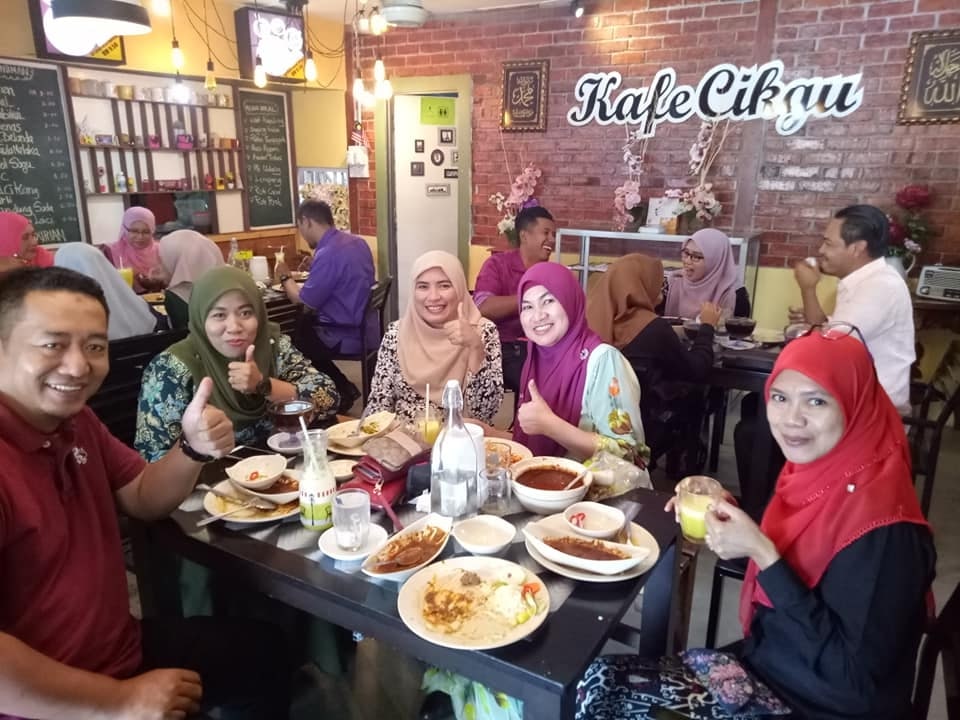 Address: Unnamed Road, Kampung Kundang, 42800 Tanjong Sepat, Selangor, Malaysia
Phone: +60 19-642 9554
Pricing: $
Website
Kafe Cikgu is another solid place to stop by if you're craving Middle Eastern dishes but don't want to break the bank in the process. They serve a wide variety of all-time classics such as mutton curry, roti and kari kambing.
If that's not enough to encourage you to dine here, you should also know that their serving sizes are quite generous! This is great because it will satisfy both your tastebuds and your hunger at the same time, leaving you energized for the rest of the day!
Yaniez Steamboat and Grill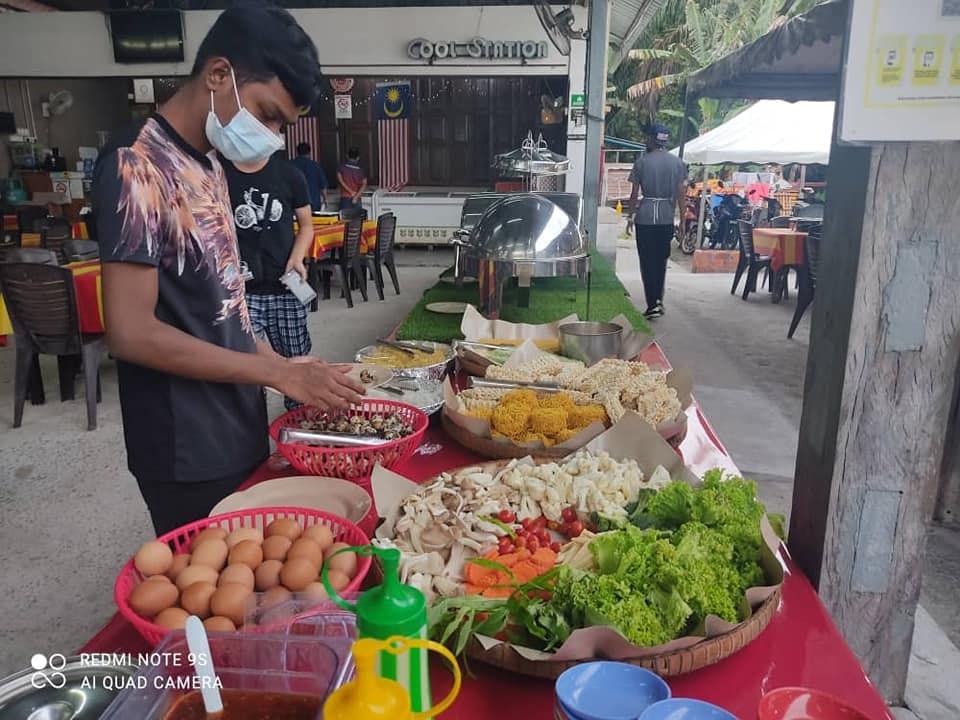 Address: Jalan Sultan Alam Shah, Kanchong Darat, 42700 Banting, Selangor, Malaysia
Phone: +60-1 3350 2398
Pricing: $$
Website
If all the time you spent on the beach left you hungry, there's no better way to quench that than dining in a steamboat restaurant. This is Yaniez Steamboat and Grill, a humble eatery where you can eat noodles, eggs, fresh veggies and other ingredients to your heart's content!
The place itself isn't anything spectacular, but what it lacks in ambience is made up for by the quality of its ingredients. Here, you'll have a plethora of things you can dip into your hot pot to create your personalized soup–are you salivating yet?
3 Bro's Bbq
Address: Lot 4314, Jalan Durian, Kanchong Darat, 42700 Banting, Selangor, Malaysia
Phone: +60 18-378 9086
Pricing: $$
Website
For all the meat lovers out there, we recommend dining at 3 Bro's Bbq while you're in the area of Banting. This restaurant is the ultimate paradise for those who crave fresh juicy meat, whether it be ribs, steaks, whole chicken or anything in between.
As soon as you enter this restaurant's premises, you'll get a whiff of the goodies that they have in store on their grills. This smell can be attributed not just to the meat itself but to the delicious marinade that the restaurant uses to add more flavour.
What to Do in Morib Beach
Try different kinds of dishes
Morib Beach features a bunch of small restaurants and stalls along its shores, making it a perfect food crawl destination as well. Plus, you'll also get to enjoy a beautiful view and a relaxing sea breeze as you eat since you'll be by the beach.
Whether you're looking for something cold and sweet or hot and savoury, you'll find something in these restaurants and stalls that will satisfy your cravings!
Break a sweat by jogging through the walking paths
If you're looking to do something physical aside from swimming, you can go for a jog at one of the beach's dedicated walkways. This lets you enjoy one of the best workouts of your life, as you'll be surrounded by scenic views as you push your cardio to the limit.
Not only that but you'll also have the pleasure of listening to the gentle sound of waves crashing along the shores. This kind of serene ambience beats any kind of gym in the city, or at least in our opinion.
Set off into the sea during low tide
One of the best ways to enjoy Morib Beach is to visit it during low tide, as it will give you an entirely different experience. During this time, you can walk up to 1 to 2 km into the sea to find interesting things that would normally be submerged underwater.
You can also take advantage of this natural phenomenon and capture beautiful photos that wouldn't be possible during normal or high tide. Just be sure to protect yourself from the sun, as it can get very dry and humid during these times.
Catch and release different kinds of fish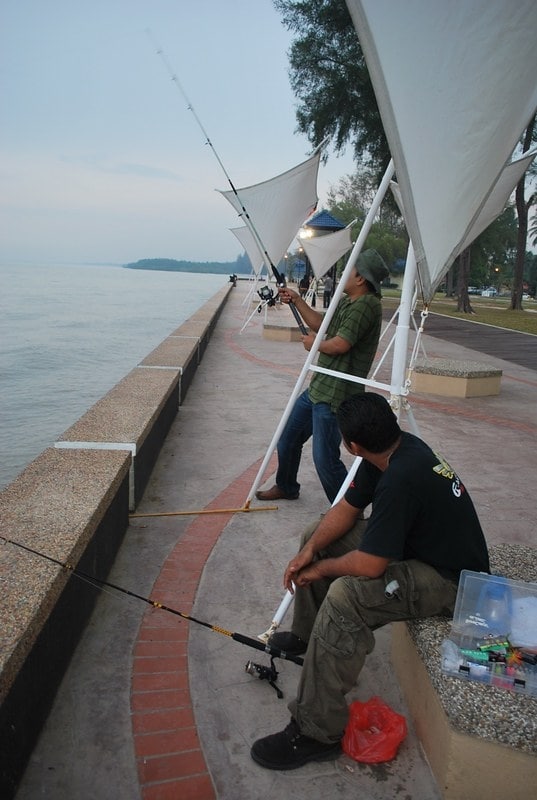 If you're looking for a nice family-friendly activity to do with your kids, you should try your hand at fishing! There's nothing quite like catching up with your loved ones while anticipating something to bite on your fishing rod.
During low tide, you can also catch some bamboo clams that are burying themselves in the muddy sands of the beach. You can use salt as bait and in true caveman fashion, grab them with your bare hands as they poke out their heads out the ground!
Splash around the beach's calm waters
Of course, you can't say you've gotten the most out of your time on a beach without swimming in its water. Thankfully, Pantai Morib is quite a great beach for swimming even for its smaller scale compared to other beaches in the country.
Swimming around in its calm waters and waiting for the waves to crash the shores is a great way to cool off, especially if you're visiting during the dry season.
Nearby Attractions to Visit
Bukit Jugra Lighthouse
Address: Jalan Bukit Jugra, Jugra Lama, 42700 Banting, Selangor, Malaysia
Phone: +60-1 2596 2690
Website
If you're one to marvel at beautiful pieces of architecture, then you must stop by the Bukit Jugra Lighthouse. This structure is 146 meters above sea level, making it one of the best places to go to for taking in beautiful panoramic views.
The best part is that you can even climb the lighthouse itself through the spiral staircase located inside. Once stepping out in the observation deck, you'll be met with a cool breeze along with a once-in-a-lifetime view of Jugra as well as the surrounding areas.
Batu Laut Beach
Address: 5, Kampung Batu Lapan, Tanjong Sepat, Selangor, Malaysia
Pantai Batu Laut is a hidden gem that we recommend you stop by before or after your visit to Morib Beach. It's a unique-looking beach that features a mangrove-like appearance, making it a completely different scenery compared to Morib.
If you plan on visiting this beach, we recommend going during its low tide, as this is when it truly shines. During this time, you can walk further into the water to take beautiful photos; plus you'll also get to see tons of crabs emerging from the muddy sands!
Lover's Bridge Tanjung Sepat
Address: 21, Jalan Senangin 1, Taman Tanjung, 42800 Tanjong Sepat, Selangor, Malaysia
Not too far from Batu Laut Beach is Lover's Bridge Tanjung Sepat, an attraction that lets you experience a scenic walk into the sea. As you walk through this concrete bridge, you'll be greeted with stunning views of the surrounding waters as well as a relaxing sea breeze.
If you could schedule your visit to this attraction, we'd recommend going at around 4:00 – 5:30 PM. This is because, by this time, the bridge will turn into the best seat in the house when it comes to admiring the beautiful golden sunset.
Mah Meri Cultural Village
Address: Jln Kampong Orang Asli Sungai Bumbun, Kampung Manikavasagam, 42960 Pulau Carey, Selangor, Malaysia
Phone: +60-1 1656 42800
Website
If you want to be immersed in rich culture during your visit to Morib Beach, we recommend stopping by the Mah Meri Cultural Village. This attraction is located on Carey Island, so you'll have to do a bit of travelling to get there, but it will be worth it!
Here, you'll get to observe the interesting way of living of the Aboriginal people of the island, including the intricate process of how they create their handicrafts. Aside from that, you can also witness amazing dance performances. 
Apps to Download for a Trip to Morib Beach
Travel Malaysia: A pocket travel guide to Malaysia
iOs | Android
Maps.me: Offline map of the world
iOs | Android
XE Currency App: Real-time currency exchange rate app
iOs | Android
Grab: Ride-hailing app of Southeast Asia
iOs | Android
Google Translate: word translation with offline capabilities
iOs | Android
CatchThatBus: Bus ticket booking app
iOs