Discovering Langkawi Cable Car [The Only Guide You'll Need!]
Whether you have a day or a week to spend in Malaysia, it's a must to stop by Panorama Langkawi at least once during your visit. This attraction features tons of attractions, but the most famous one is undoubtedly the Langkawi Cable Car.
This cable car ride treats you to stunning panoramic views of Langkawi but with a twist–you'll be suspended at around 708 m above sea level. If you're not fond of great heights, you can skip this attraction, but if it doesn't bother you at all, then join us here!
To give you an idea of what you can expect on your trip to this marvellous gondola, we've curated a guide just for you. From things to do to nearby restaurants and hotels to check out, we've included them all in this ultimate guide–check them out!
Time Zone
Standard Malaysian Time (GMT+8)
Best Time to Go
Since this is an attraction that's heavily affected by strong winds and rainfall, we recommend visiting during the dry season. The dry season in Langkawi falls from November to March, and during these months, you can expect the days to be longer and more sunny.
As for the exact time of day, it all boils down to personal preference. For instance, if you want to skip the queues and get views of the sunrise, we recommend arriving early in the morning so that you'll be first in line.
Meanwhile, if you want to witness the most majestic sunset of your life, we recommend riding the cable car at around 5:00 PM.
Things to Know
Currency: Malaysian Ringgit (Check the current exchange rate)
Language: Malay, English
Calling Code: +60
Address: Jalan Telaga Tujuh, 07000 Langkawi, Kedah, Malaysia
Contact details: +60 4-959 4225, [email protected]
Opening hours: Opens daily from 9:30 AM to 6:00 PM (depending on weather conditions and wind speed)
Parking: There are plenty of free parking spaces available on the attraction's premises, so don't be discouraged to drive your way here.
Sky Cabs Offered and Their Prices
360-degree Gondola – RM 155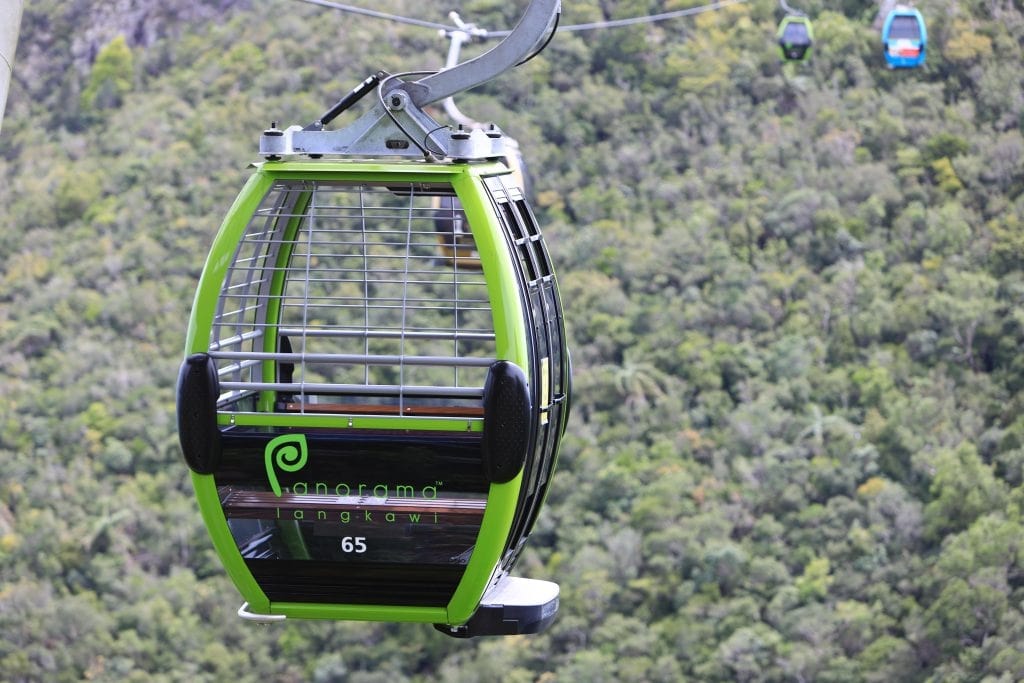 The 360-degree Gondola is the newest cable car out of the bunch, and it isn't for the faint of heart. With this specific sky cab, the thick windows of a normal gondola are replaced by railings, giving you unobstructed panoramic views wherever you look inside the cab.
Also, this open-air layout allows you to breathe in some of the crispest air you'll ever get in the country. Not to mention that this breeze can also amp up the excitement, as it makes you feel like you're flying as opposed to being inside a cable car.
What it comes with:
No boarding time
No queue
A gondola ride shared with 3 other passengers
Free entrance to SkyDome, SkyRex and 3D Art Langkawi
Express lane
Private Gondola – RM 550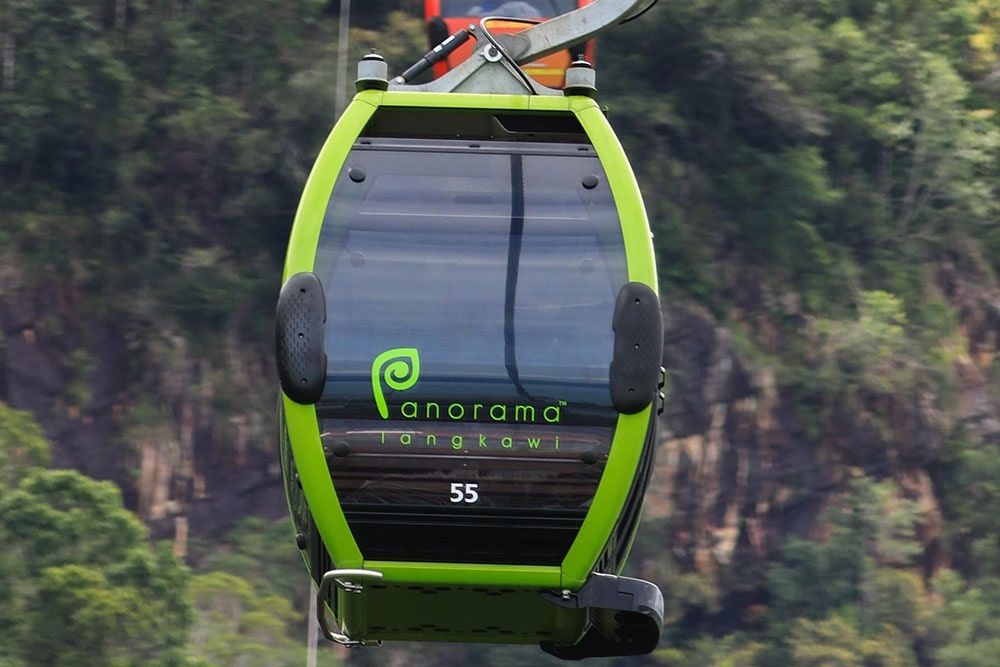 If you want more privacy with your cable car experience, you can book a Private Gondola for RM550. This price already covers 6 people and it doesn't let you share the cab with other visitors–hence why it's private.
This is perfect for groups and families who want to enjoy the beautiful mountainous view in peace. It also allows those inside to be themselves without feeling awkward or conscious toward other visitors of the geo-park.
Inclusions:
No queue
No boarding time
Private Gondola ride with 5 other people
Exclusive experience
Free entrance to to SkyDome, SkyRex and 3D Art Langkawi
Express lane
VIP Gondola – RM550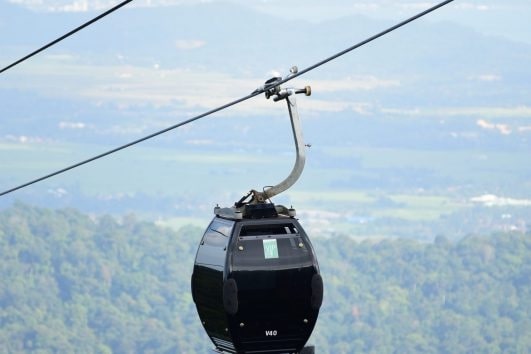 Those who want the most exclusive cable car experience can book a VIP Gondola. This luxurious experience will make you feel like you're at a club while you're cruising up or down Machinhang Mountain while providing privacy!
Aside from the exclusivity, you and your group can also enjoy some complimentary food and drinks during the ride. If that's not enough to provide you with a lavish experience, they'll also play some soothing music inside the cab.
Inclusions:
No boarding time
No queue
VIP Gondola ride along with 2 other passengers
Exclusive experience
Free food and drink
Free entrance to SkyDome, SkyRex and 3D Art Langkawi
Express lane
Glass Bottom Gondola – RM105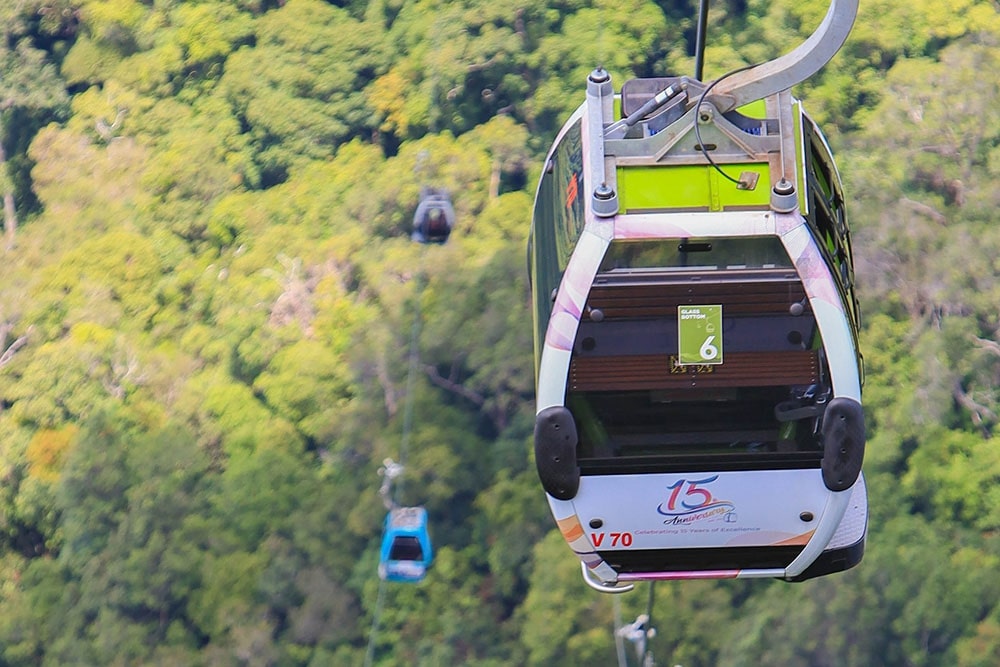 If you're looking for a more exciting way to experience the Langkawi Cable Car, you can book a ride with the Glass Bottom Gondola. As you may have gleaned from its name, this particular cabin's floor is replaced with a thick glass that allows you to stare directly down your feet.
It's also a great option if you're looking to alleviate your fear of heights, as it lets you peek at the ground while being safely suspended in the air. All in all, this cabin is great for adrenaline junkies who want to get the most views out of their gondola ride.
Inclusions:
No boarding time
No queue
Shared Bottom Glass Gondola ride with 5 other people
Free entrance to SkyDome, SkyRex and 3D Art Langkawi
Express lane
How to Get to Langkawi Cable Car
Taxis: Riding a taxi is a fast and convenient way to get to Langkawi Cable Car. These cabs are fully operational in Kedah, and it wouldn't take long to get to the attraction.
One thing you should know about taxis in Langkawi is that they follow a fixed rate system instead of a metre. This means that a short ride may already cost you RM15.
Car rental: We highly recommend driving a rental car to get to Panorama Langkawi, as it's the most convenient mode of transportation. Aside from that, you can take all the stops you need throughout your trip and map out your own route to avoid traffic jams.
Additionally, there is free parking for visitors on the premises of the attraction so you won't have to worry about finding a spot.
Grab: This ride-hailing app is a great alternative to cabs in Langkawi. You can book a private ride from wherever you are in Langkawi, whether it's a short or a long trip, and the best part about it is that the fare is already fixed before booking.
Bike rental: If you want a more eco-friendly way to get to the Langkawi Cable Car, you can rent a bike.
What to Do in Panorama Langkawi
Cross the Langkawi SkyBridge
If the views from the gondola ride weren't enough for you, then you're in for a treat! Suspended at around 100 metres from the ground is the Langkawi SkyBridge where you can stroll and admire the stunning panoramic views surrounding you.
The bridge itself measures 125 metres in length so you'll have a lot of ground to cover. Something tells us that you won't be in any rush as you're crossing this bridge, as you'll get to take amazing photos of the luscious greenery around along with a mountain or two.
Take the SkyGlide to the SkyBridge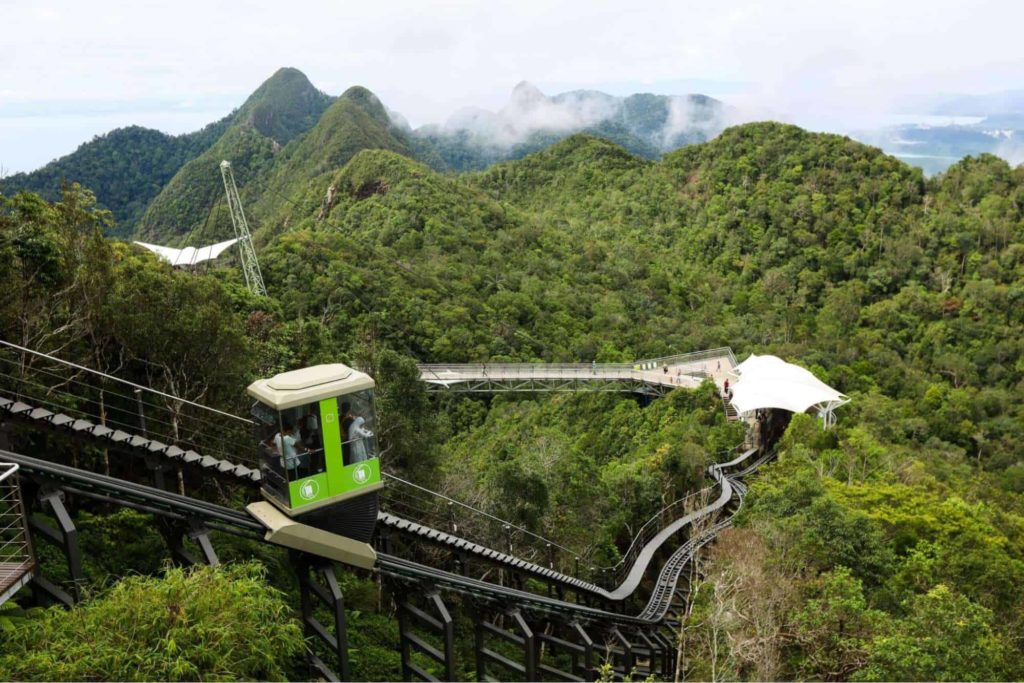 The SkyGlide is what you'll get if you combine an elevator with a train, and yes that may sound crazy but bear with us. This mode of transportation runs through a track that leads toward the aforementioned SkyBridge.
However, instead of being in a spacious cabin, you and other people will be enclosed inside a glass capsule that's roughly the size of an elevator. Fortunately, this lack of space is made up for by the stunning views that you'll be surrounded by throughout the ride.
Enjoy lifelike shows at the SkyDome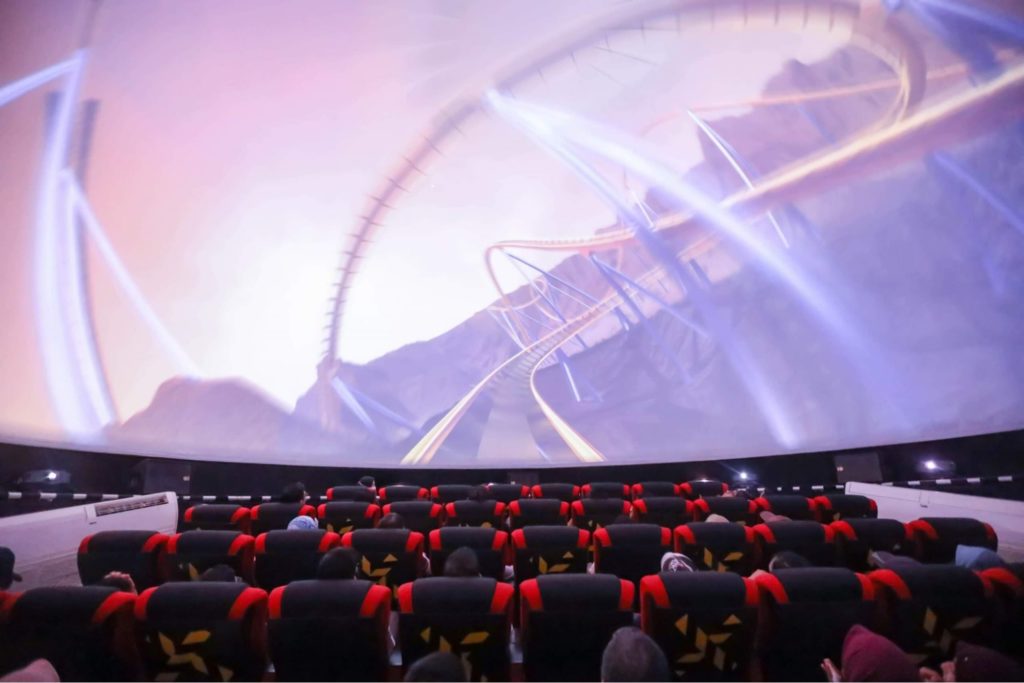 If you want a break from all the natural landscapes and want to experience something different, you can stop by the SkyDome! This attraction is a break from nature, as it showcases the prowess of modern technology through HD projectors.
Think of it like an IMAX cinema, but much more engaging and cheap since you'll gain access here along with your purchase of a SkyCab ticket. Here, you can enjoy a 3D experience like no other, as you're strapped onto your seat while watching a 10-minute video short film.
Capture creative photos at the 3D Art Langkawi
3D Art Langkawi is the biggest 3D museum in the entire country and that alone makes it a worthy stopover while you're in Panorama Langkawi. Also, it's worth noting that entrance here is free for every SkyCab ticket purchased so you might as well stop by!
Here, you'll get to take photos with over a hundred interactive 3D paintings. These artworks were created by international artists and each one lets you create an illusion for your photos, giving the museum a more interactive experience.
Take in majestic views while dining at the SkyBistro
If all the walking and exploring left you hungry, then you should stop by SkyBistro! This restaurant features a widely varied menu consisting of both local and international dishes and beverages.
Aside from letting you order delicious dishes, it also gives you the best seat in the house for breathtaking views. This is because this restaurant is located on top of the mountain puts it at approximately 700 metres above sea level–pretty cool, right?
Enjoy a 4D adventure at SkyRex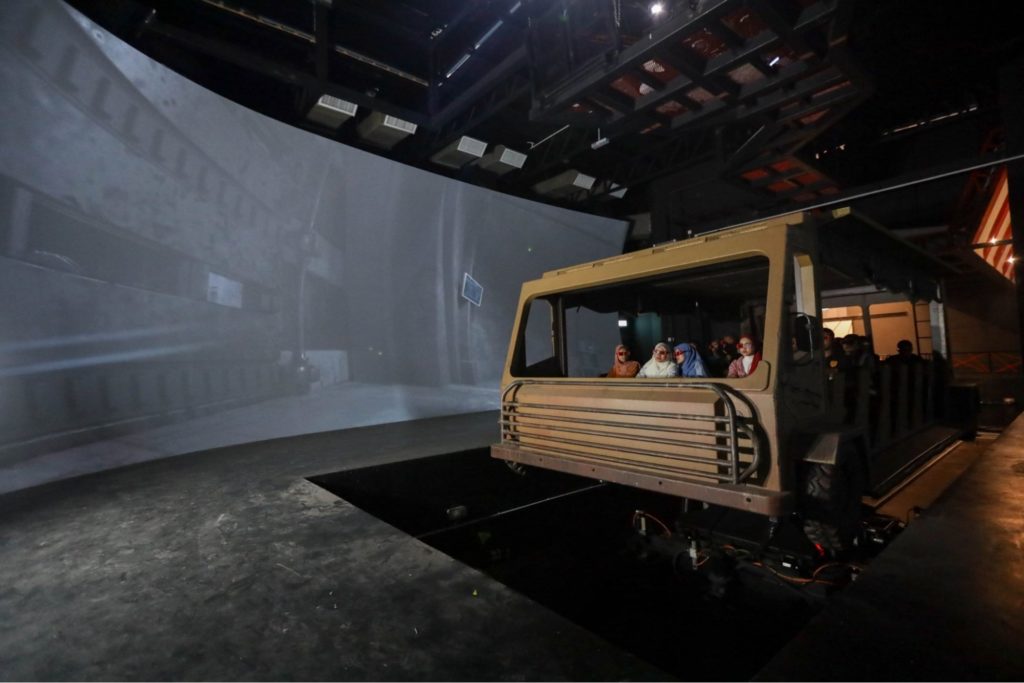 If you want to level up the 3D movies from the SkyDome, you can head over to SkyRex to experience exciting 4D rides! This is one of those rides where you'll feel like you're actually in the movie that's shown using sensory and physical emulation.
The techniques they'll use to achieve this kind of immersion include spraying water, blasting air, vibrating your seats and more! As for the films themselves, they're only 5 minutes but they're more than enough to transport you into another world.
Where to Stay near Langkawi Cable Car
Berjaya Langkawi Resort
Address: Karung Berkunci 200 Burau Bay, 07000 Langkawi, Kedah, Malaysia
Phone: +60 4-959 1888
Pricing: $$$
Book Now
Berjaya Langkawi Resort is the best option if you're looking to stay lavishly during your stay near Panorama Langkawi. It's a 5-star hotel that's fitted with everything you can expect from an establishment of this calibre, from world-class rooms to outstanding facilities and the works.
This hotel has just about everything to make sure that you have a comfortable stay, from swimming pools to restaurants, bars and more. Of course, the biggest highlight of staying here, however, is the access to a private beach–talk about paradise on earth.
The Danna Langkawi
Address: Pantai Kok, 07000 Langkawi, Kedah, Malaysia
Phone: +60 4-959 3288
Pricing: $$$
Book Now
The Danna Langkawi is another 5-star hotel we recommend and for several good reasons. For starters, the rooms you'll find here are unmatched, as they exude premium quality, from the design down to the comfort and functionality.
Staying here is like being in paradise not only because of the aforementioned rooms but also for the facilities you'll find once you step outside. The best example of this is the outdoor pool and white sandy beach that you'll have the pleasure of accessing just outside the doors of the hotel.
The Ritz-Carlton, Langkawi
Address: Jalan Pantai Kok Jalan, Teluk Nibong, 07000 Langkawi, Kedah, Malaysia
Phone: +60 4-952 4888
Pricing: $$$
Book Now
Most people visit Langkawi to get pampered and escape stress, and for this need, we recommend staying at The Ritz-Carlton. This 5-star hotel is perfect for unwinding, as it treats you to luxurious rooms, beautiful panoramic views and fantastic facilities.
You can either stay in a modern room or one of their premium suites and guesthouses; spoiler alert: you can't go wrong with any of them! Aside from the rooms themselves, the hotel also provides you with easy access to the beautiful beach as well as a restaurant and a pool.
Ombak Villa Langkawi
Address: Lot 78, Jalan Kuala Muda, 07100 Langkawi, Kedah, Malaysia
Phone: +60 4-955 8181
Pricing: $$-$$$
Book Now
If you're looking for a place that won't only provide you with the best stay but also the greatest location, you should check out Ombak Villa Langkawi. This hotel isn't as near to the cable car, but it is within the vicinity of the heart of Langkawi, so you're in good hands!
Location-aside, you're still looking at a 4-star hotel that features rooms fitted with premium amenities. Not only that but the place also has a massive pool that overlooks the beach, which is an amazing thing to have while being this near to Langkawi's heart and airport.
Rani's Lodge
Address: Lot 1261 Kampung Nyior Chabang, Langkawi, 07000 Langkawi, Kedah, Malaysia
Phone: +601133588900
Pricing: $$
Book Now
Rani's Lodge is a relatively affordable yet amazing lodging option in Langkawi, as it offers amazing stays but for a fraction of what 5 and 4-star hotels charge. Here, you'll get to be surrounded by luscious greenery throughout your stay–the perfect scene to wake up to.
Speaking of stay, you'll get to sleep in one of their modern, neat and cosy rooms. These homey rooms come complete with amenities such as en-suite bathrooms, refrigerators, kitchens and more!
Where to Eat near Langkawi Cable Car
German Food Corner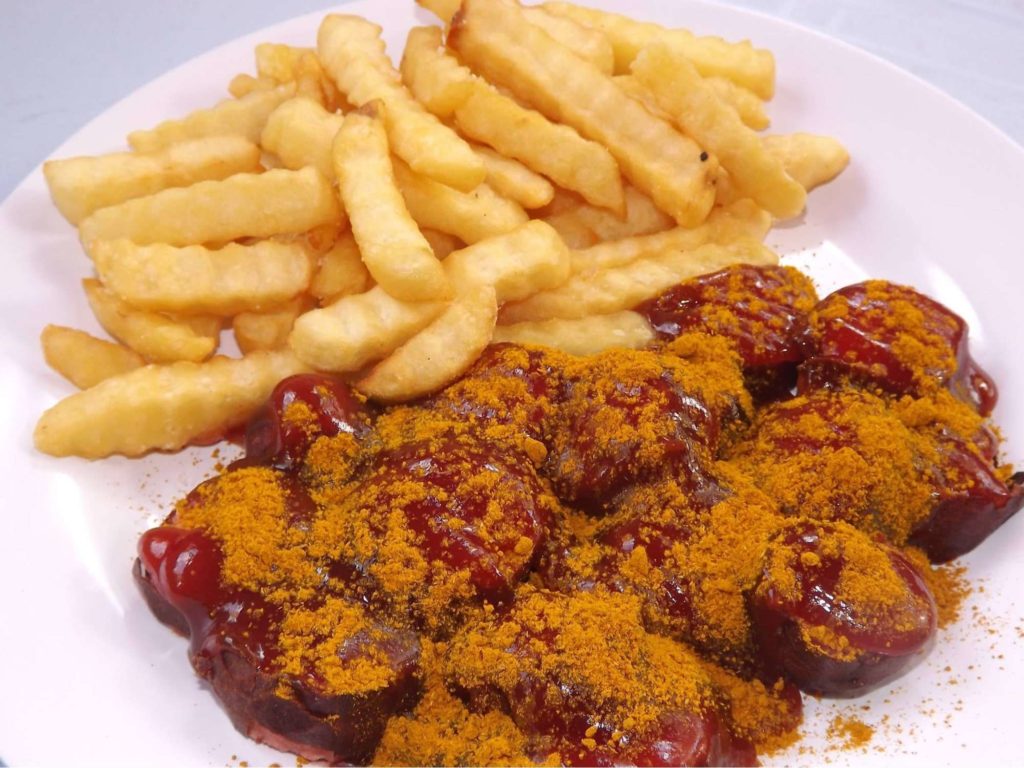 Address: Cable Car, Oriental Village, 07000 Langkawi, Kedah, Malaysia
Phone: +60 17-380 2657
Pricing: $-$$
Website
As you may have gleaned from its name, German Food Corner features dishes that are beloved in Germany such as sausages, chips and more. It's located just a stone's throw away from Langkawi Cable Car and it will surprise you with all its delicious offerings.
You can easily get overwhelmed by their menu, but you can't go wrong with any of their offerings. If you want our advice, you can order their famous goulash with noodles and finish the meal with one slice from their fine selection of cakes.
Cekguu's Gula Apong Ice Cream Langkawi
Address: B02, Cable Car Station, Oriental Village, Burau Bay, 07100 Langkawi, Kedah, Malaysia
Phone: +60 13-660 0179
Pricing: $
Website
If you follow our advice on visiting during the dry season, you may or may not find the heat a bit too overwhelming for your liking. When this happens, a great spot we recommend where you can cool down is Cekguu's Gula Apong Ice Cream Langkawi.
This place is the go-to spot for everything apong ice cream, and we can understand why with its delicious caramel flavour and extravagant serving. Also, its location being just beside the cable car ride lets you enjoy a nice cold cup of ice cream while you're climbing the mountain.
Mimicking @ SkyCab
Address: Oriental Village, Ruang Niaga 3D Art Langkawi, Jalan, Kampung Teluk Burau, 07000 Langkawi, Kedah, Malaysia
Phone: +60 1 1651 26191
Pricing: $
Website
Mimicking is a famous fast-food chain in Malaysia, and fortunately, they have a branch just beside the Langkawi Cable Car station. This makes it a perfect stopover for those times when you need some quick bites to fill your tummies and satisfy your tastebuds at the same time.
The menu here consists of your usual fast food items such as fried chicken, hamburgers, french fries, sandwiches and more. This selection of familiar dishes makes it a great place for kids or those who don't necessarily like foreign dishes.
CoffeeNuts Cafe
Address: 12, Jalan Telaga Tujuh, 07100 Langkawi, Kedah, Malaysia
Phone: +6 0 12503 0887
Pricing: $$
Website
If you're looking for a nice cup of joe to start your day or during the afternoon, we recommend stopping by CoffeeNuts Cafe. This quaint coffee shop serves just about every famous coffee variation there is from espressos to americanos, frappuccinos, cold brews, etc.
They offer both cold and hot drinks, which is great, as they're able to cater to a broader audience. Aside from their drinks, however, this place also offers a pretty cool view of the surrounding greenery so plus points for that.
The Loaf
Address: C9, Perdana Quay, Telaga Harbour Park, Jalan Pantai Kok, 07000 Langkawi, Kedah, Malaysia
Phone: +60 4-950 2101
Pricing: $
Website
The Loaf is a pretty solid brunch cafe that we highly recommend for both its snacks and beverage selection. You can mix and match items from both these menus and create your perfect breakfast/afternoon tea time combination!
Whether you're looking for something sweet, cheesy, savoury or anything in between, you're bound to see something here that will make you salivate. Plus, it also helps that the price point here is just right so you won't have to worry about burning a hole in your pocket!
Apps to Download for a Trip to Langkawi Cable Car
Travel Malaysia: A pocket travel guide to Malaysia
iOs | Android
Maps.me: Offline map of the world
iOs | Android
XE Currency App: Real-time currency exchange rate app
iOs | Android
Grab: Ride-hailing app of Southeast Asia
iOs | Android
Google Translate: word translation with offline capabilities
iOs | Android
CatchThatBus: Bus ticket booking app
iOs