A Beginner's Guide to Farm in The City
Want to admire and interact with different animals but don't want to leave the comfort of a big city? Then you've come to the right place!
In this guide, we're going to tackle an attraction that is exactly what it sounds like; Farm in The City! It's the ultimate place for family-friendly activities and we're here to walk you through everything you need to know about it.
From what you can expect on their premises to where you can eat and stay, you'll find out everything here so be sure to stick around until the end!
Time Zone
Standard Malaysia Time (GMT+8)
Best Time to Go
The best time to visit Farm in the City is around 12:00 PM to 4:00 PM, as it's not too early but not too late as well but do expect to encounter more people.
Furthermore, we recommend visiting around December to February so that the chances of rain are at their lowest. Also, these months are great because the heat isn't as intense.
If you don't want to encounter crowds during your visit, however, we recommend visiting during the weekdays.
Things to Know
Currency: Malaysian Ringgit
(Check the current exchange rate)
Language: Malay, English
Calling Code: +60-3
Operating hours:
Weekends, Public & School Holidays: 9:30 AM to 6:00 PM
Monday, Wednesday to Friday: 10:00 AM to 6:00 PM
Location: Lot 40187-40188, Jalan Prima Tropika Barat 1, Pusat Bandar Putra Permai, 43300 Seri Kembangan, Selangor, Malaysia
Ticket prices:
| | Adult (12 years and above) | Child (11 years and below) | Senior Citizen (60 years and above) |
| --- | --- | --- | --- |
| MyKad Holders | RM39 | RM32 | RM32 |
| Regular | RM58 | RM48 | RM48 |
Things to remember:
Tickets must be used within 90 days from the date of purchase
If purchasing tickets online, make sure to buy them 24 hours in advance of the actual visit
Refunds aren't available for unused tickets
One online ticket is valid for a single entrant only
MyKad holders should be able to present their Malaysian identity card upon collection of the tickets to verify their identity. Failure to do so will result in them being charged an additional RM19 for adults and RM16 for children when redeeming the tickets.
Outside food is not allowed on their premises
The attraction has some open areas, so apply sunscreen and wear a hat.
Parking situation: Parking is available on the premises, but be sure to get there early, as it's small and has a limited number of spaces.
Fun Facts about Farm in The City
Farm in The City is divided into different sections that each showcase a different kind of animal. These sections include a bird aviary, a turtle and tortoise section, a reptile cavern and more.

It differs from other zoos by letting the animals roam around freely instead of being kept in small restricted cages.

You'll find over 100 Malaysian birds flying around freely in the bird aviary and thousands of koi fish swimming in their pond.

Aside from the usual animals, you'll also find uncommon ones inside this zoo. These include ferrets, raccoons, porcupines, skunks and more.

There are also rare animals such as white crows and ponies.

Aside from simply observing these animals up close, you can also interact with them through various activities. Two of the most fun activities you can do here include pony riding and fishing.
How to Get to Farm in The City
Grab: Booking a ride through the Grab app is the most hassle-free way to get to Farm in The City. The company operates in various areas in the country including Selangor, Kuala Lumpur, etc.
Buses: The RapidKL Bus 540 has a stop at Pangsapuri Sri Emas. From there, you can walk towards Farm in The City, which is approximately 1.8 km away.
Taxis: Taxis are also predominant in the area and it's one of the most comfortable ways to get to this attraction. Just be sure to insist on using the metre so that you can pay the correct fare!
Rental car: If you want the privacy and convenience of having your own vehicle, then you should rent a car for you and your group.
Notable Attractions at Farm in The City
Moods Lake
Moods Lake is one of the most calming attractions in this entire attraction. The serene sounds of the gentle water contribute to the relaxing ambience that you'll be treated with when you spend time here.
This same calm body of water serves as a natural home for various majestic animals in the area such as geese, ducks and swans. Sometimes, you'll even see pelicans stopping by to get a quick taste of relaxation from the lake.
Fruit and Vegetable Farm
Of course, it wouldn't be a farm without some natural produce right? The Fruit and Vegetable Farm is the best place to go if you want to see and perhaps get a taste of what they're growing in this establishment.
This farm features 60 fruit trees and countless vegetables–you'll even find some exotic fruits scattered around! Furthermore, it's also nice to simply spend some time here because of its calming atmosphere.
Free-Flight Bird Aviary
If you want to meet some of the petting zoo's most famous feathered friends, then you should visit its Free-Flight Bird Aviary! It's here where you'll get to see over 100 Malaysian birds up close and personal and study their behaviour at the same time.
What's great about this place is that instead of observing these majestic creatures behind a glass, you'll be able to spend time with them in the same room. You can freely walk around and interact with some of these birds as well by feeding them their favourite food!
Pet Village
Now if you really want to get up close and personal with some of the animals in this zoo, you should head on over to Pet Vilage. This attraction is a surefire hit, especially for kids, as they'll be free to pet as many animals as they want and even feed them!
Some of the cutest and most cuddly animals you can find here include rabbits and guinea pigs and don't worry they're not hostile so it's 100% safe. It's hard not to get overwhelmed by the cuteness of these fluffy animals, especially when you feed them their favourite veggies.
Reptiles Cavern
If you're more of a fan of cold-blooded species, don't worry, as they also have a section dedicated to the coolest reptiles on planet Earth! The place is called Reptiles Cavern, and it's a cave-like enclosure lined with various glass cages that feature different species of these creatures.
Here, you'll find some scary-looking animals that will send chills down your spine such as crocodiles, pythons and more! This place is not for the faint of heart, as sometimes, these creatures can catch you off guard and surprise you even if they're not doing anything.
Jungle Walk
The Jungle Walk is among the larger sections in the entire petting zoo, which means that it also features more variety! In this section alone, you can find various animals ranging from small critters such as squirrels and marmosets to bigger ones like Kirk's Dik Dik.
Aside from that you can also encounter unique lizards during one of your strolls through this spacious area. More specifically, keep an eye out on various tree branches around this section, as this is usually where you'll find green and red iguanas.
Longkang Fishing
Longkang Fishing is a great spot to visit if you're looking to do something fun that your kids will enjoy as well. Unlike traditional fishing where you have to use rods and consider a lot of things such as bait and location, this activity is much more kid-friendly, as all you need is a net!
Here, kids line up along the stream of a drain where different kinds of fish swim through quickly. With nets in their hands, their goal is to catch these creatures in the middle of their swim and eventually release them afterwards–no harm done!
Ostrich Farm
From the name itself, the Ostrich Farm is the place to go if you're looking to catch a glimpse of these tall feathery creatures. These birds are so big that they had to be given their own space to run around instead of being included in the already massive bird aviary.
It's such a majestic sight to see these creatures live their best lives in an environment where they're protected. Plus, aside from these gigantic birds, you'll also find some agricultural animals living their best lives such as cows, goats and even ponies!
Turtle and Tortoise Farm
Also known as the "Longevity Village" the Turtle and Tortoise Farm is home to the "senior residents" if you will. We say this because the turtles and tortoises here live super long, which led many to believe that they also attract fortune.
This farm features some rare and common species such as Indian Star Tortoises, Alligator Snapping Turtles, Dinosaur Turtles and more. Plus, the best part is that you can interact with these slowpokes by feeding them their favourite fresh veggies!
Passionfruit Garden
The Passionfruit Garden is an underrated spot that we highly recommend! It's one of the most serene places in the entire petting zoo where you can find tons of passionfruit blossoming, with some even being ripe for picking and sampling.
Aside from that, it's also here where you'll find the leopard cat enclosure, so you'll have something interesting to watch as well! These cats are majestic in every way possible, from their demeanour down to how they purr.
The Savannah
The Savannah is by far our favourite attraction in the entire petting zoo, and we have a feeling that it will be yours as well when you visit it. Here, you'll find various unusual animals such as deer, alpacas, goats and more roaming around and living their best lives.
These creatures are so friendly and they even let you feed them anytime you want–how cool is that? They don't bite and they're gentle enough to the point where you can take various pictures beside them without growing annoyed.
Places to Stay Nearby
M Design Hotel
Address: No. 35, Jalan Bpp 5/1, Pusat Bandar Putra Permai, 43300 Seri Kembangan, Selangor, Malaysia
Phone: +60 3-8959 2788
Pricing: $
M Design Hotel is a lodging option we recommend for two main reasons: cheap prices and an amazing location. It's a short walk away from Farm in The City and from other essential establishments as well such as stores and restaurants.
Speaking of restaurants, this boutique hotel also features a not-too-shabby eatery on its premises that serves an amazing buffet-style breakfast every morning. This is a great amenity to have if you're too lazy to head out in the morning, as all you have to do is go to the ground floor!
Mines Beach Resort
Address: Jalan Dulang, Mines Wellness City, 43300 Seri Kembangan, Selangor, Malaysia
Phone: +60 3-8943 6688
Pricing: $$
If you don't mind a bit of travel time to get to Farm in The City, we recommend staying at Mines Beach Resort. This luxurious accommodation option is perfect if you're looking for a quick getaway from Kuala Lumpur or city life, in general.
This is because of its amazing facilities and amenities that ensure comfort and wellness to all its guests. Among all their offerings, however, their best one is the beach where guests are free to chill and bask in the peaceful ambience of the establishment.
Espira Kinrara
Address: Jalan Kinrara 6, Bandar Kinrara, 47180 Puchong, Selangor, Malaysia
Phone: +60 3-8079 1000
Pricing: $$
Though Espira Kinrara isn't as close to Farm in The City, we wanted to include it because of the overall resort-like experience it offers its guests. A huge part of this experience is the 3-star hotel's impressive pool which features a mini playground for your kids to enjoy!
As for the rooms themselves, they're worth highlighting too because of their spacious and stylish nature. Furthermore, they're equipped with essential amenities including TVs, air conditioning, hot water and other ones that ensure your comfort during your stay.
Where to Eat near Farm in The City
Pak Maidin Steamboat Seri Kembangan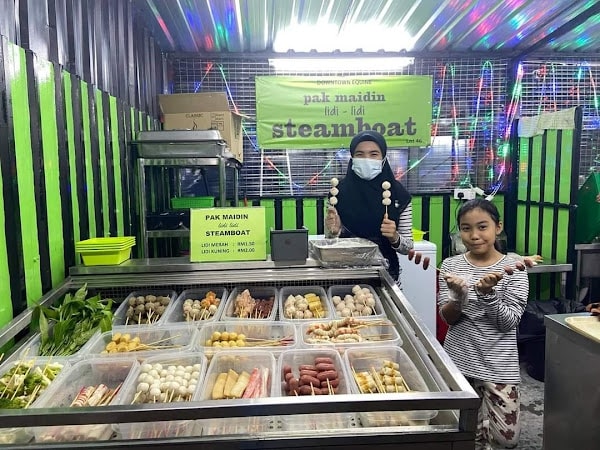 Address: Downtown Equine Atmosphere Lot 40191, Jalan Prima Tropika Barat 1, Taman Prima Tropika, 43300 Seri Kembangan, Selangor, Malaysia
Phone: +60 13-267 4377
Pricing: $
Pak Maidin Steamboat Seri Kembangan is one of the nearest restaurants in Farm in the City, making it a no-brainer stopover for visitors to the zoo. As you may have gleaned from its name, this restaurant offers steamboats, most commonly known as hot pots.
Here, you'll get to submerge different kinds of meat, vegetables, seafood and more into your broth of choice. It's worth mentioning that the broth they offer here is outstanding as well!
Kiki Cafe & Dining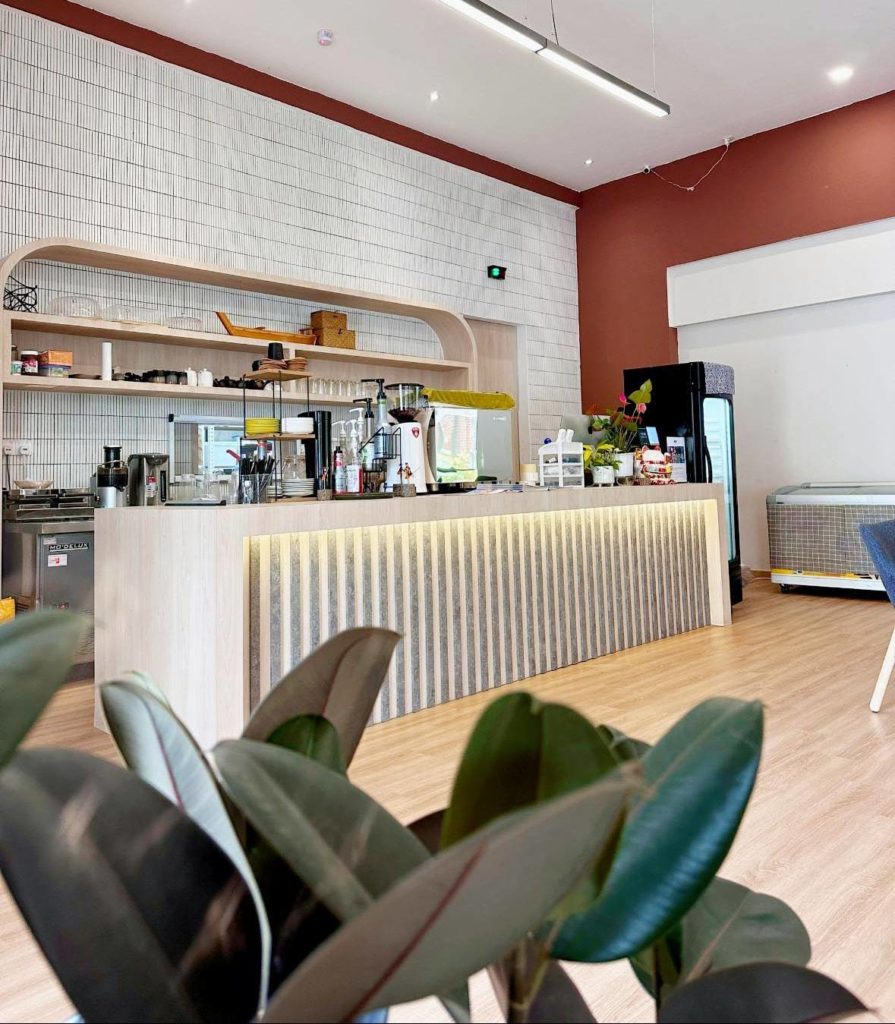 Address: 3A-01, Sierra Fresco @ 16 Sierra, Jln Sierra 10/1, Bandar 16 Sierra, 47110 Puchong, Selangor, Malaysia
Phone: +60 18-295 4339
Pricing: $-$$
If you're looking for a safe restaurant that serves dishes that will be familiar to everyone in your group, we recommend checking out Kiki's Cafe & Restaurant. It's a bit far from the farm, but it's worth visiting because of its cosy ambience and delicious set of meals.
If you want our advice, we recommend ordering their "Yum Yum Burger", which is basically an elevated version of a crispy chicken sandwich–yum! Plus, it's also worth noting that they serve a pretty solid selection of coffee and non-coffee drinks such as matcha, iced tea and more.
Restoran Sey Salai Masak Lomak
Address: 23G, Jalan Atmosphere 3, The Atmosphere, 43300 Seri Kembangan, Selangor, Malaysia
Phone: +60 17-390 1667
Pricing: $-$$
If you don't want to steer too far from Farm in The City but want some good quality grub, then you should head on over to Restoran Sey Salai Masak Lomak. This restaurant serves some of the most delicious authentic local dishes in the area including our favourite, masak lemak!
What we love about this place is its generous serving size, which is more impressive when you consider its notably cheap menu. As for the taste itself, you can expect to be spoiled with the flavours of Malaysia and India with every bite!
Four & Son – Barbeque & Smoked Kitchen
Address: B-27-G, Jalan Atmosphere 4, 43400 Seri Kembangan, Selangor, Malaysia
Phone: +60 19-606 6883
Pricing: $-$$
Four & Son – Barbeque & Smoked Kitchen is the ultimate meat lover's paradise that we can't recommend enough because of its amazing dishes. It's only a short walk away from Farm in The City and it's the best place to get the most flavourful seared meat in the area!
Whether you're looking for briskets, ribs, steaks and more, you can expect this restaurant to have it in their kitchen. What makes them special, in our opinion, is their delicious marinate, which features this amazing combination of sweet, savoury and spicy–definitely a must-try!
Alhani Restaurant
Address: Jalan Atmosphere 2, 43300 Seri Kembangan, Selangor, Malaysia
Phone: +60 3-8959-2433
Pricing: $-$$
Alhani Restaurant is a solid choice if you're looking for something different from what you're usually accustomed to. This restaurant serves authentic Yemen dishes that won't only satisfy your tastebuds but your hunger as well, as their serving sizes are quite generous!
If you find yourself overwhelmed with the different dishes on their menu, we recommend ordering their chicken mandy and Yemeni roti. Both these dishes aren't too exotic in terms of flavour, and you'll have a satisfying time eating them because of their flavourful ingredients.
Apps to Download for a Trip to Farm in The City
Go Selangor: The government's official app for Selangor tourism
Grab: Ride-hailing app of Southeast Asia
Google Translate: A handy translation app
Maps.me: Offline map of the world
XE Currency App: Real-time currency exchange rate app