Visiting Gua Tempurung: What to Expect
Visiting caves is, by far, one of the most exciting activities you can do in Malaysia. This is thanks to the country's abundance of these natural rock formations, with one of the most famous ones being Gua Tempurung in Ipoh.
Gua Tempurung is massive and it features multiple chambers, making it a somewhat tough cave to explore–that's where we come in! In this in-depth guide, we're going to help you prepare for your spelunking trip in this world-famous cave.
From what to expect, where to stay, nearby restaurants to check out and more, we'll tackle everything you need to know here. Also, we've thrown in some of our spelunking tips down the line so be sure to stick by until the end!
Time Zone
Standard Malaysia Time (GMT+8)
Best Time to Go
The best time to visit Gua Tempurung is from January to September, as this is when Gopeng's weather is at its finest. Temperatures during these months range from around 71—81°F, perfect for outdoor activities such as spelunking.
Also, caving is already a difficult task in itself and visiting during the rainy season would only make things harder. More particularly, October and December see the most rain in the year so we would advise avoiding these months.
All in all, Gopeng features dry and humid weather, but it also has a cool breeze all year long so that it wouldn't be too hot for outdoor activities. This being said, make sure to always have a bottle of sunscreen when visiting Gua Tempurung or when going out, in general.
Things to Know
Currency: Malaysian Ringgit
(Check the current exchange rate)
Language: Malay, English
Calling Code: +60-5
Location: Jln Gua Tempurung, 31600 Gopeng, Perak, Malaysia
Contact details: +60 14-220 4142, [email protected]
Operating hours: Opens every day from 9:00 AM to 4:00 PM
Time required to explore the cave: 1 – 2.5+ hours
Difficulty: There are five chambers inside Gua Tempurung and each one varies in looks, water level, rock formations and overall degree of difficulty to explore.
Parking: Yes, there's a spacious parking space on the premises that's free to all visitors.
Gua Tempurung Spelunking Tips
Make sure to dress for the occasion to ensure utmost safety and comfort. As much as possible, we recommend wearing long pants and a T-shirt that isn't too tight and loose at the same time so that your movements won't be restricted.
As for shoes, wear a pair that has great comfort levels, grip and most importantly support. Our advice, go for hiking boots.
Additionally, we also encourage everyone to wear gloves and knee pads.
Ensure that you or anyone from your group isn't allergic to limestone and bat guano (bat excrements).
Don't bring food except for mineral water, as there will be stalls outside the cave that offer snacks, meals and drinks. There's also a convenience store for other necessities that you may have forgotten to pack.
Always pack a bottle of mineral water for when you get tired in the middle of your exploration.
Bring extra clothes, especially if you're going for the wet tours so that you'll have dry clothes you can change into afterwards. There are changing rooms allotted for guests in the caves.
If you're claustrophobic, we advise sticking to the easy tours where you won't have to squeeze through tight spaces.
Opt to use waterproof bags as much as possible, especially if you're going to the wet tours.
Always inform your guide of any pre-existing medical condition to ensure your safety.
How to Get to Gua Tempurung
Trains: If you're coming from Kuala Lumpur, you can ride a train going to Gopeng and take a taxi/grab towards the Gua Tempurung. However, do keep in mind that this trip will take around three and a half hours and cost from RM39 to RM42.
Buses: There are also several buses you can take to get to Gua Tempurung. One of your options is if you're coming from Ipoh where you can take the line 66 bus which will take around 40 minutes and cost from RM17 to RM22.
You can also ride a Gopeng-bound bus that stops at Gopeng Town. From there, hop on another bus heading to Kampar and advise the driver to drop you off at the Gua Tempurung Junction.
Once you're at the junction, you can either take a cab or book a Grab ride if it's available.
Taxi/Grab: If you want a convenient way to get to Gua Tempurung, we recommend hailing a taxi or booking a Grab ride. They're found everywhere in Gopeng and they can take you directly to the caves.
Self-drive: The most recommended way of getting to Gua Tempurung is by self-drive. If you don't own a vehicle or if you're only visiting Malaysia, you can opt to rent a car from various companies in the country.
If you're driving from KL or Penang, make sure to take the PLUS North-South Highway so you can exit at the Gopeng Interchange. From there, you'll find signs that will lead you to Kampar town where you'll encounter a signage that will direct you to Gua Tempurung.
You won't have to worry about parking, as the attraction has an allotted space for visitors that's quite spacious and best of all, free!
Tours and Rates
The only way to explore Gua Tempurung is through the tours offered by the facilitators of the cave. There are four tours in total, with each varying in price, sights to see and overall duration to complete.
To help give you an idea, here's a detailed rundown of each tour along with their costs, estimated duration and what you can expect:
| Tour (Type) | Duration | Adult (Foreigner, Entrance Fee (MYR)) | Child/Senior (Foreigner, Entrance Fee (MYR)) | Adult (Malaysian, Entrance Fee (MYR)) | Child/Senior (Malaysian, Entrance Fee (MYR)) |
| --- | --- | --- | --- | --- | --- |
| Golden Flowerstone | 40 minutes | RM 20 | RM 10 | RM 8 | RM 4 |
| Top of the World | ~ 2 hours | RM 30 | RM 15 | RM 12 | RM 6 |
| Top Of The World & Short River Adventure  | > 3 hours | RM 40 | RM 20 | RM 15 | RM 7.5 |
| Grand Tour | 3.5 to 4 hours | RM 50 | RM 25 | RM 30 | RM 15 |
Golden Flowerstone (GF)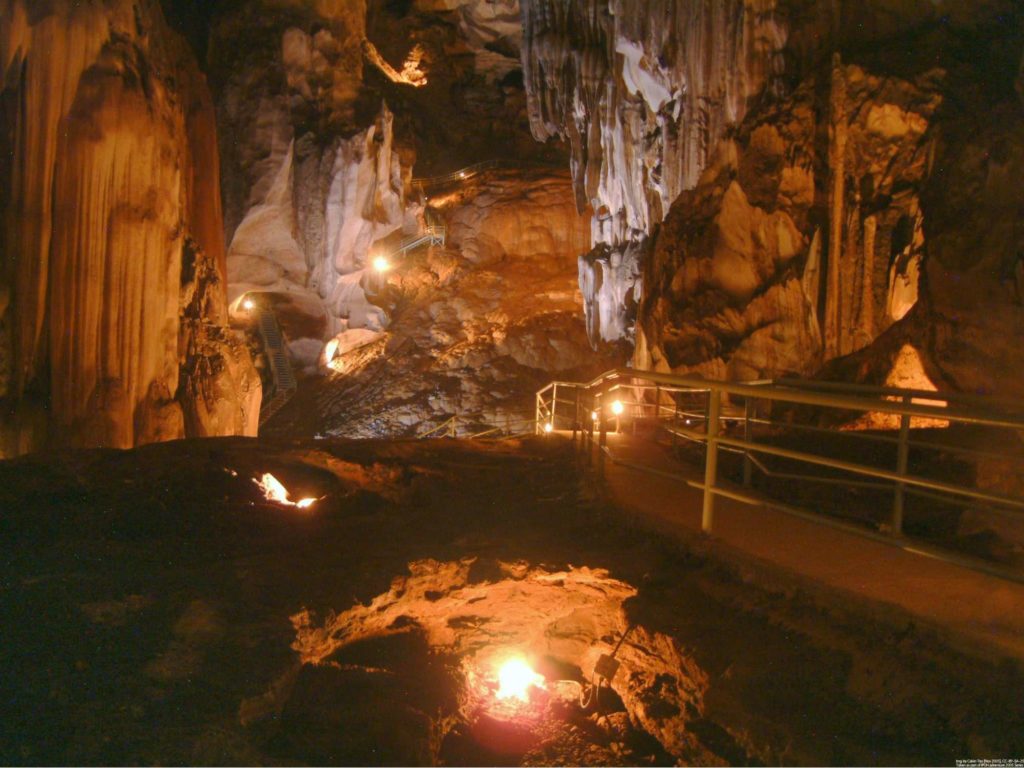 If you're here just to test the waters, we recommend opting for the Golden Flowerstone tour, as it's the easiest and shortest tour in the caves. This accessibility, plus the manmade stairs that are easy to climb, makes this perfect for beginners, and of course, your adorable kids!
However, don't be fooled, as this easy tour will still treat you to some amazing sights even if it doesn't have a guide! This is thanks to its multiple viewing platforms that provide its guests with breathtaking views of the beautiful rock formations around the caves.
| Opening hours | Duration | Difficulty | Guided | Type |
| --- | --- | --- | --- | --- |
| 9:00 AM to 4:00 PM | Around 40 minutes | Easy | No | Dry |
Top of the World (TOW)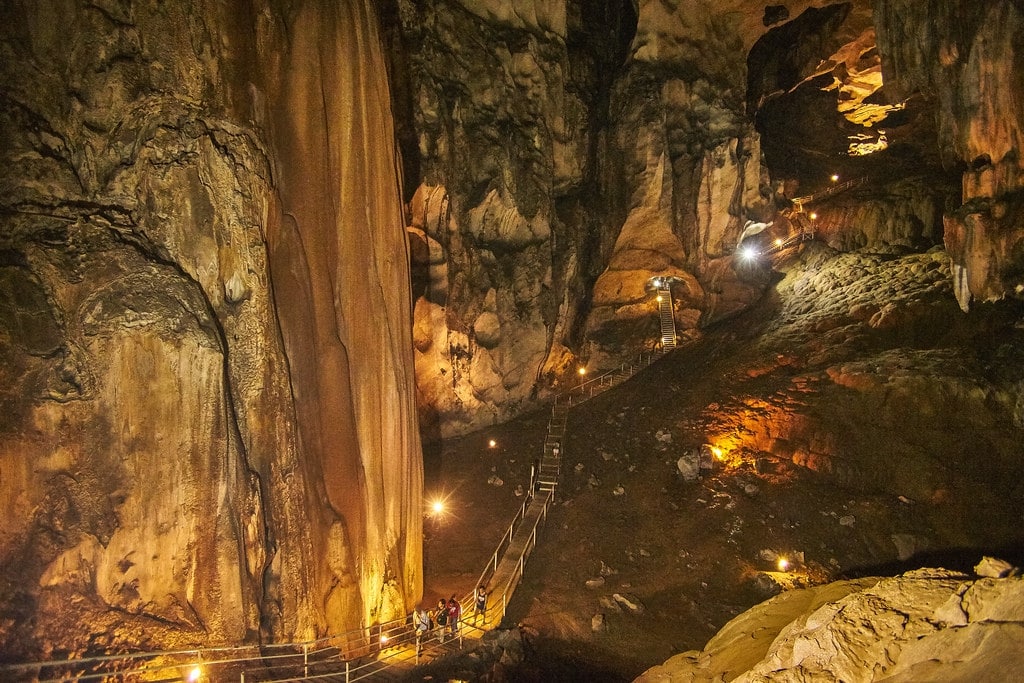 The Top of the World tour does indeed live up to its name, as it will take you to the highest point you can get to inside this cave. This point is called Platform 5 and before reaching it, you must first climb a whopping 650-step staircase–talk about getting your daily dose of exercise!
We can say, however, that this tedious climb is worth it no matter how ridiculous it seems at first glance. This is because you'll be treated to some of the most wonderful natural rock formations throughout the climb before you can even reach Platform 5.
| Opening hours | Duration | Difficulty | Guided | Type |
| --- | --- | --- | --- | --- |
| 9:00 AM to 3:00 PM | Up to 2 hours | Medium | No | Dry |
Top Of The World & Short River Adventure (TWR)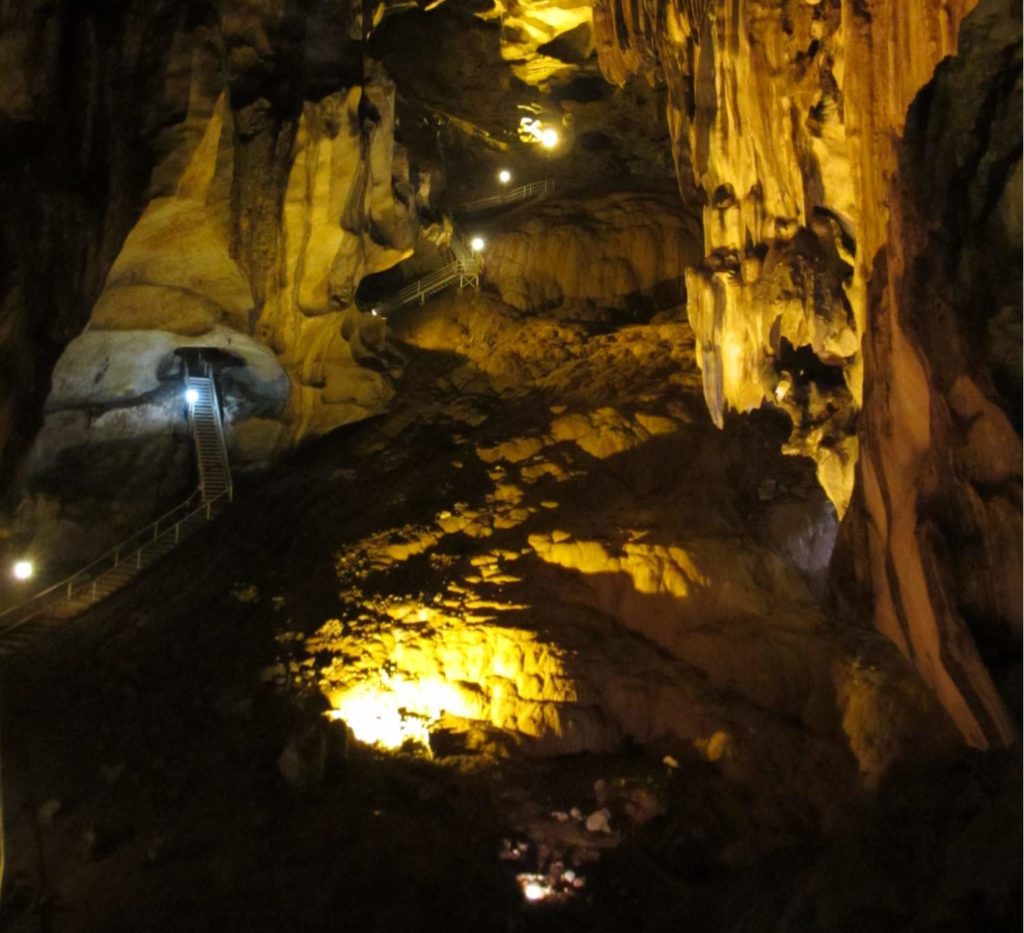 If you're ready to up the excitement and experience a bit more challenge, then you should proceed to the Top Of The World & Short River Adventure tour. Here, you'll get to enjoy an experience like tour number two but this time, with a detour that will change the entire game!
After admiring the Top of The World, you'll make your way to the underground river where you'll have to crawl on all fours to squeeze through tight gaps. It's fun, challenging and best of all, safe because you'll have the benefit of having a guide with you so you won't have to worry.
| Opening hours | Duration | Difficulty | Guided | Type |
| --- | --- | --- | --- | --- |
| 9:00 AM to 3:00 PM | Up to 2 and a half hours | Medium | Yes | Wet |
Grand Tour (GT)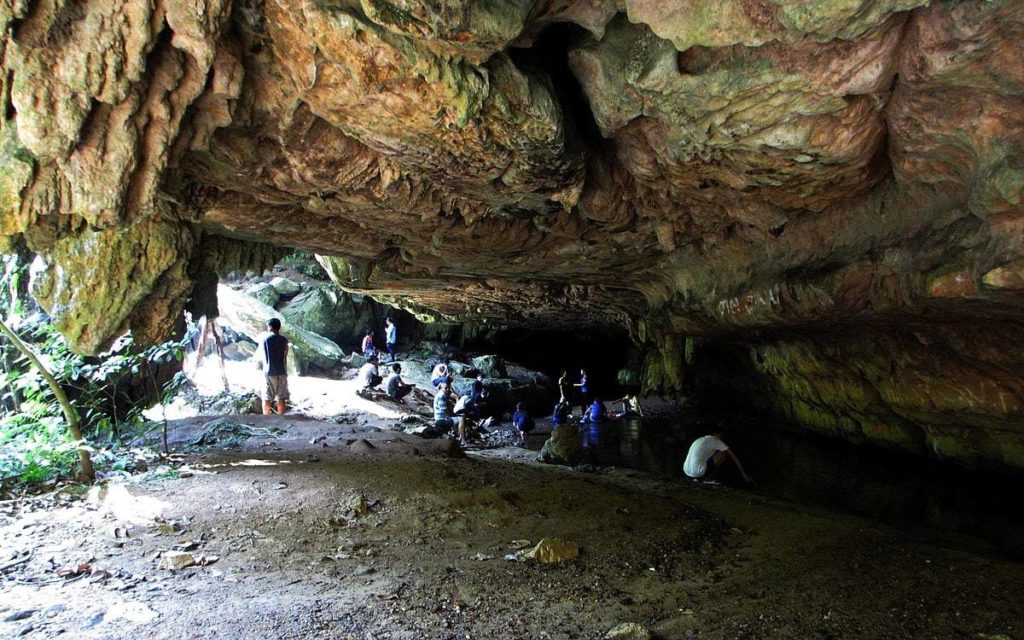 From the name itself, the Grand Tour is sort of like the main event of all tours in this cave, and for various reasons. For starters, it will take you to all five sections of the cave, including the East Side, which all in all would take around 3 and a half hours or even more to cover.
Furthermore, you'll also encounter water during this tour, more specifically in the underground river where you can expect to be submerged up to your chest. All in all, the tour will be challenging, consisting of small openings and tight tunnels so make sure not to bring your kids!
| Opening hours | Duration | Difficulty | Guided | Type |
| --- | --- | --- | --- | --- |
| 9:00 AM to 11:00 AM | Up to 3 and a half hours | Hard | Yes | Wet |
Where to Stay in Gua Tempurung
Gopeng Glamping Park
Address: Lot 10846, Jln Besar, Kampung Chulek, 31600 Gopeng, Perak, Malaysia
Phone: +60 13-240 8857
Pricing: $$
If you can't get enough of the great outdoors and you want to stay connected to nature even when you sleep, you should check out Gopeng Glamping Park! This place lets you camp overnight while being surrounded by beautiful natural landscapes.
It's one of the premier glamping sites in Malaysia, as it treats you to breathtaking views while spoiling you with hotel-like amenities. What we love about this place, however, is the abundance of things to do, from cycling to river kayaking, hiking and more!
Sahom Valley Resort – Agro & Eco Park
Address: Lot 228800 Kg Sahom, 31900 Kampar, Perak, Malaysia
Phone: +60 12-488 2480
Pricing: $$
Sahom Valley Resort – Agro & Eco Park is a solid choice if you're looking for a quick retreat from the city as well. It features nice and cosy cabins, each of which features complete amenities necessary for your stay such as air conditioning, hot water and more!
Aside from that, you'll also get to enjoy a bunch of facilities as well, so you won't have a dull time during your stay here. Two of our favourite spots to visit here are their swimming pool and petting zoo, which are both great for people of all ages!
Sementra Nature Resort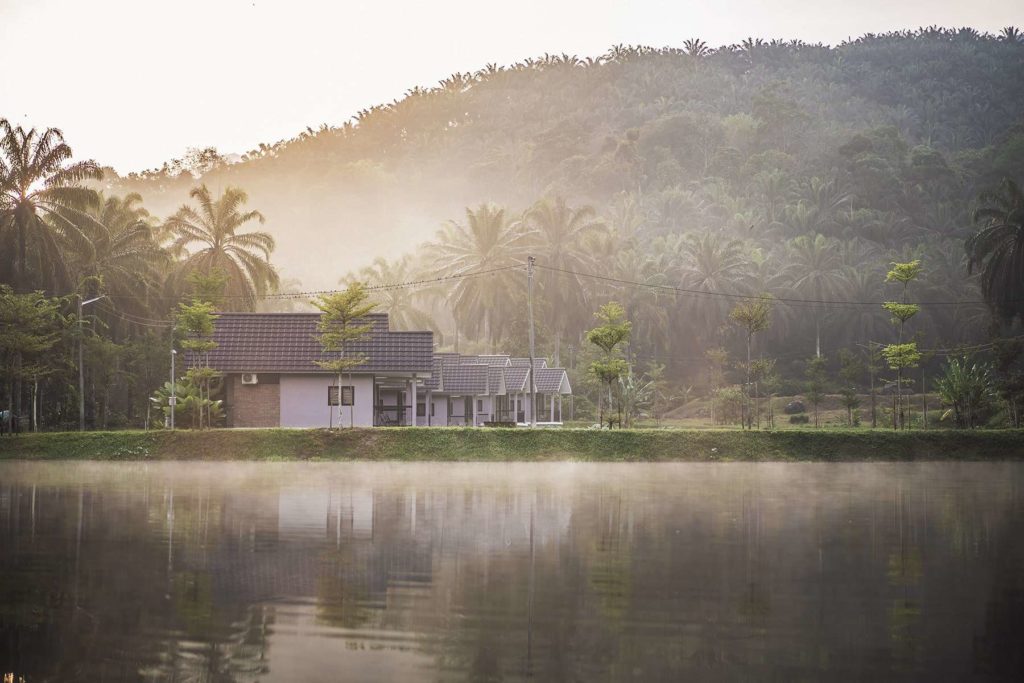 Address: Lot 15918, Kampung Ulu Geroh, 31600, Gopeng, Perak, Malaysia
Phone: +60 5-352 0363
Pricing: $$
If you're looking for a serene place to stay during your visit to Gua Tempurung, it doesn't get better than Sementra Nature Resort. This place features one of the most tranquil ambiences in the country, thanks to its lake and surrounding luscious greenery.
This is one of those rare places where you'll feel like you're staying at a tourist attraction rather than a plain old lodging/resort. We say this because aside from its spacious world-class rooms, it also features amenities and facilities, with the most notable one being a swimming pool.
Bagas Zakariah Orchard Lodge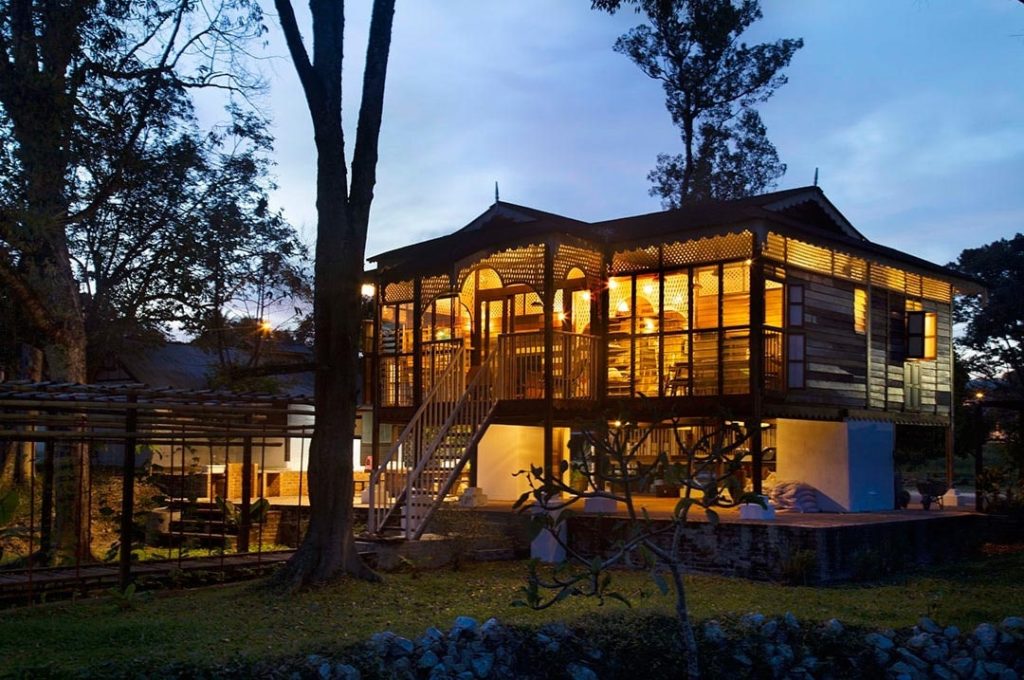 Address: 65, Lot 32804, Jalan Besar, Kampung Lawan Kuda, 31600 Gopeng, Perak, Malaysia
Phone: +60 17-552 1920
Pricing: $$$
Bagas Zakariah Orchard is hands-down the cosiest place you can spend the night in that's near Gua Tempurung. This is because it lets you stay inside traditional houses instead of the usual rooms and tents featured in hotels and glamping sites.
It's also the perfect place for families thanks to its spacious houses, which by the way are all fitted with world-class amenities. Not to mention that you'll also be surrounded by breathtaking views during your stay including a nearby stream and a durian orchard.
Outworld White Water Center & Basecamp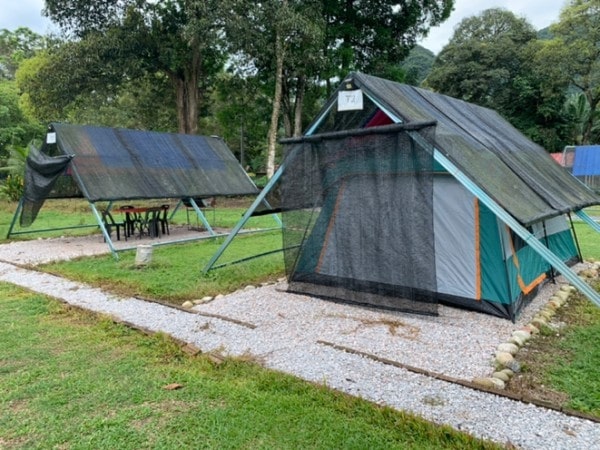 Address: Lot 17526, Jalan Hussin, Kg Chulek, Gopeng, Malaysia
Phone: +60 17-215 1409
Pricing: $
If you're looking for a glamping site that won't break the bank, we recommend checking out Outworld White Water Center & Basecamp. When you choose to stay here, you can expect that adventure will await you outside your tents, as you'll be surrounded by natural landscapes.
Aside from countless hiking trails, you'll get to try white water rafting, which is an exciting activity we can't recommend enough, where you'll thread strong currents. Don't worry though, as you'll be guided by someone from the camo throughout your adventure!
Attractions to Stop By near Gua Tempurung
Kellie's Castle
Address: Kompleks Pelancongan Kellie's Castle Lot 48436, KM 5, 5, Jalan Gopeng, 31000 Batu Gajah, Perak, Malaysia
Phone: +60 5-365 3381
Kellie's Castle is the nearest attraction in Gua Tempurung that we think is worth visiting. It's a beautiful manmade structure that you can admire after being surrounded by naturally formed rock formations for the longest time inside the Tempurung caves.
As beautiful as it is, it does feature a tragic backstory that involves a man building the castle for his wife before his untimely death. This tragedy is the reason why people claim this place to be haunted so if you're looking to spook yourselves, you can go ghost hunting here as well!
Sam Poh Tong Temple
Address: Kampung Gunung Rapat, 31350 Ipoh, Perak, Malaysia
Phone: +60 5-255 2772
Since you're already in Ipoh, it wouldn't hurt to visit one of its most iconic attractions along the way, the Sam Poh Tong Temple. It's arguably the most beautiful temple you'll come across in the country not just because of its amazing architecture but its surrounding landscapes too.
If you haven't got enough limestone caves for the day, then you're in for a treat because this temple is located amidst these beautiful rock formations. Aside from the temple itself, there's also an outdoor garden filled with beautiful plants and flowers where you can take photos.
Hutan Lipur Sungai Salu
Hutan Lipur Sungai Salu is a spot that you must stop by before or after your trip to Gua Tempurung. It's a massive state park where you'll find a collection of small yet majestic waterfalls along with beautiful lush greeneries.
It also features tons of trails where you can challenge your trekking skills. The trails aren't anything too difficult to handle, but they still offer an enjoyable experience, especially with the rewarding view of the waterfalls.
Lost World of Tambun
Website: https://sunwaylostworldoftambun.com
Address: 1, Persiaran Lagun Sunway 1, Sunway City Ipoh, 31150 Ipoh, Perak, Malaysia
Contact details: +60 5-542 8888
Operating hours:
Monday, Wednesday to Thursday: 11:00 AM to 11:00 PM
Saturday, Sunday, public and school holidays: 10:00 AM to 11:00 PM
Tuesday (Except public and school holidays): Closed
Entrance fee: RM120 to RM127
If you're looking to do even more adrenaline-pumping activities, we recommend heading to Lost World of Tambun! It's only a 30-minute drive away from the caves and it will treat you to endless hours of fun, with its exciting rides that people of all ages can enjoy.
Lost World of Tambun is the complete package because aside from the theme park, it also features a water world as well as a relaxing spa! With an amazing selection like this, each member of the family will have something to do here.
Gaharu Tea Valley
Website: https://hoga.my
Address: Jalan Sungai Itek, 31600 Gopeng, Perak, Malaysia
Contact details: +60 5-351 1999
Operating hours: Opens every day except for Tuesdays from 9:15 AM to 6:00 PM
If you want to breathe in some fresh air after being secluded inside a cave for such a long time, you should stop by HOGA's Gaharu Tea Valley! It consists of multiple acres of greenery, more specifically Agarwood and it features tons of attractions as well.
Check out our in-depth travel guide to Gaharu Tea Valley here.
8 Fun Facts about Gua Tempurung
Gua Tempurung spans over 4.5 kilometres long, making it one of the longest and largest caves in all of Malaysia. However, only 1.9 kilometres of it can be explored by its visitors.
It's estimated to be around 400 million years old–how cool is that?
There's an explorable underground river that spans 1.6 kilometres of the cave.
Tempurung means coconut shells in English and the reason why it's called this way is because some of the ceilings here look like coconut shells.
The caves used to be a tin mining site back in the 1920s.
You may come across some marks and graffiti on the walls of this cave. This is because it served as a hideout for communists long before Malaysia's independence.
The caves didn't start to become tourist attractions until 1995 when staircases and spotlights were installed inside.
The beautiful formation of limestones inside the cave can be attributed to millions of years of rain and underwater earthquakes.
Apps to Download for a Trip to Gua Tempurung
Grab: Ride-hailing app of Southeast Asia
Google Translate: A handy translation app
Maps.me: Offline map of the world
XE Currency App: Real-time currency exchange rate app