The Only Travel Guide You'll Need for Your Sarawak Trip
Sarawak is included among the top places to visit in Malaysia for a variety of reasons. For starters, it offers a culinary experience like no other, making it a perfect destination for foodies or those who simply want to treat their taste buds to something new.
Aside from that, it's also known to house numerous animals ranging from hornbills to orangutans and more!
In this guide, we'll walk you through everything you need to know about Sarawak to make sure that you're well-equipped before your trip. From attractions to visit, restaurants to try, hotels to stay in and more, you'll find everything you need here!
Time Zone
Malaysia Time (GMT+8)
Best Time to Go
The best time to visit Sarawak depends on your preference. For instance, if you want to experience the state in one of its liveliest states, we recommend visiting June, as this is when the Gawai Festival is held, but more on that later.
Weather-wise, it's a pretty hot and humid place all year long but if you want to enjoy the state during the driest season, we advise visiting from April to September. This way, you can make the most out of the different natural landscapes that you can visit!
If you want to avoid spoiling your swimming experience around the state, you should avoid visiting during the monsoon season (November to February).
Things to Know
Currency: Malaysian Ringgit
(Check the current exchange rate)
Language: English, Malay
Calling Code: +60-8
How to Get Around
Boat: If you want to feel like a local as you're getting around the state, you can ride traditional boats called Tambangs. Oftentimes, this is the main way of getting around if you're planning to go to the different historical landmarks around Sarawak.
Buses: Riding the bus is the cheapest way to get around the state, but it's not the best in terms of time efficiency. Some systems run through the major settlements in the state as well as long-distance ones that use the highways and expressways.
Taxis: Hailing taxis is another convenient way of getting around the state. However, be sure to practice your bargaining skills to make sure that you don't spend more than you need–also, always advise the driver to use the metre.
Grab/Uber: Both Grab and Uber are available in some areas of Sarawak. This is a great option if you don't want to drive but want the convenience of riding a car–Plus, this lets you settle for a fixed fare so you won't have to bargain with the driver.
Car rental: One of the easiest and best ways to get around Sarawak is by renting a car. There are tons of reputable companies around the state, more specifically in Kuching.
As for the price, you can expect to spend around RM180 and above depending on the model of the car itself.
Doing this lets you enjoy the convenience and privacy of having your own car. Plus, you'll also get to be in charge of your route so you can stop over as many times as you like.
Where to Stay in Sarawak
Damai Beach Resort
Address: Teluk Bandung, 93756 Kuching, Sarawak, Malaysia
Phone: +60 82-846 999
Pricing: $$
If you're looking to escape city life as much as possible and want to stay near the serene sounds of the sea, check out Damai Beach Resort! This establishment is located on the beachfront and it features 5-star hotel-like amenities–what more could you ask for?
Aside from the rooms themselves, the hotels also have a lot of stuff going on that will make your stay more worthwhile such as a spa and a couple of pools.
The Ranee Boutique Suites
Address: 7, Jalan Main Bazaar, Main Bazaar, 93000 Kuching, Sarawak, Malaysia
Phone: +60 82-258 833
Pricing: $$
The Ranee Boutique Suites is a quaint establishment that has this sort of "old money charm" if you will. This makes sense, as the boutique hotel was originally made out of two adjoining antique houses–pretty neat!
It's one of those unique places where you won't feel like you're staying at a typical hotel. For starters, each room found in this establishment features different designs and themes, all of which are tasteful.
Cove 55
Address: 93010 Kuching, Sarawak, Malaysia
Phone: +60 82-846 068
Pricing: $$$
With Cove being so close to the ocean, it leads to tons of benefits, one of which is having an amazing view from the comfort of your own room. Also, it doesn't hurt that you'll get to enjoy the nice cool breeze from the sea regardless of where you are on the hotel's premises.
One of the biggest highlights of this hotel, however, is its huge pool that features the same view of the South China Sea.
The Culvert
Address: Lot 285, Off Jalan Sultan Tengah Block 2 Salak Land District Santubong Damai, 93050 Kuching, Sarawak, Malaysia
Phone: +60 19-889 9925
Pricing: $-$$
There are tons of amazing glamping spots in Malaysia and The Culvert is one of the best ones out there. As with most of these sites, this establishment is surrounded by wonderful natural landscapes, making it a perfect place to stay if you're looking to retreat from city life.
If you're not familiar with glamping, it's camping meets luxury. You'll be treated with hotel-like amenities while staying at one of the establishment's pods that have been refurbished into high-quality rooms.
The Waterfront Hotel
Address: 68, Jalan Tun Abang Haji Openg, 93000 Kuching, Sarawak, Malaysia
Phone: +60 82-227 227
Pricing: $$-$$$
The Waterfront Hotel is a solid all-around option that features amazing rooms, world-class facilities and complete amenities. It's known as one of the most "artsy" hotels in the state and we can easily see why just by looking at its exterior and interior designs.
One of the biggest pros of choosing this as your second home on your trip to Sarawak is its strategic location. It's nearby essential establishments such as malls and iconic tourist attractions.
Where to Eat in Sarawak
Lepau Restaurant
Address: 99, Jalan Ban Hock, 93100 Kuching, Sarawak, Malaysia
Phone: +60 12-884 5383
Pricing: $-$$
If you're ever in the capital and you're looking for someplace to eat, we recommend checking out Lepau Restaurant. This spot is a must-visit, whether you're a foodie or not because it serves you some of the best local dishes that Kuching has to offer.
From asam broth to ayam pansuh and more, this place serves just about every staple in the state/country's cuisine! Plus, the best part is that you won't have to spend much to enjoy these fantastic dishes.
Choon Hui Cafe
Address: 34, Jalan Ban Hock, 93100 Kuching, Sarawak, Malaysia
Phone: +60 82-243 857
Pricing: $
Choon Hui Cafe is a world-class restaurant that we recommend because of its homey vibes and of course, fantastic dishes. One of the dishes you must try during your visit to the state is the famous Sarawak Laksa, and this establishment serves a solid version of it.
Whether it's daytime or nighttime, you can't go wrong with their bowl of Sarawak Laksa. The nice and tangy broth combined with the seafood is a match made in heaven!
Noodle Descendants
Address: No. 188, Jln Padungan, 93100 Kuching, Sarawak, Malaysia4
Phone: +33 6 74 57 09 90
Pricing: $
You can't leave Kuching without visiting one of its most legendary restaurants, Noodle Descendants. As you may have gleaned from its name, this establishment specializes in noodle dishes, and you can see why once you try it for yourself.
Any item from their menu can easily make you fall in love with noodles, but one that we recommend the most is kolo mee. It's a bowl of noodles with char siew and minced beef–a hearty combination that's amazing to eat any time of the day.
Ceylonese Restaurant Sdn Bhd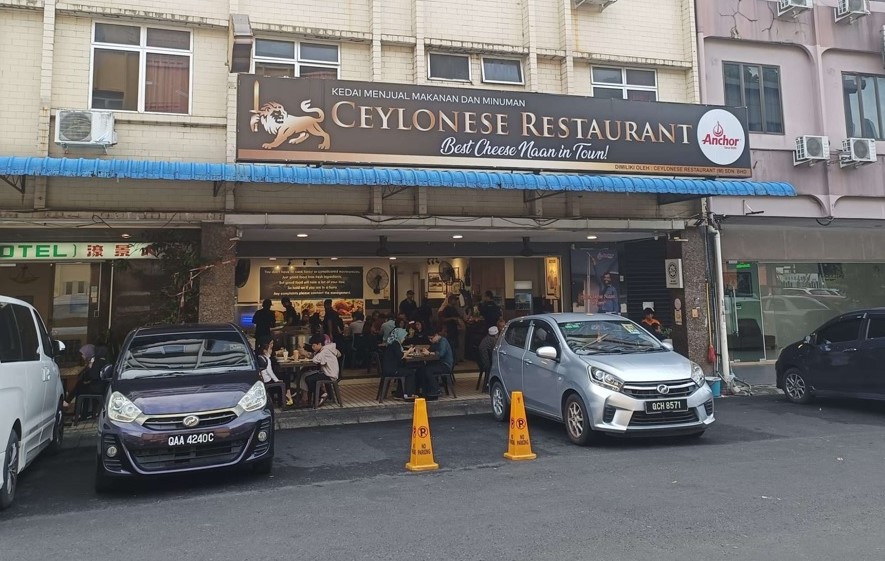 Address: 23 22, 23 22, Jalan Green Hill, 93100 Kuching, Sarawak, Malaysia
Phone: +60 14-697 3447
Pricing: $$
If you're looking to chow down on something cheesy, then you should definitely stop by Ceylonese Restaurant in Kuching! This place is famous for its extremely cheesy naan, which is as advertised, the best in town.
The aforementioned naan is oozing with the super creamy cheese as you pull it apart, creating a stretch like no other!
Bla Bla Bla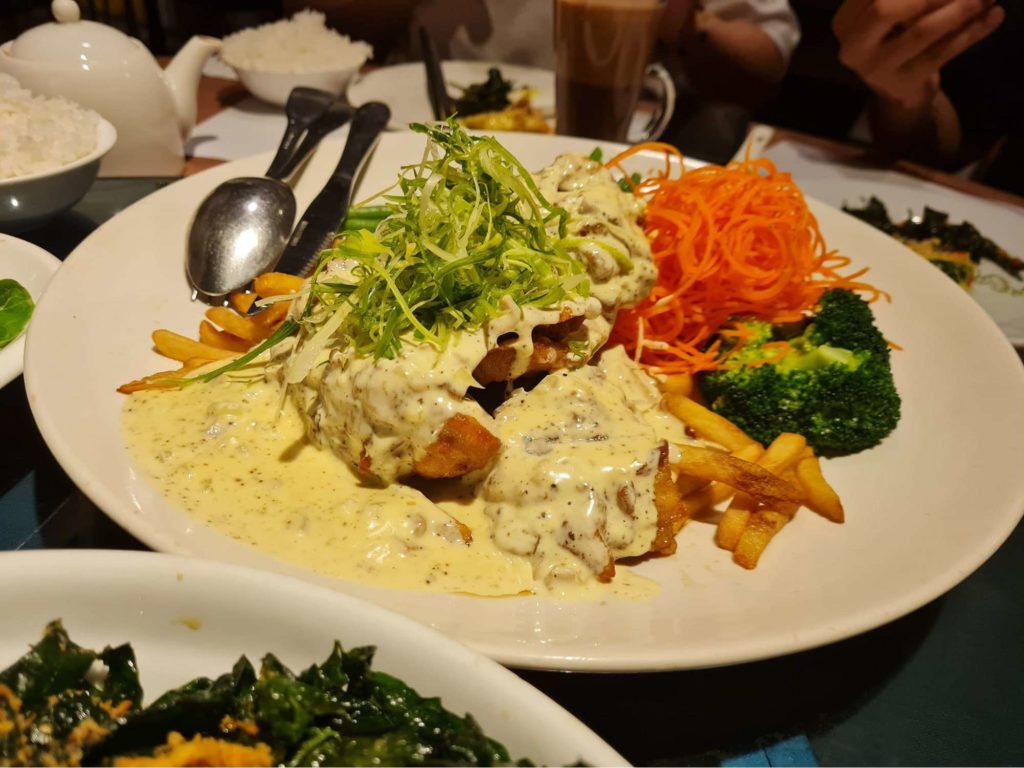 Address: 27, Jalan Tabuan, 93100 Kuching, Sarawak, Malaysia
Phone: +60 82-233 944
Pricing: $$
Bla Bla Bla is a restaurant we recommend if you're craving local delicacies at an affordable price. This establishment offers a myriad of Malay dishes that are both delicious in taste and generous in serving!
Out of all their dishes, however, we think that the mango chicken takes the cake for being the best. Its perfect combination of sweet and savoury flavours makes it unique!
What to Do in Sarawak
Take iconic photos with the cat statues
One of the most iconic things you can do in Sarawak is to take photos of the various cat statues you'll come across in Kuching. Dubbed as "City of Cats", this city loves these felines and it's not hard to see why thanks to its attractions and structures dedicated to them.
The first and most prominent statue that you'll be greeted with is the family of cats found at the golden triangle of Jalan Tunku Abdul Rahman. From there, you can take as many photos as you want!
Get up close and personal with orangutans
Address: KM 20, Jalan Puncak Borneo, 93250 Siburan, Sarawak, Malaysia
Phone: +60 82-618 325
After a long and thorough rehabilitation process, the Semenggoh Nature Reserve can house a healthy population of orangutans. There are only quite a few places like this in the country or the whole world for that matter, so we recommend you stop by at least once!
Our absolute favourite thing about this place is that instead of being poorly locked inside cages, orangutans can roam freely.
Be immersed in Sarawak Cultural Village
Address: Pantai Damai Santubong, Kampung Budaya Sarawak, 93752 Kuching, Sarawak, Malaysia
Phone: +60 82-846 108
If you're looking to learn more about Sarawak's culture, then you should visit its indigenous people at Sarawak Cultural Village. Here, you'll get a better idea of how these people live by simply observing them or trying out some of their daily activities.
For instance, you can learn to use one of their most important instruments, the deadly blowpipe, which they use for hunting. It's a tool they use to fire seeds or darts, and it's such a cool experience to see them use it with such finesse and expertise.
Enjoy a peaceful afternoon at Kuching Waterfront
Address: 93100 Kuching, Sarawak, Malaysia
Kuching Waterfront is one of the most peaceful places you can visit in Sarawak. When you visit Kuching (which we highly recommend), you must stop by this iconic landmark, as it offers tons of beautiful sights and amazing establishments.
Taking a simple stroll along this waterfront is an amazing experience in itself. However, the best part is discovering cafes and restaurants where you and your loved ones can chill and slow down time while admiring the beautiful river.
Fall in love with cats at the Cat Museum
Address: Bangunan DBKU, Jalan Semariang, Petra Jaya, 93050 Kuching, Sarawak, Malaysia
Phone: +60 82-512 200
If you think that the cat statues of Kuching are already a testament to its love for the felines, wait until you see the Cat Museum! From the name itself, this building holds exhibits and attractions, all dedicated to cats, further cementing their "obsession" with these animals.
You can even find an exhibit that's dedicated to the most famous cats that have ever appeared in movies, TV shows and other pop culture media. Furthermore, there's also this specific section where you'll find old-timey tools and equipment that were used by cats.
Learn more about the state at the Sarawak Museum
Address: Jalan Tun Abang Haji Openg, Taman Budaya, 93400 Kuching, Sarawak, Malaysia
Phone: +60 82-548 181
Personally, we think that a great way to admire a place you've never been to before is by learning about its history. For this need, we advise you to visit the Sarawak Museum, which by the way is also the oldest museum in Borneo.
You'll easily get lost in the different exhibits and attractions found inside this museum. Among these attractions are the replicas of the Iban longhouses, which are prevalent among the indigenous people of the state.
Spend a nice day at Sematan Beach
If you're looking for a more laid-back activity to do with your loved ones, we recommend simply spending a nice day at Sematan Beach. While it may not be the most beautiful beach in Malaysia, it definitely is worth visiting because of its overall chill vibe.
Here, you can simply take a seat along the shores and bask in the sun while hearing the serene sound of crashing waves.
Trek along the foothills of Mount Santubong
Address: Kuching District, Kuching Division, Sarawak, Malaysia
Mount Santubong is one of the toughest hiking trails in Malaysia, but it's also among the most fulfilling to conquer. This is because as you try to navigate yourself through the twists and turns of the trails, you'll be treated to beautiful views and a myriad of majestic animals.
Aside from wildlife, the abundance of natural landscapes will also be a feast for your eyes during your trek.
Discover waterfalls and pools at Kubah National Park
Address: 93050 Kuching, Sarawak, Malaysia
Phone: +60 82-845 033
Kubah National Park is another spot we recommend for those looking to experience the great outdoors.
We love this place because of the variety of waterfalls and naturally-formed pools that it has. You can take a quick dip at these beautiful water formations and be ready for the next hiking trail.
Be in awe of otherworldly caves
Address: Gunung Mulu National Park, No 11, Mulu National Park, Pekan Mulu, 98070, Miri
Phone: +60 85-792 300
Mulu National Park is one of those places where you'll feel like you've been transported to another dimension. This is because of the park's unusual cliffs which all look like gigantic spikes pointed to the sky.
Nonetheless, these spikes are what makes this place special, as they're majestic as they are mysterious.
Where to Shop in Sarawak
Sibu Central Market
Address: Jln Channel, Pekan Sibu, 96000 Sibu, Sarawak, Malaysia
Phone: +60 84-313 449
If you're planning to cap off your trip to Sarawak with a shopping spree, there's no better place to do it than Sibu Central Market. It's the largest market in Malaysia and you'll find just about everything you need across its different stores and stalls.
From fresh fruits to unique Malaysian souvenirs, this market doesn't fall short in its offerings. Plus, the best part is that the prices here are cheap–just be sure to practice your bargaining skills so you won't get taken advantage of!
Viva City Megamall
Address: Ground Floor, Jalan Wan Alwi, 93350 Kuching, Sarawak, Malaysia
Phone: +60 82-263 888
Viva City Megamall is one of the best shopping centres in Kuching, Sarawak, where you'll find tons of electronics on sale. Whether you're looking for laptops, smartphones, gaming devices and other electronic peripherals, you can expect to find what you need inside this shopping mall.
Aside from gadgets, this mall also houses amazing restaurants that serve anything from local delicacies to Western favourites.
Sunday Market
Address: Medan Niaga Satok, Q309, Petra Jaya, 93050 Kuching, Sarawak, Malaysia
Phone: +60 82422578
When it comes to the best local products in Sarawak's capital, you have to visit the famous Sunday Market. This market is lined up with countless stalls that sell some of the freshest fruits and vegetables you'll come across in Sarawak.
The Main Bazaar
Address: 93000 Kuching, Sarawak, Malaysia
The Main Bazaar is another public market that we recommend you visit if you're looking to score some unique Malaysian souvenirs. The selection of products here is really second to none, from beaded bracelets to bags and other handicrafts.
Which Neighbourhoods to Visit in Sarawak
Petra Jaya
For first-timers, we recommend visiting Petra Jaya, as it contains some of the most iconic attractions you'll find in Sarawak. Some of the highlights here include the Cat Museum, Fort Margherita and of course, Kuching Waterfront!
Kuching City Centre
Kuching City Centre is the heart of the state's capital, which is the perfect place to visit if you want to be in the middle of all the action. When you visit this neighbourhood, you must stop by the Tua Pek Kong temple and the Main Bazaar.
Jalan Song Thian Cheok
If you love the nightlife, then you should definitely check out Jalan Song Thian Cheok. This neighbourhood comes completely alive once the sun sets, and you'll have tons of options on how you want to spend the night with your friends.
For instance, if you're quite a foodie like us, then you should wait until the hawker stalls start opening up for business. Here, you'll find all the amazing street foods in Malaysia, whether they be savoury or sweet.
Apps to Download for a Trip to Paris
Google Translate: A handy translation app
Maps.me: Offline map of the world
XE Currency App: Real-time currency exchange rate app
Grab: Ride-hailing app of Southeast Asia