Exploring Penang Hill: A Complete Guide
Penang Hill stands as a timeless testament to the allure of natural beauty and human ingenuity.
This enchanting destination has gone beyond its colonial origins to become a modern marvel that captivates the hearts of tourists and locals alike. It has since become a haven of panoramic views, diverse flora and fauna, and rich cultural experiences.
There are many things to do and exhibits to see in Penang Hill, and we're here to guide you through each one. This way, you can maximize your visit and have the best time while you're here!
Time Zone
Malaysian Standard Time (UTC+8)
Best Time to Go
The best time to go to Penang Hill is during spring and early summer, from the months of March to May. Visiting during these months offers pleasant weather and clear skies, making it ideal for sightseeing the beautiful views and enjoying the lush greenery.
However, if you like festivals and celebrations, go from November to February—but it might be busier.
Regardless of when you visit, you can expect the sunrise or sunset in Penang Hill to be amazing!
Things to Know
Location: 11500 Bukit Bendera, Penang, Malaysia
Operating Hours:
| Attraction | Opening Hours |
| --- | --- |
| Penang Hill Funicular Train | 6:30AM - 11PM |
| The Habitat Penang Hill | 9AM - 6:30PM |
| Cliff Cafe / Astaka Bukit Bendera | 9AM - 6PM |
| David Brown's Restaurant | 9AM - 10PM |
| Monkey Cup Garden | 9AM - 6PM |
| Owl Museum | 9AM - 6PM |
| Kopi Hutan | 9AM - 6PM |
How to Get to Penang Hill
Bus: Catch the 204 bus from the Pengkalan Weld Jetty Bus Terminal A and get off at the last stop, which is the Penang Hill Lower Train Station.
Taxi: Taxis are readily available and offer a comfortable and direct way to get to Penang Hill.
Ride-Hailing Service: Utilize ride-hailing apps such as Grab or inDrive to book a private ride to transport you to Penang Hill. 
Places to stay near Penang Hill
The Prestige Hotel Penang
Address: 8, Gat Lebuh Gereja, George Town, 10300 George Town, Pulau Pinang, Malaysia
Contact Details: +60 4-217 5888
Pricing: $$$
Book Now
The Prestige Hotel Penang is located in the heart of George Town and offers a seamless blend of colonial charm and contemporary sophistication. It offers a spectacular view along with its luxurious rooms and amazing continental and Asian food.
The moment you step inside, you're greeted by a world of luxury that goes beyond its walls. The luxurious rooms not only provide the utmost comfort but also offer spectacular views that leave a lasting impression.
When it comes to dining, this 5-star boutique hotel takes it up a notch. The culinary journey offers a delightful fusion of continental and Asian flavors that satisfy every palate.
This 5-star, boutique hotel also has a fitness center, free parking, an outdoor swimming pool, and room service—convenient, right?
Hotel 19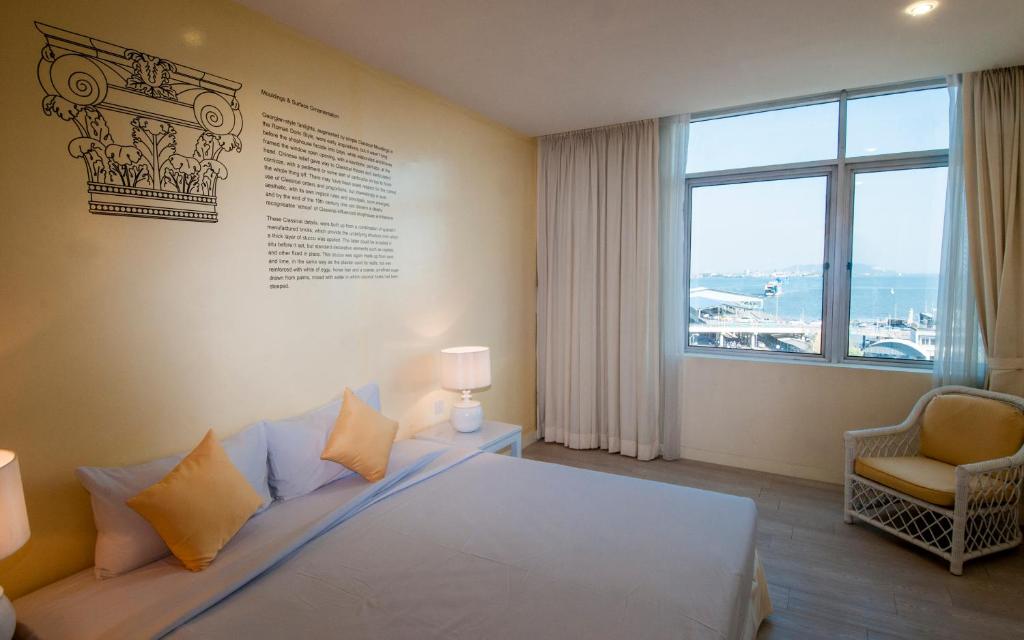 Address: No. 19, Pengkalan Weld ( Weld Quay ), 10300 George Town, Malaysia
Contact Details: +604-262 9888
Pricing: $$
Book Now
Hotel 19 is a remarkable choice that treats you to both mesmerizing sea and city vistas right from the comfort of your room.
The standout feature of this budget-friendly gem is its prime location, which grants convenient access to the nearby bus terminal and all the captivating attractions that Penang has to offer.
This accessibility means you can effortlessly embark on adventures throughout the town, making your stay both enjoyable and hassle-free.
Cocoa Mews Cafe and Homestay
Address: 101, Lebuh King, 10200 George Town, Malaysia 
Contact Details: +60 16-477 8482
Pricing: $
Book Now
Cocoa Mews Cafe and Homestay presents a delightful haven where charming rooms with shared bathroom facilities await.
While this budget-friendly gem's exterior exudes simplicity, its true essence lies in the warmth of its staff's hospitality and the meticulous upkeep and sanitation of its rooms.
The well-maintained rooms provide a comfortable and clean space, ensuring a restful night's sleep after a day of exploring the lively surroundings.
Adding to the convenience, the guesthouse offers complimentary Wi-Fi throughout, allowing you to stay connected and share your travel experiences effortlessly.
What to Do in Penang Hill
Ride the Penang Hill Funicular Train
Hop on the iconic Penang Hill Funicular Train! This Swiss-inspired train runs on one of the oldest funicular systems in the world and its tunnel track is the longest and steepest track in Asia! 
Aside from the amazing view you get from the top, you can also admire the monkeys lurking there! The whole train ride takes about 5 to 10 minutes.
You can check out ticket prices here: 
| Ticket | Normal Lane | Fast Lane |
| --- | --- | --- |
| Children | RM15 | RM40 |
| Adult | RM30 | RM80 |
| Senior Citizen | RM30 | RM60 |
Local Tips:
You can rent out binoculars for a better view of the beautiful landscapes around you.
The lines can get pretty absurd during seasonal holidays, so be sure to be there early! If you want to skip the queue, splurge and take the Fast Lane so you can skip it and enjoy the view ASAP!
Don't lose your ticket! You will need to show it a few times during the trip.
Stroll through Habitat Penang Hill
The Habitat Penang Hill holds a rich history as a forest reserve dating back to 1911 and should be at the top of your list when visiting Penang!
Situated within the heart of an ancient rainforest, it offers a truly immersive experience where visitors can connect deeply with nature.
The Habitat serves as a haven for a diverse range of flora and fauna. From the intricate world of plants and trees to the mesmerizing melodies of birds and the occasional sight of reptiles, the forest teems with life.
Two must-visit highlights in this journey are the 230m Langur Way Canopy Walk and the Curtis Tree Top. These spots provide an unparalleled vantage point to take in the breathtaking 360-degree panoramic view of Penang Island.
Local Tip: 
You can even go on a zipline, "Flight of the Colugo,"  for that adrenaline rush! It costs RM105 per person. 
Lock your love at Penang Hill Food Centre
Traveling with a partner? Immortalize your love with a symbolic padlock!
Lovebirds can visit the open-air observation deck of the Penang Hill Food Centre and fasten a love lock on an 80-meter-wide fence! The fence overlooks the city of George Town, so even the whole city knows about your love for each other!
You can buy love locks on-site, but you can also bring one of your own so you don't have to spend anything.
Marvel at the architecture of the Penang Hill Mosque
The sole mosque on Penang Hill, Masjid Bukit Bendera was erected for use by Muslims living and working in the area. It's 24 hours for Muslims wanting some quiet prayer time.
Its Islamic architecture, adorned with minarets and domes, is definitely a beautiful sight to behold. Aside from that, it also features a great view of the city, so don't forget to snap a shot, especially if you're here on a clear day!
Discover the charming delights of the enchanting Little Village
Little Village is definitely perfect for kids! In this quaint attraction, you can find the biggest Love Arch and Dwarf Village – complete with all the seven dwarfs and Snow White!
You'll also be greeted with the Rabbit Garden, Rose Garden, Levanda Garden, and a bee showroom, where you can sample honey!
Indulge in some kacang putih
Feast on some kacang putih, a savory snack that consists of chickpeas, muruku, corn, nuts, and pulled together by yummy masala sauce that will definitely bring you back for more!
On the Upper Station of Penang Hill, you'll find a roadside stall called, "The Famous Penang Hill Kacang Pot" by Mr. Sakthivel which has been a family business for generations since the 1960s.
Their kacang putih stands out from the usual as it's been mixed with other ingredients such as their homemade masala sauce! It's definitely a unique twist to the classic kacang putih that are just made out of chickpeas.
It only costs RM5 and it's definitely worth every penny!
Soak in the spectacular view of George Town at night
George Town takes on a truly enchanting glow at night. But it's the view from Penang Hill that will truly steal your heart and leave you utterly breathless.
Don't miss the chance to visit the love lock area, the main viewing deck, and the Sky Walk – these spots offer the sweetest views of the UNESCO Heritage Site that will leave you with memories to cherish forever.
Local Tip:
Don't forget to bring a jacket or sweater with you as Penang Hill can be pretty chilly at night! 
Appreciate history at Edgecliff Bungalow
Location: C7F9+Q9, Bukit Bendera, Pulau Pinang, Malaysia
Contact Details: +604 282 8880
Operating Hours: Monday, Wednesday-Sunday 9AM-4:30PM
Website
Entrance Fee:
| Ticket | Price |
| --- | --- |
| Adult | RM10 |
| Senior Citizen | RM5 |
| Children | RM5 |
| Persons with disabilities | FREE |
| Children below 4 years old | FREE |
Step into the welcoming embrace of the Edgecliff Bungalow, nestled within the embrace of the Penang Hill Biosphere Reserve. Here, you'll find yourself embarking on an extraordinary journey through history and space.
The Time Tunnel, Heritage, Biodiversity, Funicular, and Cultural galleries come alive with an impressive collection of photos!
It's a captivating adventure that seamlessly transports you through the ages and offers a deeper connection to the treasures of Penang Hill.
Where to Eat in Penang Hill
Cliff Cafe (Astaka Bukit Bendera)
Address: Astaka Bukit Bendera, Jalan Tuanku Yahya Petra, 10000, Penang
Pricing: $-$$
Operating Hours: Daily, 8AM – 8PM
Feast on a variety of local delicacies all while soaking in the beautiful view at Cliff Cafe. It's a three-storey food and beverage court in Penang Hill and is especially beautiful at night amid the city lights.
The two higher levels house the food court and the souvenir and drink stalls are located at the lower level. 
Local Tip: 
Try out the local favorites, asam laksa and char kuey teow, and for dessert the ais kacang! 
David Brown's Restaurant
Address: Strawberry Hill, Bukit Bendera, Ayer Itam, Penang Island 11300 Malaysia
Contact Details: +604-828 8337
Pricing: $$-$$$
Operating Hours: Daily, 11AM – 10PM
Website
David Brown's Restaurant and Tea Terraces' beautiful location allows you to breathe in the fresh air, coupled with an amazing view and peaceful sounds.
With its gorgeous garden and excellent food, it's definitely a beautiful retreat where you can spend quality time with yourself or your loved ones!
Kopi Hutan (Monkey Cup Cafe)
Address: Summit Road, Penang Hill, Penang, Malaysia
Contact Details: +60 12-428 9585
Pricing: $
Operating Hours: Daily, 9AM – 5PM
Website
Kopi Hutan's specialty coffee, named kopi hutan, is an experience in itself.
Blending five distinct types of coffee beans from various countries, this brew is a harmonious symphony of flavors that takes your taste buds on a delightful journey around the world.
While savoring your coffee, you'll be mesmerized by the nepenthes plant, more commonly known as monkey cups or pitcher plants, found in the establishment.
There's something uniquely fascinating about these carnivorous plants. Is it their allure? Their danger? We'll never know! 
Local Tip: 
Try their best-selling onde cake! It's perfectly paired with their signature coffee.
What to Expect in Penang Weather
Dry Season (March to October): The dry season in Penang Hill brings warm and humid weather, with temperatures ranging from 25°C to 32°C (77°F to 90°F).
Rainy Season (November to February): Rainy season in Penang Hill with occasional heavy showers and thunderstorms, with temperatures ranging from 24°C to 31°C (75°F to 88°F).
Apps to Download
Penang Hill App: Online mobile guide to exploring Penang Hill
iOS | Android
Grab: Ride-hailing, electric bikes and motorized scooters, food delivery
iOs | Android
inDrive: Ride-hailing car
iOS | Android
Google Translate: Word translation with offline capabilities
iOs | Android