Penang Bird Park Ultimate Guide: All You Need to Know
The enchanting world of Penang Bird Park – one of the coolest places in Malaysia to see amazing birds up close.
The biggest and first bird park of its kind in the country, it has been around since 1998 and spans across 5 acres of land in Penang State. With more than 300 species of birds, the Penang Bird Park is the ultimate haven for nature-lovers!
We'll tell you everything you need to know about this bird paradise– it's history, their conservation efforts, and fun things you can do to enjoy your time here.
Time Zone
Malaysian Standard Time (UTC+8)
Best Time to Go
The best time to visit Penang Bird Park is during the early morning hours. Birds are most active and lively during this time, so you'll have a better chance to witness them in action and hear them sing!
Plus, visiting during the morning will help you avoid the crowds for a more peaceful and enjoyable experience.
Things to Know
Address: Jalan Todak, Seberang Jaya, 13700 Perai, Pulau Pinang, Malaysia
Operating Hours: Monday to Sunday 9AM to 6PM
While the park generally maintains consistent operating hours, it's like a good idea to check their website before your visit. 
Ticket Prices:
| | |
| --- | --- |
| Adult | RM 45 |
| Children (below 12 yrs) | RM 20 |
| School Children (with Malaysian National School Uniform) | RM 10 |
| Physically and/or mentally handicapped & privileged persons | FREE |
How to Get There
Bus: There are buses that will take you right to the park's doorstep. Take the Line Route 703, 709, and CT13. These buses will pass near Penang Bird Park.
Taxi: Taxis are another convenient way to reach the park. Simply hail a taxi and tell the friendly driver you want to go to Penang Bird Park. They'll know the way!
Ride-Hailing Service: Utilize ride-hailing apps such as Grab or inDrive to book a private ride to transport you to Penang Bird Park.
What to Do in Penang Bird Park
This park not only offers enjoyment but also plays an important role in bird conservation. It houses over 300 different bird species from around the world, with more than 150 species native to Malaysia.
By visiting Penang Bird Park, you not only witness a wide variety of colorful and beautiful birds but also contribute to their conservation efforts.
Local Tip: 
Don't use your camera's flash! It can easily startle the birds and may also harm their eyes
Visit the two giant-sized walk-in Aviaries
Penang Bird Park's layout is like a paradise for bird enthusiasts!
As you enter the park, you'll find well-marked walking paths that guide you through the walk-in aviaries, making it easy to navigate and explore.
You can also find benches and resting areas placed along the paths, offering you a chance to take a break so you can rest your legs.
You're sure to be amazed by the diversity of bird species at Penang Bird Park. Each section showcases a different geographical region, so you can feel like you're taking a trip around the world.
Some of the key exhibits feature colorful parrots, strong and majestic eagles and graceful swans. You'll also find exotic toucans, cute and adorable penguins, and flamingos!
Feed the birds
Get up close and personal with some of the park's friendly feathered residents by participating in bird feeding sessions.
With RM1 you can buy some seeds and the birds will stop on your hand and eat them right at the palm of your hands!
It's a heartwarming experience as you feed them their favorite treats and witness their excitement up close.
Whether you're an avid bird enthusiast or simply curious about these delightful creatures, Penang Bird Park promises an enriching and unforgettable experience.
Catch the live bird shows
You'll be amazed at the captivating performances by the park's feathered residents that showcase their intelligence and talents!
With skilled trainers guiding them, you can watch as these birds show off their aerial acrobatics to problem solving skills that will definitely leave you in awe!
Don't miss the entertaining live bird shows! It happens at 11AM and 3:30PM daily. 
Local Tip: 
Avoid wearing bright-coloured clothes. Go for natural or darker shades such as camouflage, grey or black to avoid distracting the birds!
Visit the deers and other animals that roam the park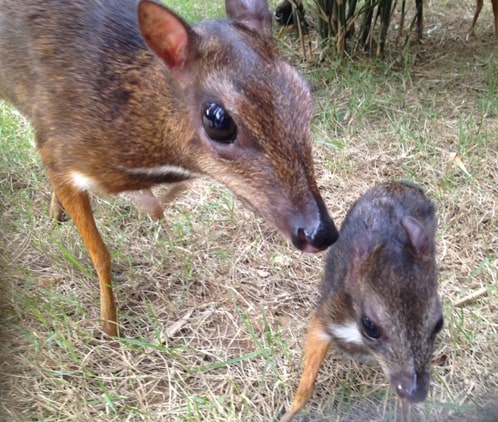 Aside from the hundreds of species of birds in Penang Bird Park, several species of deer also call this place their home, such as the smallest deer in the world– the Mouse-Deers!
Giant Arapaima fish, pythons, giant estuarine crocodile, and tortoises are also found in this park.
Learn about Penang Bird Park's Conservation Efforts and Commitment to Bird Welfare
Penang Bird Park is not just a place to admire beautiful birds; it's a sanctuary dedicated to their well-being and conservation.
The park has established various conservation initiatives to protect these precious creatures.
One of the park's key efforts is providing spacious and naturalistic enclosures that resemble the birds' native habitats. This allows them to live comfortably and express their natural behaviors, reducing stress and promoting their overall health.
Penang Bird Park also actively participates in breeding programs for endangered bird species. These programs aim to increase the population of threatened birds and ensure their survival for future generations.
Aside from their direct conservation efforts, Penang Bird Park also aims to use education as a tool to preserve the birds through raising awareness among visitors, especially to kids of the younger generation.
Enjoy the idyllic scenery while being serenaded by the birds
Penang Bird Park was built with stunning landscapes of their collection of hibiscus, orchids, bamboo, palm trees and more, complete with waterfalls and natural ponds where fishes swim and lotus and water lilies float.
Breathe in that fresh air and relax! Aside from the awesome bird watching and feeding, your visit to Penang Bird Park can also be a chance for you to destress.
Local Tip:
The place can be easily navigated even without a map, just make sure you bring mosquito repellent to avoid being attacked by mosquitoes!
Unwind from the Chinese-style wooden bridges
Hear the trickle of the waters as you stand from the Chinese-style wooden bridges and appreciate the beauty of nature.
You can even camp out in the little Malay huts (traditional malay house) that surround the park and marvel at the magnificence of the rainbow of birds and their songs. 
Local Tip:
While you're permitted to relax in the Malay huts, please observe cleanliness during your stay. Avoid littering and offer a helping hand to the park's maintenance staff.
Where to Eat
Flamingo Cottage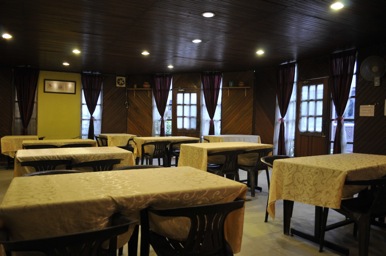 Located just next to the souvenir shop, the Flamingo Cottage is Penang Bird Park's very own charming restaurant and all the food served is halal!
The Flamingo Cottage offers a variety of cuisines. Aside from traditional Malaysian food such as nasi lemak, mee goreng, and char hor fun, they also serve Western cuisine such as their chicken chop and grilled fish– their signature dishes! 
Local Tip:
Try their passion fruit juice freshly harvested from the park! This sweet-and-sour concoction will surely energize you during your visit!
Abbey Road Bistro Restaurant
Address: 8A, Lebuh Tenggiri 2, 13700 Perai, Pulau Pinang, Malaysia 
Contact Details: +60 6043906655
Pricing: $$$ 
Operating Hours: Monday-Saturday 12PM-2:30PM, 5PM-10:30PM
Website
This classy restaurant within three miles of Penang Bird Park serves Western food with a Malaysian influence– the perfect fusion of cultures!
It also has a bar where you can enjoy having drinks with your friends for a fun night out!
MyKori Seberang Jaya
Address: Nasi Kandar Beratur 786 @Seberang Jaya, 49, Jalan Todak 2, 13700 Seberang Jaya, Penang, Malaysia
Contact Details: +60 16-391 4298
Pricing: $$
Operating Hours: Monday-Sunday 1PM-10PM
Website
Visit this dessert destination near the bird park and get a load of their kakigori – shaved ice with syrup of different flavors to suit your preference!
It's the perfect way to end a long day of walking around Penang Bird Park– with a sugar rush!
Where to Shop in Penang Bird Park
Penang Bird Park Souvenir Shop
Bring home a piece of Penang Bird Park by buying souvenirs!
They sell quirky toys and figurines, fridge magnets, Southeast Asian-themed handicrafts like the pewter products which Malaysia is known for, and other sculptures made from coconuts! 
Local Tip: 
Their special items, called "The Singing Bird" and the "Bird Whistle" are made of seashells! Keep an eye out for these if you're looking for a one-of-a-kind souvenir!
What to Expect from Penang Weather
Dry Season (March to October): The dry season in Zoo Negara brings warm and humid weather, with temperatures ranging from 25°C to 32°C (77°F to 90°F).
Rainy Season (November to February): Rainy season in Zoo Negara with occasional heavy showers and thunderstorms, with temperatures ranging from 24°C to 31°C (75°F to 88°F).
Apps to Download when visiting Penang Bird Park
Grab: Ride hailing, electric bikes and motorized scooters, food delivery
iOs | Android
inDrive: Ride hailing car
iOS | Android
Google Translate: word translation with offline capabilities
iOs | Android