Discover the Beautiful Beaches of Malacca
Soak up the sun on the many beautiful beaches of Malacca. This historic Malaysian state, also known as Melaka in Malay, is full of stunning sights to see—and its beaches are part of that!
Malacca has many beaches, as it is one of Malaysia's coastal states. The beaches in the area are unique attractions, with most having various amenities and accommodations.
Whether you want to relax in quiet sands, like us, or you want to get your heart racing with watersports, there's a beach for everyone in Malacca! Even more than that, there are a number of things that make the beaches in Malacca special.
So, read on as we discuss the best beaches in Malacca and other things to do in the area so you will have the perfect vacation on a beautiful island and also experience its history!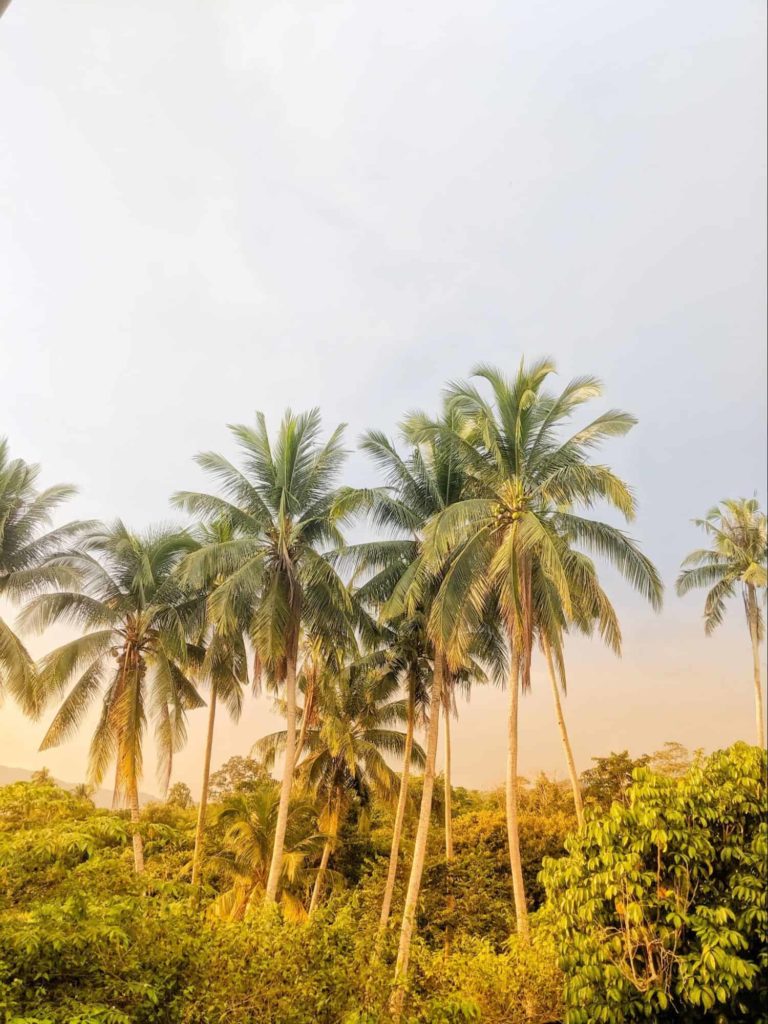 What makes Malacca beaches special?
Beaches in Malacca are exceptional because of their beautiful scenery, pristine sands, well-maintained facilities, and the wide range of local food options from various street vendors.
Furthermore, Malacca's variety of beaches can accommodate various interests and goals, making them excellent options for all kinds of visitors.
Locals and tourists alike visit the various Malacca beaches for relaxation, enjoyment, and bonding with family and friends. There are also nearby islands where visitors can go if they find Malacca's streets too busy.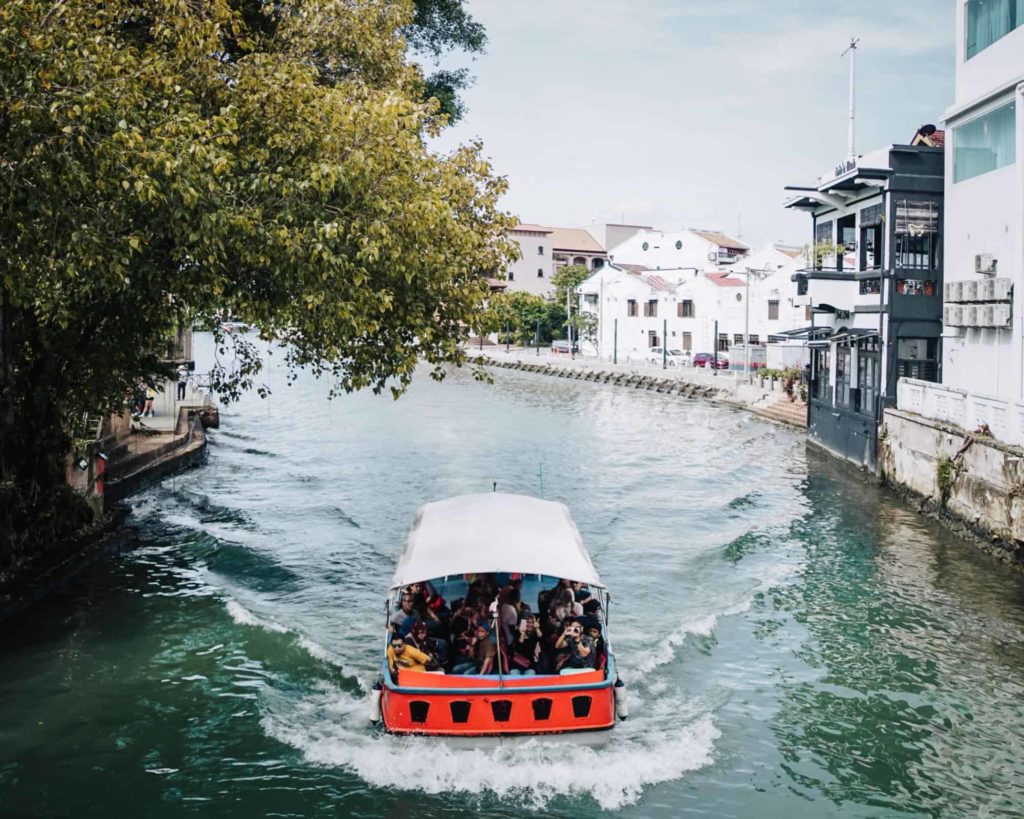 Another special thing about Malacca is its history, as It used to be the leading trading port in Southeast Asia in the 16th century. But is this the only reason why Malacca is famous? Well, not really, but it's part of it!
Malacca is currently well-known as a popular tourist destination, and this is because of its rich history. Some of its most famous tourist spots include the Malacca Sultanate Palace Museum and the Porta de Santiago.
In general, given its past and the popularity of its historic sites and attractions, going to Malacca's beaches usually isn't the first option tourists consider.
Can I swim in Malacca?
Honestly, even I, myself, think of cendol, nyonya laksa, and history lectures whenever Malacca comes up! So, if you're also wondering if you can swim at Malacca – and I've got good news!
Swimming is possible in specific beaches with calm waters in Malacca, such as Pengkalan Balak, Kleband, and Tanjung Bidara, among others. There are even water parks and resorts near the beaches that have their own private swimming pool.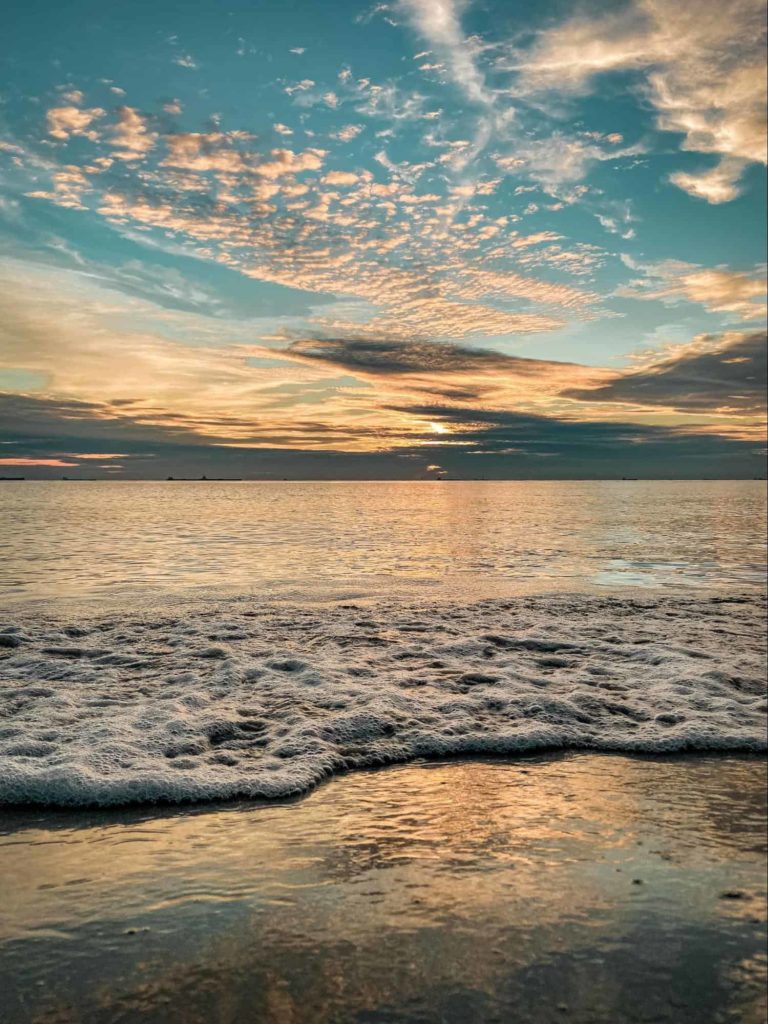 Where to Swim in Malacca: The 6 Best Beaches
When looking for a place to swim in Malacca, going to its beaches is an obvious choice.
There are several options in the area but we wanted to give you what we believe are the top six beaches. We picked all the beaches below based on many things, but mostly, we chose the ones that have a great mix of fun, safety, and cleanliness.
Read on ahead to discover our top six beaches in Malacca!
1. Pengkalan Balak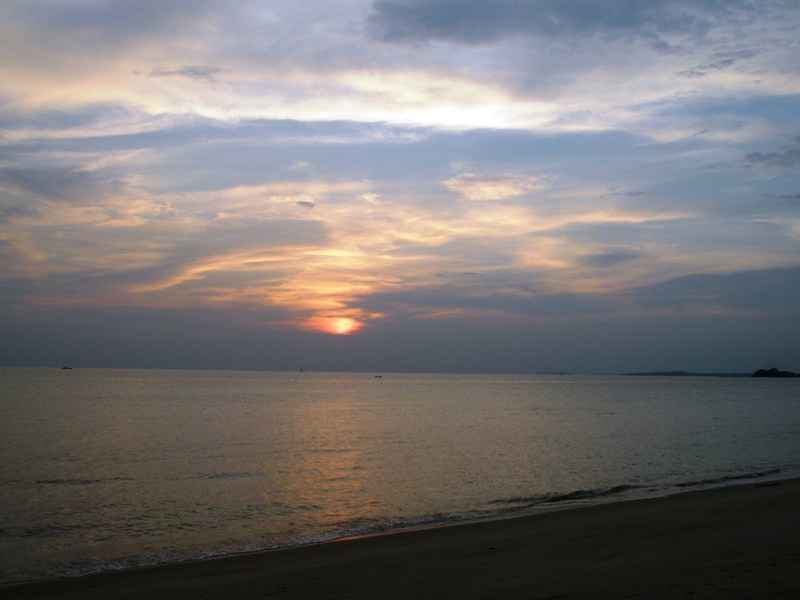 | | |
| --- | --- |
| Highlights | Best for families and friends |
| Opening Hours | Open daily for 24 hours |
| Beach Amenities | Hawker stalls, food and beverage stalls, fishing, cafes, water activities |
Pengkalan Balak, a beautiful beach with lots of fun activities, is situated on the outskirts of Malacca. It has quite the distance from Malacca city, making the journey here a bit long but definitely worthwhile.
This beach may not top our list of clean beaches in Malacca, but it more than makes up for it with the activities you can do. Anything from camping to picnics, it's all fun to do on Pengkalan Balak.
The locals in the area routinely go on picnics under the shade of the trees lining the beach. So if you want to fit right in with the locals, grab a blanket and get some food from the nearby hawker stalls!
Aside from hawker stalls, there are also a handful of cheap restaurants and cafes near the Pengkalan Balak beach. D'Ribut Pengkalan Balak is one such spot, with delicious seafood and a great view of the beach.
This beach is really best enjoyed with family or with a group of friends. Doesn't stop you from going solo if you want to, though!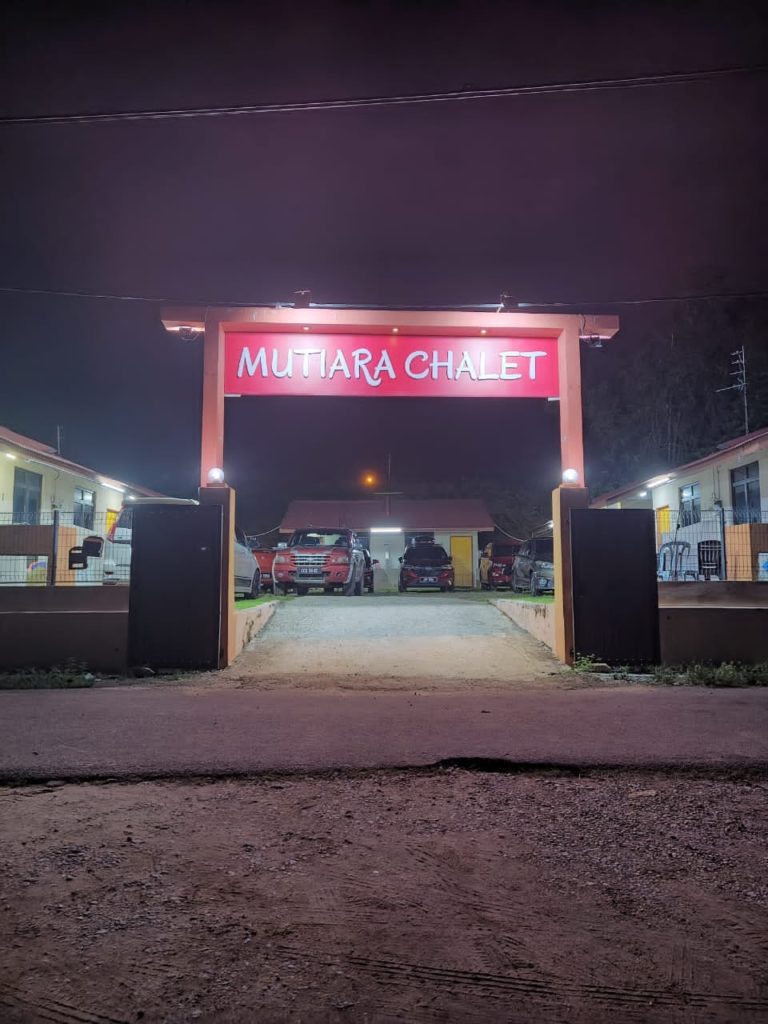 Accommodations aren't going to be a problem in Pengkalan Balak as well, with many small hotels and resorts nearby. Mutiara Chalet is a great choice, with a chalet-style set-up that has free Wi-Fi, a cooking hut, and other fun group activities.
After settling in, enjoy the cute turtle sculptures located in certain spots on the beach, or even take part in some water activities. Local operators of these activities, like banana boats, are always ready to give you a unique experience.
After a long day of beach fun on Pengkalan Balak, you can even enjoy a beautiful view of the sun setting. At night, the fun doesn't stop as the beach itself is open 24/7.
All in all, the Pengkalan Balak beach should definitely be on your list of Malacca beaches to visit. With so many delightful activities, beautiful views, and delicious food, you'll get to experience Malacca on a new level.
Location: Batu 22, Padang Kemunting, Pengkalan Balak, Malacca, Malaysia
Price Range: $ – $$
2. Klebang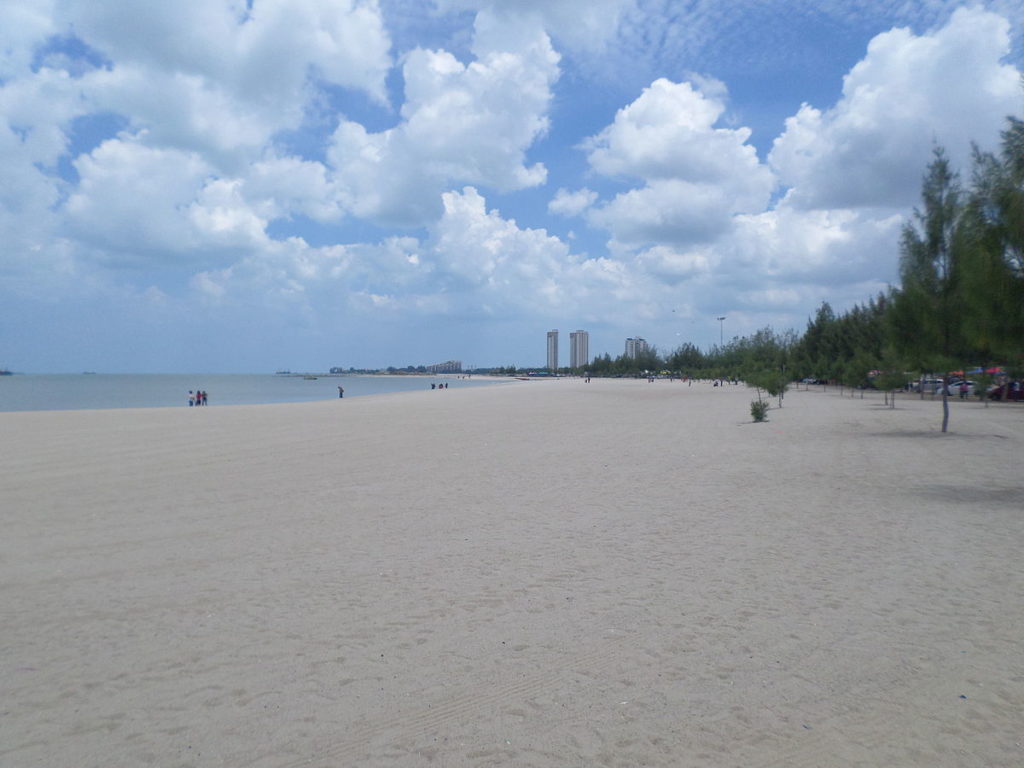 | | |
| --- | --- |
| Highlights | Best for families and group travelers |
| Opening Hours | Open daily for 24 hours |
| Beach Amenities | Rental stalls for air sofas, food and beverage stalls, public toilets, stalls selling kites and toys for sandcastles |
The absolute best of the best beaches in Malacca: Pantai Klebang or Klebang Beach.
Many locals and tourists think of Pantai Klebang as the top beach in Malacca, and for good reason! This beach is one of the most awesome ones, with clean white sand and tons of fun activities.
The beach is man-made and you technically can't swim in the waters. Still, there are more things that make Pantai Klebang one of the best beaches in Malacca.
Pantai Klebang is particularly famous for its sand dunes. Like everyone, we love picture-perfect spots for our social media, and the sand dunes of Klebang certainly are one of them.
Whenever you need a break from taking great pictures, there are a ton of food options near the beach. Try out the popular Klebang Original Coconut Shake, with refreshing coconut shakes and authentic Malaysian dishes.
After taking a break, why not explore the rest of the beach? Take your pick of fun activities from kite-flying, sandcastle-building, and much more.
There are many stalls on the beach that either rent or sell stuff to complete your beach experience on Pantai Klebang. Enjoy the cool breezes under the shade of the trees with a rented air sofa for just below RM30 ($6.8).
Like most people, we prefer staying at a place near the beach whenever we go on beach trips.
There's just something so fun about always being close to the beach at any moment. And that's what the nearby Mabohai Resort Klebang promises.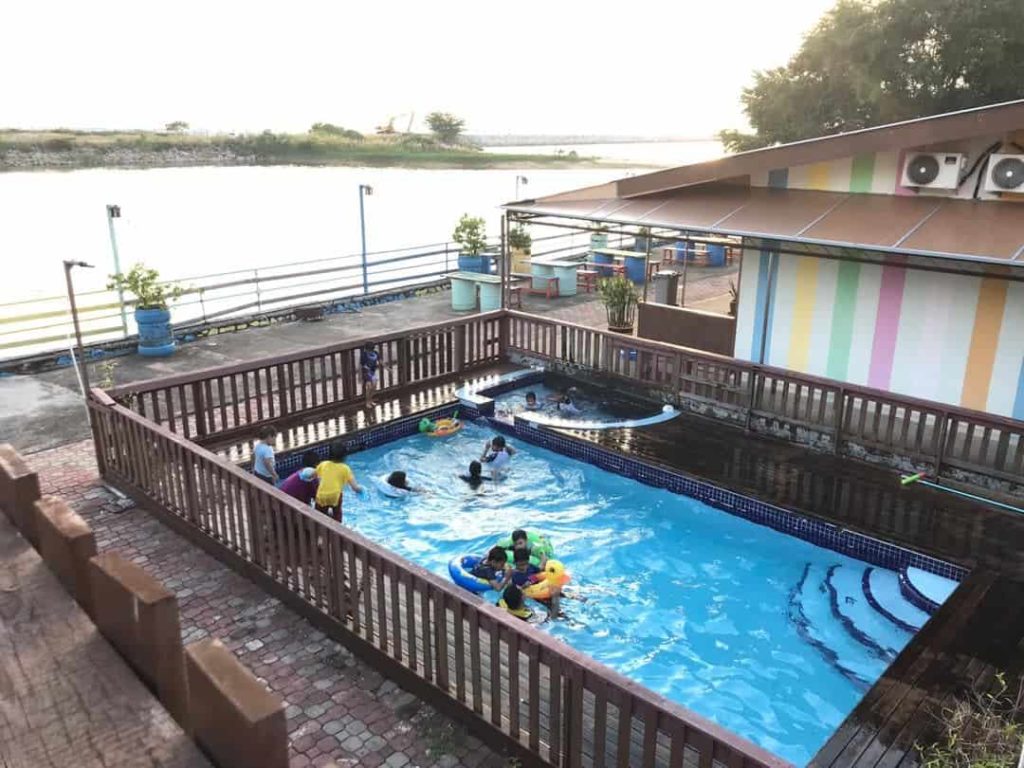 This resort has clean air-conditioned rooms, free Wi-Fi, and also its own private pool! At the very least, you'll still get to swim near Pantai Klebang.
Even if you can't swim in Pantai Klebang, the beach is still a must-see when you're in Malacca. Don't forget to take IG-worthy shots while enjoying the cool sea air on this famous beach!
Location: 3854C, Off, Jalan Klebang Besar/Klebang Kecil, Batang Tiga, 76400 Tanjung Kling, Melaka, Malaysia
Price Range: $$ – $$$
Location: Lot 130, Solok Kampung Bahagia, 75200 Klebang Besar, Malacca, Malaysia
Price Range: $ – $$
3. Tanjung Bidara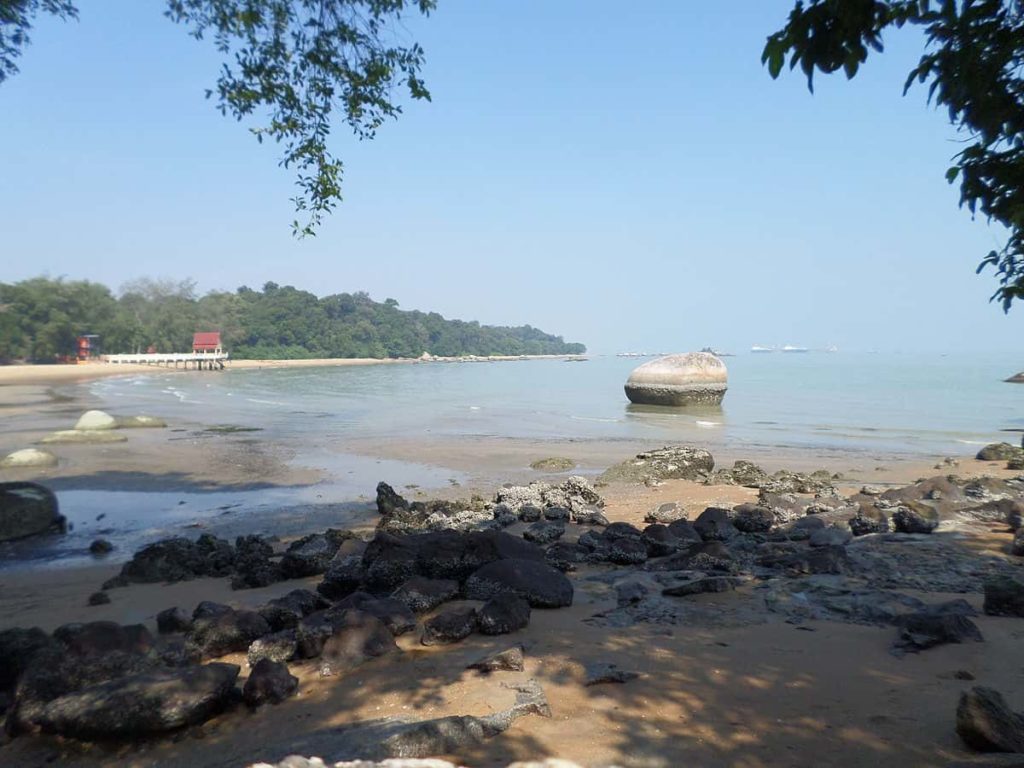 | | |
| --- | --- |
| Highlights | Best for families and solo travelers |
| Opening Hours | Open daily for 24 hours |
| Beach Amenities | Food stalls, playground, public restrooms, shower rooms, changing facilities, parking spaces, souvenir stores |
Pantai Tanjung Bidara is a lovely and huge beach located about 45 minutes away from Malacca City. We found this beach to be a top beach in Malacca for the many fun activities you can do, both in and out of the water.
Picture a relaxing breeze, a beautiful beach, and more than enough shade to protect yourself from the sun. That's more or less the summary of what Pantai Tanjung Bidara offers.
The Tanjung Bidara beach makes for a relaxing place, whether you're traveling alone or with a group.
Aside from the surrounding area, there are also many great amenities and activities on the beach itself. You can go swimming in the clear water, play beach sports with friends and family, or fly cute kites.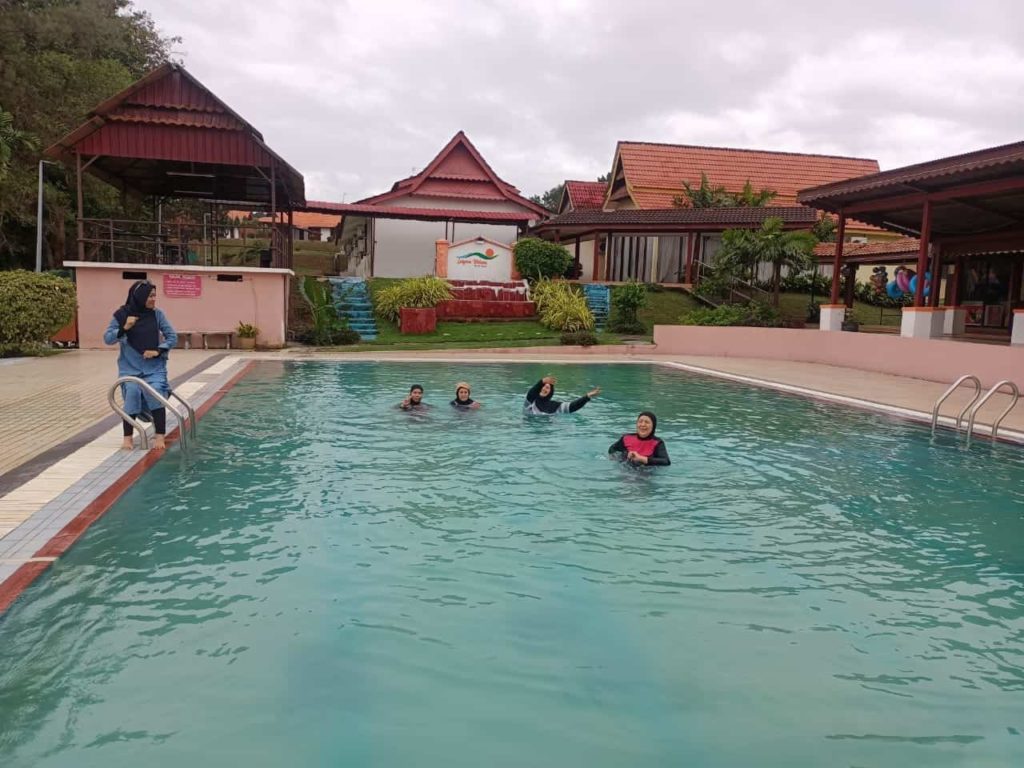 The nearby beach resort, Laguna Bidara Beach Resort, is a great place to stay at for more activities. The rooms are big and clean, and the resort even has its own private beach with a big outdoor swimming pool.
Once you get tired from all the fun things to do, you can set up a spot under the trees that provide great shade. For this, there are stalls that rent out or even sell beach chairs and beach umbrellas.
And when you get hungry, there's no shortage of food and beverage options. The D'Ambang Sore Batu Tenggek, a popular restaurant, promises a delightful beach view and delicious meals at a good price.
Pantai Tanjung Bidara is definitely one of the top beaches you could ever visit in Malacca. Check it out when you want to explore more of Malacca outside of the city centre.
Location: Masjid Tanah, 78300 Malacca, Malaysia
Price Range: $$$ – $$$$
Location: Masjid Tanah, Malacca, Malaysia
Price Range: $ – $$
4. Puteri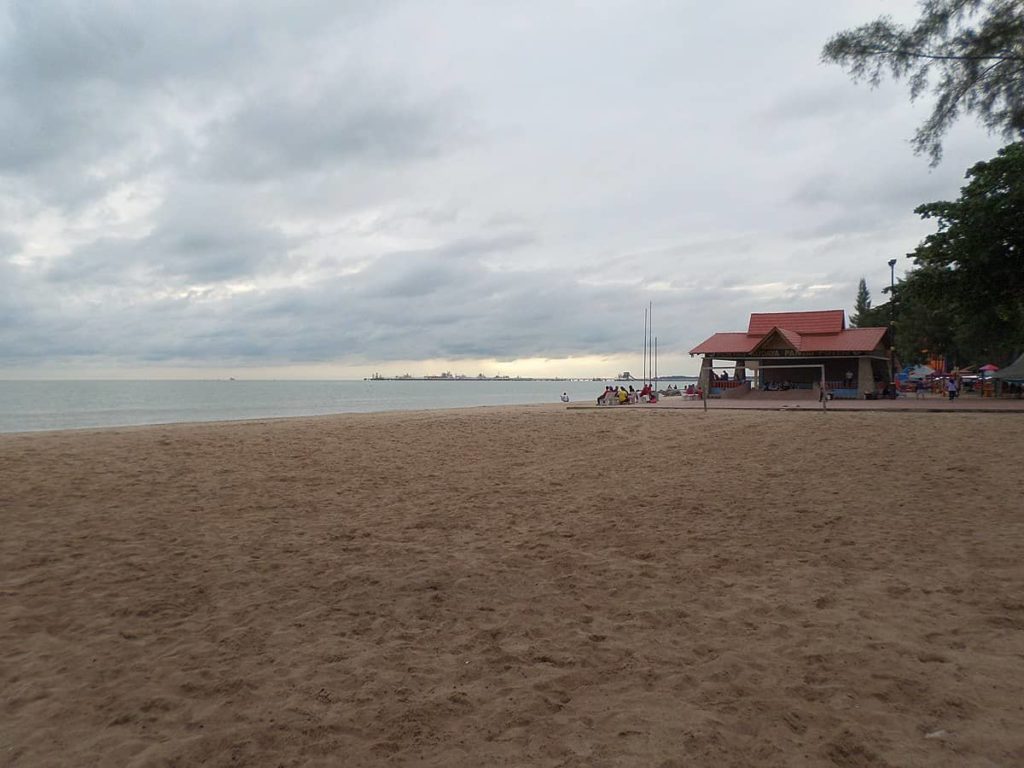 | | |
| --- | --- |
| Highlights | Best for families and solo travelers |
| Opening Hours | Open daily for 24 hours |
| Beach Amenities | Food stalls, night market, public restrooms, prayer rooms, restaurants, rental stalls |
The best beaches in Malacca won't be complete without the famous Pantai Puteri. Located in Central Malacca, it is a man-made beach that spans about 2.1 kilometres.
The bronze sands of Pantai Puteri make it a beautiful and favourite beach for locals and tourists. It's also a known workplace for local fishermen, with many leaving to fish even before the sun rises.
What makes this beach stand out is its popular night market. If you hang around here until nighttime, you'll get to see the market come to life.
Pantai Puteri's night market makes it a famous nighttime spot for people in Malacca. Stay around until the night to enjoy the Malacca nightlife right here.
But during the day, there are also tons of awesome activities to do on the beach. Pantai Puteri has popular fishing spots where you can cast a line and catch some fish– which you can cook later on.
This beach is also familiar to camping enthusiasts. It's easy to pick so many great spots to pitch a tent along the long beach.
But if you're the type that prefers to keep it fancy, then the nearby Puteri Bay Hotel Melaka is the perfect place. It has that classic hotel vibe that we all know and love, with a private pool and rooms with a great view of the water.
Seaside views are common in the establishments near Pantai Puteri. When you do get hungry after enjoying the activities and the swimming, there are many food stalls throughout the beach.
There's also the homey D'Oasis Corner just a few minutes away from the beach itself. Get to enjoy delicious Malaysian cuisine after a long swim or a picnic on the beach.
All in all, Pantai Puteri is a very enjoyable and unique beach in Malacca. Make sure to drop by as the sun sets for an awesome view and, of course, to experience the incredible night market!
Location: Pantai Puteri, Mukim, 76400 Tanjung Kling, Melaka, Malaysia
Price Range: $$ – $$$
Location: Batu 10, Pantai Kundor, Tangga Batu, 76400 Tanjung Kling, Melaka, Malaysia
Price Range: $ – $$
5. Padang Kemunting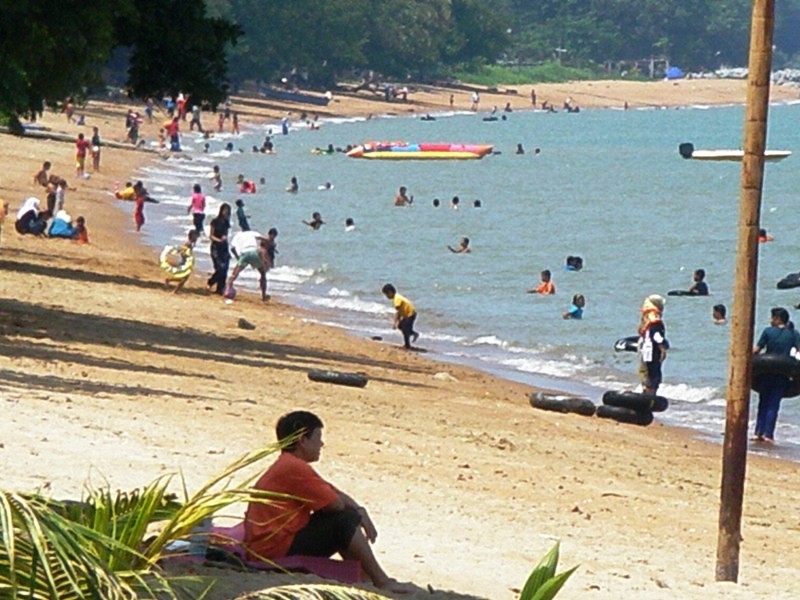 | | |
| --- | --- |
| Highlights | Best for families, friends, and solo travellers |
| Opening Hours | Open daily for 24 hours |
| Beach Amenities | Picnic sheds, food and beverage stalls, parking |
One of the best things about beaches is that they can be many things. It can be fun and exciting, or serene and relaxing.
And this beautiful beach in Malacca is definitely the latter. When you're at Pantai Padang Kemunting, there's nothing you need to do but relax.
On this long beach, there are many spots for relaxation. Lay out a blanket on the clean sand and grab a refreshing beverage from any of the many food stalls along the beach.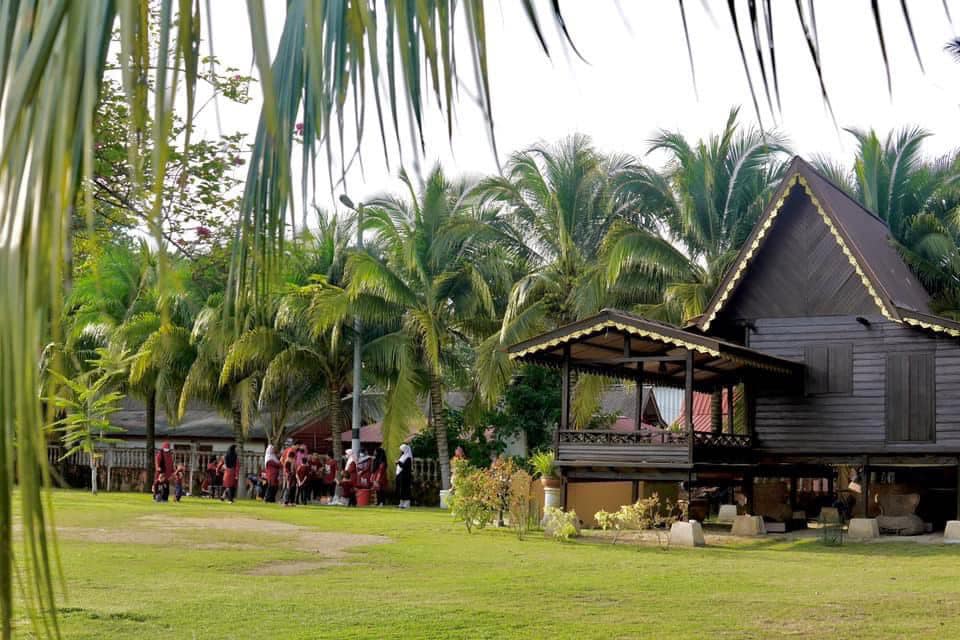 For a more cohesive food experience, definitely visit the nearby Kemunting Food Court. With local and foreign cuisines available at affordable prices, it's a must-visit when you're in the area.
Pantai Padang Kemunting is also a great place for fun picnics! Whether you want some me time or bonding time with family and friends, this beach is definitely where you can do it.
Of course, there's always a need for nearby accommodations when you go to this beach. After seeing the beach, you'll really look for somewhere nearby so you're always close to the clean sands and clear water.
And a very nearby place to stay is the famous Kemunting Beach Resort. It has the neat accommodations and delicious food that you'll expect at a popular place, but it stands out with the beautiful location right beside the beach.
As you step onto the beach, you can head directly to the shallow waters to swim to your heart's content. There are usually not a lot of visitors, especially during off-seasons, so you could end up having the water all to yourself!
This beach is also surely one of the best ones to enjoy the Malacca sunset. Watch the sunset on the beach to top off a relaxing day.
As a whole, there are many reasons that Pantai Padang Kemunting should be on your list of beaches to visit in Malacca. But the top reason is definitely to be the most relaxed and at peace you can be on your trip!
Location: Pantai Padang Kemunting Lot 3412, Jalan Persiaran Pantai, km 34, 78300 Masjid Tanah, Melaka, Malaysia
Price Range: $$ – $$$
Location: Km 21, Jalan Persisiran Pantai, Kg. Padang Kemunting, 78300 Masjid Tanah, Melaka, Malaysia
Price Range: $ – $$$
6. Siring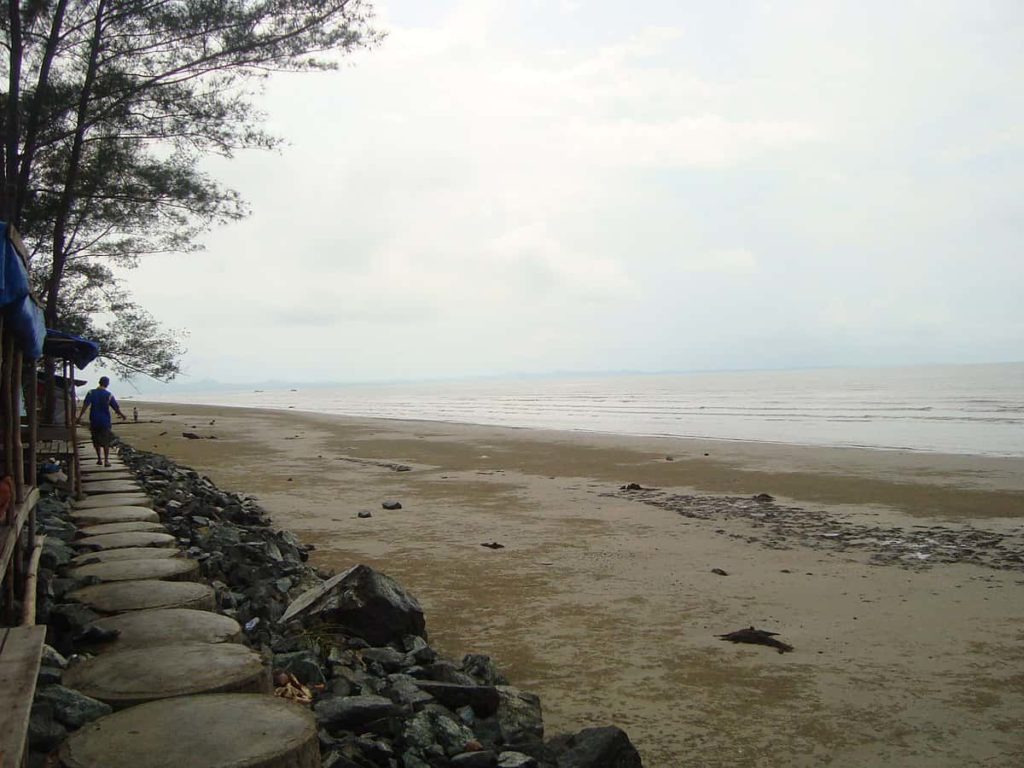 | | |
| --- | --- |
| Highlights | Best for solo travellers and friend groups |
| Opening Hours | Open daily: 10AM - 9PM |
| Beach Amenities | Recreational activities like wall climbing and flying fox, food stalls, fisherman jetty for boat rentals |
Pantai Siring offers a beach experience in Malacca unlike any other.
There is a local fishing village near the beach, with fisherman jetties that feature boat rentals. You can rent a boat for a good price and float around the water to enjoy the views or even go fishing!
Even though the cool rock formations here don't let you swim, there are still many fun activities to do.
All across the beach, there are many recreational activities run by operators. Experience wall climbing with the fresh sea breeze, or even the flying fox ride across the waters.
Once you've worked up an appetite, give the various food stalls and nearby restaurants a try. The Pantai Siring Soup House in particular is great for delicious and authentic Malaysian cuisine.
Though the beach isn't open 24/7, you can still enjoy a great view of the Malacca sunset. Still, expect it to be crowded around that time since Pantai Siring got hugely popular in recent years.
At the end of the day, there's always a nearby accommodation that is everything you would be looking for. The Idham Mutiara Resort Anjung Batu is a perfect place, with spacious rooms and a private pool.
As Malacca beaches go, Pantai Siring is generally a fun one! Be sure to make it a long stop on your trip to Malacca.
Location: Jalan Jeti Anjung Batu, Kampung Pulai, 77300 Merlimau, Melaka, Malaysia
Price Range: $-$$$$
Location: Jalan Jeti Anjung Batu, Kampung Pulai, 77300 Merlimau, Melaka, Malaysia
Price Range: $-$$
Knowing all about Malacca, like what to do there and where the best beaches are, can come in handy if you do decide to go here in the future. All in all, just remember to have fun and soak up all the nice beaches and the rich history!
FAQs about Beaches in Malacca