Everything You Need to Know Before Visiting Malacca
Lately, we've been engrossed in places that aren't only aesthetically pleasing but also bear interesting historical significance. This led us to remember one of our favourite areas in Malaysia, which is the fascinating state of Malacca.
Malacca, also known today as Melaka, is one of the most known states in Malaysia due to its rich historical significance. It played a vital part during the 16th century as a trading port that served as a bridge for eastern and western countries for hundreds of years.
We love visiting Malacca now and then because it's like one big history class. Instead of having to sit through a lecture, however, it immerses us into its story through the remnants of its past.
However, it bears more offerings than you think, as it also has several activities and cool attractions up its sleeve. Read on as we discuss the best things to do in Malacca – but before we proceed, let's note some points on its significance to Malaysia's history.
Why is Malacca a historical city?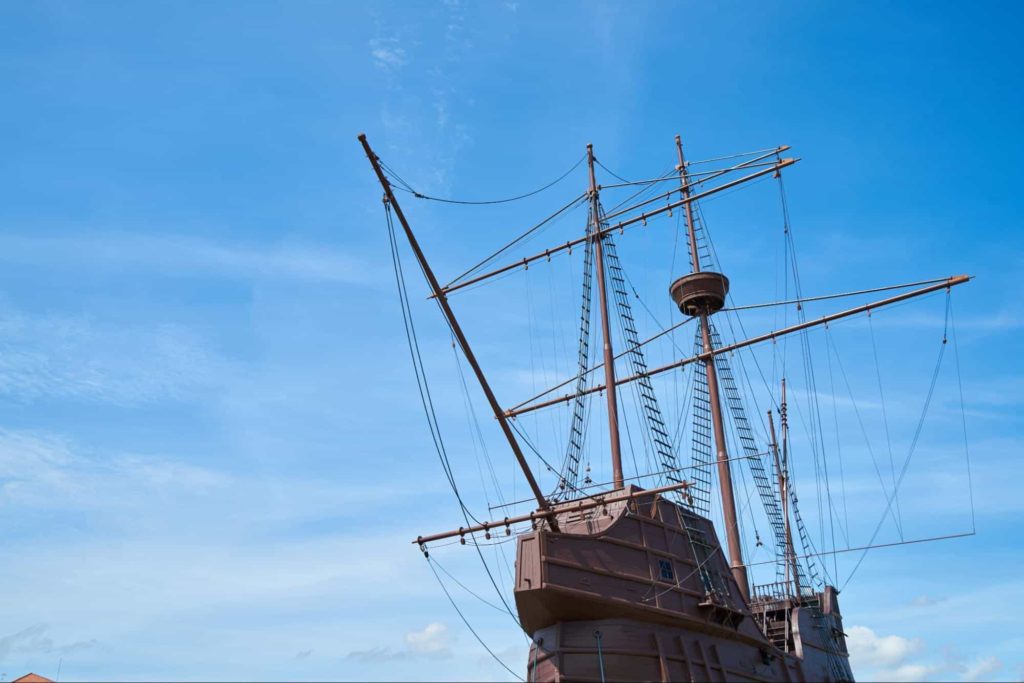 Malacca is considered a historical city because of its strong presence in the 16th century. It was an important trading port in Southeast Asia and was often visited by merchants from places such as India, Saudi Arabia and Europe to make profitable trades.
Before becoming the state people know and love, here are some important points that shaped Malacca into what it is today:
Malacca was a fishing village that was discovered in 1400 by who would eventually become its first Sultan, Paramesvara.
Legend says that it was named after the Malacca tree which Paramesvara was lying beneath in when he saw a mouse deer beating two of his hunting dogs by pushing them into the river
In 1511, the state was captured by the Portuguese led by the governor of Portuguese India, Afonso de Albuquerque. For over a hundred years, the Portuguese would seize control of Malacca until the Dutch arrived in the state and ruled it for almost 183 years.
This ruling would be interrupted by the British colonies who eventually took control of the state with the help of the Treaty of London.
From there, the Brits would rule Malacca up until the early 1940s when the Japanese started to occupy the state.
Finally, in 1946, the Malayan Union would be established which had the goal of unifying the Malay Peninsula under a single government.
The 6 Best Things to Do in Malacca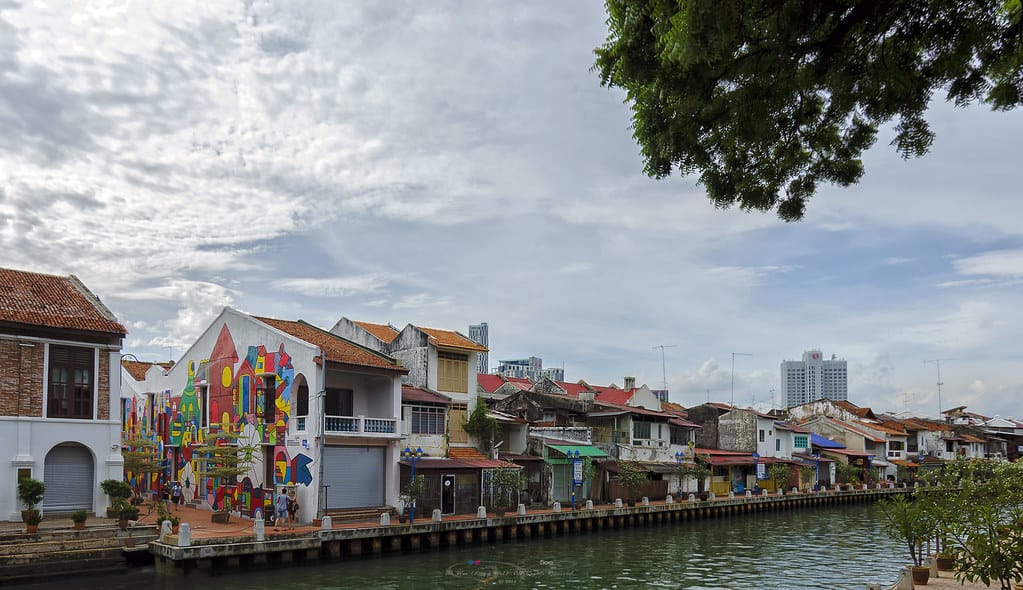 Malacca is one of the most interesting places to visit in Malaysia. It offers various activities that either immerse you in its rich history, treat you to an exciting and memorable experience or both!
Here are some of our favourite things to do here in Malacca that we recommend you try as well:
1. Admire the beautiful tourist attractions and learn about its history
One of our favourite things about Malacca is the abundance of awe-inspiring attractions scattered throughout the state. Plus, we love that aside from aesthetic reasons, these spots have rich histories that make them all the more spectacular.
Some of our favourite attractions in Malacca that we think everyone should visit include:
Malacca River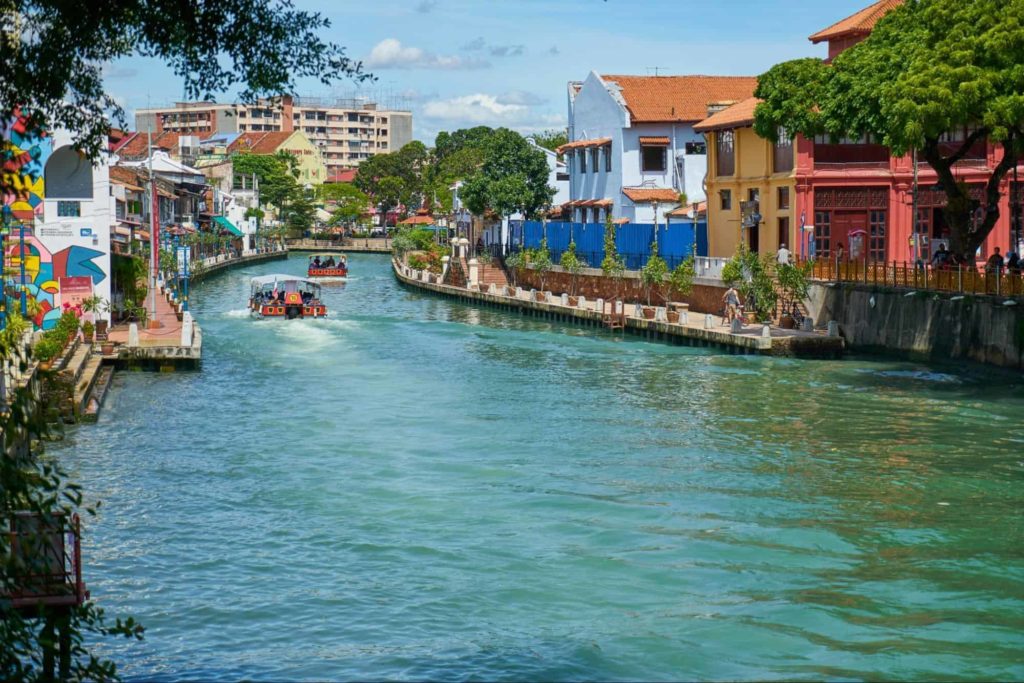 Address
Jalan Persisiran Bunga Raya, 75100 Melaka, Malaysia
Fees
Malaysian Adult (13-59 years) - RM25

Malaysian Child (2-12 years) - RM15

Malaysian Senior Citizen (60-69 years) - RM20

Malaysian Senior Citizen (70 years & above) - RM15

Adult Foreigner (13 years and above) - RM30

Child Foreigner (2-12 years old) - RM25

Infant (Below 2 years old) - FREE

Operating Hours
Opens every day from 9:00 AM to 11:00 PM
One of the biggest highlights in Malacca for us is its long and beautiful river and the best way to admire it is by riding a river cruise.
This beautiful body of water spans from the foothills of Negeri Sembilan down to the Malacca Strait, covering a total of 10 kilometres. So, can you imagine going through this stream and experiencing its wonders first-hand?
For an affordable price, you can ride a charming trishaw and go on a 45-minute cruise through the old yet beautiful city. One could easily get lost in the relaxing vibes of this ride, especially with the beautiful and historical sights throughout the ride.
The mesmerising waters along with the old-timey look of the buildings in Melaka are the reasons why it's known as the "Venice of the East". However, aside from being a sight to behold, it also played a huge part in history by being an important entry port back in the 16th century.
Pro Tip: Choose the evening cruise to avoid the hot weather. Plus, the buildings and murals will be much cooler to admire as they'll be lit up come nighttime. 
Alor Gajah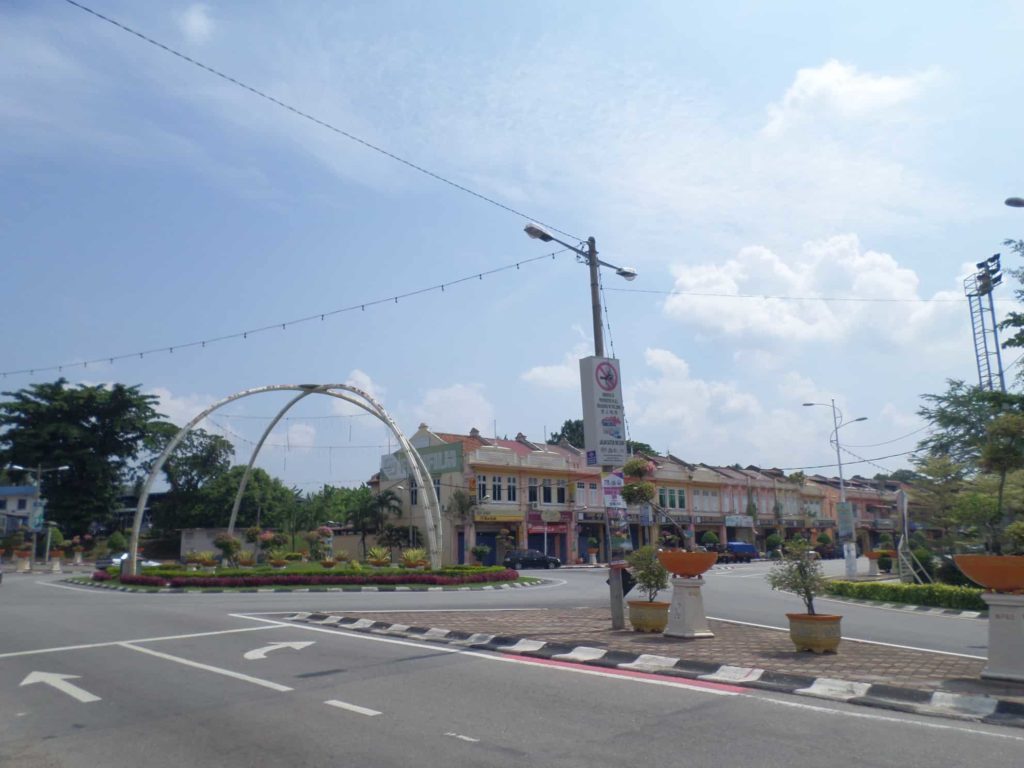 Sometimes, taking a nice stroll is more than enough to bask in the beauty of a place. One perfect example of this is the countryside town of Alor Gajah.
Spending a day here is one of our favourite things to do as it's an adventure offering various places to visit for different kinds of tourists.
For instance, when we want a more laid-back kind of afternoon, we love strolling at the town square and sometimes go shopping at one of their charming local stores.
On the other hand, when we want to engage in fun family-friendly activities, we visit the A'Famosa Resort. We love going to this place because it has a wide selection of places that the family loves such as thrilling water park slides, golf courses and more.
Pro Tip: When taking a stroll in the streets and square of Alor Gajah, make sure to wear light-shaded and flowy clothes as the weather here can be extremely hot and humid.
A'Famosa Fort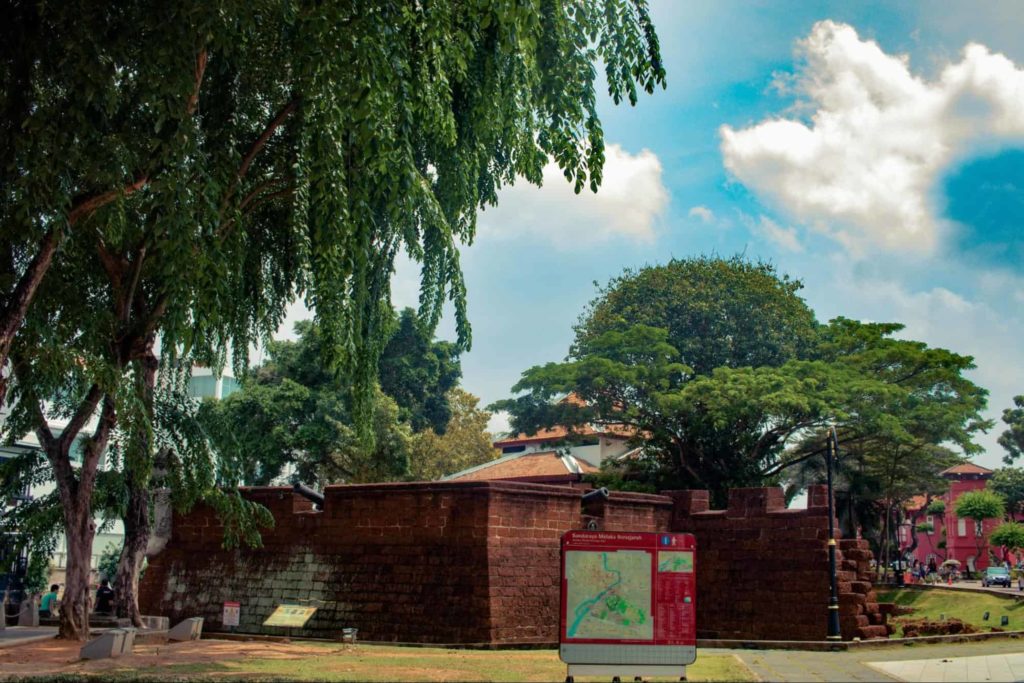 Although often crowded, the A'Famosa fort is a tourist spot that holds a special place in our hearts, and for various reasons.
Firstly, it reminds us of the state's rich culture and how this fort played a huge role in shaping what would be Malacca today. Aside from being a marvel to look at, this remaining structure is a remnant of the Portuguese fleet that would eventually capture Malacca.
Just to give context, the A'Famosa Fortress was originally built in 1511 by Alfonso de Albuquerque. It used to consist of numerous towers and was built across a natural hill but today, only a lone gate called "Porta de Santiago" stands in its place.
Ayer Keroh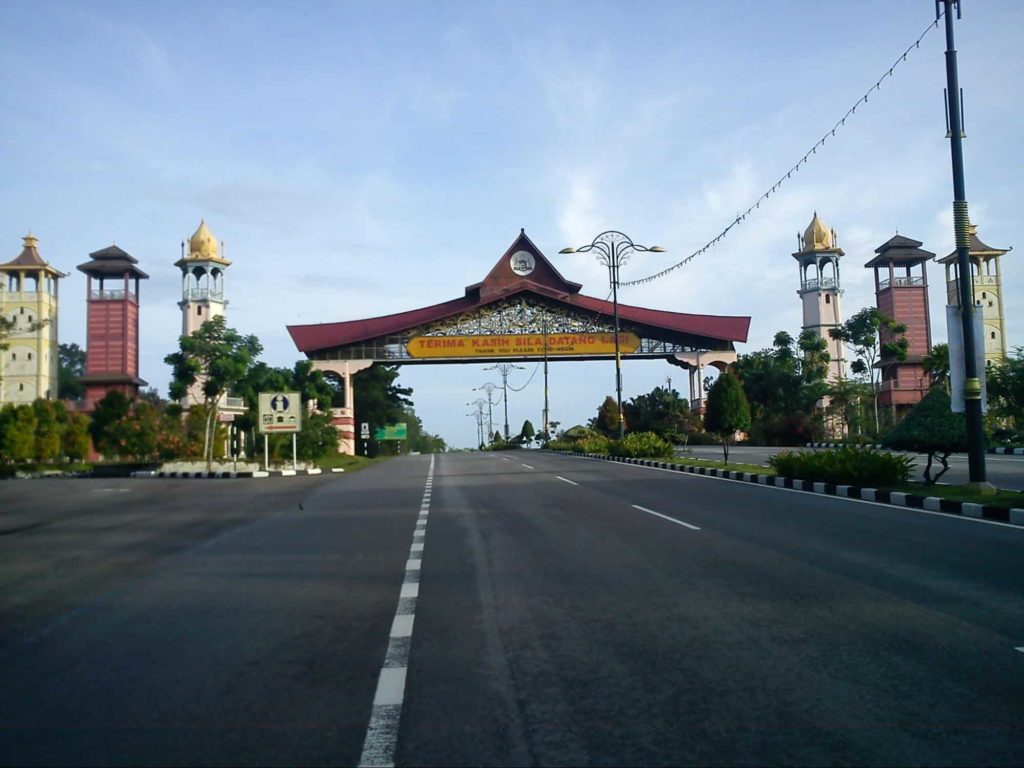 What we love the most about Malacca is that it's the perfect combination of nature and man-made structures. To get the best of both worlds, we suggest stopping by Ayer Keroh during your trip.
This town is filled with fun activities and sights to admire. For instance, you can find numerous reserves here that you and the kids will definitely love such as the Melaka Botanical Garden and the Ayer Keroh Recreational Forest.
Personally, we love visiting the famous Zoo Melaka as this is the best place to be when we want to admire different species of animals living their best lives.
St. Paul's Church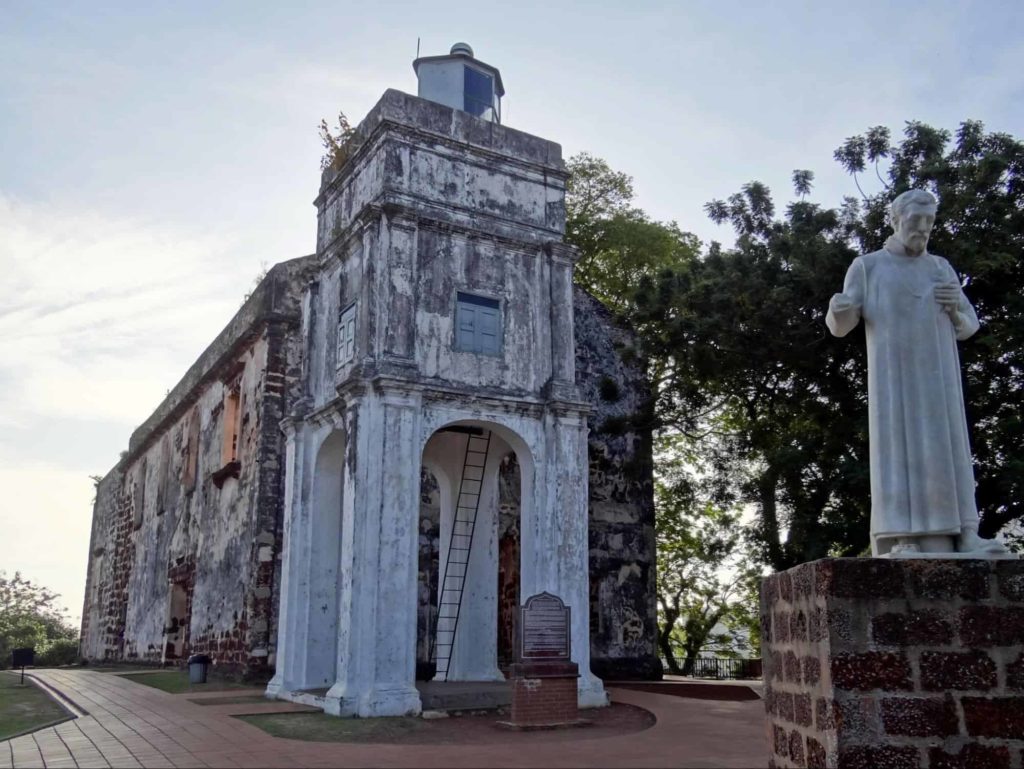 Walking around Malacca is great because you're always bound to bump into something that you don't know a huge part of the country's history. A prime example of this is St. Paul's Church which was built on the site of the last Malaccan Sultan's palace.
This historical structure doubles as a great photo opportunity for tourists. It's the oldest recorded church building not only in Malaysia but in Southeast Asia as a whole making it a no-brainer to stop by and snap some photos here with the family.
As lovers of anything related to architecture, we're always mesmerised whenever we visit this amazing structure. It features old-timey architecture which further proves its longevity making it much more impressive to think about how it still stands stall today.
Before getting here, however, you must first climb a steep set of stairs. Don't worry though as seeing this piece of history from 1521 is well worth it.
Pulau Besar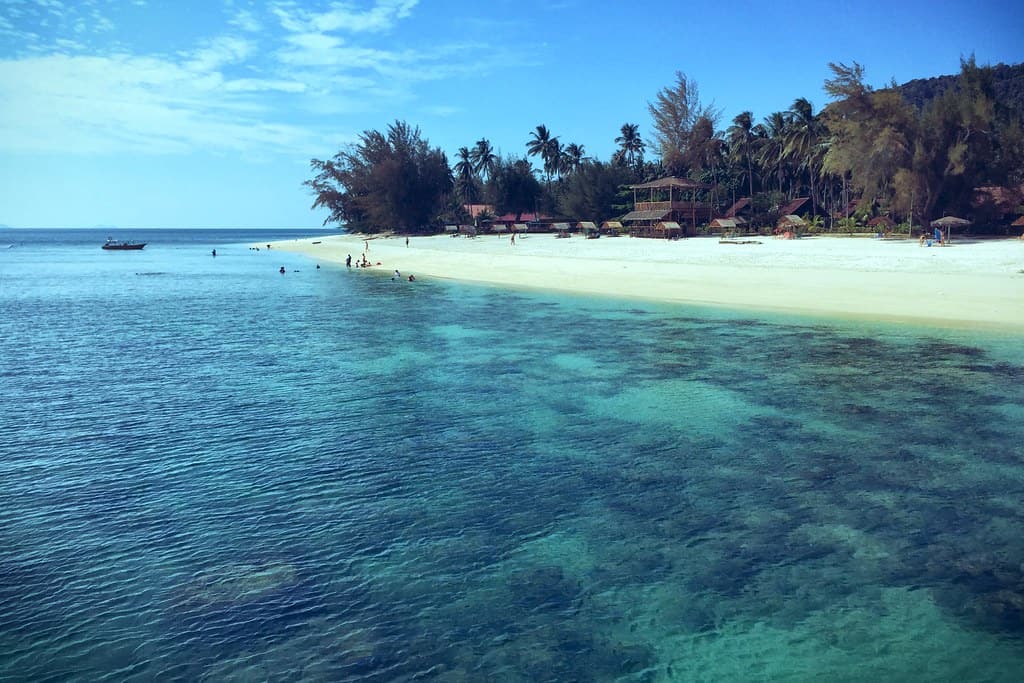 The ever-present hot weather in Malacca paired with its selection of beaches is the reason why it's a perfect destination for us in the summer. One of the getaway spots that this state boasts is Pulau Besar also known as the Big Island.
Located on the coast of southeast Malacca, this island offers numerous activities for tourists who are either looking to relax, engage in exciting activities, or both!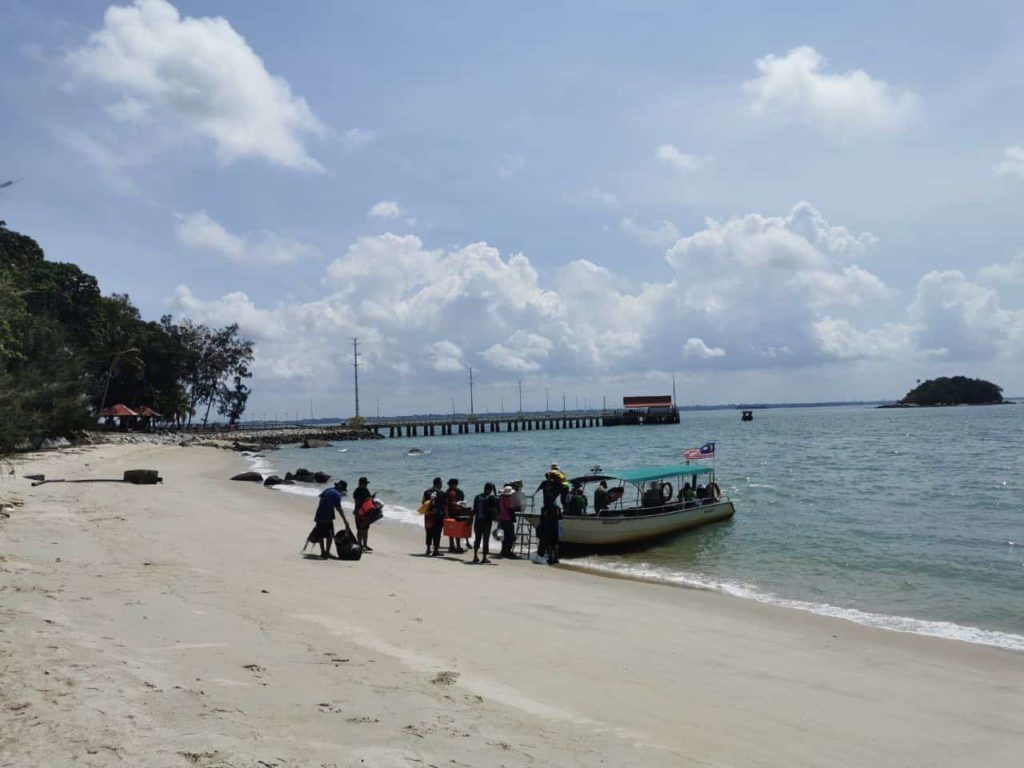 We can't recommend this island enough because of its beautiful beaches. Basking under the sun and submerging oneself in the beautiful cerulean waters of this island is the ultimate paradise experience we're always down for.
The serene ambience of the island itself also makes it a perfect spot to slow down time and meditate by yourself. If you want to take it even further, there are also meditation caves of Muslim mystics such as the Yunos Cave which are often visited by spiritual people.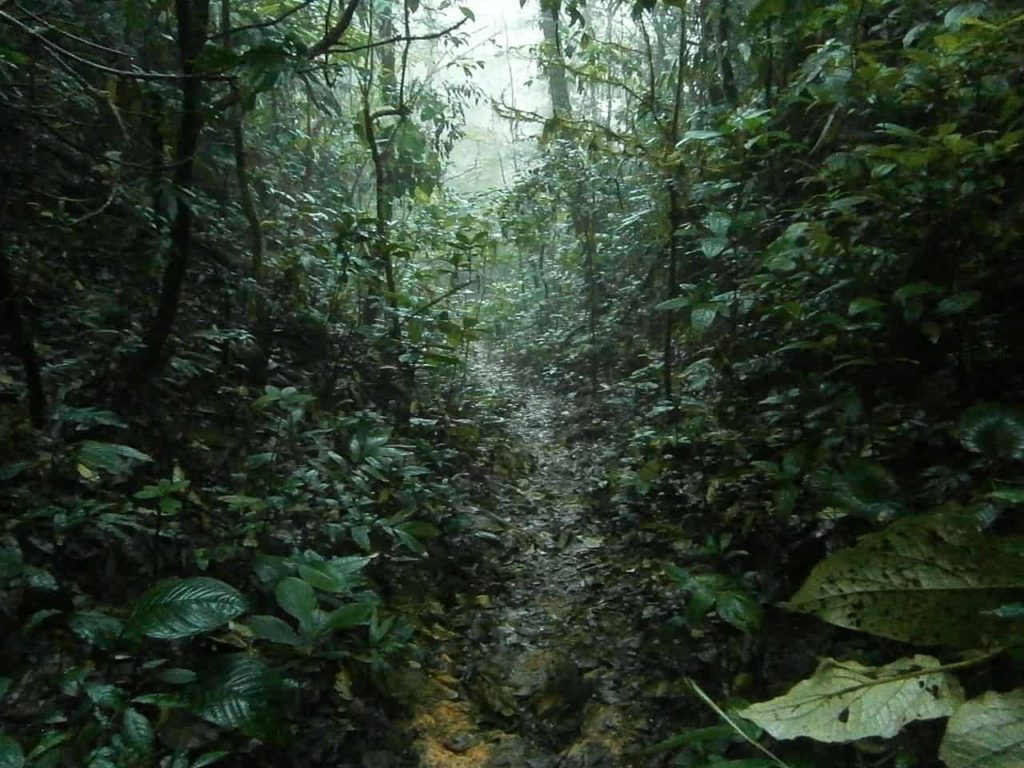 Meanwhile, tourists who love the great outdoors can satisfy their need for an adventure through one of the jungle hiking spots on the island.
What we love about these hiking spots is that they're filled with luscious greeneries and beautiful landscapes. Having these views to admire makes it extra rewarding to go through each trail even when we're tired from all the walking.
Just be sure to equip yourselves with important hiking trips to ensure that everything goes smoothly during your trip!
Pro Tip: Make sure to bring all your necessities when you go to Pulau Besar as it lacks convenience stores.
2. Bask in amazing views from the Shore Sky Tower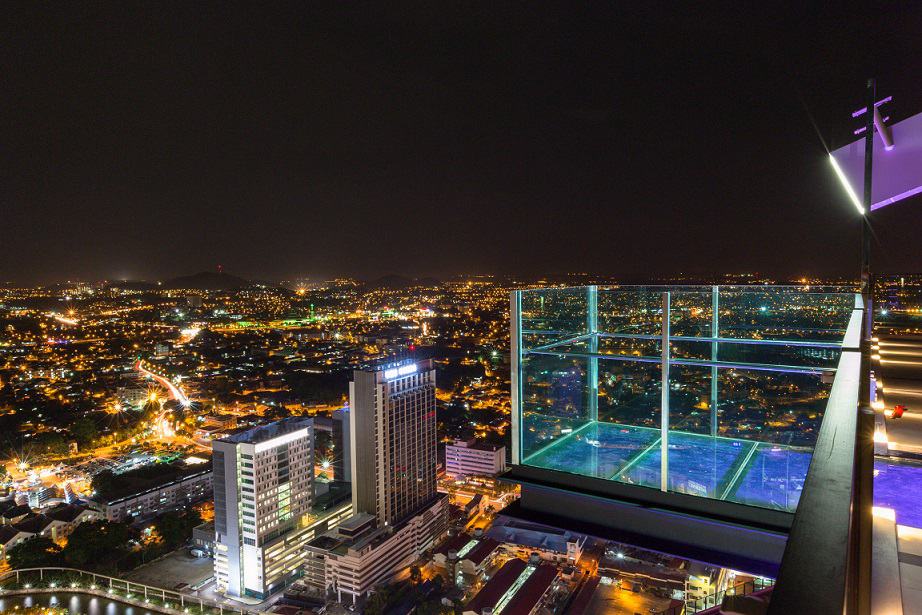 The Shore Sky Tower is an architectural marvel found in the state of Malacca. It stands 43 stories tall making it the tallest building in the state.
The best part about it is that it can be used as an observational deck to catch stunning views of the city. It would be a shame to miss this attraction during your trip to Malacca as it's quite possibly the best way to admire the city.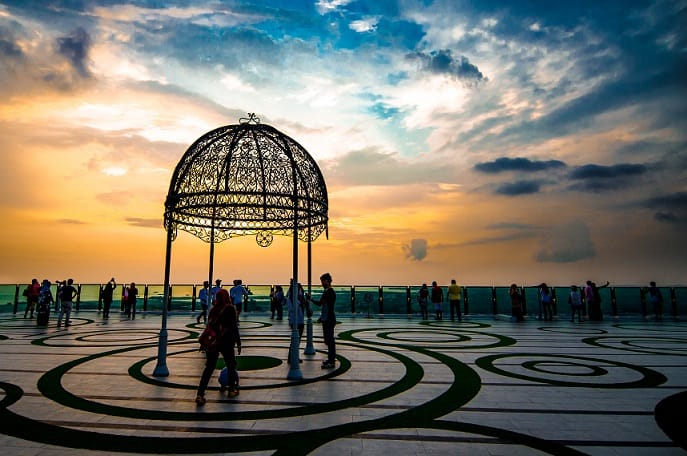 Standing on top of this massive tower provides a full panoramic view of at least 50km of the city which is a sight to die for.
From the historic buildings of the city to its surrounding areas, you'll get to catch a glimpse of them all from this massive tower and take amazing photos!
Pro Tip: Visit around 4-5:00 PM to catch the sunset and use the golden hour to take amazing self-portraits with the city of Malacca in the background.
3. Stroll along the streets of Stadthuy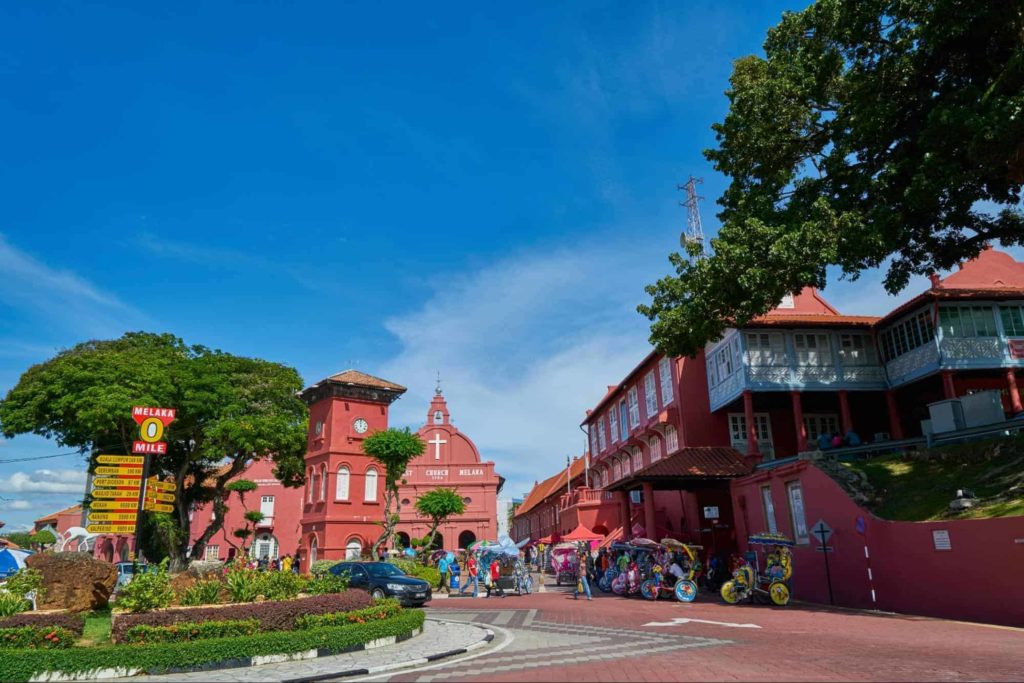 Address
Banda Hilir, 75000 Malacca, Malaysia
Fees
Foreigners

Adults: RM5

Children: RM2

Locals

Adults: RM10

Children: RM4

Operating Hours
Mon to Thurs: 9:00 AM to 5:00 PM

Fri to Sun: 9:00 AM to 8:30 PM
One attraction that's synonymous with Malacca City is the Stadthuys. You'll immediately distinguish this attraction because of its unique red colour but it's more than just a bright attention-grabbing structure.
The Stadthuys formerly served as the home of Dutch officials such as governors and officers during the siege of Malacca. It was built around the 1640s and today, it's widely regarded as the last standing Dutch building in the east.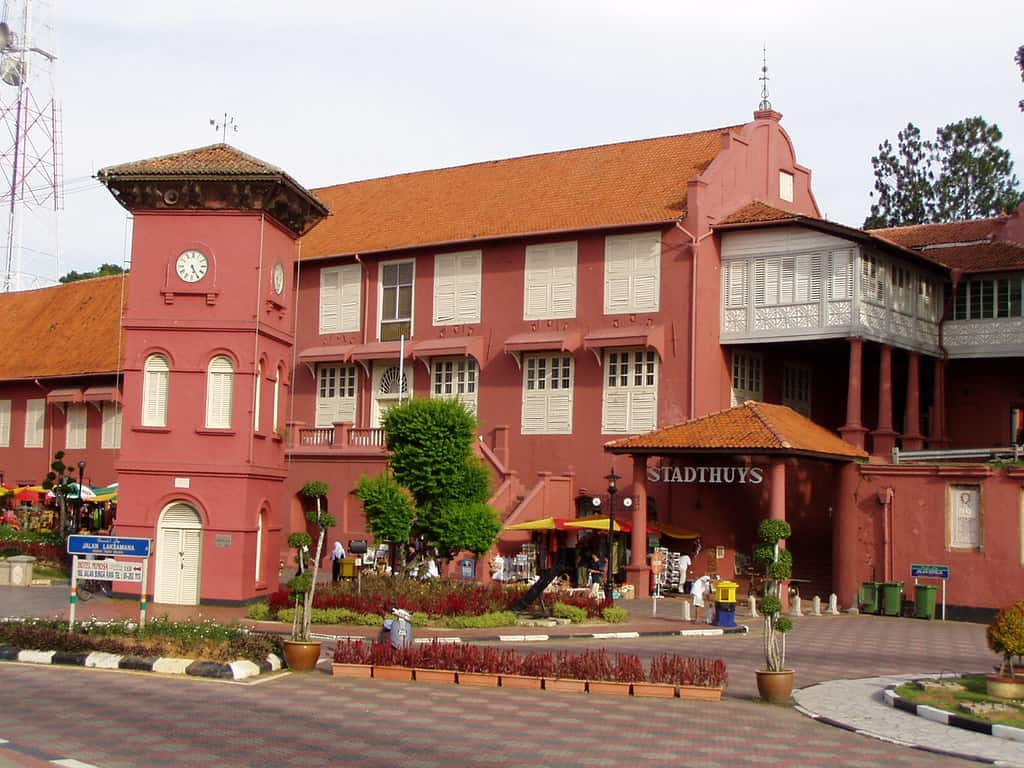 We enjoy roaming the streets of Stadthuy as we get to learn more about the country's history while catching glimpses of old-timey structures.
Aside from that, the area also houses the Museum of History & Ethnography which we also recommend if you want to further immerse yourself in the country's history.
3. Feast on street foods at Jonker Street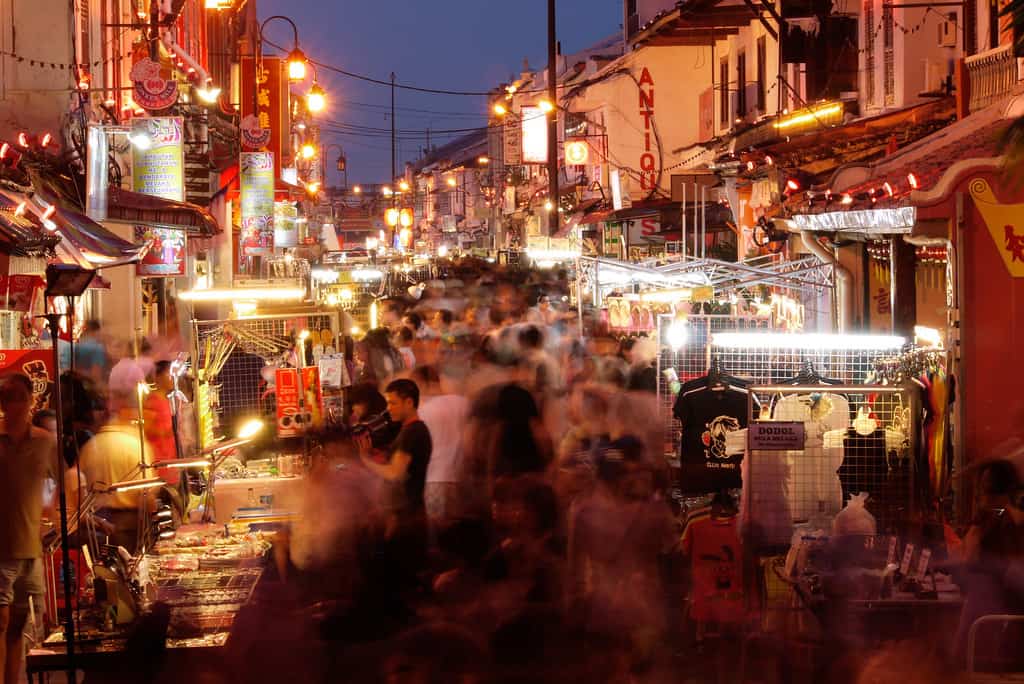 Sometimes, you can never really get to know a place unless you try its local delicacies. That's why if you have the chance to visit Malacca, we recommend trying out its wide array of street foods, more specifically at Jonker Street.
Eating street foods is one of the things that Malaysians do for fun and heading here will make you understand why. Come nighttime, this place will be sprawling with stalls that offer different kinds of imported goods and of course, street foods.
Nighttime is also when a lot of people (us included) will start filling this street. There are several dishes that we love here but Some of the best offerings in this bustling street that we recommend you try include:
Satay (grilled meat in skewers)
Dim sum
Fresh spring rolls
Bak chang.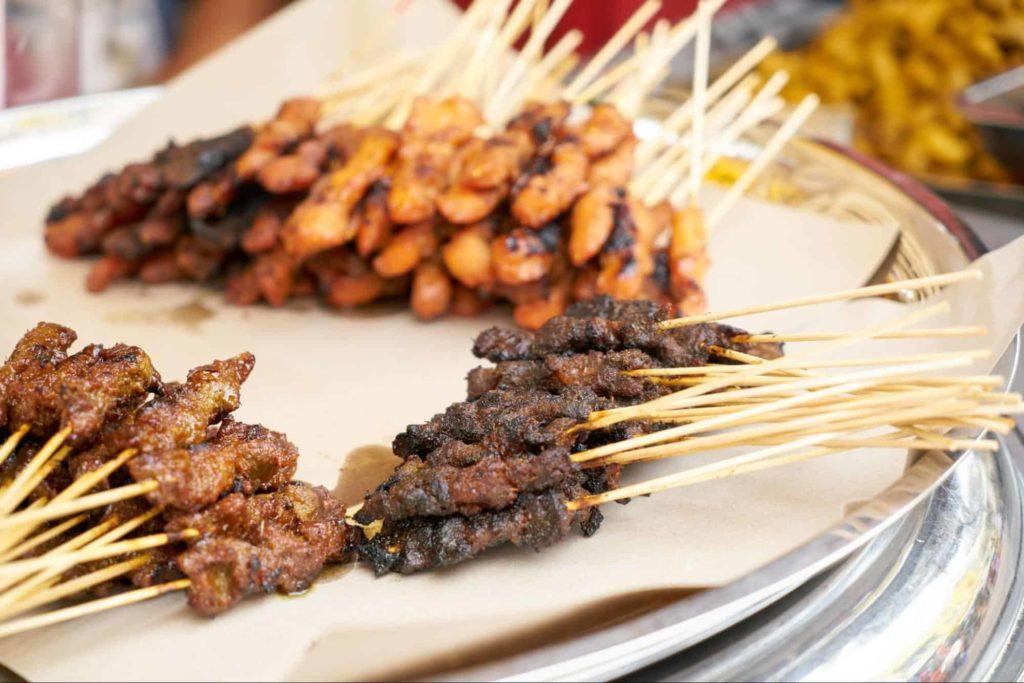 For us personally, we never get tired of eating satay. Its deliciously charred meat is to die for and it's great for a quick bite.
Aside from these hawker stalls, Jonker Street is also home to various cafes, bars and restaurants. With this kind of selection, we can easily spend hours in this busy district in the middle of Chinatown.
Pro Tip: If you're looking to munch on something as you browse the local stores and stalls for imported goods, try the potato sticks. They're easy to eat on the go and delicious which is much more impressive considering their cheap price.
5. Ride a trishaw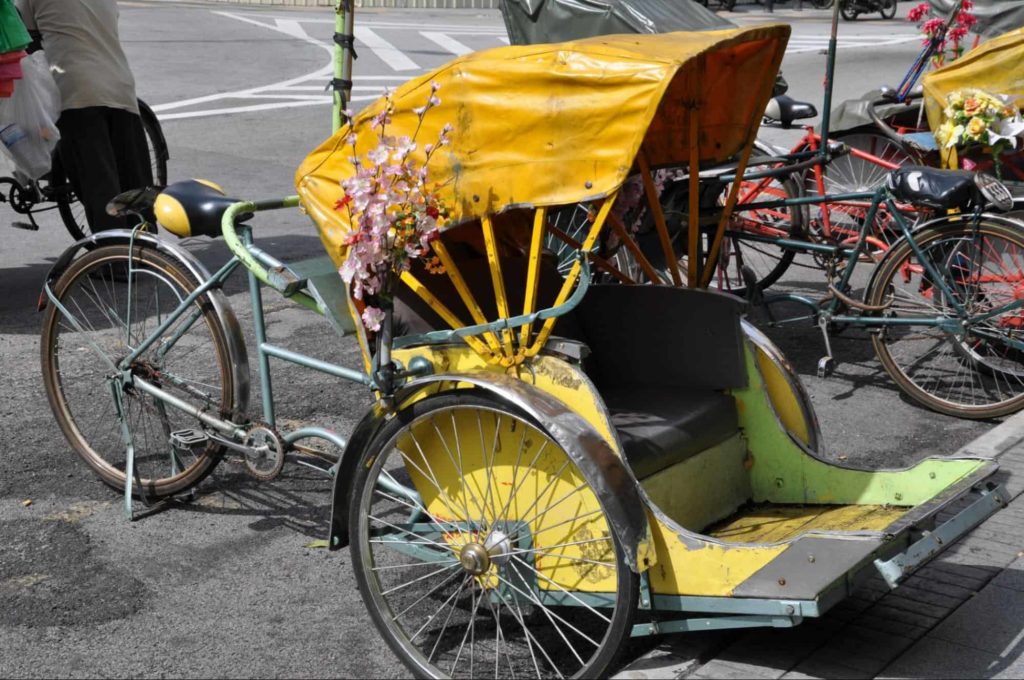 In Malacca, you can get around through different modes of transportation. However, in a city crowded by buses and taxis, we recommend riding a trishaw for the convenience as well as the experience alone.
Trishaws are these three-wheeled vehicles where the driver sits in the back and the passengers are seated in the front. These vehicles are unlike your typical modes of transportation as they're heavily decorated to achieve a fun and colourful look.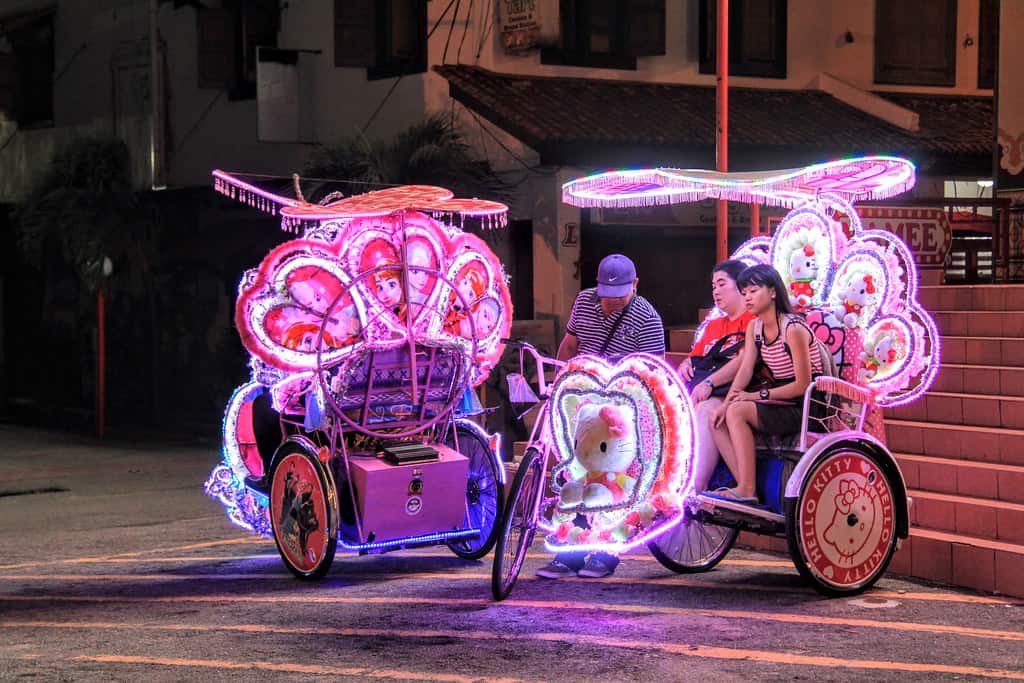 The great thing about the drivers of these trishaws is that some of them offer a personal tour of the city itself. This way, tourists will have a chance to get around town in style while learning about the city first-hand.
Pro Tip: Bring an extra umbrella and apply some sunscreen before riding one of these things when it's sunny. Sometimes, their built-in umbrellas don't cover you fully which can leave you with sunburns.
6. Go on thrilling rides at the Melaka Wonderland Theme Park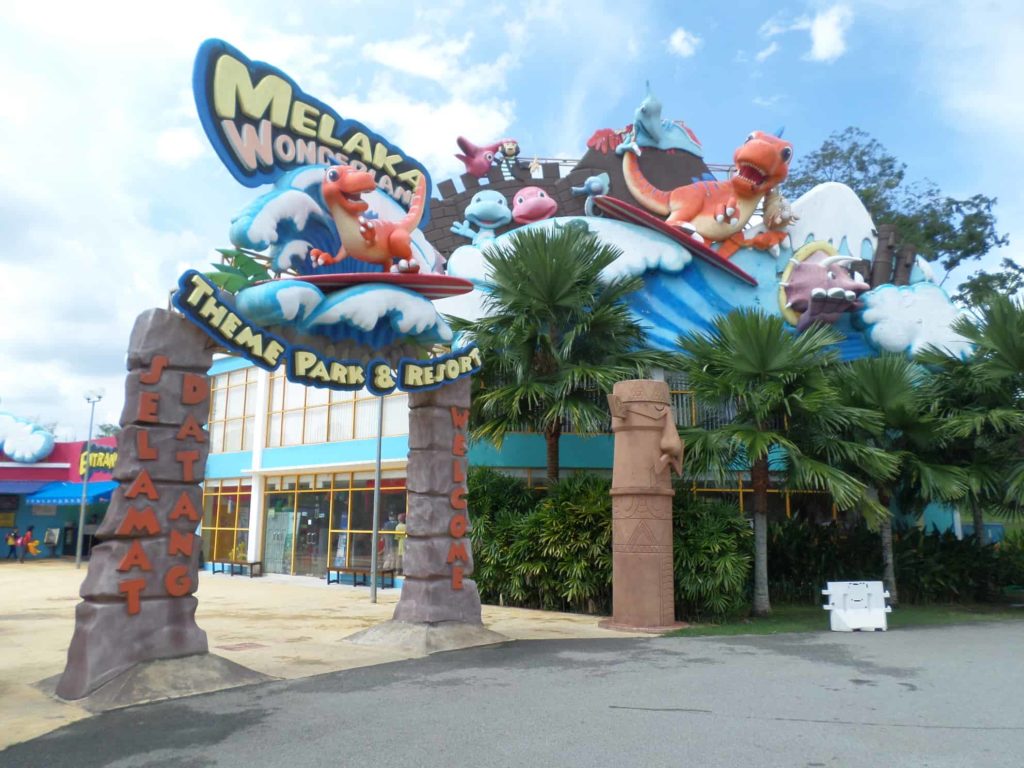 A great place where you can beat the heat and experience utmost excitement at the same time is the Melaka Wonderland Theme Park. We love going here during summer as it's filled with different pools and slides.
The slides here aren't the usual and boring ones. Instead, they're the ones that will make you scream your lungs out as you go on various twists and turns before hitting the water.
There are 14 different attractions inside this water theme park, all of which are extremely enjoyable to experience. Having this variety is great because it keeps the experience fresh for the kids as well as for us adults.
For instance, some slides are great for our younglings while some are best to be tried by adults. Either way, you're bound to have fun in this fun-filled theme park.
Whenever we get tired from screaming and going on exciting slides, we like to slow down time and engage in relaxing activities in the park. The kids always love feeling the fish and rabbits but as a collective, we always make time to paddle.
Pro Tip: Don't bother preparing food with the goal of bringing it inside the park as it's not allowed. You'll just be forced to bring it back to your car or dispose of it.
Is Malacca safe for tourists?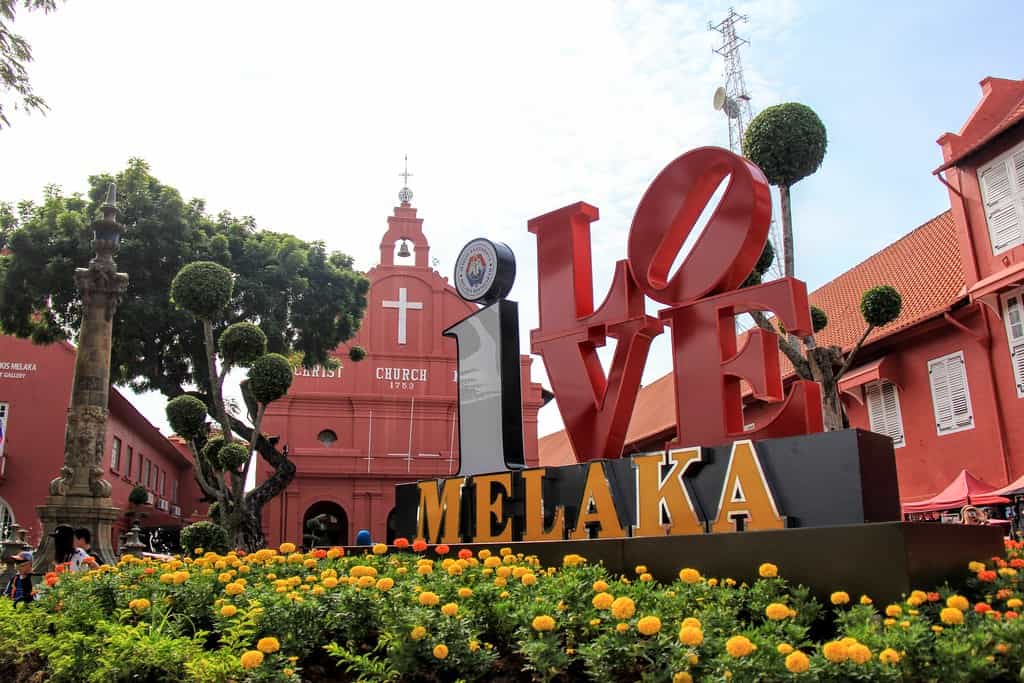 Overall, Malacca is a safe state as evidenced by its low crime rate of 24.68% according to Numbeo. Furthermore, it reached a very high rating of 86.52% when the contributors of the poll were asked how safe it was to walk alone during the daytime.
The same question was asked to anonymous contributors of Numbeo but this time they had to grade Kuala Lumpur. The results came out and the capital ended up with a moderate score of 53.46%.
But just to be sure, make sure to always stay alert when you're heading outside, especially in crowded areas. Pickpocketing is one of the biggest crimes in tourist attractions so it would be wise to always clutch your things.
Travel Tips and Things to Remember When Visiting Malacca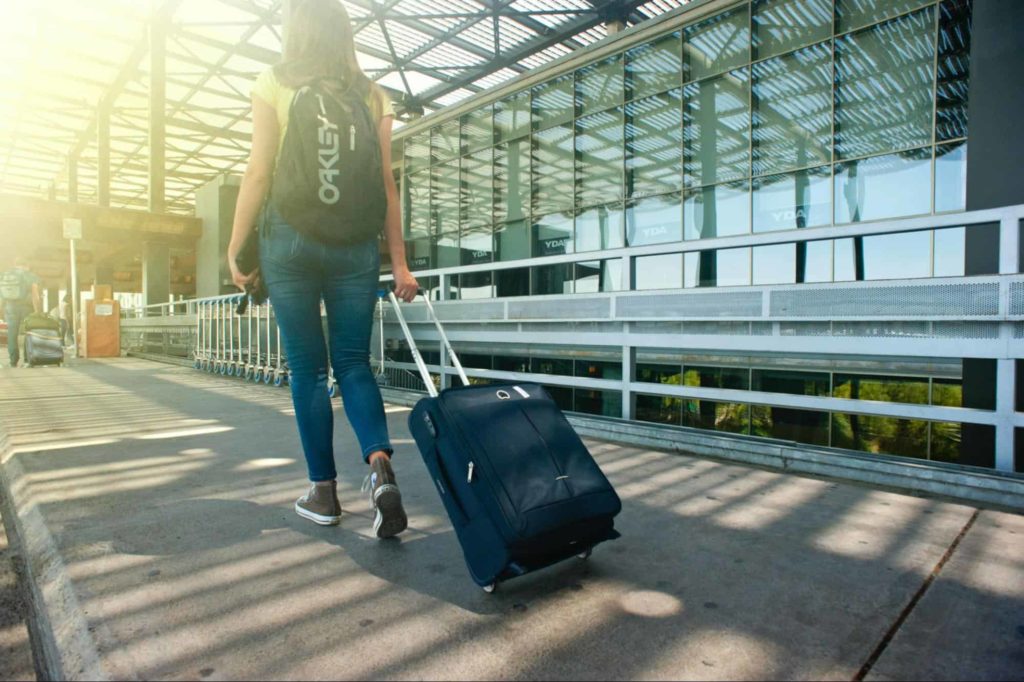 Having been to Malacca several times now, we've learned some things that we think can be appreciated by tourists. Whether it's your first time or not, here are some tips to make sure that you'll have the absolute best time in Malacca:
Visit during the cold season, from December to February, if you don't want to travel in the default tropical weather of the state.
If you are going to visit during summer, apply sunscreen, bring an umbrella and pack an extra shirt whenever you're heading outside.
When you're unsure of the commute route, use the most popular ride-hailing app in Malaysia: Grab.
As much as possible, visit during the weekend so that the Jonker Street Night Market will be open.
Don't be afraid to use the train system when going to Malacca as it's fast and offers less hassle as opposed to other means of public transportation.
Allocate at least two days to experience everything that Malacca has to offer.
Head to the Melaka Tourism Office bright and early to join their free walking tour.
Money matters: Bring enough cash even though credit cards are widely accepted in the state and use exchange offices instead of banks to avoid extra fees.
Don't leave without trying out Melaka Coffee!
Ready for your trip to Malacca? Here are some things to remember before you go!
Don't forget to bring your passport.
Tipping isn't necessary and can sometimes be seen as rude.
There are numerous ATMs scattered across Malacca.
You won't have to worry about your phone and data reception.
Follow the dress code when visiting temples and other places of worship.
How to Get to Malacca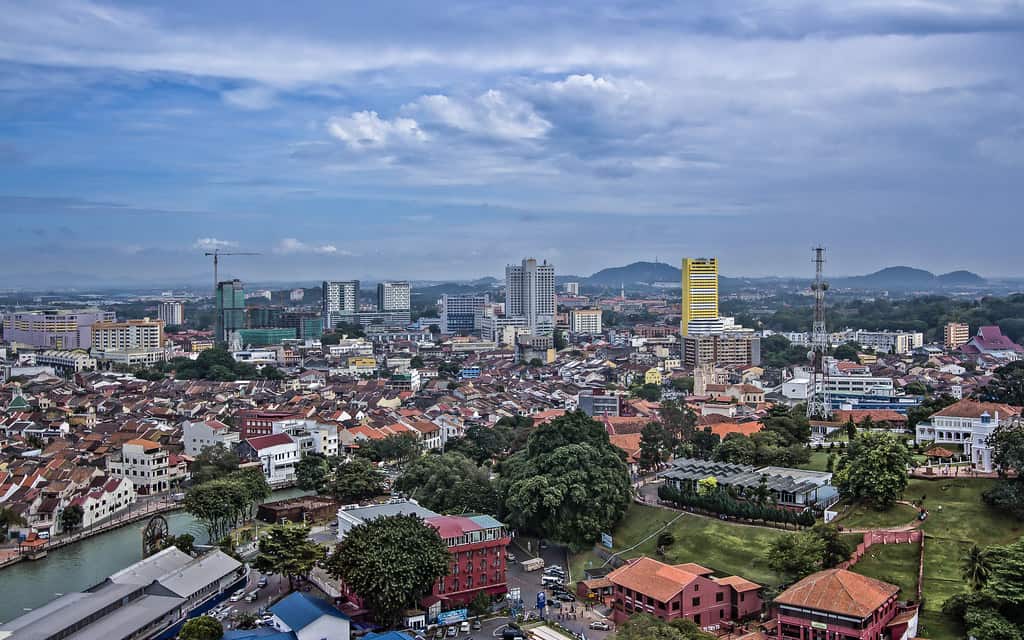 The best way to get to Malacca is by coming from Kuala Lumpur, the country's capital. From there, you'll be given four different options to get to this state: via bus, train, cab, or rental car.
| Mode of Transportation | Estimated Cost | Duration |
| --- | --- | --- |
| By Bus | RM10-20 | Two and a half hours |
| By Train and Bus | RM14+ | Two to three hours |
| By Cab | RM200+ | More or less two and a half hours |
| By Rental Car | RM40+ (gas consumption not included) | Two hours or more |
By Bus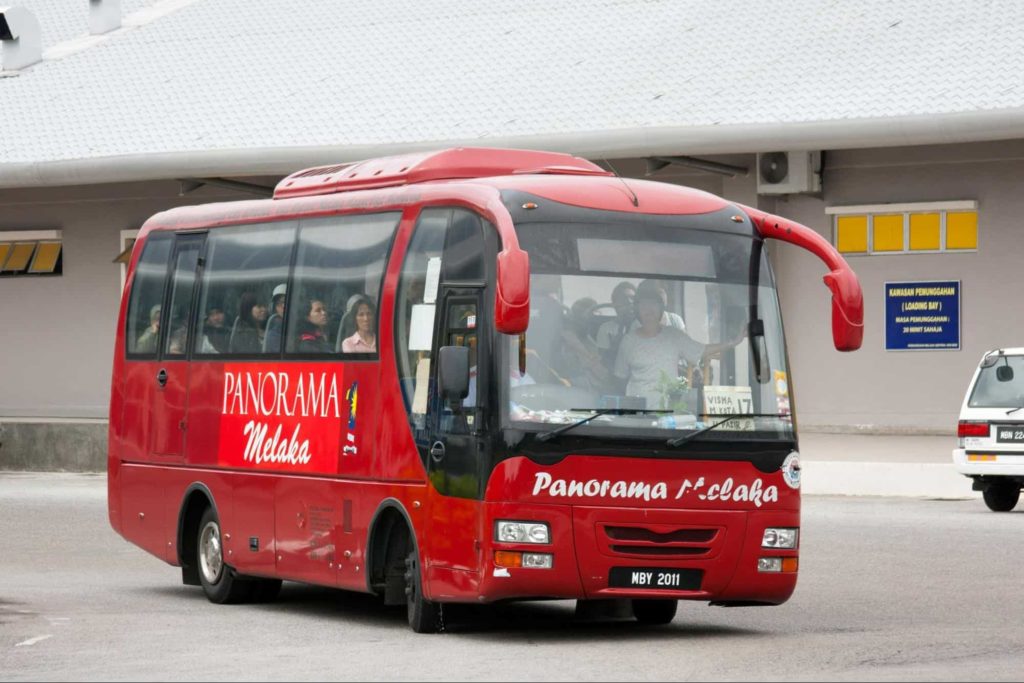 The first and easiest way to get to Malacca from Kuala Lumpur is by riding a bus. The terminal you'll be looking for is in Bandar Tasik Selatan and is called Terminal Bersepadu Selatan.
This specific terminal has routes from the capital to the southern parts of the country which includes Melaka. A typical ride here would cost anywhere between RM10 and RM20 and take about two and a half hours.
By Train and Bus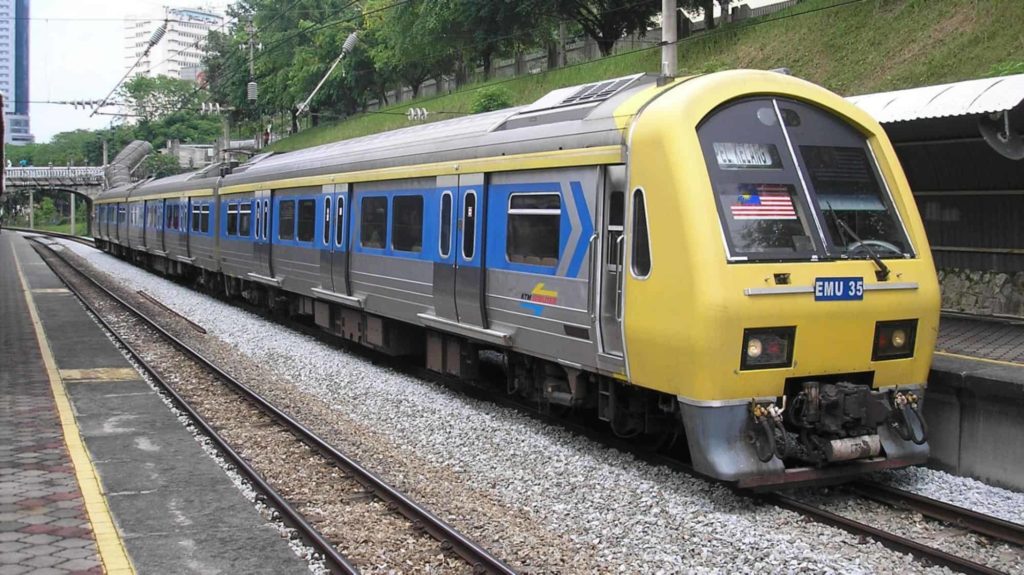 If you want to familiarise yourself with the transportation modes in Malaysia, you can go to Melaka by riding a train and a bus. To begin your journey, take the Komuter and drop off at Tampin.
From there, you'll find several public buses that are en route to the Melaka Sentral. You won't have to worry about the bust tickets here as they'll only cost a couple of ringgits.
By Taxi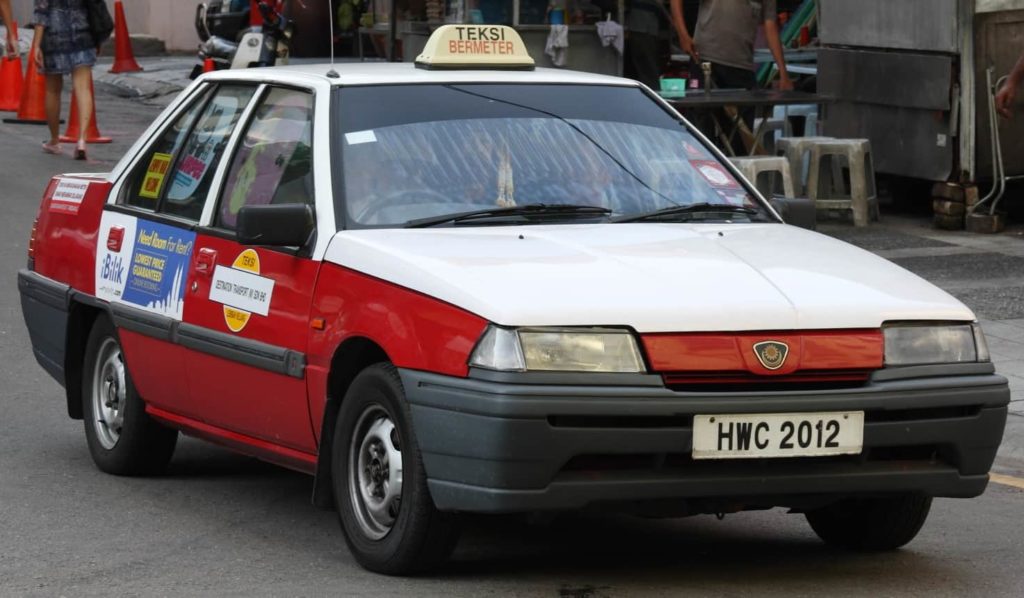 If you're like us whose travel company consists of kids, the best way to get to Melaka from Kuala Lumpur is by riding a cab. This offers a more private and comfortable trip as you won't have to be cramped with other passengers inside a cabin.
However, be prepared to pay significantly higher prices. The typical cost of a one-way trip to Melaka from KL is around RM200.
By Rental Car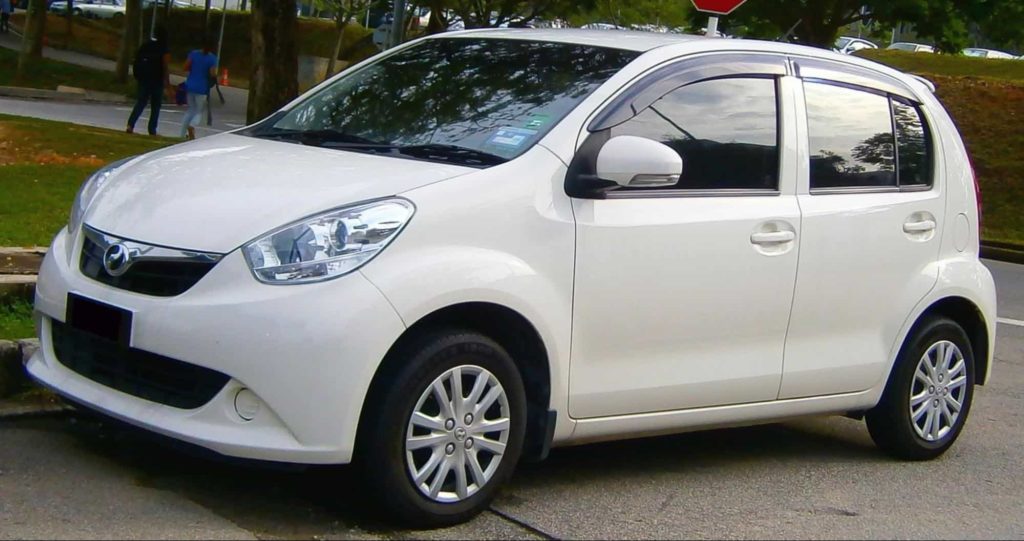 Finally, the best option you could choose to head to Melaka is by renting a car. This offers the utmost privacy, convenience and comfort as you'll have the entire vehicle to yourselves.
This means that you'll be in charge of the route and you can stop by to rest as many times as possible. Plus, there's the added benefit of singing to your favourite tunes on the radio with your family without anyone around to judge.
Our Final Thoughts
In a nutshell, Malacca is a safe state that offers various sights to see and activities to try. From chill experiences such as cruising through the Malacca River to exciting rides at the theme park, this state doesn't fall short on its offerings.
Also, it doesn't feature the same overpriced fees that would sometimes be found in Kuala Lumpur but it still manages to provide tourists with a memorable time.
FAQS about Visiting Malacca