A Guide to Mini Malaysia and ASEAN Cultural Park
If you ever find yourself in Malacca on your trip to the country, you must stop by the Mini Malaysia and ASEAN Cultural Park.
Here, you'll get to immerse yourselves in the culture of all the states of the country through cultural shows, architectural showcases, handicrafts and more.
These beautiful masterpieces along with the activities it offers are the reasons why visiting it is one of the best things to do in Melaka—and we're here to elaborate on why! 
From what you can expect to things you can do, stick around to find out everything you need to know before visiting.
Time Zone
Standard Malaysia Time (GMT+8)
Best Time to Go
Mini Malaysia is open seven days a week, giving you more than plenty of time to stop by. If you don't want to go when other people are visiting, however, we'd recommend avoiding weekends and holidays, as this is when the attraction sees the most visitors.
During weekdays, you can have the place virtually to yourselves! If you don't have any choice but to visit during weekends and holidays, we'd advise you to visit early in the morning or late in the afternoon; just be sure to allot at least 2 hours for your visit.
Things to Know
Currency: Malaysian Ringgit (Check the current exchange rate)
Language: Malay, English
Calling Code: +60
Address: Exit Lebuh Ayer Keroh, 75450 Melaka, Malaysia
Phone number: +60 6-234 9989
Operating hours:
Monday to Thursday: 9:00 AM – 5:30 PM
Friday, Saturday, Sunday and other public and school holidays: 9:00 AM – 6:00 PM
Cultural show timings:
Weekdays: 11:00 AM and 2:30 PM
Weekends: 11:00 AM, 2:30 PM and 4:00 PM
Entrance fee:
Malaysian citizens (MyKad Holders):
Adult: RM 13 – Weekdays, RM 16 – Weekends
Children / Senior citizens / Disabled: RM 7 – Weekdays, RM 9 – Weekends
Students: RM 11 – Weekdays, RM 13 – Weekends
Foreigners:
Adult: RM 24
Children / Senior citizens / Disables: RM 15
Students: RM 18
Parking situation: There's free parking on the attraction's premises for visitors.
How to Get Around
Trains: If you want an affordable and fast transportation option to Mini Malaysia, we recommend riding a train. You can ride the KTM Komuter train if you're coming from Kuala Lumpur, which would take you around 2 hours to reach the park.
Buses: Riding a bus is one of the cheapest ways to get to Mini Malaysia and fortunately, there are several bus stops near the park. For instance, if you're coming from Kuala Lumpur, you can ride the KKKL Express, which will take around 2 hours and 15 minutes.
Taxis: Taxis are everywhere in Malaysia and they're great if you want a mode of transportation that takes you directly to your destination. However, you should be ready for a pricier fare, especially if you're coming from somewhere far away from Mini Malaysia.
Grab: Grab is a fantastic alternative to taxis, as it spares you from having to barter for your fare since the price will already be fixed before you book a ride. Much like cabs, however, this mode of transportation tends to be pricier, but it provides a faster way to get to the park.
Car rental: If you have the means, we recommend renting a car to get to Mini Malaysia as much as possible, and for several good reasons. For starters, it will provide you and your loved ones with the utmost comfort and privacy–two things that aren't present in public transportation.
Secondly, renting a car will let you stop over as many attractions, restaurants, stores and other points of interest as you want. You can also take advantage of this by avoiding routes that have heavy traffic jams for a smoother trip.
Where to Stay near Mini Malaysia
AMES Hotel
Address: Jalan Pkak 2, Pusat Komersial, 75450 Ayer Keroh, Melaka, Malaysia
Phone: +60 6-318 3999
Pricing: $$$
Book Now
If you're looking for a luxurious stay that's minutes away from the park, then look no further than AMES Hotel. This 4-star hotel has everything you need and more for a comfortable night's stay from world-class rooms, to a complete set of amenities and fantastic facilities.
Meanwhile, if you're one to revel among friends at night, you'll enjoy the hotel's Moonbar Lounge & Restaurant. Here, you'll get to enjoy nightlife in style and treat yourself to delicious dishes and refreshing cocktails while dancing to your favourite pop songs.
Hotel Metrasquare
Address: 1, Jalan Pkak, &, Jalan Pkak 2, Pusat Komersial, 75450 Ayer Keroh, Melaka, Malaysia
Phone: +60 6-318 3399
Pricing: $-$$
Book Now
Hotel Metrasquare is a great option if you're looking for something mid-range that's within the vicinity of Mini Malaysia. It's a 3-star premium hotel that features spacious and neat rooms, fitted with all the amenities necessary for you to feel at home, from free Wi-Fi to hot water and more.
Personally, however, we think that this hotel shines outside of its rooms, more particularly with its facilities. If you're a foodie like us, you're gonna get a kick out of this hotel, as it features cafes and restaurants on its premises, so you won't have to leave the establishment itself!
Usima Forest Resort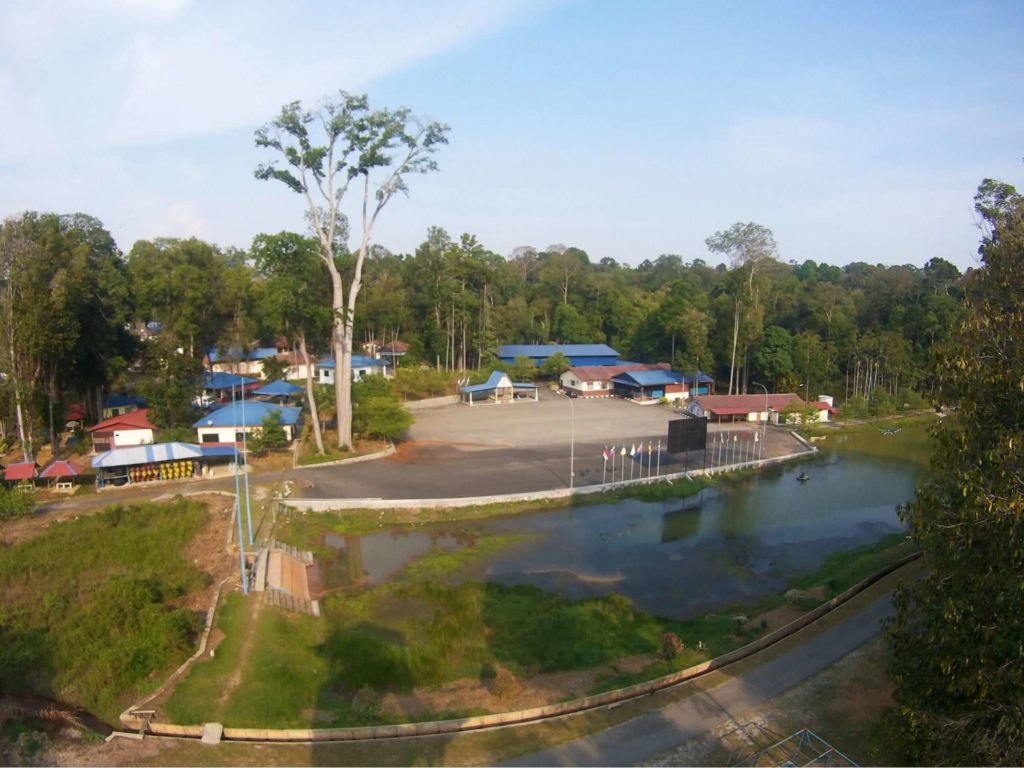 Address: Hutan Rekreasi, 75450 Ayer Keroh, Melaka, Malaysia
Phone: +60 17-282 9800
Pricing: $
Book Now
For those who are adventurous at heart, we recommend staying at Usima Forest Resort. Here, you won't only have access to cheap chalets, but you'll also have the pleasure of enjoying various activities such as rappelling and fishing.
These activities make this place the perfect team-building resort, as they can certainly improve company morale and build bonds between employees. But if you just want to stay somewhere cheap that's surrounded by nature, this resort should be more than enough.
Amverton Heritage Resort
Address: Puteri Resort Ayer Keroh, Jalan Puteri Resort 1, 75450, 75450 Ayer Keroh, Malacca, Malaysia
Phone: +60 6-232 3333
Pricing: $$
Book Now
Amverton Heritage Resort is a place we recommend if you're coming with your family. Your kids will thank you for choosing this as your lodging option in Melaka mostly because it features a fleshed-out water park on its premises, complete with slides and other attractions.
Aside from the waterpark, the rooms here are worth highlighting as well, as they're neat and comfortable. Furthermore, they're spacious and designed simply yet elegantly, making them feel more luxurious than what they're being charged for.
Mudzaffar Hotel Melaka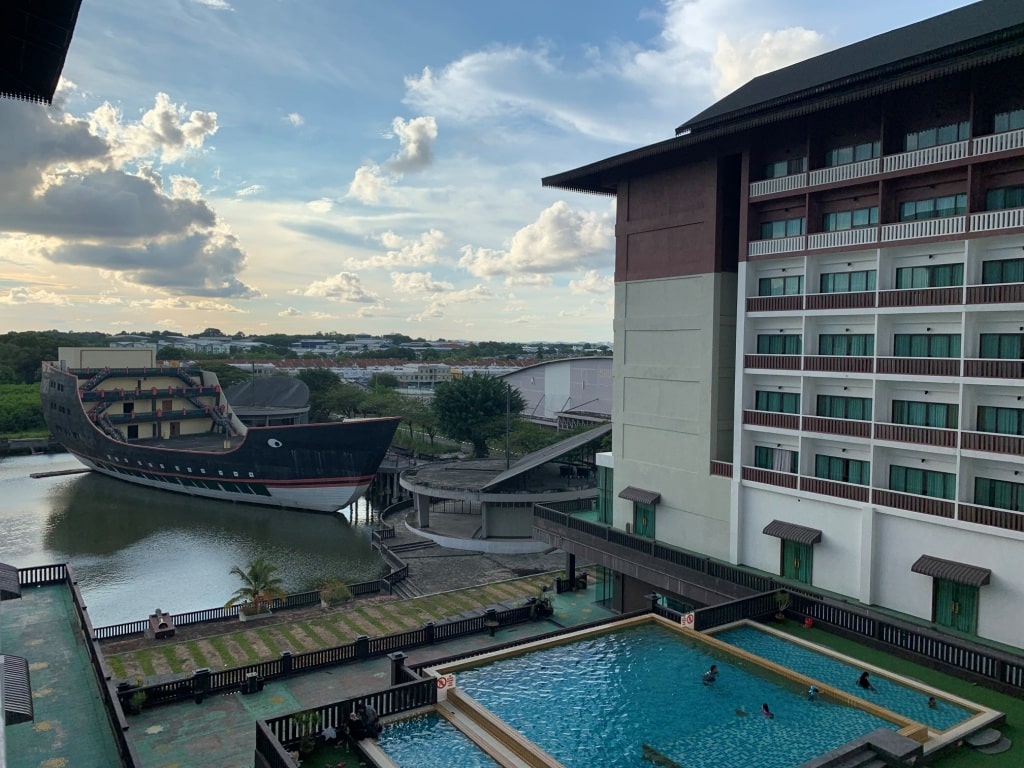 Address: Lot 5509, Jalan Wisma Persekutuan, Malacca International Trade Centre, 75450 Ayer Keroh, Malacca, Malaysia
Phone: +60 6-234 7733
Pricing: $$
Book Now
Mudzaddar Hotel Melaka is a great option if you're on a relatively tight budget but still want to enjoy a premium stay. One of the highlights of staying here is the interior design, as everything from the exterior down to the interior features an old-timey theme.
It's a mid-tier hotel that features huge rooms that are fitted with the usual amenities and facilities that you'll commonly see in classier places. Two of their best facilities that guests will surely enjoy include their in-house restaurant and massive outdoor swimming pool.
Where to Eat near Mini Malaysia
Moonbar
Address: Jalan Pkak 2, Pusat Komersial, 75450 Ayer Keroh, Melaka, Malaysia
Phone: +60 6-318 3999
Pricing: $$
Website
Moonbar is a lively rooftop bar located on top of the AMES Hotel. It's minutes away from Mini Malaysia and it's a great place to re-energize your body with some grub after a long day of walking and taking in information from the park.
Their menu is mostly made up of familiar dishes such as pizzas, burgers and other Western cuisine favourites. Also, since this place is also a rooftop bar, you can spend your night here and meet new people!
Suria Chicken Rice Shop
Address: 75450 Ayer Keroh, Malacca, Malaysia
Phone: +60 19-772 7736
Pricing: $
Website
Located just outside of Mini Malaysia is a tantalising restaurant named Surai Chicken Shop. We say that it's tantalizing because of the combination of aromas that you'll be greeted with once you're within proximity of the restaurant.
As you may have gleaned from its name, this place specializes in chicken rice, but that doesn't give it justice, as they also serve a myriad of other dishes. For instance, you'll also find other local dishes such as nasi ayam.
Asam Pedas Pak Man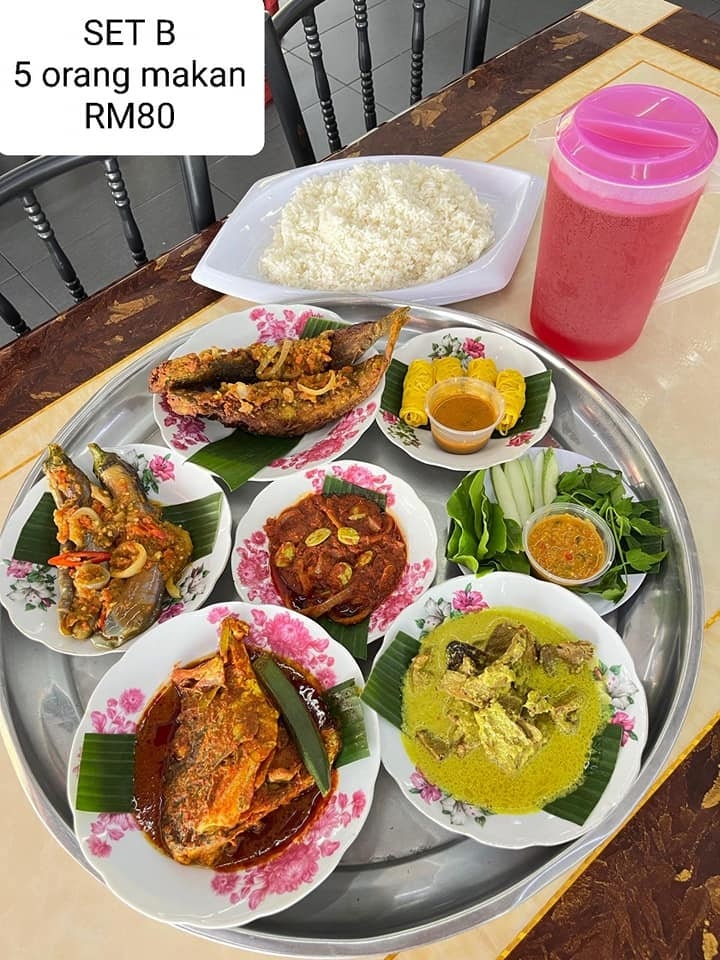 Address: No 51, Jalan Knmp 2a, Kompleks Niaga Melaka Perdana, 75450 Ayer Keroh, Melaka, Malaysia
Phone: +60 10-891 6114
Pricing: $$-$$$
Website
If you're craving some of the delicious dishes that Malaysia has to offer, we recommend checking out Asam Pedas Pak Man. Keep in mind that this restaurant is sort of famous around these parts so you may or may not encounter a queue once you arrive.
We can say, however, that the wait would be worth it, as their dishes are fantastic. They offer a wide variety of all-time classics, but if you want our advice, we'd have to go for the chicken rice and asam pedas pari.
MAIgrill and Steamboat by Maicare Spa&Cafe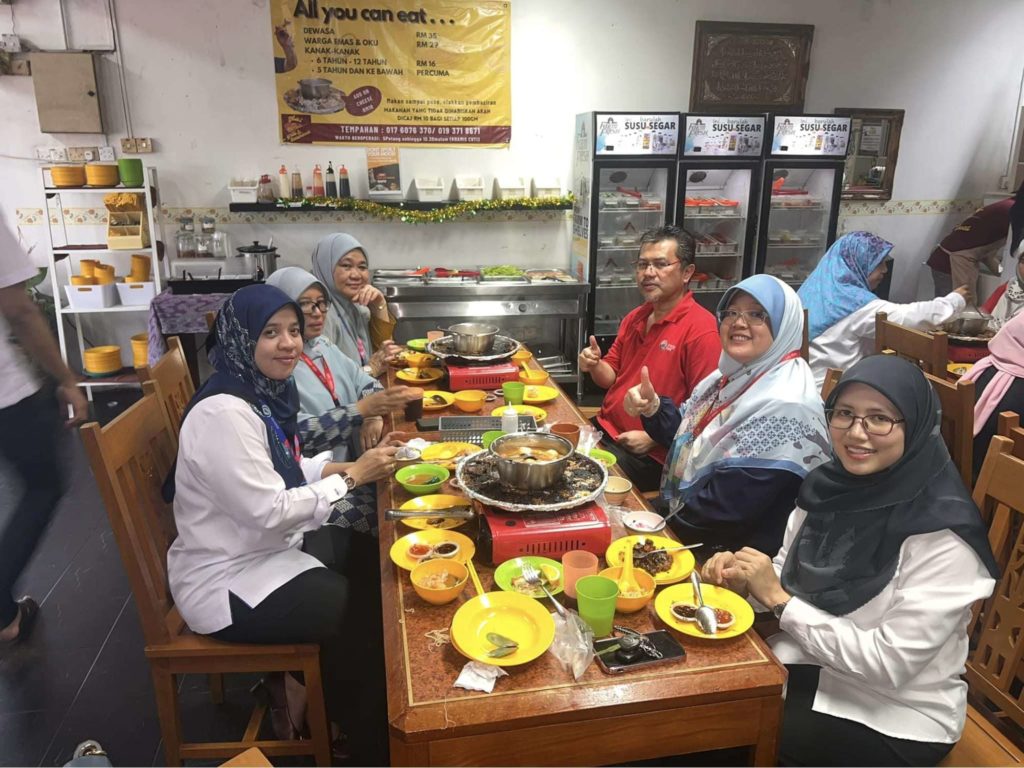 Address: Hang Tuah Jaya, G28, jalan kc2, Kota Cemerlang, 75450 Ayer Keroh, Malacca, Malaysia
Phone: +60 17-607 6370
Pricing: $-$$
Website
Whenever there's a steamboat restaurant near a place you're visiting, you always have to try it not only for the food but for the experience as well! MAIgrill and Steamboat by Maicare Spa&Cafe is a famous spot for people looking to fill their tummies with delicious soup.
What we love about this specific steamboat restaurant is that the ingredients that you can dip into the hotpot will be presented neatly on their own plates. Also, it's worth noting that the serving sizes are plentiful too so plus points for that!
Mohd Chan by the Garden
Address: Taman Seribu Bunga, Jalan Gapam, Hang Tuah Jaya, 75450 Ayer Keroh, Melaka, Malaysia
Phone: +60 1-0200 0844
Pricing: $$
Website
Mohd Chan by the Garden is a great Chinese Islamic restaurant that we recommend you stop by when you visit Mini Malaysia. It's one of the fancier dining options that you can go to and you'll immediately see why once you enter its doors and see its classy interior design.
The food is just as good as its ambience too, as their dishes here are simply amazing. You can't go wrong with any of the items listed on their menu!
Things to Do in Mini Malaysia Melaka
Admire the selection of traditional Houses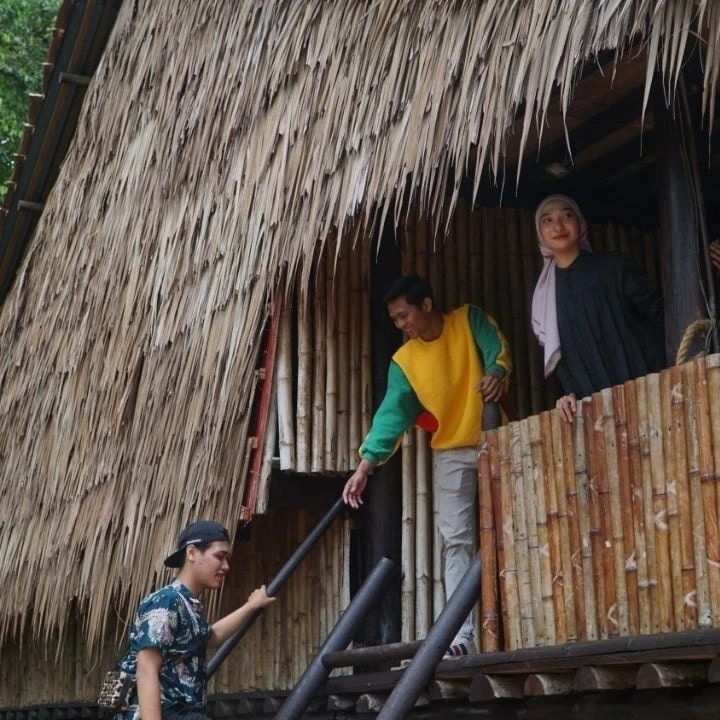 Arguably this park's main attraction is the selection of traditional houses, each of which represents one of Malaysia's 13 states, namely:
Perlis
Penang
Kedah
Selangor
Negeri Sembilan
Perak
Johor
Melaka
Kelantan
Pahang
Sarawak
Sabah
These wooden houses are perfect representations of their respective state's architectural styles, and you're free to observe them up close!
It's also up close where you'll get to see the intricate details buried beneath these houses' walls, roof panels, staircases and more. Whether you're a fan of architecture or not, you will be in awe of the craftsmanship dedicated to these beautiful traditional houses.
Be in awe of various traditional clothes and handicrafts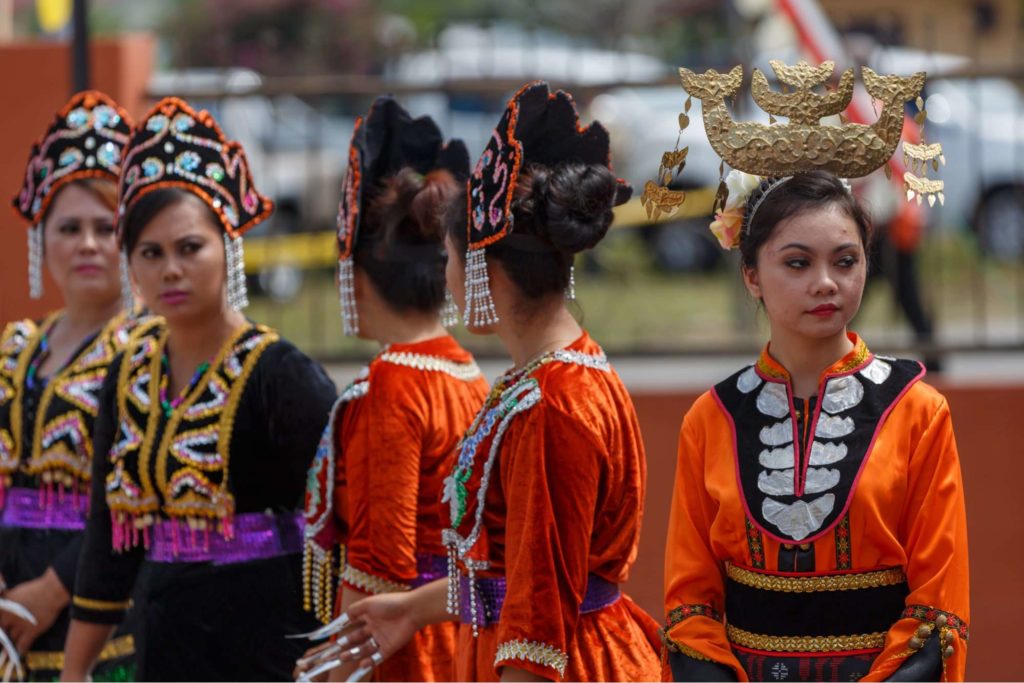 Entering the aforementioned houses is just as cool as observing them from the outside, as you'll be treated to equally beautiful sights. This is because each of these structures houses their respective states' traditional clothing and handicrafts.
These clothes are worn by life-sized wax dummies so that you can see them in their full glory–pretty cool right?
Ride an ATV through a jungle
One of the park's newest additions is the ATV Jungle, which from the name itself lets you ride a 4-wheel bike through a course surrounded by various trees. This is a great activity for thrill-seekers, as it gives you that rush of adrenaline as soon as you throttle the bike's engine.
You can choose from various packages, and each one includes safety gear as well as different numbers of laps and persons included. Regardless of which one you pick, however, you can expect that you'll have a fun and exciting time riding your ATV into the wild!
Express your creativity through batik painting
For a cheap price of RM18, you can try your hand at one of Malaysia's traditional art forms, batik! This time, however, you'll be given a paint kit instead of the traditional cloth that's widely known locally and internationally.
The best part about this is that you can take your masterpiece home so you can display it or offer it as a gift to your loved ones.
Hop on one of the park's majestic horses
The park also features a wide variety of majestic manes that you can pet and ride. If you want to live your childhood fantasies of riding a horse into the sunset, this is as close as you can get so be sure to try this activity while you're here!
Feed some friendly animals
If horses aren't enough to fulfil your dreams of becoming an animal whisperer, don't worry! The park also features a bunch of other friendly animals that you can pet and feed to your heart's content.
From horses to hares, ducks and more, this park features tons of animals that will leave you feeling like Snow White singing in the woods.
Nearby Attractions to Visit
Melaka Botanical Garden
Address: Jalan Tun Abdul Razak, 75450 Ayer Keroh, Melaka, Malaysia
Phone: +60 6-231 4343
If all the manmade structures and handicrafts left you craving for nature's best offerings, we recommend stopping by Melaka Botanical Garden. It's made up of multiple acres that are filled with over 300 species of fauna and flora–all of which are for you to discover.
You won't have a dull time exploring this botanical garden because you'll find something interesting everywhere you look. The biggest highlight of them all, however, is the collection of giant stone carvings of prehistoric animals.
Zoo Melaka
Address: Jalan Tun Abdul Razak, Hang Tuah Jaya, 75450 Ayer Keroh, Melaka, Malaysia
Phone: +60 6-232 3900
Website
Zoo Melaka is home to tons of fascinating animals and is the perfect stopover for kids and adults alike after exploring Mini Malaysia. Here, you'll get to meet around 500 animals, all of whom are living their best lives in their respective enclosures.
You can even interact with some of these animals by feeding them their favourite food! Some of the most famous species found here are the Malayan tapirs, orangutans, giraffes, panthers and more.
Malacca Bee Gallery (World's Bee Museum)
Address: GALERI LEBAH MELAKA, Jalan Taman Botanikal, 75450 Ayer Keroh, Melaka, Malaysia
Phone: +60 6-293 0035
Website
Malacca Bee Gallery is a quirky attraction that perfectly blends fun with education. We say this because it does a great job of teaching its visitors all about these bumbling insects such as how they work as a colony while keeping things light and interesting.
Aside from learning from one of nature's hardest workers, you can also get a free taste of their super-sweet honey! This gallery has different variations of honey and you can taste all of them to differentiate their qualities.
Lake Ayer Keroh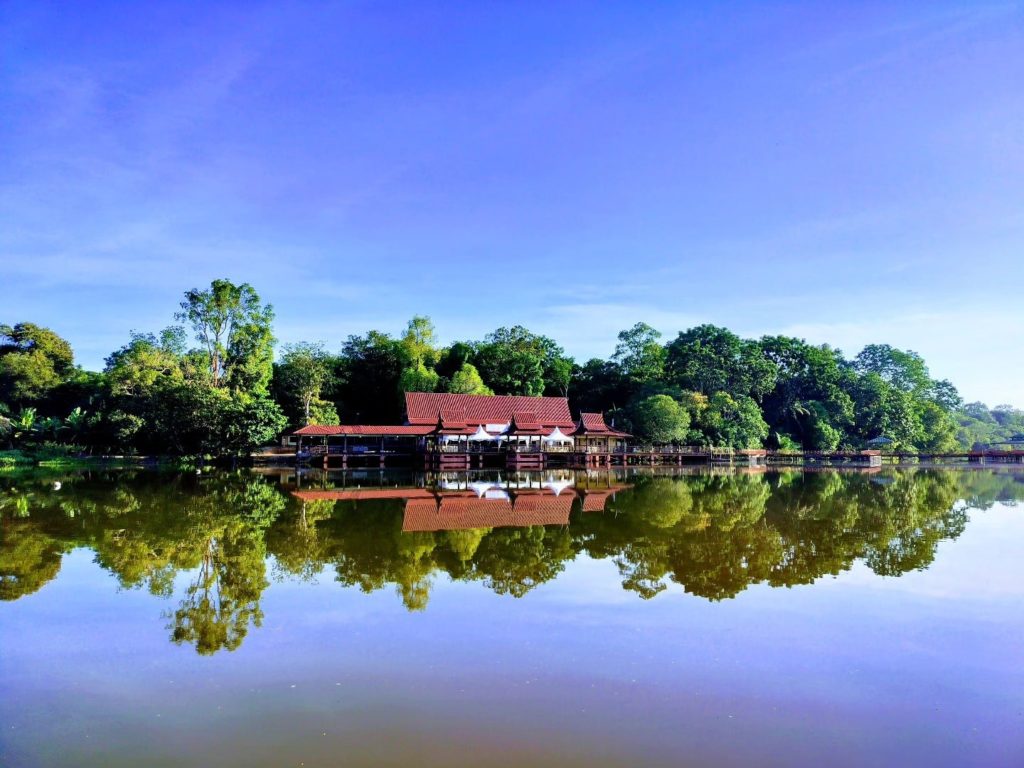 Address: 75450, Jalan Tasik, 75450 Melaka, Malaysia
Website
Lake Ayer Keroh is a great place to visit if you're looking to escape city life, as the sight of the calm water will instantly soothe you. Aside from taking a breather, you can also do a bunch of activities while you're here such as canoeing and fishing.
Meanwhile, if you want to get a quick exercise in, you can also jog along the park while taking in stunning views. Lastly, you can also set up a picnic for you and your loved ones and munch on your favourite snacks while being surrounded by beautiful natural landscapes.
SKYTREX Adventure Melaka
Address: Jalan Taman Botanikal, 75450 Durian Tunggal, Melaka, Malaysia
Phone: +60 18-909 5679
Website
On the other hand, if you're feeling adventurous, we recommend stopping over at SKYTREX Adventure Melaka. This place is a premier spot for adrenaline junkies looking to do some out-of-this-world stunts that still follow all the safety precautions, of course.
Tons of activities are available here to get your blood pumping, but one of our favourites is the skybike. Here, you'll have the opportunity to live out your dreams as a circus performer by riding a bicycle across a tightrope that's held several feet in the air by two trees.
Apps to Download for a Trip to Mini Malaysia
Travel Malaysia: A pocket travel guide to Malaysia
iOs | Android
Maps.me: Offline map of the world
iOs | Android
XE Currency App: Real-time currency exchange rate app
iOs | Android
Grab: Ride-hailing app of Southeast Asia
iOs | Android
Google Translate: word translation with offline capabilities
iOs | Android
CatchThatBus: Bus ticket booking app
iOs