Celebrating Hari Raya in Malaysia
Malaysia is diverse but it's still largely a Muslim country so it observes Islamic celebrations like Hari Raya Aidilfitri, also known as Eid al-Fitr. This is held every year to mark the end of Ramadan or the month-long fasting and self-reflection for Muslims.
Malaysians begin their Hari Raya celebrations by praying in the mosques and seeking forgiveness for the wrongs they committed. They also open their houses to welcome family and friends to join the festivities for the end of Ramadan.
In this article, we discussed what Hari Raya is, its significance, and how Malaysians celebrate this important holiday! Take a quick look at Hari Raya festivities and traditions in Malaysia!
What is Hari Raya?
Hari Raya is a colorful and joyful event full of laughter in Malaysia and it's held on the first day of Syawal (the tenth month of the Islamic calendar).
When translated, "Hari" means "day" and "Raya" means "celebration. This is why there are so many festivals and feasts in Malaysia during this time.
How do Malaysians celebrate Hari Raya?
Malaysians seek reconciliation.
Hari Raya is a time for renewal and a time to foster relationships and reconnect with families and friends.
Before the day of Hari Raya, people seek balik kampung or returning to their hometowns. This is why those who live in the cities fly or drive back to their hometowns or villages to be with their families during the celebration.
Even extended members of the family go back home to pay their respect to the elderly. Because of this, their homes are crowded with aunts, uncles, and cousins.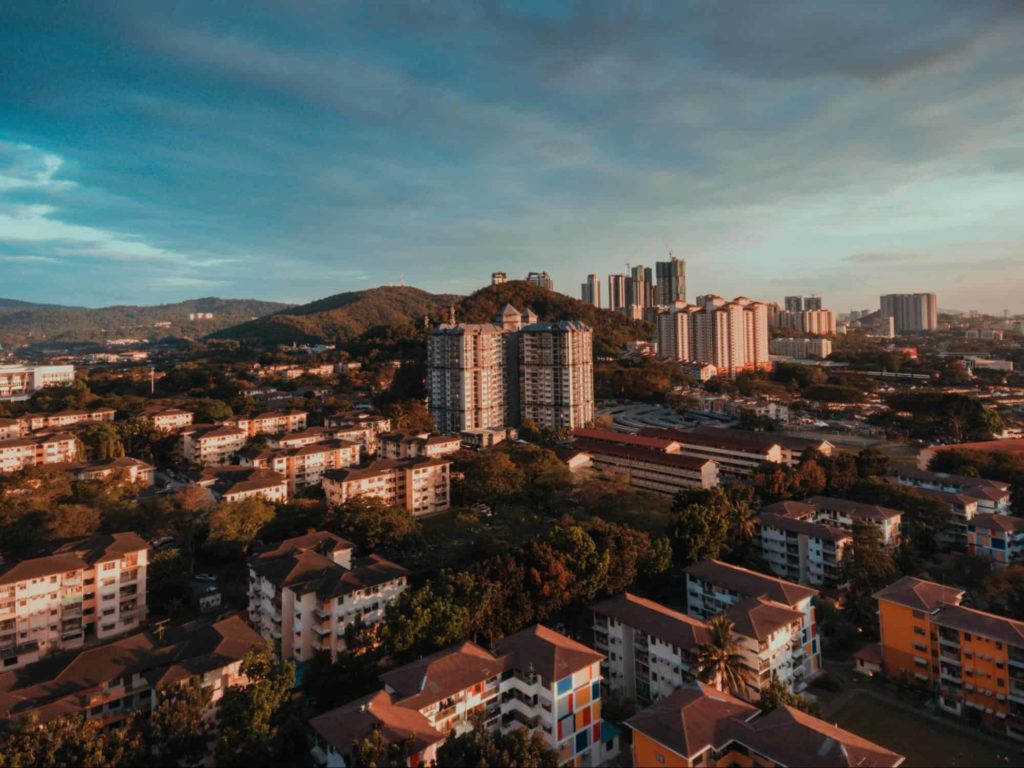 To foster peace and harmony, they seek forgiveness from their families and friends. Everyone is highly encouraged to forgive and forget each other's trespasses from the previous years.
Younger family members are especially encouraged to ask for forgiveness when they visit the elders.
They kneel and place their foreheads on the hands of their elders and say "maaf zahir dan batin", which means "I seek forgiveness from you in body and spirit."
Additionally, families also visit the graves of their deceased relatives to clean their graves, pray for their souls, and recite verses from the Quran.
Malaysians pray to thank the almighty.
Hari Raya Aidilfitri is a time for Malaysians and Muslims around the world for reflection, prayer, charity, and religious devotion.
This is why the Hari Raya celebrations always start when Malaysians go to nearby mosques for an early morning prayer which are led by the men. Malaysian Muslims would offer thanks for the blessings they received from the almighty.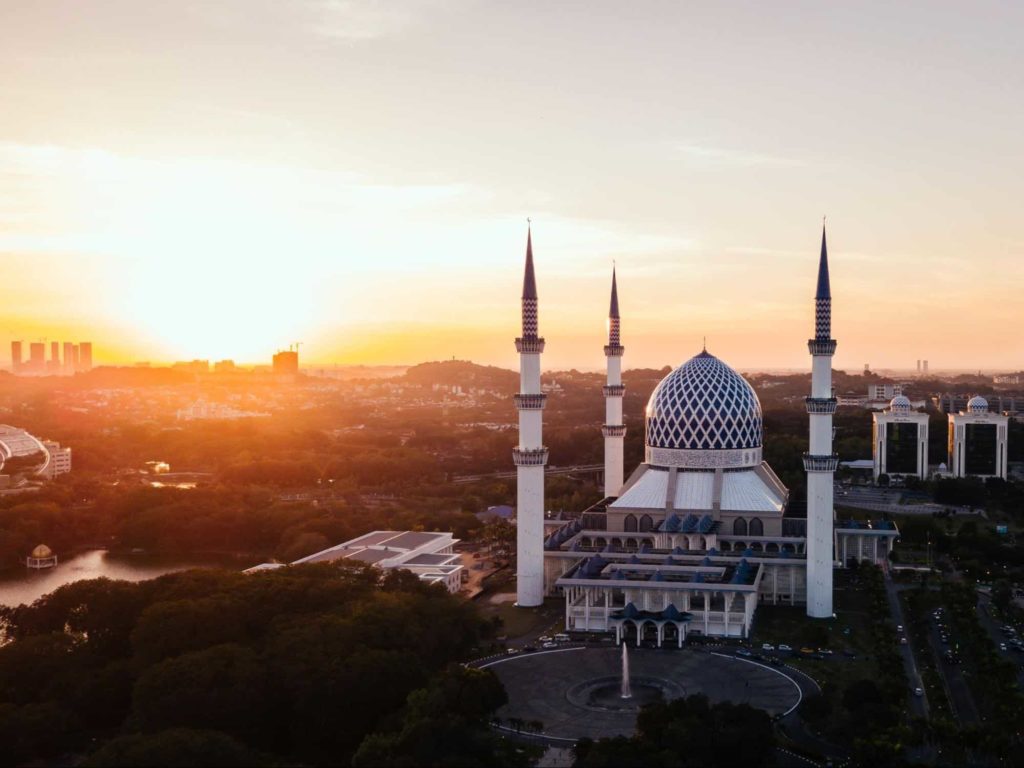 Lots of food is prepared and locals feast together.
When celebrating Hari Raya, Malaysians look forward to the open houses because they get to dine together on excellent cuisine. They extend invitations to everyone and they even welcome non-Muslim friends to celebrate with them.
The highlight of these open houses is the delectable traditional recipes that the locals prepare in their homes.
Aside from their own open houses, there are also State-organized open houses held in Sultan's Palace, state-owned buildings, or any open public venues. Here, they get to meet other people who come from different races and backgrounds.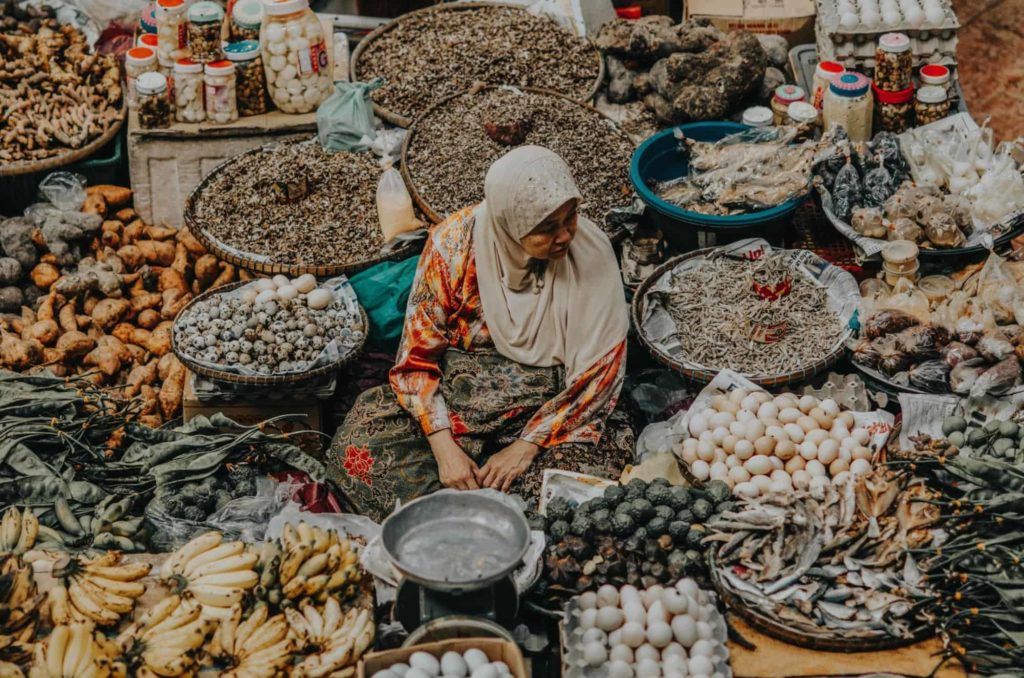 It's also common for locals to go to Ramadan bazaars where they can buy delicious and inexpensive food to break their fast. There are hundreds of stalls in these bazaars where you can buy not only Malay snacks but also traditional decorations and clothes.
These bazaars are also fun attractions in the country and they bring a "kampung spirit" because of their festive lights and decorations.
Every year, the locals serve delicacies and food with rice which are staple Malay food. Here are some of the traditional dishes Malaysians prepare during Hari Raya:
Ketupat
Perhaps the symbol of Hari Raya in Malaysia, Ketupat is a traditional food made of rice wrapped in a triangle weave of coconut or palm leaves until cooked in thick coconut milk. When sliced open, the smell of the steamed rice leaves a tantalizing taste.
One unique but tasty variation of this food is ketupat palas, where the rice is mixed with red kidney beans.
This rice cake is usually served with other dishes with meat or sauce, like rendang, satay, curry, or lontong.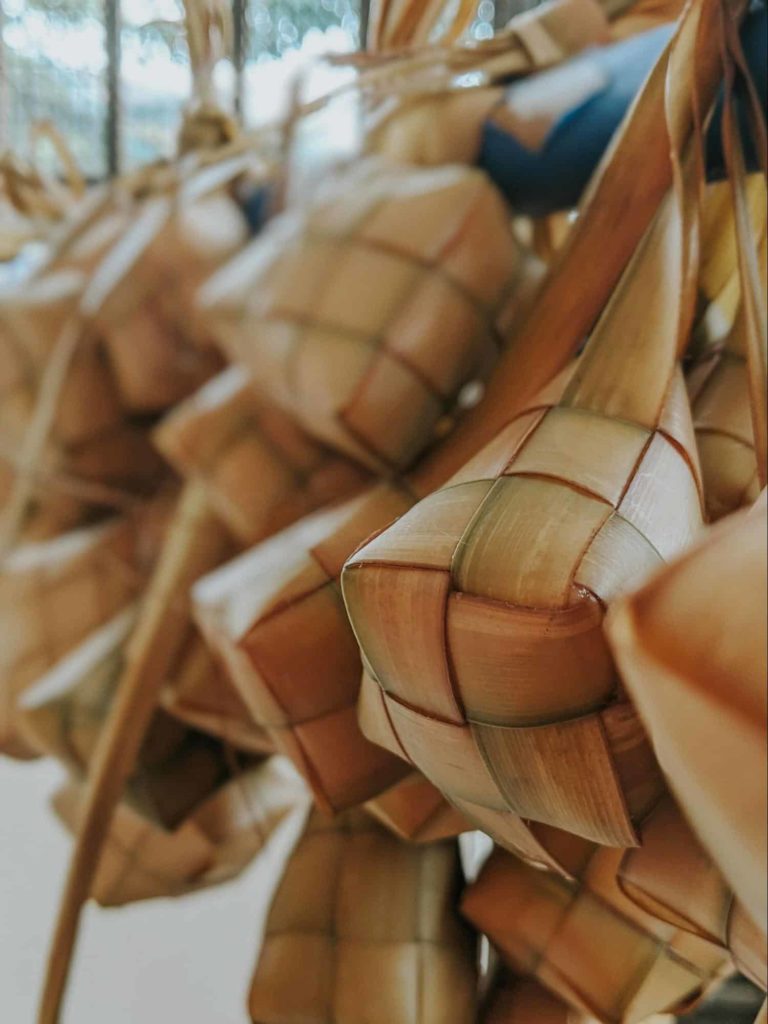 Rendang
Rendang used to be a symbol of affluence as only those who were able to afford a water buffalo could serve it. Nowadays, it's a well-loved and a staple dish for Hari Raya celebrations in every household!
There are several variations of Rendang as each state in Malaysia developed its own version of this dish. However, it remains to be a classic meat dish with a thick sauce.
It's cooked with coconut milk and approximately 13 spices, including lemongrass, coriander, galangal, and kerisik (toasted grated coconut). Beef, chicken, and mutton are the common meat options for this aromatic dish.
Because it's cooked slowly on low fire, the locals usually start cooking this after the last iftar or fast break of Ramadan until the meat falls off the bone. Plus, it could last up to four weeks because of its natural preservatives!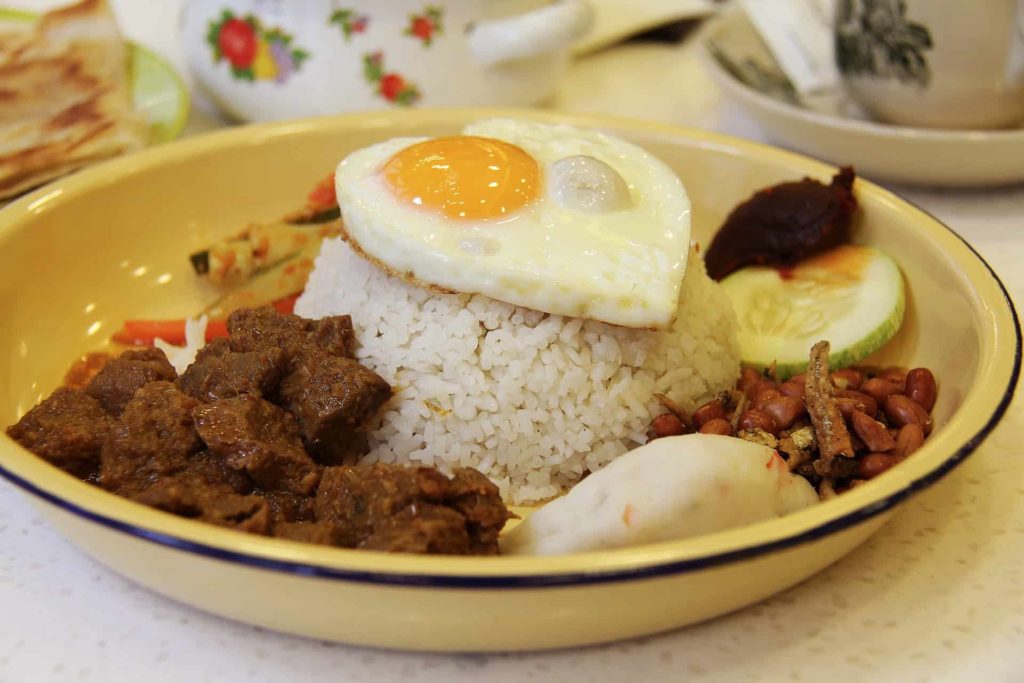 Satay
You might be wondering what makes satay special when it's available anywhere year-long in Malaysia.
This grilled meat skewered on a stick is another staple during Hari Raya celebrations in the country because its rich taste is a great complementary flavor to ketupat or lumbong.
It's marinated with various spices that blend well with different types of sauces that give taste to rice dishes, so Malaysians often serve it.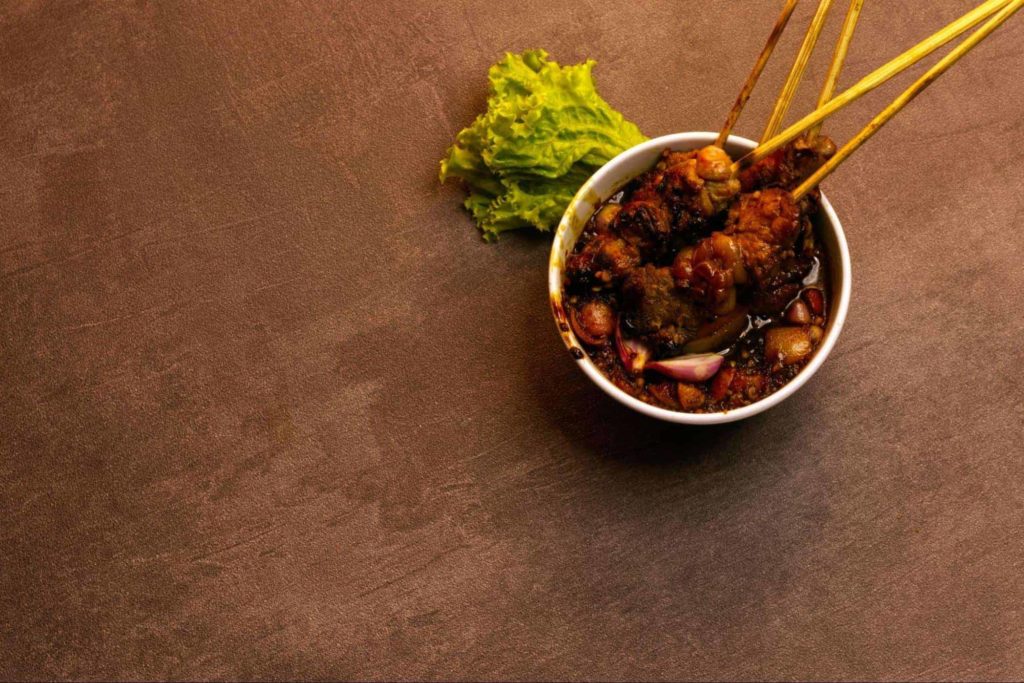 Lemang
A Malaysian heritage delicacy, lemang (bamboo rice) has a special place in the hearts of the locals, which is why they never miss out on serving it during Hari Raya.
This is made of rice and coconut milk wrapped with banana leaves in bamboo sticks roasted over an open flame which gives it a distinct smoky flavor and scent. It could take up to five hours to make it, but its taste and aroma are worth the wait.
It's usually served in cylindrical slices so you would see that it's crispy outside but it has a creamy texture inside. This is why it's also a great accompaniment for rendang or curry.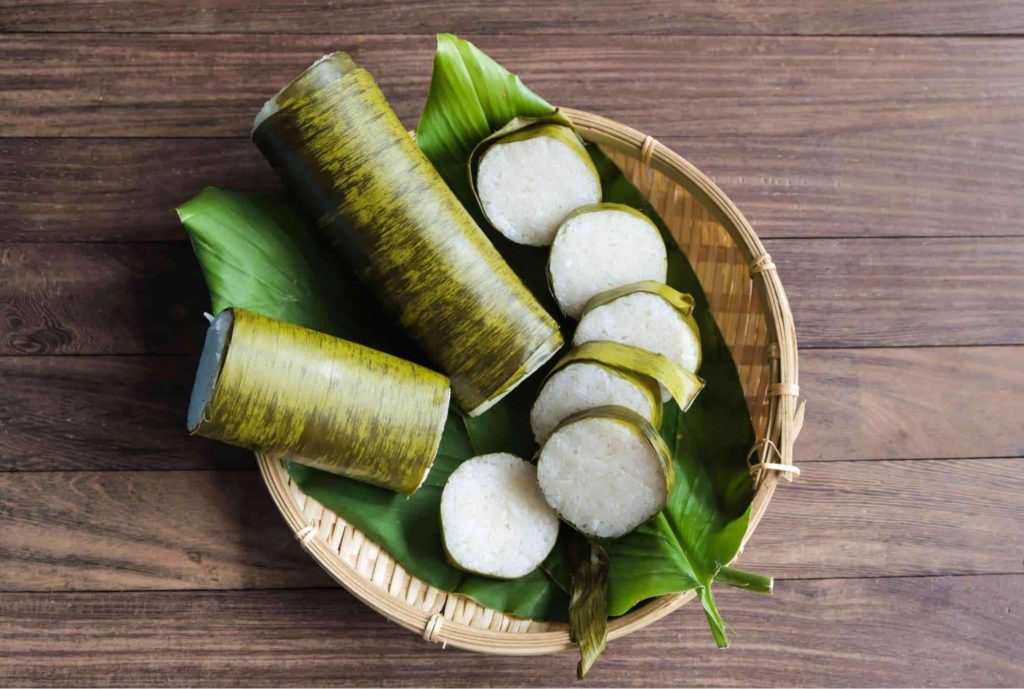 Lontong
While lontong originated from Indonesia, Malaysians have given its taste a local twist. It became one of their favorite dishes which they serve during Hari Raya because it's mouthwatering!
It's a combination of nasi impit, vegetables, boiled egg, noodles, and meat which are stewed in creamy coconut milk with peanut gravy, tempeh, and other spices like turmeric. It usually has long beans, cabbage, green chili pepper, eggplant, and tofu.
It usually has a light and soothing taste, which sets it apart from other food served during Hari Raya. However, because Malaysians love spicy food, they usually serve this with spicy sambal sauce on the side.
Serunding
Serunding is another slow-cooked dish that requires intense effort and takes a long time to prepare, but it's a must-serve dish on special occasions, especially Hari Raya.
Dubbed the holy grail of meat floss, Serunding is a pan-fried meat dish cooked with grated coconut and spices. It may be made with beef, chicken, fish, prawn, or even coconut searing.
It has a light and flaky texture so it's served as a finger food that locals could indulge in. Since it has an intense flavor, it could also be eaten with rice.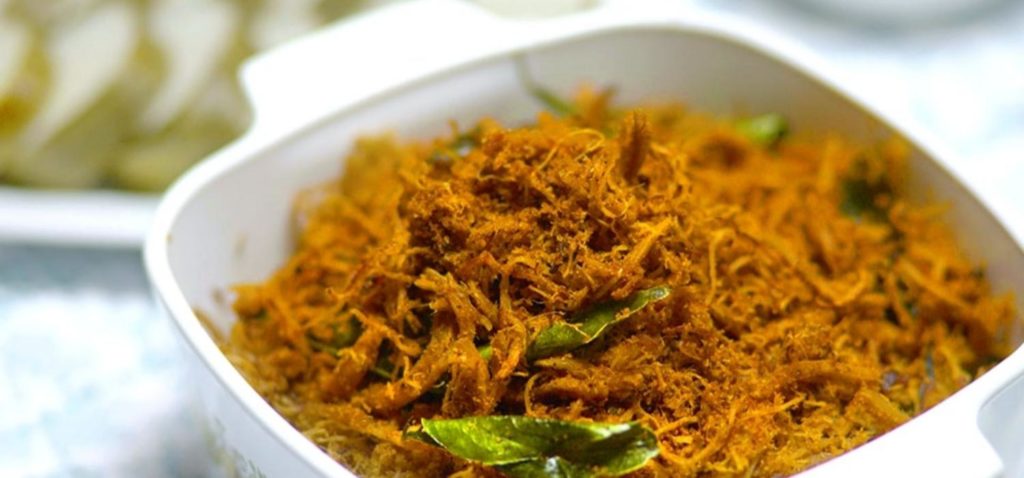 Dodol
This sweet traditional dish is a favorite among all locals, no matter their age, which is why it's a must-serve during Hari Raya. In fact, Hari Raya festivities would not be complete without eating Dodol!
It's a toffee-like delicacy made of coconut milk, sugar, flour, pandan, and rice cooked for six to nine hours continuously stirred until it's thick and sticky and it tastes charred. Once cooked, it's often shaped into a dumpling or triangle.
It comes in different flavors, depending on what they wanted to add, like durian, jackfruit, or soursop.
When you're in rural areas, you'd witness the painstaking efforts of locals when they make these and you'd appreciate this delicacy more!
However, its size is strategically measured to prevent overindulgence because too much Dodol will induce diabetes.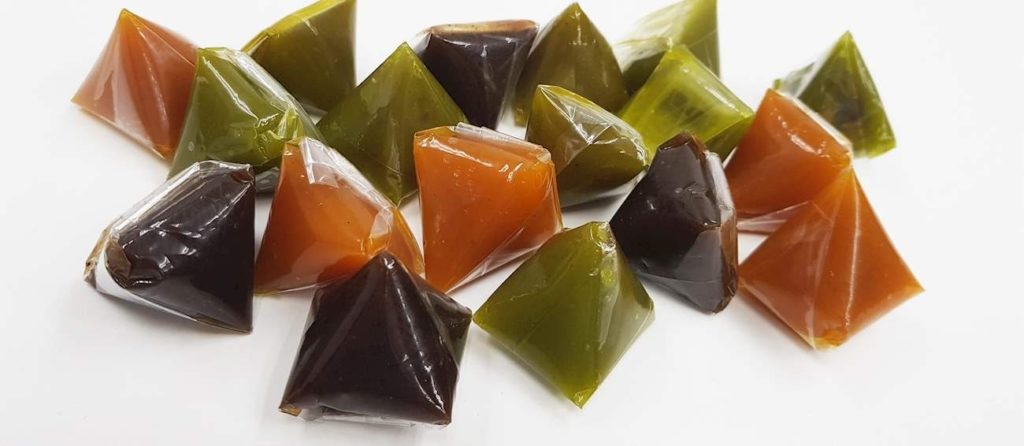 Kuih Raya is made by families and friends.
During the open house, one of the activities that Malaysians do together with their families and friends is to make festive Kuih Raya treats.
This is an activity that binds and strengthens relationships, which is encouraged during Hari Raya.
They bake biscuits and cookies of different shapes and flavors, even Malaysia's famous pineapple tarts, in addition to the plethora of food prepared for the celebrations.
Sometimes, they would even make Kuih Lapis or cake with layers made of different mixtures that create a stripped finish. This is usually made with a variety of flavors and colors that make it unique and eye-catching.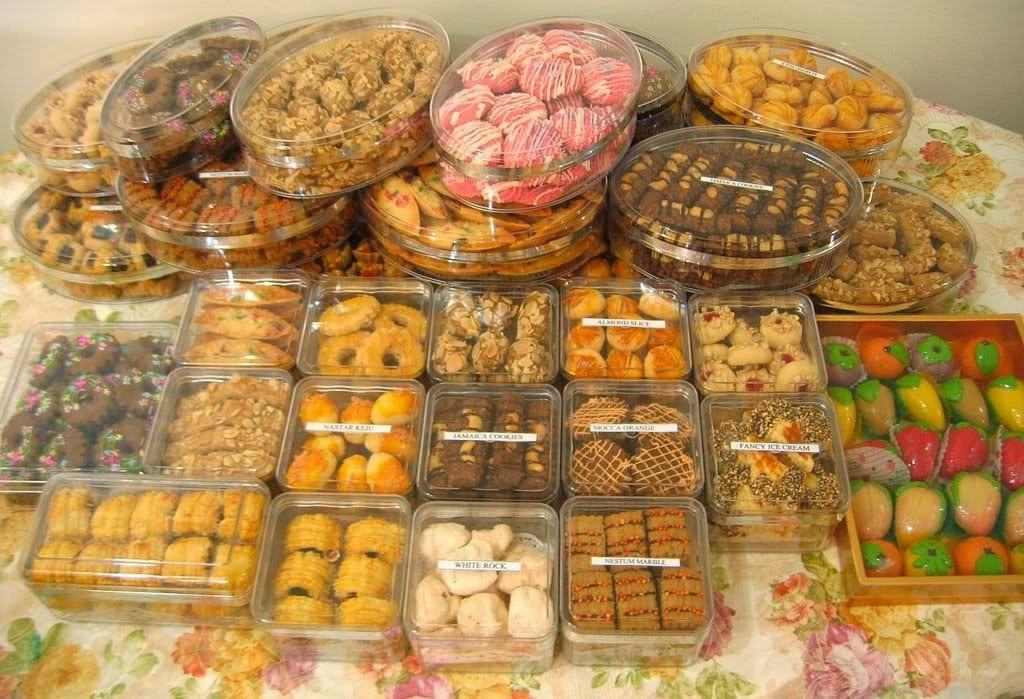 Green envelopes are exchanged as a custom.
As part of the Hari Raya celebration, Malaysians also give each other small green packets with money, the amount of which depends on how much they could afford to give. These green envelopes are called Duit Raya.
This act of giving envelopes with money is considered an act of charity, as Hari Raya is a time to show generosity to families and friends. They usually give these green envelopes to children and the elders in the family to show respect.
Muslims in Malaysia, Singapore, Brunei, and Indonesia share this tradition during Hari Raya. It's based on the Islamic concept of zakat, wherein money is considered a share of wealth and an obligation to society.
These green packets were adapted by the Malay from the Chinese tradition of giving Ang Pau (red envelope with money). They prefer the green color which is associated with Islam.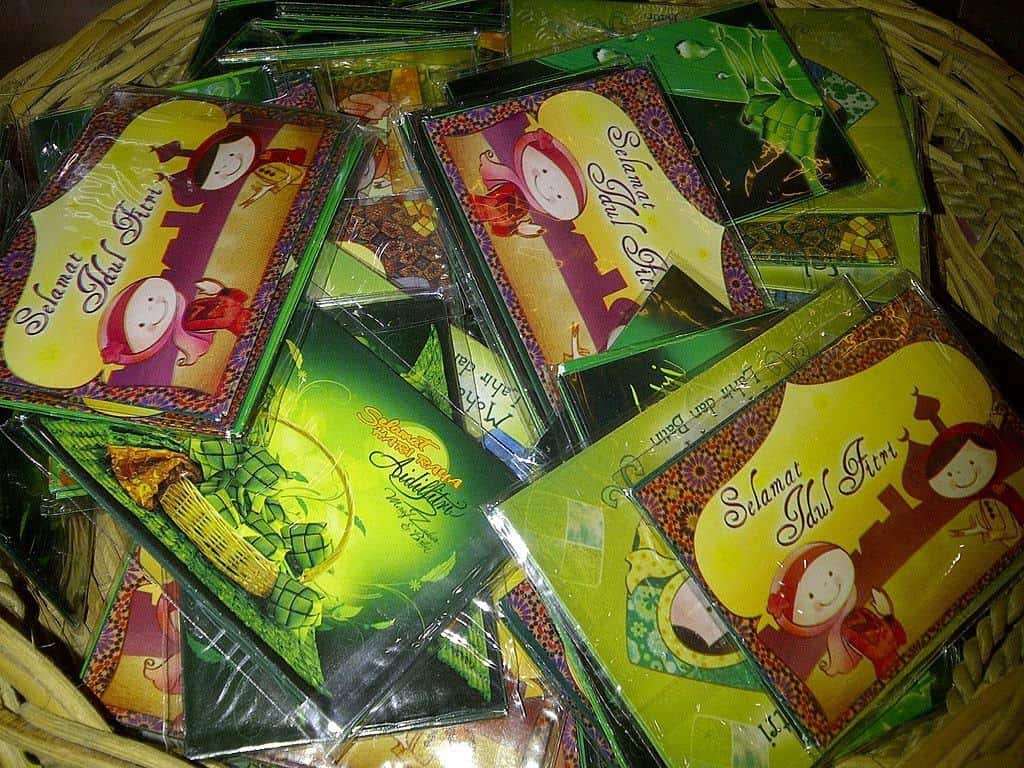 Locals hang lights and ketupat leaves for decorations.
Just like Christmas and other celebrations in Malaysia, the locals put up decorations as part of the Hari Raya festivities.
When preparing for Hari Raya, Malaysians get busy tidying up their homes and putting up lights. These lights set the mood in their homes and they give a welcoming and lively vibe, which is especially needed during the open house.
Furthermore, Ketupat is not only a dish served during Hari Raya. Aside from lights, ketupat leaves are a huge part of these decorations, which is why it's the hallmark of Hari Raya in the country.
Its intricately woven sheaths are hung up by Malaysians to decorate their houses and even shopping centers. The weaving process to make the diamond-shaped pouch is quite difficult to master but it's passed down from one generation to another.
Likewise, shopping malls also have festive decorations and even floral arrangements which the locals themselves love to admire and take photos with.
Furthermore, you would see greeting signages everywhere, as well as cut-outs of mosques, and lanterns. Malaysian Muslim homes are also adorned with crescent moons and star garlands.
Malaysians wear their best clothes.
Malaysians also dress up to look their best when they celebrate Hari Raya. Some choose to wear traditional clothing, while others wear more contemporary designs.
The women may wear baju kurung (traditional Malay dress), jubah (one-piece dress), or baju kebaya (traditional blouse dress).
Meanwhile, the men put on their best songok (traditional hat) which they pair with a baju melayu (traditional men's gown).
Furthermore, they usually prepare what they will wear during Hari Raya early to get the best prices for clothes, shoes, shawls, sampin, and even accessories.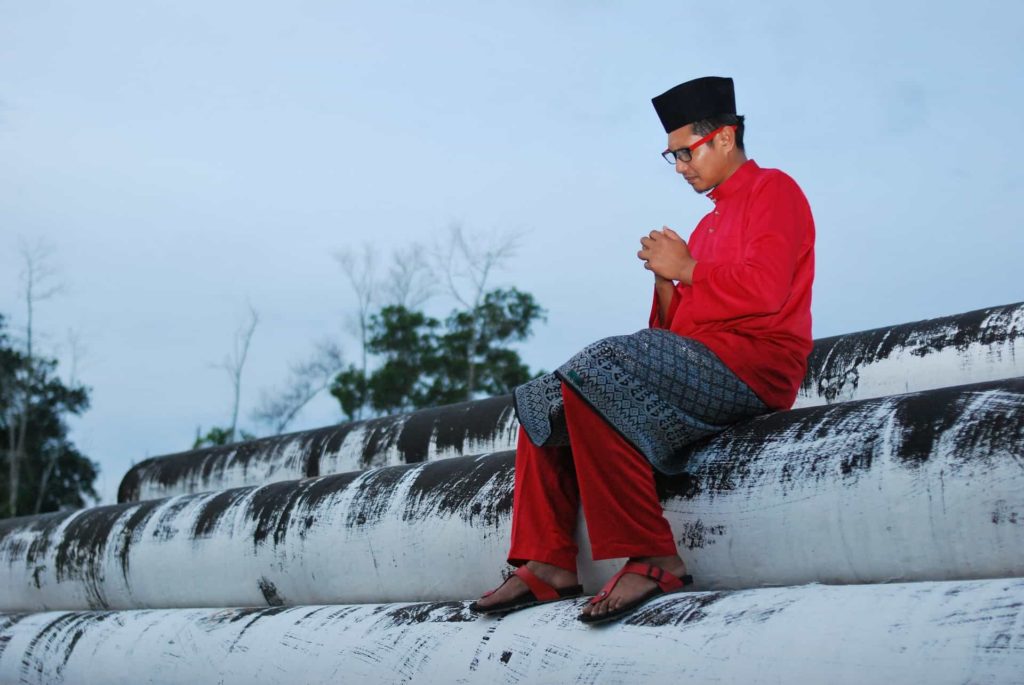 Festive songs are played all over Malaysia.
Perhaps the most unique thing about Malaysia's Hari Raya celebrations is the Hari Raya songs that you would hear playing everywhere, whether on the radio or in malls and bazaars.
Hari Raya music makes the occasion extra special in Malaysia. These songs also bring a special bond between families and neighbors in Malaysia. They would often play music while hanging out to celebrate this event.
These are festive and entrancing tunes that the locals sing and dance to when they are plated. They're also familiar to all generations of Malaysians, so no matter how old they are, they enjoy the catchy and soulful melodies of these songs.
When is Hari Raya held in Malaysia and what happens during that time?
In Malaysia, Ramadan is held in the ninth month of the Muslim calendar. It's usually 29 to 30 days long, but this depends on when the new crescent moon would be sighted.
Ramadan means that during an entire month, Muslim locals would fast and they're not allowed to eat or drink water from the morning prayer until the evening prayer.
The sacrifice made during Ramadan serves as a reminder to be humble and to remember the less fortunate.
The following are exempted from participating in Ramadan:
Children who haven't reached puberty
Elderly
People who are mentally or physically incapable of fasting
Pregnant women and breastfeeding mothers
Travelers
When this fasting ends, Hari Raya Aidilfitri is held to break their fast. Muslims around the world celebrate this occasion.
Hari Raya: A Time for Malaysians to Strengthen their Values
Besides the joyous festival of Hari Raya, it's a religious celebration. Malaysians who celebrate this occasion are encouraged to observe values that will reinforce their daily lives even after the festival.
Hari Raya is the perfect time for Malaysians to showcase these values:
Empathy and compassion
Self-control
Family-orientedness
Schools also teach children empathy and self-control. At a young age, these values are cultivated in them.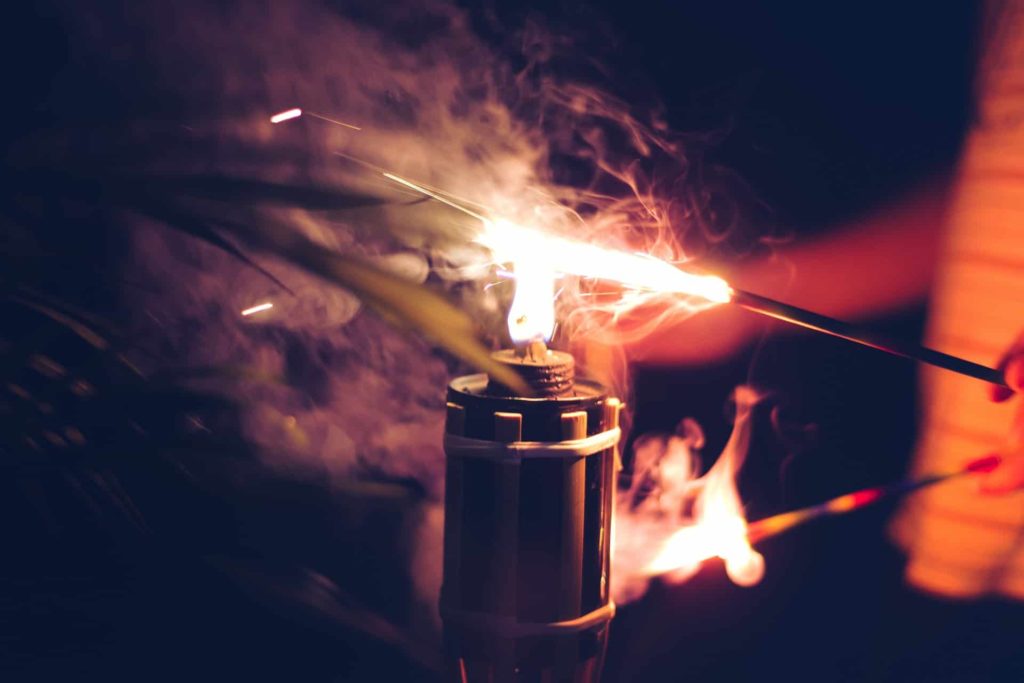 Other Traditions in Malaysia during Hari Raya
Aside from the traditions mentioned above, here are other customs that Malaysians do when they celebrate Hari Raya:
On the night before Hari Raya, men would light oil lamps.
Traditional groups in the country light lamps called pelita in their homes.
While some households still use lamps, others nowadays put decorative lights.
Children play the drum called beduk in the mosque on the night before Hari Raya to chase away wild animals in preparation for a peaceful and safe celebration.
Men bathe in designated rivers before beginning the morning prayers on the first day of Hari Raya.
Muslim Malaysians say "Eid Mubarak" which translates to "Have a blessed holiday".
They also greet each other with "Selamat Hari Raya" which means "Happy Hari Raya".
The History and Significance of Hari Raya
The celebration of Hari Raya goes as far back as the time of the Islamic prophet Muhammad when he migrated to Mecca and started this festival.
Over time, Hari Raya Aidilfitri has developed as a celebration that not only concludes the month-long fasting but also its completion. It celebrates the struggles that Muslims had undergone during Ramadan and how they overcame the fast.
It recognizes a person's accomplishment and success for their self-discipline and self-resistance. It's also a symbol of their rebirth.
In Malaysia, Hari Raya is a two-day annual holiday to celebrate the end of Ramadan. This gives children and working professionals time to be with their families to celebrate.
In general, the first two days of Hari Raya are declared as public national holidays but the celebrations would extend for up to a week.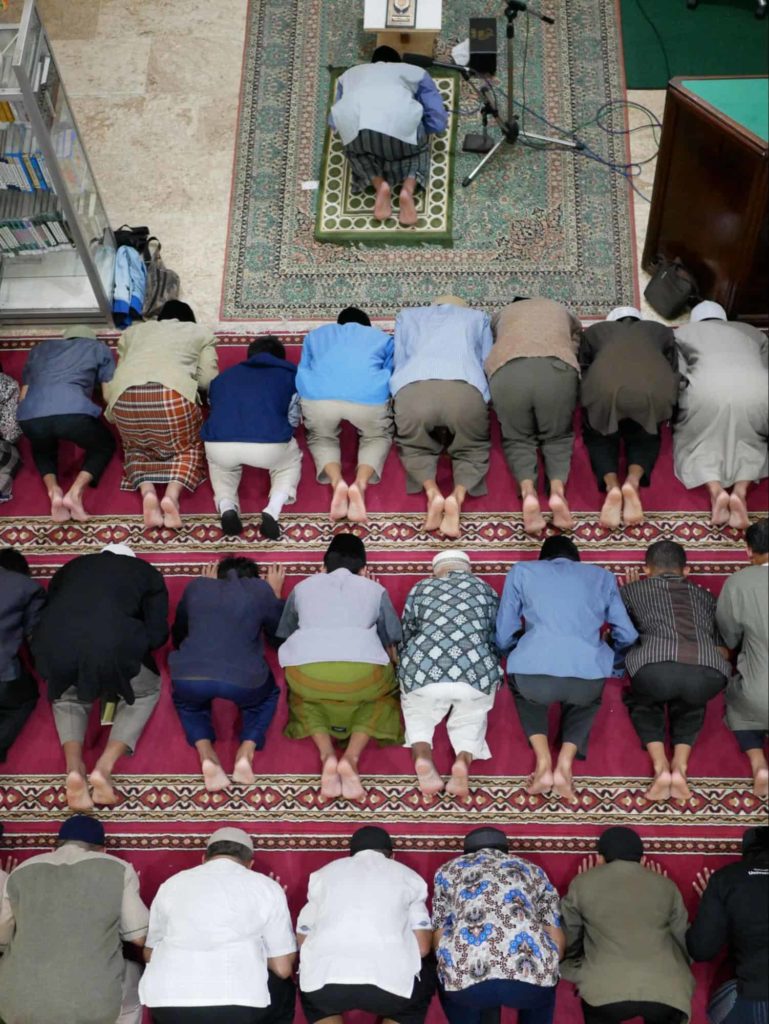 FAQs about How Hari Raya Is Celebrated in Malaysia