The 6 Best Slow Cookers in Malaysia
Preparing a healthy meal like soup, stews, and meat seems like a tremendous task if you work on the usual stove and pots. That's just about to change when you finally get yourself one of the best slow cookers in Malaysia!
They are great for simplifying the way you cook by automatically adjusting the heat according to your preference. Now if you're ready to cook more while doing less, make sure to check each of the products on this list.
The Best Slow Cookers in Malaysia
Before you move along, have we mentioned that slow cookers also help maintain and enrich the flavors of your food? That's right! So read on and keep your eyes on the best slow cookers in Malaysia.
1. Panasonic NF-N30ASSL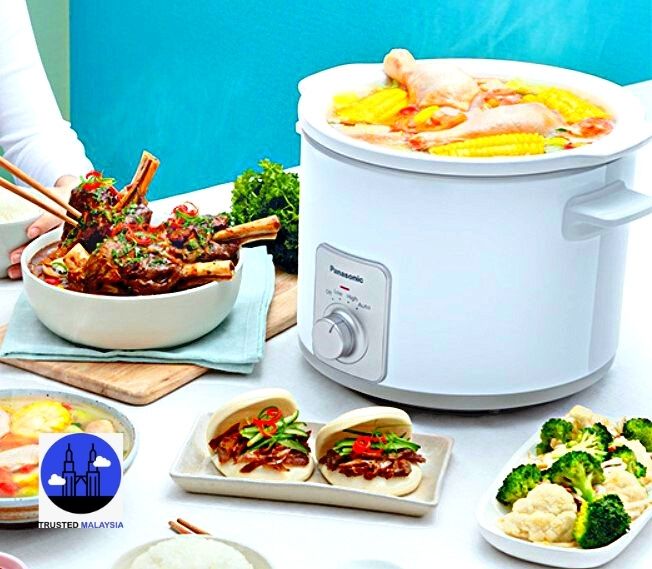 Price: RM 187
| | |
| --- | --- |
| CAPACITY | 3.0L |
| SETTINGS | 3 Settings (Low, High, Auto) |
| COLOUR/MATERIAL | Crystal White body, ceramic pot |
| SAFETY | Thermostat, protective silicone rubber on glass lid |
| POWER CONSUMPTION | Low: 120W, High: 240W, Auto: 120-240W |
| WARRANTY | 1 Year Local Manufacturer Warranty |
The Panasonic NF-N30ASSLis able to maximize the tastiness and healthiness of your one-pot dishes while also managing to be easy to clean.
Using this slow cooker should make you feel comfortable leaving it on for up to 8 hours with minimal supervision. This is perfect for softening meats and cooking different kinds of stew.
Speaking of stew, this slow cooker has 3 settings: Slow, High, and Auto. Any of those can be used to cook your stews, desserts, and soups perfectly as long as you adjust them to the right setting.
Another thing that's important in a slow cooker is that its pot is as durable as its machine. This one has a thick and high-quality ceramic pot that's designed to sustain heat and is topped off with a heat-resistant clear glass list.
We like the addition of the side heater which is to thank for even heat distribution. The fact that the heat is distributed evenly all throughout the dish during the cooking process is the reason for minimal nutrient loss.
Large capacity
Easy to clean
Utilizes side heater
High quality ceramic pot and lid
Does not have "Medium" setting
Timer is only up to 8 hours
Customer Reviews
Here are a couple reviews of customers who purchased this Panasonic slow cooker:
"Very fast delivery. Value for money. Good products quality." -N
"Nice quality, fast delivery and cheaper than other shops. Recommended." -Adenine
2. Cornell CSC-E40PC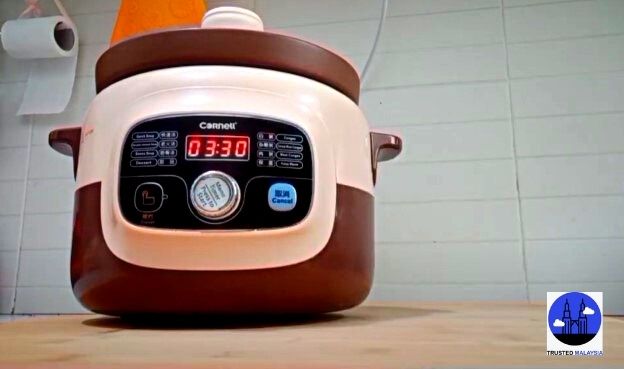 Price: RM188.00
| | |
| --- | --- |
| CAPACITY | 4L |
| SETTINGS | 8 Settings |
| COLOUR/MATERIAL | Purple Clay |
| SAFETY | Boil dry protection safety feature |
| POWER CONSUMPTION | 230W |
| WARRANTY | 1 Year Local Manufacturer Warranty |
For an aesthetically interesting and functional addition to your kitchen, check out the Cornell CSC-E40PC. It's a 4-liter digital slow cooker with a timer of up to 12 hours.
At most, it can serve up to 6 people or 12 bowls of soup which makes it great for large families.
It has an 8 "Ideal Menu" set up for its functions. These include Keep Warm, Quick Soup, Bones Soup, Congee, Cereal Rice Congee, Meat Congee, Double-Stewed Soup, and Dessert settings.
As you can see, all the types of congees you love are cooked specifically the way they are supposed to, especially with the purple clay pot that aids in perfect slow cooking.
This slow cooker has a Tagine cover which is a type of earthenware material that aids in keeping the natural taste and aroma of the dishes in the slow cooker. So when you open it up, the smells get released and everyone gets excited about dinner.
Great for different types of congee
Has "Keep Warm" setting
Perfect for large families
No side heater
Not portable
Customer Reviews
Check out the thoughts of a couple of users of the Cornell CSC-E40PC:
"Received in good condition.👍👍👍 Easy to use.👌 Hope it can be very durable. Thanks seller ⭐⭐⭐⭐" – S
"Package was nicely packed 👍🏼 cute product! I bought the 2L one suitable for 2pax. Cooked soups with it. Good product highly recommended ☺️" -G
3. Pensonic PSC-101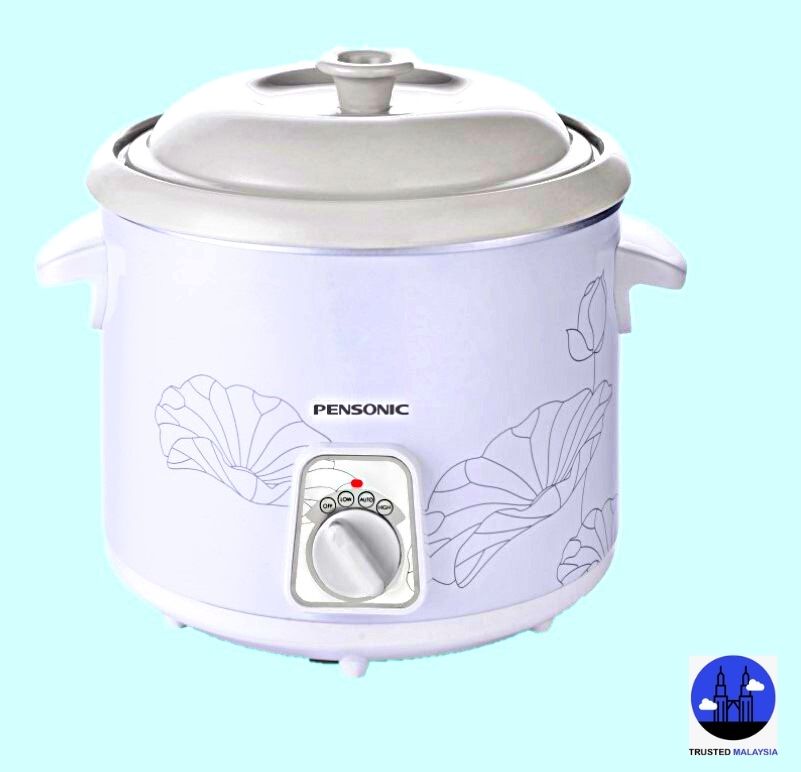 Price: RM71.00
| | |
| --- | --- |
| CAPACITY | 1L |
| SETTINGS | 4 Settings (High, Low, Auto, Keep Warm) |
| COLOUR/MATERIAL | White, ceramic pot |
| SAFETY | Built-in overheating protection |
| POWER CONSUMPTION | 100W-200W |
| WARRANTY | 15 Days Return on Shopee |
The Pensonic PSC-101 is a slow cooker that utilizes a ceramic pot and a heat-resistant lid for good heat distribution for every meal.
With its four settings of High, Low, Auto, and Keep Warm, it's pretty easy to leave it alone with minimal supervision as you do other chores around the house. It has built-in overheating protection too.
It has a light indicator to let you know if it's still on or to make sure that it's running properly. It also has a comfortable handle so you can take it anywhere you need to easily.
This slow cooker is best for homes with fewer members since its maximum capacity is 1L. This properly serves about 1-2 people for a great meal.
It isn't a very aesthetically pleasing slow cooker compared to the others on this list but it does the job and is affordable so we don't really see a big issue here. It's also pretty easy to clean thanks to its non-stick pot.
Affordable
Portable
Non-stick pot
Built-in overheating protection
Small capacity
Doesn't stand out in terms of design
Customer Reviews
Here are thoughts on how well this slow cooker fairs according to people who have purchased and used it:
"Good quality and much more cheaper than shop,easy for make baby porridge and soup" -N
"Fast delivery, good value for money, cute size and nice to use!" -M
4. FABER Slow Cooker FSC516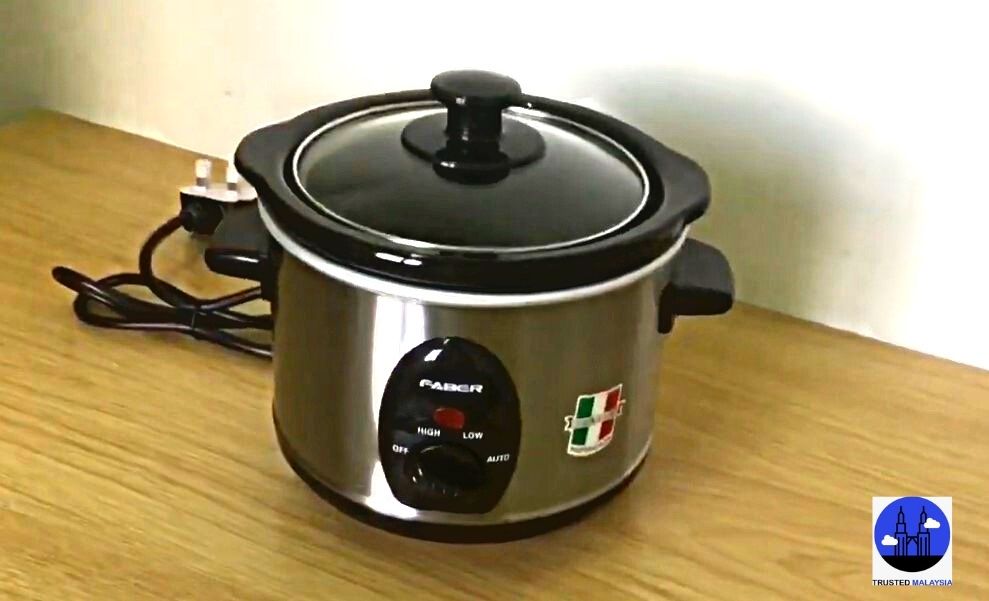 Price: RM57.85
| | |
| --- | --- |
| POT CAPACITY | 1.5L |
| SETTINGS | Hi & Lo Mode with Auto Switch |
| COLOUR/MATERIAL | Brushed Stainless Steel |
| SAFETY | Tempered glass lid, Indicator light, Cool touch lid handle |
| POWER CONSUMPTION | 120W |
| WARRANTY | 1 Year Local Manufacturer Warranty |
The FABER Slow Cooker FSC516has a brushed stainless steel body that will look great in industrial-styled kitchens. Its capacity is only 1.5L so it's best for small households with people who still prefer to have homecooked meals.
The 3 settings this slow cooker has are Hi, Low, and Auto. With Auto, it starts out as High then switches to Low after 3-4 hours to maintain a constant cooking temperature.
It has a removable ceramic pot that's easy to clean and a tempered glass lid. So if you're someone who doesn't like washing dishes and you're also clumsy, this cooker should pique your interest a bit more than the others.
The cool touch lid handle is also a nice little bonus so you can check on your meal from time to time without burning your fingers. Finally, it has an indicator light so you know it's working properly and you'll also know when it's done cooking.
Affordable
Low power consumption
Brushed stainless steel body
Tempered glass lid
Small capacity
Does not have "Medium" setting
Customer Reviews
Take some time to go over these reviews left by users of the FABER Slow Cooker FSC516:
"Penghantaran sangat cepat dan barang sangat berkualiti 👍🏼👍🏼👍🏼👍🏼👍🏼❤️❤️❤️" -Shehanis
"Received items in good condition. Fast delivery. Good packaging. Senang nak masak bubur nasi baby. Size sedang2 je.. X berat nak cuci. Tq" -Wanim
5. Elba EPCC-J5033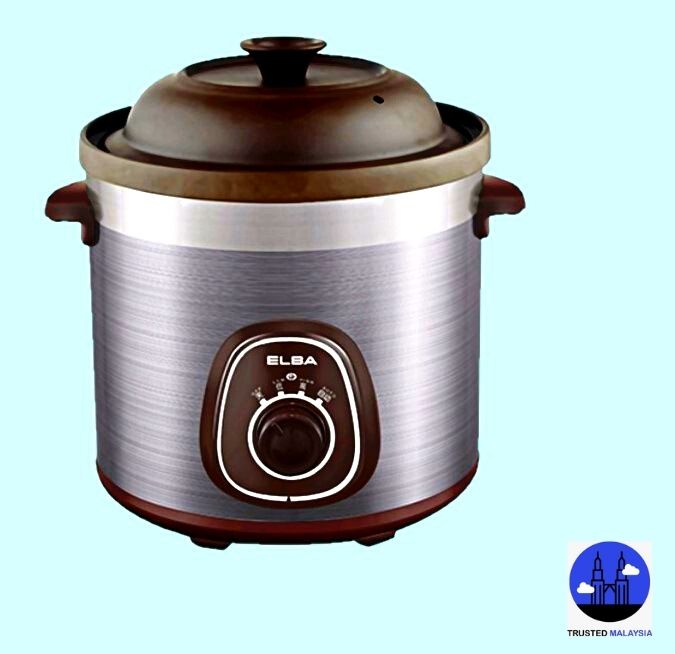 Price: RM121.90
| | |
| --- | --- |
| POT CAPACITY | 5L |
| SETTINGS | Hi & Lo Mode with Auto Switch |
| COLOUR/MATERIAL | Purple clay pot |
| SAFETY | Suspension type 3D heating |
| POWER CONSUMPTION | 280W |
| WARRANTY | 1 Year Local Manufacturer Warranty |
If you're looking for the perfect slow cooker for your family, purchasing the Elba EPCC-J5033 may be the next decision you're going to be making.
It has a capacity of up to 5 liters which can feed up to 8 people. This makes it pretty heavy (6.5kg), but unless you're planning on lugging it around constantly, that shouldn't be a problem.
It has a Low, High, and Auto setting that makes it pretty easy to cook one-pot meals without having to check in on them too much.
Also, you know, purple claystone is known for how well it retains liquids so the fact that this slow cooker uses purple claystone for both its inner pot and its lid is great. It does its job in extracting and retaining food flavor while ensuring the food maintains its nutrition.
The use of claystone isn't limited to its inner functions, though. They also incorporate it into the outermost design of the slow cooker which we really like since this kind of thoughtfulness is what can set an appliance apart from others.
Sleek design
Uses purple stone clay for pot and lid
5L capacity; great for large families
Not portable
Does not have "Medium" setting
Customer Reviews
Here are a few reviews on the Elba EPCC-J5033:
"Fast delivery, took 2 days only, good service, received item in goods condition, no damages, work well compare to others, The product is look good compare to others. I'm very satisfied. Recommended 👍👍👍 Thank you seller" -J
"Great Experience for Being 1st time Bought Slow Cooker online,The Design very cute N nice oso,Thanks for the fast shipment" -A
6. CY601D Tefal Home Chef Smart Multicooker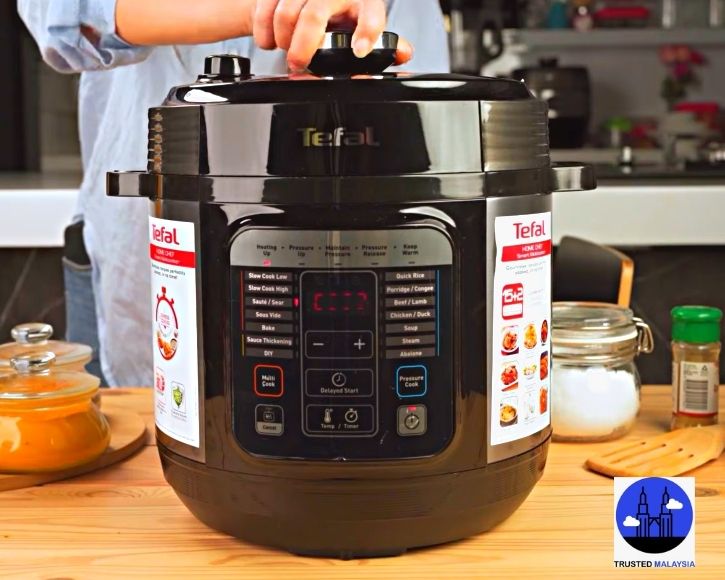 Price: RM599
| | |
| --- | --- |
| POT CAPACITY | 6L |
| SETTINGS | 15+2 Cooking Programs |
| COLOUR/MATERIAL | Black |
| SAFETY | One-Touch Safety Pressure Release Button |
| POWER CONSUMPTION | Contact for details |
| WARRANTY | Contact for details |
Tefal is a known brand for its revolutionary products that can make cooking simpler and easier. If you want perfectly cooked recipes in a short period of time, consider buying CY601D Tefal Home Chef Smart Multicooker.
In comparison to others, this is a fast and versatile pressure cooker that can provide meals for your family in a fraction of time. What is special about this is its 15 pre-set programs plus two additional special functions.
The 15 pre-set programs can do it all, from rice and congee to meats, soups, and special recipes like sous-vide cooking and abalone. The two special functions will allow you to adjust the cooking time and temperature that will enable you to be more creative in your cooking.
Aside from these, we love this product because it is very easy to clean. Its parts are removable and dishwasher-safe.
Unfortunately, a few of the information above is not available on their website. If you are very meticulous about these, make sure to contact them before buying.
10 years repairability
Can keep food warm for 24 hours
Optitaste technology
Flat inner pot
Has 12 safety features
On the pricier side of the market
Customer Reviews
Here are a few reviews on the CY601D Tefal Home Chef Smart Multicooker:
"The recipe guide and instruction manual was a great addition and certainly assisted to make the recipes as quick as possible. The time taken to prep meals was minimal and the pressure cooker option was great. The kids loved the food and I loved the reduced time."
"Having never used a pressure cooker before i was slightly nervous using the Tefal Multicooker for the first time. These fears were unwarranted, it was easy to use with fantastic results. I made pulled beef in 90minutes instead of 6-8 hrs. The beef was juicy and cooked to perfection. And to top it off the clean up was quick and simple"
"I really enjoyed using Tefal Multicooker. I have used several other multicookers but this has been my best experience so far.I have only used it few times and I am really happy with how many things this appliance can do. It is very easy to use and comes with a recipe book which is very handy. My family enjoyed the meal I cooked using this cooker. It has become one of my favourite cooking appliances."
Things to Consider Before Getting a Slow Cooker in Malaysia
1. Warming Function
Slow cookers commonly have 3 to 4 heating functions: high, low, auto, and keep warm. The first three functions are useful for cooking but the keep warm function is going to be your holy grail.
This will keep the food's temperature high without burning, especially at parties and large family dinners.
2. Cooking Pot Size
Pot sizes can go from 1 liter to as much as 5 liters so you'll have to consider the amount of food you'll need in every meal. Not only the number of people you usually cook for but also the type of ingredients you need.
Vegetable cuts for stews and soup can fit small cooking pots. However, if you'll be cooking large cuts for food like meat and fish, then you won't go wrong with larger sizes.
3. Features & Functions
More than just turning the heat up and bringing the soup to boil, some features you might want to look out for are: digital displays, sear or sauté settings, and programmable features.
They are extended elements that will bring even more convenience to your slow cooking tasks.
4. Convenient Cleaning
Non-stick pots should be your priority if you are particular about the ease of cleaning in any cooking equipment. You won't see any trace of the previous meal cooked plus they can go into your dishwasher.
You might also wanna consider a slow cooker with touchpads unlike buttons and knobs, there are no corners for dust to build up.
FAQs about Slow Cookers in Malaysia
---
That concludes our quick list of the best slow cookers in Malaysia! We hope this list helped you and that you were able to learn more about this appliance as you read along with this article.
Truly, we all want to make the best meals with the best equipment there is so we know why this is so important to you. It's also pretty important to other people so if you have more slow cookers you'd want us to include in this list, feel free to let us know!
We'd love to review them and put them up here on this list. After that, you can also check out our list of the best induction cooktops in Malaysia!