The 5 Best International Schools in Malaysia
When it comes to your children's education, it can be a little nerve-wracking to decide where to send them. As a parent, you have big dreams for your kids and you know that the institution you send them to plays a huge role in their success.
There are so many options out there promising the best education for your kids and you might be having trouble knowing which one works for you and your kid the best. Worry no more!
In this article, you'll learn all about the top international schools in Malaysia that focus on the holistic growth and education of your child! Read on and sleep easy knowing you choose the right school for your kid.
How Much Do International Schools Cost in Malaysia
Tuition fees in the international schools above vary based on the school itself and the year level of the student.
Here's a list we put together to give you an idea of the tuition cost in the school mentioned below:
| | |
| --- | --- |
| School | Tuition Fee |
| Matrix International School | From RM22,050 to RM46,300 |
| Alice Smith School | From RM 13,230 to RM 31,100 |
| The British International School of Kuala Lumpur | From RM 44,270 to RM 99,970 |
| Templer Park International School | From RM12,000.00 to RM33,000.00 |
| Idrissi International School | From RM 11,000 to RM 15,600 |
The Best International Schools in Malaysia
A lot of schools out there promise quality education but the schools in this list promise something better: holistic and quality education to help your child grow into the best person they can be.
1. Matrix International School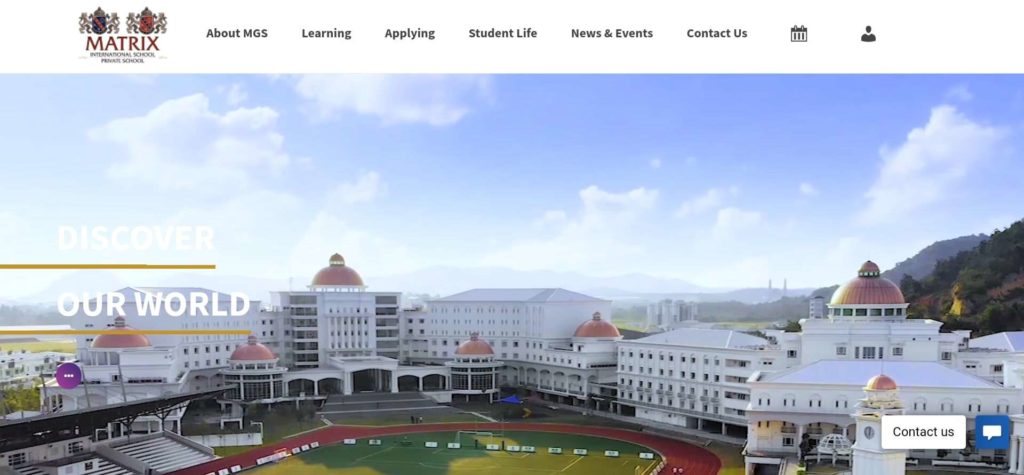 | | |
| --- | --- |
| CURRICULUM | English Curriculum |
| WEBSITE | https://matrixschools.edu.my/ |
| ADDRESS | Pusat Dagangan Sendayan, Pt 12652, Sendayan Merchant Square, Persiaran 1 Sendayan Utama, Bandar Sri Sendayan, 71950 Seremban, Negeri Sembilan, Malaysia |
| CONTACT DETAILS | +60 1-300-22-9888 |
| OPERATING HOURS | Mon-Fri 8:00am-5:00pm |
Matrix International School is one of the three Matrix Global Schools. The other two are Matrix International Preschool and Matrix International Private School.
These three schools are all located on one campus but have different ways of approaching education. Matrix International School seeks to challenge its students intellectually to ensure they go out into the world persistent, expressive, and responsive to the ways of the world.
MATRIX International and Private School offers globally-progressive education for your child and through its rigorous curriculum and quality teaching from teachers and learning from students, MATRIX secures a spot on our list of recommendations.
With a fusion of British and Malaysian curricula, MATRIX offers the best of both east and west to ensure that your child receives the best. With state-of-the-art classrooms, laboratories, theaters, and sports complexes, MATRIX boasts the best learning experience for your child from academics to extracurriculars. 
What sets MATRIX apart from other schools is that the school provides two different curriculums depending on you and your child's interests. Tailored for global competitiveness, MATRIX offers its specialized International Curriculum for international students and those who plan to pursue education outside of the country. MATRIX also offers a blend of both international and the Malaysian National Curriculum where students benefit from the national culture and core subjects of Malaysia, while exposing students to globalization. 
If you are interested in applying for admission, you may refer to their website for their contact details. The school also offers scholarships for exceptional students in the academe, arts, or sports.
They accept students aged 3-19 years old. The average class size is 22-25 students.
State-of-the-art facilities
Green environment
Boarding or non-boarding
Available scholarships
Tuition ranges from RM22,050 to RM46,300
Customer Reviews
A good international school is made up of a good faculty and this is exactly what this review says about MIS:
"Very good teaching faculty i would personally like to thank all the teachers n especially locals for being so good to children as well as parents." -Anon
2. Alice Smith School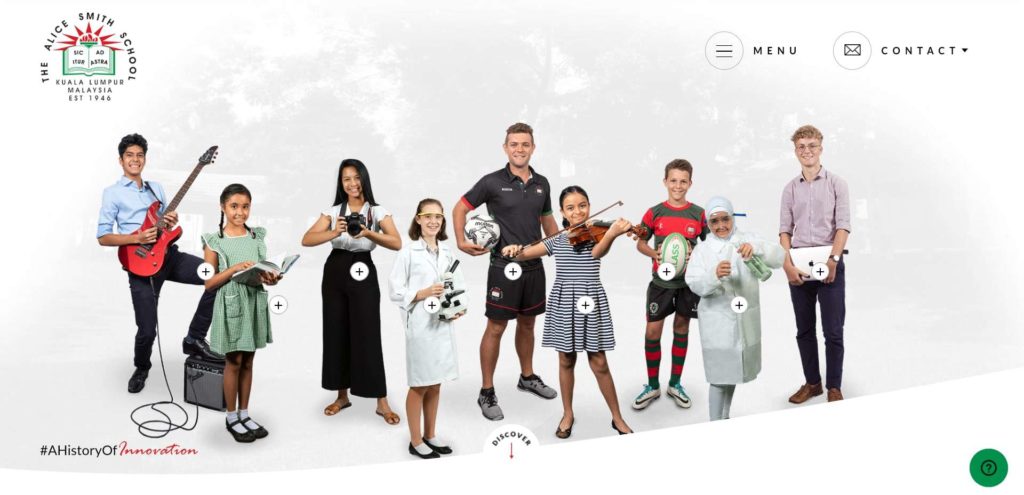 CURRICULUM
English curriculum
WEBSITE
https://www.alice-smith.edu.my/
ADDRESS
PRIMARY CAMPUS
2 Jalan Bellamy,
50460 Kuala Lumpur,
Malaysia

SECONDARY CAMPUS
3 Jalan Equine,
Taman Equine,
43300 Seri Kembangan,
Selangor, Malaysia.
CONTACT DETAILS
PRIMARY CAMPUS
+603 2148 3674

SECONDARY CAMPUS
+603 9543 3688
OPERATING HOURS
Mon-Fri 7:30am-4:00pm
Alice Smith School is a parent-owned international school based in Kuala Lumpur. It's also the first-ever British international school in Malaysia!
There are two campuses—one for the primary students and one for the secondary students. Each is fully equipped and designed to ensure not just academic excellence but excellence in their chosen fields of interest as well.
They have multiple sports facilities for just about any sport, a drama department, fully-equipped media classrooms, a library with features like collaboration rooms and study pods, and so much more.
The classroom settings are very different from most schools; they have glass walls that can be written on to share ideas and multi-level seating for the comfort of the students while still making sure they are guided and watched over by school authorities.
They accept students aged 3-18. The maximum number of students per class is 24 students.
Available transportation
Virtual campus tour
Classrooms are designed for maximum comfort
Customer Reviews
Here are reviews are written by a parent and a previous student of Alice Smith School:
"The learning environment is conducive indeed with very dedicated staff members. It is highly recommended for parents who wish to expose their children to truly British education." -Andy
"Amazing school. The best years of my life spent there. All the teachers are committed and qualified. Some teachers have master degrees from Cambridge and Oxford. Excellent results and state of the art facilities. Sport facilities are fully certified to be of IAAF World Class certification. Music and Art community is huge, with 3 concerts per year."-Anon
3. The British International School of Kuala Lumpur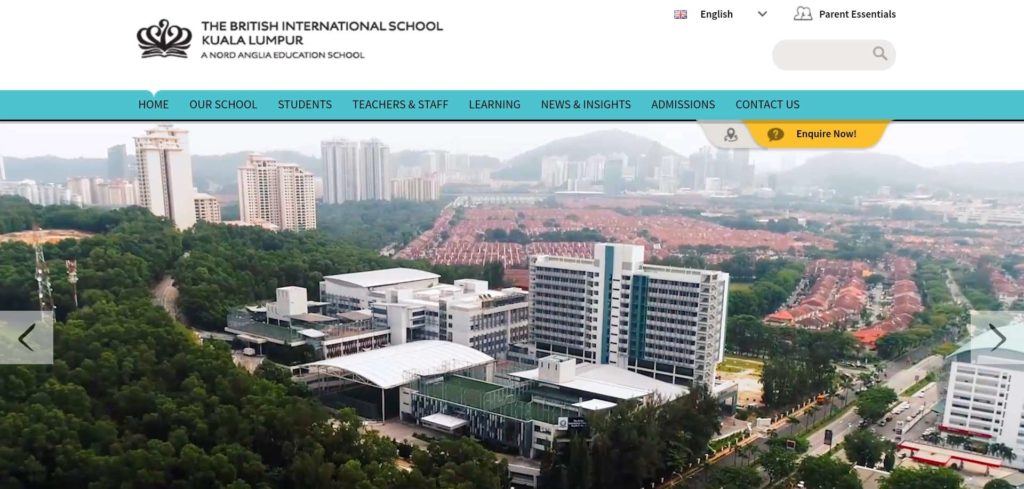 The British International School of Kuala Lumpur was established in 2009 and has since been awarded the Council of British International Schools Patron's accreditation due to its excellence.
The school boasts world-class facilities that cater to the various extra-curricular activities that the school has some of which include a multi-purpose sports hall, swimming pools, a 650-seat theatre, and dance rooms.
They guarantee a personalized learning experience for your child by providing the teaching staff with adequate time and resources to help invest in your child's future. They also provide separate creative breakout spaces for students who may prefer peace for studying.
Their number one goal is to help create confident individuals who are resilient and independent and one of the ways they did this was by collaborating with UNICEF for community outreaches, Juilliard for their arts curriculum, and MIT for the up-to-date technology.
They accept students aged 2-18 years old and follow the British education's curriculum which carries students from Early Years to Sixth Form. Each class has an average of 22 students.
Transportation available
Partners with multiple well-known organizations/schools
No boarding
Very high tuition fee
Customer Reviews
This review was left for TBIS with such kind words:
"One of the best schools in Kuala Lumpur. Even though it's not cheap. It actually pays itself with excellent teachers and facilities. I recommend this school to everyone. PS: Please avoid the hate and off topic reviews because they don't talk about the school itself." -Aaron
4. Templer Park International School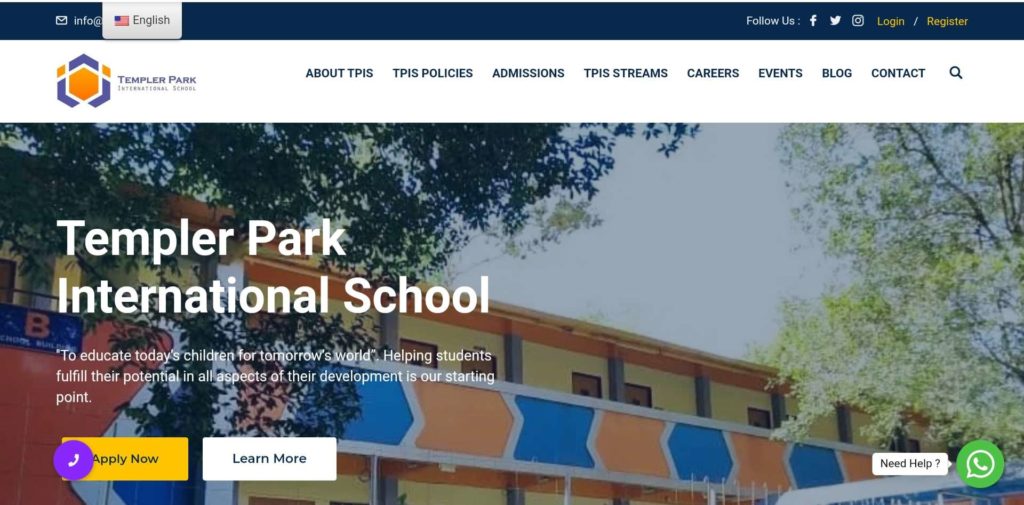 | | |
| --- | --- |
| CURRICULUM | American curriculum |
| WEBSITE | https://www.tpis.my/ |
| ADDRESS | Taman Rimba Templer, Templer Park, 48200 Rawang, Selangor, Malaysia |
| CONTACT DETAILS | +601116322447/ +601114327218 |
| OPERATING HOURS | Mon-Fri 9:00am – 4:00pm |
Templer Park International School is an international school located 30 minutes outside of Kuala Lumpur.
This school has an open park concept with outdoor classrooms so they can better appreciate nature which has been proven to help both the physical and mental health of children.
This is why the campus is among the mountains! Additionally, being around nature helps the students learn more about the world around them and raise awareness about our Earth as they grow older.
This goes hand-in-hand with their inquiry-based and hands-on teaching techniques. They utilize the American educational curriculum infused with an international perspective.
Templer values creative freedom which is why they tailor each curriculum based on the student's needs and passions in life.
You can opt for one of the two learning styles—traditional learning or flex learning. Traditional learning would require you to attend classes on campus while flex learning is more like a homeschooling setup.
Either way, their learning materials are accessible online which means they don't need to lug around heavy textbooks, they can access them online, and there's no issue if they need to go out of the country for a while.
Some of their facilities include a swimming pool, science lab, horse riding facilities, zipline, mini-zoo, virtual reality lab, language lab, camping, and hiking facilities—all on a 17-acre park!
Very affordable international school
Flex learning or traditional learning options
No boarding
Relatively far from city centre
Customer Reviews
Here's a heart-warming review from one of Templer's student's parent:
"The very first of Its kind international School in Malaysia located in the middle of the Jungle. Students have the opportunity to be in touch with the nature and real life experience which is very rare to be found nowadays in this civilised and hectic lifestyle, and yet to be in pace with the latest education AI technology. This blend of learning methodology makes Templer Park International School one of its kind." -Blagica
5. Idrissi International School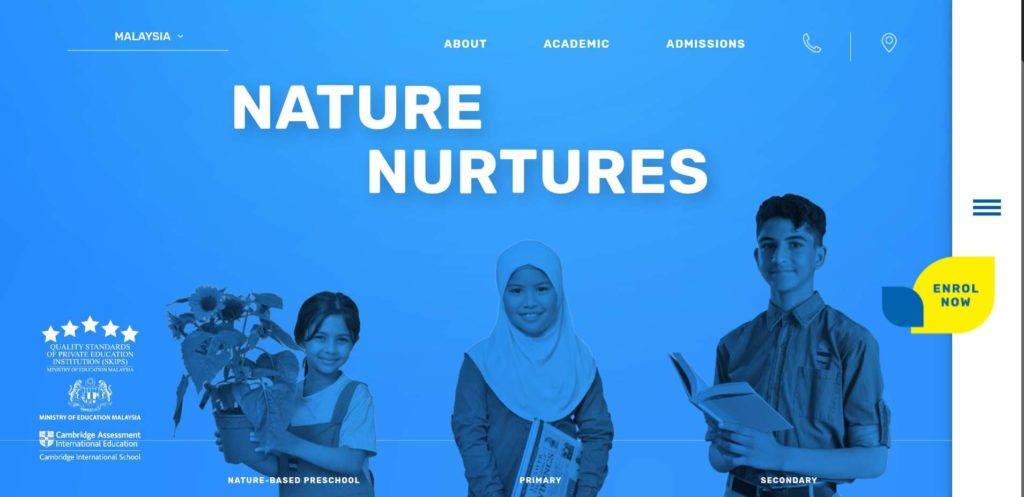 CURRICULUM
English curriculum
WEBSITE
https://www.idrissischool.edu.my/
ADDRESS
25, Jln Setia Dagang AJ U13/AJ, Setia Alam
40170 Shah Alam, Selangor, Malaysia
CONTACT DETAILS
+60 3-3362 4216
OPERATING HOURS
Mon-Fri 8:30am-4:00pm
Idrissi International School is a parent-owned international school in Selangor. It's the first international school in Malaysia that combines the British curriculum for learning and Islamic values.
They seek to create an environment that is both safe and homely for each and every student with their cultivation of Islamic values.
They adopted a curriculum for preschoolers that is nature-based, skill-focused, and bookless. At these tender ages, the goal of the teaching staff is to produce skillful and emotionally ready students.
As they grow older, they are encouraged to be practical in the world as they become both knowledgeable in the world while holding fast to their dunya and akhirah values. One of the ways they do this is by providing students with prayer rooms!
Now, for their extra-curricular activities, all of them are supported by their facilities such as their archery facilities, basketball court, robotics lab, science lab, art room, and a futsal area.
Please note that, unlike other international schools, their minimum age is much higher. They accept students aged 5-17 years old for their preschool to secondary levels.
Skill-focused learning
Provides prayer rooms
Affordable tuition fees
Islamic values are instilled in students
Student must be 5 years old or above
Not ideal for non-Islams
No daycare
Customer Reviews
Read this review left for Idrissi:
"A school that feels like home :). There are friendly faces everywhere, from the friendly guards to the dedicated teachers, hardworking staff and cheerful students. A great environment for students growth as it incorporates islamic values in teaching and learning. :)" -Melia
Things to Consider When Looking for an International School in Malaysia
Asides from the fact that you're expecting your child to receive world-class education, here are a few other things to consider before making the big decision of where to send your kid:
Tuition Cost
You're going to want to make sure that the school you send your kid to is within your price range. When we hear "international school" we usually assume it's going to be expensive but that's not always the case so do your research!
Location
It's best to find a school that's near your home so your child doesn't have to wake up extra early in the morning and waste time in traffic. You could also consider enrolling them in a school near your workplace so drop off becomes easier.
Facilities
Each school has different capacities in terms of facilities (sports, arts, labs) to help nurture your child's interests and capabilities. If you already know what your child's interests are, find a school that will be able to help them hone it!
FAQs about International Schools in Malaysia