The 12 Best Travel Agencies in Malaysia
Passport Booklet on Top of White Paper via Nicole Geri on Unsplash
Nothing beats the convenience of hiring a travel agent to customise and take care of all your travel plans. So, to make your travel worry-free, we're going to talk about the best travel agencies in Malaysia!
These travel agencies in Malaysia are experts at handling every nitty-gritty detail of your trip. Take a look at them to see which one might suit your needs best.
1.  Sri Sutra Travel
BEST FOR 
Umrah
OTHER PRODUCTS
Flights, airport transfers, accommodation, car hire, sightseeing and tours, bus and rail tickets, concert and sporting tickets, and support services
WEBSITE
https://www.sutra.my/home-revamp-2/
ADDRESS
No.22A, Persiaran 65C, Pekeliling Business Centre, Off Jalan Pahang Barat 53000 Kuala Lumpur, Malaysia
CONTACT DETAILS
Tel: 03 4026-6600 | 03 4026-6677

Fax: 03 4026-6622

OPERATING HOURS
Daily 8:45 AM – 6:00 PM except on Saturday, Sunday, and public holidays
Sri Sutra Travel calls itself "your travel designer for air, land, and sea."  We love this travel agency because it covers pretty much everything under the sun when it comes to designing your travel experience.
Sri Sutra Travel has your comprehensive list of travel needs from the usual flights to transfers, accommodation, car hire, sightseeing and tours, tickets, etc. But there's actually more to love about Sri Sutra Travel.
Apart from those already mentioned, it also offers support services like visa processing, travel insurance, halal food, and the like. However, it's the various Umrah packages that make Sri Sutra Travel a real winner for us.
You get to choose from a comprehensive list of Umrah packages that include Umrah Ziarah in Jerusalem and Jordan, Cairo, Istanbul, and Morocco, to name a few. In addition, each Umrah package comes at competitive prices you will likely not find elsewhere.
With the many diverse offerings that Sri Sutra Travel has, it's no surprise that it boasts of many accolades from the travel industry.
So, in case you're planning to take on your pilgrimage, you might want to consider Sri Sutra Travel as your travel designer and companion for this important trip in your life.
Customer Reviews
These clients all love the easy booking service online for activities and tour and competitive rates that Sri Sutra Travel has provided for them.
"I made booking on www.sutra.my, it so was easy. I was able to check on various options, made prices comparison and choose the best options that suited my traveling plan all within one website. I could also book ticket for activities as well as tour. The prices are also competitive. ?"
"very useful platform and user friendly. all in one booking made so easy. for a Malaysian company to have this platform… I must it is excellent. keep it up."
2.  Savvy Travel & Tours

BEST FOR 
Company trip
OTHER PRODUCTS
Team building, tele-match, meeting, gala dinner, via application, and travel insurance
WEBSITE
https://www.savvytravel.com.my/
ADDRESS
No 27, Lorong Batu Nilam, 21B, Bandar Bukit Tinggi 2, 41200 Klang Selangor, Malaysia
CONTACT DETAILS
Company Incentives Advisor

Ms Jovern +60 19-226-3928

Ms Karen +60 13-886 6928

Visa/Insurance Advisor

Ms Jocelyn +60 19-226-1928

Ms Gigi Lim +60 13-939 9928

General Enquiries

+6 03-3318 8328 / 8628

OPERATING HOURS
Weekdays 9:30 AM – 6:00 PM

Weekends & Public Holidays: Closed
It's rare that we come across a travel agency that specialises in company trips. So, if you're a company owner and would like to reward your top performing employees or have a team building session somewhere, you might want to check out Savvy Travel & Tours.
What we love most about Savvy Travel & Tours is that it goes beyond the usual corporate travel options. When you book a company trip, you and your employees and even valued clients can avail of tailor-made trips that jive well with the overall profile of any company.
And in case you're really clueless as to how to personalise any trip for your employees or clients, Savvy Travel & Tours has company trip ideas to get you started.
Customer Reviews
These clients are all beaming about the well-thought-out planning of the trips and services that Savvy Travel & Tours provided for them.
Though the costs may be pricey compared to other regular travel agencies, they said they never felt short-changed at any time during their trip.
"SavvyTravel provided me the best travel experience so far. They are very professional in handling my trip. Schedule was very well-planned and most importantly they served their customers with the best hospitality. Very satisfied with the services they provided and worth for what I paid for !"
"So glad that I have chose Savvy Travel for my family trip. Although the price was slightly higher compared to other travel agency, but the quality of package and their professional service worth the price! Best choice ever!! Thanks to Jovern!"
3.  Corporate Information Travel
BEST FOR 
Corporate travels
OTHER PRODUCTS
Muslim packages, cruise, my journeys, and CIT golf
WEBSITE
https://cit.travel/
ADDRESS
Click here for the addresses.
CONTACT DETAILS
Click here for the contact details of each department.
OPERATING HOURS
Monday – Friday 9:00 AM – 6:00 PM

Saturday, Sunday, & Public Holidays: Closed
Corporate Information Travel (CIT) gives companies plenty of reasons to hire it for their next travel adventure.
One of the things that we love about this travel agency is that it makes sure that each tour group is composed of only 20 persons to keep things more intimate and manageable. Moreover, even if it's just you and your significant other on a trip, your schedule is still a go because cancellations are a big "no" to CIT.
We also love that the tour guides are locals of the place we want to visit. So you get the first-hand info on the best places to eat, shop, get a photo taken, etc.
But the real deal with CIT is its range of corporate travel solutions for companies. If you're a company owner, you'll get a corporate events team that will take care of your meetings, incentive requirements, product launch, and international conferences.
With corporate travel solutions, you can be worry-free in your travel, as its dedicated team will take care of everything for you from visa requirements to travel expense reports to travel insurance, among others.
With such offerings and packages, we see a lot of reasons CIT should be one of the travel agencies you should hire in Malaysia.
Customer Reviews
Because of CIT's excellent service and crew, these clients have had a truly memorable travel experience.
"I had a wonderful vacation in luxor and aswan, they serve very good food and the rooms are cosy and comfortable and the view on the sundeck was amazing and i had a really nice time with the lovely crew which was the best thing especially Monsef ,he is the best thing in the trip
Special thanks to Azaro , Romany and amazing Monsef"
"I had excellent support and great advice. The person helping me Sharon went above and beyond in making sure everything was in check for me. 🙂 Made my trip a great one even with changes at the last minute. I will definitely be using their services again the next round i go to the u.s."
4.  Jouis Holiday
BEST FOR 
Hot destinations, cruise packages, events management, team buildings, and corporate training
OTHER PRODUCTS
Click here for attractive services and packages.
WEBSITE
http://jouisholiday.com/
ADDRESS
No 457, Lebuh Chulia, 10200, Penang, Malaysia
CONTACT DETAILS
Phone: +6 04 305-1008

Fax: +6 04 261-8828

OPERATING HOURS
Monday – Friday 9:30 AM – 6:30 PM

Saturday, Sunday, and Public Holiday: Closed
Located in Penang, established in 2008, and licensed by the Ministry of Tourism, Jouis Holiday is another travel agency we can all turn to for any trip.
With services and packages that range from tours and events management to medical, properties, and education tourism, Jouis Holiday has more than enough offerings for its diverse clientele.
Among its many offerings, we love its hot destinations. So if you're planning on a trip with your family, friends, or significant other, you can take your pick of various countries in Asia like Japan, Maldives, Philippines, Taiwan, Thailand, and Vietnam.
Jouis Holidays also has a tour package for Down Under in Australia. And its list of European countries to visit are just as diverse as the activities you can do in each place.
Each trip that Jouis Holiday has is truly one for the books. Take your pick of its northern lights offering in Iceland, the famous Santorini in Greece, a boat ride in Venice, and the great architectural wonders in Eastern Europe.
Customer Reviews
This client is all praise for the great coordination and reasonable pricing of the company:
"Excellent service! This is the first time we engaged with Jouis & we all have a great time. Always provide the best service when we have any enquiries. Everything is well arranged & great coordination. Important is reasonable price with excellent service. Good job & keep it up."
5.  Star Travel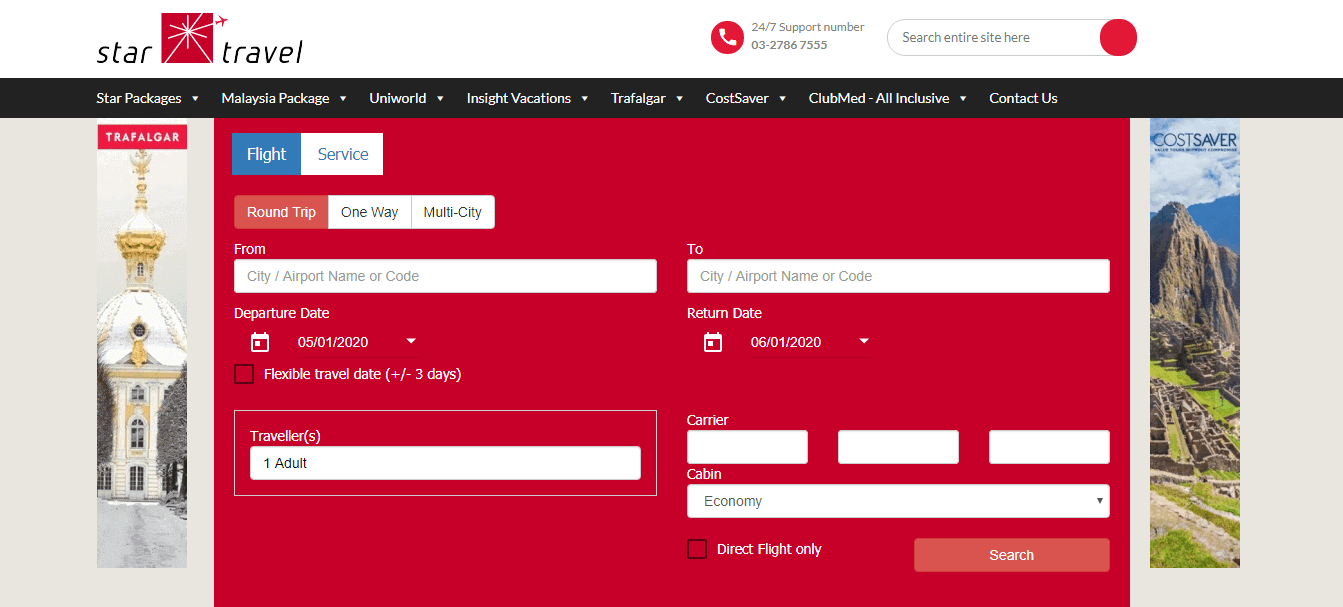 | | |
| --- | --- |
| BEST FOR  | Guided tours and Star packages |
| OTHER PRODUCTS | Airline promotions |
| WEBSITE | https://www.startravel.com.my/ |
| ADDRESS | Wisma Star Travel, No 44,, 42, Jalan Raja Abdullah, 50300 Kuala Lumpur, Wilayah Persekutuan Kuala Lumpur, Malaysia |
| CONTACT DETAILS | 03 2786-7555 |
You can't go wrong in availing of the services of a travel agency that has been serving the Malaysian community for the past 40 years. This is why Star Travel is one of the stars we have on this list of the best travel agencies in Malaysia.
They have an amazing array of packages. For example, the Insight Vacation and Cost Saver packages let you take your pick from going on a food adventure in Europe to treading on the historic pathways in Rome.
Not many travel agencies offer packages for tours that cater to our health and well-being. This is why Star Travel gets another star from us for their ClubMed packages where you can choose destinations that offer a holistic wellness experiences in Asia.
It's no wonder Star Travel has bagged plenty of awards and recognition for its travel offerings and excellent services.
Customer Reviews
It's all thumbs-up for these clients who've had loads of good time with Star Travel's professional team. In fact, one has become a loyal client because every trip was "awesome":
"Highly recommend to use Star Travel. Our recent vacay to NZ was amazing and well plan tour. Professional and personalised services rendered by the team. Our re-schedule flight tickets due to emergency was attended immediately within a short span of time before departure. Thank you very much for your superior service, Star Travel team.???"
"We used Star travel to go to the elephant sanctuary in Kuala Gandah! For a reasonable price we got an amazing experience! We had a private minivan with air-conditioning and he showed us some cool extra places! In addition he made us a nice movie of us during the elephant washing with his own filmingdevice without additional charges! The guide was really thinking about our needs to create an amazing experience! Thank you!"
"Highly recommended travels. We travelling with star travels since year 2017?. Awesome services… We really enjoyed our latest trip to kerala @ Munnar (Devonshire green), Alappey (Warmth lake haven), Boat house (Alappey) & Awesome sight seeing.
Driver such a honest & friendly. Tq to Driver Ijo too, and also India agent Mr.Jekku who arrange our trip as we request ?
Really awesome services by Star Travel Agents.
Tq so much.?"
6.  Hydramas Travel & Tours
| | |
| --- | --- |
| BEST FOR  | Click here for all tours and destinations. |
| WEBSITE | https://www.hydramas.com/ |
| ADDRESS | Click here for the address of different offices. |
| CONTACT DETAILS | +60 3-8881-0939 |
Hydramas Travel & Tours, established in 1997 and registered under the Ministry of Tourism, is another multi-awarded travel agency that offers high-quality and reliable travel services for Malaysians.
We love the fact that Hydramas Travel & Tours delivers only guided private Muslim tours with itineraries that are tailor-made for groups and companies.
Like any other travel agency, Hydramas Travel & Tours will take care of your flight details, transfers, and accommodation. But the real winner for us comes in the form of the well-thought-out tours and packages exclusively for Muslims who would like to explore the world.
We like its top Muslim detsinations and tours where you can choose to travel to countries like Japan, Turkey, Korea, U.A.E, Thailand and even Malaysia itself.
7.  Exotic Asia
BEST FOR 
Click here for the services.
WEBSITE
http://www.exoticasiaholidays.com/
ADDRESS
10-1-1 Queens Avenue, Jalan Bayam 55100 Kuala Lumpur, Malaysia
CONTACT DETAILS
Office: 03-92027033

Fax: 03-92007035

Mobile: 019-5073068 | 012-2925106 | 013-2084862
If you're thinking that this travel agency is limited to Asian destinations, you're certainly mistaken. Exotic Asia joins the list of the best travel agencies in Malaysia for its diverse tours and services.
We like Exotic Asia's list of more than 30 destinations at affordable prices. Take your pick of countries like Australia, Bhutan, Meda, Nepal, Turkey, Vietnam,etc.
But aside from the usual outbound tours and transportation, we also like that Exotic Asia is one of the well-known attraction resellers of a wide collection of tickets at discounted prices. You can choose tickets for Sunway Lagoon, KL Tower, Legoland, and more.
More importantly, we love how Exotic Asia can snag you a great discount deal for air fare and other services. This is because it's an independent travel company, so it's not tied to any "parent" operator that needs to be endorsed.
On the whole, we like the independence and variety of services and destinations that Exotic Asia has to offer.
8.  Mitra Tours & Travels
BEST FOR 
International tour, domestic tour, travel solution, and travel essential
OTHER SERVICES
Transportation
WEBSITE
https://www.mitra.travel/
ADDRESS
Suite 8-2-2, Level 2, Menara Olympia, 8 Jalan Raja Chulan, 50200 Kuala Lumpur, Malaysia
CONTACT DETAILS
Click here for the contact details of the different departments.
OPERATING HOURS
Monday – Friday 9:00 AM – 5:30 PM

Saturday, Sunday, and Public Holidays: Closed
Mitra Travel & Tours is another well-established travel agency that has been rendering service to us Malaysians for the past 45 years.
It will do all the work for you to make your travel a breeze. We suggest that you try its travel solution service for you to experience the convenience of visa application, having a car rental reservation, 24/7 online booking, etc.
We like its 25 local and international destinations to choose from. With exotic and classic places like Morocco, South America, and Europe, you will never run out of adventures.
9.  IBC Tours Corporation
BEST FOR 
Click here for tours and destinations
WEBSITE 
http://www.ibctours.com/
ADDRESS
Lot 23, Tingkat 4, Wisma SKM, Jalan Medan Tuanku, 50300 Kuala Lumpur, MALAYSIA
CONTACT DETAILS
1300-22-6969 (Outbound)
+603 2694 0821 (Ticketing)
+6012 493 1020 (Hotline & WhatsApp)
[email protected] (General & Outbound)
[email protected] (Ticketing)
OPERATING HOURS
Mon – Fri: 9.00am – 5.30pm

Saturday: 9.00am – 1.30pm

Sunday & Public Holidays: Closed
IBC Tours Corporation is a travel agency with over two decades worth of experience in the industry. Established in 1995, they have since earned their license to provide inbound, outbound, and ticketing services.
They have earned their spot on our list of best agencies for a number of reasons. One is their accreditation, which includes the International Air Transport Association (IATA), MATTA and Malaysian Bumiputera Association of Tour and Travel Agents (BUMITRA).
Second is their partnership with all major airlines. If you're picky when it comes to the company providing your travels and not just your destination, then IBC Tours Corporation is the perfect choice for you.
Lastly, is the promise of no hidden charges. "Gotcha!" moments aren't always fun, more so when it comes to finances. Choosing IBC Tours Corporation guarantees satisfaction both from the trip and your safe wallet.
10. Malaysia Tours & Travel Agencies Sdn. Bhd.
Malaysia Tours and Travel Agencies is a veteran in the tourism, adventure, and travel industry, as they have been serving clients since 1958. With their wealth of experience and expertise, they promise customers "peace of mind" in their chosen travel destinations and offer a trouble-free experience that could enhance any traveler's journey.
Aside from the usual travel and tour packages, Malaysia Tours stands out with their integrated services that range from offering Inbound, Outbound and Ticketing Agent services, as well as Coach, Limousine, and Rental Car packages.
We also love their friendly and highly qualified staff who embodies their stress-free travel experience. Be sure to try them out on your next travel adventure.
11. Merlin Transtour Sdn Bhd
BEST FOR 
Budget tour packages
WEBSITE 
https://malaysiatourservices.com/
ADDRESS
Head Office:
THE CUBE
26-3-1, Jalan 6/18A, Taman Mastiara,
51200 Kuala Lumpur , MalaysiaBranch Office
44A, Jalan Besar Tanah
39000 Cameron Highland , Malaysia
CONTACT DETAILS
Email:

[email protected]


Phone: 6017 942 1125
OPERATING HOURS
Monday-Sunday: 9am-5pm
Merlin Transtour is known to be the best tour service operator in Kuala Lumpur that offers the best budget tour packages.
Their services include hotel and bike rental, pick up, transfer, a tour guide and a trip according to your budget and liking. They help you plan a direct tour to Kuala Lumpur, Cameron Highlands, Genting Highlands, Malacca, Penang Taiping, and some other places around the country.
To also help in giving you a phenomenal travel experience, they have travel advisers to assist you in booking your trip.
12. Reliance Premier Travel
BEST FOR 
Tour packages for worldwide destinations, flight booking, MICE & Events, Private & Tailor made programs, Incentive Trips, Hotels, Visa, Insurance & more
WEBSITE 
https://www.reliancepremiertravel.com/
ADDRESS
46C Jln Suarasa 8/4, Bandar Tun Hussein Onn, 43200 Cheras Selangor Malaysia
CONTACT DETAILS

[email protected]

| +603-9074 8699
OPERATING HOURS
Monday – Friday 9:00 AM – 6:00 PM
Reliance Premier Travel is your travel brand. They focus on quality, experience and best-in-class service. They have been in the forefront of the Travel & Tourism business and a leading Travel Management Company in Malaysia. Their products and services provide unique value to our customers. These are designed to enhance and complement the travel experience delivered by our award-winning company.
With offerings focused on quality, experience, and best-in-class service, they seek to obtain the most valuable asset of all: customer satisfaction. Planning a vacation can be an extremely tedious affair. However, with their team's expertise and in-depth knowledge, planning a dream vacation will be a breeze.
In any case, travelling can bring out the wanderlust in each one of us. There's no better way to discover ourselves and the endless beauty of the world other than hopping on a plane, bus, rail, or boat.
Which among the best travel agencies in Malaysia have you tried for any of your vacations? Please share with us your experience in the comments below to give more insider tips to those of us planning our next getaway. We'd love to hear from you.