The Top 6 Divorce Lawyers in Malaysia
Going through a divorce is one of the messiest processes there is. There's a lot of both legal and emotional happenings that go on during this time and you always want to make sure you have someone there who knows what they're doing.
That someone is a divorce lawyer and we know how important it is to have the best one you can find in your corner. Read on to find out who the top divorce lawyers in Malaysia are and all the information you need to know about them.
Factors That Affect The Cost of Divorce in Malaysia
Type of Divorce
There are two kinds of divorce: contested (single petition) wherein you are applying for the divorce against the wishes of your partner. The other is non-contested (joint petition) where it is a joint decision.
The kind of divorce you get is one of the biggest factors in determining how much you'll be spending. This is because the amount of legal obstruction you and your lawyers have to go through to get past a disgruntled soon-to-be ex-partner can be pretty costly.
Religion
If you're a Muslim facing non-contested, there are a lot of other fees added on top of the already-present legal fees. This is because it has to be heard by the Shariah Court.
Children
Whether or not you have children will also affect your divorce costs in terms of alimony which is how much you'll be needing to pay for child support.
Here's a general overview of how much it could cost you to hire a divorce lawyer in Malaysia. Please note that the actual rates could be much higher or lower depending on the law firm you hire and the surrounding factors of your divorce.
| | |
| --- | --- |
| Service | Average Cost |
| Single petition divorce | RM 5,000 – RM 50,000 |
| Joint petition divorce | RM 3,000 – RM 6,000 |
Top Divorce Lawyers in Malaysia
Finally, here's the list of the top divorce lawyers in Malaysia we've prepared for you:
1. Ng Kee Way & Co.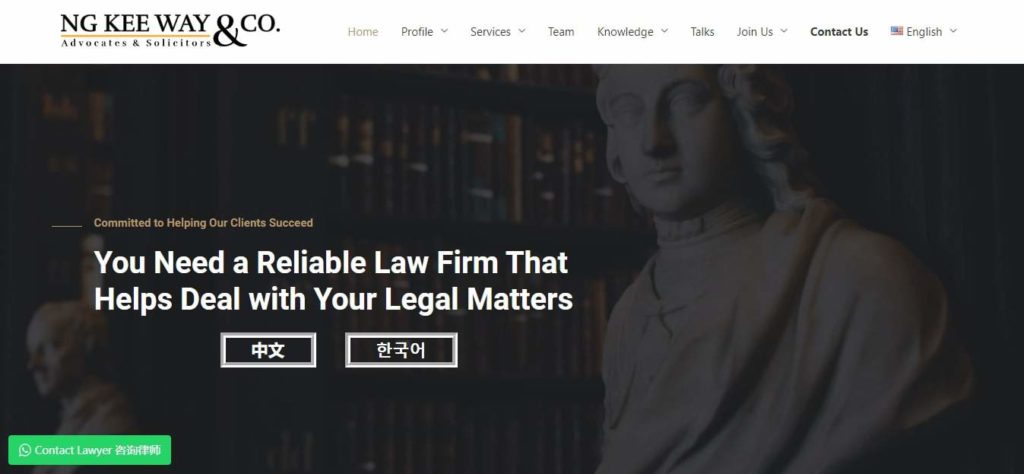 | | |
| --- | --- |
| SERVICES | Individual and family legal matters, Corporate legal matters, Dispute management, Employment law and industrial relations |
| WEBSITE | https://ngkeewaylegal.com.my/ |
| ADDRESS | No. 29-2, Tingkat, 2, Jalan Puteri 5/7, Bandar Puteri Puchong, 47100 Puchong, Selangor, Malaysia |
| CONTACT DETAILS | +60 3-8060 0267 |
| OPERATING HOURS | Mon-Fri 9:00 am – 6:00 pm |
Ng Kee Way & Co. is a law firm based in Selangor set up by the two managing partners, Mr. Ng Kee Way and Ms. Khoo Ai Teng. They've handled around 2000+ cases all around Malaysia since they opened in 2007.
They offer services in multiple branches of law including family legal matters, banking and finance, medical, technology, logistics, and a lot more. You can view the full list of their services on their website.
Now, if you're looking solely for their lawyer that handles divorces, you'll be directed straight to Mr. Ng. He specializes in all sorts of family law from adoption, annulment, child custody, joint and single petition, and more.
They pride themselves on being completely transparent with the rates they will be charging you. Based on their Google reviews, their rates may be a bit high but clients always say it's completely worth it for the high win rate and professional advice they receive.
As of this moment, they prefer conducting their appointments online but don't worry, they still guarantee prompt and respectable service.
Online appointments
Wide range of services
Speaks multiple languages (English, Malay, Chinese, Korean)
High win rate based on previous cases
Prefers online appointments
Rates may be higher than others
Customer Reviews
Here are raving reviews left by thankful clients of Ng Kee Way & Co.:
"very good service and nice advices. They do a very good service for divorce. Before this some law firm offer cheaper fee but their service is bad. This firm the fee is reasonable and good service and I no need rush here and there. Very good law firm. High winning rate also as manage help me to fight back my child custody. Very good. Thank a lot to Ms Khoo and Mr Ng." -Anna
"Very good law firm. very professional in advising people. High winning rate. The fee is worth the value. My comment is don't simply go to a law firm who offer you cheap rate then provide cheap service for you. Last time I went to one law firm, they offered very cheap fee but turn out suck service. Then my friend recommended me this firm. Very efficient and fast. The fee is reasonable. If you have to have a good service then go for good law firm, not cheap fee." -Coco
2. Tam Yuen Hung & Co.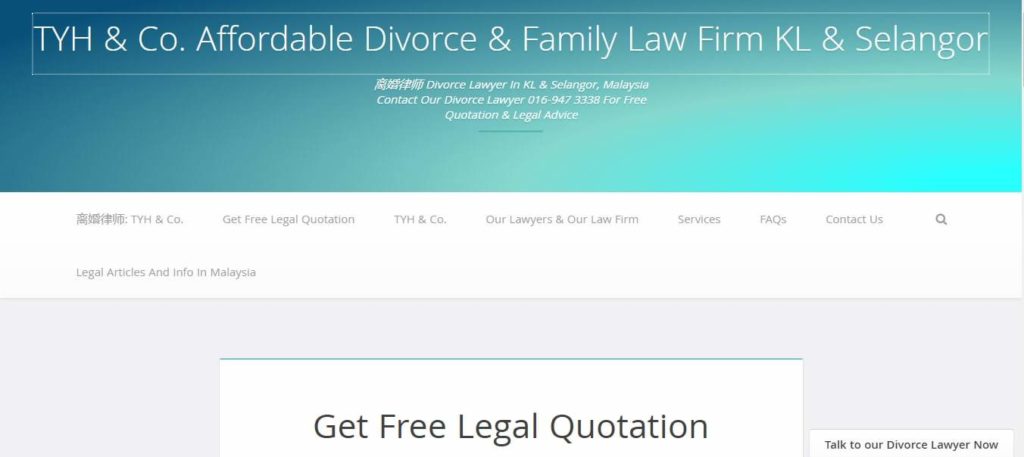 | | |
| --- | --- |
| SERVICES | Divorce law, Family law, Business law, Will writing and estate planning law, Litigation and dispute resolution |
| WEBSITE | https://www.tyhlawfirm.my/ |
| ADDRESS | 21, Jalan Puteri 9/1, Bandar Mahkota Cheras, 43200 Cheras, Selangor, Malaysia |
| CONTACT DETAILS | +60 16-947 3338 |
| OPERATING HOURS | Mon-Fri 9:00 am – 5:00 pm |
Tam Yuen Hung & Co. is a law firm that can be located in Selangor, Malaysia. It was founded by Mr. Max Tam Yuen Hung in 2016 and deals mainly with divorce and family law.
Mr. Hung and all his associates speak English, Bahasa Malaysia, Cantonese, and Mandarin, making them able to communicate with a wider range of clients.
Their goal is to ensure that all family disputes brought to them are settled or resolved amicably, especially if there are children involved. They also provide free legal quotations that you can avail of through their website.
They charge an affordable fixed divorce lawyer fee that's inclusive of legal consultation and court fees. This is to help you know exactly how much you'll be needing so both you and the law firm will be able to discuss payment arrangements.
Some of their services include single petition of divorce, joint petition of divorce, alimony, family settlement agreements, judicial separation, annulment of marriage, and many more. They also assist in online divorce applications and DIY divorce if that's what you prefer.
Offers free legal quotation
Charges affordable rates
Specializes in divorce law
Prefers online appointments
Offers limited services for other areas of law
Customer Reviews
Paul and Nelavan, previous clients of TYH & Co., left these reviews for the law firm:
"Mr Tam's service and the work of his colleagues is superb, not only for the frie ndly , understanding approach they take during stressfull times, but in the exemplary level of communications. The staged payment is useful also. I can wholeheartedly and without reservation, recommend these legal services. Thanks to the Max Tam team!" -Paul
"Very responsive. Highly trained professionals. Their fees is one of the cheapest in town, & the best services in town as well. Kudos to the team especially lawyer Ms. Sandra. Thanking you guys for everything." -Nelavan
3. Goik Ramesh & Loo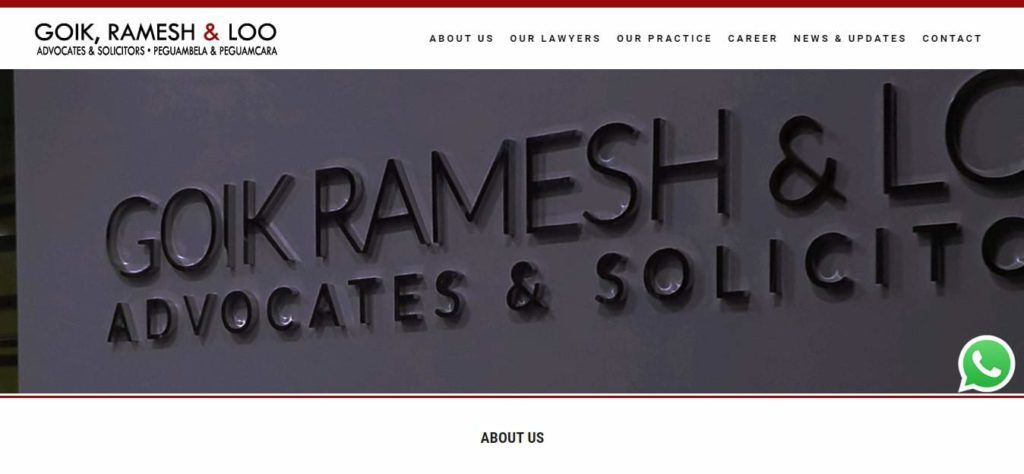 | | |
| --- | --- |
| SERVICES | Family law, Property and conveyancing, real estate, foreign investment, Competition law and antitrust, Franchising and licensing, etc. |
| WEBSITE | https://grl-lawyers.com/ |
| ADDRESS | No. 8-2, Pusat Niaga Metro Prima, Jalan Prima 2, Kepong, 52100 Kuala Lumpur, Federal Territory of Kuala Lumpur, Malaysia |
| CONTACT DETAILS | +60 12-560 0058 |
| OPERATING HOURS | Mon-Fri 8:30 am – 6:00 pm |
Goik, Ramesh & Loo is a law firm in Kuala Lumpur, Malaysia that seeks to offer full legal representation for all of their clients regardless of the legal issue they may be facing.
This includes family law, litigation and dispute resolutions, corporate, mergers, acquisitions, criminal defense, real estate, foreign investment, insurance, and more.
When it comes to their family law services, they help in divorce, adoption, judicial separation, alimony, division of matrimonial property, custody disputes, and annulments.
They're a relationship-based law firm so their process is largely based on getting to know their clients personally. This helps them in guiding their clients in making the right decision by giving them all the right information.
Their lawyers who handle family law cases are Mr. Raymond Charles David (Partner), Mr. Lee Chee Loong (Associate), Mr. Mohd Nor Md Deros (Associate), Ms. Yohini Nair (Associate), Mr. Amaresh Sivakumar (Associate), and Mr. Narendran Letchiemanan.
Open 24/7
Wide range of services
Multiple lawyers who focus on family law
No mention of rates
Limited reviews online
Customer Reviews
Goik Ramesh & Loo clients have left a few comments regarding their services and these were our favorite ones:
"Very responsible and professional lawyers! They are very helpful towards the problems faced by the clients. They are able to revert back to the client with a solution shortly and be able to update clients on the progress of the matter from time to time. Definitely recommend their services!" –谢佩彤
"Very professional staff, and really good people to work with. They care about getting results, not just money. No need to look anywhere else for quality representation."- Xiaoxi
4. Lee & Partners Legacy Advisory Sdn Bhd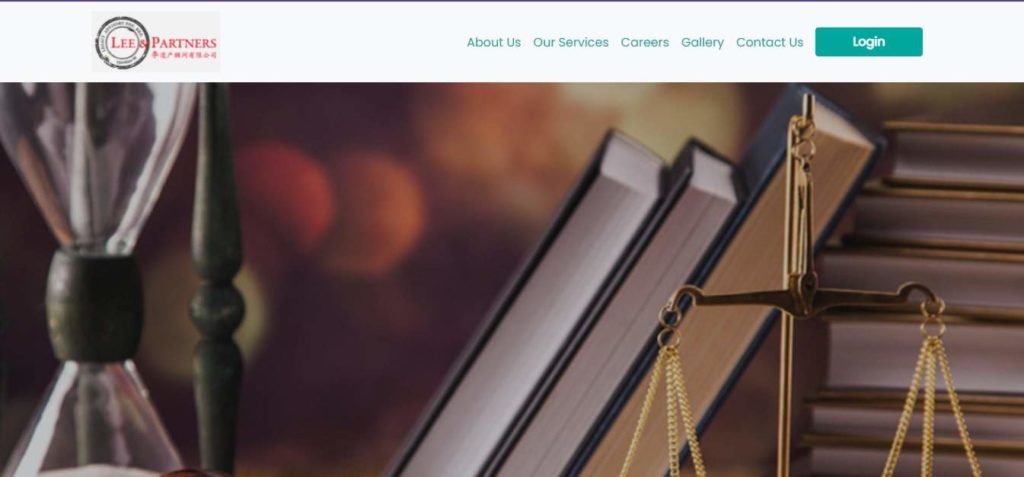 | | |
| --- | --- |
| SERVICES | Property and real estate law, Banking and financial services, Corporate & commercial law, Intellectual properties, Family law, Litigation & dispute resolution, and Wills, probate, & estate administration |
| WEBSITE | https://www.leepartners.my/ |
| ADDRESS | Wisma Lee & Partners, No. 1, Jalan PJU 8/5a, Damansara Perdana, 47820 Petaling Jaya, Selangor, Malaysia |
| CONTACT DETAILS | +60 3-7728 7001 |
| OPERATING HOURS | Mon-Fri 9:00 am – 6:00 pm |
Lee & Partners is an award-winning law firm in Selangor, Malaysia. They're also one of the best-rated and reviewed law firms with a great track record of cases.
They seek to provide their clients with cost-efficient and practical solutions to all their legal issues. You can get a general view of how much you'll be charged for their services here, but take note that the final legal fees will be discussed with the law firm themself.
Their legal services regarding divorce include divorce proceedings for single or joint divorces, division and settlement of matrimonial assets, custodianship of children, and alimony.
Also, if you're looking for a law firm that also does great in asset preservation, trust, will writing, life planning and investment, we also recommend going with this law firm. They have a legacy advisory service up called THEWILL which employes around 1,000 legacy advisors.
Award-winning law firm
Affordable rates
Also offers wealth management and estate planning
No overview of lawyers
Limited family law services
5. TEH & YU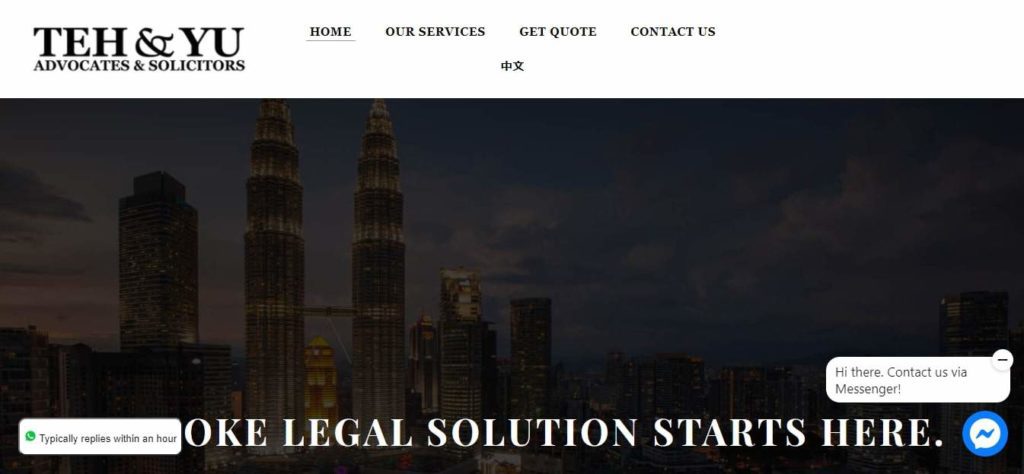 | | |
| --- | --- |
| SERVICES | Real estate and property conveyancing, Family & divorce, Succession and probate, Corporate and commercial |
| WEBSITE | https://www.tehyulegal.com/ |
| ADDRESS | S-29-12, Wisma YNH, Jalan Kiara, Mont Kiara, 50480 Kuala Lumpur, Malaysia |
| CONTACT DETAILS | +60 3-6419 1888 |
| OPERATING HOURS | Mon-Fri 9:00 am – 6:00 pm |
If you're based in Kuala Lumpur, you may want to consider Teh & Yu. It's a general practice law firm that can deal with family and divorce matters.
Its other legal services provided are those regarding succession and probate, real estate and property conveyancing, and corporate and commercial cases.
Their family law services include divorce, annulment, judicial separation, single and joint petitions, divorce settlement agreements, and the like.
You may request a free quote of their rates from them on their website. However, this quote is only applicable to non-Muslim family matters.
Just take note that you're required to present your NRIC, marriage certificate, children's birth certificate, and other relevant documents at your first appointment.
At Teh & Yu, they speak Mandarin, Bahasa Malaysia, and English to be able to serve you better in the language that you're more comfortable with.
Offers services for fast and quick divorce
Provides free quote on website
Provides multilingual services
No overview of lawyers
Provided quote on website is only for non-Muslims
Customer Reviews
Read these reviews left by Shan and Gurdial:
"Pretty good service with efficient and prompt respond for each question.Super reasonable price.Very very satisfied with Mr Teh." -Shan
"Used this legal firm once so far on a civil matter. Mr Teh kept me well updated and advised throughout the legal process. He gave me realistic expectations on the possible outcomes of my case and I could see effort was being made to go the extra mile and achieve the outcome in my best interest. I have every intention to keep this firm as my legal advisor.going forward." -Gurdial
6.   Alan Kang & Co.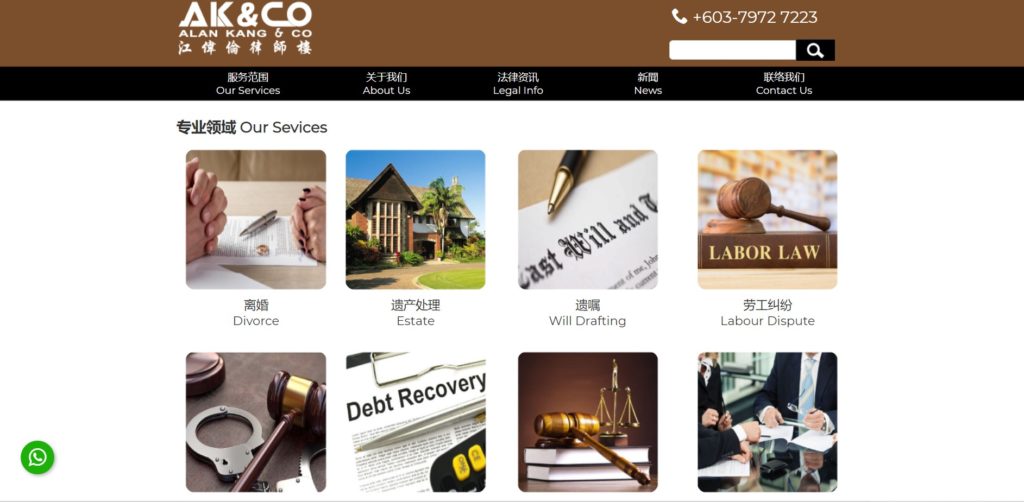 Alan Kang & Co. is a law firm that accommodates all sorts of legal cases that you might need them for. They are a firm that places sincerity and integrity as the most essential and paramount values when they deliver their services to you and all clients that have come to them for their help.
They are able to give trustworthy and practical legal advice to you in any field that you might need them for at reasonable rates as well to ensure that you get the best value for your money. Their services include divorce lawyer, estate, will drafting, criminal defense, debt recovery, contentious civil litigation, intellectual property, and conveyancing among others.
They also offer excellent resources should you want to read up and know more about your situation and the legal implications and steps that should be taken in your circumstances prior to your consultation with them. They offer these sources readily and free of charge on their website so feel free to give it a browse if you need reliable resources for your circumstances.
We recommend this company for you due to their trustworthy and transparent legal services which help you prioritize and get legal services that are sensitive to your own interests as an individual.
Transparent services
Excellent customer services
Website is available in Chinese
No profile of lawyers are available on their website
Customer Reviews
Here is a review from their client:
"Mr. Alan & Ms. Shina gave me great advice and a lot of help and quickly helped me with the problem… I'm grateful thank you guys
"
FAQs about Divorce Lawyers in Malaysia
---
Well, that's it for our list of the top divorce lawyers in Malaysia! We hope we helped you find a divorce lawyer that will help you with your situation.
What did you think of our list? If we missed other experienced divorce lawyers or law firms that should be on our list, don't hesitate to reach out to us.
Also, if you or someone is looking for a divorce lawyer specifically in Johor Bahru, you can always check out our list of the best divorce lawyers in Johor Bahru.