7 Best Dog Boarding in Malaysia
It can be hard to leave your beloved pet for a holiday when you worry about them at home. It is not uncommon for people to search for boarding services when they are going away. If you're looking for the best place to take care of your pup for a short while, then you've come to the right place!
For the love of your furbaby, here is a list of the best boarding and hotels in Malaysia to ensure that your pet gets the absolute finest care possible.
How MUCH does dog boarding usually cost?
As loving dog owners, we want to give our pets the best but finding the right boarding option can be a challenge. Here's a compiled list of the prices to expect when looking for one:
Do take note that costs may fluctuate depending on things like parts and availability.
Service
Average Cost
Luxury Rooms (with air conditioning)
RM 200 for the first pup

+ RM 30-60 for additional pups

Regular Rooms (with air conditioning)
RM 150 for the first pup

+ RM 30-60 for additional pups

Shared Rooms
RM 90-120
Playpens (for small dogs)
RM 50-80
Best Dog Boarding in Malaysia
Here are some of the factors that should be taken into account when looking at different boarding services!
1. Boarding Buddy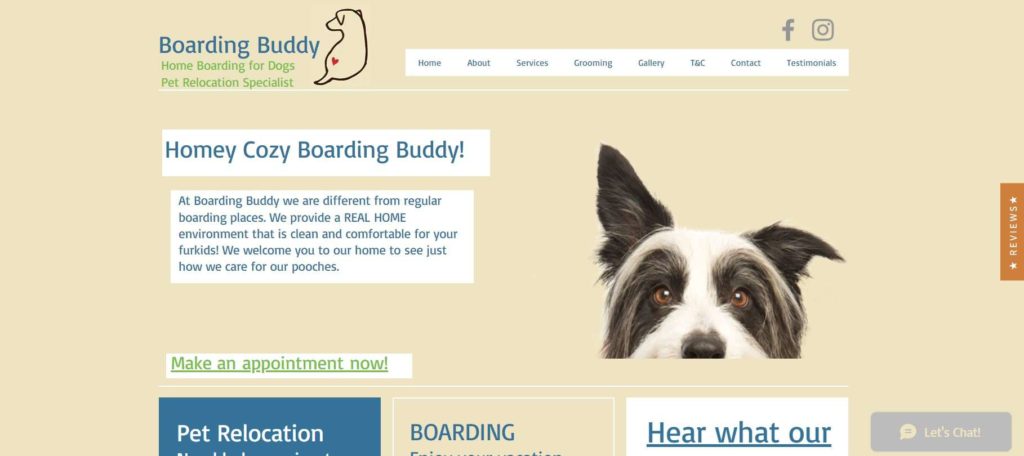 Test
Info
SERVICES
Dog Boarding, Pet Relocation, HomeVisit, Dog Walk, Daycare, Pet Taxi
WEBSITE
https://www.boardingbuddy.com
ADDRESS
Jalan SS 17/2a, SS17, 47600 Subang Jaya, Selangor, Malaysia
CONTACT DETAILS
Telephone: +6016 220 9167

E-mail: [email protected]

OPERATING HOURS
Open 24/7 Appointments: Monday to Sunday, 9:00 AM to 8:00 PM
| | |
| --- | --- |
| Amenities | ★★★☆☆ |
| Cost | ★★★★★ |
| Staffing | ★★★★★ |
| Experience | ★★★★☆ |
Boarding Buddy has been doing business in Selangor for over 11 years, providing a safe haven for most dogs and puppies in the city. The animals receive quality care as well as outdoor playtime and good food.
At Boarding Buddy, your pet will be given one-on-one attention from their trained caregivers. When you're away, they will ensure your pets are fed, bathed, and kept happy while here.

In addition to providing a place for your pet to stay while you are away, Boarding Buddies also provides a number of other services such as doggy daycare such as HomeVisit, and Pet Taxi.
While getting to enjoy a fun day at "ruff" daycare, our pets can still get some well-earned rest! Their team members also attend to both serious and emergency pet care needs.
On-call 24 hours a day 7 days per week, they'll help keep your pet relaxed and healthy while you're away so they can return home feeling happier than ever.
Unlike other pet boarding services, however, they have a limited selection of boarding houses. Instead, they shift their focus to pet relocation which other boarding services do not offer.
24-hour boarding services
11 years of experience in the industry
Affordable prices
Limited boarding selections
By appointment only
Customer Reviews
Furbabies are sure to be happy and comfortable
"You'll never find anyone better than Steffi! It's really our pleasure that we've gotten to meet Steffi taking care of our babies! She's constantly ensuring they're safe and most importantly happy and comfortable! She constantly updates me on the status of my babies, ensuring the medication and food are all cleared! Steffi definitely let babies roam around her house and garden as well, not constraining them in a cage or movement area. Would definitely recommend Steffi to anyone looking for any daycare or boarding! – Yong Joyan
Caretakers are loving and thoughtful
"Boarding Buddy has been an amazing support to us during the 3 years we lived in KL, looking after our Dalmatian Demi with such care and preparation. Stephanie walked Demi, took her to the vet when needed, arranged new food options, minded her at her house when we went away, and finally arranged all the logistics to move Demi from KL to Singapore this week. Stephanie is so loving and thoughtful – Demi would often be dropped off with homemade treats, and Stephanie also arranged essential oils and a thunder jacket to help her deal with thunderstorm anxieties. I can not recommend Boarding Buddy and Stephanie highly enough for everything she did for us and Demi!!" – Melanie Stone
2. L Residence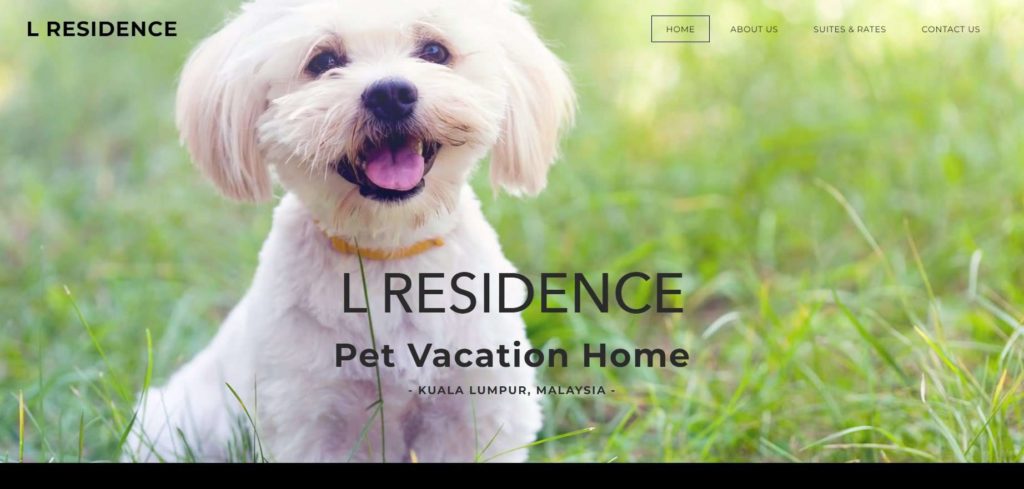 Test
Info
SERVICES
Grand Suite Vacation Home, 1-on-1 Play Session, Pet Music Therapy, Feeding, PlayPens
WEBSITE
https://www.petboardinghouse.com/
ADDRESS
Jln SS 1/11, Kampung Tunku, 47300 Petaling Jaya, Selangor, Malaysia
CONTACT DETAILS
+6017 364 8117
OPERATING HOURS
Open 24/7

Check in & Check out: 10:00 AM - 12:30 PM, 4:30 PM - 7:00 PM
| | |
| --- | --- |
| Amenities | ★★★★★ |
| Cost | ★★★★☆ |
| Staffing | ★★★★★ |
| Experience | ★★★★★ |
L Residence is a subsidiary of Pet Playground Cageless Pet Hotel, highly reputable for their individualized pet services. For six years since its establishment, they have built up a reputation as a facility that treats dogs with the highest care.

Moreover, they also provide them with a secure and caring environment in which to remain while ensuring that all of their requirements are addressed.
They're most known to provide high-end, comfortable quarters for dogs to stay while their owners are away on longer trips. Plus, their staff is knowledgeable and trained to attend to your dog's every need throughout their stay.
Pet owners can rest assured knowing that their pets are in good hands, with a variety of accommodation options. These include small and large dog suites to keep four-legged family members comfortable and pampered.

Each room is well fitted out with luxury and convenience including air conditioning, a television set, music equipment, and a range of toys.
What we love the most about their services is how they put focus on your furbaby's well-being by having in-house pet nutritionists to provide a balanced diet for them. They also have unique music therapy services to make sure that your pets are relaxed the entire time.
Do note that their prices may come across as steep for most, but can be considered to be quite worth it with how well they do their services.
Open 24/7
Has many choices for multiple pets boarded
May be pricey 
By appointment only
Customer Reviews
Exquisite boarding facility
"L Residence was fantastic. I thought it was a regular boarding facility, but my dog had his own room with a bed to boot (wasted on him cuz he's a sleep-on-the-floor kind of guy). A little pricey, but they took me in on an emergency, so no complaints." – Arvin Reuben
Makes your pup really happy!
"Last minute sent in my Yorkshire for 3days stay here and everything was great! Jeremy took good care of my dog while I was away. He even sent me some pictures and videos of him playing around in the car porch area. My dog looked too happy staying there. I'll definitely pick this place if I need to leave my dog for a couple of days. 😊" – Kathlyn Ng
3. BowHouse Pets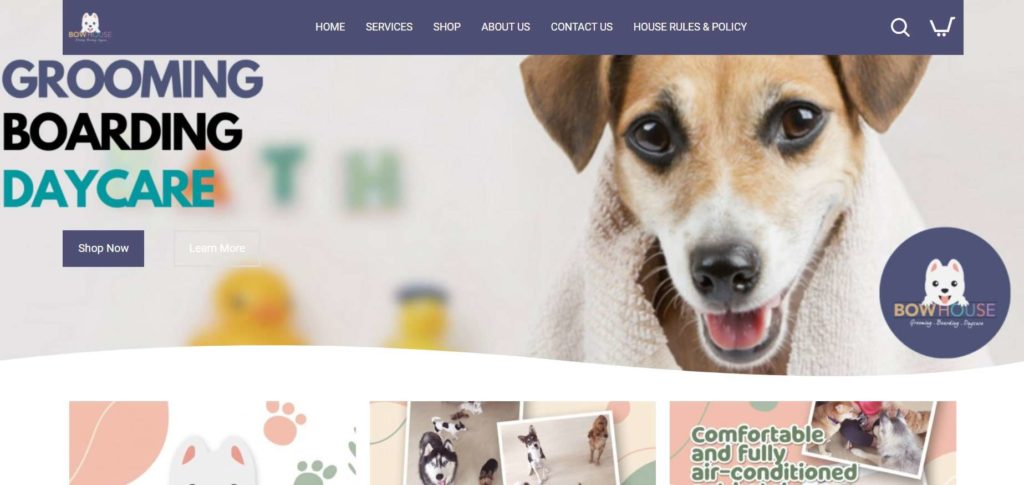 Test
Info
SERVICES
Pet Hotel (Mini - Large), Pet Grooming, Doggy Daycare
WEBSITE
https://www.bowhousepets.com/
ADDRESS
5-1, Dataran Pelangi Utama, Jalan Masjid PJU6A, 47400 Petaling Jaya Selangor, Malaysia
CONTACT DETAILS
Tel: 0102016535

Email: [email protected]

OPERATING HOURS
Mondays to Fridays

9:00 AM to 6:00 PM
| | |
| --- | --- |
| Amenities | ★★★★☆ |
| Cost | ★★★★☆ |
| Staffing | ★★★★☆ |
| Experience | ★★★★★ |
At Bowhouse Pet Salon, they have a well-trained staff of dog caretakers who will take care of your furbabies like you would at home! They also make sure that your pets are always happy and excited to be picked up from the daycare when visiting the salon.
The environment at Bowhouse Pets Salon is hygienic so you don't need to worry about anything. Their boarding facilities are regularly sanitized so you're sure that your pet will be at a medically safe place at all times!
Bowhouse Pets Salon is an open concept dog hotel, suitable for dogs of all sizes. No matter what the situation is, they are always there to welcome your pad-footed friends in their spacious indoor environment to romp around, along with offering dog grooming services.
At the Bowhouse Pets, your pet will be able to interact with other furry friends that match their characteristics. Some of this criteria includes their size, age, activity level, socialization ability, and temperament.
We like that your pets will be able to spend time outside and get lots of air and freedom. Benefits of this method over commercial kenneling or daycare facilities include more active outdoor freedom, higher levels of socialization, exercise, and even group play lessons.
While they carry human-grade BARF food, this establishment will also have more traditional prepared pet food, homemade soup broths and treats.
Since they're primarily a grooming salon, their boarding services aren't as extensive as others. What we like about them though is how affordable and quality their services are.
90-day service warranty
Offers door-to-door repairs
Best at speeding up your PC
No weekend operations
Fairly new in the industry
More focused on refurbishing services
Customer Reviews
Very clean place
"Very clean place with no dog smell. Friendly nanny. Appreciate those updates/videos/pictures which I didn't get at other boarding places. My dog eats his meals here while he starved himself at another boarding, that shows his decision!! Will definitely send my dog here again." – Wynesse Ang
Trustable staff
Great place overall with trustable people! The groomers here are caring and you can see how much they love the animals that come to visit which makes me feel safe sending my dogs here. The environment is clean and they don't just cage the animals but let them interact/play around while waiting for the owners to pick them up which is refreshing to see. Would definitely recommend the service! – Jeffrey Lim
4. PamperPup Pet Home-Boarding & Day Care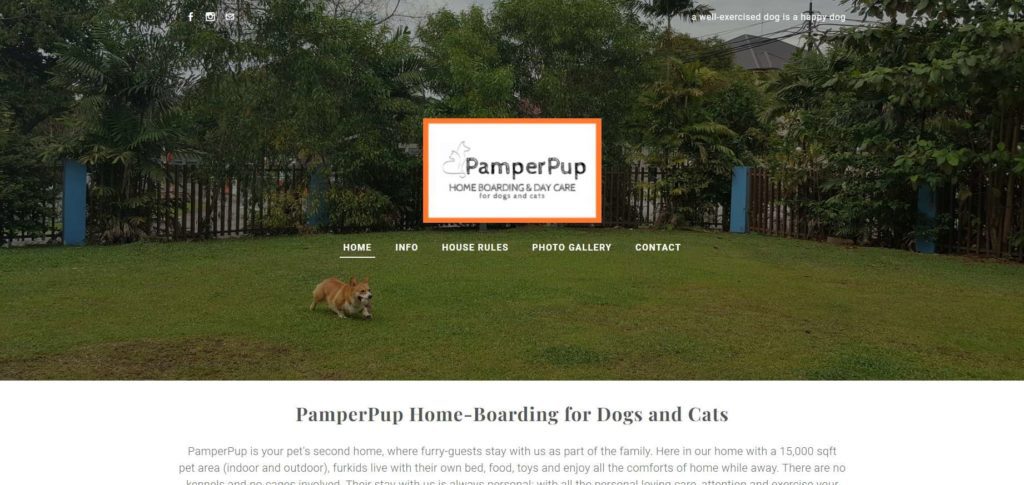 Test
Info
SERVICES
Dog Boarding, Dog Grooming, Essential Oil Application, Private Suites,
WEBSITE
http://www.pamperpup.com.my/
ADDRESS
SS 3, 47300 Petaling Jaya, Selangor, Malaysia.
CONTACT DETAILS
Phone number: +6011 3311 8945

Email: [email protected]

OPERATING HOURS
Mondays to Fridays

9:00 AM to 6:00 PM
| | |
| --- | --- |
| Amenities | ★★★★☆ |
| Cost | ★★★★☆ |
| Staffing | ★★★★★ |
| Experience | ★★★★★ |
PamperPup is your pet's home away from home offering a 15,000 sq ft outdoor environment and an additional 5,000 sq ft of indoor space with all kinds of goodies. Your furry guests can enjoy their stay here and feel just like they're at home – maybe even better!
PamperPup offers a wide variety of services to choose from, so rest assured they'll get all the personal loving care and attention they need. In fact, all pet guests are treated like family members!
PamperPup offers an alternative to crowded and unhygienic kennels by providing a place where pets can enjoy the comforts of home. PamperPup has ample indoor and outdoor space for the pets to run around in, as well as offers grooming services.
PamperPup makes sure your pet's routine is exactly that – a routine. The staff members are attentive and organized so every pet gets the love, attention, and care it needs during its stay with PamperPup.
Their prices are slightly high but these are justified by the services that come along with every price point. You might want to try them out when you feel like splurging on your fur baby!
Requires vaccination for admission
Wide outdoor environment
Slightly high prices
No weekend operations
Customer Reviews
Guaranteed to be in good hands
"At PamperPup Daycare, my fur girls get to exert their energy to play and make new friends. With the vast yard, they get to run around to their hearts' content! The girls get to even do sleepovers because there's nothing to worry about as they are in good hands and good company 🙂 Thank you Mindy and Alan for providing a clean, safe, and fun "second home" for them! :)" – Alexia Tan
Daily updates
"Sent my dogs Hazel and Lexie here for 6 days when I was away for vacation and was completely satisfied with how well they were taken care of. I even received daily updates on them with videos! I would definitely recommend PamperPup for your furkids!". – Harveen Dhaliwal
5. COCOMOMO Urban Pet Hotel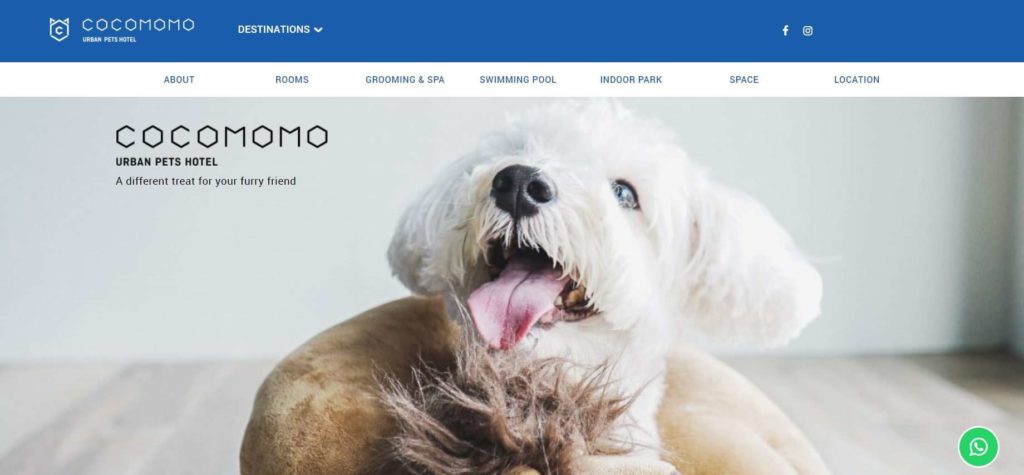 Test
Info
SERVICES
Dog Boarding, Dog Grooming, Spa, Swimming Pool, Indoor Park
WEBSITE
https://cocomomo.my/
ADDRESS
Cocomomo Old Klang Road, No. 139, Indah UPC Business Centre, 3 ½ Mile, Jalan Kelang Lama, 58100 KL Malaysia
CONTACT DETAILS
Tel: 03-7972 0855

Email: [email protected]

OPERATING HOURS

Mondays

10:00 AM to 6:00 PM




Wednesdays to Sundays

10:00 AM to 6:00 PM
| | |
| --- | --- |
| Amenities | ★★★★★ |
| Cost | ★★★★☆ |
| Staffing | ★★★★☆ |
| Experience | ★★★★☆ |
Cocomomo is a tastefully-decorated and contemporary five-story pet hotel that has everything your pets need to relax and feel comfortable whilst you are away on your travels.
They offer many types of rooms to choose from with features that include padded walls, larger-than-usual beds, airline-approved pressure systems, and temperature-controlled units.
Rooms are soundproofed with additional amenities such as an all-weather, 2200 square foot indoor park which includes walking trails and an exercise area.
Inside the boutique is an indoor dog park and a swimming pool with views of the city skyline. The hotel also provides grooming services in order to pamper pets before their owners pick them up later from their stay.
Cocomomo also offers a number of common rooms designed specifically for the pets to interact with one another. However, the pets all sleep together in their own individual private capsules at the end of each day.
While their prices seem competitive compared to other high-end boutiques, they are certainly expensive if you're just looking for a place to board your furbaby for the sake of doing so.
Overall, they're a pretty solid choice if you're looking to give your pet a good time when you're away!
Luxurious services for your furry friend
Specializes in pampering sessions
No weekend operations
Fairly new in the industry
More focused on refurbishing services
Customer Reviews
Highly-attentive staff
"Excellent facilities for both dogs and cats. The staff is super attentive and responsive. I really appreciated the option of CCTV access during boarding. Highly recommended for both grooming and boarding. They are also well-stocked with food, treats, and toys/accessories." – Jo-Lynn Liao
Neat and clean
Neat and clean space- courteous and professional staff- I have left my pug in their care for many times now, they have done a fabulous job- Keep up the good work team! you have been a great help to me and my family by taking care of our pet. – Suresh Kumar
6. House of Paws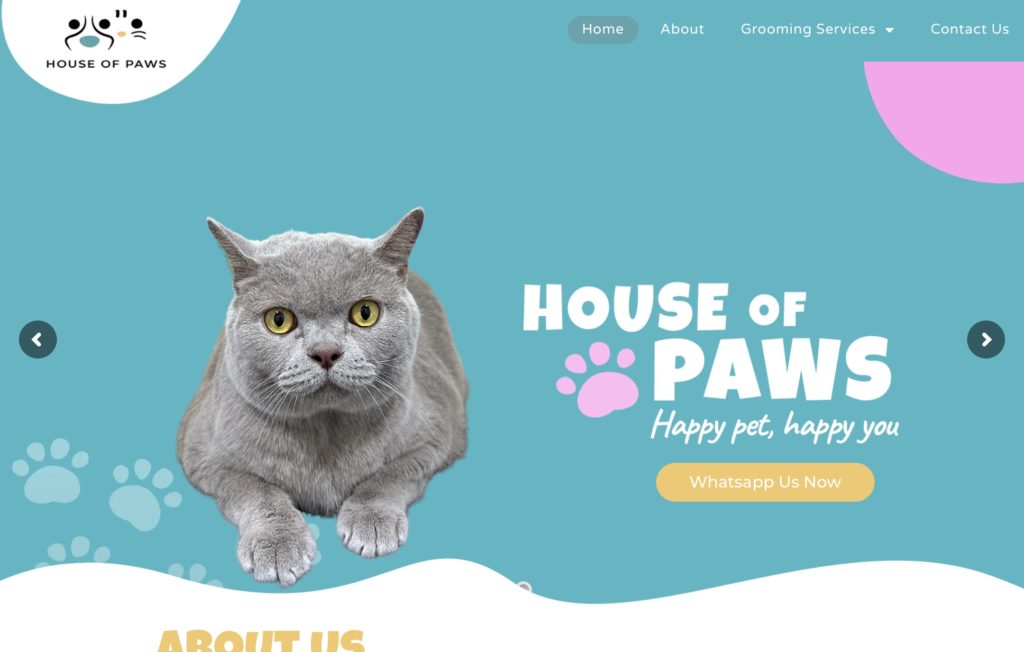 SERVICES
General Grooming, Dog Grooming, and Cat Grooming
WEBSITE
https://hops.com.my/
ADDRESS
Klang Valley
CONTACT DETAILS
+6011-6228 9081
[email protected]
OPERATING HOURS
Open from 10am – 10pm
Monday to Sunday
*(Last Call: 5PM)
| | |
| --- | --- |
| Amenities | ★★★★★ |
| Cost | ★★★★☆ |
| Staffing | ★★★★☆ |
| Experience | ★★★★☆ |
Our experience with House of Paws was nothing short of exceptional. From the moment we entrusted them with our furry family member, we knew we made the right choice.
The services offered by House of Paws are a cut above the rest.
Our canine companion was treated like royalty with luxurious accommodations and attentive care. Their commitment to providing a home away from home is truly commendable.
Convenience is a hallmark of House of Paws. Booking our dog's stay was a breeze, thanks to their user-friendly online platform.
Dropping off and picking up our pet was equally hassle-free, making our lives easier during busy times.
House of Paws has earned a stellar reputation in the pet care industry, and it's well-deserved.
Their staff is not only professional but genuinely passionate about animals. Our pet felt the warmth and care from the moment we arrived until we left, which speaks volumes about their dedication.
While premium services often come with a hefty price tag, House of Paws surprised us with their reasonable costs. We expected to pay more for such top-notch care, but their pricing was fair and competitive.
However, they can get busy during peak days. We advise booking them ahead of time.
Exceptional services
Convenient booking
Outstanding reputation
Competitive cost
Customer Reviews
"House of Paws exceeded our expectations! Our dog was treated like royalty."
"Booking with them was a breeze, and their caring staff made our pet feel right at home."
7. Woof Gang Training and Services
SERVICES
Home boarding, Cattery, Small Animals boarding, pet treatment, pet washing, pet grooming, diets & nutrition, puppy training, veterinary, and pet care guide.
WEBSITE
woofgangpetboarding.com
ADDRESS
23 Jalan Changkat Ukay, Villa Sri Ukay Height, Ulu Kelang Ampang Selangor
CONTACT DETAILS
017-242-9523
https://www.instagram.com/hellowoofgang
OPERATING HOURS
| | |
| --- | --- |
| Amenities | ★★★★★ |
| Cost | ★★★★☆ |
| Staffing | ★★★★☆ |
| Experience | ★★★★☆ |
Established in 2014, Woof Gang Training and Services provides Malaysia with one of the best dog boarding services thanks to their great attention to detail and affordable rates. They are a one of a kind in-home boarding service since they have fun, clean, affordable, and efficient service plans.
They know that trusting someone with your favorite fur babies can be hard to do. That is why they aim to provide a happy, fun, and safe boarding experience so that you can enjoy your time away from home knowing that your pet is cared for around the clock in a safe environment.
They provide your pet a wealth of knowledge, cozy pet boxes for boarding, grooming, and great pet services around-the-clock. They also assist with common medical conditions. Pet care is not only what they do; it is what they sincerely enjoy and are enthusiastic about.
After carefully studying your dogs throughout his stay, they always offer advice to ensure that the pet receives the proper nourishment. With everything they have to offer, we highly recommend them as one of the best companies to provide dog boarding in Malaysia.
High-end facilities
Experienced trainers
Strict and efficient training plans
Rates are a bit expensive
Customer Reviews
Attentive and careful
"Sent my dog here a few times already. Amelia is really great and very accommodating. On one occasion, my dog happened to get sick while I was away but she took great care of him throughout his stay there. She also gives updates so you won't have to worry about your dog. We are very grateful for Amelia's attentiveness and care and we'd recommend this place to anyone if you want to have peace of mind when you're away from your pets." – Blaise
Affordable boarding
"Convenient and near to my house. Affordable boarding, Amelia was so kind to clip my doggo, JTs' nail and even provided me with professional photographs" – Christy Ryuu
FAQs about Dog Boarding