The 5 Best Septic Tanks in Malaysia
Featured Image Source from Water and Septic Tanks
Don't have a sewerage system for your farmhouse, store, or office? For this, you may want to get the best septic tanks in Malaysia, which we carefully chose and compiled in a list for you here!
But since each septic tank has different designs, features, and specs, you may not know which one is ideal for you. To help you with this, we included a buying guide and cost section in this article so you can sift through our options effortlessly.
How Much Do Septic Tanks Cost in Malaysia?
Septic tanks are sold by hardware shops, eCommerce platforms, and manufacturers alike. In Malaysia, they cost around RM720 to RM9,620, depending on the size and material.
In a nutshell, fibreglass and concrete septic tanks are more expensive than plastic and steel types. That's simply because the first two have greater durability and damage resistance than the others.
Prices online usually exclude installation service costs. Since this will largely vary depending on the work that needs to be done, you have to enquire with the seller to get an accurate quote.
The Best Septic Tanks in Malaysia
Now that you know how much they cost, you're ready to see our picks for the best septic tanks in Malaysia!
1) WEIDA Ecosept Septic Tank (P-Series)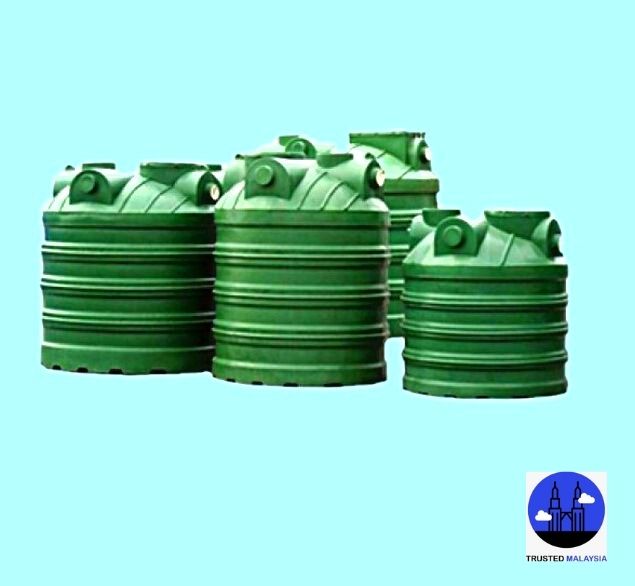 | | |
| --- | --- |
| Material | Polyethene (PE) |
| Model series | P-Series |
| Number of sizes available | 9 |
| Dimensions | Kindly click the link below for more details |
| Warranty | 5 years |
| Price | Please call the company for the price list |
Need a tough and easy-to-install septic tank for your provincial home? Well, the Weida Ecosept Septic Tank might be for you.
It's constructed of premium polyethylene plastic which can withstand many years of use while resisting corrosion, leakage, and damage. Not only is it certified to Malaysian standards but also complies with the SPAN Malaysian Sewerage Industry Guidelines.
In terms of performance, this septic tank stands out from the rest given its efficient filtration system that prevents clogging as much as possible if the unit is almost full of wastewater.
Furthermore, thanks to its simple tank structure that doesn't require parts to be attached or joined, installation is seamless and easy. When a contractor does it for you, this can mean that you'll spend a lower cost.
This P-series septic tank from Weida is available in nine sizes to fit your requirements and budget. Though their prices aren't indicated online, you can enquire with the company by their number through the link provided.
On top of that, this septic tank is backed by a solid 5-year warranty, compared to others that only have 1 or 2 years.
Because of its great durability and features, we highly recommend it as one of the best septic tanks in Malaysia!
Made from industrial-grade PE
Highly efficient filtration system
Simple tank installation
Available in 9 sizes
Certified to Malaysian standards
Comes with a 5-year product warranty
Prices aren't indicated online
Not as durable as concrete
2) Kossan Septic Tank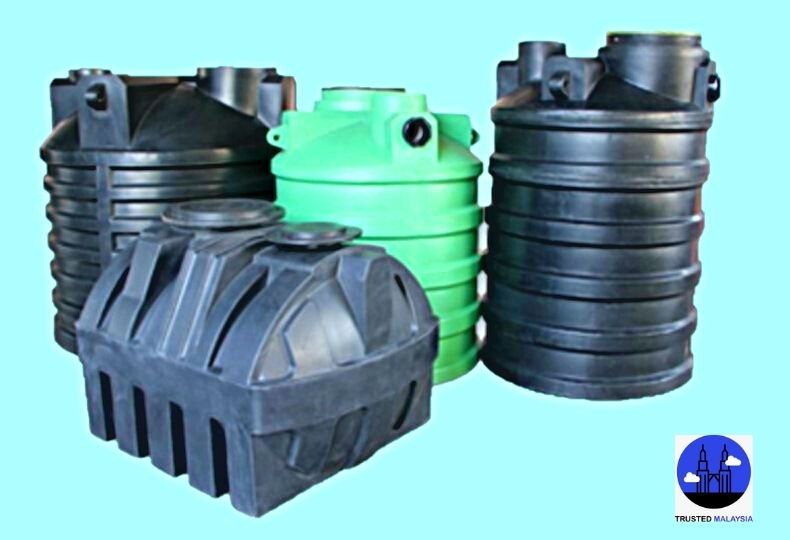 | | |
| --- | --- |
| Material | Polyethene (PE) |
| Model series | KSTF & KSTP |
| Number of sizes available | 5 |
| Dimensions | Kindly click the link below for more details |
| Price | Please call the company for the price list |
Kossan is a prominent water tank and container manufacturer in Malaysia. They are known for being an eco-driven business that shows through the products that they offer.
Their Kossan KSTF & KSTP septic tanks are great examples of this green practice. They have been proven to produce a pollution-free, filtered effluent that drains out to a body of water.
With a rounded and corrugated reinforced structure, these septic units are remarkably durable, stable, and easy to set underground connected to the plumbing of your house or shop lot. More importantly, they conform to the stringent IKRAM quality standards in Malaysia.
Equipped with a BIOPAC-1 filter, the tank unit will keep the filtration process efficient without clogging. This way, the septic tank can work year-round without any problems and requiring a lot of maintenance.
This tank will need to be de-sludged once every 2 years so it's extremely reliable and cost-efficient to use. In other words, you won't have to spend a lot by calling desludging specialists frequently.
Our complaints about this product are that it has fewer options available and has less capacity compared to other septic tanks. Moreover, the manufacturer didn't state any warranty period so it would be best to call them for this.
For simple installation and a resilient and environmentally safe septic tank, you can bet that the Kossan Septic Tank is one of the best septic tanks in Malaysia!
Eco-conscious design
Easy to handle and install
Certified to Malaysian standards
Tank warranty isn't indicated online
Has a relatively small volume
3) MF FRP Septic Tank (8 PE)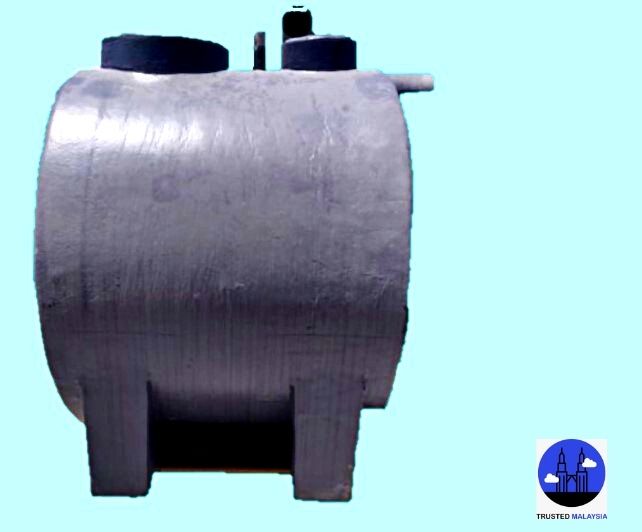 | | |
| --- | --- |
| Material | Fibreglass reinforced polyester |
| Model series | MF series |
| Price | Please call the company for the price list |
MF FRP Septic Tank is a fibre-reinforced polyester septic tank in the form of a cylinder. It has two compartments: one for the settling chamber and the other for the bio-media filtration chamber.
The material used for this tank allows it to last for several decades and resist impacts, cracks, and UV damage. This thing is also certified by SPAN (National Water Services Commission) as well as the Department of Standards in Malaysia.
The effluent from this tank has a B rating, which meets the environmental regulations of 2009 to be safe for discharge into rivers and seas.
These septic tanks are available in horizontal and vertical configurations. There are also various sizes that will suit the number of people in your house, shop, workplace, or warehouse.
Having 8 population equivalent (8 PE), this particular wastewater treatment tank is ideal for 8 people—perfect for a standard-sized family.
The supplier of this product as well as their other fibreglass products is Mui Fatt Group of Companies. With their own fabrication plan and almost 40 years of industry experience, you can trust the quality and performance of their septic tanks—as well as the costs to not have any markup.
If you're interested in this product, you can send the company an enquiry through the link we provided above. Or, you can contact them at 603-3134-3888 and [email protected].
Suits small to medium homes, offices, and factories
Made of fibreglass reinforced polyester (FRP)
Meets industry quality assurance standards
No markup costs
Price isn't indicated online
No warranty period stated
Higher priced than plastic septic tanks
4) MF FRP Septic Tank (up to 30 PE)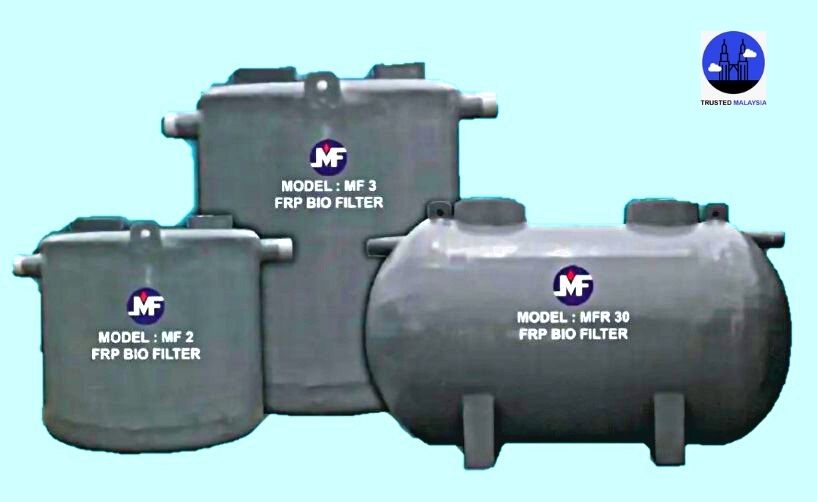 | | |
| --- | --- |
| Material | Fibreglass reinforced polyester |
| Model series | MF series |
| Number of sizes available | 7 |
| Dimensions | Kindly click the link below for more details |
| Warranty | Standard limited warranty |
| Price | Please call the company for the price list |
MF FRP Septic Tank is an anaerobic septic tank with oxygen-independent bacteria to decompose solid waste that collects in it. This is a lot cheaper than if you were to use an aerobic water treatment system.
This septic tank is also made from fibreglass reinforced polyester known for its resilience and durability. Even after a long time, you won't have to replace this tank but only maintain it once every two years.
It features a bio-filter that will ensure the effluent going out to the water is environmentally safe. Apart from that, it will allow the tank the perform effectively and consistently day after day.
One of the best septic tanks in Malaysia, the MF FRP is approved by national certifying bodies including SPAN, American Systems Registrar (ASR), and ANSI National Accreditation Board (ANAB).
You can choose from seven various sizes for this unit with either vertical and horizontal orientations. The largest of them can benefit a home or commercial building with 30 people.
There's also a limited product warranty that comes with this septic tank. But bear in mind that faults due to improper use or installation as set out in the guidelines will make the warranty void.
There's a manual that comes with this septic tank when you buy it. Also, the installation of the septic tank is fairly easy and you can get a specialist from this store to do it for you.
Can benefit up to 30 people
Approved by SPAN
Offers limited product warranty
Cheaper than aerobic septic systems
More expensive than concrete and plastic tanks
Prices aren't indicated online
5) BNH Septic Tank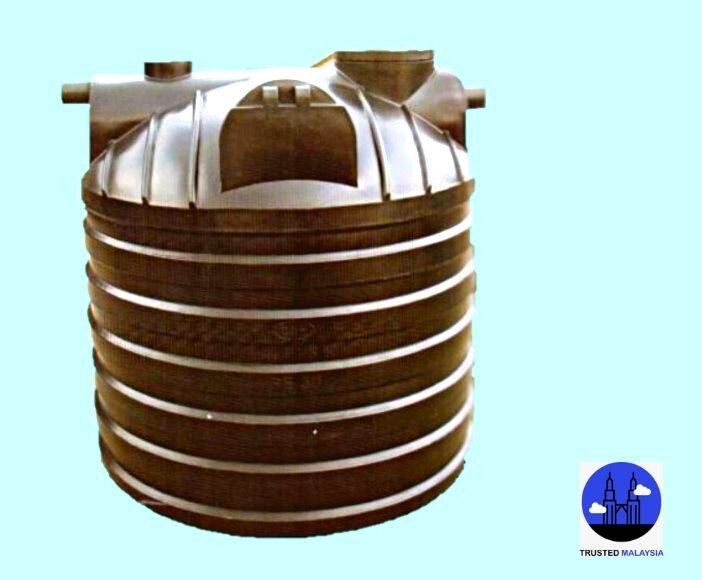 | | |
| --- | --- |
| Material | Polyethene (PE) |
| Model series | HS and VS series |
| Number of sizes available | 3 |
| Dimensions | Kindly click the link below for more details |
| Warranty | 5 years |
| Price | Please call the company for the price list |
Need a septic tank for a new build home or to replace a broken one? For this, you can consider the BNH Septic Tank, which we believe is one of the best septic tanks in Malaysia!
Constructed of polyethylene, it is armoured with ridges and valleys to protect against harsh weather conditions, rust, chemicals, corrosion, and even accidental leakage.
It has three models and sizes available but we particularly liked the vertical model, which has a clever design. When the wastewater comes in, it comes through the inlet to settle at the base, and up through the bio-filter to be discharged to the drain field.
Also, the septic tank is easy to transport and install because of its lightweight nature. You can get a sewerage professional to desludge the tank once every two years so it can be used again.
What's more, it comes with a confidence-assuring 5-year warranty. So over that time, if you notice any fault from the product, the tank can be replaced or repaired for you at no charge.
And of course, this septic tank complies with Malaysian standards and the National Water Services Commission, otherwise known as SPAN. Therefore, it's safe to say that this product is built to last.
Rust and crack-resistant
Sleek and light product design
Quick installation process
Comes with a 5-year warranty
Fewer size options
Prices aren't indicated online
What to Consider When Buying a Septic Tank
Before you buy a septic tank, here are the important factors you need to consider:
1) Material
First, you have to choose the right septic tank material that fits your needs and budget. Here are the different types of material available on the market:
Concrete septic tanks are very hardy and durable and can last up to 40 years or more. They are also low-maintenance and will therefore save you costs for maintaining or replacing them.
As they are less flexible than plastic kinds, they can crack easier. And because they are cumbersome, installing a concrete septic system will require heavy-duty equipment.
Fibreglass is a common plastic material that's reinforced with glass fibre. In terms of strength to weight ratio, fibreglass is a great deal better and more durable and impact-resistant than steel.
Similar to concrete septic tanks, fibreglass units can stay as long as 40 years or more. However, they are more expensive than plastic and steel chambers.
Steel septic tanks are the least durable in terms of material type. They can last up to 20 to 25 years and can rust earlier than the given period.
As such, it can also be dangerous, as the person may mistake the rusted steel top lid to be a part of the ground and fall into the tank accidentally.
Plastic is fairly durable for septic tanks that can last as long as 30 to 40 years. However, this will depend on the quality of the plastic.
Another advantage is that plastic septic tanks are lighter than their counterparts. That makes them easy to transport and install on-site.
That said, they tend to require more maintenance than concrete or fibreglass tanks.
2) Size & capacity
Septic tanks come in many different sizes depending on the brand or product. The size and capacity you have to pick should depend on the house size, the number of occupants, and how much water is used.
To know what septic tank size is best to buy for your house, kindly refer to the table below:
| | | |
| --- | --- | --- |
| No. of Bedrooms | House Size (sq ft) | Tank Capacity (Gallons) |
| 1 or 2 | Less than 1,500 | 750 |
| 3 | Less than 2,500 | 1,000 |
| 4 | Less than 3,500 | 1,250 |
| 5 | Less than 4,500 | 1,250 |
| 6 | Less than 5,500 | 1,315 |
3) Ease of Installation
Ease of installation doesn't only concern the speed or ease of setting your septic tank under the pit. But it will also concern the costs, performance, maintenance, and aesthetic finish afterward.
After all, you want the septic tank to be stable under the soil, working smoothly and efficiently, and won't need to be maintained except once every two years.
Steel, fibreglass, and concrete septic units are heavier and harder to install while plastic ones are the easiest since they are lightweight.
Also, we suggest that you get a professional contractor to do the work for you rather than DIY. This way, you will save time, effort, and have peace of mind that the install has been done well.
4) Warranty
So that you'll get value for money and not worry about unexpected defects, you should always look for a septic tank with a warranty.
Though some companies aren't explicit about it online, you can ask the seller whether or not they offer one. They should and this can go from a single year to the entire life of the product.
Of course, the lengthier the warranty, the better!
5) Price
Septic tank rates can range from RM720 to RM9,620 in Malaysia. This is often exclusive of installation service costs so you will also have to factor these in too.
Once you've looked into the material, installation ease, warranty, and size, the price is easy to decide on. Pick one that will give you the best bang for your buck in terms of durability and less frequent maintenance.
FAQS about the Top Septic Tanks in Malaysia
---
And that's all for the top septic tanks in Malaysia. Being industry-certified, of premium quality, and simple to install, these products will greatly benefit you and your home.
Do you have any questions or comments about our picks? If you have one, kindly send us a message and we'll get right back to you.
Also, if you need help to install or maintain your septic tank, you can call one of the best plumbers in Kuala Lumpur. They can come on the same day or during out of hours to sort you out.