The 5 Best Places to Enjoy High Tea in Kuala Lumpur
High tea is always the perfect excuse to splurge and dress up a bit, don't you think? This little English tradition has made its way all over the world for this very reason.
If you and a few friends are planning on going out (socially distanced!) and enjoying the afternoon with some food, read on to learn all about the best places to enjoy high tea in Malaysia!
The Best High Tea in Kuala Lumpur
Now, let's figure out where to have that fun and classy afternoon by choosing from the best places to enjoy high tea in Kuala Lumpur!
1. The Orchid Conservatory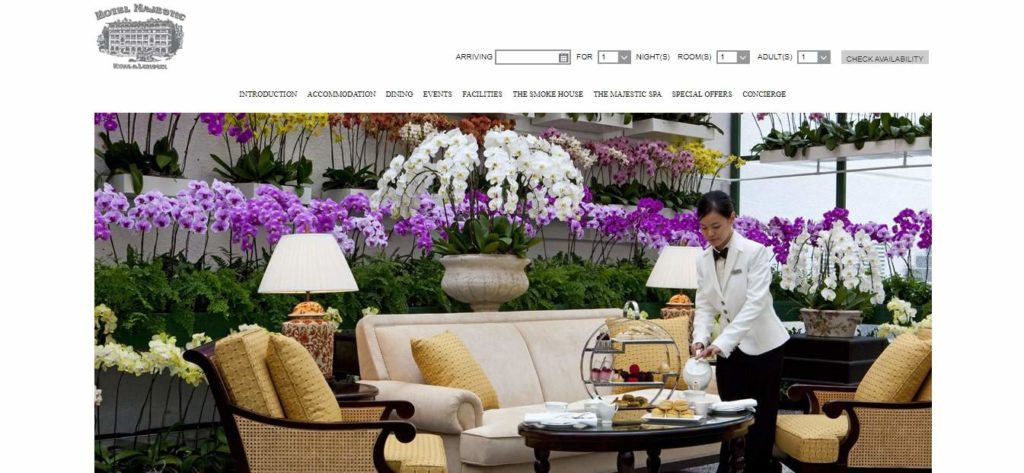 | | |
| --- | --- |
| WEBSITE | https://www.majestickl.com/orchird-conservatory.html |
| ADDRESS | The Majestic Hotel, 5, Jalan Sultan Hishamuddin, Perdana Botanical Gardens, 50000 Kuala Lumpur, Federal Territory of Kuala Lumpur, Malaysia |
| CONTACT DETAILS | +60 3-2785 8000 |
| OPERATING HOURS | Daily 3:00 pm – 6:00 pm |
The Orchid Conservatory is a botanical dream located in The Majestic Hotel in Kuala Lumpur. Enjoying high tea at The Orchid Conservatory is like spending the afternoon at a classed-up greenhouse.
One of the best things about The Orchid is that they change their flower displays and menus frequently along with the seasons. These thematic menus and flowers ensure that regulars at this restaurant don't get bored.
The food served is the same as those served in traditional English high teas, savories, sandwiches, scones, and other baked goods.
The only teas they serve are Twinings teas and each pot of water costs an extra RM30 which isn't ideal considering the fact that the price of their high tea is already one of the most expensive ones.
However, we still think it's pretty worth it. Aside from the Instagram-worthy venue, the food experience is also made special by the chef who always adds a couple of complimentary snacks.
The Orchid can only sit up to 15 people (6 tables) which is why advanced bookings and a 50% down payment are required. It's always fully booked, so we suggest booking around a month in advance if you want to enjoy high tea over here.
Rates per person are RM110 on weekdays and RM120 on weekends.
Instagram-worthy venue
Seasonal change of orchids and menu for variety
Wheelchair accessible
Advanced booking and payment is required
Limited tea selection
Expensive menu
Customer Reviews
Here are a couple of reviews left by lovely customers of The Orchid Conservatory:
"This is for the tea that we've had at the Majestic Hotel. Good selection of drinks and the orchids are amazing. Personally I've loved their savoury food when we were there. A good place to hang and chill out. Orchid lovers can come and check out their different types of orchids in a cold room too." – Digitalz
"Great Afternoon Tea and very good staff. Anyone looking for a romantic place to impress this is it! Theirs also a great bar to have a drink after. Very reasonable considering the location." -Shane
2. Atmosphere 360

| | |
| --- | --- |
| WEBSITE | https://atmosphere360.com.my/ |
| ADDRESS | TH02, Menara Kuala Lumpur, 2, Jalan Puncak, 50250 Kuala Lumpur, Federal Territory of Kuala Lumpur |
| CONTACT DETAILS | 03-2020 2121 / 03-2020 2020 |
| OPERATING HOURS | Daily 3:00 pm – 6:00 pm |
Atmosphere 360 takes having high tea to another level by letting you enjoy a stunning panoramic view of Kuala Lumpur 282 meters high. Note that they call it Afternoon Tea Time here.
This trendy restaurant has another surprise for you: it revolves! This gives everyone who chooses to dine here a chance to see every part of the city.
To enjoy high tea here, you have to make a reservation and pay in advance. If you want a window seat, you can also specify that in your online reservation but this will still be subject to availability.
Be sure to remember your table number when you're here. While the restaurant doesn't revolve all that quickly (it takes around an hour for a whole turn), it can be a bit disorienting to come back from the restroom and not find your table easily.
Anyway, the price you pay includes a buffet and a free flow of black coffee, tea, and ice water. Any other additional drinks are available at an added cost.
However, a lot of customers have noted that the quality of food is inconsistent. This could be due to the fact that it's a buffet so it's a bit harder to do quality control, so you might do well to manage your expectations.
They also offer 3 celebration decor setups for an additional RM 250. You can also purchase either a bouquet of either half a dozen roses (RM 120) or a dozen roses (RM 200) for your special date.
Atmosphere 360 is pretty strict with its smart casual dress code and reserves the right to not let you in if you aren't dressed properly. This is to preserve the ambiance of the restaurant.
Rates on weekdays are at RM 58 for adults and RM 43 for children (5-12 years old) and seniors (60 years and above). Rates on weekends are at RM 75 for adults and RM 60 for children (5-12 years old) and seniors (60 years and above)
Online reservation
Affordable afternoon set
Perfect for romantic dates
Offers add-ons for celebrations
Inconsistent quality of food
Advance reservation and payment needed
Customer Reviews
Check out these reviews of Atmosphere 360 left by a few customers:
"Great ambience and view of KL skyline while having hotel class spread . Excellent place for celebrating an occasion. Best time is in the evening where you can watch the sunset while sipping wine / champagne." -JT
"This is worth dining at for the view as it is spectacular. Would I dine at the restaurant if there wasn't a view, probably not but that's what you pay for. The buffet was quite good, entree's and mains were very good quality and a good selection including Indian, seafood, salads and carvery. The desert selection looked great but was very bland, no wow factor at all..Staff reasonably friendly although nothing to rave about!" -Pete
3. The Bottega Lounge at EQ Hotel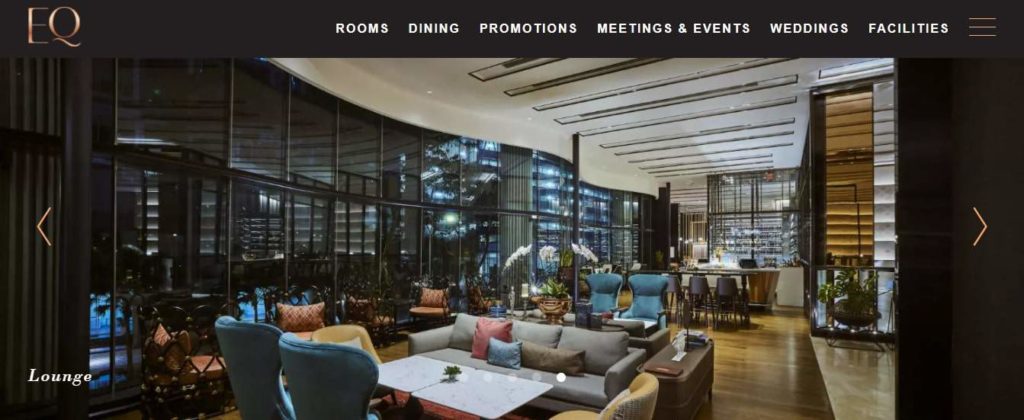 | | |
| --- | --- |
| WEBSITE | https://www.eqkualalumpur.com/dining/bottega/ |
| ADDRESS | Ground Floor, EQ, Equatorial Plaza, Jalan Sultan Ismail, Kuala Lumpur, 50250 Kuala Lumpur, Wilayah Persekutuan Kuala Lumpur, Malaysia |
| CONTACT DETAILS | +60 3-2789 7777 |
| OPERATING HOURS | Daily 12:00 pm – 5:00 pm |
If you're in the mood for Mediterranean-inspired food for high tea, Bottega Lounge at EQ is the way to go.
The Italian-inspired lounge with plush cushions and natural light makes for a very cozy afternoon. A self-playing piano accompanies you all throughout your high tea time to set the mood.
The servers deserve a special mention seeing as customers absolutely loved the positive energy and kind professionalism that they displayed.
Their afternoon set consists of savories like sweet pea ricotta and truffle mini bagel, robiola cheese, and smoked salmon tuna, and an artichoke sandwich. For desserts, they have an assorted dessert counter.
For pricing, you can either pay RM 64.15 per person, which includes tea or coffee. The other option is a bit pricier at RM 111.30 per person, which includes coffee or tea and a glass of either Prosecco Brut or Rose.
They also offer an impressive selection of wines and beers thanks to their collaboration with the premium Italian brand, Bottega.
Note that while reservations aren't required at Bottega, they're highly recommended.
Relatively affordable afternoon set available
Wide selection of wine
No online reservation
Additional drinks are pretty pricey
Customer Reviews
To know about how a couple of customers felt about this Italian-Mediterranian restaurant, check these reviews out:
"We were seated near the window. The staffs were courteous. The food served were delicious and some were creative in terms of presentation. The ambience was relaxing. A comfortable place for everyone to have a wonderful time."– Xin Fang
"Their five stars services are second to none!!!! Very amazing team, very friendly, very attentive, very helpful!!!! They were constantly smiling n emitting positive energy while we were having our afternoon tea here. I absolutely adore this team of people!!!! Of course, food were delicious too!! N decor very beautiful too!!" -Katy
4. The Drawing Room of The St. Regis Kuala Lumpur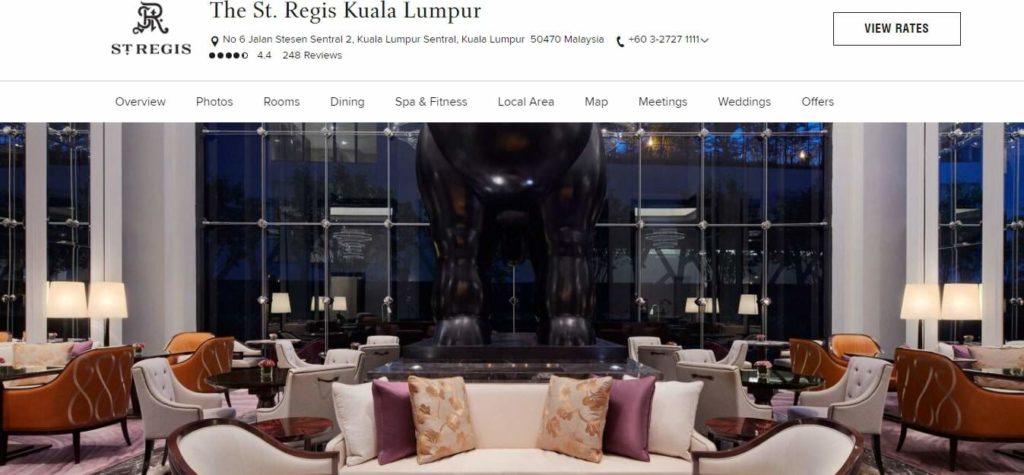 The Drawing Room of The St. Regis Kuala Lumpur is located on the hotel's Astor Terrace. This terrace was named after Mrs. Caroline Astor who was a prominent American socialite in the 19th century.
The restaurant promises an opulent high tea experience with the custom-made 5-tier crystal chandelier dangling above them and the commissioned horse sculpture by Fernando Botero, a notable Columbian artist.
They have a delicious range of international savouries and cakes to choose from. Some of their cuisines are Japanese, Norwegian, French, and American.
They also have finger sandwiches, freshly baked scones, and other homemade pastries.
For their wide tea selection, they have a Tea Sommelier on standby to recommend the best tea for you and your selection of food.
The rate for high tea at The Drawing Room is RM 130 per person. You can also avail of the set priced at RM 220 if you want a glass of Delamotte Champagne for an even more luxurious afternoon tea.
Wide international cuisine selection
Online reservation available
Expensive menu
Reservation required
Customer Reviews
Check out these reviews left by The Drawing Room customers who seemed to really enjoy their stay:
"Attentive staff, nice ambience and quality food served. Great place to catch up with your friends for hours." – Estelle
"I went for having afternoon tea and we had Margie anniversary. I asked reservation to write happy anniversary on the plate, but they give us wonderful cake!! I appreciate to such a wonderful hospitality and everything was delicious. I want to go there again." -Anon
5. Delectable by Su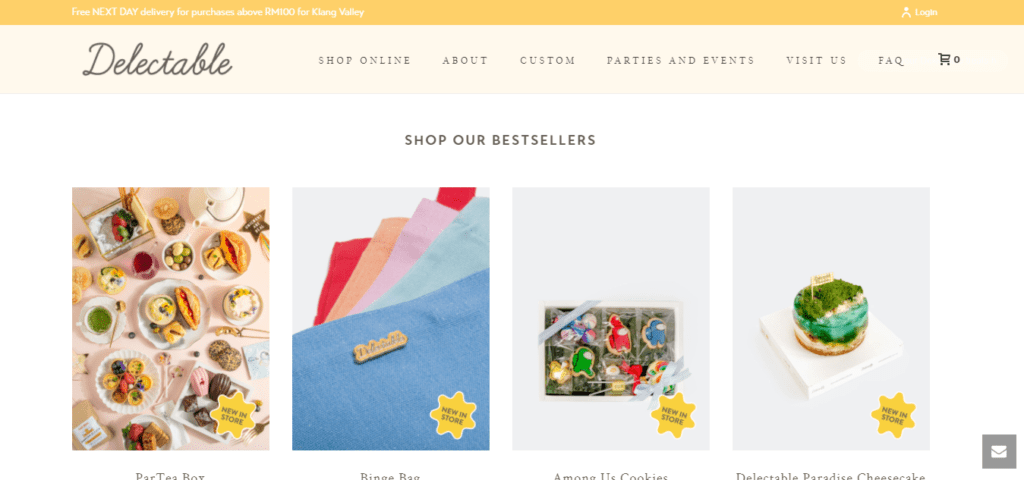 WEBSITE
https://delectable.com.my/
ADDRESS
DELECTABLE DESSERT CAFE
Level 2, Glasshouse at Seputeh,
17, Lorong Syed Putra Kiri
50460, KL

DELECTABLE KIOSK
LG K-25B The Gardens Mall,
Lingkaran Syed Putra,
Mid Valley City,
59200 Kuala Lumpur

DELECTABLE MINI CAFE
Level 2, S-213 The Gardens Mall,
Lingkaran Syed Putra,
Mid Valley City,
59200 Kuala Lumpur
CONTACT DETAILS
DELECTABLE DESSERT CAFE
+6012 885 5280

DELECTABLE KIOSK
+6012 550 8152

DELECTABLE MINI CAFE
+6012 508 1855
OPERATING HOURS
DELECTABLE DESSERT CAFE
10am – 6pm daily

DELECTABLE KIOSK
10am – 10pm daily

DELECTABLE MINI CAFE
10am – 10pm daily
Delectable By Su was established by none other than, Su-Yin in 2009. Delectable by Su has come a long way, and they believe in creating a radical new trend of designs for themed products which are personalized, exciting, and inspirational.
No matter what occasion you are going to, they have the perfect baked goods for you and your loved ones. You can choose from their wide range of cakes, tarts, cookies, cupcakes, and other delicious treats.
Unlike other shops, their goods are freshly baked. After you order, that is the only time they will make your scrumptious products from scratch.
And yes, they do not use store brought products since they want to make the treat even more, as it is in their shop name, delectable.
People living in Kuala Lumpur prefer to buy from them since they have a free next-day delivery to Kalng Valley if your total purchase is above RM100. Aside from treats and baked goods, they also have gifts that you can choose from to add a more personal touch to your ordered goods.
Wide range of services
Reasonable price
Unique designs
Welcomes all inquiries for corporate orders and customised cakes and desserts
Unable to guarantee a specific time of nationwide delivery
Customer Reviews
Here are some reviews from their previous clients:
"This place allows private parties up to 10-15 pax , they have a special menu for that. I organised a private party for my colleagues, hence as a requirement by my company the place need to have physical distancing in place and all health and safety guidelines observed. They help us to close off part section of the restaurant which is great as we have our own private space. The food came as requested and the waitresses were friendly and helpful. They helped me with the decorations as I was the organiser. We ordered a classic chocolate cake which tasted fantastic ! Savoury food was also great , we were also given tea and lemon drink as part of the menu. All in all, decent place for a small private party. The surrounding atmosphere was also green and peaceful. There is ample car park outside of the restaurant, so you don't have to worry for your guests. This is the place to be if you want to have a cosy afternoon relaxing with the serenity of the Bukit Seputeh forest reserve landscape."
"This is a cafe serving coffee and cakes, with some cafe-style hot dishes – pasta, lasagna. It's on the second floor of the Glasshouse so nice greenery outside to look at. Nice place for a relaxing coffee."
"Great cakes, premium ingredients just by one bite you know already. Good place to take picture, green scenery 👍🥰 definitely will come again"
FAQs about High Tea
---
This fun little English tradition is one that many enjoy and will continue to enjoy for years to come! We hope we helped you find the best high tea place to enjoy with your loved ones.
We hope this article helped you and, if it did, please let us know how your high tea experience went! We'd love to hear all about it.
Also, if you ever find yourself planning a gathering in Penang, do check out this article on the best catering in Penang!